It was an entrepreneurial leap of faith that came years before the public relations industry was as prominent as it is today and before social media marketing was even a thought. In her own words moving at a "slow and steady" pace allowed her to build Style House from the ground up with her team and over the past 10 years the company has grown tremendously and made remarkable strides within the public relations industry.
Janna's journalism and public relations background created the perfect foundation for her company. As the founder and president of Style House Janna oversees brand messaging and helps her clients navigate the ever-changing media landscape.
She believes working hard to find your passion is essential. In our chat Janna expands on the inner workings of the public relations industry, branding and more.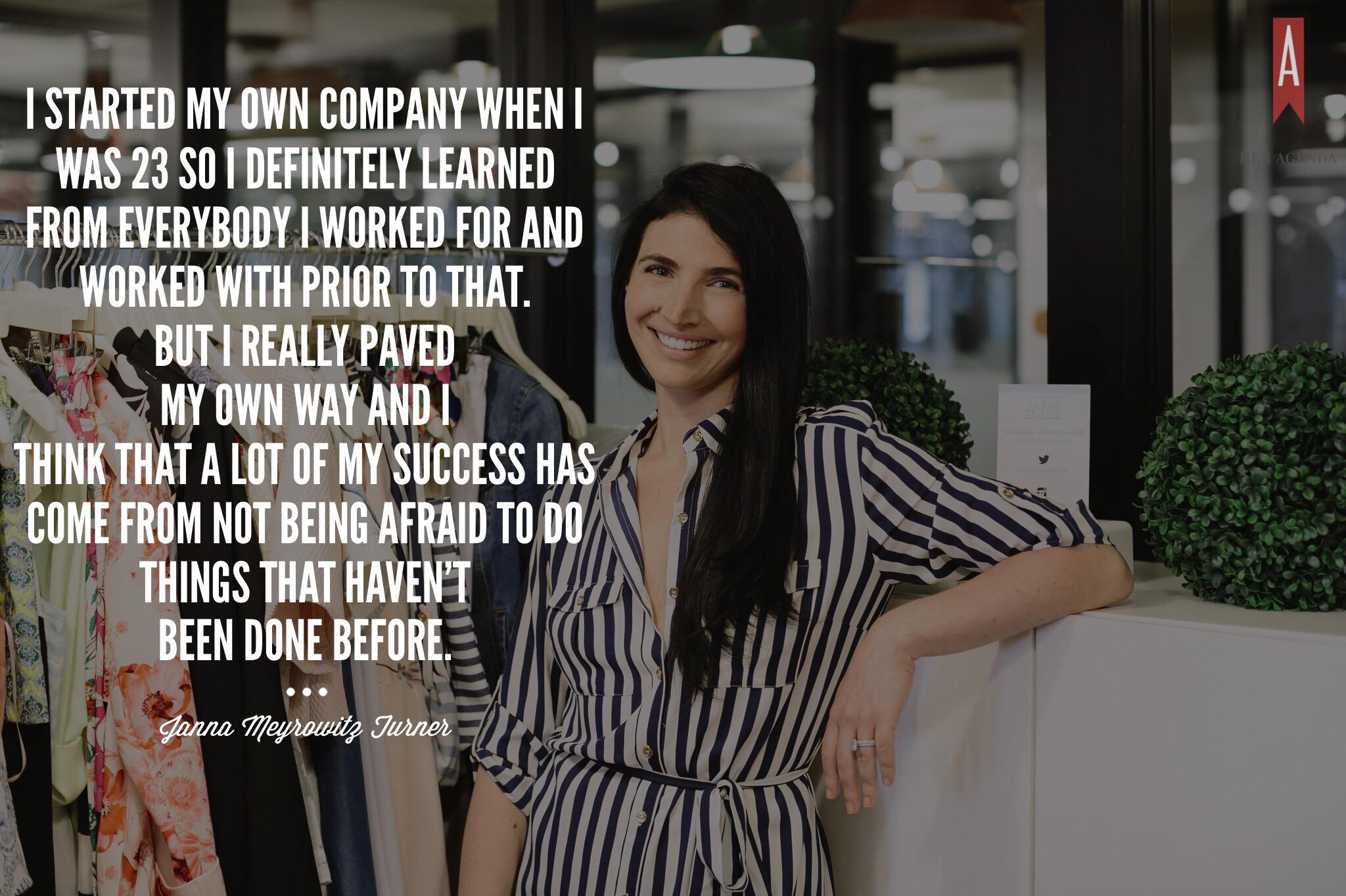 Article continues below advertisement
Her Agenda: Why did you select public relations as your industry?
Janna Meyrowitz Turner: I went to college in the early 2000's and at the time public relations wasn't as well-known as an industry. This was before reality television. Public relations is a very behind the scenes job which is what I like about it. I did the journalism program at my school and for a long time I thought I'd be a journalist. Then I did an internship at Fitness magazine and I saw all the press materials coming in from brands and public relations firms. I thought 'you know this is very cool.'
So after that internship, I went back to school for my senior year and interned at a public relations firm. It was a very small firm so I got to do a lot and learn a lot from the person who was running it. Then I realized I wanted to combine what I was good at with what I was genuinely interested in – fashion and beauty products, and so here I am.
Her Agenda: What was the most difficult part about creating Style House Public Relations?
Article continues below advertisement
Janna Meyrowitz Turner: We're going to be in our 10th year of business [in 2016] and I didn't start my business wanting to be a huge public relations firm. I genuinely really love what I do. I love working with brands that I like, products that I like and also people behind the brand. I was slow and steady and grew my own reputation over time. I launched my company in 2006 in public relations which is often hard to quantify so [a lot of big] budgets were slashed when the global recession hit. But I kept a small client base and worked. People inside and outside of the industry would argue that in those kinds of times public relations is the most important because people are holding their dollars back, and if people spend money they want it to be with a brand that they know. It's all about how brands are positioned to them at the time. So I kept a small client base of people who understood the value of public relations in a down economy. From there when it came back I had great studies to show of what we had been able to do during one of the arguably most difficult times in our era.
Her Agenda: As an entrepreneur what's the most important message you've reminded yourself throughout your journey?
Janna Meyrowitz Turner: I do my best work when I'm happy. So taking time for myself whether it's just to exercise or spend time with friends or family is really important. I make sure that if work is getting intense and I'm stressed then I take a step back. I'm lucky enough to have found a profession that I love, and to be [able to] choose who I work with. I've dropped clients if I didn't think that it was the right fit. I believe that happiness is its own currency and you do your best work when you're happy.
Article continues below advertisement
Her Agenda: How has the public relations industry shifted since 2006? How has Style House Public Relations coped with these changes?
Janna Meyrowitz Turner: It's such an exciting time for public relations right now and I would say that the ways that public relations has developed in the time that I've been in business are all incredibly positive. As far as having to cope with it, I think it's more like we've been having a ton of fun and embracing it. The scope of traditional media relations is changing so much not only because the media landscape has changed but because there [are] so many different ways to communicate brand messaging.
Article continues below advertisement
You can now speak directly to your customers in ways you couldn't before with social media. Social media was just coming around when I started Style House Public Relations. My online media pitching list was way smaller than the print one and now clearly that has shifted. In 2016, we [create] branded content and we are helping [our clients] craft their voice with strategic messaging in a way that goes beyond what we're pitching to the media. We're actually projecting to consumers directly and that's a lot of fun. For years, we've been putting together creative story angles to feature our clients and now instead of just pitching it to someone else, which we continue to do – we can also just create those stories ourselves and have our clients own that content and then amplify it in different ways.
Her Agenda: Is public relations a relationship-based industry?
Article continues below advertisement
Janna Meyrowitz Turner: The short answer is yes, of course. The long answer is: yes, it is relationship-based but in some ways it's easier to make relationships now because you can start a conversation with a journalist on Twitter but you have to do it well. You have to be smart and you have to realize that anything that you put out now is going out into the ethos. So even making a misstep in a pitch, you can end up slandered on Twitter as the PR snafu of the day. You have to be really smart about how you pitch. But we also have access to so much information about what editors are genuinely interested in based on what you're tweeting about and we can reference that in our pitches. So it's relationship-based always but the nature of the relationships are changing and the behavior has to change accordingly.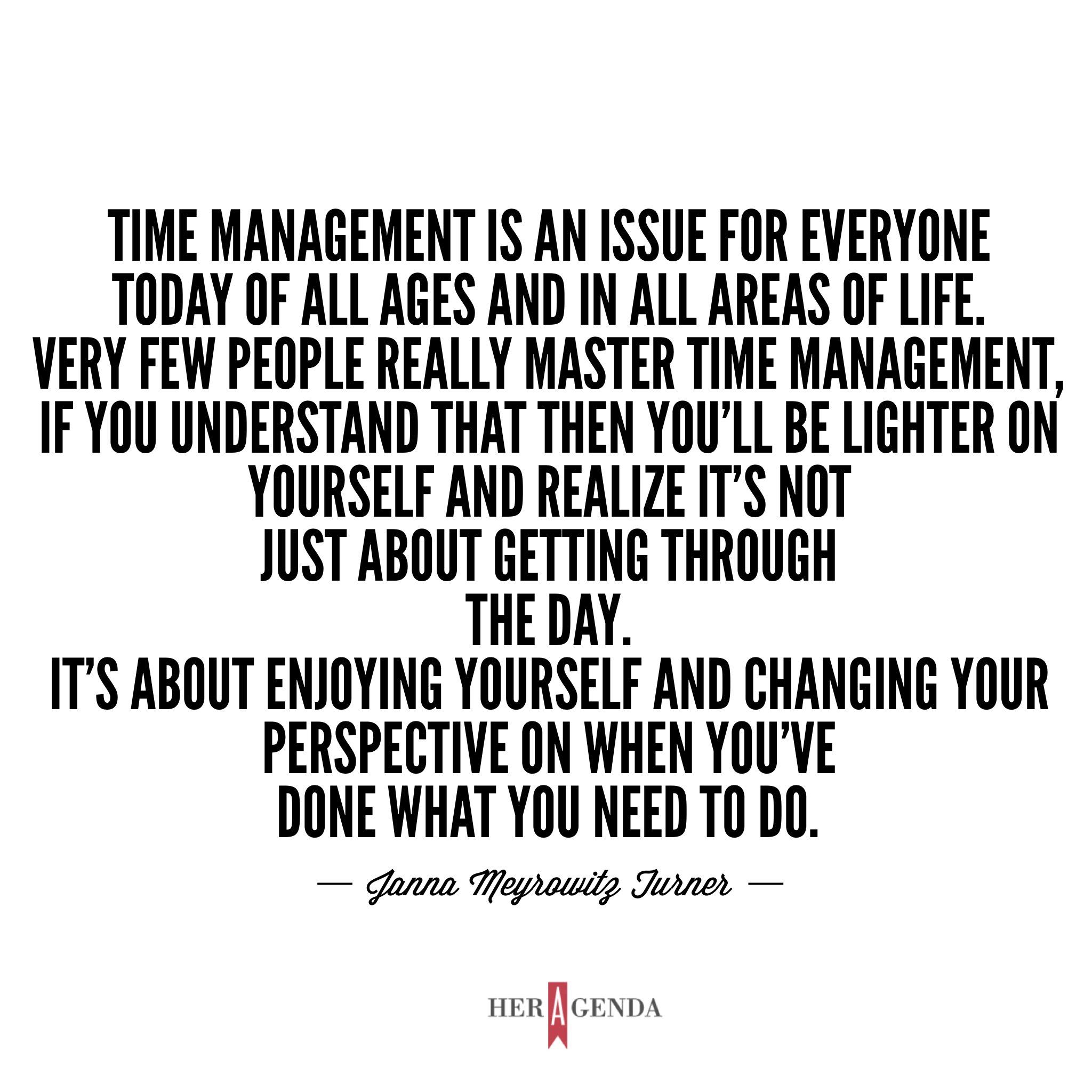 Article continues below advertisement
Her Agenda: Have you ever struggled with time management? If so, how do you handle this?
Janna Meyrowitz Turner: Time management is an issue for everyone today of all ages and in all areas of life. People talk about work-life balance all the time, but it's never something you master. You've got to think about it like yoga, something that's an eternal practice. Very few people really master it, if you understand that then you'll be lighter on yourself and realize it's not just about getting through the day. It's about enjoying yourself and changing your perspective on when you've done what you need to do.
Also, there are so many amazing tools out now that can help us manage our time. We've been using Asana for project management here at the office. We use Harvest to keep track of the time that we're spending on different tasks. In addition to giving us valuable data on how we're spending our time it also is a way to keep us focused. Because we're all on our computers all day long and there's things popping up. For us, [with tools like] Harvest it helps us stay focused because we're tracking that time. Then it's really nice to look back at the week and see how you spent your time and what you produced and that can help with your strategy for the next week.
Article continues below advertisement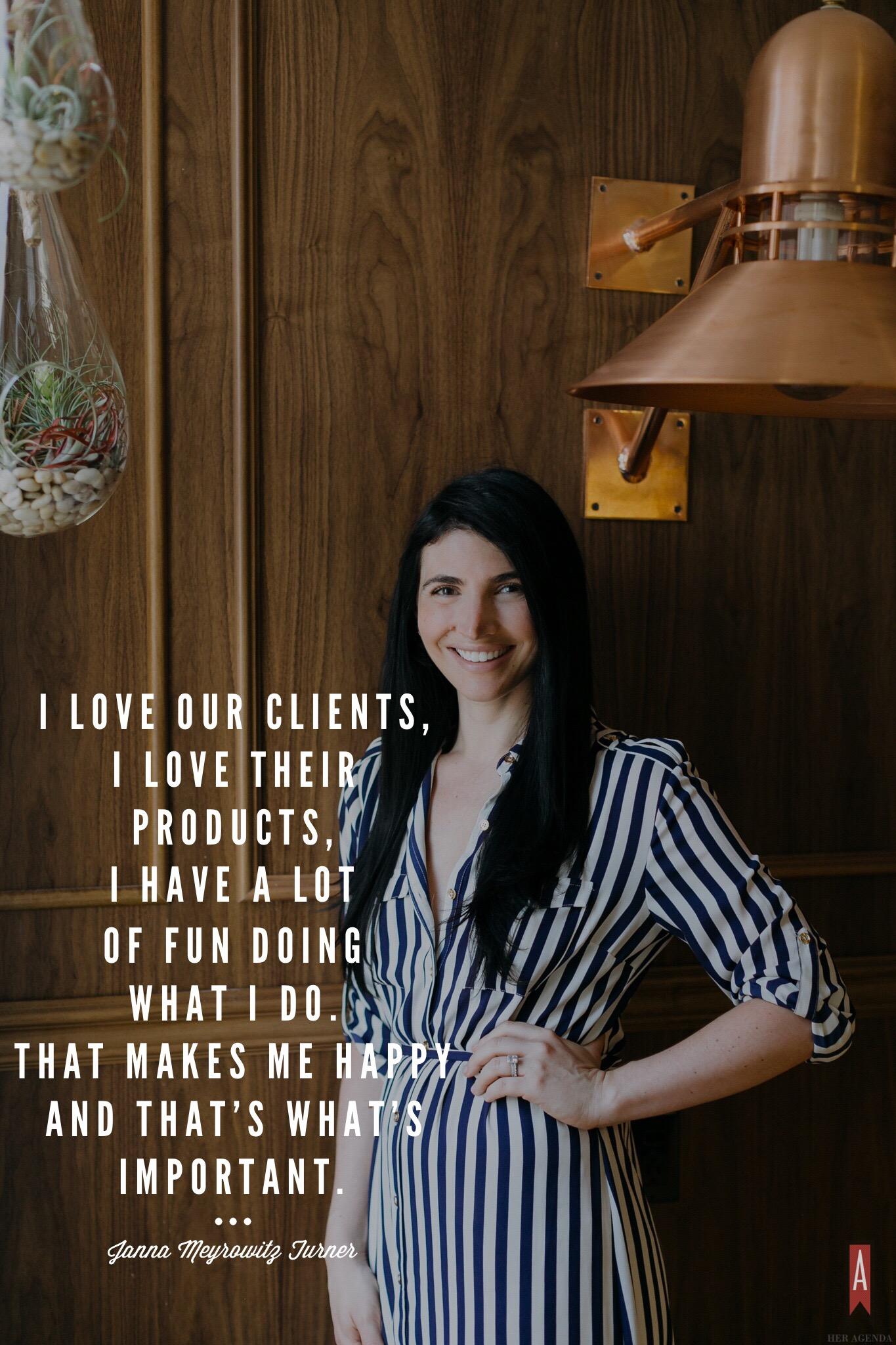 Her Agenda: How important is personal branding in the age of social media for Style House Public Relations? Was it important when you were creating the Style House brand?
Article continues below advertisement
Janna Meyrowitz Turner: It's definitely important we want to be seen as an authority in our industry. It's different on different social media channels. So Twitter, we use mostly to share articles that we genuinely find interesting because we know the people that follow us will also find it interesting as well. Whereas we use Instagram to showcase visually how we're interacting with our client's product or how our client's products are interacting with the world, or press clips that we're super proud of. We got a client in Oprah's gift [guide] [in 2015] and that's a super big thing for a publicist. We use it to brag a little bit to say "we're so excited about what we did."
You'll have a different answer for every public relations firm that you ask that question to. I'm not huge on needing Style House Public Relations to be a household name. I prefer to be the ventriloquist act…the secret magic behind our client's thunder in the industry. We're a BtoB business so I don't need consumers knowing a ton about us. It's not that I'm hiding anything — I don't feel the need to be a household name, I want my clients to be a household name that's what's most important. Personal branding is important to me [within] my industry so that when someone is looking for a public relations firm like ours that there are people saying: 'oh you should talk to Janna and her team at Style House they seem to do amazing work and their clients love them and they're great to work with.' But I don't need to be a household name to direct consumers.
Article continues below advertisement
Her Agenda: Were there any women entrepreneurs or mentors within or outside the public relations industry that [inspired you]?
Janna Meyrowitz Turner: I started my own company when I was 23 so I definitely learned from everybody that I worked for and worked with prior to that. But I really paved my own way and I think that a lot of my success has come from not being afraid to do things that haven't been done before.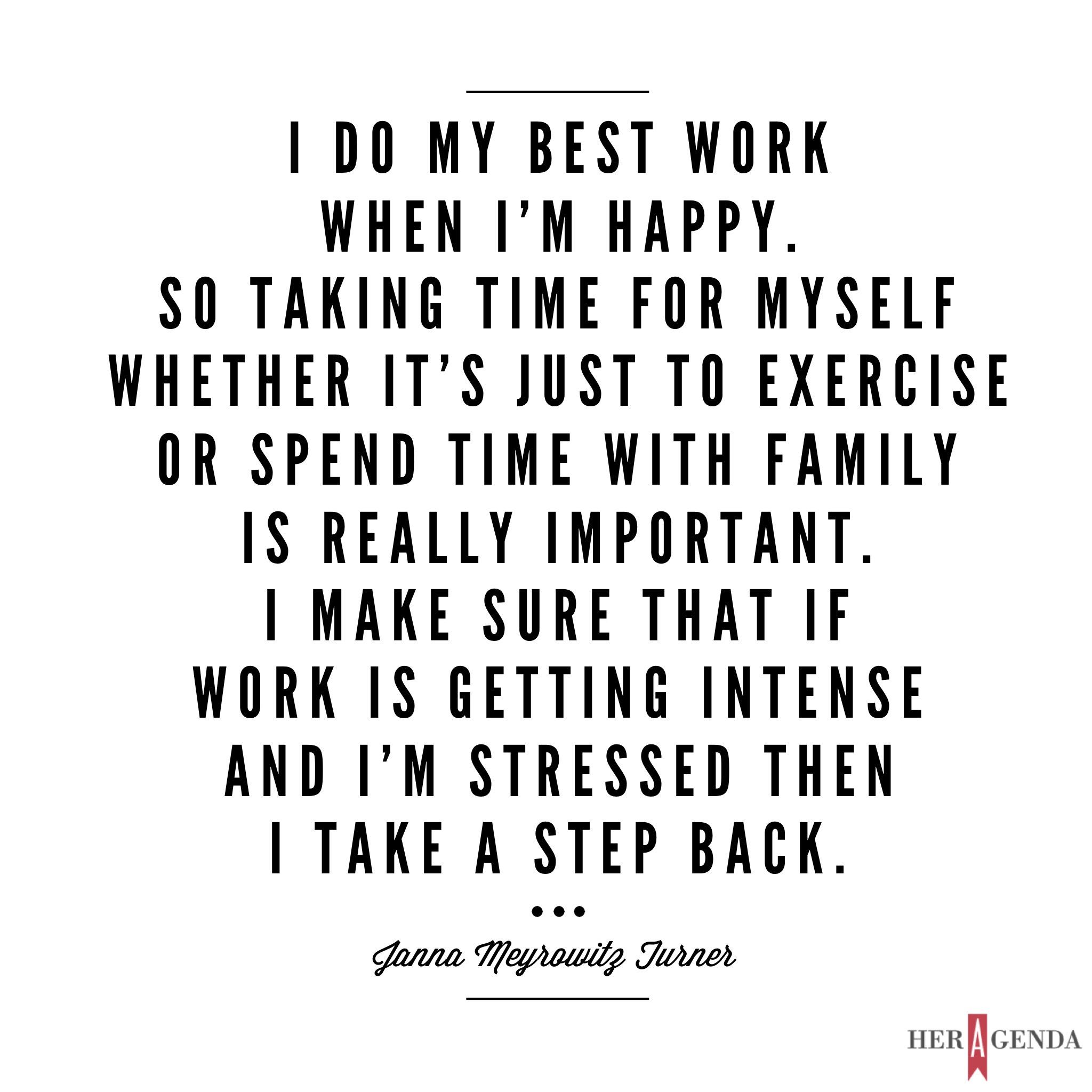 Article continues below advertisement
Her Agenda: What is your favorite part of doing your job every day at Style House Public Relations?
Janna Meyrowitz Turner: I love being creative. [It is] like a self-fulfilling thing, being creative makes you more creative. I love our clients, I love their products, I have a lot of fun doing what I do. That makes me happy, and that's what's important.
Her Agenda: How important has it been to match your employees skillsets with specific tasks and projects? Has that played a role in the environment at Style House Public Relations?
Janna Meyrowitz Turner: We all work very much as a team. We're a small team and we're very collaborative. Everyone has different areas of responsibility but we have really great communication within our agency. I encourage my employees and make them comfortable. If there are projects that they're passionate about and really want to work more on, I do what I can to make sure that they're playing a part in that. I think the most important thing is to be excited about what you're doing. It's about trying to match my employees strengths with areas that they need to grow in and setting them up for success.
Article continues below advertisement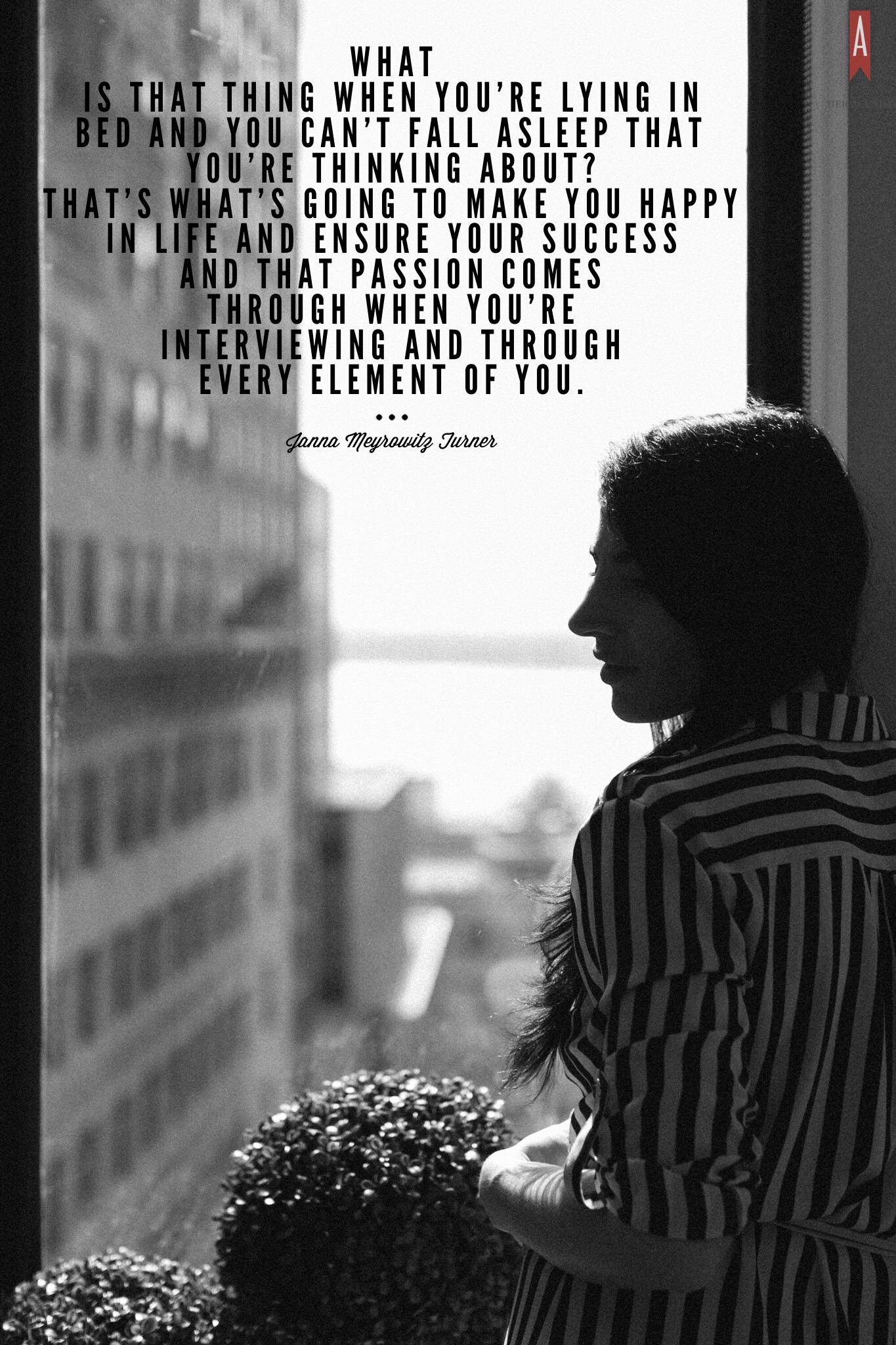 Her Agenda: Do you have any tips for young women and millennials looking to break into the public relations industry through internships or entry-level jobs?
Article continues below advertisement
Janna Meyrowitz Turner: I would say work hard to find your passion, and you can do that on your own. You don't have to have an internship to do that. You can read books, you can read articles, you can watch Ted Talks and videos online and figure out what excites you. What is [that thing] when you're lying in bed and you can't fall asleep that you're thinking about? That's what's going to make you happy in life and ensure your success and that passion comes through when you're interviewing and through every element of you. It also makes you memorable. Sadly there's a lot of people who are not very passionate these days and feel like they [just] have to get a job. They think they know what they should do but they're not passionate about it. So genuinely finding what you're excited about and communicating that will take you very, very far.
[Editor's note: This interview was published August 22nd and has been edited for length and clarity.]