Jasmine Sanders, known for her powerful voice, warm spirit and infectious personality, is an award-winning media maven with over 20 years of media experience. Serving as co-host on the nationally syndicated 'The D.L. Hughley Radio Show,' Jasmine's talents stretch far beyond radio. She's also showcased her talent on television as a special correspondent on HLN's The Daily Share and a former co-host of BET/Centric TV's Culture List.
The career and life she built for herself did not come easy. From foster care to becoming a teenage mother to surviving domestic abuse, Jasmine's determination and hope against all odds helped her to achieve success. She's made it a habit and life long mission to mentor and motivate young women and is an advocate of foster care and adoption.
With this in mind, Jasmine launched the Jasmine Cares initiative. Jasmine Cares is a platform to help young women embrace their unique gifts, build bridges to their dreams and to love and honor themselves.
Jasmine spoke with Her Agenda to share more insight on her career, how Beyonce's Lemonade applies to every life situation, surviving the foster care system and how she plans to leave behind a lasting legacy.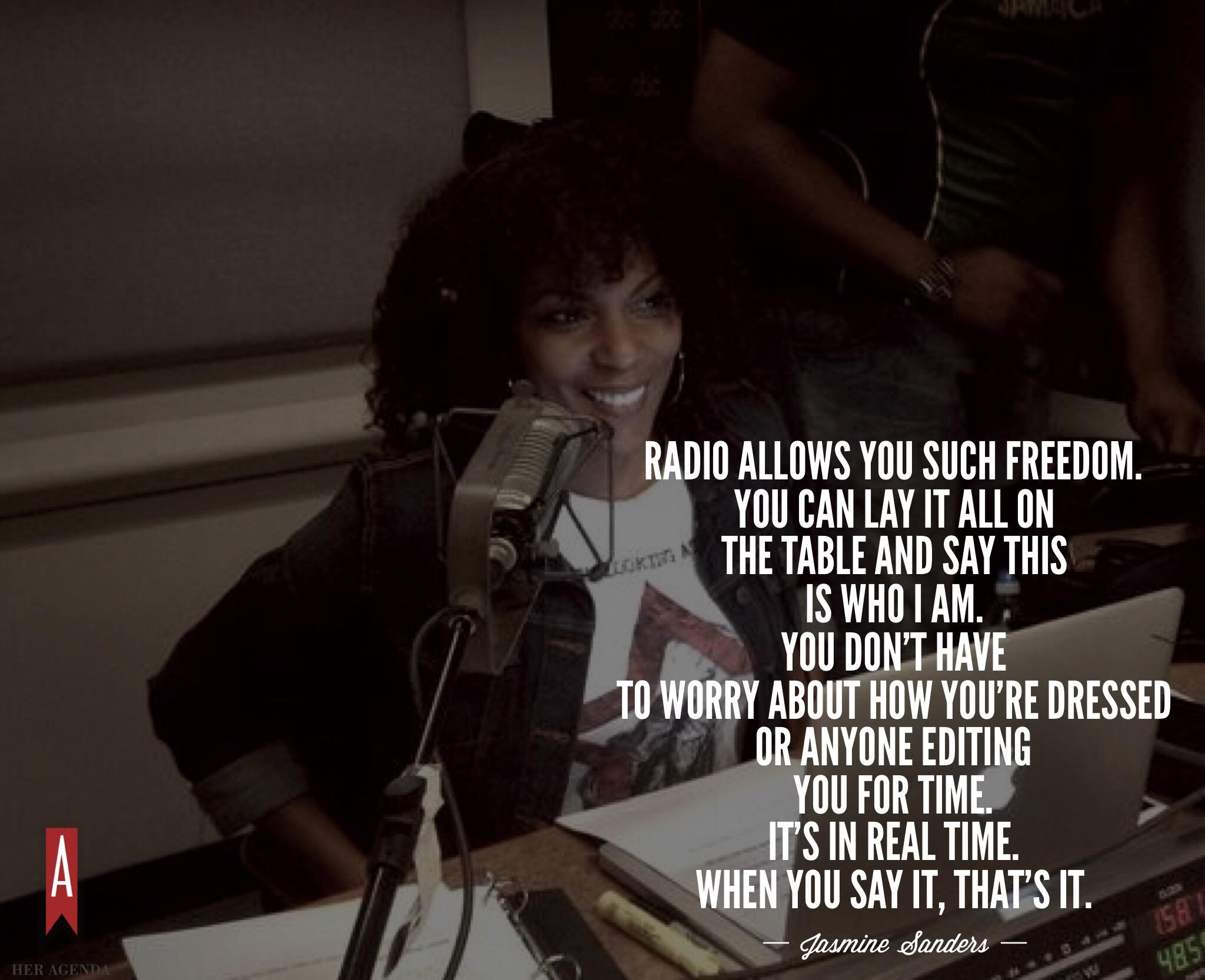 Article continues below advertisement
Her Agenda: Tell us a little about yourself. What made you want to work in the media/entertainment industry?
Jasmine Sanders: What's interesting is when I was in college, I really had no idea for sure what I wanted to pursue. Although when I was younger, I always knew I wanted to be in some sort of medium where I talked. Once I got into college, no one else had a career goal like mine. So I thought, well maybe I should change it. I started doing more visits with my academic advisor and even he knew I was a talking queen and suggested I do radio. It was a setback to hear someone say I should do radio. I [originally wanted] to do television. When I was younger, I wanted to be like Barbara Walters because at that time she was the only female on television doing it at the level as all the men. I ended up studying Broadcast Journalism and actually did a double major with Political Science. I felt like if I needed something to fall back on and I could [possibly] go into politics and become an attorney. I thought either one of those would work out for me, and it happened that radio worked out for me. And I've done it ever since.
Her Agenda: You have a presence within radio, television, and print–nowadays, they consider that a "multi-media personality." What's your favorite medium and why?
Jasmine Sanders: My favorite medium is radio. The reason I say that is because in print, you really become whatever someone else edits you to be, you can have so much material and important points you wanted people to know gets cut down for length or time. Same with television. It's really not about you, it's about the story that you're covering. Also, you have so many things to worry about! How you look, how you sound, what your hair looks like, what you're wearing. To me, radio allows you such freedom. You can lay it all on the table and say this is who I am. You don't have to worry about how you're dressed or anyone editing you for time. It's in real time. When you say it, that's it. What pumps my adrenaline and gets me going is knowing you can't un-ring this bell. Once you say it, that's it. So you better know what you're talking about.
Article continues below advertisement
Her Agenda: You have over 15 years of experience within this industry. I'm sure you have a list of great moments. Has there ever been a defining moment that made you feel like "this is what I do it for?"
Jasmine Sanders: There's been a number of defining moments. There's been moments where we've broken stories that were going on in the community in terms of social injustice. There was a story in Nashville that we were able to break about a young family going through a situation and they had no hope and we were able to come in and turn things around for them. I never understood the power of radio until that moment. There was another opportunity where we had the chance to galvanize the community and bring everyone together for a common cause with absolutely no fights. The whole city was against us saying that we wouldn't be able to do that but we did.
Being able to stand in the power that you never thought possible, constantly reminds me of how lucky I am and how much I love what I do. Even down to something as simple as when young girls come up to me and they want advice or they tell me something that has happened and I able to give them even just a little bit of information or someone that I can link them to that can change their lives. There is no greater payoff or greater reward.
Listen, I'm not going to lie, the money is good, the prestige, all that is wonderful but you forget about it sometimes. When you start making a certain amount of money, after the first couple of paychecks, you forget about it. The thing that you don't forget is how you touch individuals and how you feel when you wake up in the morning and know you made life better for at least one person.
Article continues below advertisement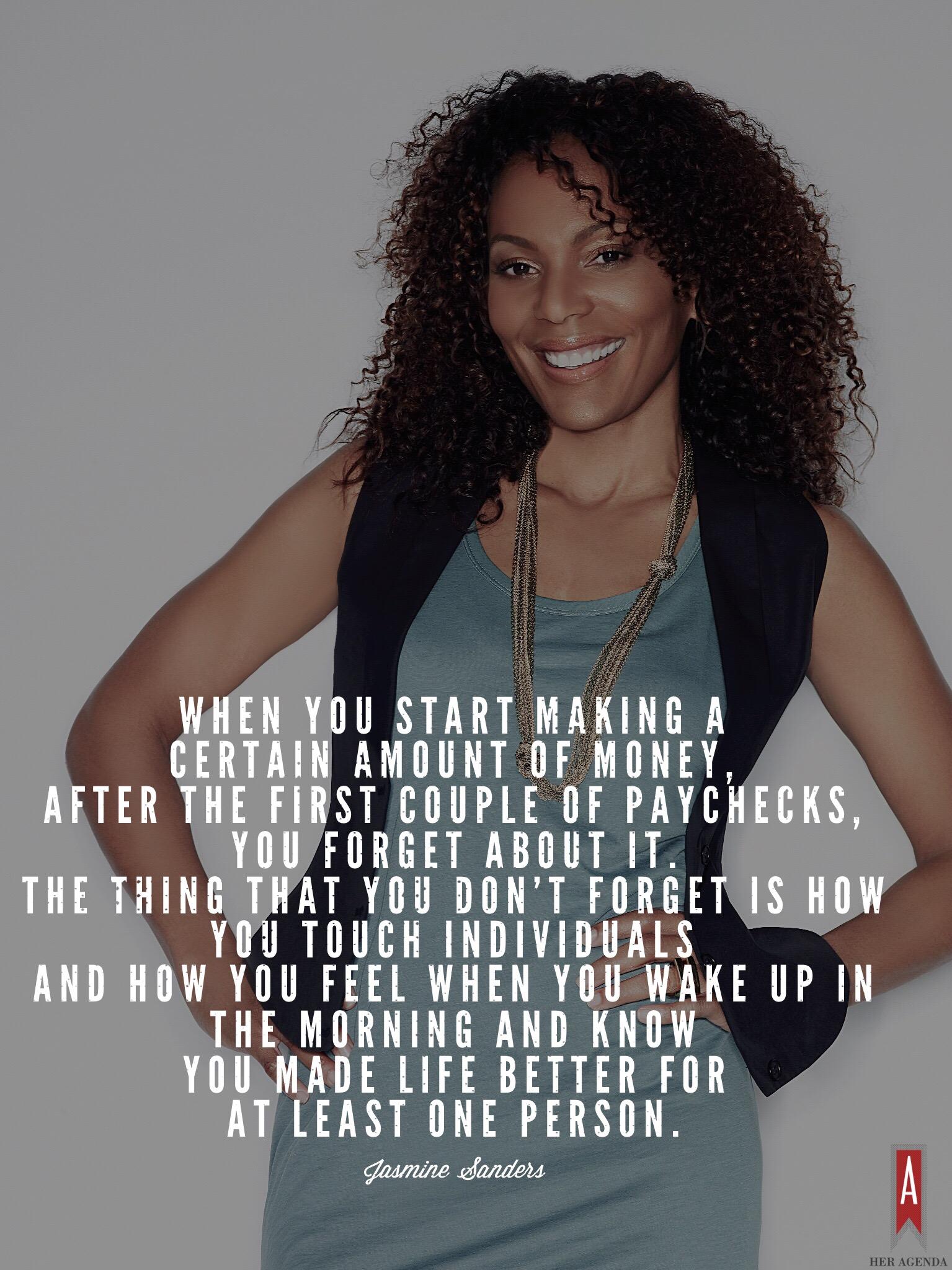 Her Agenda: A lot of people view the media/entertainment industry as this 24/7 glamorous job and I know at times, it's anything but. When you're faced with those rough moments, how do you keep pushing?
Jasmine Sanders: I don't think about it, I just push. If you look at it like a work horse, a work horse doesn't stop to think about how heavy the load is, he just pulls. In life if you're wondering why it's raining so much and why things aren't going right, you never know, you may be close to your breakthrough and that's the time to hold on. So I don't lift my head and worry about "how come it's not so hard for people around me" or "oh my god, the higher you get in this business, the tougher it is." I don't think about those things, I just keep pushing. When you stop to think about them and start to assess them, you give them more power and the more power you give them, the less power you have for yourself therefore you have made your problem bigger and stronger than you. So really, you've defeated yourself. Just keep pushing.
Article continues below advertisement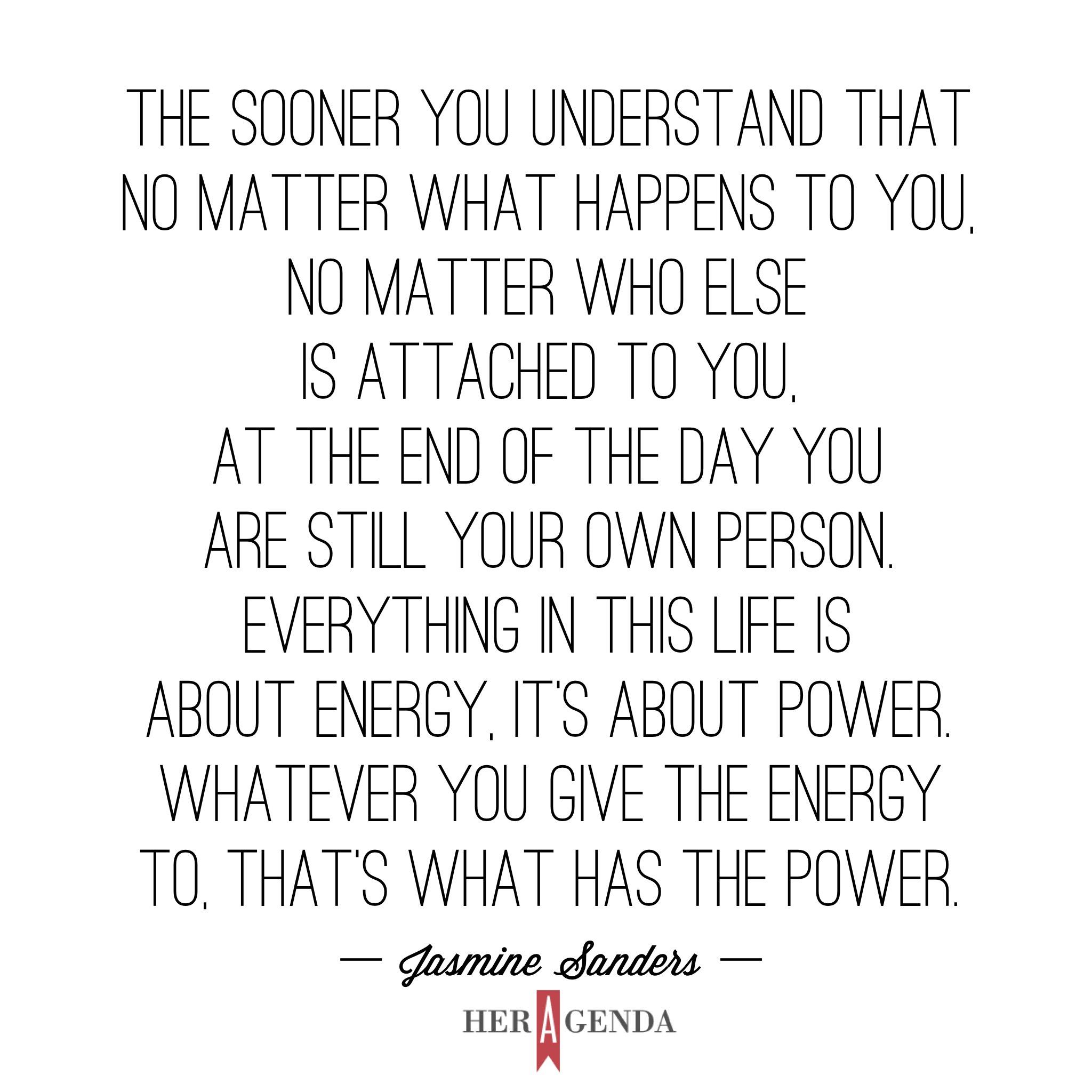 Her Agenda: I've seen the video of you discussing your adoption story and how you've overcome that. Can you explain that further and the silver lining you've found in this situation.
Jasmine Sanders: The one thing I really stand in is the sooner you understand that no matter what happens to you, no matter who else is attached to you, at the end of the day you are still your own person. Everything in this life is about energy, it's about power. Whatever you give the energy to, that's what has the power. So if you focus on that, even on your roughest days, the days you want to bury your head in the sand and not come out, those are the days you have to dig down and find the most power in you.
Article continues below advertisement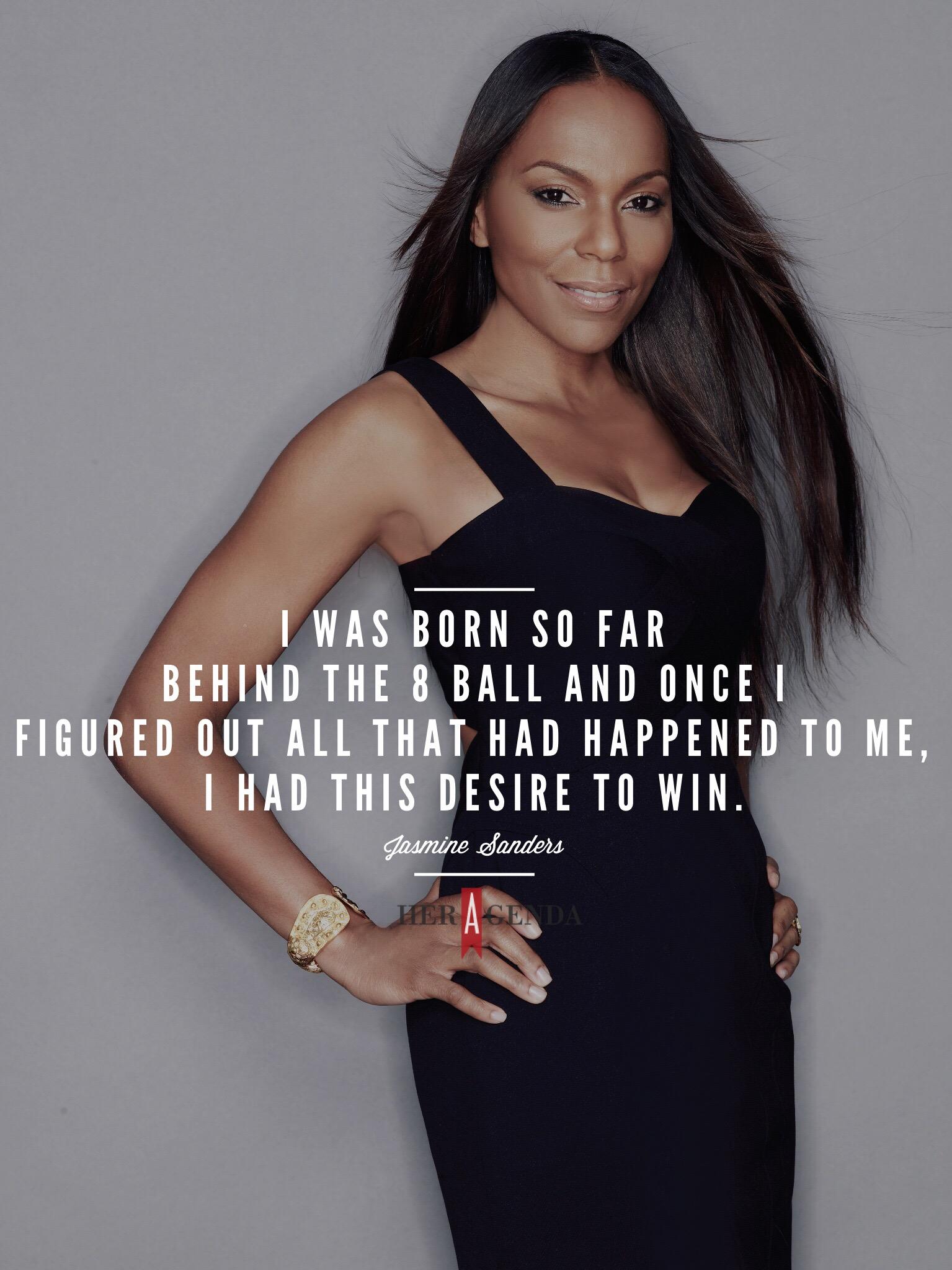 Understand that this universe gave you one life! So you can blame mama for leaving you, daddy for never being around, you can blame all those people. At the end of your life, you will be miserable and you'll try to put the blame on everyone else when really it will be squarely on your shoulders. There are too many stories out there where people have fought and won against all odds. Being born into the deficit of not having everything that everyone else has, knowing that you were left behind, you can't spend your life focused on that.
Article continues below advertisement
I was born so far behind the 8 ball and once I figured out all that had happened to me, I had this desire to win. When you are in foster care or adopted, you are forever trying to prove that you're valuable and that we too are important. So we spend constant hours trying to do better. For me, it was how can I prove to my mother, who gave me up, look what you lost? Look at the value in me. I was important. I didn't deserve that. In some ways, I wanted to make her feel sorry that she couldn't brag on me as being her daughter. Those are the things that still drives me to this day. I wanted everybody in my family that raised me to know they were lucky to have gotten me because I'm a winner. It's not always easy because yes, I long for the traditional family but that's not the cards that I was dealt.
I listen to Beyonce's Lemonade and listen for a different reason. It can be applied to everyone's life, honestly. You take the man out and put whatever stumbling block in it's place. It can beat you down, it can take you out or it can inspire to push on and say not again. Once you make that decision and stand in it boldly and justly, nothing on hell and earth can pull you out of it. Nothing can knock you down. The key is not waiting for everyone else to fill you up with that power that you need, it's got to come from you. You are the only constant in your life. You have got to be centered and be in a place in your life that no matter who comes and goes, you are always on your path.
Article continues below advertisement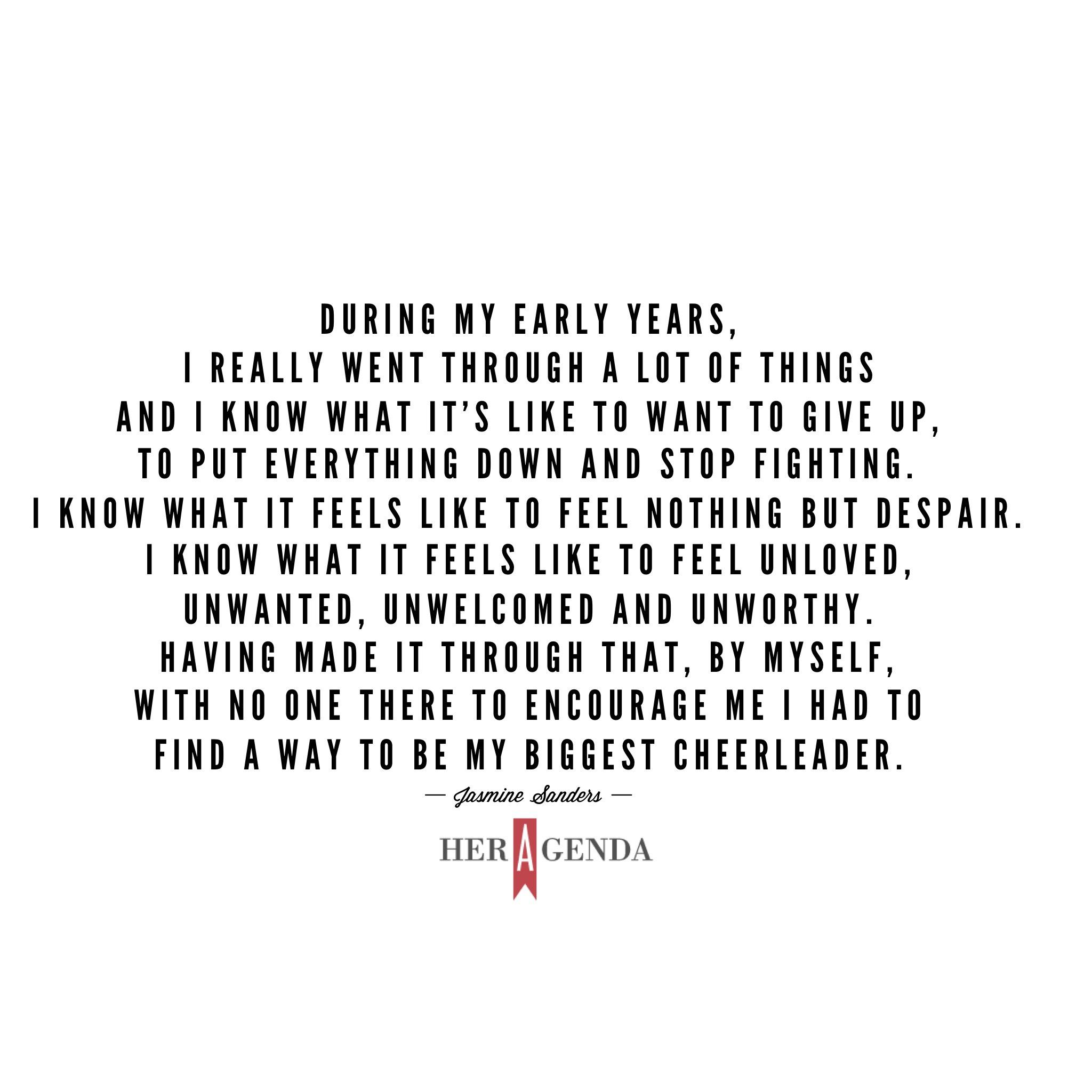 Her Agenda: In your spare time, you enjoy speaking and working with young women to encourage them to get the most out of life. What inspired you to do that?
Jasmine Sanders: During my early years, I really went through a lot of things and I know what it's like to want to give up, to put everything down and stop fighting. I know what it feels like to feel nothing but despair. I know what it feels like to feel unloved, unwanted, unwelcomed and unworthy. Having made it through that, by myself, with no one there to encourage me I had to find a way to be my biggest cheerleader. I've always been a protector of the underdog because just knowing what I went through, knowing how difficult it was and how it almost took me out, there's no way I could walk this Earth and have this platform that I've been blessed with and not use it for good. Long after I'm gone, no one is going to remember the radio show and this or that but there will be at least one or two girls who will always remember my name. If that's the only legacy I leave behind, I can die a happy person.
Article continues below advertisement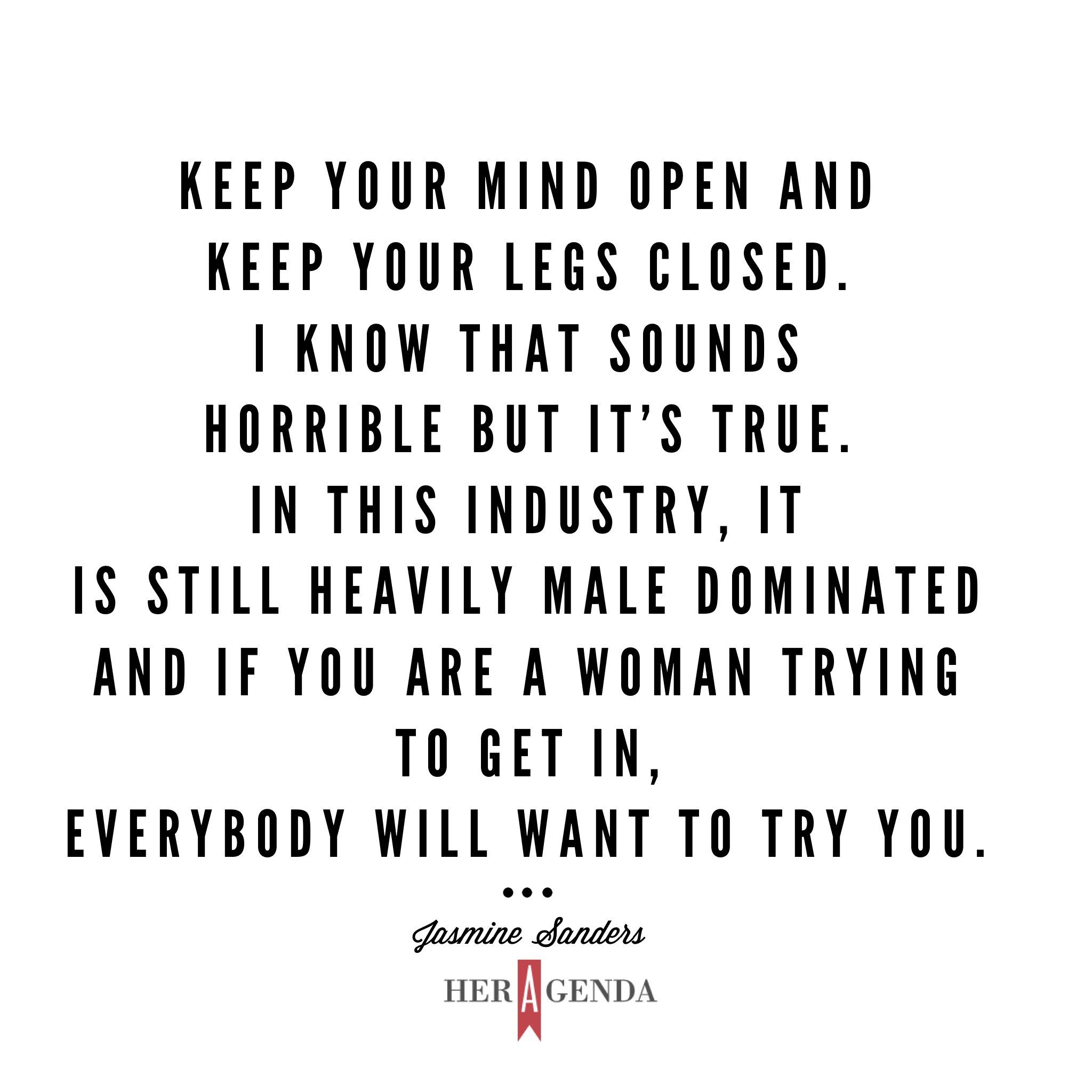 Her Agenda: Do you have any encouraging words for young women that are following in your footsteps?
Jasmine Sanders: The biggest advice I would say is keep your mind open and keep your legs closed. I know that sounds horrible but it's true. In this industry, it is still heavily male dominated and if you are a woman trying to get in, everybody will want to try you. You have to have enough security in yourself to know what it is and realize that situation is a temporary moment that will take from you more than it will ever give and it will stain and tarnish your reputation beyond repair. So when you want to further your career, no one will know you for your amazing talents but will know you as that chick first. If you keep your eye on the prize and put the work in, nothing will stop you. Always know your worth.
Article continues below advertisement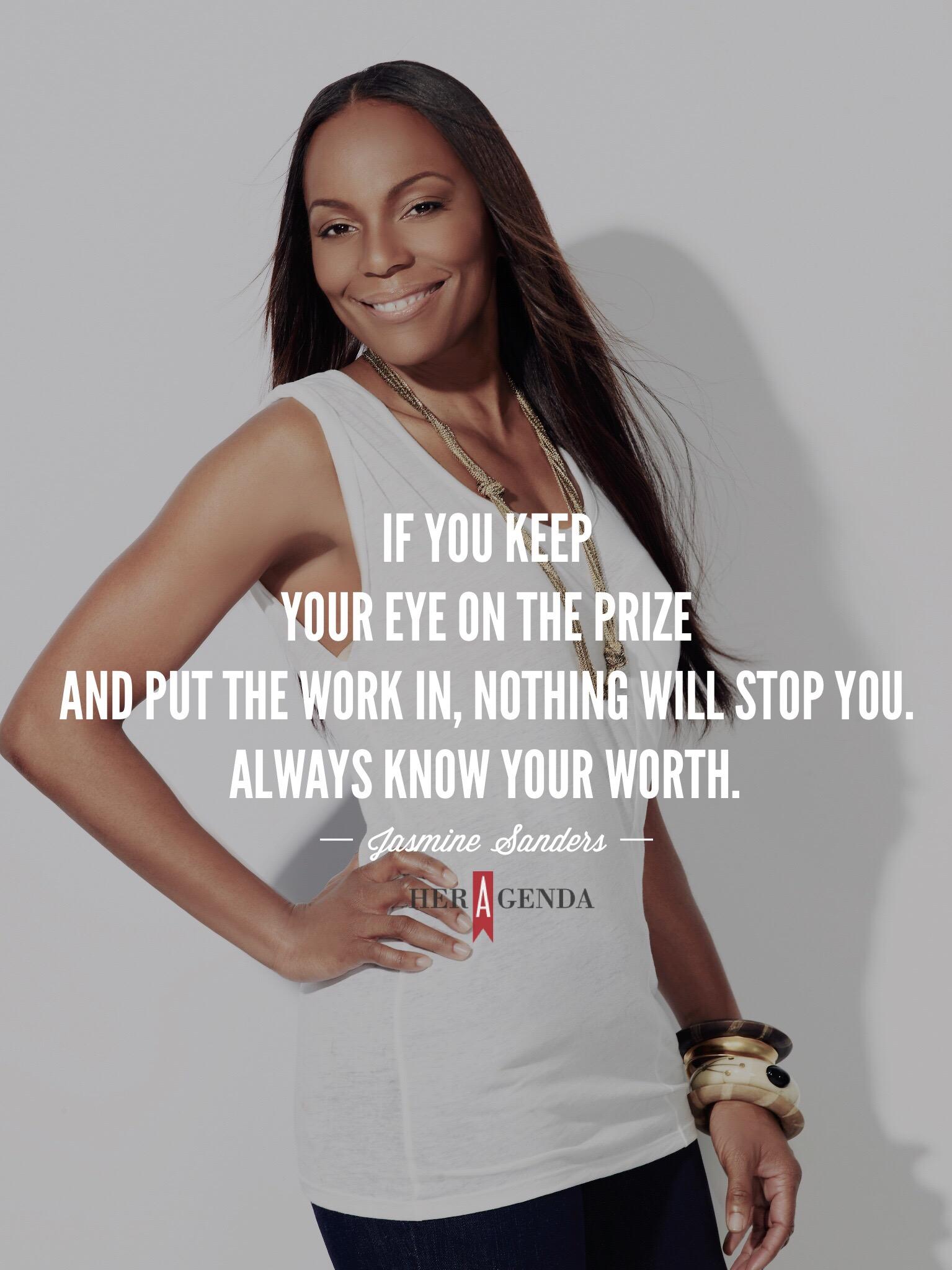 Her Agenda: What is your life motto?
Jasmine Sanders: To whom much given, much is required. I have been so blessed in my life with the number of opportunities to live again, to thrive again, to start over…I am blessed beyond measures, beyond any words I can give to you. But I know that comes with a price. It's not free to walk around in this life. I believe what I'm trying to do with my platform is what I was born to do. I was born to live this life and not only help me but help as many people as I can in a way that only I can. If everybody lived that way instead of being selfish and about themselves, we would have a better society.