Money changes lives for better or for worse, and financial literacy gives people the power to determine which side of the coin their life lands on. Jatali Bellanton learned this lesson early. At just eight years old, she asked her father to teach her everything he knew about money because she never wanted to struggle with finances. This early interest was sparked after seeing her stepmother essentially live to borrow, and never get her money right.
This led Jatali to a career in finance. After working for over 10 years in corporate finance across the U.S. and the U.K. Jatali is now the founder of Kids Who Bank, teaching financial literacy and creating curriculum around it for kids. As of 2020, Jatali's company was set to be in 278 schools. Coronavirus has put that in flux, however Jatali and her team are still committed to doing what they can by shifting their teachings online.
"Just this week alone, personally, I did thirty-two schools, which was crazy in itself between Monday to Friday; by myself. I have other people on my team, who are also doing schools, different schools," shared Jatali in our conversation.
Kids Who Bank started with a book. The book evolved into a curriculum, and ultimately an awards gala that honors children and the adults who assist their growth. The next step, she says, focuses on legislation – making it a law for there to be basic financial literacy before someone can own a credit card. And ultimately, Jatali is planning to open a youth art museum in Ghana. It will be the first of its kind to exist in the country offering interactive exhibits, classes, and education focused on the youth.
We recently spoke with Jatali about what she's been up to during COVID-19 lockdown, and what's ahead for Kids Who Bank.
Her Agenda: Wow! I don't even know how you're awake right now. You led workshops in thirty-two schools within just one week!
Article continues below advertisement
Jatali Bellanton: I don't know either. Do you know what it is? I love what I do. I truly love what I do. [A couple of weeks ago] I did an online workshop for free for my Instagram followers and I'll be able to now share some of this knowledge that I teach in the school system for free to my Instagram followers and that's a blessing to be in a position to do so. It really invigorates me. When you walk in your purpose, I feel like it replenishes you.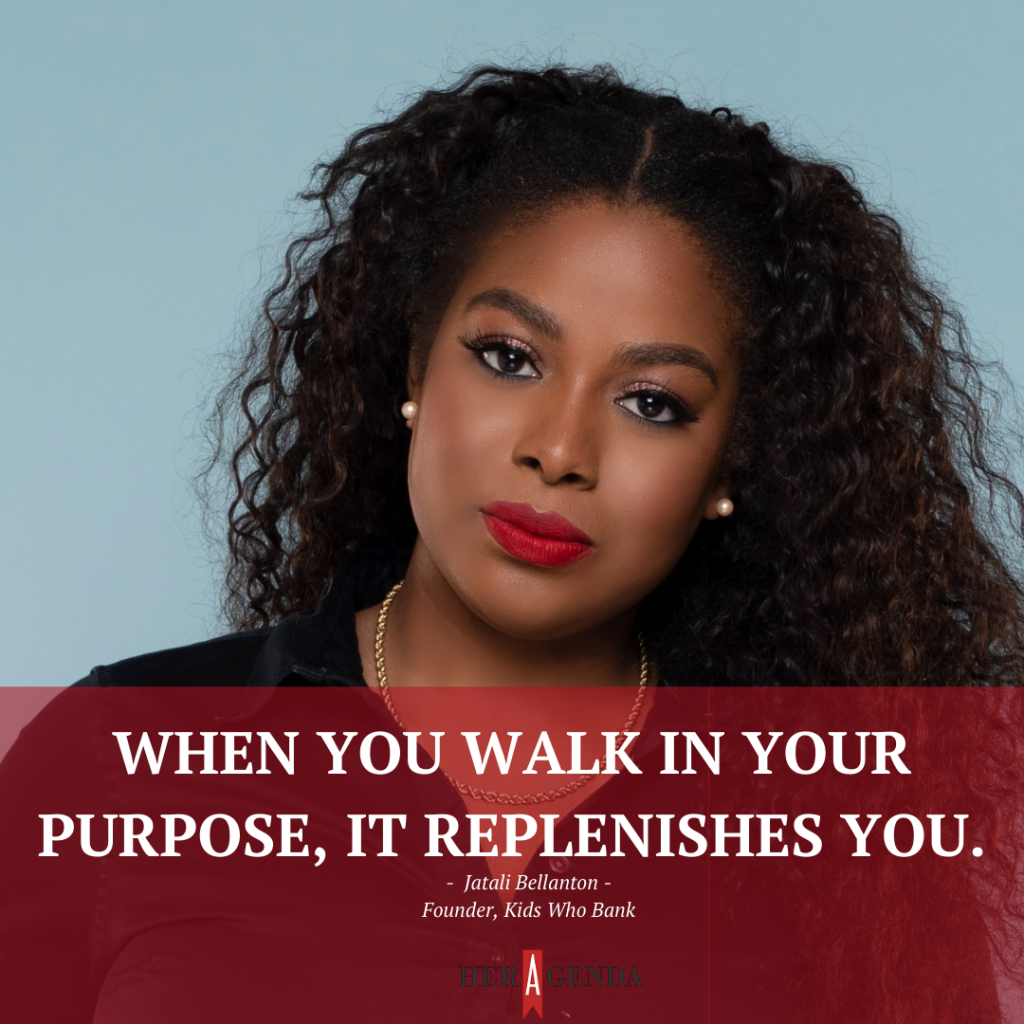 Article continues below advertisement
Her Agenda: Tell our readers about who you are and what you do.
Jatali Bellanton: I worked thirteen and a half years for a corporation in the finance sectors of the U.K. and the U.S. and now I continue to work in the finance world teaching financial literacy within school systems. Technically I have about seventeen years of experience in the finance world, helping people multiply their portfolios, making people millions and now teaching our youth how to multiply their own dreams into currency.
Her Agenda: You were inspired to get into finance because of your stepmother. You watched her fumble, financially gamble and you said in one interview she essentially lived to borrow. With the help of your dad, you became financially stable. What did that look like in the beginning?
Jatali Bellanton: From a young age, I remembered her snapping and losing her temper over a money situation. She was trying to borrow money from me as a kid. Because I had the guts to say no to her, I remember she snapped. Just watching her lose her composure, I remember thinking, 'I don't want to be that person, and financially I want to be as responsible as can be.'
Article continues below advertisement
I have about seventeen years of experience in the finance world, helping people multiply their portfolios, making people millions and now teaching our youth how to multiply their own dreams into currency.
-
I remember she would have times where she would go to work and forget to leave food in the house. I got to see both extremes of living and being alive. Because some people might only know one aspect as children, which is that every food is a steak and salmon or whatever you eat. Then somebody else might only see the poverty aspect of Ramen noodles, and nothing wrong with Ramen noodles, but sugar water and no bread, no food, nothing in the house and scraping by to wait for your next meal.
I got to experience both extremes. That really made me passionate about making sure that when I was fully in control of my own life I would never be in a position where I did not have to experience that level of poverty.
Her Agenda: How did your dad help you with that?
Article continues below advertisement
Jatali Bellanton: The first conversation I had with my dad [about it] was at the age of eight. I said 'Dad teach me everything you know about money.' I remember the first thing he told me, I never forgot was, 'I was going to wait until you were sixteen, seventeen [years old] to have this conversation with you.' I was like, 'No, let's start this now.' It was interesting, because I remembered him, by the time I was 10 telling me, 'I didn't realize that you would understand these things so well.'
[He taught me about] investing in real estate. My dad made sure he brought me with him to purchase investment properties. He had me next to him, going to look at the property and letting me know how much they were asking for the property, telling me about comparables. That's how it looked like in the beginning for me.
Her Agenda: When it came time for you to pivot in your career away from corporate America and become a full-time entrepreneur, was that a hard decision?
Article continues below advertisement
Jatali Bellanton: It was the scariest thing in my life because when you're making at least six figures and you have consistent money coming in, it's hard to turn away from that for the uncertainty of becoming an entrepreneur. But I had my son and I knew it was time for me to walk away because of the hours that they expected of me. It was just inhumane.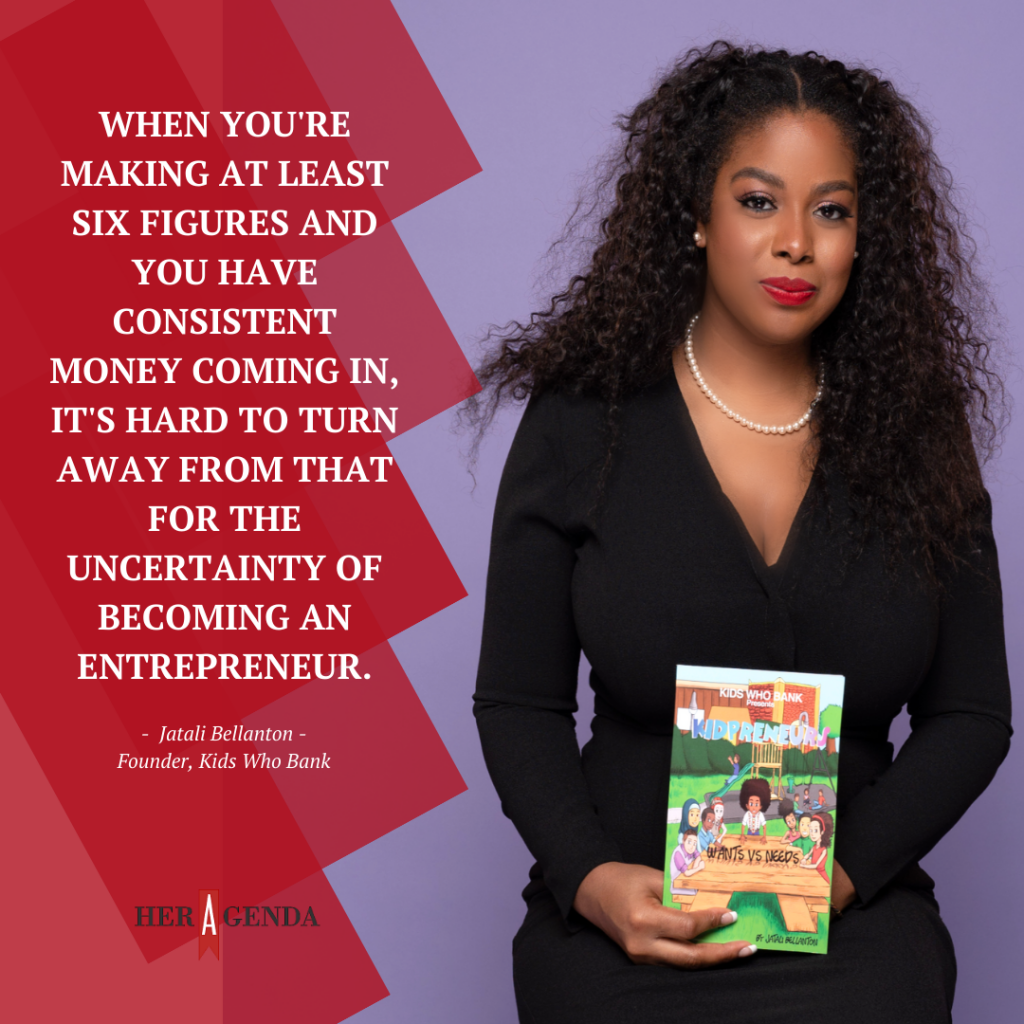 Article continues below advertisement
This beautiful job that I thought was amazing, came crashing down. They expected me to work the same amount of hours and have the same workload, even though I had a newborn at home. Honestly, three months is not enough with your newborn. What ended up happening was this level of uncomfortability, because I realized it was time for me to leave the corporate world, because I wanted to be a hands-on mother. I had to make that choice, which was a hard choice, as an ambitious woman. I had a woman, who was the VP of the company, question my ambition, because I wanted to be a hands-on mother. I remember that even played into the psychology of my decision of leaving or not.
Her Agenda: How did you get the courage to finally leave?
Jatali Bellanton: What it came down to was my trademark, funny enough, which is, 'money is not my God.' I couldn't let the money deter me, or make my decisions.
I had investment basics and I had savings and I started planning and doing things. During my maternity leave, I took an online class to become a nutritionist and I started thinking about jobs that I could do from home, as a backup if I were to lose my job. As a parent, I feel like it makes you prepare for these things, for these moments.
Article continues below advertisement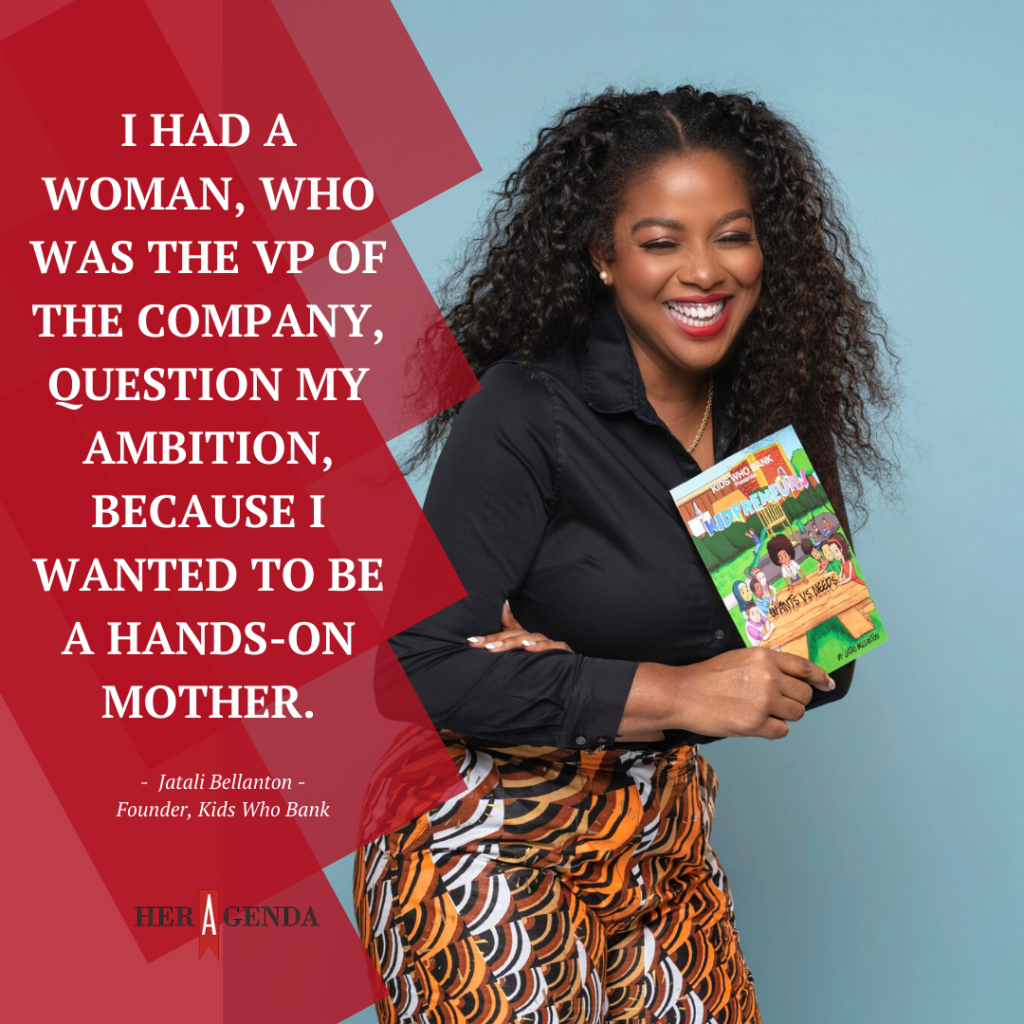 Her Agenda: That is super smart of you and you actually answered my next question, which was how did you set yourself up for success as you prepare to become an entrepreneur? So, saving, taking those courses, looking into what you could do working from home as a mom and still being able to capitalize on your ambition. You have a big purpose in this world and it's amazing that you found a new outlet or channel for it.
Jatali Bellanton: A lot of people under-appreciate, or undervalue what it is to be a mom. Right now, because of the coronavirus, I feel like one good thing that has come out of this situation of home quarantine, is that a lot of parents are seeing what it means to actually stay at home with your child. Sometimes I feel like even my corporate friends who are CEO's of companies and CFO's of companies would make comments like, 'Oh, you have it so easy, just to stay at home with your kid all day.' I'm like, 'Wait, what? No, it's not that easy. I'm not going to say it's a job, but it's not easy.'
Article continues below advertisement
A lot of parents are seeing what it means to actually stay at home with your child.
-
Especially if you're an entrepreneur, you're balancing being a mom and then being an entrepreneur. There were nights when I was building Kids Who Bank, where it's 1:00 AM and I put him to sleep, and let's say I put him to sleep at like nine o'clock, ten o'clock. Then at one or two A.M, I'm working on my business, writing a book or I'm working on creating my first ever finance curriculum and taking online classes, learning how to write a curriculum and then I'm asleep for two, three hours. After that, my son is up by 5:00 AM and I only literally slept three hours. Ultimately, I'm back at it again for the whole day with little mini naps with him in between the day. But how easy is it for parents to really take a nap during the middle of the day? You still have to do dishes, laundry, you still have to clean, and you have to cook. So that was a fun time for me, I was learning how to balance all of these things and also learning how to keep the ambition towards my overall goal, which was entrepreneurship of creating a finance curriculum.
Article continues below advertisement
Her Agenda: What is one way that you can build sustainable wealth at home?
Jatali Bellanton: Well, one of the definite ways is investing. In a moment where the market is so volatile, I tell people this is the perfect time to invest in the stock market. If you've never done it before, reach out to a professional who knows what they're doing. Or do your research, go on YouTube. There's so many knowledgeable people who can at least point you in the right direction when it comes to the stock market and learning about the world and how to invest in your first share.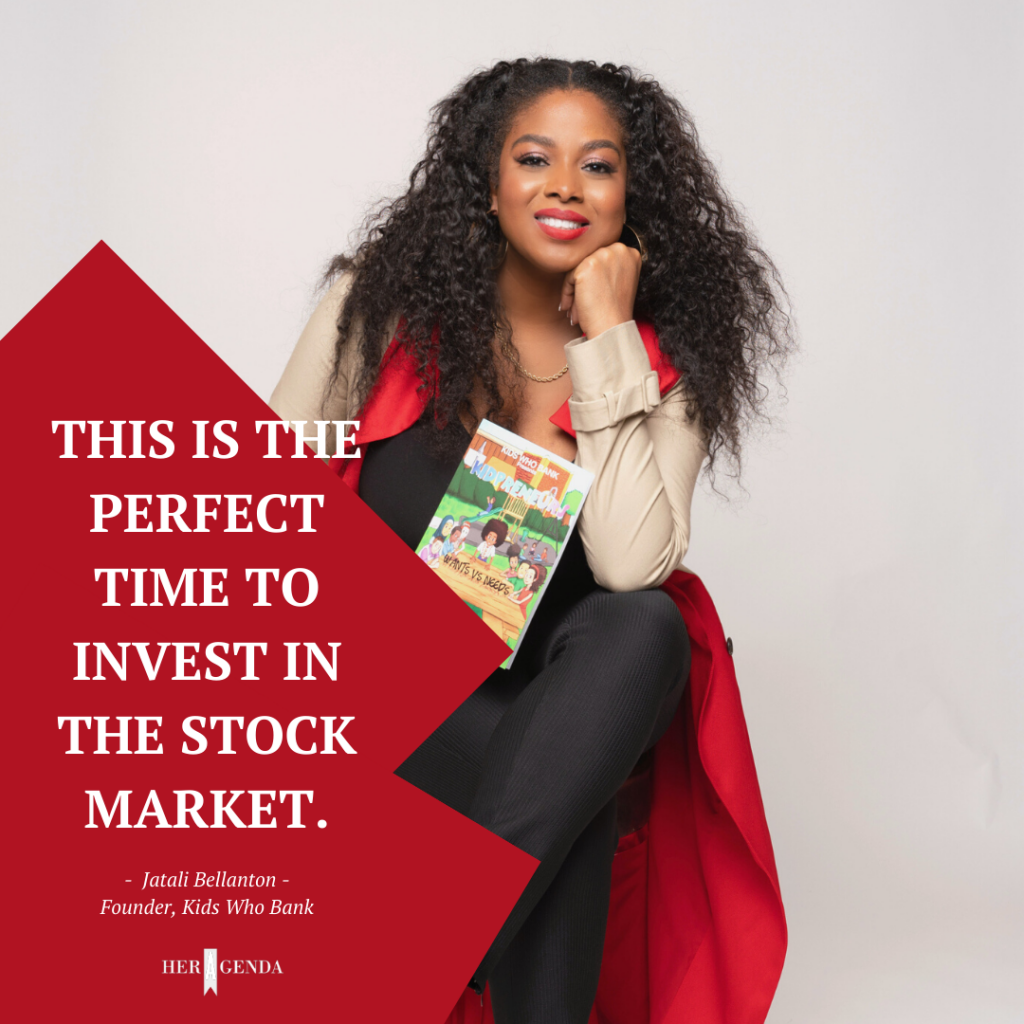 Article continues below advertisement
Her Agenda: You're also working to open a youth museum in Ghana. You partnered with another entrepreneur, Kristin Nimoh. Talk about that. What inspired the idea and where are you now in the process? When will it open?
Jatali Bellanton: I was actually supposed to be going to Ghana again in March, to finalize on the space that we wanted to purchase, for the youth art museum. Now of course that has come to a halt. I'm not too sure when we're going to open it. We wanted to do it in December of 2020, but now it looks like it might be 2021. The goal is creating a space where children can learn vocational skills and enjoy beautiful art.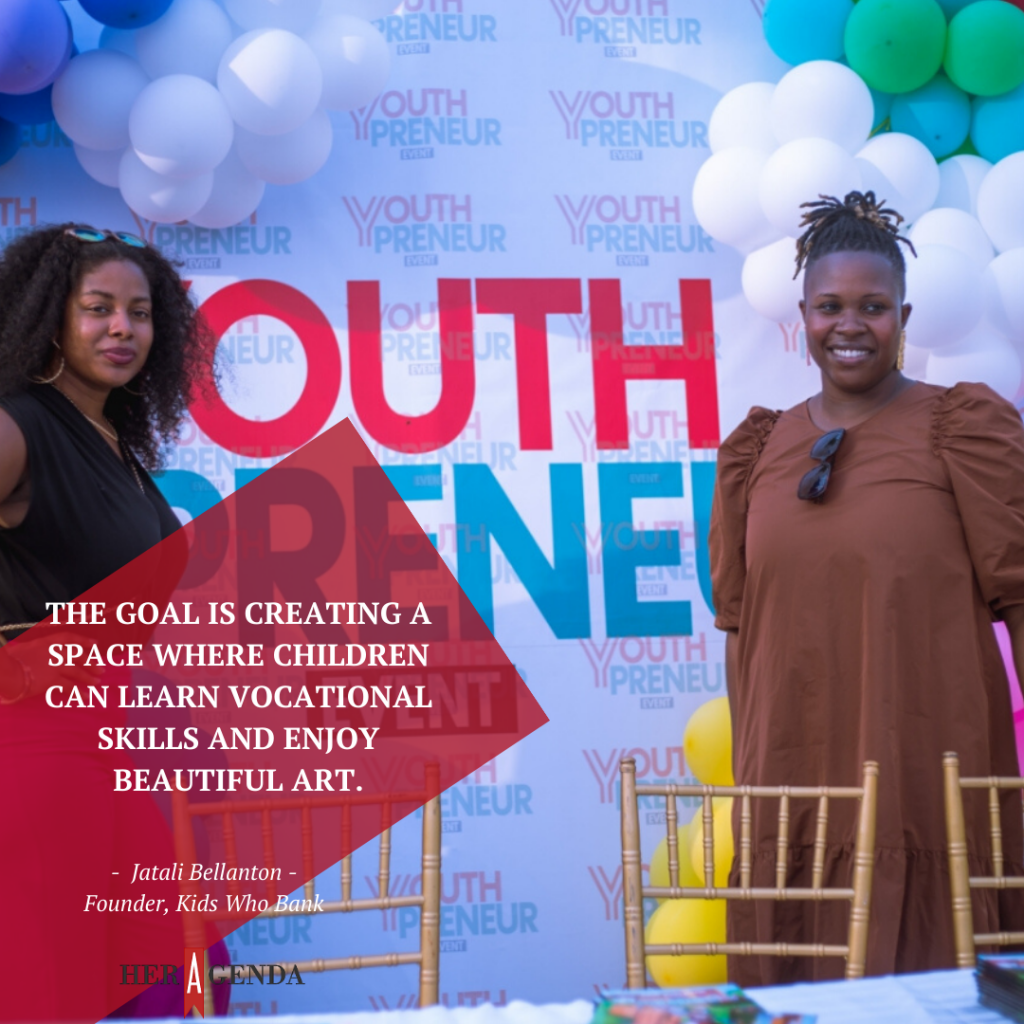 Article continues below advertisement
It started off with just wanting to teach them financial literacy and e-commerce and then it turned into more. We said, 'what about art classes?' Because if we're going to have art hanging, what art classes are we teaching? So teaching them everything from ballet, Taekwondo to an artist teaching them the difference between oil and water based painting.
Her Agenda: Would you call this a museum, or would you call it a youth center?
Jatali Bellanton: We're going to call it a youth art museum. I modeled it after the children's museums in New York City and one of the coolest things from the children's museum in the United States, is that it's interactive.
Her Agenda: What made you decide to open this in Ghana vs the United States?
Jatali Bellanton: The funding wouldn't have been an issue if I did it in the United States, but I really wanted to do something for Africa and for West Africa and just get it started and then spread it throughout Africa. One of the issues in Ghana, in particular, is that there weren't things really geared towards children and their entertainment. As a kid, when I was younger, I remember my dad and I would visit Africa. I remember if I wasn't with my dad, I would be stuck in a house, basically doing nothing. In some houses, there would be a pool and there would be slides and toys, but if you weren't at a house where they already had a bunch of toys, there weren't really parks, or fun places, or cooking classes and things like that for kids to do. I used to opt to just go to my dad's boring meetings, or go to court with my dad and do these boring adult things, because I just was like, 'What am I going to do? Stay inside and do nothing?'
Article continues below advertisement
That's the memory I had. Now that I'm a mom, here I am getting prepared to go to Ghana and I knew I wanted to do something for youth. I wasn't sure what it was. I was thinking about re-worked space for adults and youth.
As I'm thinking about this, I'm planning to go to Ghana just for a recreational trip and I was asked to do an educational youth event. When I was brought in to do this concept, I started looking around to see what fun things I could do with my son and I couldn't find anything. I got knocked back to my childhood. This has not changed. This has not been fixed. There isn't a designated space that is for children; honoring them, showing them art, fun, whatever. I wanted to change that narrative.
Her Agenda: Wow. It shows that it is really rooted in your purpose, just because of all the things that align in the fact that you happened to be just planning a trip to Ghana and then you met the right people and partners. I want you to also share a little bit about who you're working with to bring this to life.
Jatali Bellanton: We're hoping to work with Kristen Nimoh. Kristen is a woman whose daughter is, I would say Ghanaian socialite. She's a little model. She's six years old and she's graced the covers of Poochie Kids and Zara Kids and all these major platforms; Ralph Lauren – she's a Ralph Lauren Polo kid model. So this gorgeous Ghanaian girl and when I met her mother, we were supposed to just be grouping up on a youth day. That turned into me telling her about my crazy idea of having a youth art museum and wanting to open it in Ghana. It was interesting because a few people were like, 'Well, you're Cape Verdean and why would you want to open something in Ghana instead of Cape Verde? I was just like, 'One, it's all West African love and two, I wanted it –' People [in Ghana] are ready for this kind environment or creativity. I just knew that in Cape Verde, we weren't there yet.
Article continues below advertisement
Her Agenda: Overall, how has doing this work impacted you as a person?
Jatali Bellanton: It makes me care more about leaving a legacy behind. The more I accomplish, the more that I do, the more it stimulates me. I didn't realize I was underachieving before. It's crazy, because I don't even know my capacity. I thought I was at my capacity. I thought I did everything and I thought I was living my full potential. Doing this work, being around youth, teaching youth around the world, from Australia to Africa to America about financial literacy and doing adult teaching now, the more I do, the more I realize I could do more. It makes me want to challenge myself, it makes me want to push for our people and for their financial economics.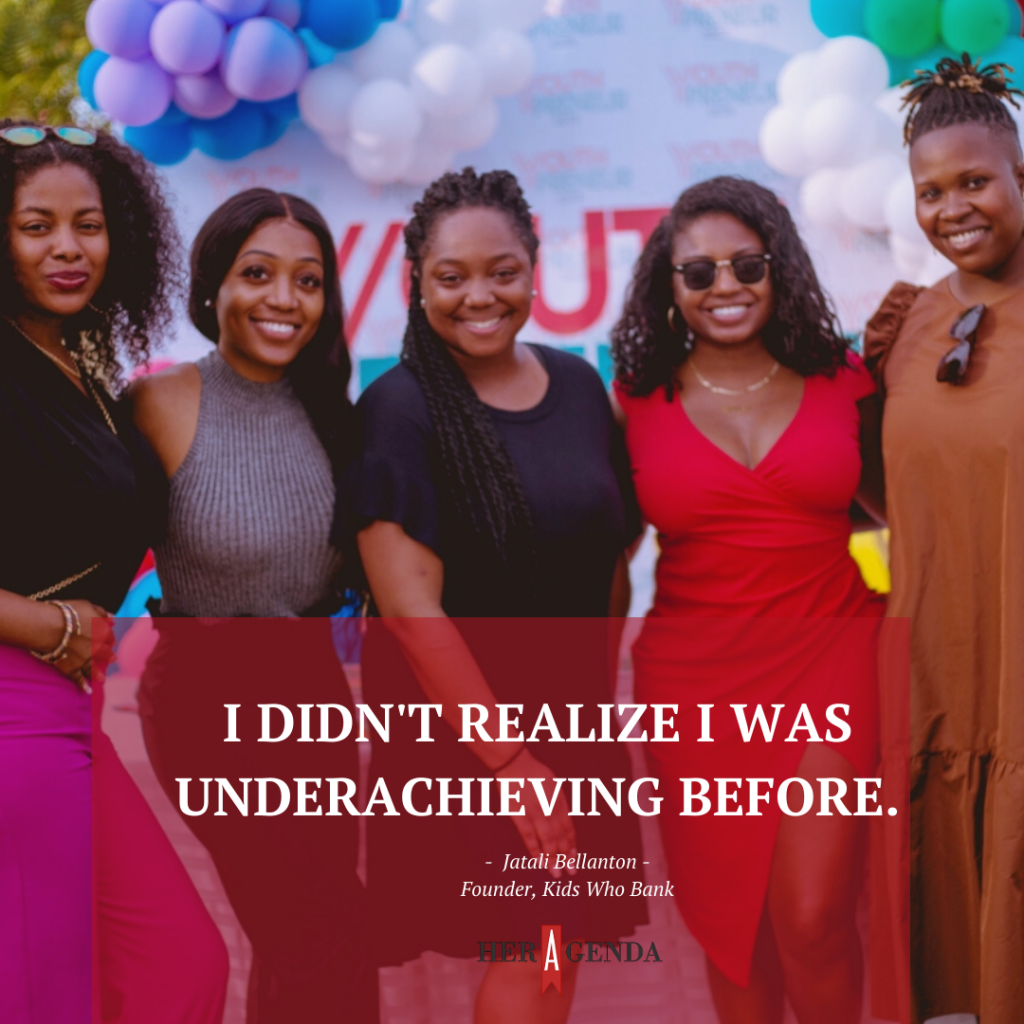 Article continues below advertisement
Her Agenda: Yes. I love that. I love it. Anything else that you want to add? Anything that you feel like I didn't ask you, that you want to speak to?
Jatali Bellanton: I do want to mention the Kidpreneur awards because it's the way that we give grants to kids and it highlights the youth in our society. We have an annual gala, which is the Kidpreneur Awards Gala and at this gala we honor youth entrepreneurs and philanthropists and the adults creating ladders for them.
The competition is open again. We were going to have the gala in April, that didn't happen. No matter what, by 2021 April, we will be having our next Kidpreneur Awards Gala. The competition is open, but this year we will still pick an entrepreneur that will at least win a grant.
If someone has a child that they feel has great ideas, or has accomplished some amazing things and would like to win $1,000 for their business or idea the Kidpreneur Award is definitely open for that.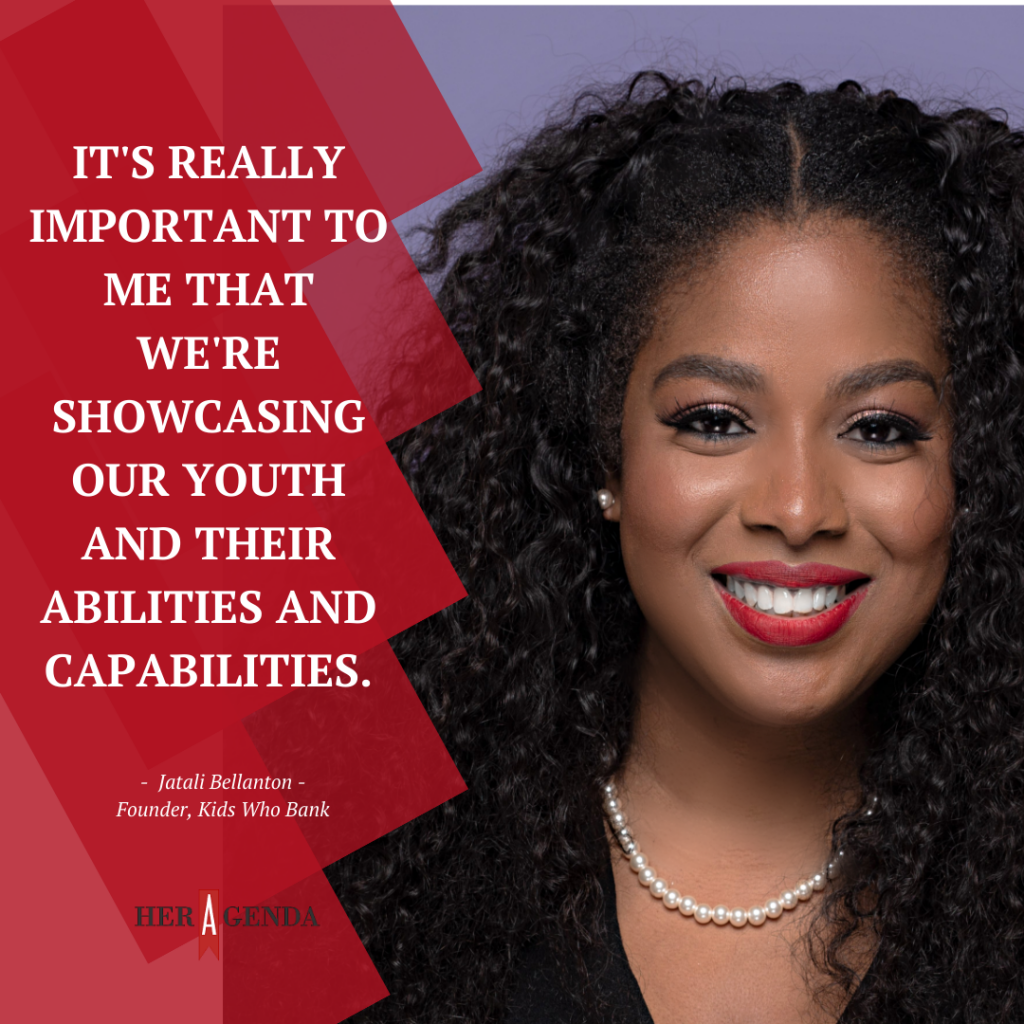 Article continues below advertisement
Her Agenda: Where can someone go to get the application to submit?
[Editor's note: This interview has been edited for length and clarity.]