Jodie Patterson is a game-changer. She noticed the lack of beauty products fit for diverse faces of beauty, and with the help of her business partner, Benjamin Bernet, created Doobop. The e-commerce site is dedicated to providing diverse beauty options for women: it offers beauty experts, hand picked products and more.
Jodie's business-savvy background in the music and public relations industries have assisted her with spearheading the site for beauty enthusiasts worldwide. Her career path is a remarkable example for female entrepreneurs who are innovative, have a knack for social media and are willing to solve an issue by creating a business.
Patterson says her journey was nontraditional. But really, what journey is? Either way, each journey has a theme and a lesson we can all learn from. Read on for our inspiring chat with Jodie to learn more about her ideals on beauty, how she feels about entrepreneurship and more.
Her Agenda: What is it about Doobop Beauty that you believe sets it apart from other beauty e-commerce sites that are currently live?
Jodie Patterson: We have always approached beauty from a conversation point. We totally understand it to be something personal. We rely heavily on content, we use content to establish a relationship with our customer. Often times when you go in a storefront, its hard to find an expert, what we've provided is a conversation behind beauty all over the world. We're taking ideas from France and [in the U.S.] When you're making purchases around beauty it's around feeling, the efficacy of the product: our content online allows us to tap into that, we talk about the feelings and emotions. Our customers are very engaged. It helps us explain products and put it into perspective for multi-faceted women, our site allows us to tap into the capital B of beauty and we are not talking about vanity. Many of the brands are started by specific people, we talk about the founders of the company, we talk about how the product makes people feel, online we're able to talk about each brand.
Article continues below advertisement
Her Agenda: What parts of your background prepared you for creating Doobop Beauty? Do you believe without your background experience/knowledge it would've been more difficult?
Jodie Patterson: I think my background played into it a lot, I was a circus acrobat and performed in the Big Apple Circus, that helped me with the idea that fear will not stop you, it makes you focused. I was an entrepreneur after college, I helped launch and co-own a live performance venue, Joe's Pub. I also ran my own PR company, articulating one's voice [is important], the art of conviction is important. Everything I've done has helped me. Beauty is the lens I'm speaking now, but really I'm about identity, I use my journey to [speak and relate] to women globally through my own experiences. I like the fact that I've had a nontraditional [journey]. My last 20 years have been experimental. With a startup you have to [think this way].
Article continues below advertisement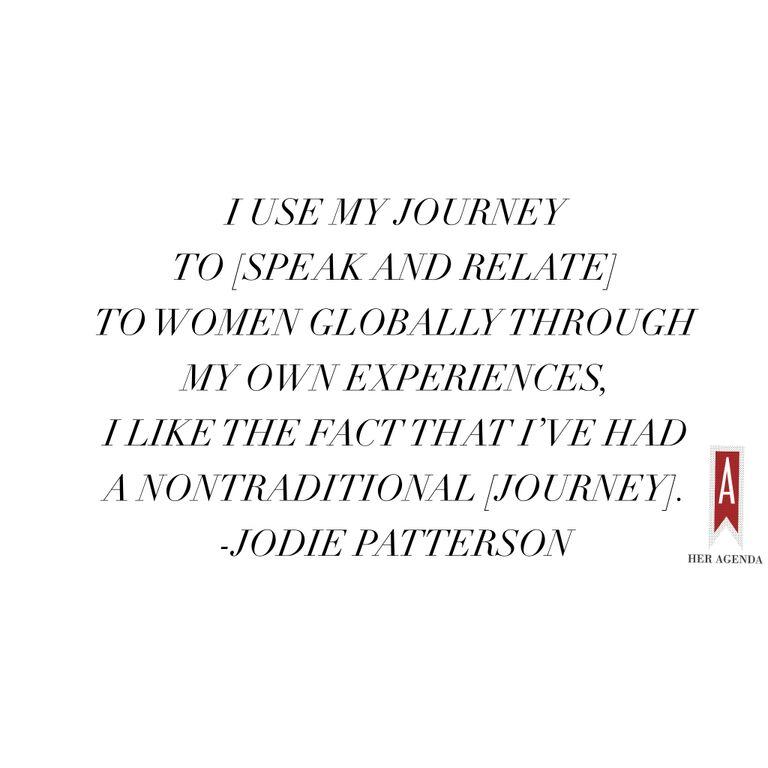 Her Agenda: Do you believe more millennial women should begin thinking about creating and running their own businesses?
Jodie Patterson: I think women have a great upper hand in business because we're intuitive and emotional, it helps with the metrics of success. Women should use these things and not approach things like men do in business. Women young and old should be very confident that start-ups and entrepreneurship are a strong possibility [for working towards success].
Article continues below advertisement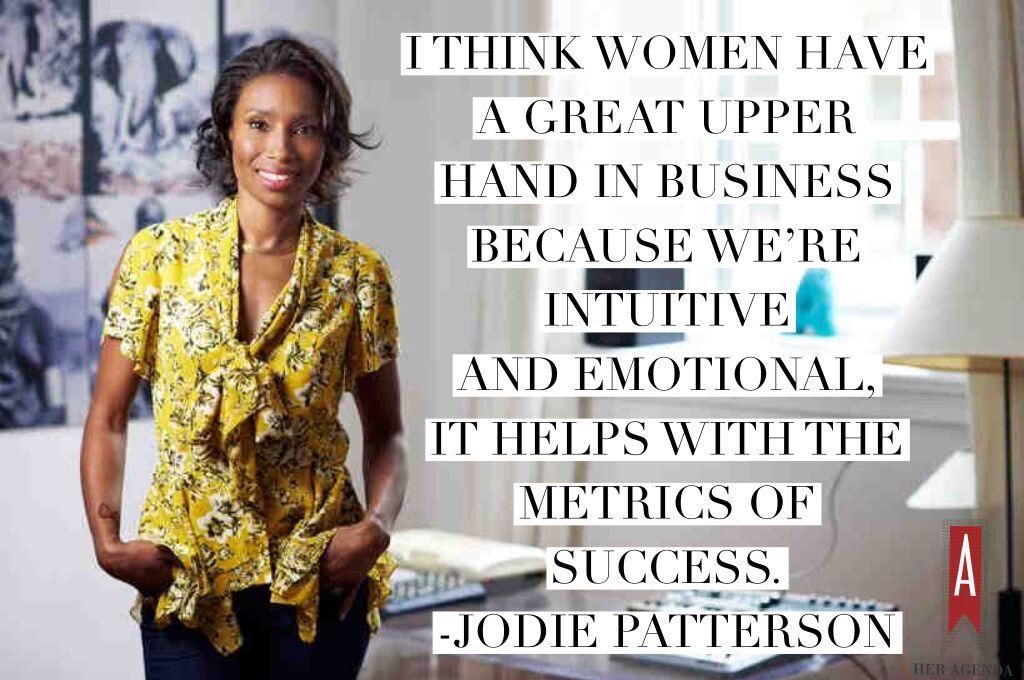 Her Agenda: What was the most difficult part of creating Doobop Beauty with your business partner, Benjamin Bernet?
Jodie Patterson: Some difficult areas are partnership. There's a balance between having a strong vision and seeing the value in other people's ideas, listening is difficult for entrepreneurs because we're so headstrong. The partnership is tricky, it took me 20 years to get to the one I have now, Benjamin. I decided that I would let him do his thing and I would do my thing, [what we're both good at]. You don't have to have your hands fully submerged in all aspects. Launching the business wasn't so difficult but keeping it up and running is difficult, the longevity and tenacity, maintaining and growing are difficult.
Article continues below advertisement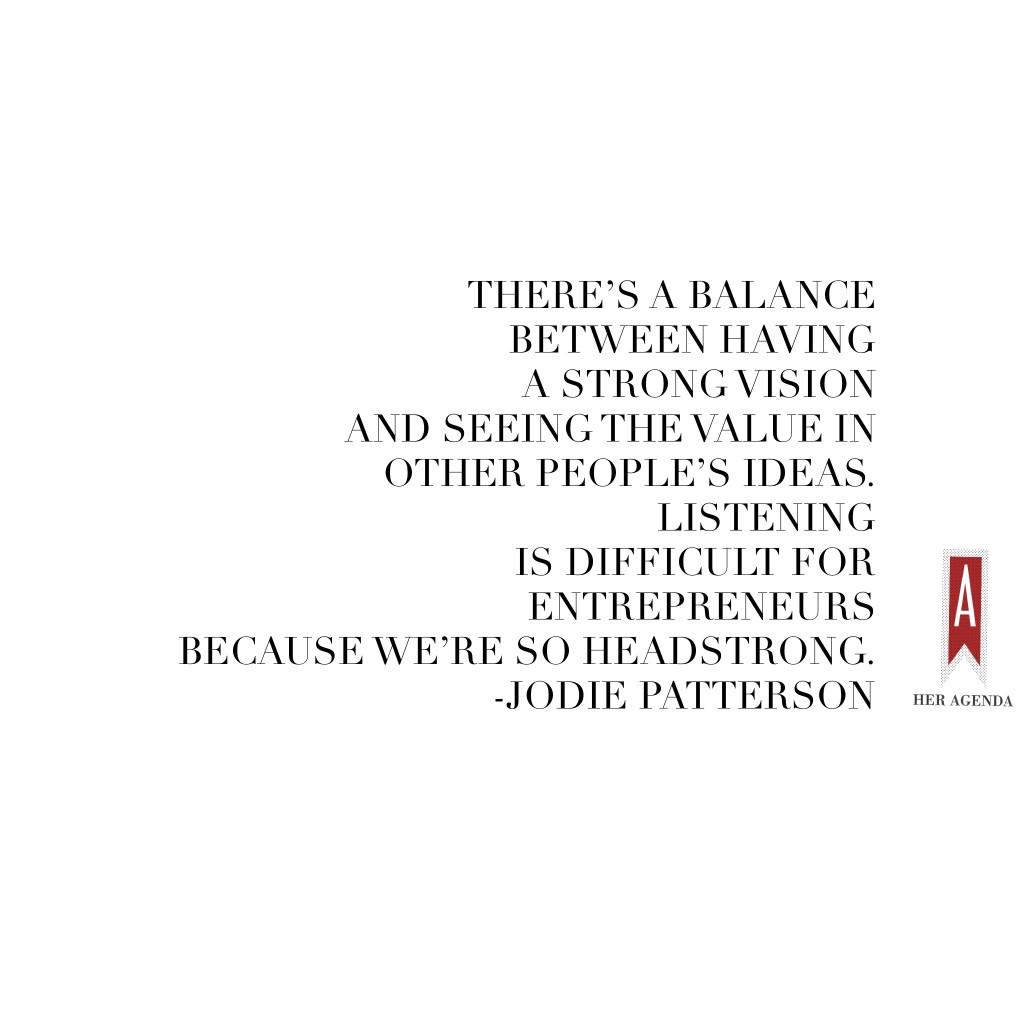 Her Agenda: Do you think Doobop Beauty and its' social media presence and communication with followers is an important aspect of the e-commerce business? Why?
Jodie Patterson: Yes, I think it's important, it's our best publicist. I've worked with people prior to social media and I think it's fantastic. With Instagram as an example I've been able to go outside my audience and find a new audience. I'm finding different types of women and international men. Social media tools allow us to connect on whatever level we're comfortable in. I always encourage anyone who's getting into any business to find one of the channels and engage people. I have people, companies and brands that I've connected with and created relationships with. Social media should be a natural part of your business.
Article continues below advertisement
Her Agenda: What is one message or feeling you hope to leave customers with each time they purchase a product from your site?
Jodie Patterson: Beauty is an emotion and every time we purchase emotion is attached. First we want to investigate who we are and then purchase what makes you feel good. The package is aligned with who we are from the inside out. Doobop is about our inner mojo, through product [and] through trend. The package is seen as a gift, a beautiful gem that says a lot from who we are from the inside out. The beauty industry micromanages women…brands always try to change women. Doobop is about simple, easy beauty. We want to encourage women about the essence of beauty.
Her Agenda: What words of advice and tips would you like for budding creatives and entrepreneurs to know about the e-commerce industry?
Jodie Patterson: We should spend a lot of time taking notes and being a voyeur to the world. The most successful entrepreneurs have a strong voice: observe, watch and form an opinion over the years. Own your idea: put your ideas down in writing. All entrepreneurs have a roller deck of ideas, record your ideas. Find partnership and rely on that to actualize. Read the trade magazines in your business. Get on social media and see what the conversations are in your field. Successful businesses tap into things and [conversations] that are happening in [real time].
Her Agenda: What's your guiding personal motto?
Article continues below advertisement
Jodie Patterson: Winners are losers who got back up. Full stop. I tell this to myself and my kids all the time. Simply because most people don't. They stay down because the failure was too embarrassing or scary or it made them question themselves and change direction. But when YOU get back up you better come with wisdom, an aha moment and a lot less fear.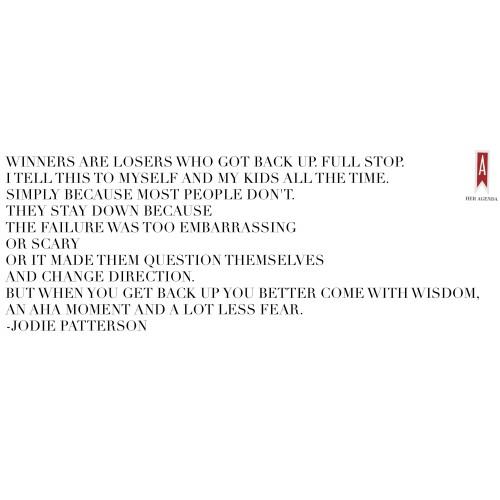 Article continues below advertisement
Her Agenda: What is the most significant part of your job that you admire?
Jodie Patterson: I love writing and the content I create for our site is by far what get's me going the most. Storytelling is such a deep part of our collective DNA as humans – we're hardwired for it, it's our universal language. Perhaps Doobop will never outsell Sephora. But I'm positive we win hands down for being authentic, transparent and reflective of beauty in real time. Doobop owns the conversation around 'smart beauty'. Our voice, our content is something that I'm really proud of.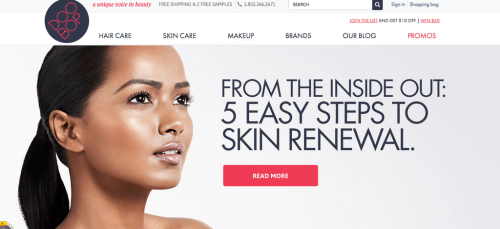 Her Agenda: What's been the biggest obstacle you've overcame and how did you get over or overcome this hurdle?
Jodie Patterson: Time management has always been and continues to be the biggest hurdle for me. It's something all entrepreneurs are up against. Our teams are small, we've got a million things on our plate and on top of that we're visionaries so often there's no blueprint for what we're doing. For me, if I could clone myself…..ooooo what I could accomplish! But for now, I rely heavily on smart interns, a team that can multitask and women who really care.