Joi Gordon, CEO of Dress For Success Worldwide, discovered early in her career the importance of being true to herself.
At a fairly young age, Joi decided to leave her job inside the legal profession and pursue a life of passion and purpose within a nonprofit she admired. Despite the skepticism from the people closest to her, Joi exemplified real time resilience as she began to define what it meant to achieve both personal and professional success.
Now, 17-years later, Joi Gordon is the CEO of Dress For Success Worldwide, a global nonprofit organization that empowers women to achieve economic independence by providing a network of support, professional attire, and development tools to help women thrive in work and in life.
Under her leadership, Dress For Success has served more than 925,000 women in almost 150 affiliates located in 20 countries across the world.
Between balancing work, leadership opportunities and board responsibilities, Joi took a moment to speak with Her Agenda about her journey, career and how she defines success.
Her Agenda: You're pretty open about people being less than understanding of your leap from the legal profession into the nonprofit world. How did you overcome that doubt early on?
Joi Gordon: [There] was a perception issue that I had given up too early. It wasn't that people were applauding me for being brave, but [going into the nonprofit world] was being perceived as giving up.
When people realized my passion for the work, they began to have a better understanding that this was my journey. I was on my personal journey, which didn't necessarily have to be what other peoples journey looked like. It wasn't a straight line from college to law school to a career in the legal world. My journey was a dotted line approach to my personal success. I knew (which is all that mattered) that staying in law wasn't what I wanted to do.
Article continues below advertisement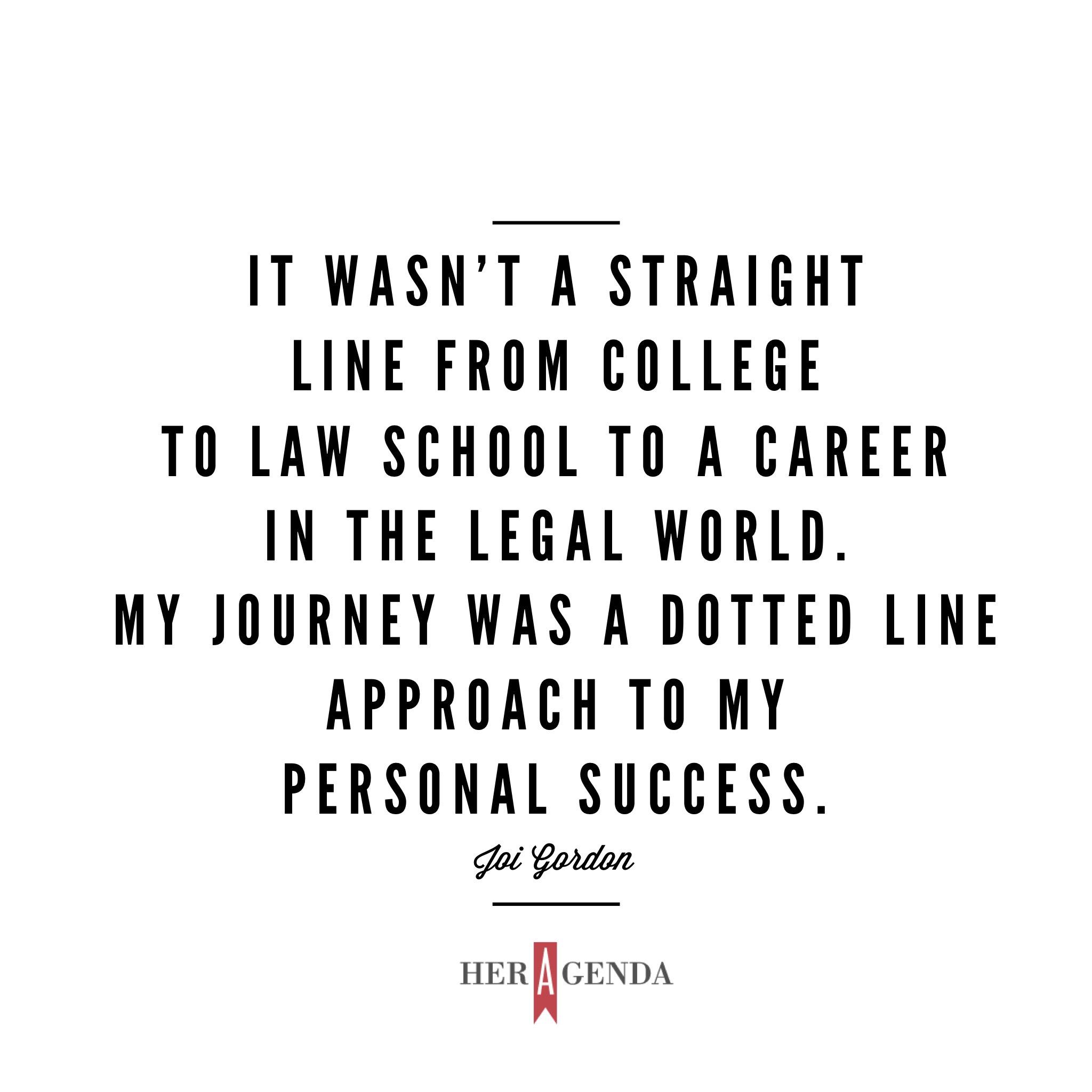 Her Agenda: You speak about women finding within themselves their own inner motivation. What is your inner motivation and how did you find it?
Joi Gordon: What motivates me is [the desire] to leave a legacy. I want to leave a legacy at Dress For Success for having done the right thing and being on the right side of the equation as it relates to women in the workforce. I also want to leave a legacy and be remembered [as] someone who is a joy, quite frankly. Someone who brings happiness to people's lives, someone who cares about other people, someone who is a great mother and a great wife.
I want to be remembered for all of those things [because] that is what makes me whole. It's not just the work that I do at DFS but also the work I do at home. My other big motivator is the women we serve, they are the most resilient women on the face of the planet who have overcome a lot and I just want to do more and be better because of them.
Article continues below advertisement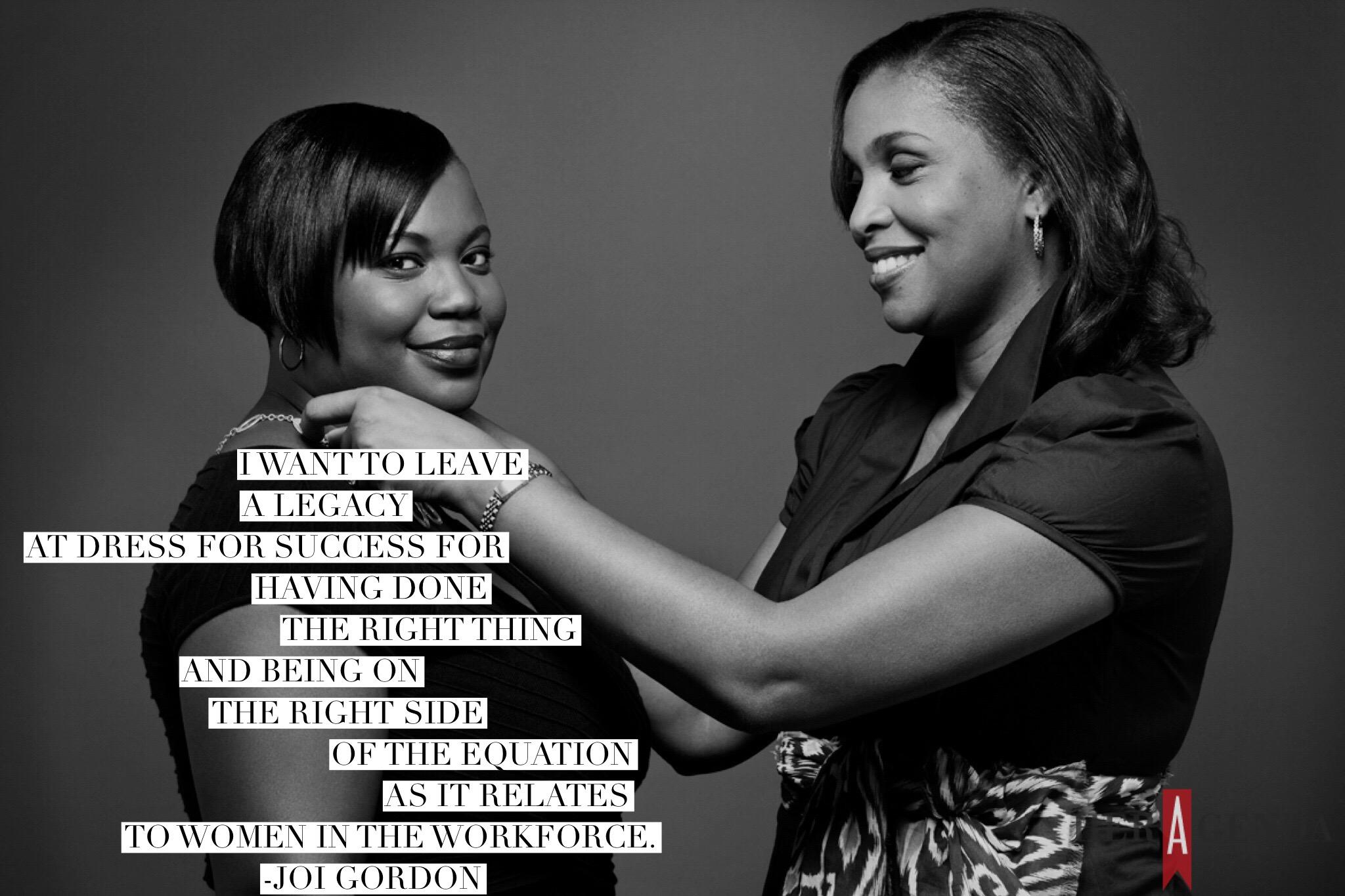 Her Agenda: What is your advice for millennial women trying to find their own motivation?
Joi Gordon: We have this quote on the wall of Dress For Success that I put on when were repainting [the office]. It says, "Happiness is a path, not a destination."
What this really means is happiness is a way of thinking, a perception and approach to life. So, we all can work really hard and never be fully fulfilled. But, it's great to be on a path. Your path doesn't need to have a start or an end, it's just how you walk through life.
It is important to find passion and purpose in everything you do. And that will then give you a great sense of joy throughout your life. So, trying to figure out that passion and purpose while on your path will have you live a more greater and fulfilled life.
Article continues below advertisement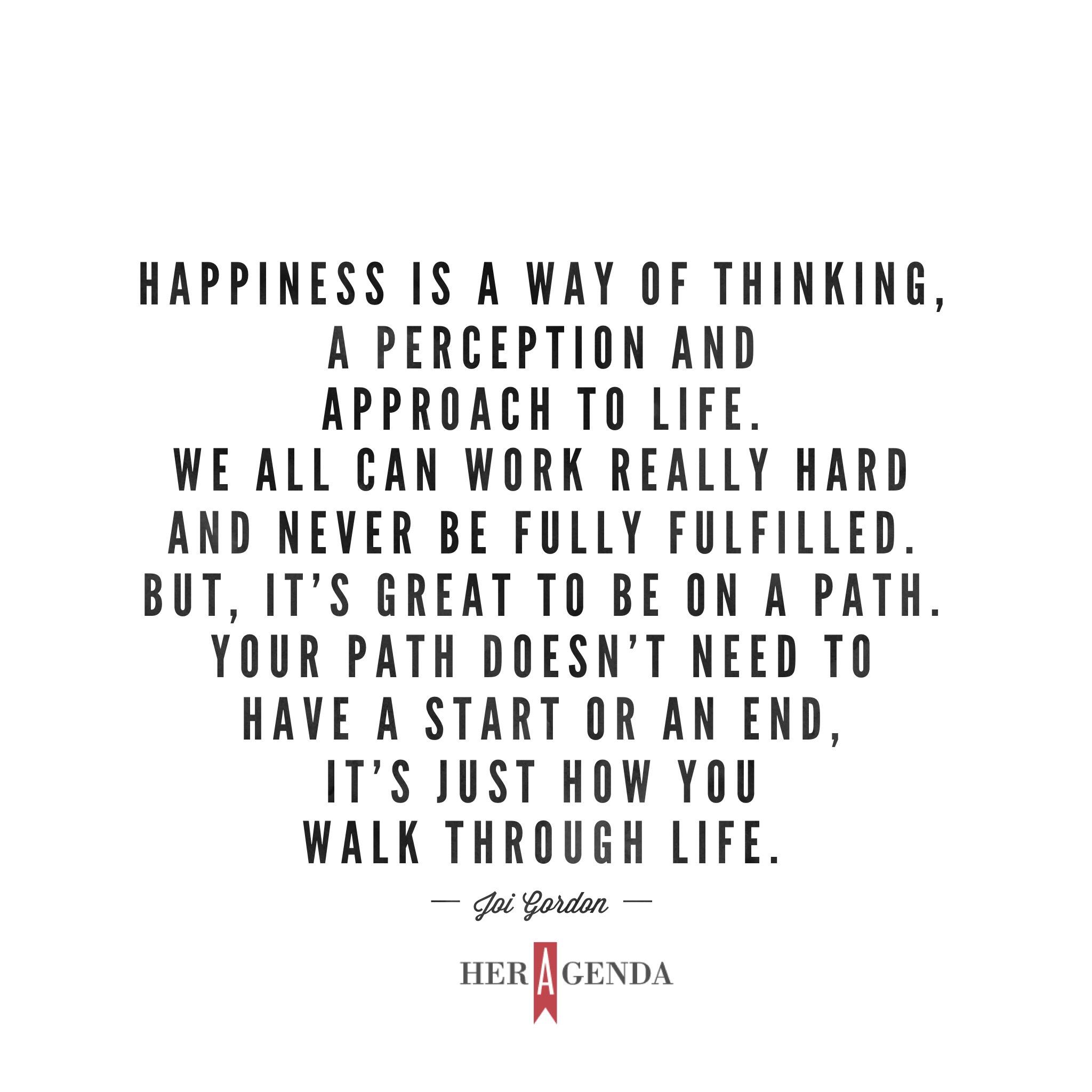 Her Agenda: So, would you say that the quote you put on the wall of Dress For Success is your personal motto?
Joi Gordon: Yes, it definitely is.
Article continues below advertisement
Her Agenda: When you first came on board for Dress For Success did you know or have the goal of one day becoming the CEO?
Joi Gordon: I always exceeded even my own expectations of myself. Prior to going to college, through college, all of the career opportunities I had and jobs I held, I started one place and very quickly accelerated to sometimes the most senior level position that I could get too.
So, I had [the] expectation that I wasn't going to land at Dress For Success and stay where I started. But, I had no idea or ever believed that this organization would be at the scale it is at today, doing the work we are doing today, with 143 cities in 20 countries…that I couldn't see!
But, I knew I was coming to a place where I was going to be able to lend my talents and it was going to mold and shape who I was going to become. So yes, I did expect something greater.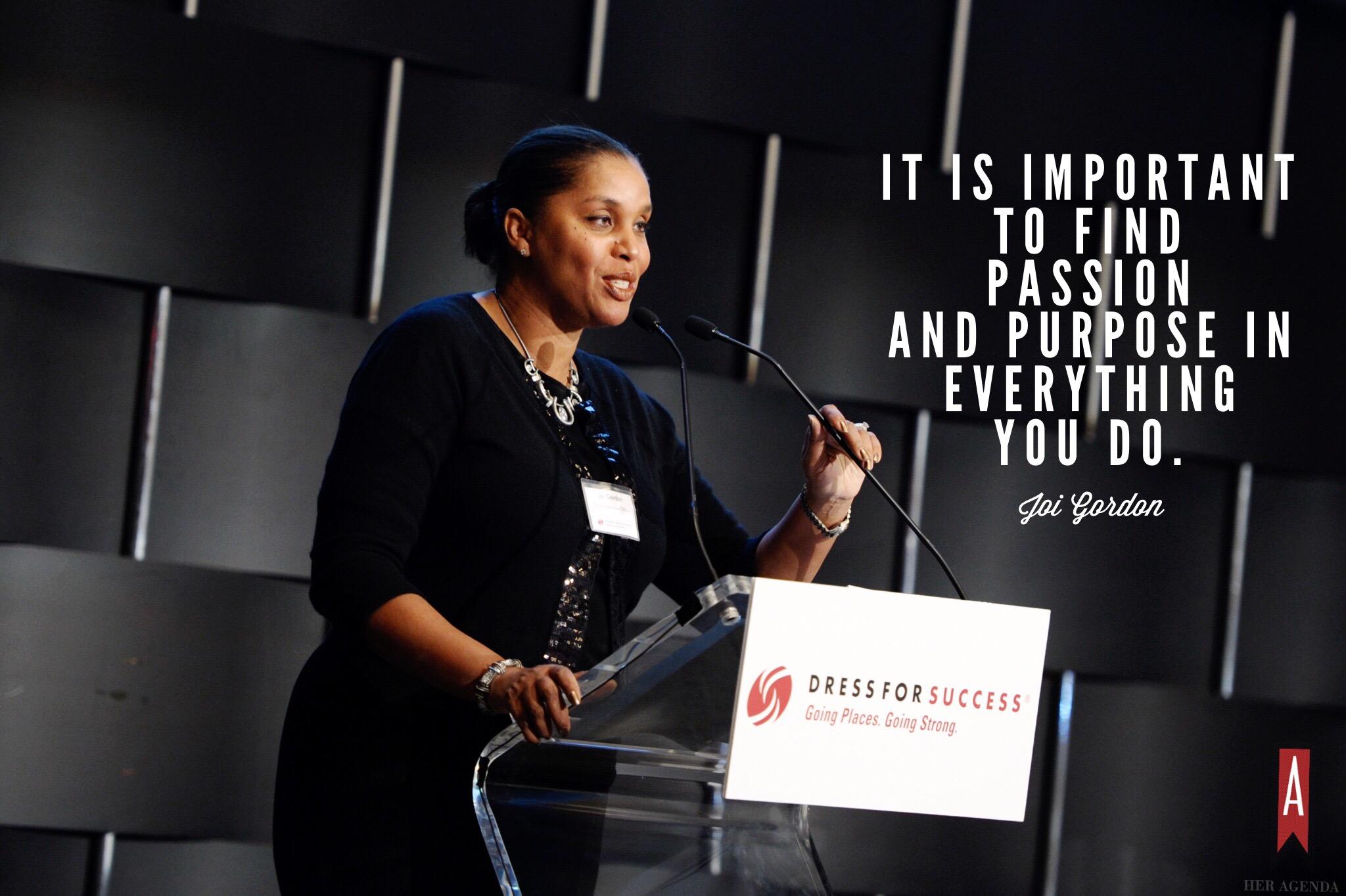 Article continues below advertisement
Her Agenda: How did it feel to make that transition from executive director to CEO? Did you experience any nerves?
Joi Gordon: The only time I had a pause in the process of being interviewed for the role of CEO was when I thought that it will be a job that wouldn't have a connection to the women we served. So, for that reason I almost pulled out of it because that is what filled my cup. If I didn't have the combination of both, I don't think I would be here 17 years later. But the fact of the matter is, is that every single day, I can sit at my computer, answer emails, pick up the phone, go to meetings, have high level conversations, but when I need to fill my cup, I walk six levels down and get to see the women we serve. I watch them watch themselves and I see them looking at themselves in the mirror and see the tears of joy. It reminds me of why I love this organization and why I do what I do. So, for me I needed to make sure I didn't land here and become so corporate and detached from the true mission of the organization.
Her Agenda: You're the CEO of Dress For Success and a part of several boards and community organizations. How do you manage your time?
Joi Gordon: It can be tricky. When you enjoy something you make time. You make time for everything. You have to find balance, though. While I am actively engaged in community organizations and other leadership opportunities and boards, I always do what is required of me.
Everything that I do is relatively connected to who I am personally and professionally; it's almost like an extension of me. For that reason, it seems easy and appears simple.
Article continues below advertisement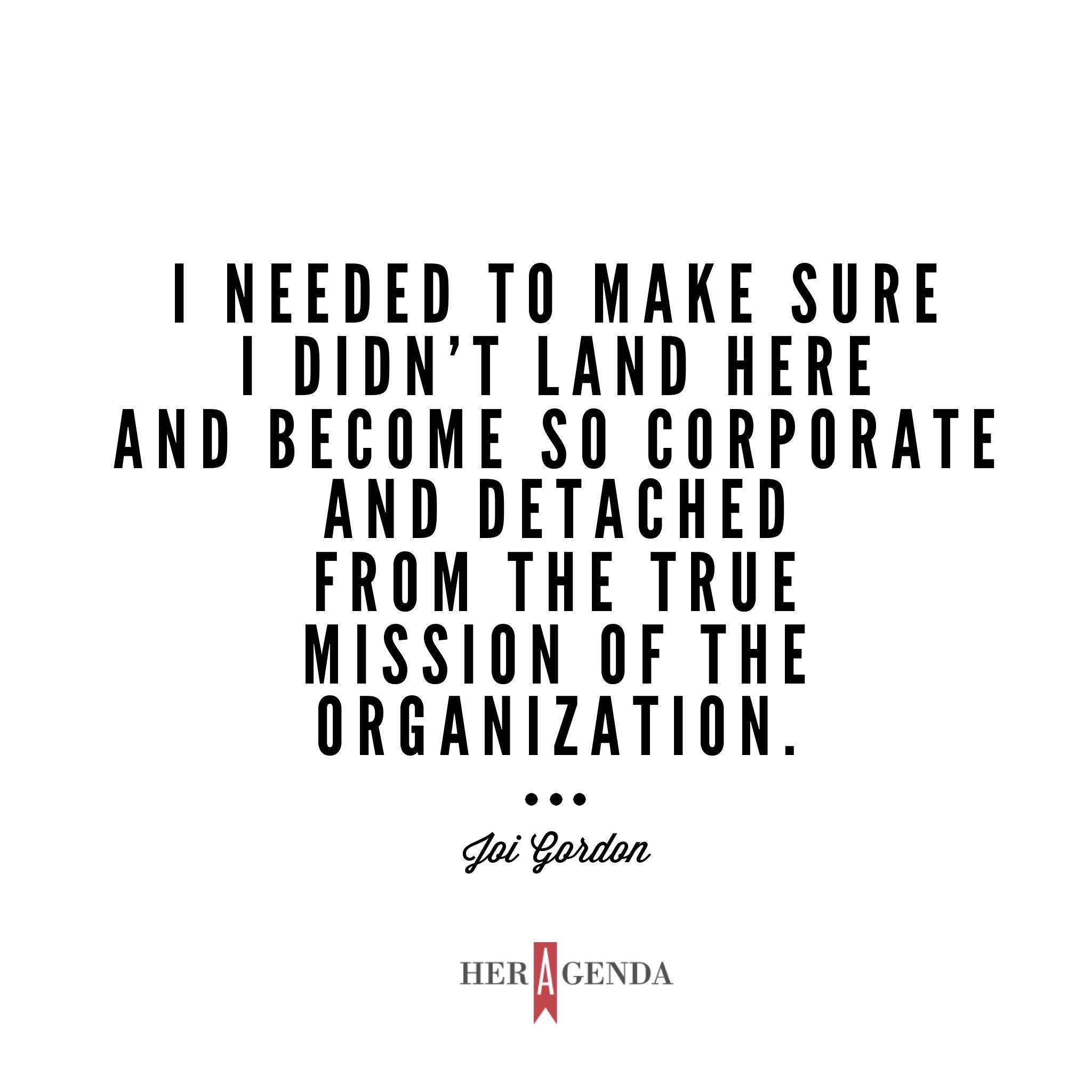 Her Agenda: What do you think the biggest misconception is about the nonprofit space?
Joi Gordon: The biggest misconception is that we are underpaid and overworked. When you look at the nonprofit sector, it may not be on par with some of the Fortune 500 groups, however, the ability to come in and make a difference and be paid equitably is available. Whether you stay at the nonprofit you started at or continue to grow in the nonprofit sector, there are big jobs. And so, if making living wage and having a growing salary is important to you, it is available in the nonprofit world and it shouldn't be something that keeps people from joining.
The better you do, the better you will ultimately become compensated. So, prove yourself and rewards will come. Some rewards come in the form of money and some rewards come in the form of other things; joy, happiness, success. It's all worth it.
Article continues below advertisement
Her Agenda: What is your advice for people trying to break into the nonprofit world?
Joi Gordon: I'm a big believer in volunteering. If it is what you want to do and there is a cause you are attracted to, then reach out and set up some time to volunteer and get to know the organization better. A lot of nonprofit leaders would rather hire their volunteers than someone off the street, knowing that that person gave up their time and talent for free.
[Editor's note: This feature published on June 13th, 2016. It has been edited for length and clarity.]