The name Kara Barnett should be synonymous with WiFi. We know WiFi exists, we know it's important, and we know that it is integral to the digital world, but its obscure nature contributes to its innovative precision. That is how we would describe Kara's presence in the industry and quite frankly that's how Kara likes it. Understanding that her genius-level intellectual property is on the verge of altering Black content as we know it, Kara has no intention of being "on" for your entertainment. Rather, Kara remains an unapologetic yet private figure who leads the creative direction of one of the biggest platforms in the world – Netflix's Strong Black Lead.
Born and raised in Trinidad and Tobago, Kara eventually immigrated to the United States where she attended Delaware State University, an HBCU that contributed to her unassailable Black pride. Not too long after graduating, Kara took an unsuspecting leap that changed the trajectory of her career. Within a week's time, she relocated to Los Angeles accepting the role of Assistant Cast Coordinator, on Season 8 'America's Next Top Model.' Now with a resume that holds over 15 years of experience in the media landscape, Kara uses her sharp, cultural insight as a north star to create meaningful content.
Her Agenda had the honor of catching up with Kara about her multi-step creative process, the importance of her 30s, and rejecting the notion of grind culture.
Her Agenda: You are originally from Trinidad and grew up on a more relaxed island. Being in L.A, where many are willing to conform, how do you retain your values and sense of culture in this environment?
Article continues below advertisement
Kara Barnett: I wouldn't say that everyone in L.A. is willing to conform. It's actually the opposite when I think about the people I associate myself with and work with. I surround myself with people of integrity and character. As for how I retain my values and sense of culture being far from home, it's not too deep beyond having a strong sense of self that I carry throughout all of my work. My sense of self and values are not rooted in any particular environment that I'm in. I show up as a person of integrity and respect. In L.A., I'm much closer to my family, some who live in Northern California, and local friends who share similar cultural nuances.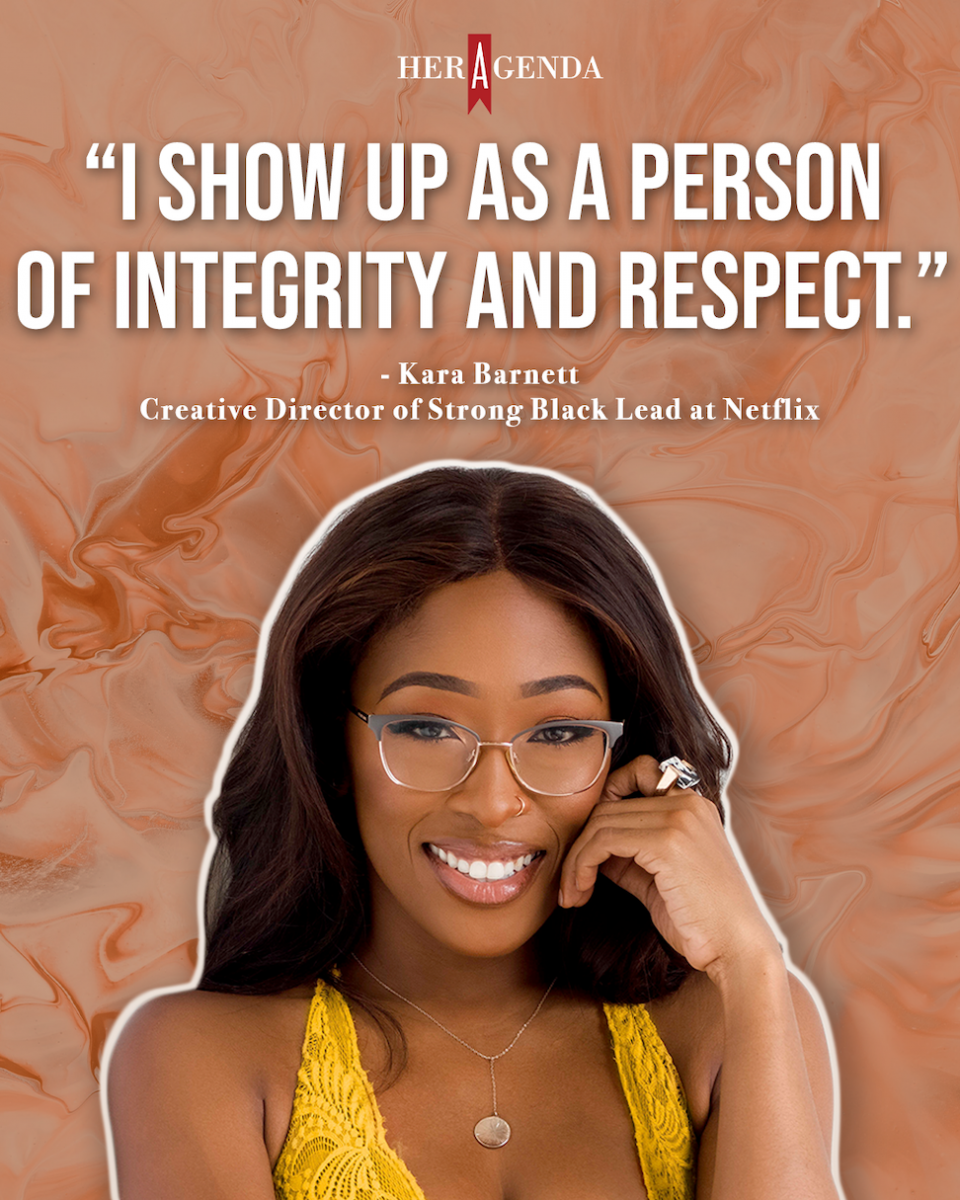 Article continues below advertisement
Her Agenda: I watch your Instagram stories every day and notice that you are constantly on the go. Sometimes you even work 15+ hour days. Do you think that constantly working is necessary to be successful in entertainment?
Kara Barnett: Life is pretty hectic at times for sure, but no, success does not come from working constantly. I actually believe in the opposite. I really value work-life balance and prioritizing rest when it's time. We live in a culture of glorifying hustle and 'I'll sleep when I'm dead,' quotes, but burnout is real. As a creative person, I think rest and replenishing yourself is extremely important. We are empaths so situations can affect and drain us easily. Sometimes, we are called to create on-demand and the creativity of coming up with ideas, pitches, and concepts needs to come from somewhere. If you're never taking time to breathe, restore, live life, watch a film, go to a museum, listen to live music, get inspired, and refill your creative tank, where would you be pulling your inspiration from? Success comes from consistency, learning, and stretching yourself to take on new challenges.
Article continues below advertisement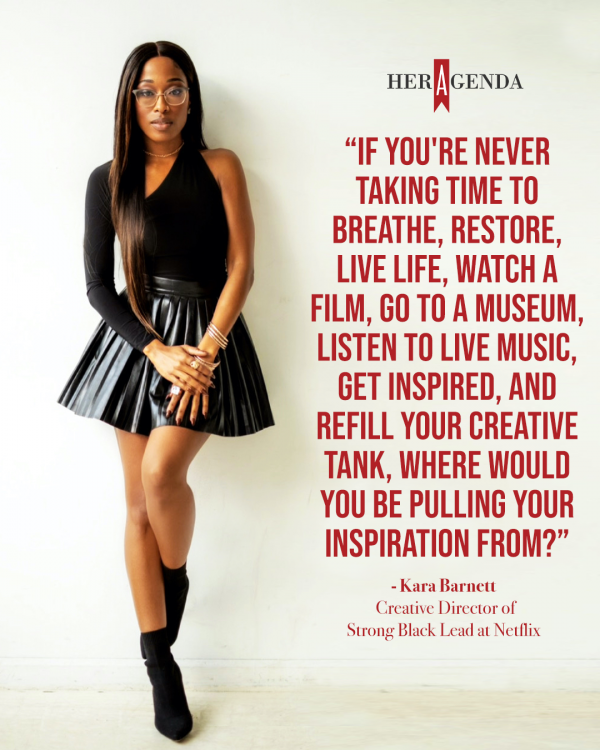 Her Agenda: Your resume is impressive! You have worked everywhere from Netflix, BET, America's Next Top Model, and the list goes on. Is there a special memory from any era in your career that you felt completely changed the trajectory of it?
Kara Barnett: When I look back, there have been many moments that changed the trajectory of my career and I didn't know it. One is moving to L.A. to work on America's Next Top Model in a week's notice.
Article continues below advertisement
And, to give a more current example, 2020 was a crucial year for all of us for obvious reasons. In the early fall of 2020, I was preparing to give my TEDx talk. I was finishing a documentary project called High Risk with some creative friends of mine about the racial bias in the birthing experience. I was also producing a breast cancer awareness campaign for BET, which is where I worked at the time. And, then, Netflix reached out to me for a meeting. It all happened within about 4 weeks, like the same month that I was balancing all of these projects. I just remember being extremely busy, every day, from September to December. It was pretty much a grind every day, but surprisingly I wasn't feeling overwhelmed. After the year that 2020 was for all of us, I was just in a state of constant gratitude for my blessings. And, as a creative, I was creating content that mattered to me. Everything that I was working on resonated deeply with me and I felt very purposeful and driven in that space. Exclusively creating content that resonated deeply with others and creating conversations that matter allowed me to use my creativity as my north star.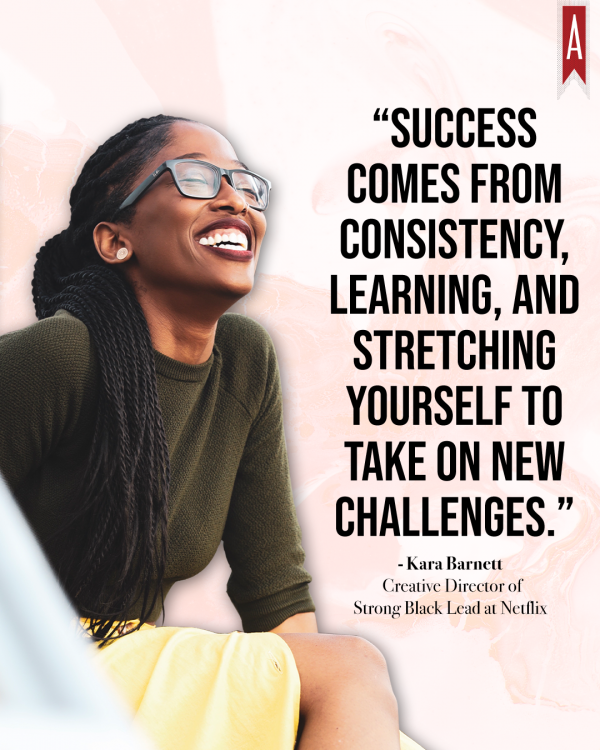 Article continues below advertisement
Her Agenda: You are currently a Creative Director at Netflix's Strong Black Lead, and I just watched the new project you worked on, Get You A Me. What does life look like during each stage of the creative process; from conceptualizing an idea, being on set for it, then putting it out into the world?
Kara Barnett: It's basically being able to balance two views at once; seeing things at a macro and micro level. It's the concept and the details. Once I got the idea into a concept deck, I had meetings to find the production team that I wanted to work with. Once the team is chosen, we meet to discuss, dissect, share, and look at it from all angles to ensure that we are crafting something that can be relatable.
Then, for weeks, there are a lot of touchpoint meetings to make sure we are aligned creatively, logistically, etc. On set, I'm there as the creative director to see the vision come to life but also in the interest of the brand to ensure that we stay aligned with tone and messaging. At that point, we've had so many meetings on the look, tone, voice, and color palette and I trust my team.
Article continues below advertisement
While I'm on set, I make sure that the vision goes from the deck to life, but you also want to stay flexible. In most cases, pivots make the content even better. Once it's in the can, we develop our post-process and timeline, and I always make time to watch every cut. I do my best to look from different angles and make sure I know how it will be received from different sides. I also collaborate with a lot of cross-functional department partners and ask for their feedback on episodes.
As a creative, I definitely trust my instinct, but a big part of being a leader is knowing that you don't know everything. You have to open yourself up to critique and other perspectives. From the episode to the smallest social clips decision, I oversee social strategy and work with the social team to have a robust and impactful delivery that people will enjoy.
Article continues below advertisement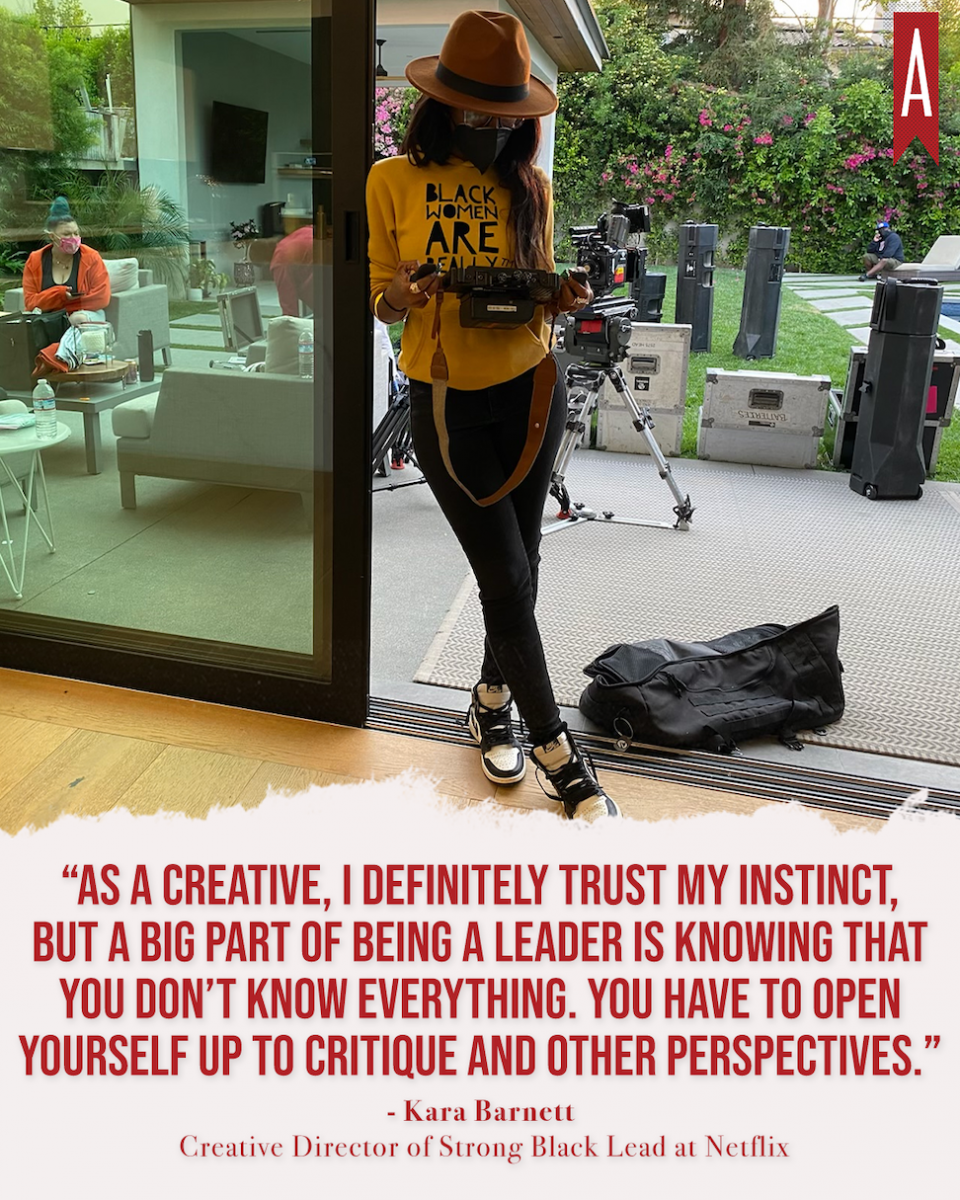 Her Agenda: I watched your TEDx talk, "Why We Talk Ourselves Out of the Room" and learned so much from it. But, I found it interesting that you have accomplished so much yet still experience feelings of self-doubt. Why is that?
Kara Barnett: I can admit that I still experience moments of thinking, 'Am I ready to be the lead on this project?' Acknowledge that these moments happen and know that these thoughts can spring up, but knowing how to combat them is key. Not saying that you have to welcome these thoughts in, but recognize them.
Article continues below advertisement
The reason why I still have these moments is because I know that I never shy away from the discomfort of a challenge. I love and am empowered by taking big swings and thinking outside the box in my day to day. I am a creative person who will always have an idea that I want to try. You tell me that we have the ability to do something, I'm going to go for it. My drive will always keep me laser-focused on the goal and I'm climbing higher towards it, but every so often, my eyes will look down and I'll think 'How did I get this high? What am I doing?' It can happen when outside voices get loud or when you're distracted, but the key is to remember that you are only getting scared because you are doing something new. Always remember that you wouldn't be this high up if you didn't know how to climb.
Her Agenda: I recently listened to you on Mentors on the Mic, and heard you say that you are introverted and very private. Being in the entertainment industry, and even being a creative, people say that if you want to go far, you need to always be "on." What's your perspective on that?
Kara Barnett: I personally choose to be private and can only speak for myself. My job particularly does not revolve around me having a public persona and I can be creative without being known. I choose not to be 'on' all the time. I choose to keep certain parts of my life private. I'm always 'on' in the sense that my mind is constantly coming up with ideas. Sometimes, I'll scroll through Instagram and come up with an idea and write it on my notes app. Ideas pop up at any mom
Article continues below advertisement
Her Agenda: Though times are changing, there is still a stigma around career-oriented women in their 30s. Can you speak about how your thirties changed you?
Kara Barnett: I won't speak to expectations and stigmas because everyone is different. My 30s gave me the gift of reinvention. A lot of people don't know that I worked in traditional TV for a long time as a producer on unscripted docuseries and was able to rise the ranks pretty well. It wasn't until 2017, that I decided to make the shift and pursue a new career in the digital/social space. It was very humbling to go from leading an entire team to being the new kid who didn't know the basics. I took a step back title-wise, had to ask for help, and got so many things wrong. I never gave up, worked hard and eventually got those things right. My thirties really taught me the power and gift of reinvention and not limiting yourself based on past successes. There's always more to learn!
[EDITOR'S NOTE: THIS INTERVIEW HAS BEEN EDITED FOR LENGTH AND CLARITY.]