When we think of women in tech, the focus tends to be primarily on women in the software and coding fields. It's not often that the conversation focuses on women who actually design the products that house the software. We don't typically think about the women who design the keyboards, the mice, the tablets. Well, they're out there (albeit in small numbers), and Kate Bailey is among them as part of the Microsoft Surface design team.
Research shows that while women make up 57 percent of the professional workforce, just 14.1 percent are within architecture and engineering occupations. This number has remained flat for the past few years. Despite those stats, Bailey is making strides at Microsoft. She's been with the company since 2008 shortly after graduating from the California College of the Arts. She started out designing PC accessories like webcams and keyboards and now she conceptualizes and designs hardware for the Microsoft Surface. In her spare time, Kate runs a small experimental design studio appropriately titled Free Time. She collaborates with architect Amber Murray on concept projects ranging from technology to lifestyle.
Read on to get a peek inside Kate's agenda and gain insight on what a typical day is like in her world, and her advice for women who want to design hardware.
Her Agenda: What inspired you to go into tech hardware design, or did you just happen to fall into it?
Kate Bailey: I've been making things all my life. I was really close to my father who was a contractor and he taught me how to use every tool in his shop. If I had an idea I would just build it. Maybe even more importantly, he taught me to question the world around me. He would point out an object or structure that was designed poorly and we'd discuss how it could have been done better or what could be done to improve it.
Article continues below advertisement
By the time I got to high school I knew I wanted to end up in some kind of creative career. I found an Architecture class offered at a nearby school and audited the class. The teacher, sensing my enthusiasm for design, suggested I consider Industrial Design. It was the first time I had heard the term. I remember feeling so excited to find a career path with such a beautiful combination of creativity and innovation.
Her Agenda: Your specific title is "industrial designer" what does that mean exactly?
Kate Bailey: As an industrial designer for Microsoft Surface I come up with ideas and develop hardware concepts that help people get more done
Her Agenda: What is your typical day like as a designer for Microsoft?
Kate Bailey: At Surface, we make a point to keep all design work in house. A designer follows a project from concept stage through to mass production so a typical day really depends on where we are in the design process. At the beginning of a project I'll be working in the studio, sketching ideas and discussing scenarios with the team. I'll spend some time drafting ideas in CAD, or go down to our model shop to prototype, which act as a starting point for discussions with Mechanical Engineering. Once we have the design locked in we'll spend time at the factory to get every detail dialed in before mass production.
Her Agenda: How do you prepare for a job like yours? What advice would you have for women who want to follow in your footsteps?
Article continues below advertisement
Kate Bailey: If you're interested in industrial design I would encourage you to do some research and choose a design school carefully. This field changes so quickly, it's important to choose a school whose instructors are still active in the industry.
It's also important to keep in mind that your creative briefs in school are just a starting place. Let your student work express your point of view. Once you have a few projects finished, put a portfolio together and start shopping your work around. Landing an internship early can really accelerate your growth. You'll most likely learn more in your first internship than in all of design school combined.
I would tell women to break rules and have fun. It's important, for women especially, to get comfortable coloring outside the lines.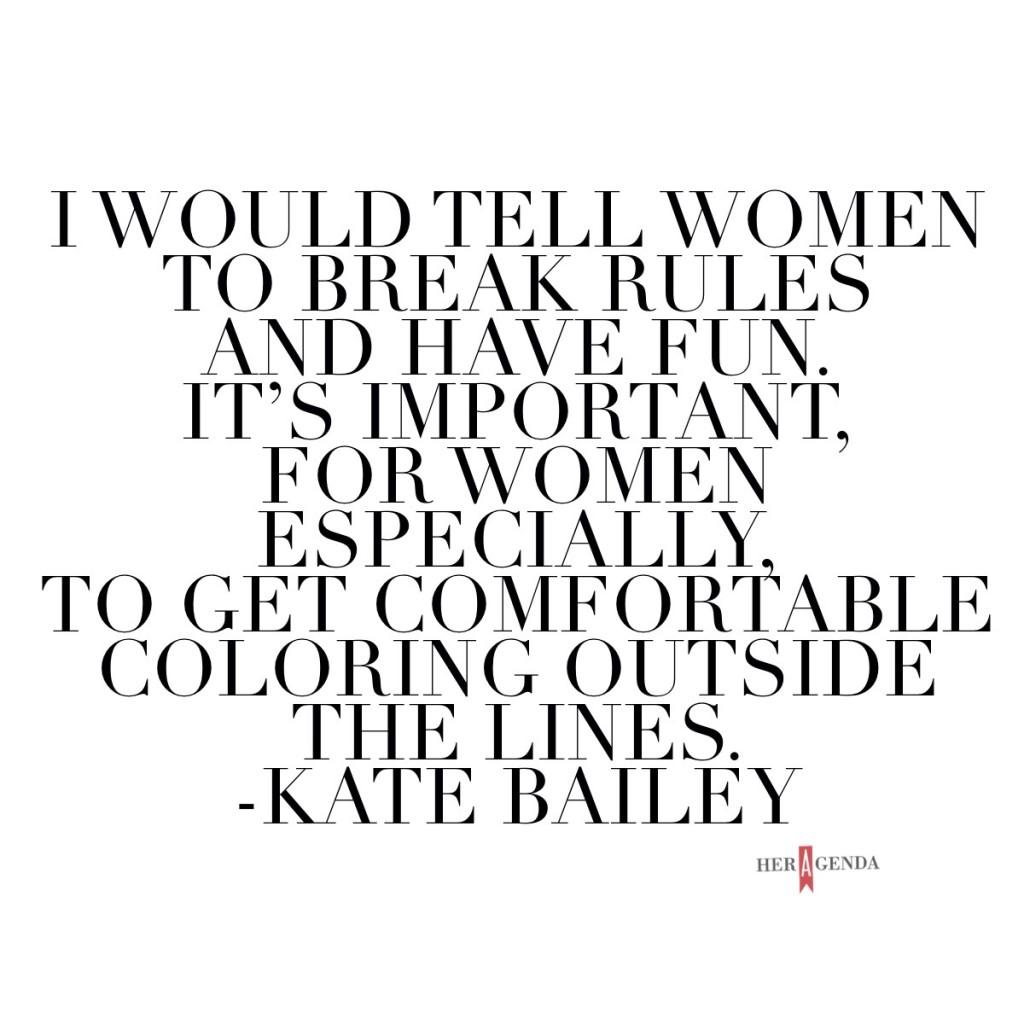 Article continues below advertisement
Her Agenda: What's been your favorite product you've designed thus far?
Kate Bailey: As a designer I'm always sketching and taking down hand written notes. Surface Pro 3 comes with a great pressure-sensitive pen that gives you the accuracy of a pen and paper. Everything's digital so it's easy to retrieve and share. It's wonderful and has really changed the way I work.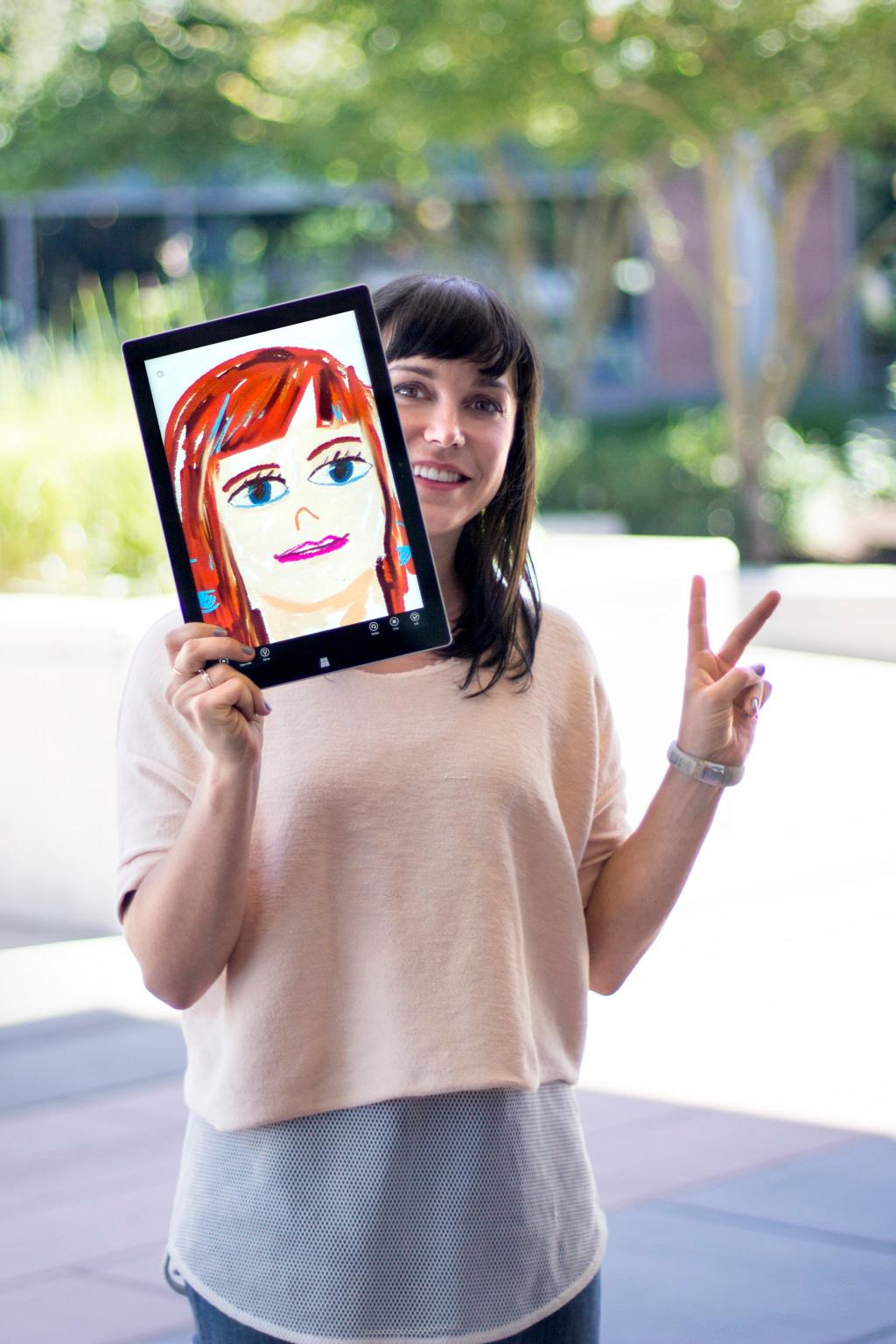 Article continues below advertisement
Her Agenda: What's one feature of the Surface tablet that came out better than you imagined as it grew from concept stage to actual product stage?
Kate Bailey: At the end of the pen is a button that opens a blank OneNote page over any app, even when Surface Pro 3 is locked. I knew I would love the feature but I had no idea how often I'd come to use it. It's so convenient and helps me keep organized. It's a great example of an experience that could only be enabled through collaboration between hardware and software.
Her Agenda: When the Surface hit shelves, the ads were everywhere — how did it feel when you first saw it in commercials and on billboards?
Kate Bailey: It was surreal, really. It had been so secret for so long. To see it plastered 60 feet high in Times Square was beyond cool.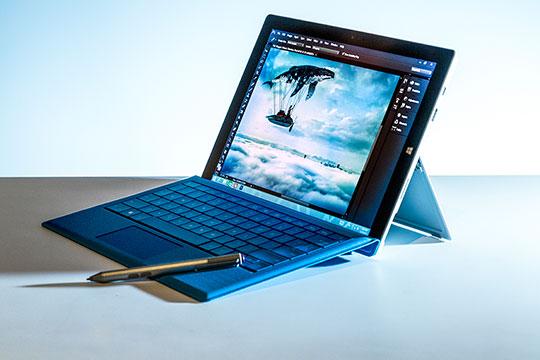 Article continues below advertisement
Her Agenda: How important do you feel design is when it comes to technology and how users engage with and connect with it?
Kate Bailey: Design and Technology have a symbiotic relationship. While technology is interesting in its own right, it must be designed into a product to be of any use. The best products tend not to stem from technology innovation, but from a desire to answer a real user need. With Surface, we wanted to make a tablet that really helped people be more productive. We saw the big hit to typing speed and accuracy when people used an on screen keyboard. They would have to hover their hands above the display, typing each letter by sight.
We wanted to get the keyboard off the screen and under their hands. Our vision was to somehow integrate the keys into a fabric cover. We landed on a pressure sensing technology that could be integrated into the cover. It allowed users to rest their hands on the keys without activating them, just like a traditional keyboard, exponentially improving accuracy and typing speed. It's a great example of leveraging technology to bring an idea to life.
Article continues below advertisement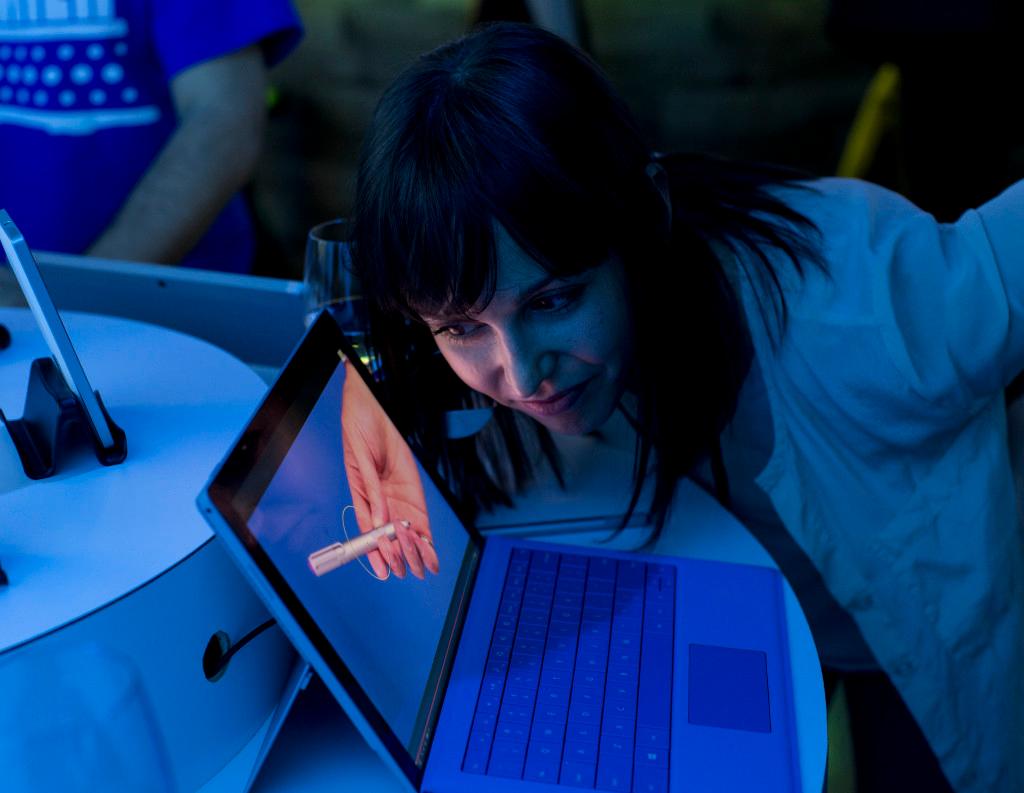 Her Agenda: What creative insight do you feel you contribute to a project that may be unique or different from your male counterparts?
Kate Bailey: Women are natural collaborators and product development is a team sport. The relationship between the designer and the Engineer is crucial. It's important to come to the conversation with respect and with an honest curiosity. By asking questions and fully understanding the issue at hand, you're able to leverage your creativity and their knowledge base to arrive at a solution together. You must be on the same team to push the boundaries of what's possible.
Article continues below advertisement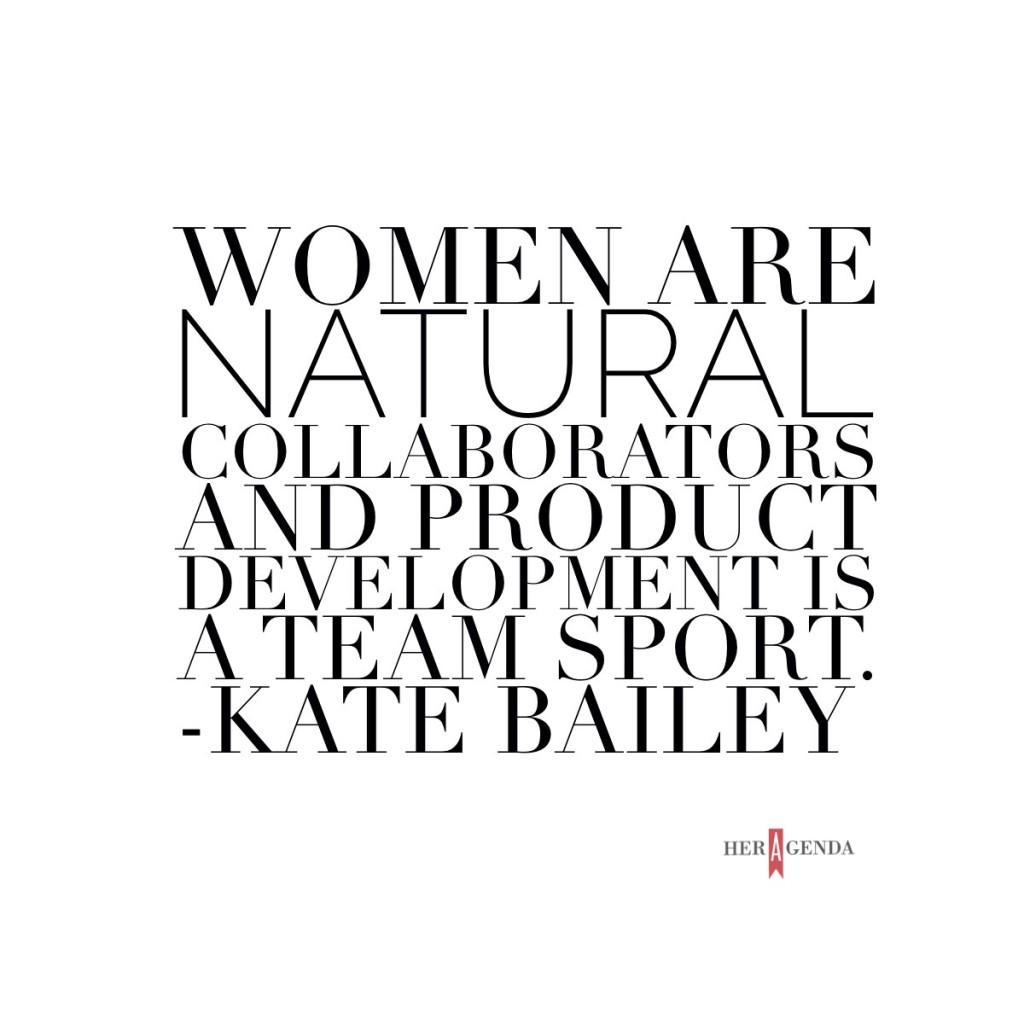 Her Agenda: Her Agenda's motto is "No one Ever Slows Her Agenda" Do you have a personal motto that helps you in your professional life?
Kate Bailey: This quote by Gustave Flaubert always resonated with me:
"Be regular and orderly in your life so that you may be violent and original in your work."
Article continues below advertisement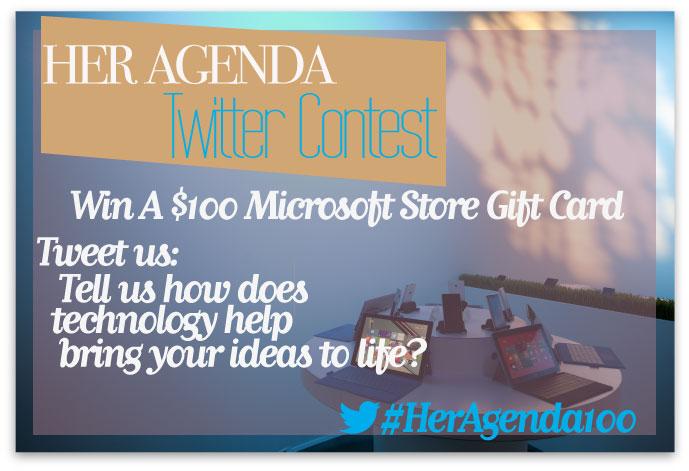 [Editor's note: This feature was published on Sept. 8 2014. This contest is now closed.]