At the age of 25, Katelyn Coghlan's work includes the creation of an AR ad on the cover of Adweek for M&M. She is the General Manager of In-It VR, a subsidiary of The Glimpse Group that uses Virtual and Augmented Reality to enhance marketing initiatives. In-It VR works with television, mobile and kiosk gaming, computer graphics and animation industries to integrate the emerging technology and set brands apart from their competitors.
As an innovator and leader, Katelyn is paving the way in a new industry. She was the first woman to join the tech startup she's currently working at. It is no secret that the world of tech has serious gender gap.
According to Observer, women own only 5 percent of startups and make up only 7 percent of partners at top 100 venture capital firms. Additionally, women hold only 11 percent of executive positions at Silicon Valley companies and quit at a rate more than twice as high as men in the high tech industry. Another jarring statistic includes the fact that women under the age of 25 in the tech industry earn on average 29 percent less than their male counterparts. Despite these numbers, Katelyn is pioneering in an emerging industry, rewriting the rules, and making her mark.
Her Agenda sat down with Katelyn to explore keys to success in an emerging industry.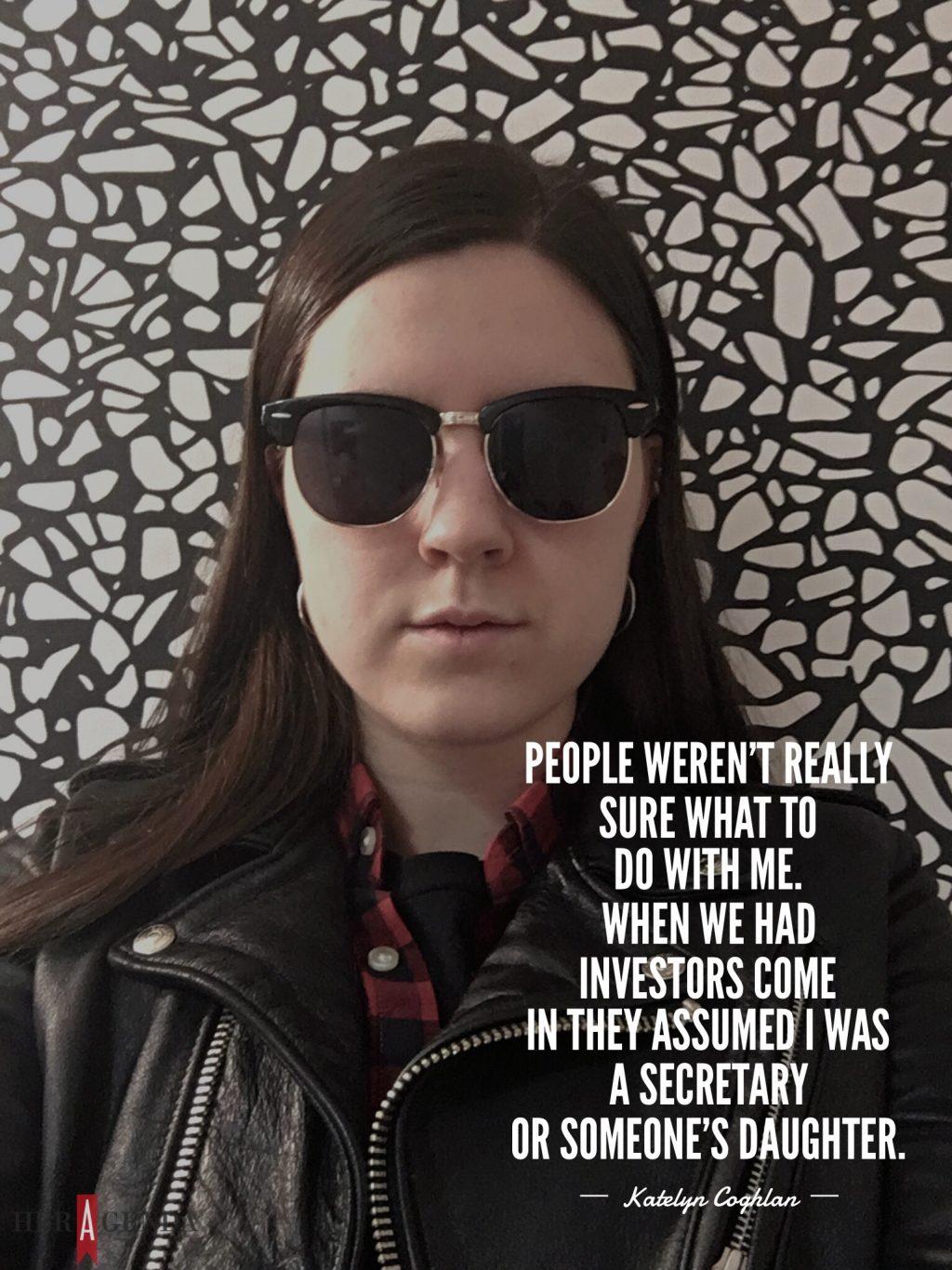 Article continues below advertisement
Her Agenda: What does your role consist of as General Manager of In-It VR?
Katelyn Coghlan: My role is, soups to nuts, business development and client facing. Typically, when we get a client or there is a client interested in working with us, I will work with them on a strategy. I'll also work very closely with our CTO as much as possible to assess the technology as it stands today versus 6 months, 12 months, and 18 months. I then put together a project scope based on my conversation with him as well as our client. We then pitch to the prospective client and if we win the job I will manage the team. That is what I do on a project cycle, and then of course there is outward facing items like this where I'll do press interviews, outbound marketing, social media marketing, attending expos, taking informational interviews, and other tasks like that. I touch a little bit of everything in all lines of business, primarily though, I'm more client facing.
Article continues below advertisement
Her Agenda: How has Virtual Reality and Augmented Reality disrupted marketing?
Katelyn Coghlan: VR and AR have disrupted marketing because everyone knows it is coming but no one knows what to do with it. As a result, everyone is at a standstill, which is really exciting because that means that everybody is looking to people like me and others in our industry to really fill in those blanks and answer those questions that don't have answers yet. It is really interesting. People are acknowledging that traditional print media, TV, and even digital social media banners were great 30 years, 20 years, 10 years and even 5 years ago, but they are no longer hitting the mark today. Many recognize that this industry is coming and are questioning how to use it so that it is beneficial to everyone, and is not breaking the bank. There's this giant learning curve for everyone.
Article continues below advertisement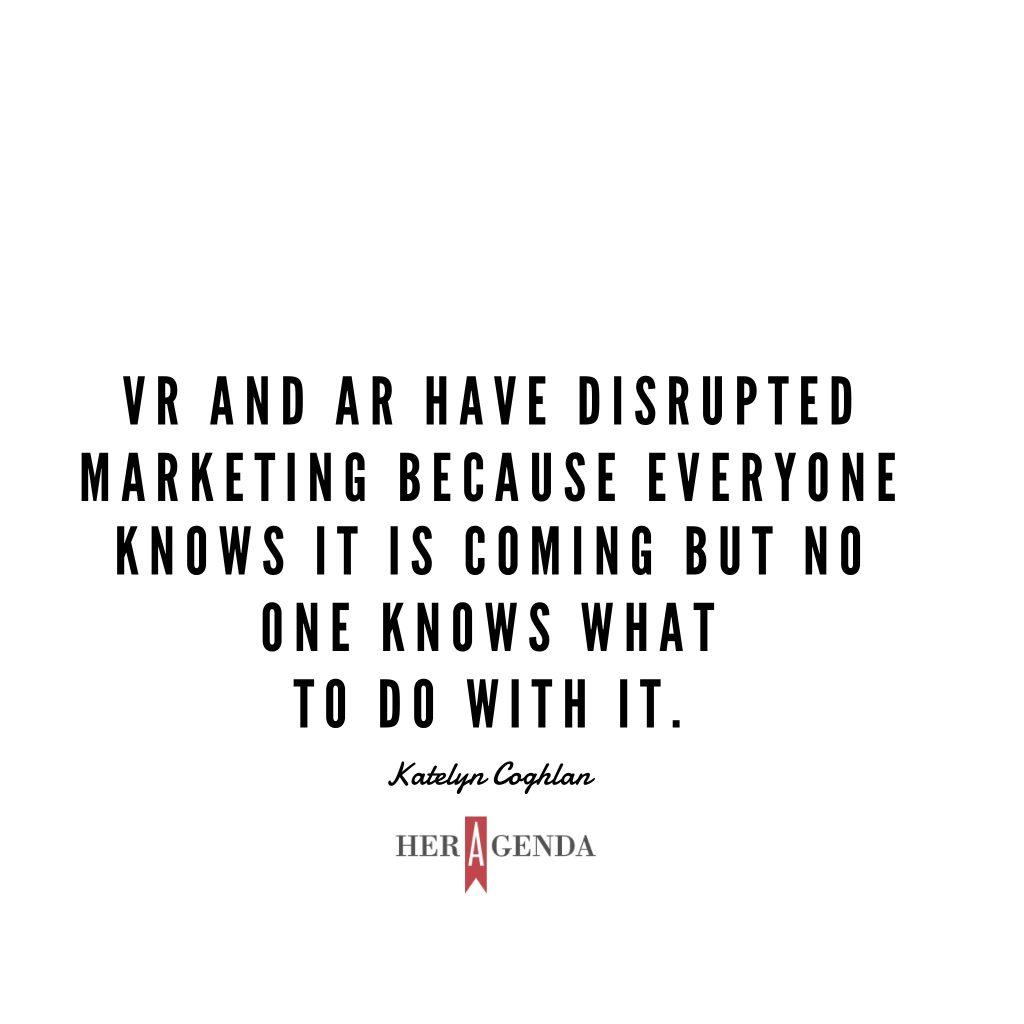 Her Agenda: What is a key challenge to integrating the rules of Virtual Reality and Augmented Reality into brand marketing?
Article continues below advertisement
Katelyn Coghlan: The biggest challenge is consumer adoption. Right now there is a lot of resistance to the technology. For instance, about 95% of augmented reality is app-based, and no one wants to download an app. Everyone has their phone set up the way that they like them. People don't want to delete photos and videos to download an app for a one-time activation. This is a big barrier to adoption for consumers. For Virtual Reality, it is the headset and the lack of people having access to these giant, massive gaming computers that you need to run VR. So once the hardware catches up on the VR side, and the software catches up on the AR side so that it is all web-based and is accessible from anywhere on anything, that will be the point where mass adoption occurs. Right now, the adoption rate is what is hindering people.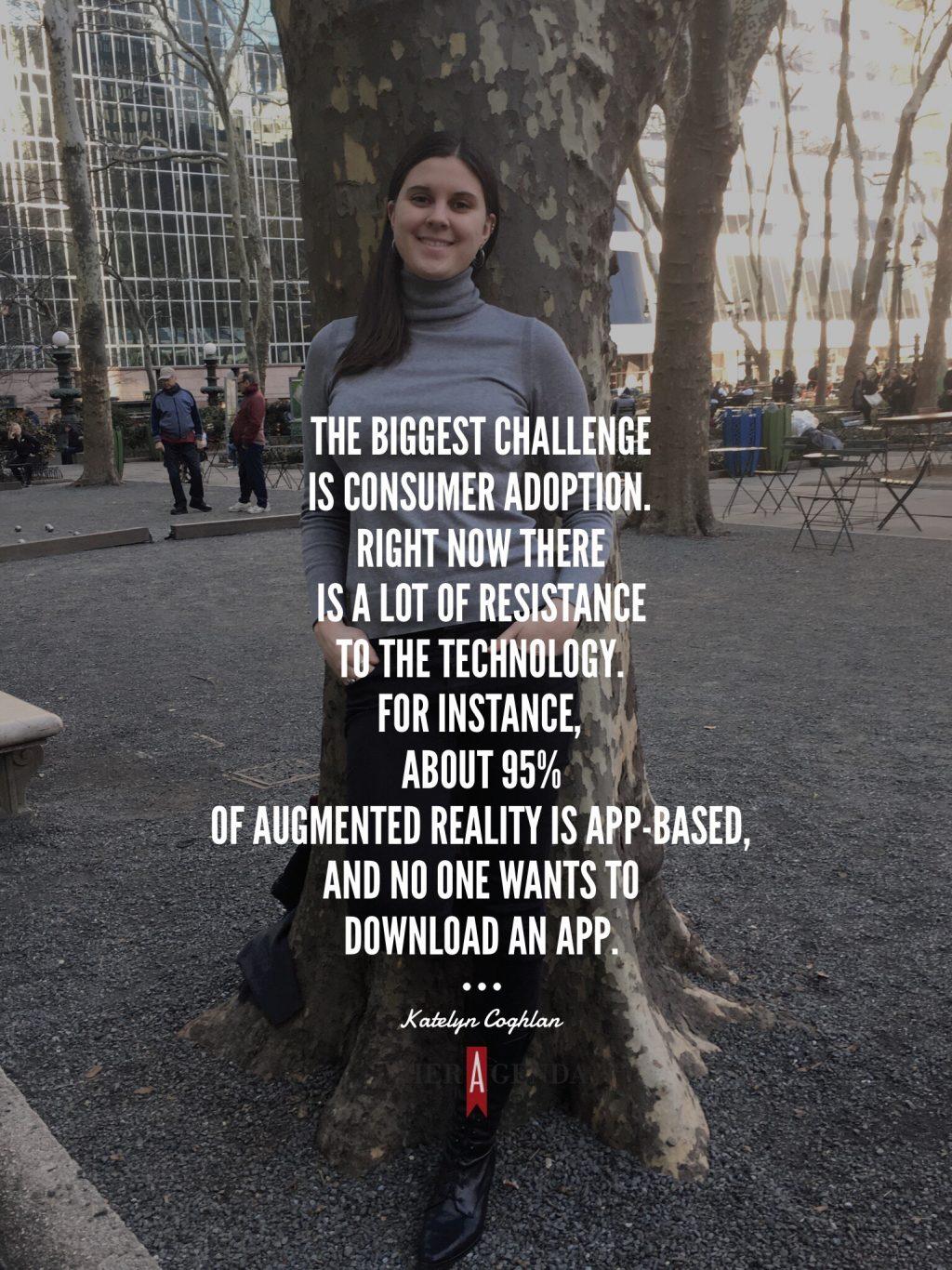 Article continues below advertisement
Her Agenda: It is no secret that the tech industry is male-dominated. What advice would you give another young woman looking to enter your industry.
Katelyn Coghlan: Just do it and don't let them see you sweat. They're just people. I think there is an attitude around male-dominated industries; it is this big mysterious thing. There are questions like how do I break in and how do I make my way? If you just walk in there like everybody else, own it, own what you do, and don't make it an issue it's not going to be an issue. My advice to any women looking to enter a male-dominated industry: do it, don't focus on it, just own it and people will see that.
Her Agenda: Was there a time you saw your gender influenced the way you were treated in your career? If so, how did you overcome it.
Katelyn Coghlan: When I first started at The Glimpse Group, I was the only woman at my company for about 9 to 10 months. That was definitely a challenge in many ways. No one was outright disrespectful to me, I was very lucky in that sense. There were no Harvey Weinstein moments. Everyone was very respectful and encouraging in my career, and wanted me to explore and push the boundaries. However, I think there was a little bit of awkwardness, when I started. People weren't really sure what to do with me. When we had investors come in they assumed I was a secretary or someone's daughter. I would attend mixers where individuals would talk down to me or not take me seriously. I would pitch my business and try to win investments, and folks had an attitude of that is so cute, nice try, and come back to me in a few years. I experienced condescension in that regard but I think that over the year that attitude has changed. As I mentioned, my company has been super supportive of me and it is mostly male-dominated. I think it's the outer sphere of what do you do with a 25-year-old woman who is confident and knows what she's talking about? I think it is very easy for someone to knock me down if they feel intimidated but the tides are changing there.
Article continues below advertisement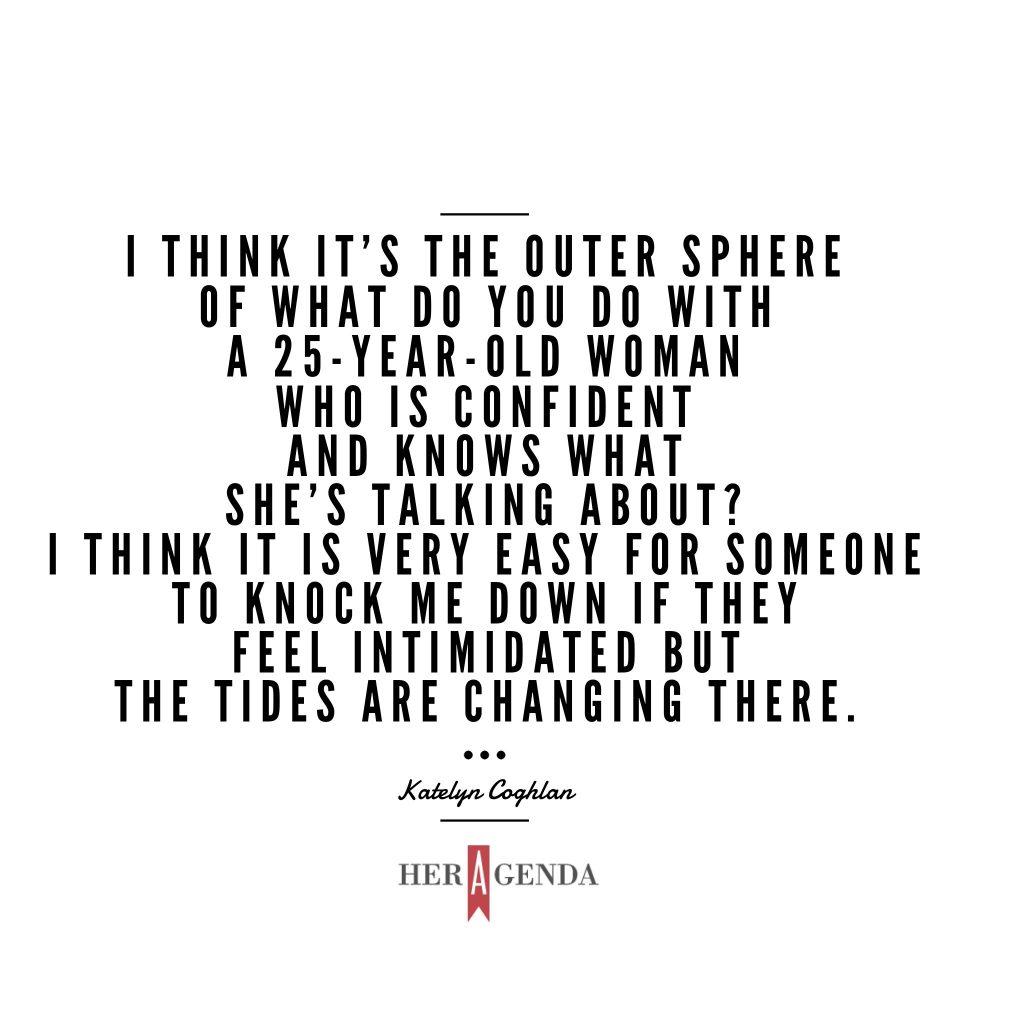 Her Agenda: What is the most exciting thing happening in Virtual and Augmented Reality right now?
Article continues below advertisement
Katelyn Coghlan: What's personally interesting to me is what's going on in the art space. The Black Eyed Peas just released an album with an AR component, which is so cool. The Gorrillaz did that same thing this summer and also released a 360 music video. The Oscars are starting to nominate virtual reality films. Sundance, Tribeca, and some of these huge film festivals are featuring VR short films so it's really come into its own. It is it's own art medium, which is really exciting because many people are saying the gamers and marketers are going to find the use for VR. I think it is really going to be the artist who push it far enough, find that magic thing that pops, and answer a lot of questions for us.
Her Agenda: What is something you do on a day-to-day or routine basis that you believe contributes to your success?
Article continues below advertisement
Katelyn Coghlan: I talk to everyone, and I think this is something that is hugely undervalued. I spend half of my day in front of my emails, completing my tasks, and doing what you have to do in a 21st century workplace. I also take five minutes here or there to have real conversations with people throughout my company regardless of what subsidiary they are with, their title, or anything else. This has made me a well-rounded person and an ally to everyone. Now when anyone needs my help, my advice, or someone to trust, I'm there and I like being that person. There is also a flipside to that too; if I'm ever in a bind and I need a day's worth of help from a developer everyone is really willing to work with me. It has not only helped my professional life in that I'm able to have more balance to get my work done, but also my personal life.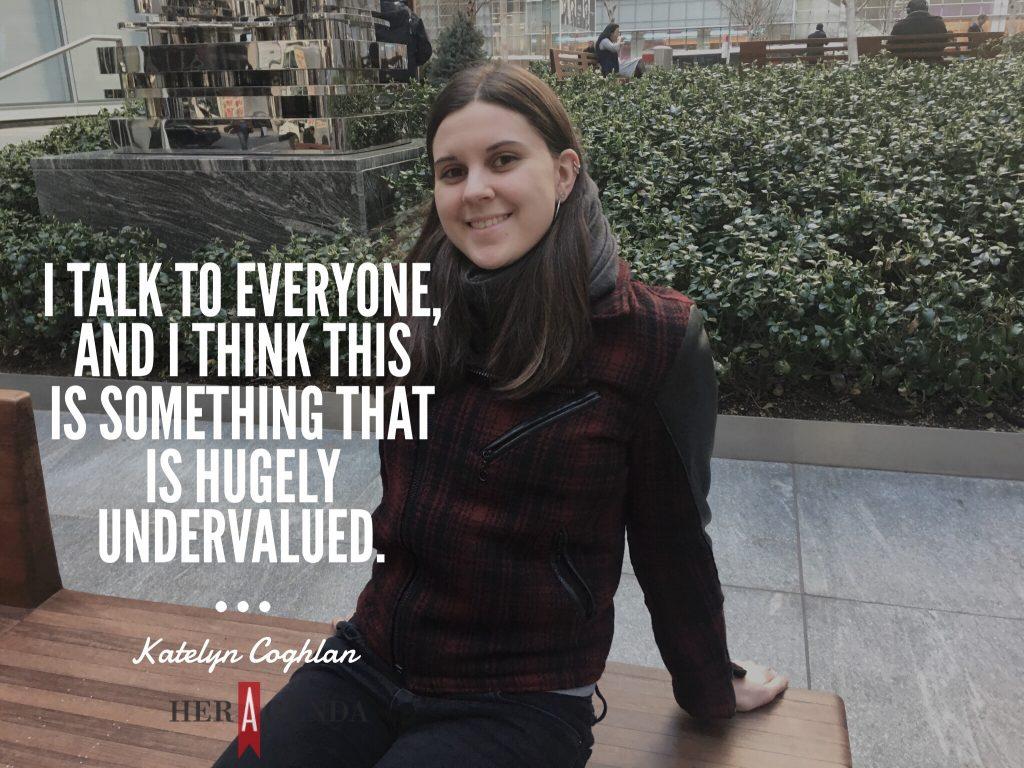 Article continues below advertisement
Her Agenda: What is one goal you are looking forward to accomplishing this year?
Katelyn Coghlan: I want to make a profit for my subsidiary, which I know doesn't seem like a big deal. However, for a startup that has only been around for 2 years it is a huge deal, especially for one that has just handed the keys to the Ferrari to a 25-year-old.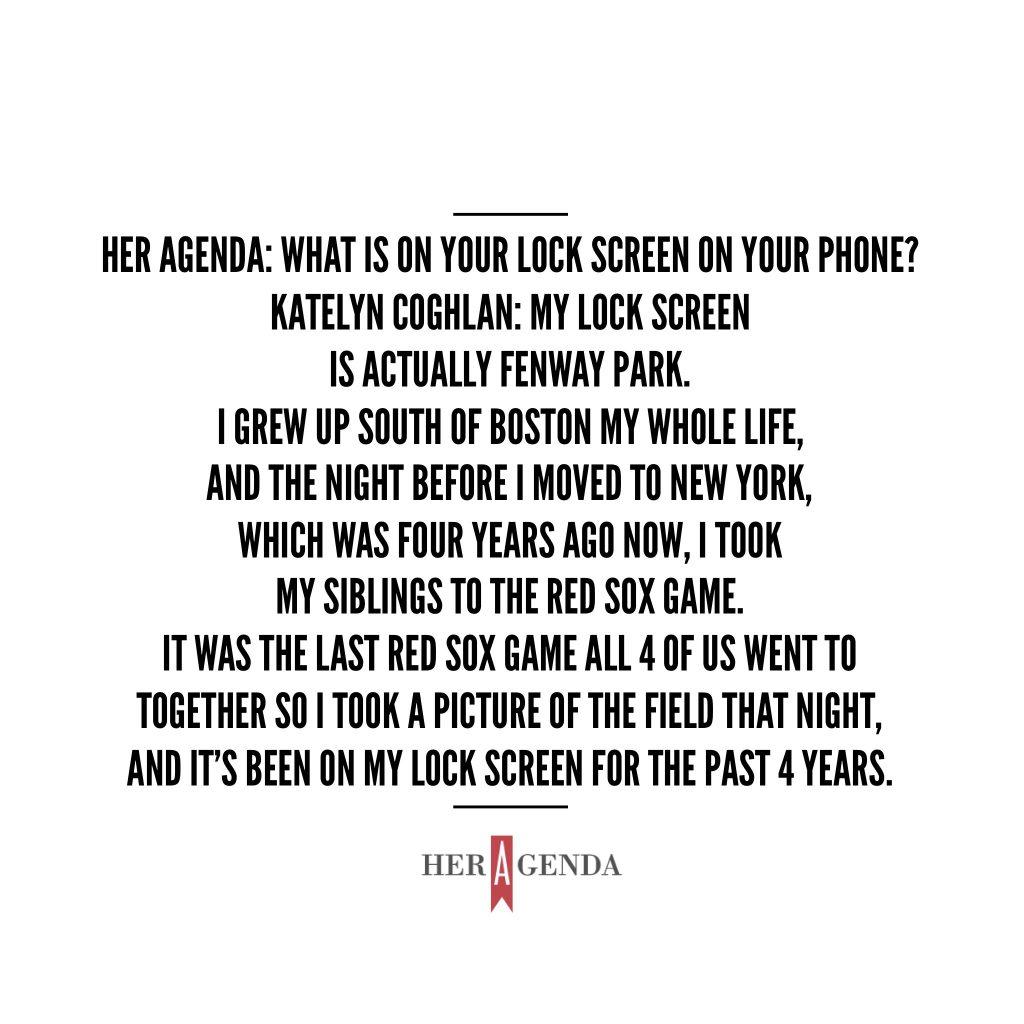 Her Agenda: What is on your lock screen on your phone?
Katelyn Coghlan: My lock screen is actually Fenway Park. I grew up south of Boston my whole life, and the night before I moved to New York, which was four years ago now, I took my siblings to the Red Sox game. It was the last Red Sox game all 4 of us went to together so I took a picture of the field that night, and it's been on my lock screen for the past four years.
[Editor's note: This interview was published on April 16th, 2018. It has been edited for length and clarity.]