Time Magazine, AOL, Oprah Winfrey Network, and now Yahoo, Kathy Kayse has an impressive resume. Her motto is "take action!" which is exactly what she has done throughout her career and continues to do now as a mom and VP of Sales Strategy and Solutions at Yahoo.
Before she took her position as a senior level executive for Yahoo's advertising business, Kathy was already an authority in her field. She was a sales leader at AOL, helped launch OWN and held senior positions in digital, TV and print. Ad Age called her "a polished executive who could instantly command respect both inside and outside the company."
While she could easily gloat, Kathy humbly and confidently leads her team "from the heart." Read our interview with her to learn more about her journey and media business advice.
Her Agenda: How did you first get into advertising sales and what initially drew you to the field?
Kathy: I studied advertising in college at the University of Illinois at Urbana-Champaign. I started in the industry right out of school at the ad agency Wells, Rich, Greene. The big moment of opportunity came during a presentation when Sports Illustrated showed how it was the right solution for one of our clients, Midas Mufflers. At that moment, I recognized that it was storytelling and the power of experience that shaped the sales proposition. The art of storytelling and compelling sales messaging spoke to me. I thought 'wow, this could be a great role for me.' So, at Time Magazine I became a Junior Sales Representative, which was basically created for me, someone with no experience and very early in my career.
Her Agenda: Now, as VP of Sales Strategy and Solution at Yahoo, what are some of your day-to-day tasks and challenges?
Kathy: I oversee a team that covers content marketing solutions, custom programs and global agency development. The challenges vary depending on the client objectives and needs. We work in collaboration to bring the best solutions to our clients.
Article continues below advertisement
Her Agenda: How do you begin to overcome those challenges? What is your process for problem solving?
Kathy: I treat problem solving with great respect and urgency. It's important for us to address every challenge and put the right resources against it. I always ask, "What are you trying to solve for?" This context really helps drive toward a better solution. For example, if a client is looking for a more integrated solution within our content and product areas, I immediately talk to various stakeholders and arrive at four to five different ways to deliver a more deeply integrated solution for our client. I think it's really important that we present multiple options with one solid recommendation. When we come armed with this, advertisers recognize the time and energy we've put into it. In this way, they can feel empowered in making the best decision.
Her Agenda: In your view, how has social media and new technology changed advertising today and it's future?
Kathy: The impact is significant. I believe we will look back at this as a time when there was a fundamental change to the media business. When we consider what social media and new technologies have done for us, this has really changed the way we connect with consumers. It has changed the way brands and consumers engage with each other and the way content is created and shared. It's quite exciting to be a part of the landscape today with such change upon us. It is causing us to focus more on consumers and understand them better. This is also an enormous opportunity for us because you have the consumer's voice that is responding and providing feedback almost instantaneously!
Article continues below advertisement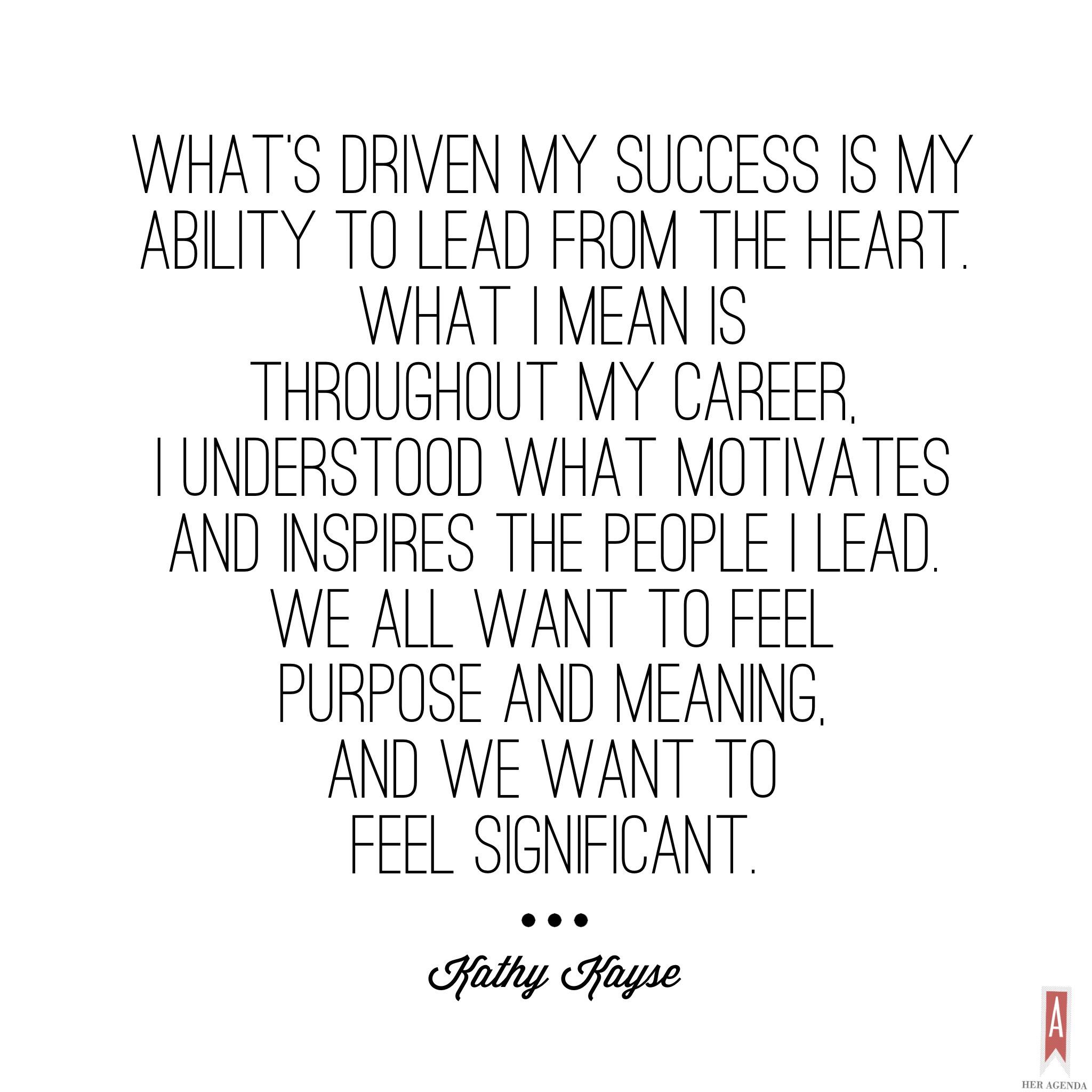 Her Agenda: How did you come to be an authority in your field? Are there rituals you have everyday?
Kathy: I was recently at an event where Mark Crowley spoke about his book "Lead From the Heart" and it was such a moment of affirmation for me. What's driven my success is my ability to lead from the heart. What I mean is that throughout my career, I understood what motivates and inspires the people I lead. We all want to feel purpose and meaning, and we want to feel significant. I've always treated my team with respect, enabled their career development and inspired achievement.
In terms of rituals, I have one that's new. I walk my son to school every morning. Afterwards, I sit quietly alone and drink a ton of water (I'm not drinking caffeine right now) and I read. My reading includes publications like The New York Times, Digiday, Media Morning Today and Fortune's Broadsheet email, which features women in leadership. It is a great newsfeed for women. So, for 15 to 20 minutes I sit with my iPad or newspaper and it transforms my mindset from being a mom to a businesswoman.
Article continues below advertisement
Her Agenda: What were the most important lessons you learned as you were climbing the corporate ladder?
Kathy: Quite a few things. First, there's nothing more important than networking and learning from those around you. It's important to take the time in those moments to truly engage, learn and ask the right questions. I've worked hard to foster a select group of individuals that I turn to in times of need. I also enjoy industry conferences to find and meet new people. Each time I network, I ask them to introduce me to other people to continue building my network.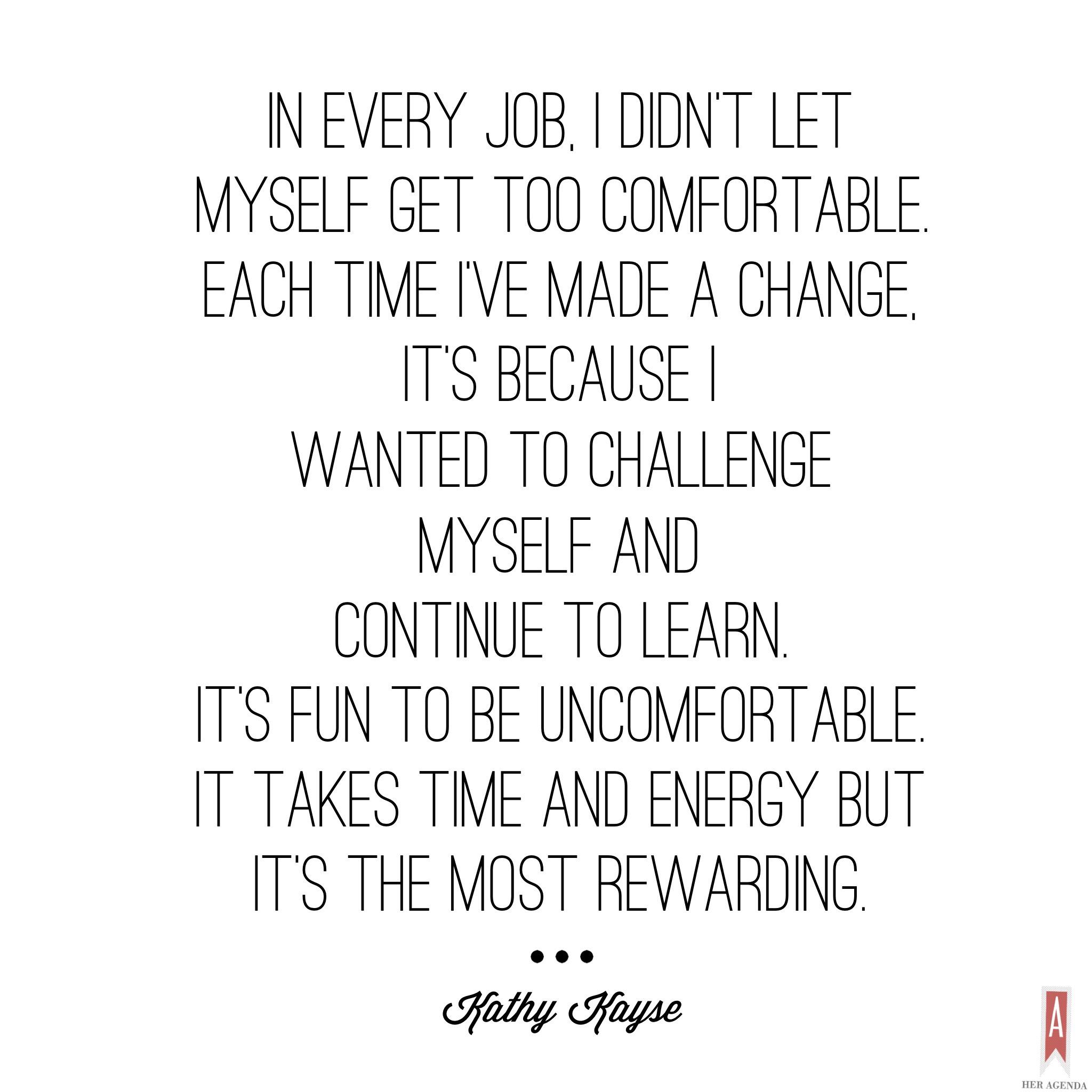 Article continues below advertisement
My motto is take action. I've made interesting changes in my career from magazine publishing to digital, from a role with AOL, to launching OWN and now with Yahoo to build and leverage all my experience. In every job I didn't let myself get too comfortable. Each time I've made a change, it's because I wanted to challenge myself and continue to learn. It's fun to be uncomfortable. It takes time and energy but it's the most rewarding.
Her Agenda: What do you think your biggest asset is professionally? How did you groom this strength?
Kathy: I would say my unique approach to leadership is my greatest asset. It has actually been supported by the feedback I get from those I managed and mentored throughout the years. I believe remaining authentic, keeping my intent for good and always looking to do the right or best thing in the moment is what drives success.
Article continues below advertisement
Her Agenda: What would you say to young professionals who would like to pursue ad sales?
Kathy: There are so many opportunities right now given the breadth of the industry. I would definitely follow leaders within Yahoo including Lisa Utzschneider. I have great respect for a number of women who have been successful in creating new paths and driving change in the industry. Also look outside your industry for inspiration. You can learn so much about leadership and how leaders approach problems. For example, Rosalind Brewer, CEO of Sam's Club, had a very successful career at Kimberly Clark but realized she could contribute more. She decided to leave after many years of success to take on a new challenge. I am personally inspired by those taking action on what they believe in. Their actions can inspire your everyday life.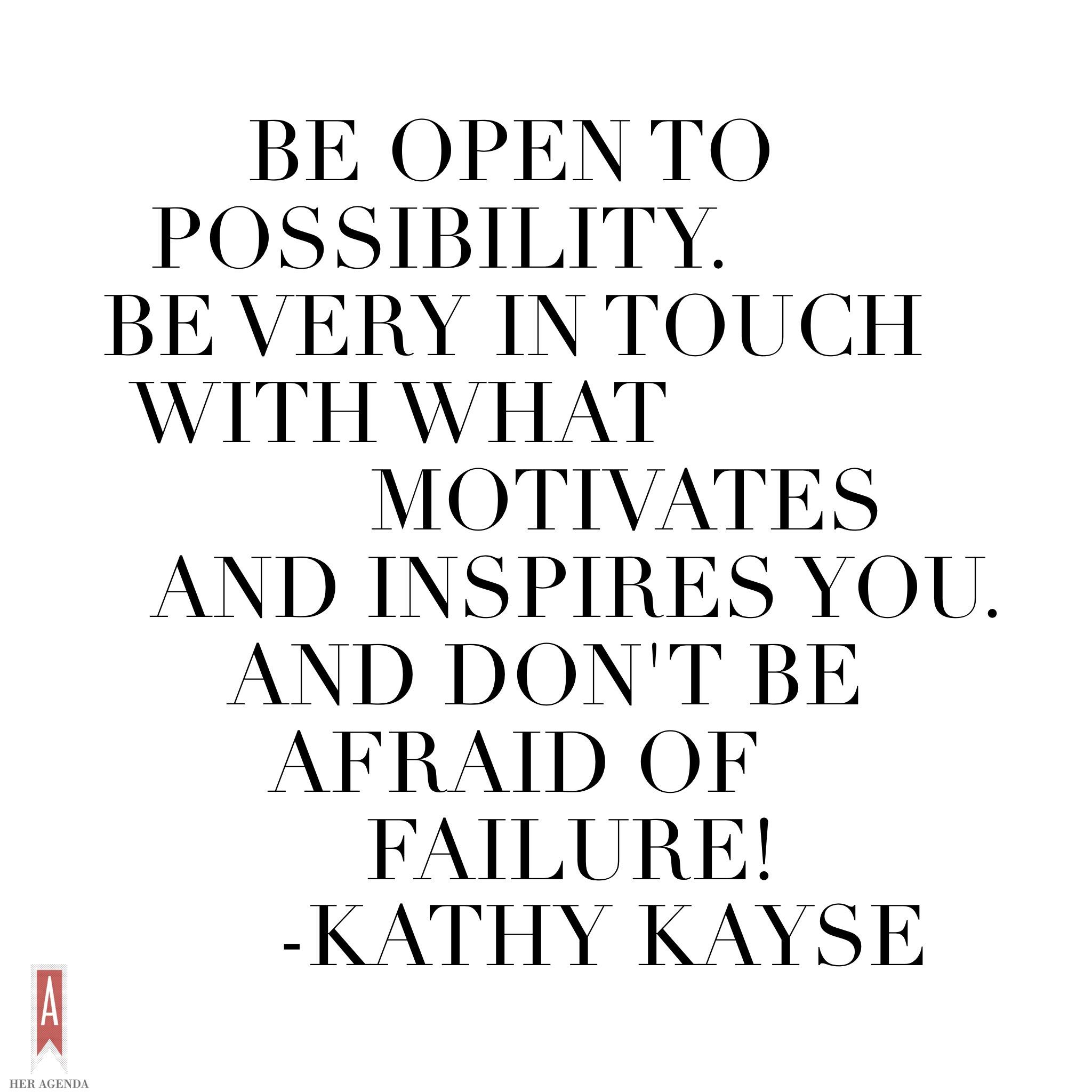 Article continues below advertisement
Her Agenda: What advice would you give to young women in the midst of their career right now hoping to move up?
Kathy: Definitely network and know your passions. Attend conferences or join groups like Advertising Women of New York. There are so many groups available to young women today. Take advantage. There are many people willing to help. Be open to possibility. Be very in touch with what motivates and inspires you. And, don't be afraid of failure! I keep a sign on my desk that says, "what would you do if you couldn't fail?" Failure drives learning and one's understanding of themselves.

Article continues below advertisement
Bottom line is to keep a good sense of who you are and what motivates you. Learn from your experiences: what you read, your past jobs, your networking. I recommend journaling to recapture the moments and lessons of the day. You'll get a better sense of who you are and what inspires you in your career.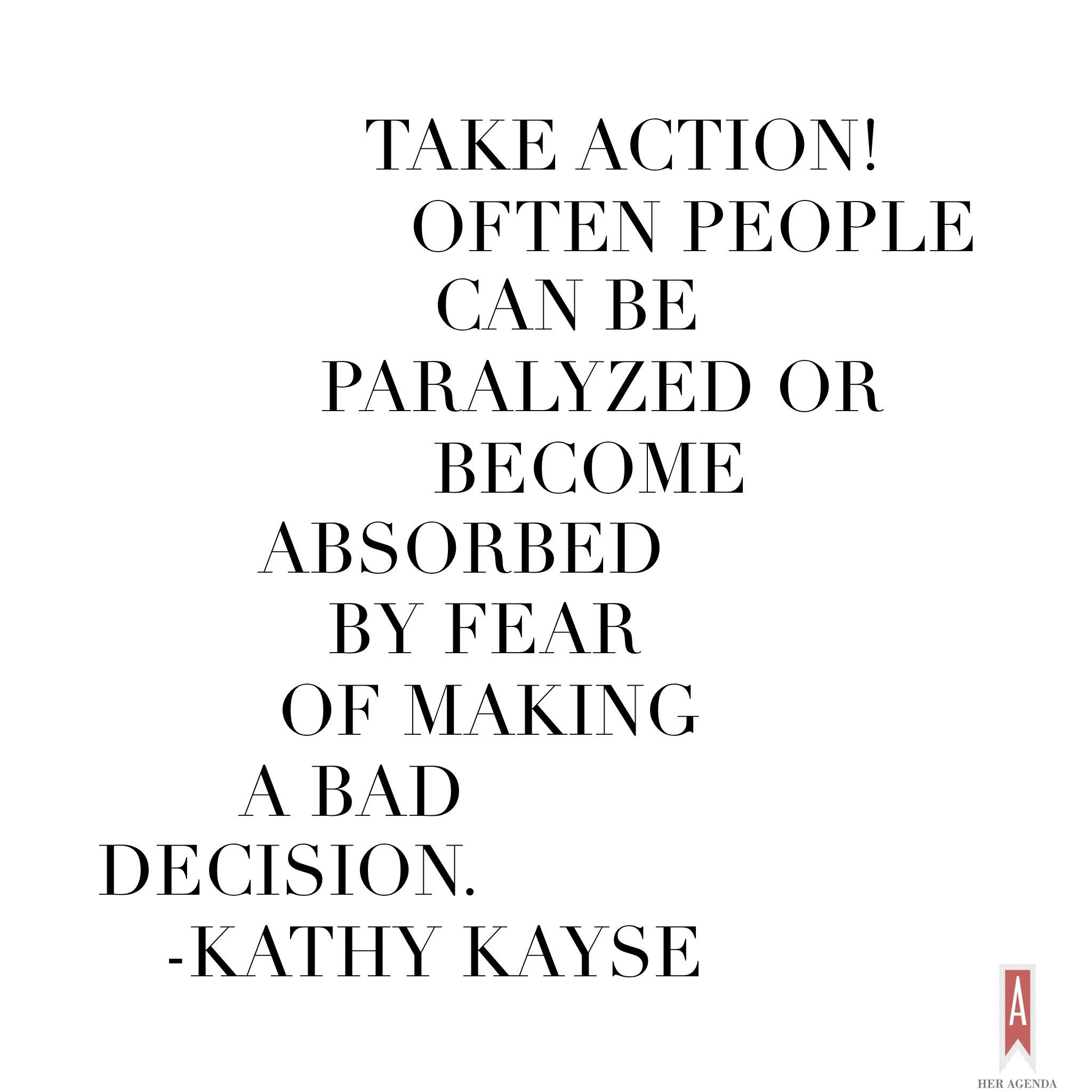 Her Agenda: Your motto to live by?
Kathy: Take action! Often people can be paralyzed or become absorbed by fear of making a decision. But, each time I've made a decision it turned out great because I took action. It's much more fun, you learn from it and it's incredibly rewarding.