Science Geek. Intrapreneur. Digital Guru. These are the words that describe Katrina Craigwell, who was recently recognized as a WiCi Award honoree, identifying her as a rising star in the field of communications.
As the Director of Global Content & Programming at General Electric (GE), Katrina is responsible for GE's global digital content strategy. From managing the re-launch of GE.com under a new CMS to overseeing GE's brand presences on various channels such as YouTube, Instagram, and Tumblr, she has helped to tell GE's story in the digital space. For Katrina, when it comes to brand storytelling, it's important to go beyond marketing and create an experience that allows GE to make a connection with their audience.
In addition to being a WiCi Award honoree, Katrina was named to Adweek's Creative 100 in 2015, Forbes' 30 Under 30 in Marketing & Advertising for 2014, and AdAge's Creativity 50 in 2012.
Her Agenda was excited to speak with Katrina and get a peek into her success in the digital marketing space.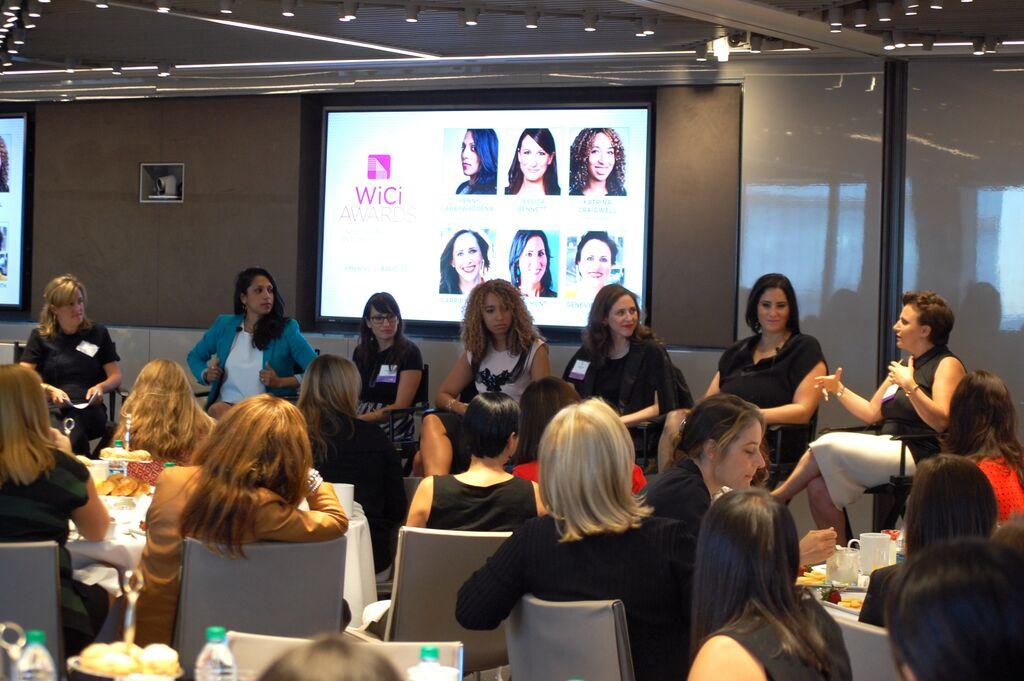 Article continues below advertisement
Her Agenda: Describe your experience as a millennial at GE.
Katrina Craigwell: I'm very lucky. For someone like me, GE is geek heaven. My job there is to increase and accelerate the pace! It's exciting to see technology being developed and see how the world is being empowered. It's meaningful stuff.
Right now, I'm leading the efforts in virtual reality, which is the new frontier. How does GE plan to use virtual reality? At trade shows, customers can put on a headset and see GE technology at work. Imagine a world 5-10 years from now where the connections we make in the virtual world feed off our experiences in the real world.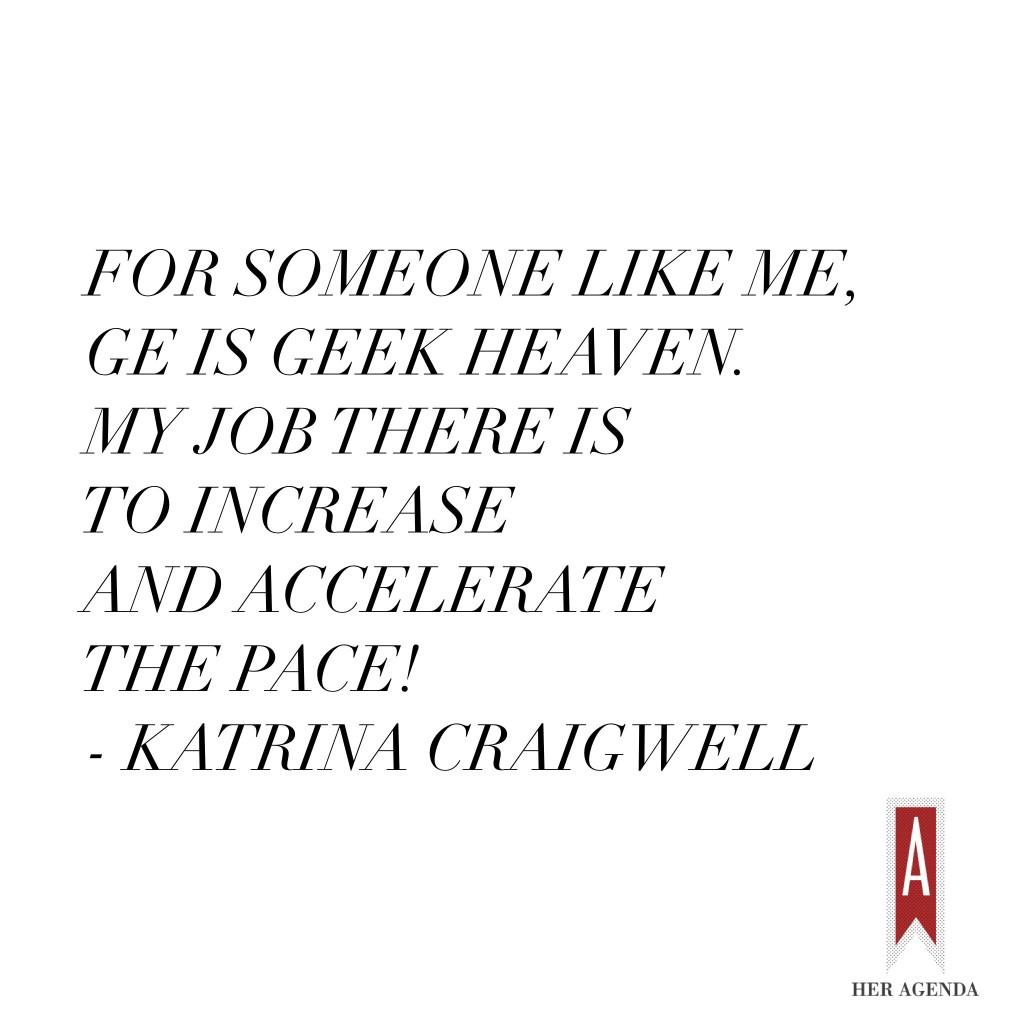 Article continues below advertisement
Her Agenda: How does GE determine what content strategy to use on a particular platform?
Katrina Craigwell: Initially, we watched user behavior across different platforms. User behavior is what grounds us in terms of what to produce.
Her Agenda: What do you love about working at GE?
Katrina Craigwell: Other than working with amazing technology and being able to share it with our audience? I love the people at GE. I work with some of the smartest, most poised people that set an incredible example. The people there definitely make it worthwhile.
Her Agenda: How do you unplug?
Katrina Craigwell: I love television, but I've been reading a lot of fiction and non-fiction recently.
Her Agenda: Can you tell us about an experience with failure and how you overcame it?
Katrina Craigwell: In my early 20's, I was fired from my job. After that experience, I thought to myself, 'what am I an expert in?' I realized I was really good at social media and still had a lot to learn. So, I enrolled in a digital course at NYU and kept making connections. My advice to anyone who in that kind of situation is to have a strong support system and continue to educate yourself and read.
Article continues below advertisement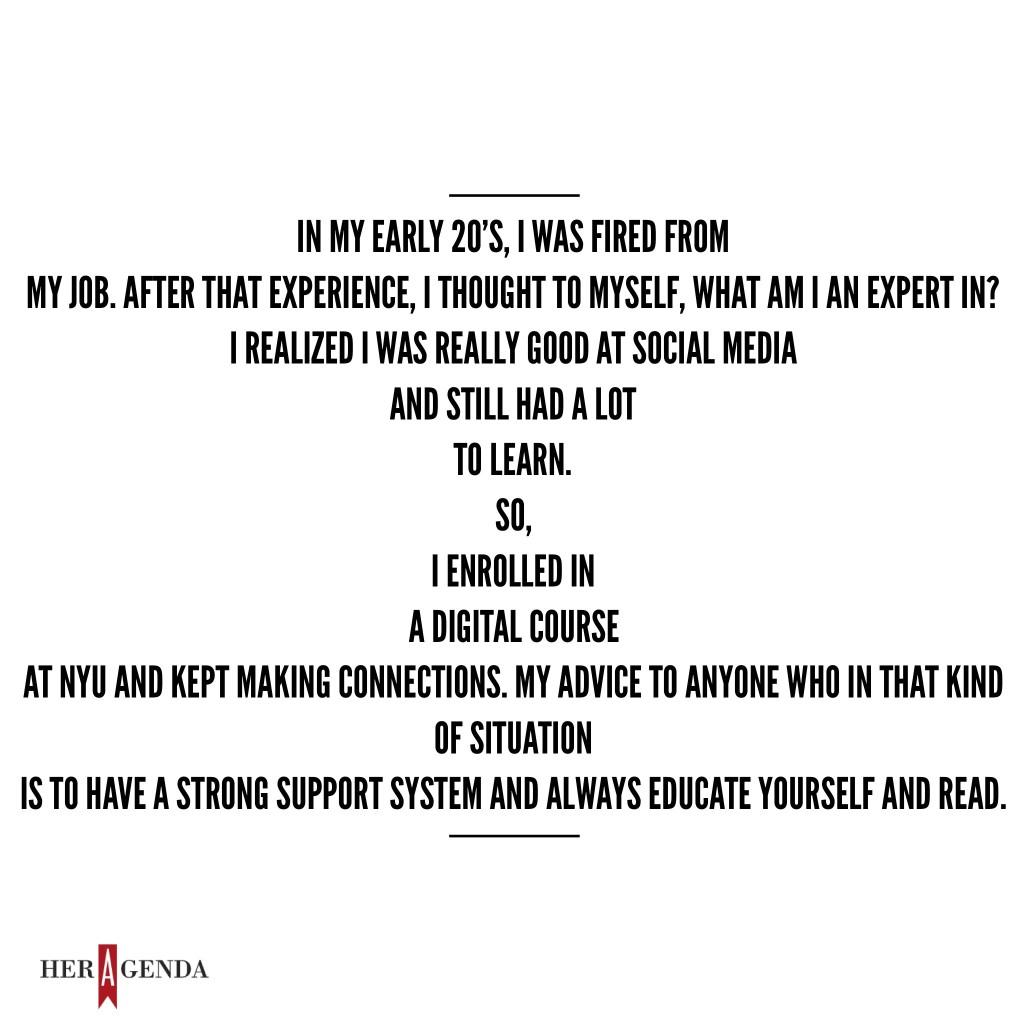 Her Agenda: How do you continue to educate yourself in your field?
Katrina Craigwell: Part of what I do is read a lot. I'm even studying a new language (Mandarin). Other than that, I like to have dinner with colleagues who don't exactly do what I do and bounce ideas off of them.
Article continues below advertisement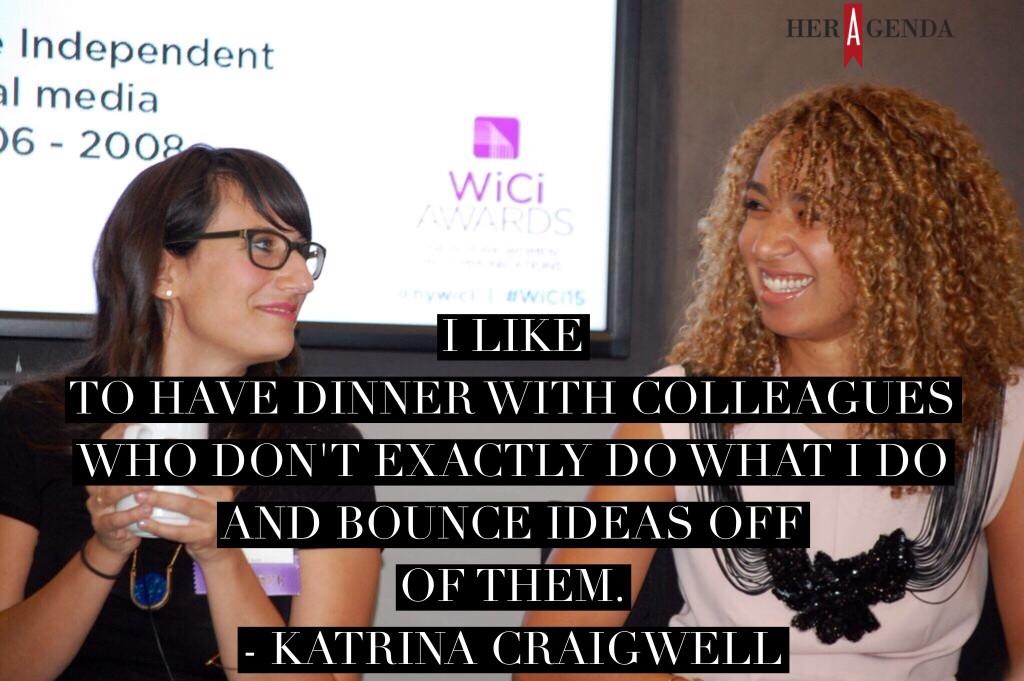 Her Agenda: What new technologies excite you?
Katrina Craigwell: I'm really excited about virtual reality, wearable technology, neuroheadsets, wearables related to health, and space technology.