We're in the midst of an awakening. An awakening of mental health, an awakening of sisterhood, and an awakening of women's equality. Kelli M. Coleman represents all of the above. Coleman's business ventures—She Who Dares and The TEN Nail Bar—are built on the needs of women and the opportunity to make them feel fulfilled and empowered. Ironically, those same needs are what led her to entrepreneurship after nearly a decade in corporate America.
Coleman spoke with Her Agenda about the importance of self-representation, preparation for the journey of entrepreneurship, and the power within the sister circle. Kelli M. Coleman has created her own definition of success, which starts by building from the inside out.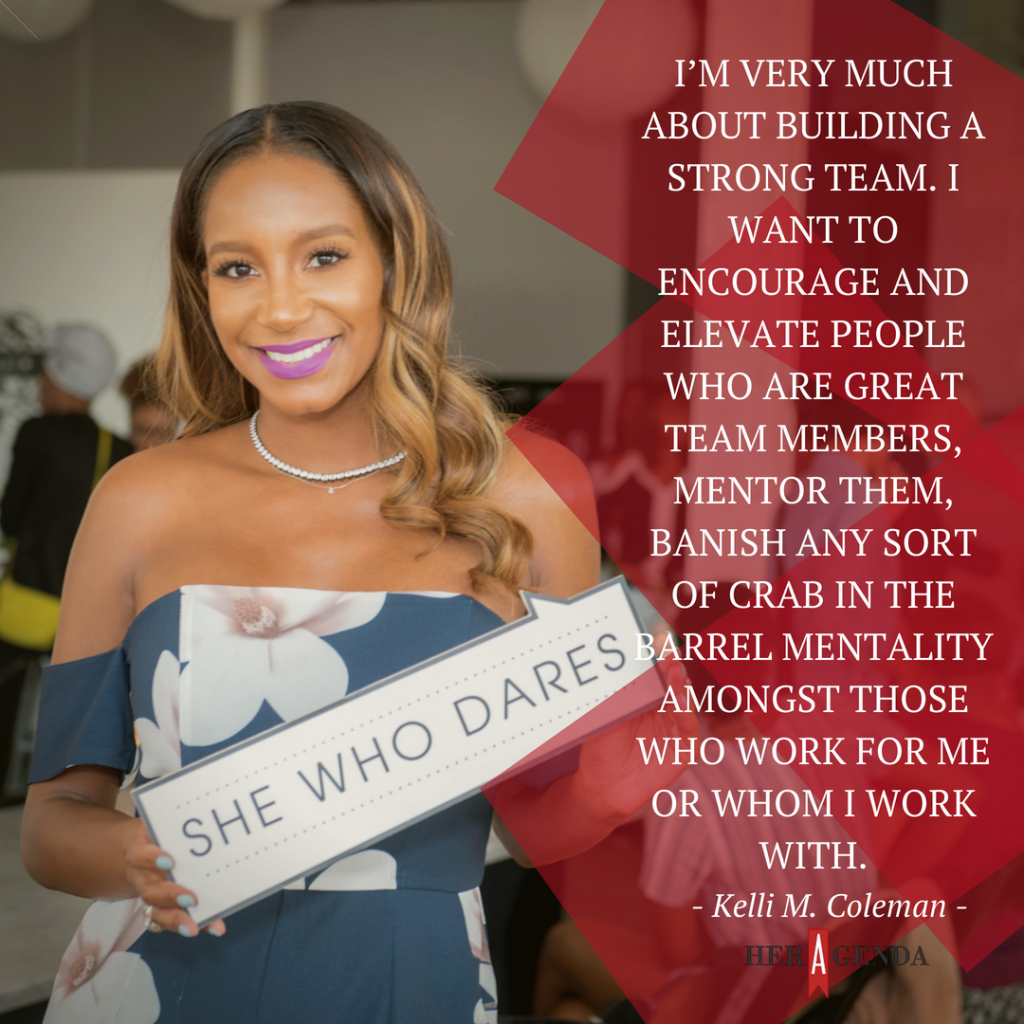 Her Agenda: Prior to founding the KM Coleman Group in 2016, you started your career in marketing and advertising with the largest minority owned marketing communications agency, GlobalHue. How did that experience prepare you for entrepreneurship?
Article continues below advertisement
Kelli M. Coleman: It really built my business acumen not only from a marketing and branding perspective, but I had the unique experience of developing in a family business. I was exposed to a great deal of business management and development, understanding people and what motivates them, as well as how to mentor and lead. In addition to gaining the confidence to ultimately push back some of those fears that we may experience when thinking about building something of our own. It was a multi-faceted experience and it allowed me to enter entrepreneurship much more confidently.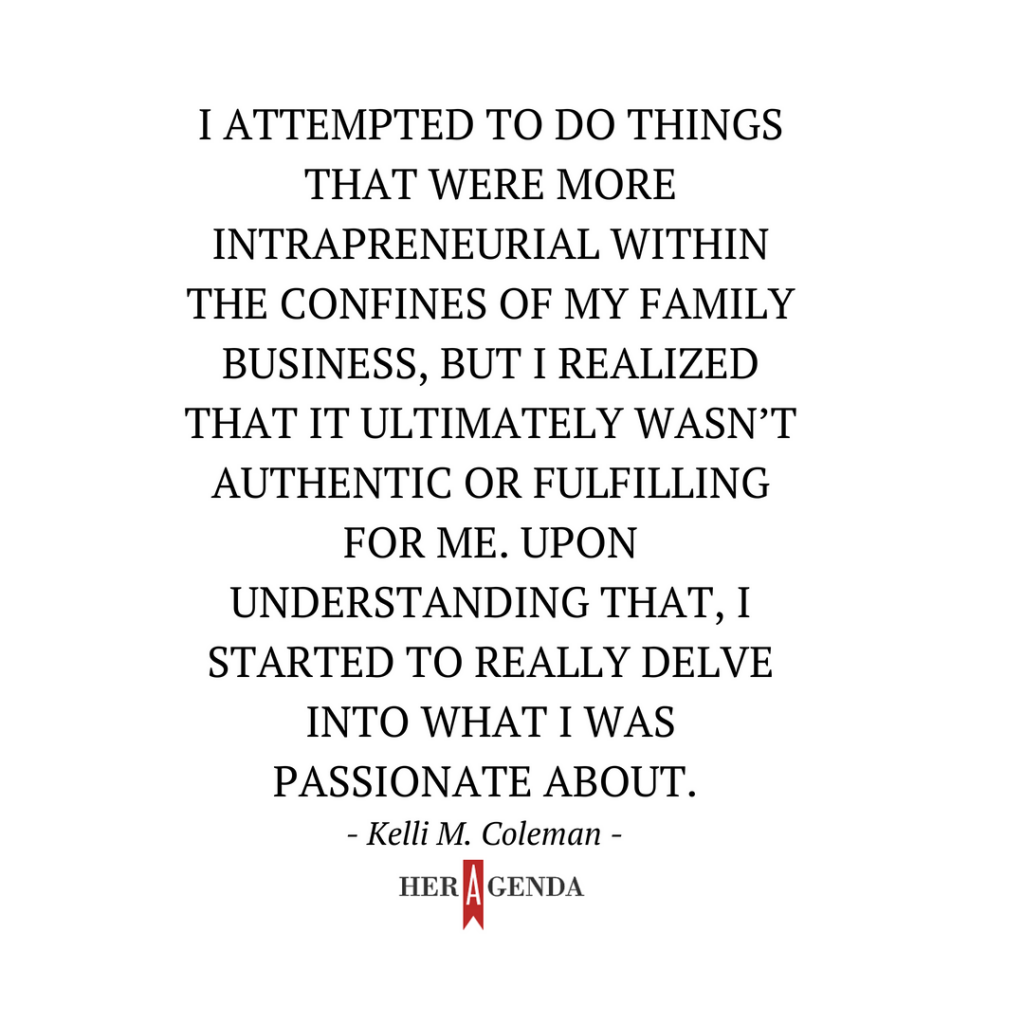 Article continues below advertisement
Her Agenda: What was the transition like from corporate America to entrepreneurship? How did you prepare for it?
Kelli M. Coleman: Honestly, it took me years. I'm always assuring people who are thinking about entrepreneurship that it's definitely not something you need to jump into immediately without a sound plan, as well as a certain comfort level. I attempted to do things that were more intrapreneurial within the confines of my family business, but I realized that it ultimately wasn't authentic or fulfilling for me. Upon understanding that, I started to really delve into what I was passionate about.
I don't think I had given myself the opportunity to explore that. I did what I was supposed to do, as opposed to really thinking about what was fulfilling for me. I took a step back and I thought about what I genuinely love to do and how I could make my avocation my vocation. It took a lot of planning over several years and what I came to realize was that I really thrive and am passionate about seeing other people, women in particular, thrive.
Article continues below advertisement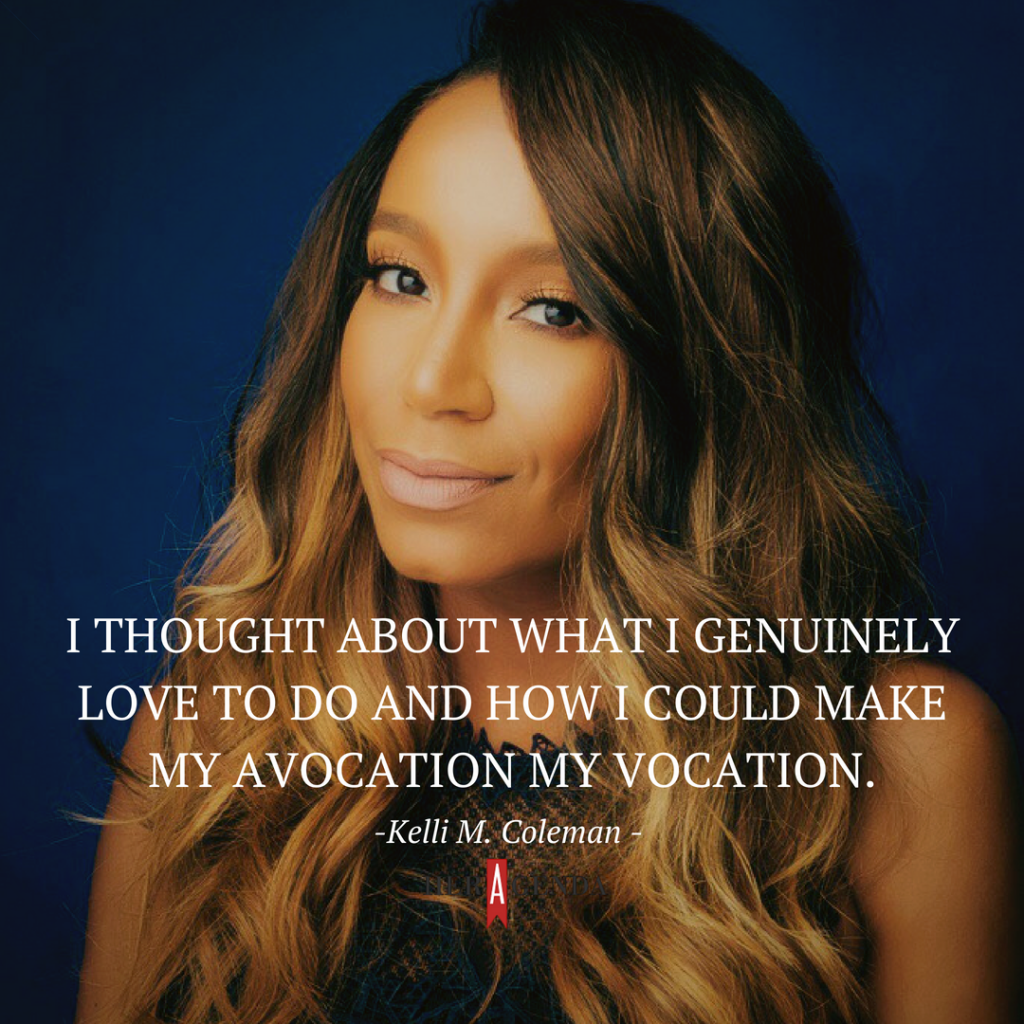 Her Agenda: Like you, my Dad was successful in his chosen career path but one day chose to take a risk and follow his heart. He's now a two-time business owner.
Kelli M. Coleman: I went through a period where it was like, by all intents and purposes, I'm successful. I make a good living, I guess you could say I'm acknowledged for work that I've done. It's not like anything that I'm doing is "wrong" or as if I'm not successful, but I'm not fulfilled. So that is really the ultimate indicator that something more is stirring in you. You should pay attention to those feelings, but that doesn't mean you just jump into it without a plan.
Article continues below advertisement
Entrepreneurship can seem super sexy these days. People tend to forget just how much hard work and dedication it takes to really thrive in an entrepreneurial endeavor. The planning and ability to be profitable, the ability to solve a real problem, and so on, all of these things are critical when it comes to stepping out there and doing something new on your own.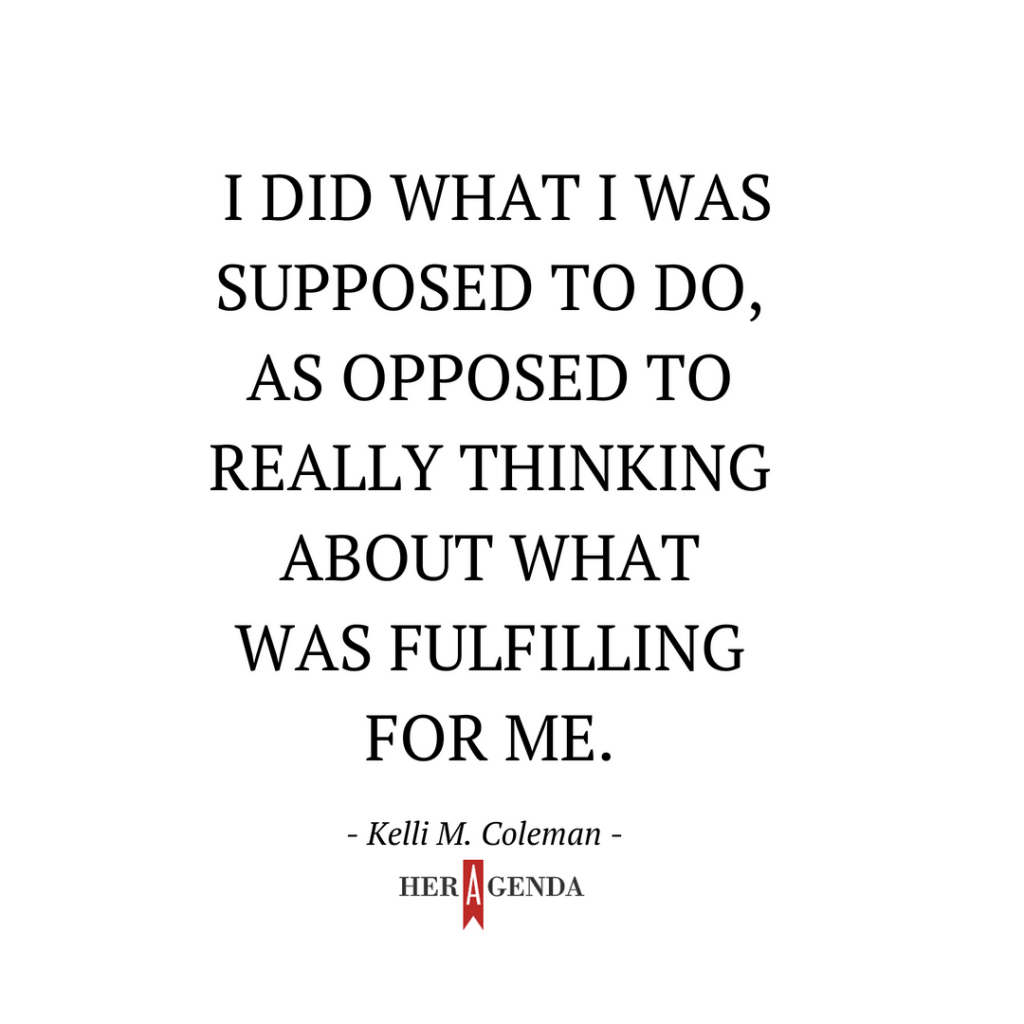 Article continues below advertisement
Her Agenda: What about those who don't want to carry the burden of running a business? Society is hellbent on professional independence in this day and age, not fully understanding the ins-and-outs of entrepreneurship.
Kelli M. Coleman: Right exactly. I actually say the same thing, do you want to build a business or do you just have a hobby? Building a business looks much different than leaning into something that you enjoy. I wholeheartedly believe that entrepreneurship is not for everyone. I do believe that everyone should live to their full potential, and maybe it's not necessarily manifested through your profession. Maybe it's through your hobbies or extracurricular activities or other other venues. Entrepreneurship is definitely more than a notion, but so far I can't imagine doing anything else.
Article continues below advertisement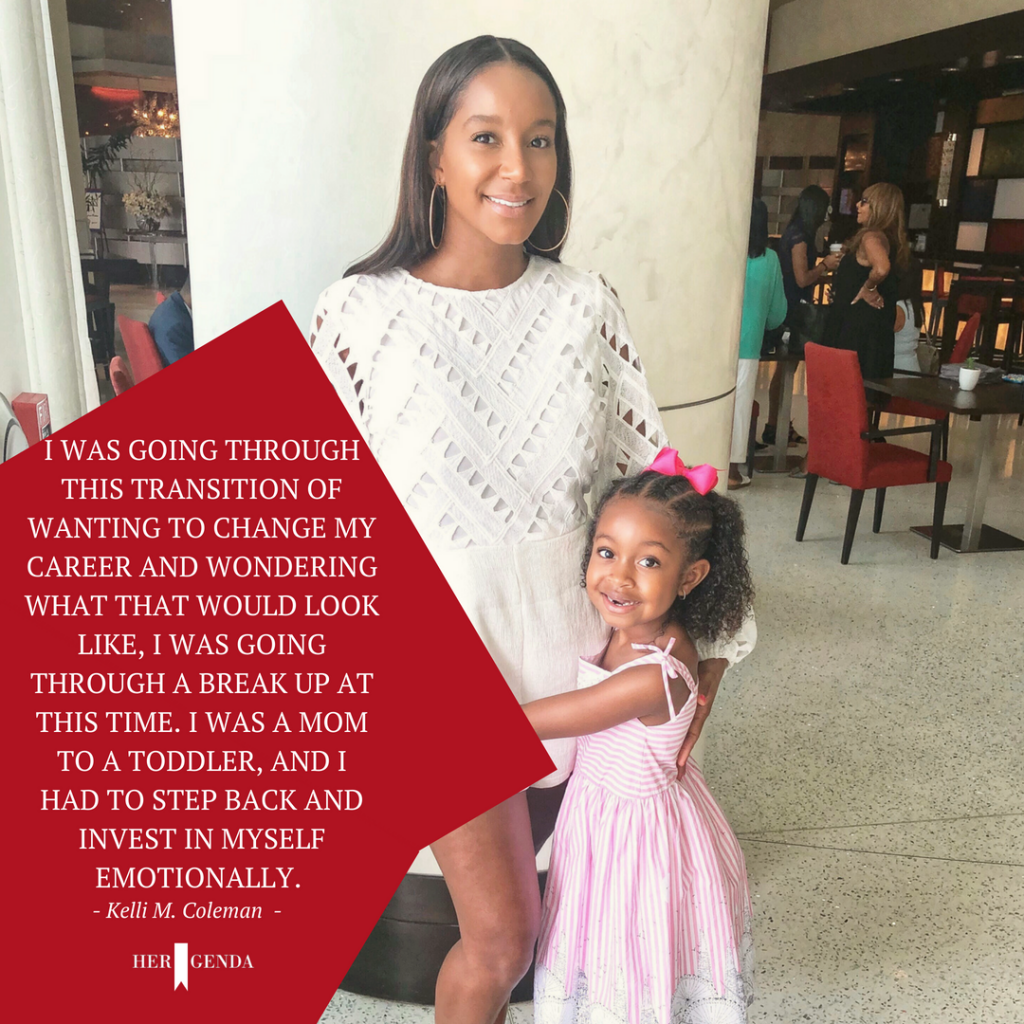 Her Agenda: Tell me about the She Who Dares summit and how that came into fruition?
Kelli M. Coleman: She Who Dares was first on my journey. [In my professional life] I knew that there was more for me, there was more that I wanted to do. I wanted to feel like I had control over my genuine happiness. I didn't want to seek outside validation. I didn't want to compare myself to others. I wanted to feel comfortable in my own skin and know that I was living a purpose driven life. I had to step back and do a lot of personal development before I saw a professional leap and before I was able to really be confident in everything that I was doing; from being a business woman, mom, friend, etc.
Article continues below advertisement
I was going through this transition of wanting to change my career and wondering what that would look like, I was going through a break up at this time. I was a Mom to a toddler, and I had to step back and invest in myself emotionally. I started to enrich myself and be very intentional about what I was consuming just to get to a place where I was more comfortable with Kelli. When I felt like I came out on the other side of that journey, I was having lunch with my friend Tai [Beauchamp], who partners with me on She Who Dares, and we were discussing how other women need to be able to talk about these perceived fears and how to get to the other side. They need to be able to be vulnerable, and have a safe place to connect with one another in a more meaningful way.
It doesn't need to be all about networking or what the next professional step is, but about the intersection of personal and professional. She Who Dares is all about really reaching that extraordinary side in every woman and asking her to dare to be her best self.
Article continues below advertisement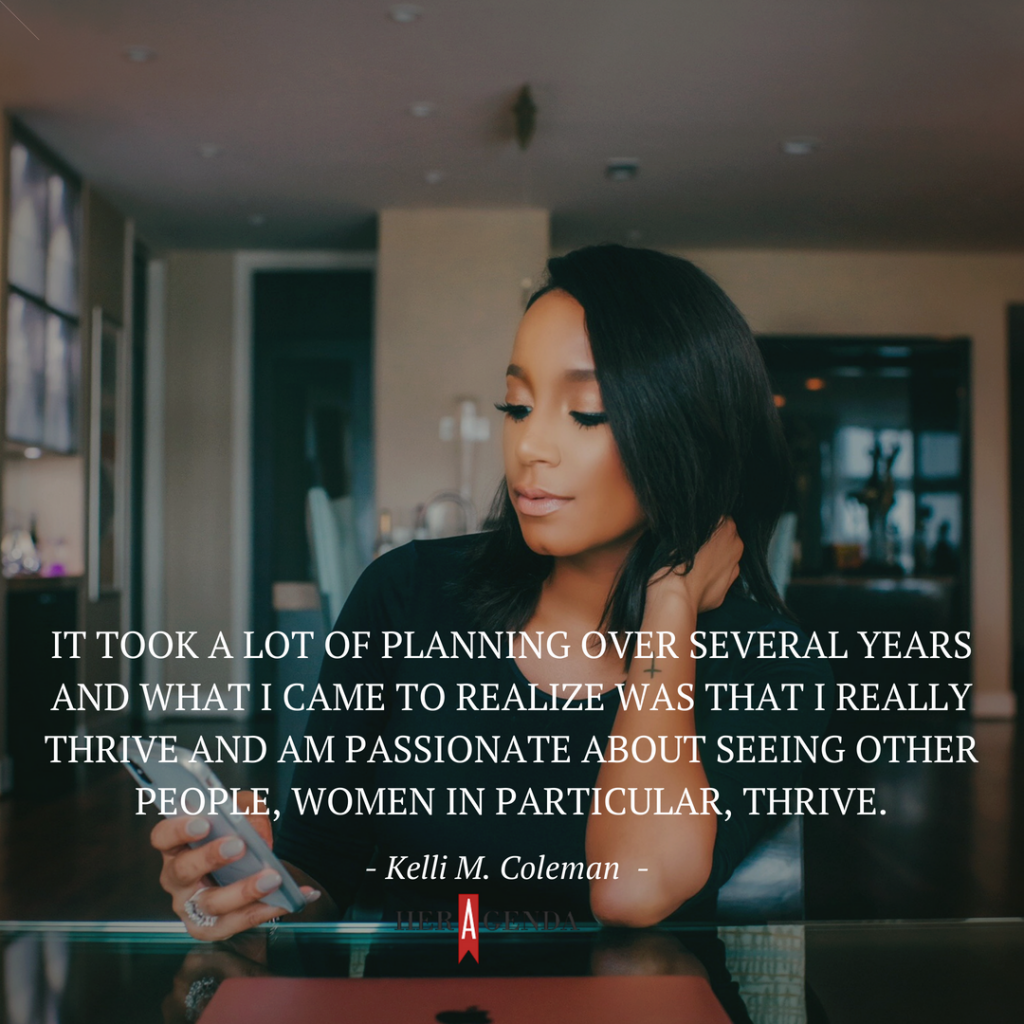 Her Agenda: You're a serial entrepreneur. You have The TEN Nail Bar, She Who Dares, and KMColeman Group; how do you maintain structure within all of your ventures?
Kelli M. Coleman: I truly believe in everyone having their own personal formula for what works best for them. First and foremost, I'm a mom, so it's super important for me to show up in a meaningful way for my daughter. I always remind moms, especially those who are working, to have a sound village and don't let anyone shame you for having help.
Article continues below advertisement
I would say that it also carries over in business. I'm very much about building a strong team. I want to encourage and elevate people who are great team members, mentor them, banish any sort of crab in the barrel mentality amongst those who work for me or whom I work with, and ultimately, be okay with delegation. That's a huge thing. It's very important to be able to set strategy and know every aspect of your business, and have the ability to perform it, but you also need to be comfortable loosening the reins if you're going to be as productive as possible.
In reference to The TEN, I found an amazing partner in one of my best friends and now we're running this business together. It's great because we have complementary skills as well as a shared vision for the future which is critical in partnerships.
Article continues below advertisement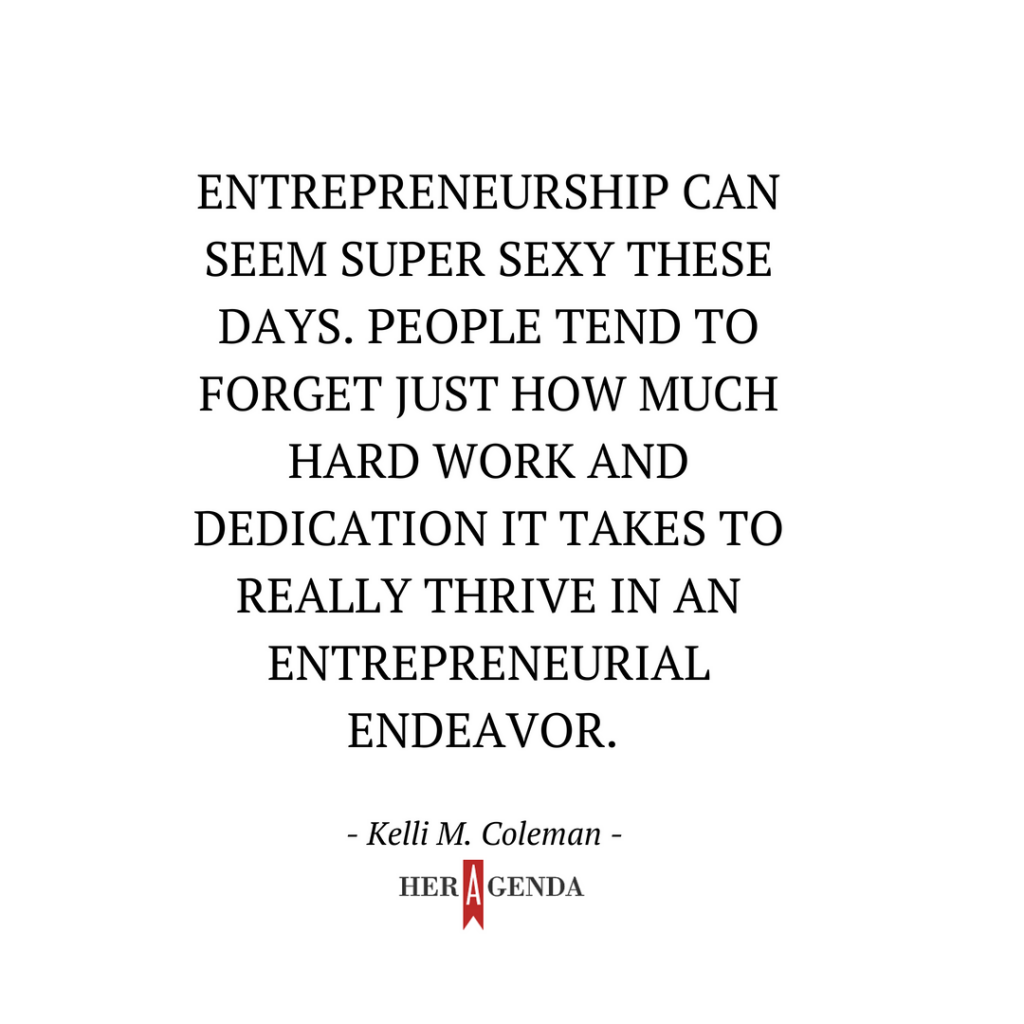 Her Agenda: I noticed the strong presence of powerful Black women across your social media channels. How important was self-representation in your upbringing as an woman and entrepreneur?
Article continues below advertisement
Kelli M. Coleman: Very important. For me, I was exposed to a great deal at a young age; in the way of entrepreneurship, in the way of a strong Black female in my mother who supported us for many years while my father was building his business. When you are exposed to, and are able to see yourself in others and watch them thrive and grow, it makes all the difference in the world. I think ultimately for us we need to be reminded that it should be about collaboration before competition. It's so important for us to have these visual representations of strong Black females as well as these strong Black females uplifting and helping one another.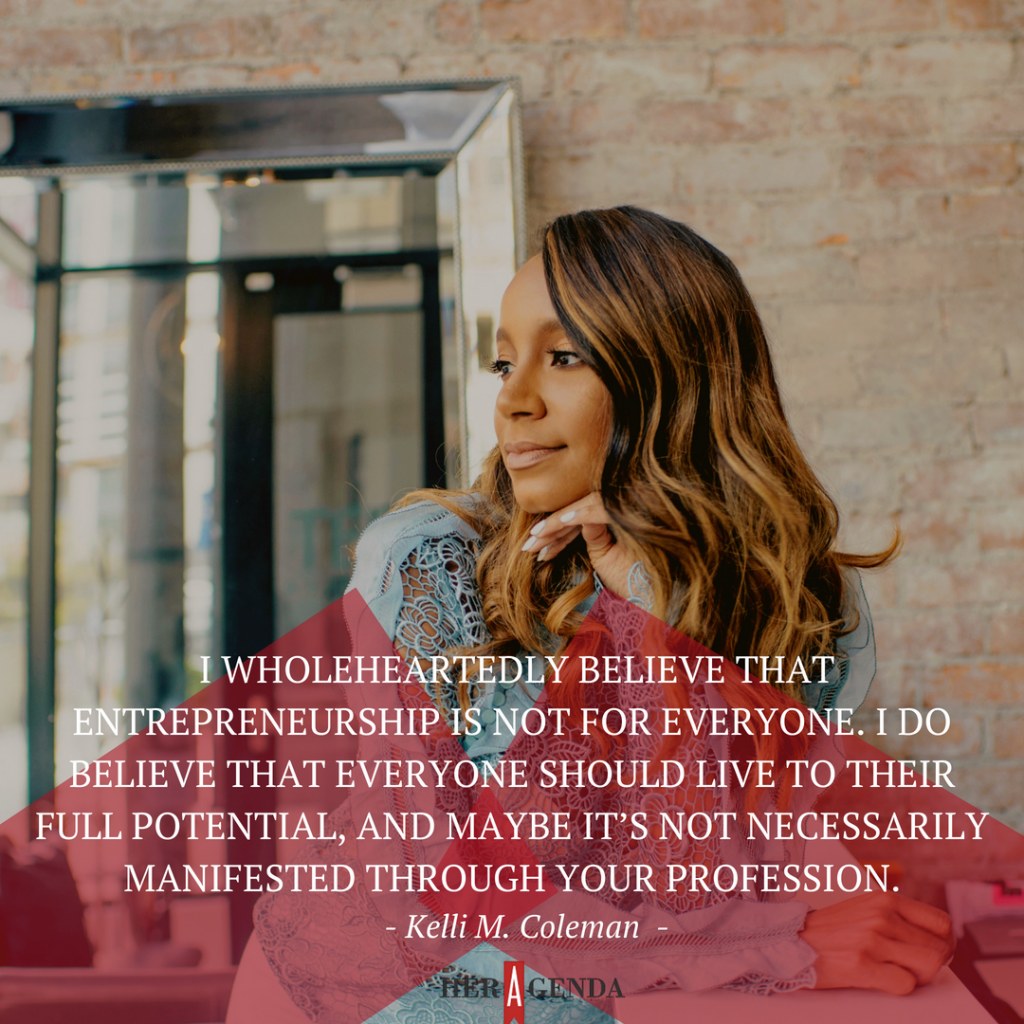 Article continues below advertisement
Her Agenda: As someone who has been successful in both corporate America and entrepreneurship, what advice do you have for 9-5ers that hope to branch off to business ownership? And secondly, do you have advice for 9-5ers who want to reach their full potential in corporate?
Kelli M. Coleman: The number one thing I'll say is, what value are you adding? What problems are being solved? That is something that rings true if you're a 9-5er looking to transition into entrepreneurship, or if you're trying to excel within your respective corporation.
For me, when I was in a more corporate setting, it was about making sure that I'm making a mark when it comes to my responsibilities and beyond. What problem are you solving for a client? What problem are you solving for your business or corporation? I also think this is going back to the difference between a hobby and building a business. I think, too often, people look at it in a way that's backwards. It needs to be about what you are offering consumers that helps them in some way in their daily lives as opposed to, 'this is what I want to do and that's how I want to do it'. It's about adding value in both scenarios.
Article continues below advertisement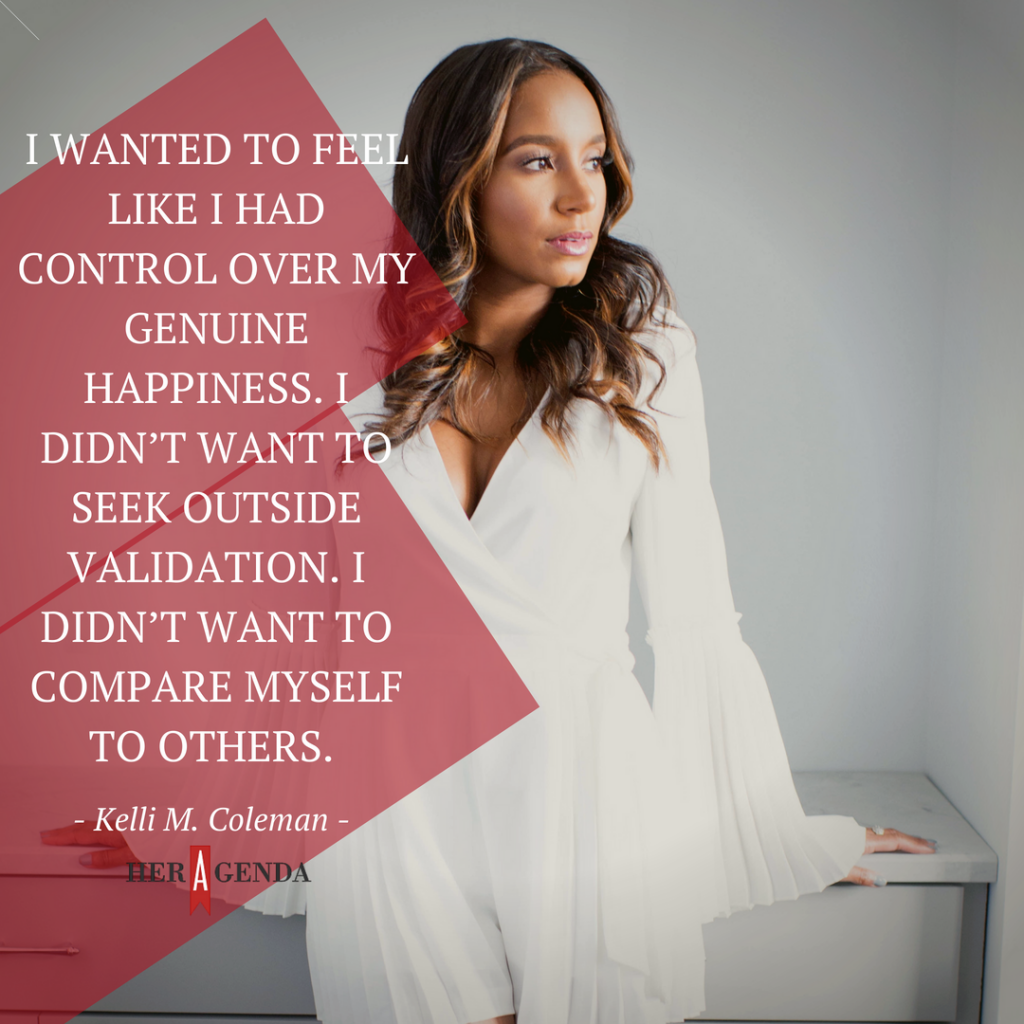 [Editor's note: This interview published on October 22nd, 2018. It has been edited for length and clarity.]