When Kelli Flournoy began her journey in public relations there was no reality television series to help guide or give any insight into the industry she was stepping into. Jumping into the field in 2003 Kelli was almost clueless as to what she had gotten into. But with a great mentor, her spirit of determination and a fiery passion she was able to begin building her triumphant empire.
With heavyweight names like TBS, Modern Class Design, Faded Glory and Atlanta Tastemakers adorning the list of her fabulous clientele, Kelli continuously proves to be a force to be reckoned with.
But don't believe for a second that the spotlight would wind down her work ethic as she captivates many on and off camera with her talent in public relations.
Her Agenda recently had a chance to chat with the fiercely fabulous and passionate PR maven. Here is what she had to say.
Her Agenda: This summer you became a familiar face in many of our homes through the WE television show "House of Curves." Beyond what we've seen on the screen, can you tell us more about yourself?
Kelli Flournoy: I got into public relations in 2003 at a time where I did not know exactly what PR was. I was working at Walmart in New York and the account PR lady took me under her wings. She would ask, "Hey do you want to come with me to an editors lunch?" and I'm like "Sure!" I was really young, I was really eager and I was like a sponge.
Article continues below advertisement
So long story short, she ended up leaving and I was in charge of doing PR for them, I kind of just fell into it. This was before the glorification of the publicist, reality TV and stuff so I had no idea that this was something that people actually did. I left New York in '06 and came to Atlanta to take care of my mother and in 2010 I had just gotten my masters in marketing and I was actually looking for work in PR and mass media and financing but [instead] I took a chance and started my own PR boutique. It's been a long road…a lot of ups and downs. I've learned a lot, still learning a lot every day but I love it.
Article continues below advertisement
Her Agenda: Tell us a little more about Kelli Flournoy PR.
Kelli Flournoy: I wanted to do something that I felt was missing in Atlanta. Our focus is fashion beauty and lifestyle. We do not do music, sports and restaurants and we really try to stay in our lane because that's where my contact base is: fashion, beauty, and lifestyle. There is a common misconception that if you're in PR you can do PR for anything and you can be effective but PR should have a strong network and contacts and I have them in this particular field so that's what we do. We create the consultation which has been doing very well to equip the client with a detailed plan based on their brand and its their responsibility to execute it, so in a nutshell that is what I do. I love it. It's not rocket science but it takes a certain skill set and I'm proud of my growth.
Article continues below advertisement
Her Agenda: You've worked with some pretty major clients like TBS, MCD and Atlanta Tastemakers to name a few. What's a typical day like at Kelli Flournoy PR?
Kelli Flournoy: I hate to sound cliché but we don't have a typical day! I still search for it in my days because I like order but I feel so conflicted. I have to understand that my lifestyle is going to be this way but sometimes I want [to] get up at the same time every day routine. I want to kind of do the same little routine and it's like that's not going to work.
I get up and I check social media for myself and my clients. If we are going to take on social media we take on a first person voice so first thing when I wake up I want to see what transpired over night and then check emails. I head to the office, I get my team situated which doesn't take anymore than 15 minutes (I'm not a big meeting person) and then I launch into my day. I try to section off my day by client, like this is a priority client today and get it to the deadline. I'm going to focus on them for 90 minutes and then I'll switch gears. It usually overlaps but that's the structure I'm trying to create. I am quite passionate about what I do.
Article continues below advertisement
Her Agenda: With your fiery passion and dedication for your clients what are the types of problems that may arise or cause you to stray off track?
Kelli Flournoy: Well I think one of the biggest sources of conflict or hurdles in the business is the media. You're basically clamoring for attention for somebody and they hate it…the media hates us, we annoy them, we bother them, we send them so [many] emails! You know that's the nature of the business but that's a huge obstacle in my business, you can't cut through the noise for one reason or another, it's for lack of not trying and that poses a problem.
For example if I'm trying to pitch you and I'm trying to get the editors attention and I say why don't we look at repacking this and then the client is like "no I don't want to do that." I'm like "I'm the liaison, I'm the one who knows what they want so help me help you! I'm telling you this is what you need to do to get their attention just trust me I need you to do it." It's frustrating for me because I already know the product is great and we're never going to cut through the noise if you don't change the presentation or branding.
Her Agenda: Do you have a personal mantra, if so what is it?
Article continues below advertisement
Kelli Flournoy: "Operate out of passion and purpose, not out of fear and opposition." Most young 20 year olds have certain insecurities about their performance or their abilities. I had insecurities and I made decisions based out of fear a lot even in deciding what I was going to major in in school. I made these decisions because I was afraid, I was afraid that I wasn't good enough. I always wanted to work in fashion and the reason I did not apply to fashion school is because I was afraid to get past the portfolio process so I was just like "ehh I'll go to regular college." It was never out of passion or out of purpose it was out of fear you know? I was making decisions that I felt were safe or that would push me to a comfortable place and I no longer live like that.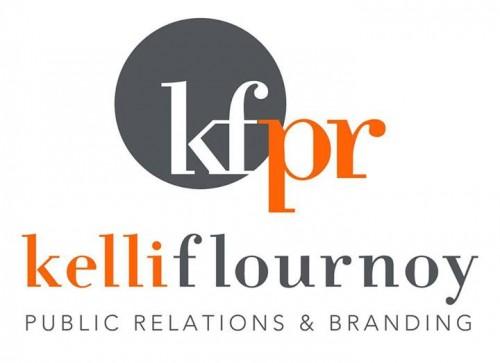 Article continues below advertisement
Her Agenda: You've got your hands full with several different projects including a PR 101 workshop for young women. What's the passion behind your philanthropy?
Kelli Flournoy: My passion is towards young ladies because I understand how difficult it is to be one and find examples that are positive and uplifting, so I always make time to do that. When I'm speaking at a school or at a college panel I will get girls who come up at the end and want to call and I do a lot of one on one. It's not really official mentorship but I will talk to them and they'll call or they'll write an email. I speak with them about whatever it is and try to offer any advice that I can. In terms of the workshop those are great platforms in order to demonstrate the skill sets that are going to be necessary if they want to work in PR. I've also had interns over the years that still call on me for advice and I'm happy to give it
Article continues below advertisement
Her Agenda: What advice may you offer our Her Agenda readers who are nervous about entering the workforce or are in their first job and aren't sure how to navigate office politics?
Article continues below advertisement
Kelli Flournoy: My advice would be to think before you speak. It may sound a little general but it has served me well. I've gotten quite nasty emails from clients in the past and I'm reading them and my first thought is to respond with something inappropriate all caps and I have to just catch myself. I literally take an hour and when I come back I have crafted an appropriate yet stern response to whatever someone said to me that was off the cuff. When you're in your early 20s you're a little emotional, you take things personal. If you're a certain kind of person you may respond terribly and it may hurt you.
My other advice would be to not take things so personally and get a thick skin. I tell my girls that's what you need to do. You're not in school anymore if you make a mistake I'm liable to 'spaz out' however if you fix that mistake it'll be all over in 15 minutes. If you stand around crying, looking salty, scared and sad I'm liable to blow up more. You just have to develop a thick skin when you get in the world. There is no real preparation for how the real world works until you get out there but if you go in knowing that there's going to be sharks in the water, there's going to be people that don't like you, there's going to be incidents where you make mistakes and someone's going to yell at you, it'll be ok. It's alright, it's not the end of the world, it's really not over.
Lastly be self-motivated, don't wait for people to pass you things. We are at a time where you have access to so much information; it's a ridiculous amount of information. You should be self-teaching a lot.