On any given game day, while most journalists are still at the office, LaChina Robinson is already at the arena. Often she's there before the players even arrive. Dressed down in jeans and comfy sneakers, she uses this quiet time to prepare.
Fast forward to game time and the towering 6'4" beauty, now wearing a killer pair of heels, heads to the court to bring the excitement from the sideline that many of us fans look forward to when we turn on the TV.
That preparation time before the action happens is just one of the many habits that LaChina has adopted that has propelled her from being a breakout player for the Wake Forest University women's basketball team to one of the most promising and sought-after voices in sports media today. LaChina serves as a reporter and analyst for WNBA and NCAA women's basketball games that air on NBA TV, the ESPN family of networks, and FOX Sports. Over the past seven years, Robinson has covered a multitude of games including the NCAA women's Final Four tournaments and the WNBA Finals. When she is not courtside calling games, she can be heard on espnW's "Around the Rim" podcast, made popular by LaChina's impressive depth of knowledge and infectious personality. LaChina's journey is a testament of faith, endurance and the glory of being a woman.
LaChina spoke to Her Agenda about challenges she's overcome to get to this point, future career plans, and the pivotal role that mentorship has played in her life.
Her Agenda: I want to talk to you about your transition from a basketball player at Wake Forest University to a broadcaster. What did the transition look like and what did it entail?
Article continues below advertisement
LaChina Robinson: I started my career at Wake Forest thinking I was going to be a lawyer. Once I got to Wake Forest, I had a slight interest in psychology. I took the intro course and that didn't go very well. So I decided to make another change and went with sociology, and that was really because I was intrigued by the coursework. I read the title of some of the courses- "Death and Dying," "Marriage & the Family," "Social Equality"- and I found them to be really interesting to me. I've always been a people person and I love to see how people interact with their environments.
When I graduated, I knew I wanted to stay around sports. I have always been captivated by the game of basketball. I was a late bloomer and I didn't start playing until I was 14, so there was still so much that I had to learn. I had fallen in love with the the sport in college, but I didn't want to play anymore after I suffered an injury my senior year, which required me to sit out a year. Although I did consider some overseas opportunities, I ended up going straight into the workforce. I got an internship at the ACC (Atlantic Coast Conference) in Greensboro in the championships department and it was a wonderful experience. The transition from being a student athlete to being in the work world was very eye-opening.
Article continues below advertisement
From there, I got a job at Georgia Tech in athletic administration. I decided that I wanted to be an A.D. (Athletic Director), so I worked more on the administrative side as the director of basketball operations. I was also the special assistant to the head coach, and did that for about five years. After that I pretty much made a decision that I did not want to get into collegiate athletics in that capacity. I tried the radio one day because– actually, they asked me one day on a trip "Hey, would you hey would you like to serve as our guest analyst?" and I was like "Sure!" So I put the headset on and called the Georgia Tech women's basketball game and it really changed my life. I had fun. I realized that I could talk about basketball and be around the game and there were other options outside of coaching. The rest is history pretty much, and I've been calling games ever since.
Her Agenda: As an analyst and a former player, what do you believe are some of the reasons that attribute to why women's basketball isn't covered as much as other women's sports or other major American sports?
LaChina Robinson: I think you look at Title IX as the beginning of advancement for women's sports. It was a landmark moment for women, and although we have come a long way, it really hasn't been a long time that women have had the opportunity to play sports and to get that exposure. I think that it takes time.
When I think about the history of even my family: I was the first female athlete on my mom's side of the family. Now we are at a time where grandmothers have played college basketball as well as their children and their children's children. It's just a matter of time.
Article continues below advertisement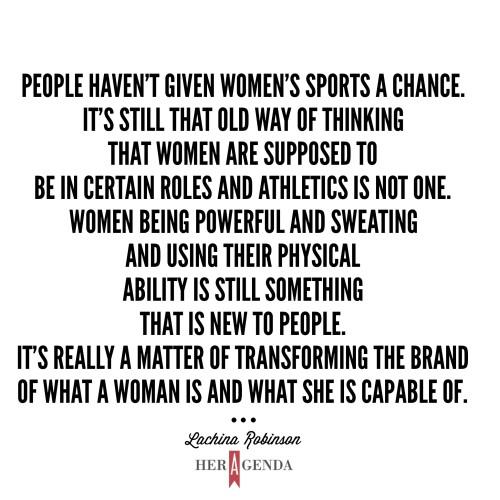 The other thing is that there has to be a growth and appreciation for women's sports. People haven't given women's sports a chance. It's still that old way of thinking that women are supposed to be in certain roles and athletics is not one. Women being powerful and sweating and using their physical ability is still something that is new to people. It's really a matter of transforming the brand of what a woman is and what she is capable of. As a player, I didn't really realize how under-covered the sport was because you are so focused on so many other things as a student athlete. Now that I'm in media, I definitely say to people, number one, give it some time. The metrics for the WNBA this year show that there are more viewers and more interest in women's basketball. Also, give it a try. Turn on a game and come out and see it. People are going to just have to get used to the fact that women are playing sports and they are really good at it.
Article continues below advertisement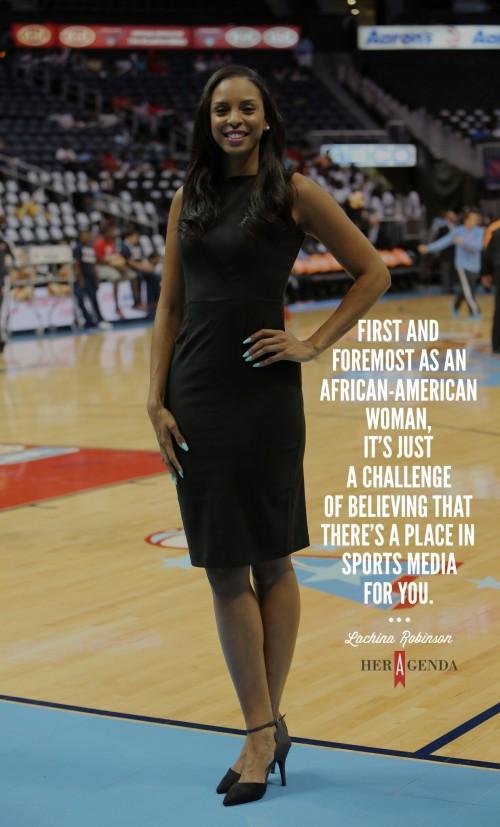 Her Agenda: I want to shift a little bit to your journey so far in sports media. I've recognized that there is a growth right now where you're seeing a lot more women becoming sideline reporters and analysts. What are some of the challenges that you've had to face both as a woman, and a Black woman trying to make your mark in sports media?
Article continues below advertisement
LaChina Robinson: I think first and foremost as an African-American woman, it's just a challenge of believing that there's a place in sports media for you. Most often, your face is not the one that you see when you turn on the TV. There has been growth in those areas obviously with what Robyn Roberts has done or what Cari Champion or Jemele Hill have done, even Carolyn Peck. The first challenge is believing that you belong and having that vision of what you can do and what you can be despite the fact that you're in the double minority.
As a woman, in general and also as an African-American woman, you always feel the need to prove yourself. It's doing your due diligence. Your research always has to be on point. Make sure you're ready for every meeting and opportunity. Then part of it is also just forgetting the fact that you are a woman, but that you're someone there that's doing the job. There's times when I just want to be seen as a very good basketball analyst regardless of all of those other things that define me. So you can't walk into every situation with that piece of paper on your forehead that says "I'm Black" or says that "I'm a woman," but instead just wanting to be taken seriously for the job that you do. We don't want other people to judge us by those things, so we can't weigh too heavily on those things when we step in a room. It's just really about being prepared and working as hard as you can to build your reputation and knowing that as an African-American woman, the job that you do will impact the opportunities for those that are coming behind you. I want a coordinating producer after they've seen Lachina Robinson to see the next African-American girl and say, 'I know that she is capable of doing this job' because of the legacy that I'm able to leave behind.
Article continues below advertisement
Her Agenda: How about when you add in the fact that you cover a sport that is not covered as much?
LaChina Robinson: You just have to be willing to get into the trenches when it comes to a sport like women's basketball that's not covered [as much] because there's not going to be as many articles, and you're going to have to dig for statistics, and there's not going to be a reminder everywhere you turn around that there's a major game [coming on]. So you have to be willing to really do the dirty work that it takes to be an expert, which is a little harder with a sport like women's basketball. And then the other part of it is, you can't focus on the number of eyes on the game. That can't be a factor. You can't focus on the amount of money they talk about that's generated. You really have to love women's basketball and understand its unique contributions to sport because it is not going to be about seeing your face every day on television, but knowing that you're telling the under told story of athletes and coaches that are working just as hard [as] those in other sports and feeling the value of helping to tell those stories and cover those athletes in a way that's not being done.
Article continues below advertisement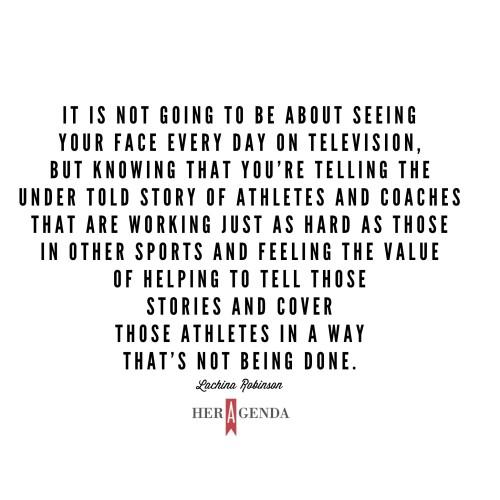 Her Agenda: Next, I want to talk to you about some of the mentorship that you do. Tell us about some of the work you do with young women, at your alma mater in particular. What are some of the things that you are trying to instill in the young women and men that you work with?
Article continues below advertisement
LaChina Robinson: In 2008, I started a company called "Stretch Beyond" with the idea that I was going to get on television, but I still wanted to be involved with the development of student athletes because that's where I started the first eight years of my career. "Stretch Beyond" was created to help address the development of student athletes in the areas of career, community, and character. Those three areas are critical, and I realized that in my transition to the real world that I did not always know what my brand was or what my values were. So my character wasn't as developed as it should've been, or I didn't really have a grasp on where I wanted my impact to be in the community, or I didn't really know how to network and get into the career field that I wanted. It became very clear to me that there's a difference between what you do as a job and what your purpose is. I call basketball games and I love it. I would not trade my job for the world. I get to watch basketball and talk the games and meet great people, but at the root of that, my purpose is to impact lives. My purpose is to inspire, encourage, and to help people live their dreams. That's just the way that God wired me, and He put my strengths into that passion. "Stretch Beyond" allows me to serve that purpose.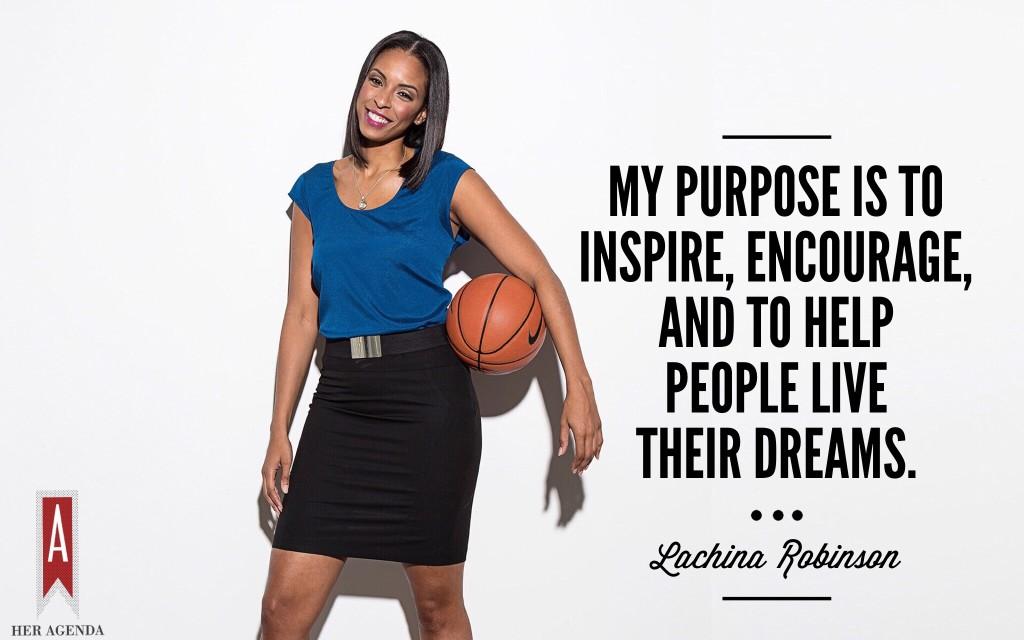 Article continues below advertisement
Part of what I feel our job is and what I would like to do through "Stretch Beyond" is to mentor. Mentorship is a really underutilized tool in the work world. I don't know where I would be if it wasn't for my mentors and people who have taken the time to either have coffee with me or talk to me about their career path or to let me job shadow them. I would not be where I am today.
Her Agenda: Who are some of your mentors? It could be an actual mentor, it can be an imaginary mentor. For instance, my mentor in my imagination is Oprah. So who are some women or men that you look up to who have inspired you or helped shape you into the person that you are now?
LaChina Robinson: It's very hard to narrow it down to three because I have so many mentors! My first one would be Bernadette "Bernie" McGlade, who is now Commissioner at the A10. She was my first "official" mentor when I was an intern at the ACC. She was so strong, so powerful, so brilliant. I remember just walking around every day wanting to watch her, taking notes of her interactions with people. She had a very high level of respect from everyone around her, so I wanted to be like her.
Article continues below advertisement
The other person I would say (in my head) is Robin Roberts. Although I've met Robin and I've interviewed her, it's really about who Robin is by watching her from afar. She's so professional, she's very polished, and more than anything, she's authentic, and those are three qualities that I want to take into my day-to-day no matter where I am. Watching her is just so inspirational. How she's prepared for any moment, how she can connect to any demographic or any type of audience. I'm just always in awe of who she is and how she carries herself.
The third would probably be Carolyn Peck. When I think about what she has done in the sport of women's basketball by being the first African-American to ever win a championship at the Division 1 level, and how she has opened doors at ESPN as well [it's amazing]. She has been my example and my mentor up close by giving me pointers and being an advocate for me. Carolyn is someone that I just think is phenomenal and I've been privileged for her to be a part of my life and my journey.
Article continues below advertisement
Her Agenda: Often times when you talk to players, you always hear them talk about the little things. I was watching an interview that Candace Parker did recently and she was talking about some of the little things that the late Pat Summitt would talk to her about like rebounding and other things that make a big difference in a game. For you, what are some of the little things you do that you feel help to differentiate you from the rest and from other women who are in that same space that you're in?
LaChina Robinson: That's a good question. There are two things that I would say. I remember talking to Wes Durham, who was the voice of the Yellow Jackets when I was at Georgia Tech, and he told me, "You have to be prepared for anything. If there is a blimp that lands in the middle of the court, you have to know whose blimp it is and why it's there." So from that day and on, I feel that my level of preparation has been one of the keys to me getting to where I am today. I really pride myself not only on statistics, but watching films, reading articles, talking to players and coaches. I don't want anyone to be more knowledgeable about that matchup than me. I think leaving no stone unturned and really being deliberate about your game prep is number one.
Article continues below advertisement
The other thing that I think maybe has set me apart is the fact that I'm a sociology major. I'm really always intrigued by the people that make the experience. I'm more inclined than probably other analysts to talk about personal stories, whether it's where players came from, or how they got to where they are, or interesting upbringing, or things like that because I just feel like what we're looking out on the court with these athletes or with these coaches is phenomenal, but it started somewhere.
I think people look at me and they think I am probably one of two children and I came from a two parent home with the picket fence, and that wasn't the case at all. I'm one of 16 children to graduate college in my family. My dad only had an eighth grade education and my mom was a single parent. I find some of the adversity that people have had to face in their lives to be inspirational. It's great to share with your audience that you can overcome challenges in life and that everyone doesn't come from the same place. Those stories are what I think really bring the fans coming back and wanting more.
Article continues below advertisement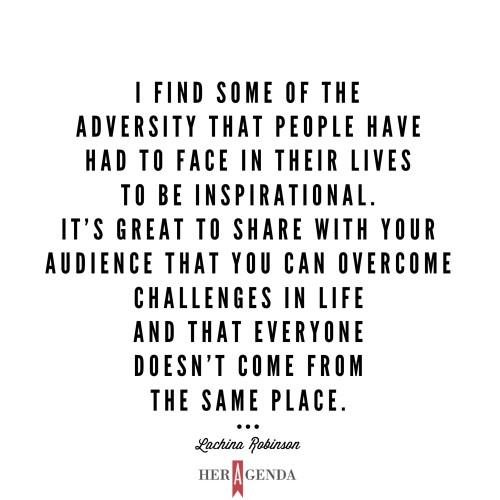 Her Agenda: Where do you see yourself? Where would you like your career to go? Right now, you're doing a fantastic job with ESPN, and I think you're the voice of basketball already quite frankly. I think you've been doing that for a long time.What are some other avenues that you want to explore?
LaChina Robinson: I'm interested in growing my brand as it pertains to women empowerment. Coming from a single parent home where my mother was just so strong and held our family together, or my grandmother being one of the first registered Black nurses back when it was so uncommon, I think about the journey of women and I want to help.
Article continues below advertisement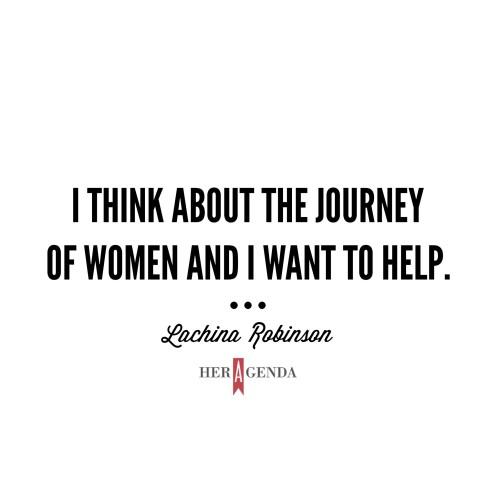 If you look at the numbers, women are not paid as much as men, our voices are not in the room where decisions are made. When it comes to management level positions, we are lagging behind, and I want to close that gap in any way I can whether it's helping a woman to grow her brand or helping to make connections with people that can make a young woman's dreams to reality as far as career.
Her Agenda: My last question, is there a certain mantra or motto that you live by, and if so, what is it?
LaChina Robinson: I would definitely say "Live to inspire."
Article continues below advertisement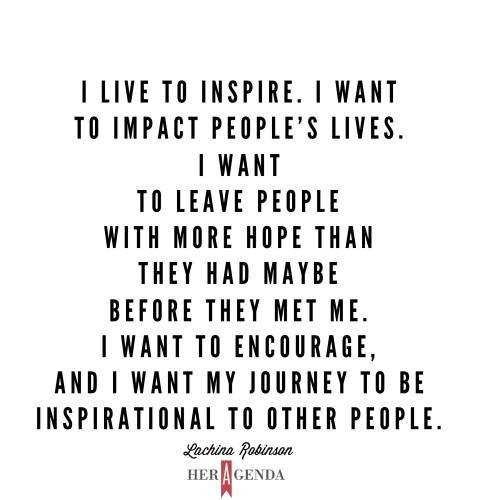 Her Agenda: (*laughs*) That definitely is your social media handle!
LaChina Robinson: Yeah (*laughs*), and I wanted it to be my social media handle because I never wanted to forget why I do what I do. I live to inspire. I want to impact people's lives. I want to leave people with more hope than they had maybe before they met me. I want to encourage, and I want my journey to be inspirational to other people.
[Editor's note: This post was published November 14th and has been edited for length and clarity.]