To go from intern to CEO is a significant milestone and Lauren Berger managed to accomplish that feat before the age of 30. But she didn't climb the ladder in the traditional way; she did it on her own terms. Not to say that she took a shortcut or did not put in the work. Berger took what she knew about the world of interning and internships, realized there was a need, built a brand and then ultimately a business to fill that void.
For ambitious young people looking to jump start their careers, the first step is to land a dream internship. While in college, Lauren Berger managed not only to do that once, but to do it a grand total of fifteen times! All of that experience helped land her a job as an assistant right out of college to Tracy Brennan head of motion picture talent at Creative Artists Agency. But in the midst of it all she realized she had valuable lessons and insight to share about the internship process that did not exist anywhere else at the time. So in 2009 she launched what at the time was just a blog, under the name Intern Queen. Everywhere she went, she showed her initiative and told people about her idea for Intern Queen; and one day someone took notice and backed her company–allowing her to leave her job and work on Intern Queen full time turning it into a viable business.
Today, as CEO of Intern Queen, Berger's site attracts over 200K millennials each month and she runs campaigns and partnerships with major brands like Blackberry and Ford Motor Company. She's also the author of the book All Work No Pay: Finding An Internship, Building Your Resume, Making Connections and Gaining Job Experience. But along the way, the road was not always straight. Along the way there were false starts and rejection. She was even rejected by her college career office when she put in a request to apply for her very first internship. But she's taken those moments and turned them into lessons she uses to propel herself and her business forward.
Article continues below advertisement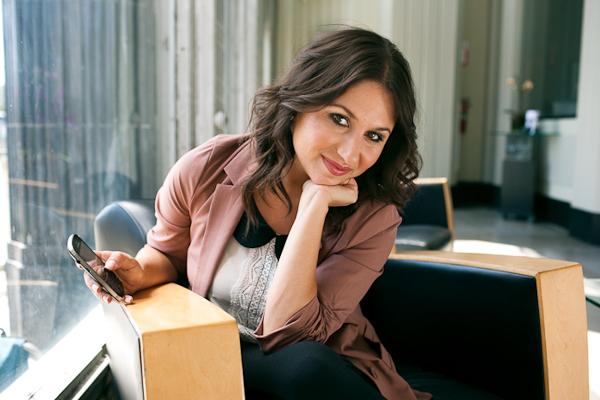 Her Agenda: You mention in your book that in college you were not focused on opportunity and you didn't yet have an answer to the question of what you wanted to be when you grew up. In today's world it's not any easier. Even those who are focused on opportunities can feel lost in the possibilities, and for some that causes them to become paralyzed– so what advice do you have for dealing with "potential anxiety"?
Article continues below advertisement
Lauren Berger: I think that everyone experiences anxiety. There's obviously a lot going on especially when it comes to career and internships and all of that. Getting a hold of your schedule and not letting your schedule get a hold of you is really key. Just making sure you are able to really visualize yourself getting all of your work done. Usually if you can write it down on paper, you can make it happen.
Her Agenda:So once you did become focused and determined to land an internship, it was as if you couldn't stop! You completed fifteen internships in four years. What motivated you to continue to seek out internship opportunities?
Lauren Berger: Fifteen internships in four years, yes. It was insane but I am the kind of person that likes to be busy and at these internships I learned so much about myself both personally and professionally.
I just really loved the environment. Because I went to such large universities I never really had the opportunity to shine inside the classroom. So I think that at my internships I was really able to put my potential to its fullest use and show what I was made of. I was really challenged and I was addicted I think to the success I was having in these internships.
Her Agenda: How did you find the value in each experience, despite being so spread out?
Article continues below advertisement
Lauren Berger: I think that every internship was a little bit different. I didn't stay at one company for more than one semester so with each internship there was a new set of challenges and a new set of expectations and a new mindset in some ways. For me it was always the challenge of 'can I build professional relationships with a diverse group of people?' People have different personalities at every company, different ways of getting things done. Can I adapt easily? Can I adapt to the company culture? It was challenging for me to go into all these different environments and learn to make the most of it. But I was very successful at it and I really can't look back and say that I had a bad internship experience.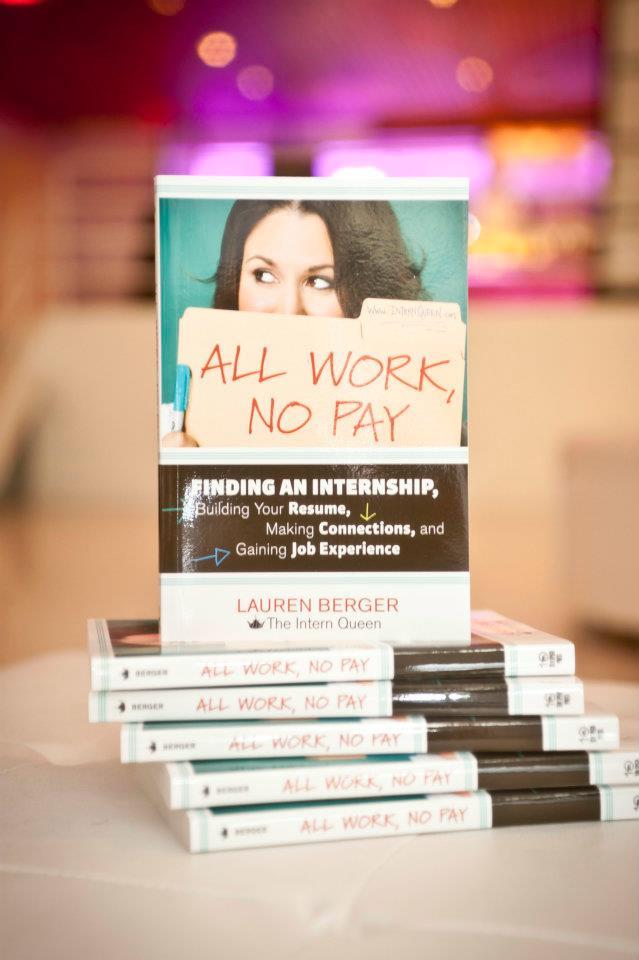 Article continues below advertisement
HA: So now you are the CEO of your own company– the Intern Queen– how did that begin to form as a professional brand for you?
LB: Intern Queen was an idea I had as I was graduating college. I had fifteen internships and there was really a lack of resources in terms of positive information for ambitious young people and I wanted to change that. I thought 'I'm not an internship expert but I do have a lot of experiences.' I knew that I could teach my friends, my peers. I knew I had a lot to teach them in terms of how to find an internship and how to make the most out of an internship. I had a lot of great learning experience through trial and error. I was not the best intern but I definitely learned a heck of a lot. I started a brand so that I could pass that information along to my peers and now to students all around the world.
HA: Beyond the brand, how did you know that this could be a valuable business?
Article continues below advertisement
LB: I didn't know I could turn it into a valuable business for a few years. It was definitely a passion project, for me it wasn't about the money. When I had this idea I was definitely in the mindset that I could do anything and I knew that because of my internships I had credibility. I had experience and I had things to share. The plan by no means was to go be the Intern Queen. I knew I had a back up plan. I graduated college; I got a full time job in Los Angeles working at a talent agency. And because I had a full time job I didn't have to rely on Intern Queen to pay the bills so I was able to kind of ease into it just sort of on the side while I was at my other job. Then I realized that I was in love with my business and I was going to have to find a way to make it a viable business. It was in no shape to make any sort of money. It was a passion project. I was essentially blogging. I had to really say to myself 'okay [I] need to find a way to make this pay this bills and make this work because this is what makes me happy.' That was my agenda.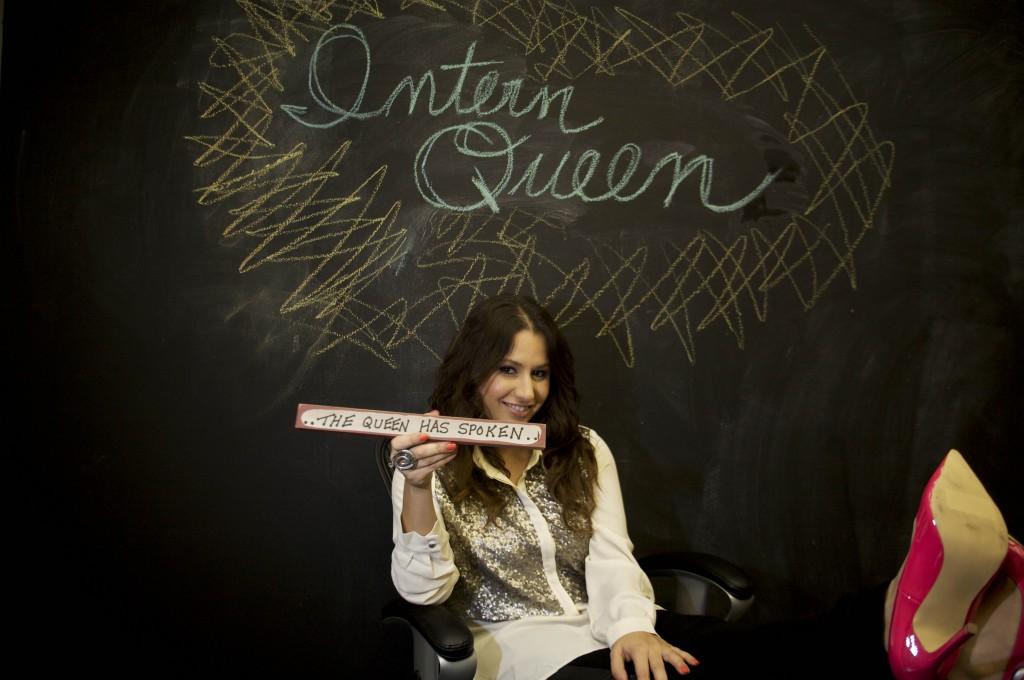 Article continues below advertisement
HA: You launched in 2009, now it's 2013, how has your company grown and changed in those years?
LB: I would say it went from a cute website, and a cute idea to a viable business. It's a machine. It's something that makes money on it's own. We are at a place where I don't have to be at the helm of the business every single day. If I am in the sky traveling or even on vacation it still runs itself. So it's turned into quite the real business and a machine. So it went from a cute idea to something that makes me a very comfortable living and has given me access to what I want. It's really been like my um, my secret powers [have] all come from that business. Like you said, it takes a lot of hard work to build a brand. Today it's something that not only I'm excited about but [also] other big brands are excited about. I just wrapped up a College Ambassador Program with Ford. I've worked with Blackberry, with Intel, with BestBuy and some of the largest brands in the world.
Article continues below advertisement
HA: How have you grown professionally?
LB: I think probably like a lot of entrepreneurs I go through phases. I go through my coffee shop phase and my work at home phase and my travel all the time phase. I am constantly experimenting with different time management strategies. I definitely already went through the don't do anything but work phase. I feel like work/life balance sounds like such an old person thing to say. But it's true. I think it's so important for people to have that work life balance and to have fun with your friends and spend time with your family. Talk to your friends and catch up on the phone and be available for those kinds of interactions and conversations and still be able to take yourself seriously and get the job done at the end of the day. So that's constantly what I am striving to do more of.
Article continues below advertisement
People I work with are probably so annoyed with hearing this from me. This year is about being stress free. Anytime I feel stress or I hear about a business deal and it sounds stressful I literally run in the opposite direction. Challenging is a different word than stressful. Anytime a stressful position comes up, I've really been running in the other direction, which sounds silly but it's really made my year.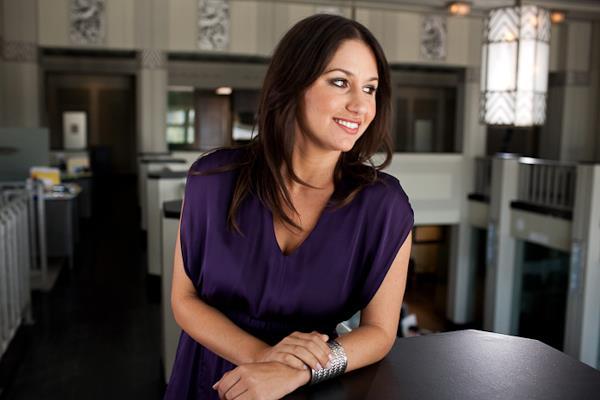 Article continues below advertisement
HA: You launched at a very young age, looking back can you recall any challenges related to being a young entrepreneur?
LB: I think one of my best qualities is that I am very resilient. I don't like to take no for an answer. I like to tell people what I want to do. But I think that can also be my biggest weakness. Sometimes as a young entrepreneur you are putting yourself out there and sometimes you get to a point where you have to reel it back in and you have to say okay what am I putting out there and how am I coming across to people?
For me I got very warped in this mindset of 'I have to tell people what I want to do, I have to tell my people what I want to do' and I put so much stress on myself to do that that I sort of stopped thinking about who I was talking to and the way that it may have been coming across. I am sure when I was like 24 doing this telling people I'm the Intern Queen I am sure it rubbed people the wrong way. Some people probably saw my excitement and passion as a weakness, and kind of knowing that now I may have gone about that a little bit differently when I had first started. But you know you are young, you're excited, you have a lot of energy and you grow and you learn.
HA: How was the transition from intern to entry-level employee for you?
Article continues below advertisement
LB: I think starting as an entry-level employee anywhere is tough. Especially when you move and it's the first step out of college and your world is turned upside down. The internship is what got me the job. I would not have had that job without my internship experience. You can be the most prepared in the world and it's still going to be one heck of a ride. That first job really turned my world upside down. I think I was as prepared as I could possibly be thanks to my internships but I still had a long way to go.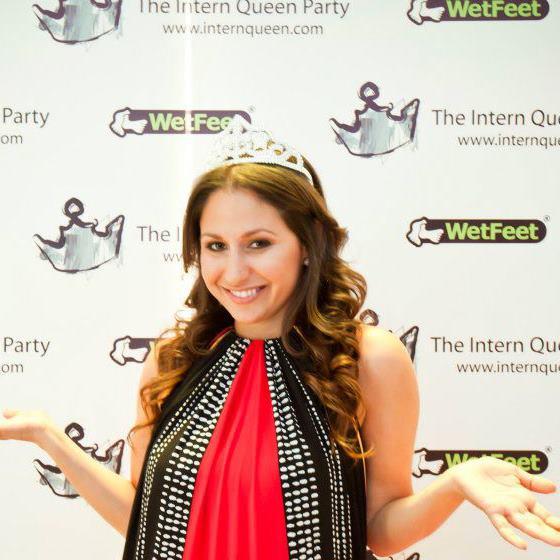 Article continues below advertisement
HA: Rejection is not something many people want to talk about. But it was the rejection you experienced at the very beginning of your career when you were turned away from the career office at your college that gave you the push you needed to excel. Can you talk about the importance of rejection and failure?
LB: Absolutely. I think rejection is part of the process. I hate rejection just as much as the next person but I always tell people that literally my goal is to fall in love with rejection. I want to get myself excited when I see a rejection email that is my dream. To see a rejection email, to get excited, to know instantly that is going to propel me to the next best scenario for myself.
Even years in I get those rejection emails and I my stomach churns and I don't feel good and I want to shut off and curl up like a baby just like everybody else. But I always tell students, rejection can happen, it will happen to all of us in multiple situations but it's up to all of us to work hard to see past that rejection. I think it's hard especially today. In the media we see people's successes. Think about the Kardashians, obviously a family that's very all over the media. All we see is a lot of their triumphs, they're doing this deal, they're in this commercial, they're doing this they're doing this. We don't see a lot of their failures, well maybe failed marriages, but professionally speaking. (laughs)
Article continues below advertisement
I think sometimes you don't see the behind the scenes and with all of these celebrities and all of these people, there is a reason why they're not in every single movie, there is a reason they're not in every single commercial. They're dealing with their own set of challenges as well. Rejection doesn't mean never, it just means not right now.
I [just did a deal] with Ford motor company. This is something I pitched to them in 2011 and it was a no. In 2012 I pitched it again and it was a no. I thought nothing was going to happen with them. But I am doing an amazing program and campaign with them now and it's been the opportunity of a lifetime. It just goes to show you that rejection doesn't mean never. It just means not right now.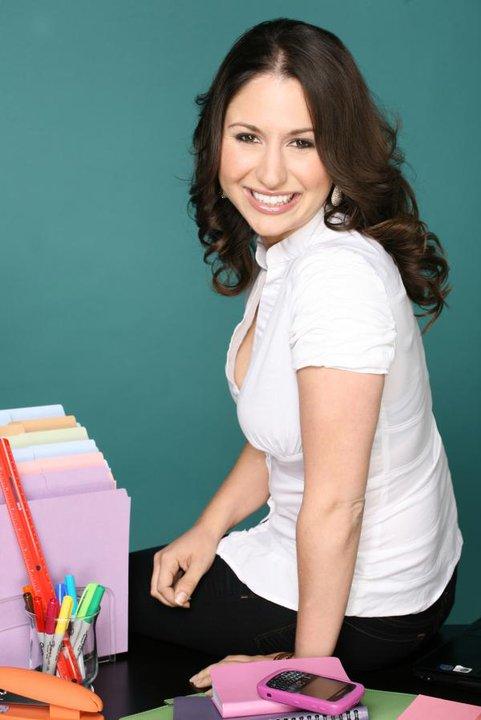 Article continues below advertisement
HA: You come across a number of amazing professionals in your work, so who inspires you professionally?
LB: My biggest mentor was probably my first boss Tracy Brennan. She is the head of motion head of motion pictures at Creative Artists Agency. She is just a female power house, gets it done. When everybody else is having a slow day she is having a busy day. Her work ethic resonated a lot with me. She really showed me how to pay attention to the details and that the little things do matter. She taught me how to be consistent in my work. She's the one that really comes to mind. I draw things from a lot of quotes I hear but I haven't had a ton of people that have lined up and said 'okay Lauren, we are going to be your mentor.'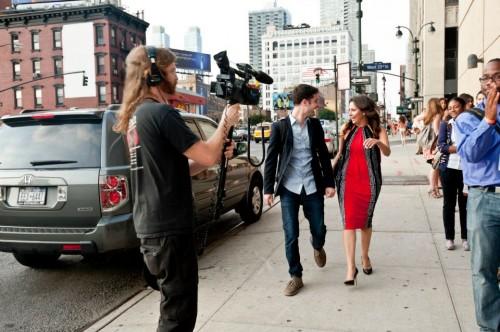 Article continues below advertisement
HA: Do you have a personal motto?
LB: Don't take no for an answer.
HA: What's your advice to today's interns? Especially in an environment where there are so many internship offered and not enough jobs, and where in interns feel desperate enough where they have to sue their employers?
LB: I think that it's always a matter of asking yourself how can I go further? It's funny that I am saying this because this is one of Ford's slogans. Their slogan is "Go Further" and over the past couple months I've really personally adopted that. I think it's a matter of saying to yourself in every situation, how can I go one step further? For an intern it's going into their internship every day and saying what can I do today to advance my career? And making sure that you're not the intern that sits in the corner regardless of how much work the employer gives you. You're always taking initiative, stepping up the plate and figuring out how to do things on your own. And I think that's really what differentiates the successful generation of tomorrow from the people that can't get off the couch. Asking yourself on a daily basis how can I go further?
Article continues below advertisement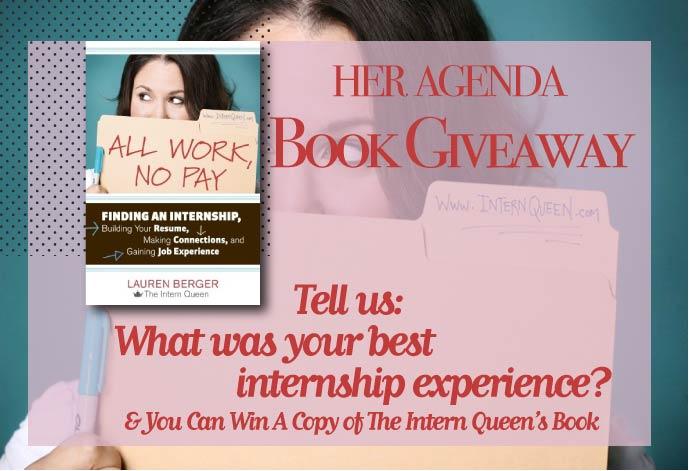 [Editor's note: This contest is now closed. This article was published on May 16, 2013.]