After working in the business and internet world for several years, Leslie Fishlock had become the go-to woman when her friends and family needed tech help. As Leslie began helping more and more women, it was then that she realized that women had a strong need and desire to gain more knowledge in technology. In 2008, Leslie launched her company, Geek Girl, with the goal of becoming a resource where women can connect and learn new skills in technology.
Since then, Geek Girl continues to grow and the organization holds events to support their mission including dinners, socials, and conferences across the country. Read on to discover the story behind the creation of Geek Girl, the obstacles faced and Leslie Fishlock's zig-zaggy career path.
Her Agenda: You graduated from college with a degree in history. How did you end up in the field that you're in now?
Leslie: My degree was in history and politics, which basically means that I'm good at cocktail parties, jeopardy, and trivial pursuit. *laughs*
This is really dating myself, but when I was in high school, they used to have home economics and shop. The girls took home economics to learn how to bake, the boys took shop, and you couldn't take shop if you were a girl. Well, I kind of changed that. I was able to take shop class, but while the guys were building these beautiful bookcases, they put me in a corner and made me make a box, because they were too afraid that I was going to hurt myself with the tools. That's the generation I come from.
So computers at the time- we were never really exposed to women working in the field of computer tech. When I got into college, I was taking computer classes and I failed miserably; I was trying to learn Basic, Cobalt, and Pascal, but my head just wasn't into it. I was also working three jobs, paying for school. I didn't realize that I would go into tech at any point then, but it kind of just looped around. I did some other crazy careers- I used to put antennas on towers, and I used to do frequency coordination for fire departments. It was weird, but I just kept going into careers where there weren't a lot of women.
Article continues below advertisement
Then I got roped into the whole internet world, and I worked for a couple of startups in Boston. That was during the first dot com bust when a lot of tech companies started forming. I really loved it; I loved the whole frontend backend of customer service, the e-commerce and everything.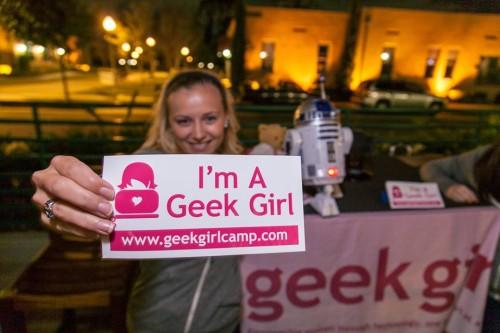 Article continues below advertisement
Her Agenda: Where did you come up with the idea for Geek Girl?
Leslie: I was running into so many women who needed tech help. My mom would suck three hours of my Sunday, teaching her how to do something on the phone. Friends of mine wanted to know which computer or phone to buy, what social media was becoming big. I was constantly talking to people about branding themselves online, fixing their computers, and I didn't have a lot of time. I was looking around, and I was like, "Isn't there something out there, some kind of resource or something?" and there wasn't. That's why I started geek girl.
I started just meeting people in my free time. I met women at the coffee shop close to the office or my house. Then it grew into groups, then we did a night of technology, and then it turned into a day camp. It turned into 100 people, to 200, 300, 400, and eventually 500. The Boston one has been going for six years, and it's going really well.
Her Agenda: Did you face any major obstacles in the creation of Geek Girl?
Article continues below advertisement
Leslie: I think the biggest thing is that there was nothing out there like it. Yes, there are tech conferences, but there was nothing that was geared towards women. Nobody thought that people would come. It wasn't interesting enough; it was too technical. We were going to do this night of technology, and we were looking for twenty-five people to sign up. A lot of people were saying, "Good luck if you get five people there." Well, we ended up having a hundred people signed up. That's when we knew that there was something here.
We've got to encourage women to learn everything and do it themselves even if they're not going to continue to do it themselves; just be aware about what's going on. These days, you have to be involved in everything you're doing. If you're hiring someone to do a website for you, you should know how to build that website.
There are a lot of brilliant women out there, but sometimes, they're too prideful to ask questions. They think that they're going to some stupid or silly, or they don't think they'll understand. They don't want to admit that they don't know something, and a lot of times, that's why they won't come to these conferences. We encourage all women to come and ask any questions.
Her Agenda: What does a typical work day look like for you?
Article continues below advertisement
Leslie: Sit outside on my porch in San Diego, and talk to brilliant, young women like yourself! *laughs* It really depends. I have to be up really early in the morning, because we have stuff on the east coast.
What I like to do is work out of co-merge, which is a co-working space in Downtown San Diego. I try to do that on Wednesdays, but this is my office. *motions to her home* We're getting ready for another event, and we're constantly staging stuff at my house.
Today my schedule was: woke up early, went to a presentation for 1 Million Cups, met with two of my employees, I interviewed a couple people. *laughs* I mean, every day is different, but it's always meeting with people, talking with sponsors and advertisers, returning calls and emails, going to meetings and events, and getting social media up.
Article continues below advertisement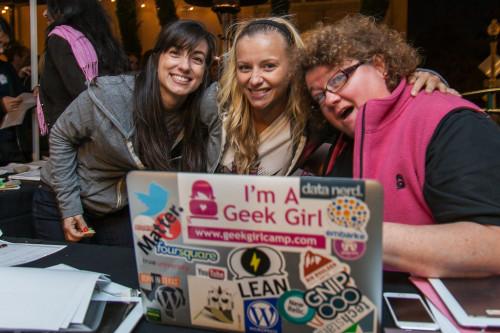 Her Agenda: What is your favorite part about your job?
Leslie: I know this sounds awful, but I really enjoy working for myself at my own company. I have the ability to do whatever I want to do. If I want to work all day Saturday and Sunday, and then go do something on Wednesday, I can do that.
I see things, and I have really big ideas; I envision how things can be better. A lot of people don't want better and aren't big picture thinkers. They just want to do it their way. I think that's what thwarts innovation and creativity- when you work for someone, and they're not willing to listen to your ideas. If you work for someone and they're not promoting innovation and creativity, there's no passion in it anymore.
Article continues below advertisement
On top of wanting to work for myself, I was also fixing a niche. There was a segment of people who needed tech help even though we didn't know that at the time.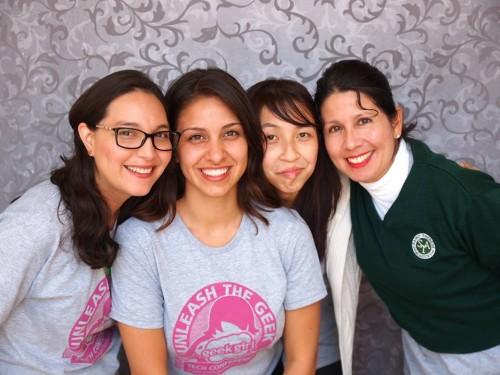 Article continues below advertisement
Her Agenda: How is Geek Girl influencing today's women?
Leslie: We do work with a lot of the high schools, especially in underrepresented areas. There are a bunch of groups where they have a proclivity towards tech, and we've given scholarships so they can come to our conferences. All of our instructors are female, so when they go to the event, the girls are like, "Wow!" They're seeing someone who has been successful and who is a woman.
It's very hard to find women of color. My friend, Gloria Kimbwalla, who's an African-American programmer- I call her a unicorn, because there's just not a lot of female black coders. I'm so proud of her, because she's really done an awesome job. When we bring in younger kids and they're of color, they see her, and then they know they can do anything- that's such an impactful thing.
We're also trying to get mothers to understand technology better in order to have relationship with their kids. We would like them to come and learn to become mentors and become more techie, so they don't keep pushing the tech stuff onto someone else. They'll do it themselves, and they raise their children, they can do it together.
Her Agenda: Do you have any personal mottos that you live by?
Article continues below advertisement
Leslie: I always say that if you don't see what you're looking for, start something. Then you might find a bunch of like-minded people who want to do it with you. I did that all the time; like with Geek Girl. I didn't have time to start Geek Girl, but I was finally like, "You know, I'm just going to do it, because people need help." I don't like complainers. If you're going to complain about something, then have an idea to change it.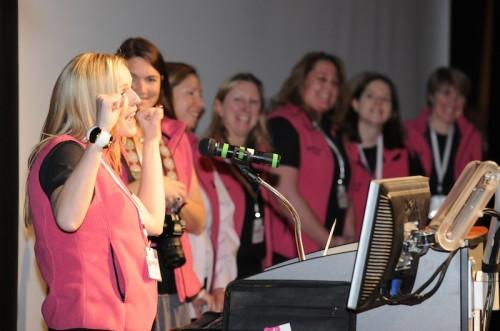 Article continues below advertisement
Her Agenda: What do you hope to see for the future of Geek Girl? Any big plans?
I think our goal really is to have a geek girl in every town that can help with anything technology- to grow a wonderful group of really awesome women who want to help other people, learn more about tech, and make this their career.
Another one of my goals is to have programming taught in the high schools as an elective for math and to have more technology taught in colleges. I appreciate teachers, but colleges need to drop all of these old classes that we can't use in business anymore. I've been on advisory boards for colleges, and when I looked at the curriculum, I realized that they're still teaching Dreamweaver. Nobody uses Dreamweaver anymore! We have Qualcomm in our backyard; we should be teaching mobile apps and other similar things. So, I think it's very important for education and business to start talking, because business is where the jobs are.
Her Agenda: What advice do you have for millennials that want to follow in your footsteps?
Leslie: There's no passion without a plan. People talk about passion all the time, but I think it's more like a fire in your belly. But on top of having that fire in your belly and being willing to go to whatever lengths to do something, you have to have some kind of plan for execution. You can't do everything with just passion. Even if you're the most dedicated person in the world- if you don't have a plan, your business path will be a lot more difficult.
Interested in checking out Geek Girl's upcoming events? Click here.