Loving wife, caring mother, and Emmy award-winning correspondent are all hats that Linsey Davis wears and she wears them well. Having received two Emmys and an Edward R. Murrow award for her reporting, Linsey has risen to the spotlight having reported for ABC News, Good Morning America, 20/20, Nightline, and more since 2007.
A member of the National Association of Black Journalists, as well as a proud member of Alpha Kappa Alpha Sorority, Inc., Linsey is a firm believer in reaching back and pulling others up.
Crain's NewsPro named Linsey as one to Watch in TV News, and recently she was tapped to serve as the Sunday anchor for World News Tonight, succeeding Tom Llamas and making her only the second Black woman to serve as anchor for the program.
When she's not anchoring the news desk or delivering award-winning political commentary, Linsey is the author of children's books. Using her son as her muse, Linsey hopes to be able to extend her gift of storytelling to children- uplifting and encouraging them.
With her third children's book, "Stay This Way Forever," slated to be released February 23, 2021, Linsey attributes her success to her faith and perseverance in the face of fear.
Take a peek into Linsey's agenda where we talk about career, family, and the importance of storytelling.
Her Agenda: This is your third published children's book. What draws you to go from reporting to telling children's stories?
Linsey Davis: Even though the children's book world is so different from TV news, in a lot of respects, I look at myself overall as a storyteller. In one case you're talking about the hard-hitting news, and you're writing in that vein, and then writing the books has been an opportunity to let my creative juices flow in a really positive way. It's a way to show the good news.
Article continues below advertisement
I have a seven-year-old son who is my muse and my inspiration in all the children's book writing. In a lot of scenarios, I don't feel comfortable with him watching the news because it can be too heavy at times. That keeps getting harder as he's curious to see mom at work. For me writing children's books was an opportunity and an outlet where I can show him my work and not feel any concern about the messaging or what he's going to take away from it.
I felt that since I'm raising a young Black man in this society, it's really important for him to see himself reflected in the pages of the books.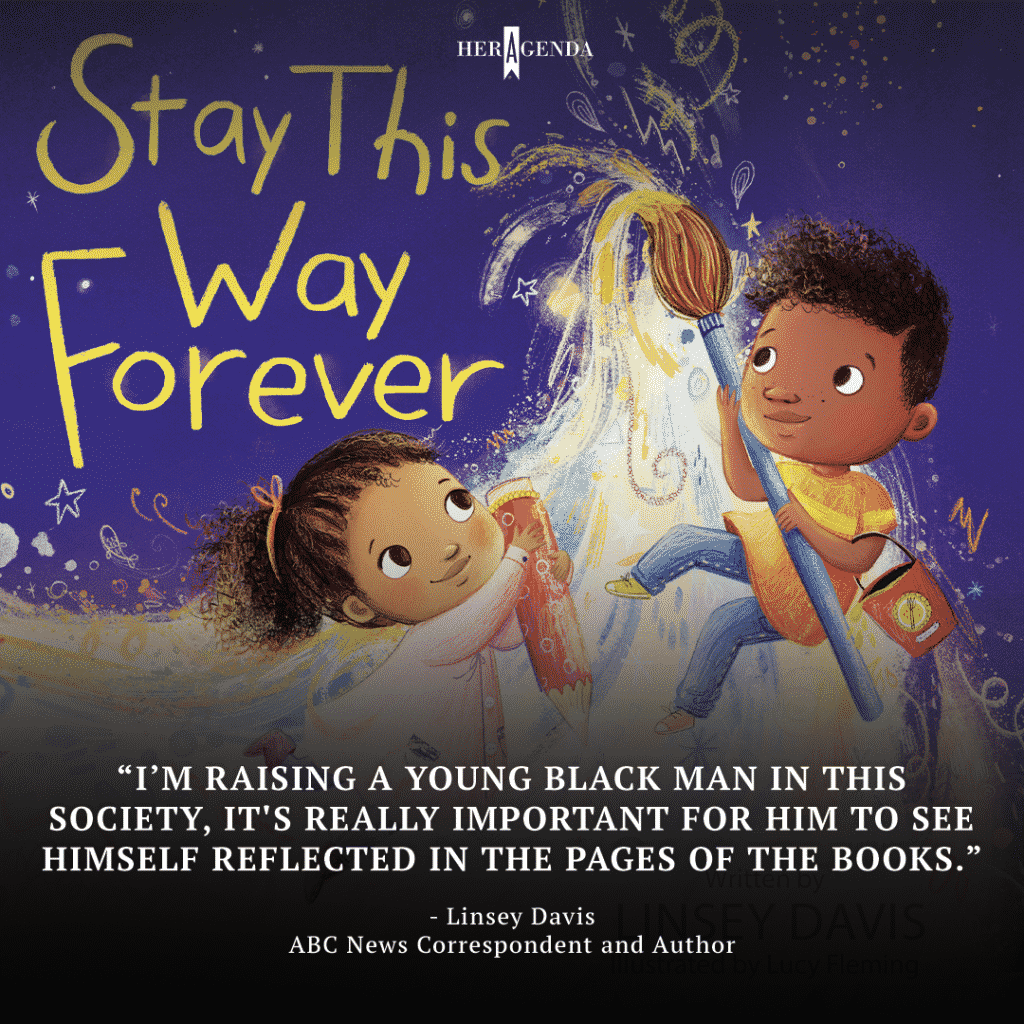 Article continues below advertisement
I have always felt that even though the characters in my books are Black and brown, this in no way means that this is just for Black and brown children to read. It's so important for parents of all different races and ethnicities to introduce their children to kids and characters who don't look like them.
When I first started writing children's books I came across this saying that I thought was genius. It said that children's books should have three things: mirrors, windows, and sliding glass doors. The child sees themselves reflected in the pages of the book, they need to have a window to a world unfamiliar to their own, and a sliding glass door to transport them into that world.
I have been so excited by this tool of children's books to really communicate with other children and with parents in these formative years. That really has served as a priceless opportunity for me.
There are two very different sides of me: one, where I like the uplifting and warm and fuzzy, and the other side where I love the hard-hitting questions and being aggressive.
Her Agenda: What's it like raising a Black son in this period of racial and social reckoning?
Article continues below advertisement
Linsey Davis: This brings me again to my son and I remember specifically that the reason I wrote my second book was because he asked me about the situation in 2018 in Philadelphia at the Starbucks where the two Black men were arrested. The news was on in the background, he was playing with Legos, and I didn't even think he was paying attention. After the news segment was over, he asked "Why did the police take those Black men to jail? If me and daddy go to Starbucks will they arrest us too?"
That pained my soul because I just wanted him to be as innocent as long as [possible], but that's just not possible. He was around four at the time, yet here we are having "the talk" just like so many other Black and Brown parents have to do with their children.
I don't believe that children don't see color. I think that they do, but it's the adults who assign value to it and that's what they pick up on.
Article continues below advertisement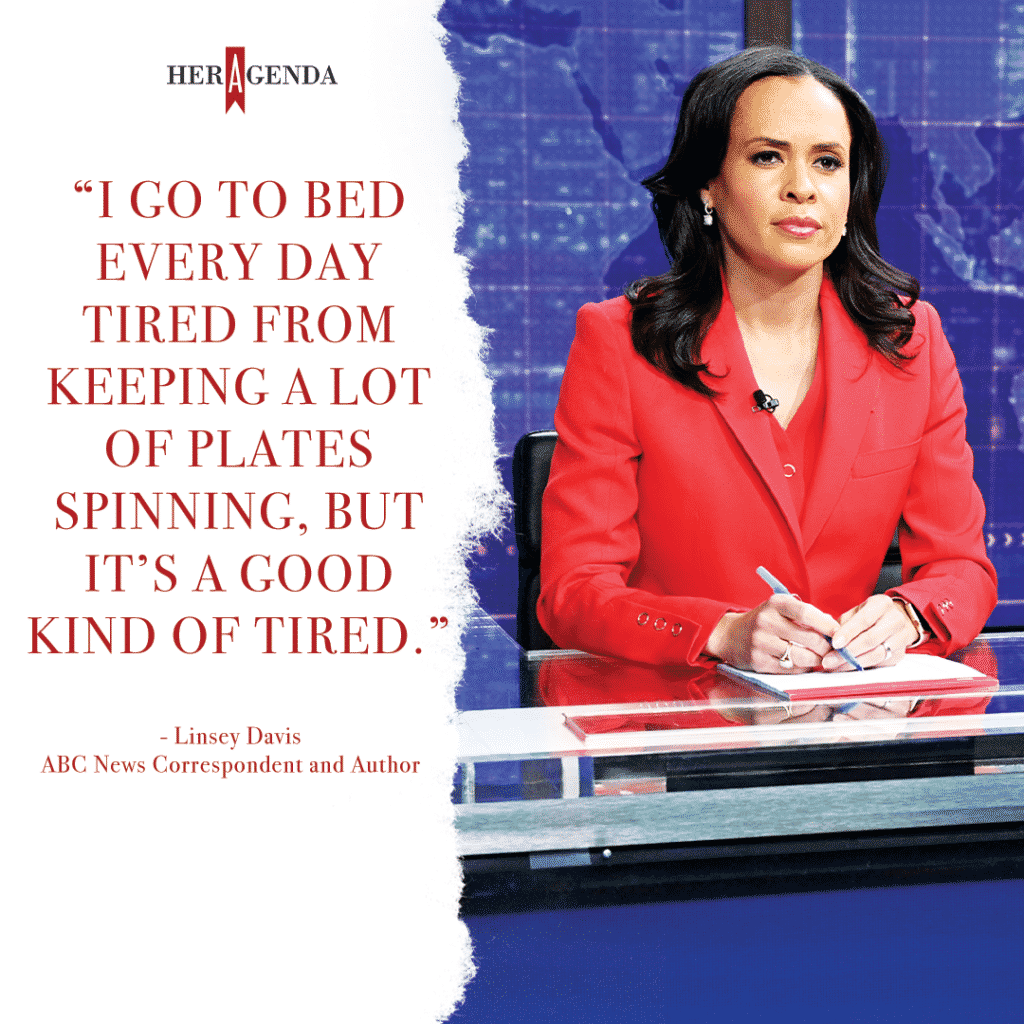 When my son goes to camp or school, he comes home and talks about his new friends and he doesn't mention their differences- he mentions what they have in common (whether it's liking the same game or show or whatever). I think as adults when we meet new people the first thing we do is point out how different they are from us.
The second book ("One Big Heart") was about acknowledging the things that make us different, but in the end, we also discuss what makes us more alike. God made us all with big hearts and that is where love starts.
Article continues below advertisement
All of my books have been very intentional with the messaging. My first book, "The World is Awake" was a celebration of everyday blessings. That was to spread the message of who God is through the world, and I wanted that message for my son. around him for my son. "One Big Heart" celebrated what we have in common, over-focusing on the differences between us.
My latest book, "Stay This Way Forever" is me capturing a snapshot of my son's childhood in time. I think that a lot of parents can relate to the idea of wanting to kind of press the pause button, and just savor certain moments and memories.
Her Agenda: It's important to you to express your faith. How do you put that into your work?
Linsey Davis: I try and package my faith messaging in the things that I feel have been most advantageous in my own life (like kindness and humility). I want to impart that to my son and also to like-minded parents and their children. My faith is certainly a major building block and major influence. I went to Sunday school early on as a child and I think that faith is what carried me through childhood and carries me now. So it's very much like a part of who I am. I hope to impart that on my son, I hope that he will also build his own foundation on God and faith and, and believing. So I pour a little bit of my soul into the pages.
Article continues below advertisement
I do think that there is a separation of church and state, and that is important to remember when conveying the news. News needs to stick to the facts. I try not to let my own perspectives creep into it. I report the facts and let the people at home decide how they want to interpret them.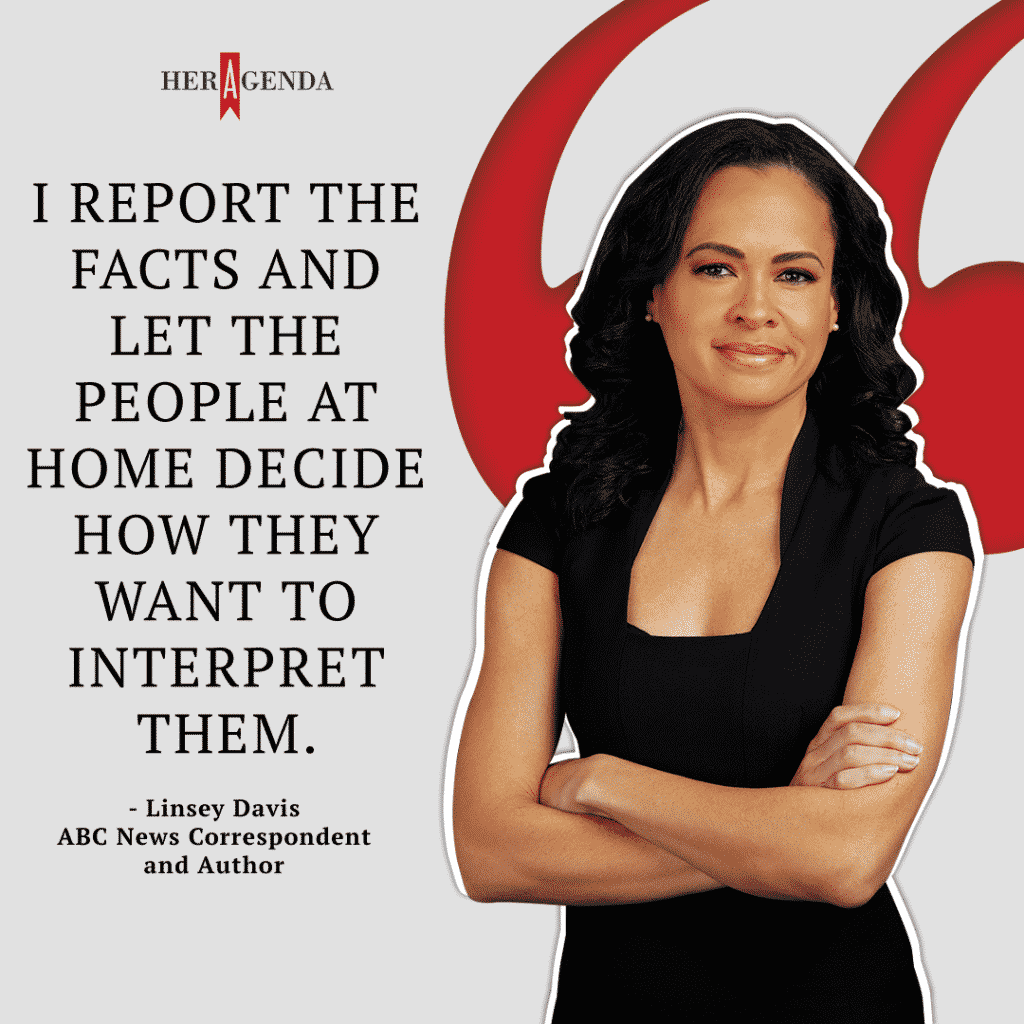 Article continues below advertisement
Her Agenda: It was just announced that you're going to be the Sunday anchor on World News Tonight. Congratulations! What are you most looking forward to in this new role?
Linsey Davis: I'm so thrilled. I was thinking about it in terms of the announcement coming on the first day of Black History Month, and being especially mindful of Carole Simpson. Back in 1988, ABC News promoted her to be weekend World News Anchor and in doing so she was catapulted into the history books as the first Black woman to helm any major network newscast. Now, almost three decades later, here I am. It reminds me of our Vice President [Kamala Harris] saying that she was the first but won't be the last. I'm leaning into that and excited to keep paving the way- it's a privilege I don't take lightly.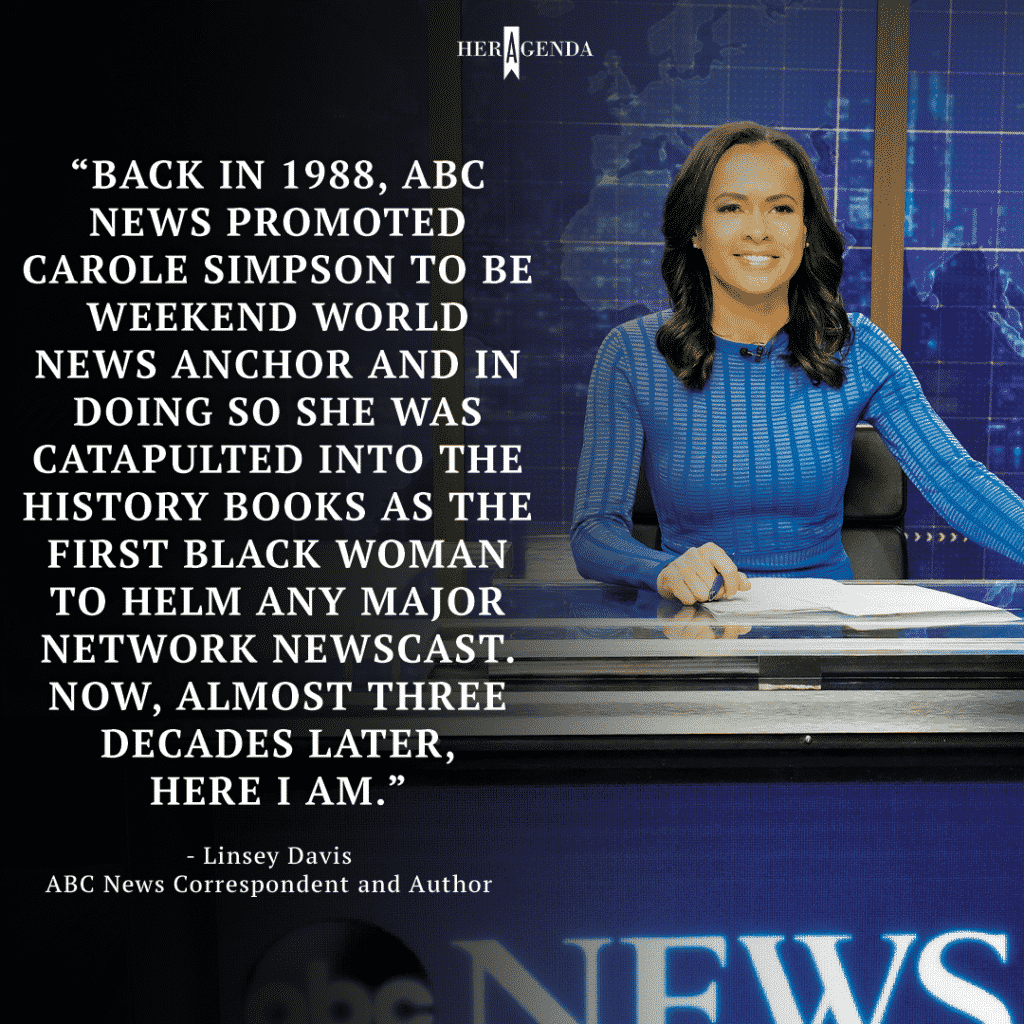 Article continues below advertisement
Her Agenda: What obstacles did you face as a young journalist?
Linsey Davis: I studied psychology in undergrad and got my Master's in Communication. I told a family friend I was interested in going into broadcasting and he made some calls. I got accepted into this position that was essentially a glorified intern, but I didn't mind. It was a paid, year-long opportunity that I hoped to maybe turn it into a full-time opportunity. So I kept my head down, did some good work, but was devastated when at the end they were firm on that opportunity being just a year, and they didn't have a spot for me to stay on board afterward. I remember a photographer I was out in the field with said to me "Kid, this is the best thing that could ever happen to you." In retrospect he was right. After that gig ended I went onto a site called TVJobs.com and sent my VHS cassette reel to every single opening. Even if it asked for experience I didn't have, I was sending my reel. I ended up getting my first full-time gig at ABC in Flint, Michigan and it's been a ride from then on out.
Article continues below advertisement
Her Agenda: What role have mentors played in your career?
Linsey Davis: I had a hard time finding a "mentor." I would say most of the people who ended up being my mentors didn't realize that they were. Quite often I would start out in a new station and I would quickly figure out who was the best storyteller there. I would ask them for copies of their reels and would take them home and study them. So I don't even know that they necessarily knew how much of an influence they were playing on me by just sharing their videos, but that was really significant for me. There were times I have to say that I was a little disappointed with people that I really did reach out to intentionally for mentorship and they weren't really receptive. As a result of that, it made me really decide if I'm ever in a position where I can offer somebody some help, some advice, and guidance, I'm going to go out of my way to do it. To this day, I think that I've remained very true to that. It's a tough business and I want to be a helping hand where I can.
Article continues below advertisement
I'm mindful of how I speak to others when they discuss their dreams, and I encourage you to not let other people's fears paralyze you from following your dreams.
-
Her Agenda: What would be your advice for those who are afraid of embracing the pivot in their life or afraid to take their lives or careers to the next level?
Linsey Davis: I think that fear [can] paralyze us. If you allow it to keep you planted in one spot, you'll never know what could or would have been. And it's cliche to say but really failure is a part of life. Honestly, every day I'm putting myself out there and spitballing ideas. Sometimes they may not work and that's okay. I know there's a chance I'm going to fail, and I know I'm not going to succeed at everything. I like to look at the victories versus the losses. It's hard but it's so important to just take that first step towards whatever you want to do and if you fall, get back up.
Article continues below advertisement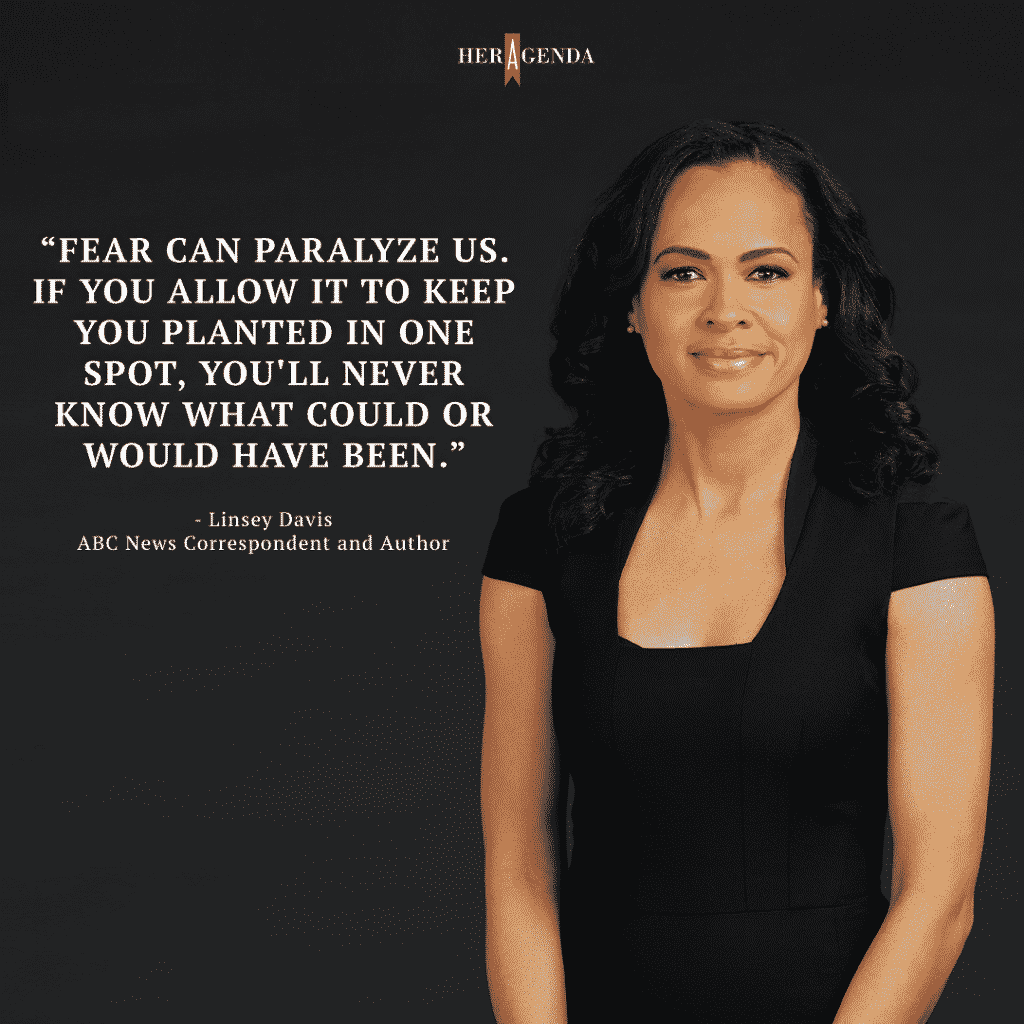 I remember when I began writing children's books, I had no idea about that industry. When I first started getting up the courage to express to people what I was thinking about doing, there was a lot of negativity around it. People instantly were telling me how difficult it was going to be to find an agent or a publisher. There was a lot of opposition to it, but I knew I wanted to explore this new avenue, and so I put my head down and did the work step by step. I found a literary agent, I found a publisher, and didn't let that overwhelm me. I'm mindful of how I speak to others when they discuss their dreams, and I encourage you to not let other people's fears paralyze you from following your dreams.
Article continues below advertisement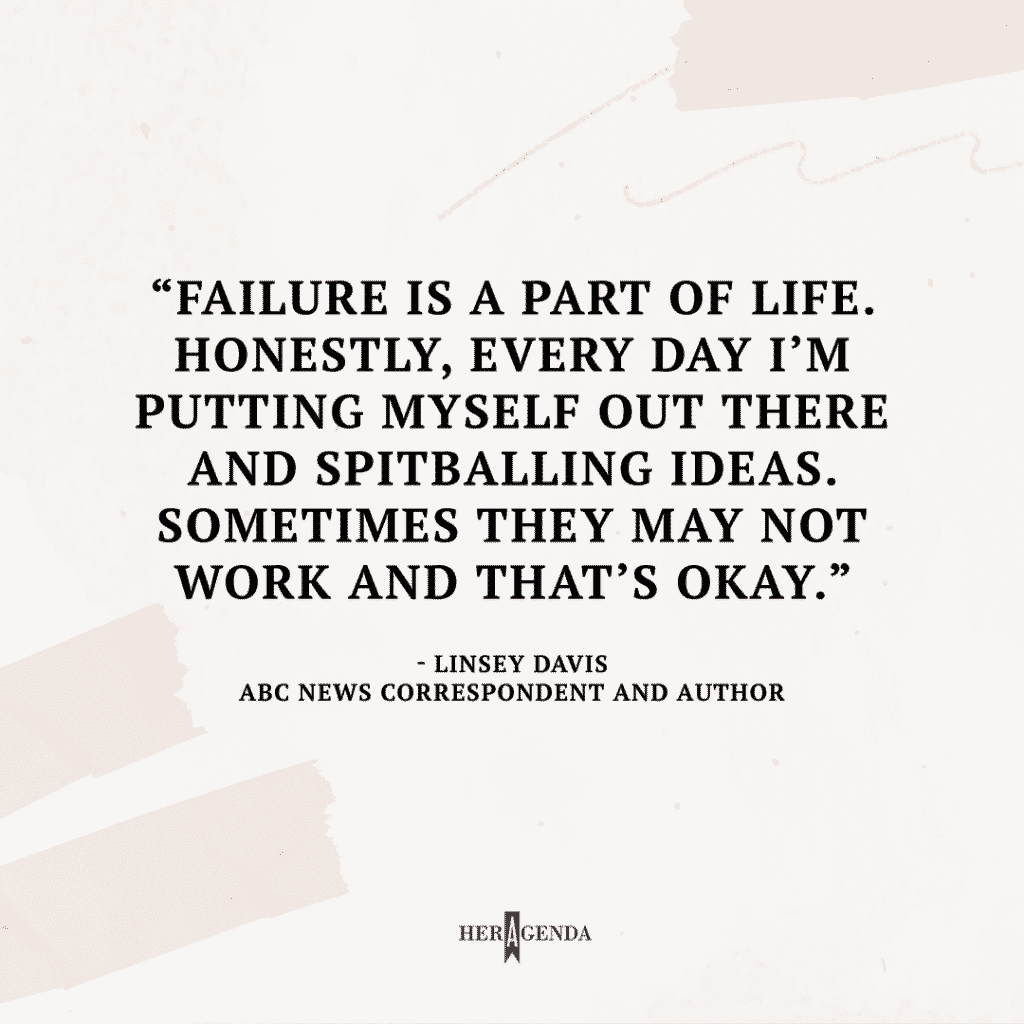 Her Agenda: You've done a bit of everything as a reporter- both human interest pieces and also political reporting. What draws you to these types of stories?
Linsey Davis: I think that overall I really love slice of life kind of human interest stories. My major in undergrad was psychology- the study of human behavior is so interesting to me. There's so much doom and gloom and murdered and missing, I do really like those feel-good stories.
On the other side, politics has also become just so fascinating to me. I really love being up there as a moderator at the debates, to really be able to kind of hold the politicians' feet to the fire as far as what they say they stand for versus what their actions suggest.
Article continues below advertisement
There are two very different sides of me: one, where I like the uplifting and warm and fuzzy, and the other side where I love the hard-hitting questions and being aggressive.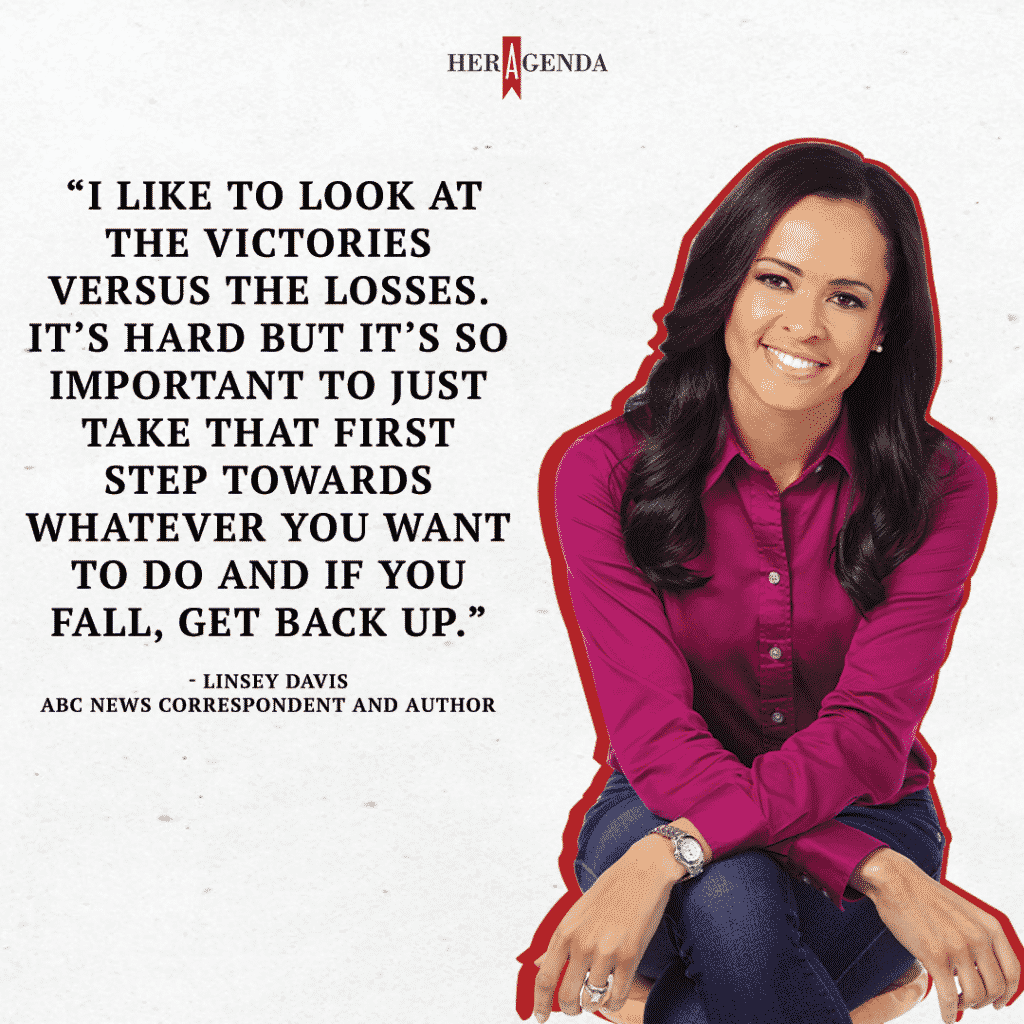 Article continues below advertisement
Her Agenda: How do you balance your life as a reporter, author, mother, and wife with the 24-hour news cycle? Where do you find the time to do your job and also work on projects like your books and spending those moments with your son?
Linsey Davis: I will say that this pandemic has been awful, with all of the loss. But I will say that for me, being able to be home more and spend more time with my son has been a blessing. I think for me, and others too, this time has made quality time more accessible. Before we were living life working and going to meetings or sports- just living on our own crazy schedules. Now we get to be at home, have breakfast and lunch together, and see each other more. It can get chaotic when we have meetings or I'm working on stories and have to balance that along with his schooling and making sure to spend time with him. I go to bed every day tired from keeping a lot of plates spinning, but it's a good kind of tired. The familial aspect is an important one to me. I never want to lose sight of that in the midst of everything else that it's going on. I make sure to find moments to spend quality time with my son. All of those moments are so important because they go by so fast, and I'm trying to cherish all that I can.
[Editor's note: This interview has been edited for length and clarity.]