Lucinda Cross — the coach, best-selling author, award-winning speaker, and TV personality — is a living, breathing example of a woman who has turned her dreams into reality.
At the age of 18, a poor choice landed Lucinda in prison for 4 ½ years. While incarcerated she spent her free time creating vision boards, a skill she learned from her mother at age 10. After noticing there were no empowerment programs at the compound, her crafty hobby turned into a class, and she began helping other women capture their hopes and dreams in vision board form as well. It was the vision that she cast for herself after being released that changed her life, and represents the woman that you see today.
With a background in marketing, Lucinda found her 'one thing' and turned it into an offering of services that are growing exponentially from a small business into an empire.
Her Agenda caught up with Lucinda to chat about her business and what inspires her. She makes the case for why we should all be journaling and sharing ideas, and gives a quick lesson on how to create a vision board of your own.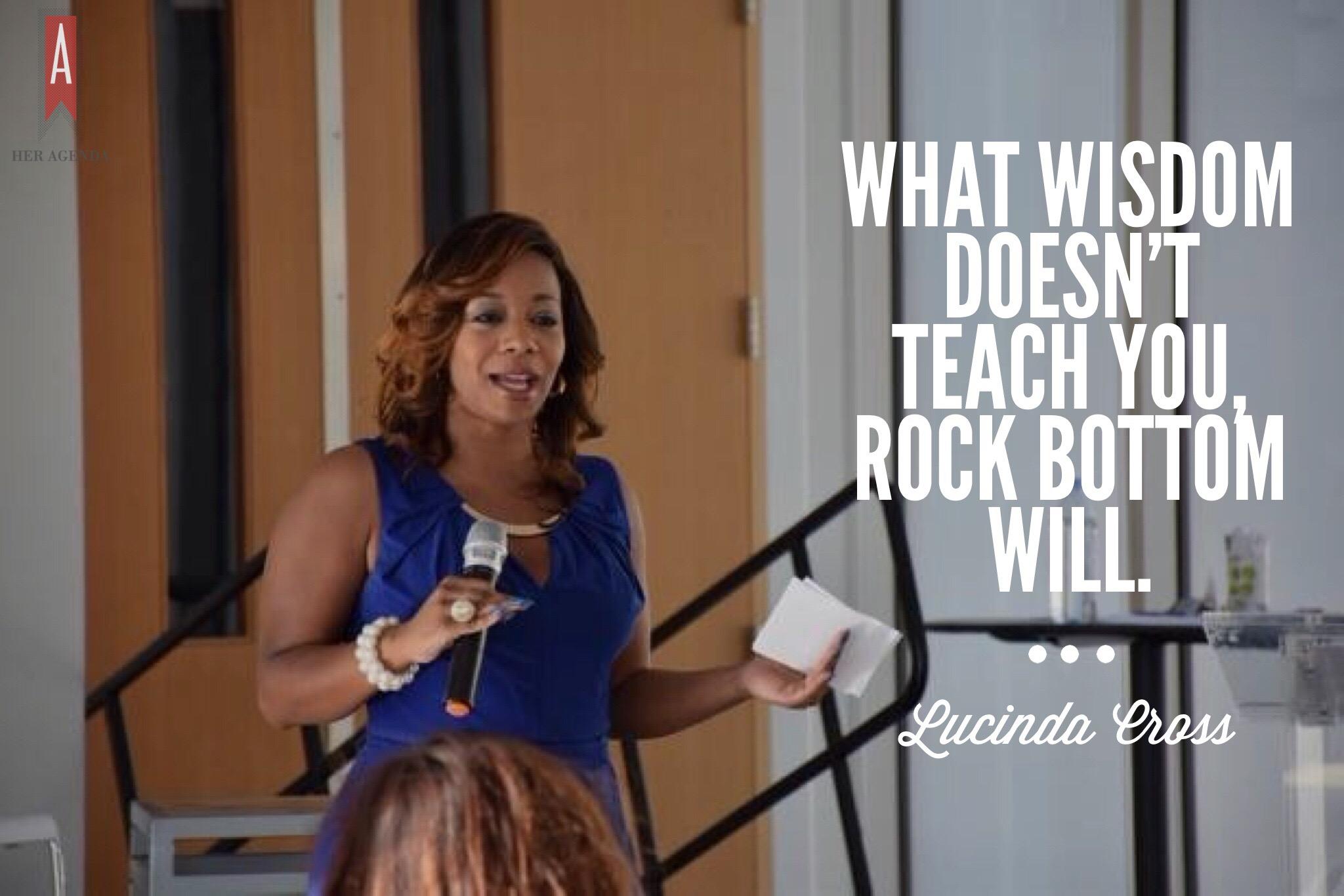 Article continues below advertisement
Her Agenda: The Activate! Conference is coming up next month in D.C. What is the Activate! Experience all about?
Lucinda Cross: The Activate! Experience is where vision meets provision. We break down where business meets life and we create an atmosphere for collaboration on the spot. It's so un-conference! You say you want to write a book? Write down some titles right now, what are you waiting for?
What has been your secret to designing your life and conquering your goals?
Lucinda Cross: For me, it was finding my 'one thing' and blowing it up; finding my niche in my offerings and services. It's a lot easier to create and support one to change millions versus trying to reach millions and change no one.
Find the greatest frustration and figure out how you can provide a solution to the problem. From there, create a series of solutions. For me, it turned into my work, it turned into multiple streams of income. Find the solution that positions you as the expert, the teacher and thought leader in the industry where you're focused. That's what brands and media are looking for — those who own a particular space.
Article continues below advertisement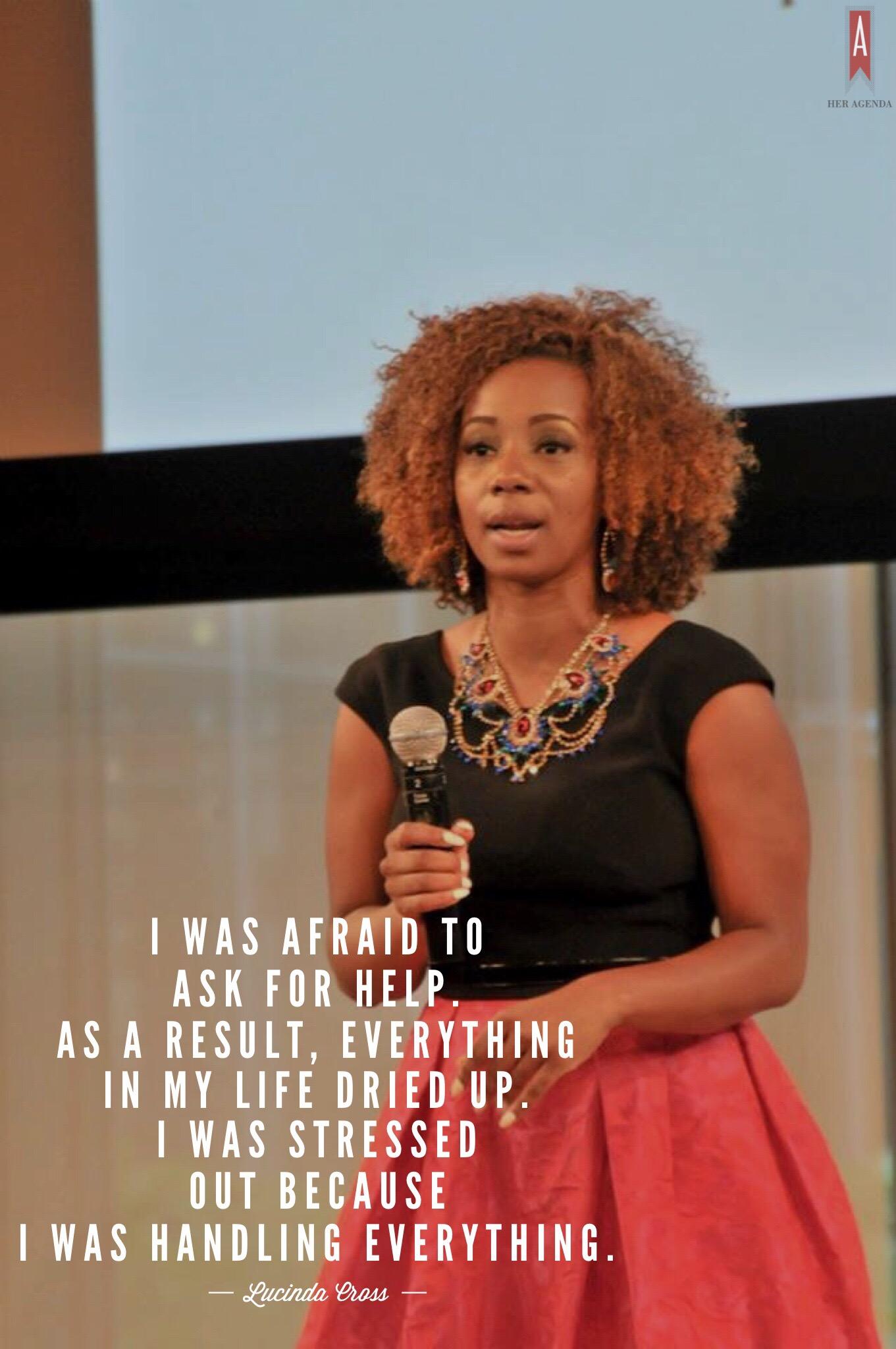 Her Agenda: With all that you've done in your career, what has been the key to growing your business?
Lucinda Cross: Asking for help. I was the type of person who wanted to do everything myself. I was afraid to ask for help. As a result, everything (in my life) dried up. I was stressed out because I was handling everything. What wisdom doesn't teach you, rock bottom will. I had to trust my team. I had to trust that they would do it the way that they would do it, not the way I would.
Article continues below advertisement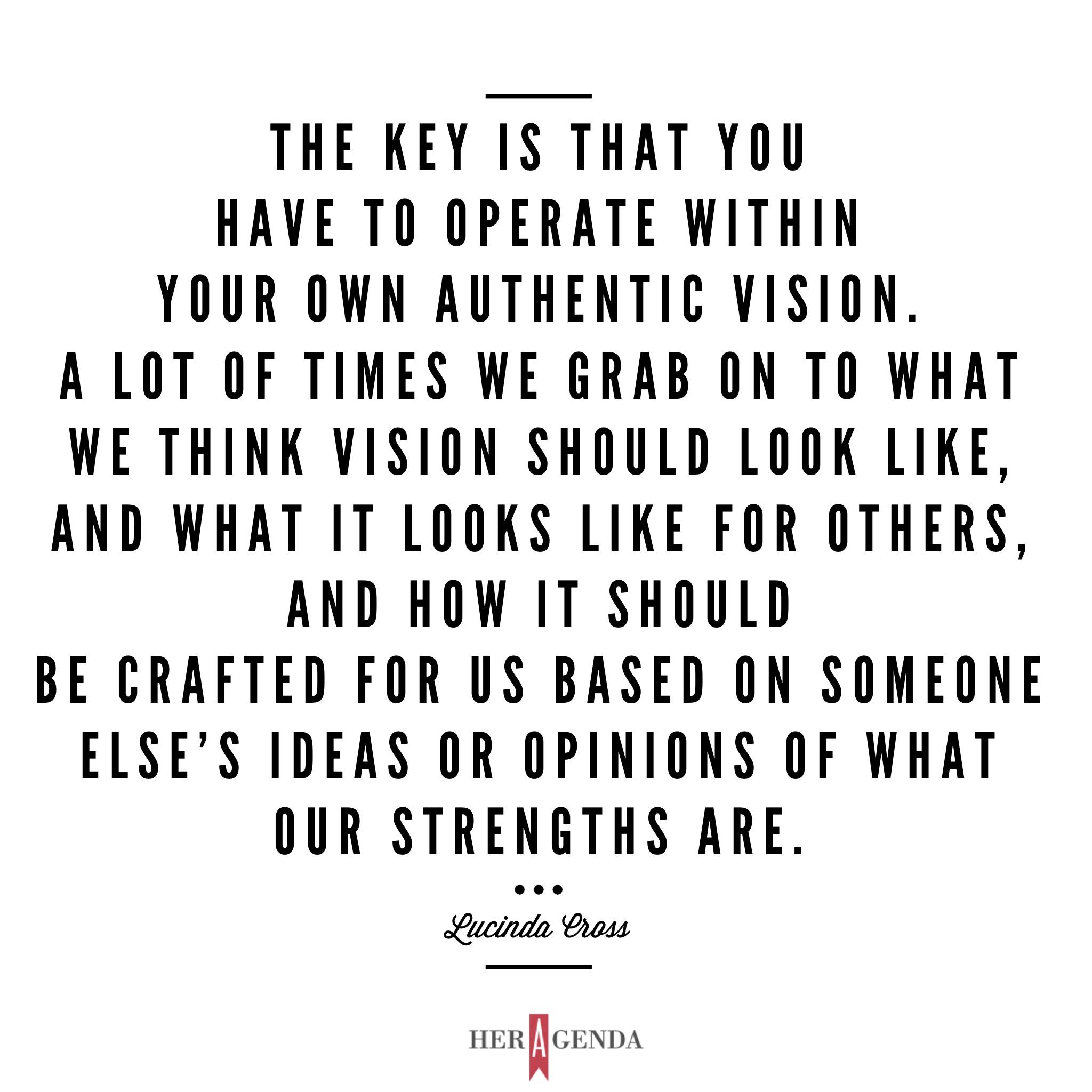 Her Agenda: How do you balance birthing new ideas with managing your current workload?
Lucinda Cross: I have an idea book. Get an idea book. It will help you to separate the random ideas from the great ones. It will clarify the things that you would love to implement, but that may not necessarily be a priority. Write them down so that you don't have shiny object syndrome. I only pursue the ideas that compliment and are in alignment with my goals. Don't give yourself more work, instead, add value to what you're already creating.
I write everything down, I am the journal queen! Sometimes I'll go back and revisit (my notes), and see that ideas and concepts that I once had might not be valid or even worth my time.
Article continues below advertisement
I also had to realize that some of my ideas aren't for me. Sometimes I'll be talking with a client or I'll be at a networking event, and I realize that an idea I had is the missing piece that someone else needs. Write down all of the chatter!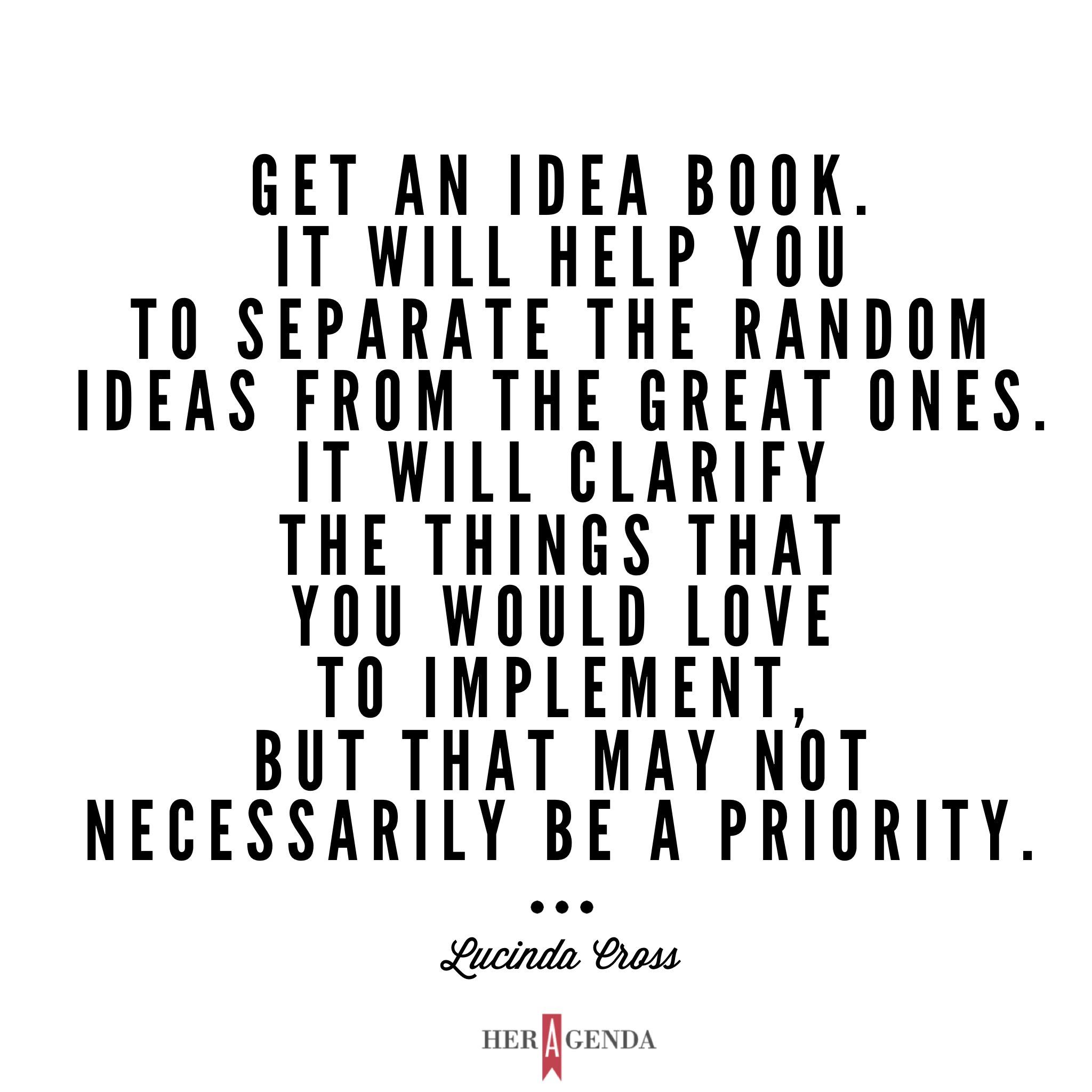 Article continues below advertisement
Her Agenda: In your business, you work with a lot of millennials. What are the needs that you've seen within the millennial community, and what type of work are you doing with millennial women?
Lucinda Cross: Working with millennials is very challenging because they are always pushing and pulling; I love it! I have to come with my A game because millennials are so sharp and ready to implement. My work helps to put the work in phases. I know you want to take over the world, and you can and you will! But let's take this on in pieces. Millennials are high vibrational. They operate at high levels of creativity. In working together, we are taking all of that energy, packaging it, and then sharing it with the world.
Her Agenda: What kind of vision should we be casting for ourselves? How do we hold ourselves accountable? And how do we turn that vision into reality?
Lucinda Cross: More collaboration and more partnership. I don't think we see enough of that. We celebrate when we see one actress clap for another actress, but that shouldn't be something that's a 'wow'. What do collaboration and sisterhood look like as a demonstration? Let's stop talking about it. Let's see and create what it looks like.
Article continues below advertisement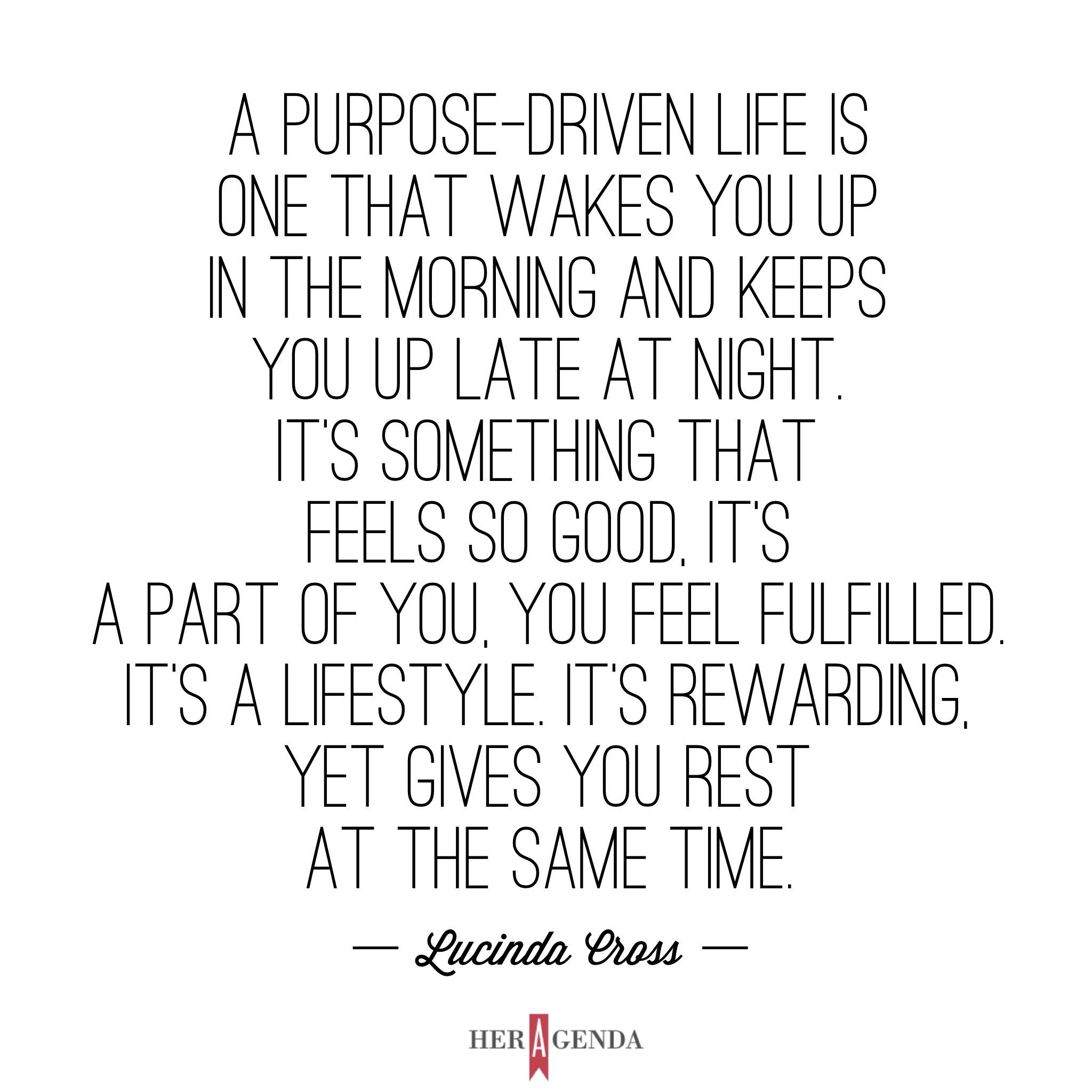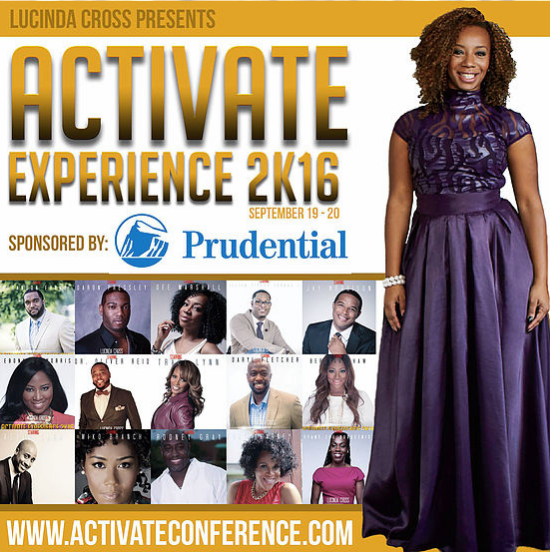 Article continues below advertisement
Her Agenda: How would you define living a purpose-driven life? And what advice do you have for those who are looking to create and live a purpose driven life as well?
Lucinda Cross: A purpose-driven life is one that wakes you up in the morning and keeps you up late at night. It's something that feels so good, it's a part of you, you feel fulfilled. It's a lifestyle. It's rewarding, yet gives you rest at the same time.
The key is that you have to operate within your own authentic vision. A lot of times we grab on to what we think vision should look like, and what it looks like for others, and how it should be crafted for us based on someone else's ideas or opinions of what our strengths are.
I believe that once we begin to live for ourselves and happen to our own desires, we will be operating more for our own life than anyone else's. You have to define it for yourself and be completely honest. You have to ask yourself over and over again, "Is what I'm doing going to help me become the best me?"
Cindy Trimm has this quote, "What is the one thing that you could change today that would change everything?" The answer to that question will lead you to live a more purpose-driven life, and it's full of freedom.
Article continues below advertisement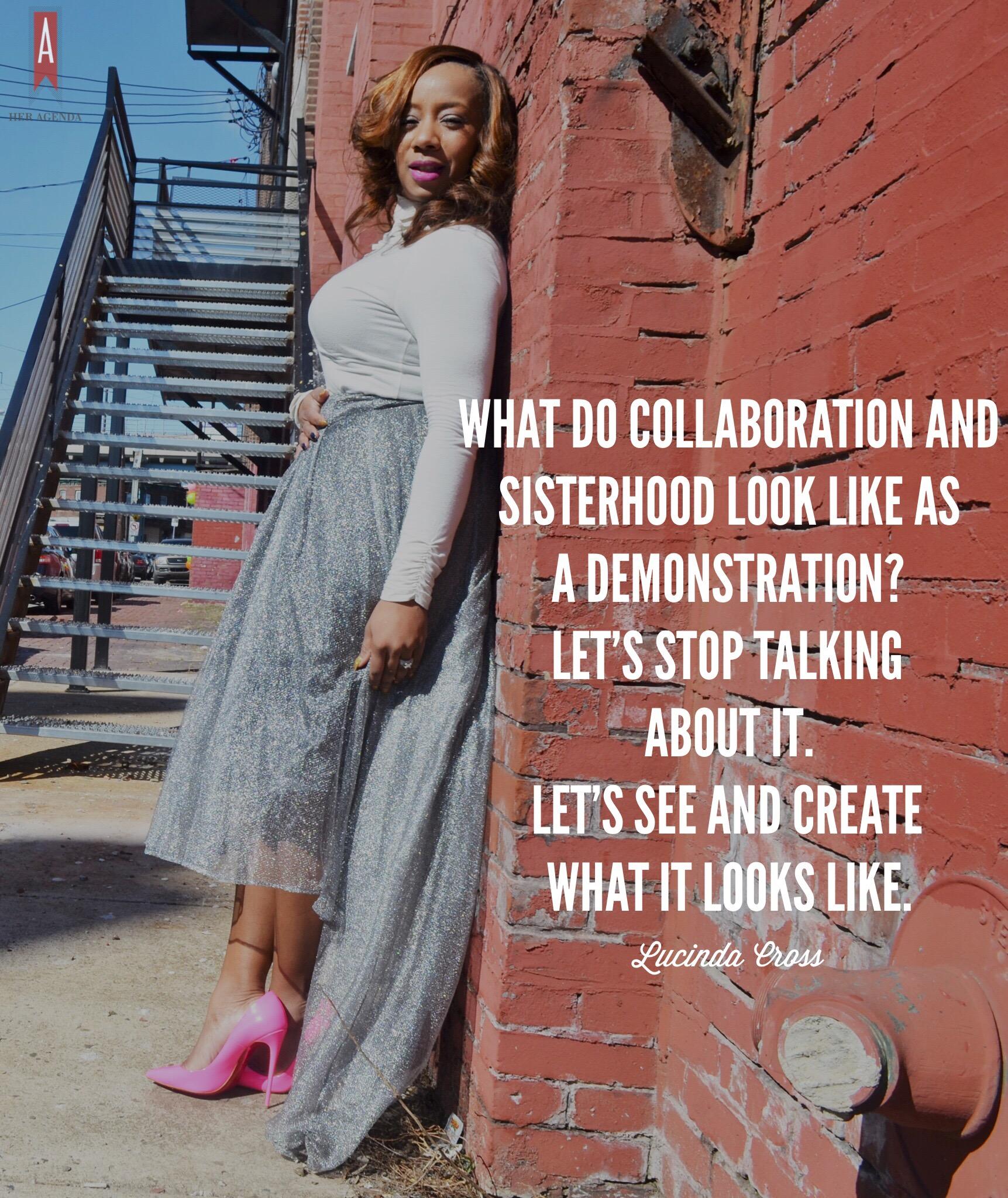 Her Agenda: You are the queen of vision boards. Before we wrap up, do you have a few tips on how to create the perfect board?
Lucinda Cross: Make sure you cover the Fab 5: Faith, family, friends, finances, and fitness. [Also,] have one main goal that you are going to conquer and be sure to give yourself a timeline. 80 percent of your board should be focused on that one goal [Lastly,] find an accountability partner. For a little bonus, be sure to add a little sparkle and glitter, it just makes things better!
Give yourself permission to edit and change when you please. And remember, your vision board is about the energy that you're putting into it; it's just your goals in living color.
Enter to win two tickets to ACTIVATE EXPERIENCE 2K16.
Article continues below advertisement
SHARE A PICTURE OF YOUR VISION BOARD AND TELL US ABOUT OF ONE OF YOUR GOALS.
DON'T HAVE A VISION BOARD YET?
SHARE A PICTURE THAT REPRESENTS SOMETHING YOU'RE WORKING TOWARDS AND TELL US ABOUT IT!
TAG @HERAGENDA AND @LUCINDACROSS
USE HASHTAG #HERAGENDAACTIVATE