In the tech industry Black men and women barely make up 3 percent of the workforce, and the specific number of Black women is so low that it's essentially less than one percent.
However, there are some women boldly creating their own lane. One of those women is Maci Peterson, a branding and marketing professional who created On Second Thought. It's an app that allows users to take back text messages before the content is delivered to the receiver. It's the perfect solution for those moments when you immediately regret the message you just sent. With over 50,000 downloads since it's release on Google Play, the company plans to make the app available on iPhones in the spring of 2016.
Despite having no background in tech and very little knowledge of coding, the Chapman University graduate chose to quit her full-time corporate position and work full time on her venture. This is a significant move. According to a recent report from Digital Undivided's #ProjectDiane, over 1.5 M companies are owned by Black women, generating 44 billion dollars in revenue. However, only .04 percent of tech startups are led by Black women. Also, typically startups raise initial capital through investors, and when it comes to raising money, only .002 percent of Black women have received venture capital funding.
Peterson, didn't let these barriers stop her from achieving her goal. Instead, she initially secured funding through various business and pitch competitions before going on to raise money from angel investors.
She says her key to success was her confidence in her vision and her product. Peterson points out these traits as essential for every entrepreneur in any field. In 2015, Essence Magazine declared Peterson "Tech's Newest Innovator" and she was recognized among Washington Business Journal's "40 Under 40." Peterson was also the 1st Place Winner of the Women Who Tech Startup Challenge, in partnership with Craig Newmark of craigslist and Fred and Joanne Wilson.
Her Agenda caught up with the millennial entrepreneur who is bringing Black girl magic to the STEM field.
Article continues below advertisement
Her Agenda: What job did you have before creating the app?
Maci Peterson: I have a background in marketing and brand management. After college I worked for The Root, a subsidiary of the Washington Post, in their marketing department. There is where I initially had gotten the idea for the app. I laid out the concept of it and the business side and pitched the idea at South by Southwest (SXSW) and we placed there. In the meantime I had gotten a job with the Marriott company as a brand manager. There I was placed on a special project, the redevelopment of one of their iOS systems, which ironically wasn't my forte. But I did use that opportunity to learn more about tech development, and I applied that to creation of the app.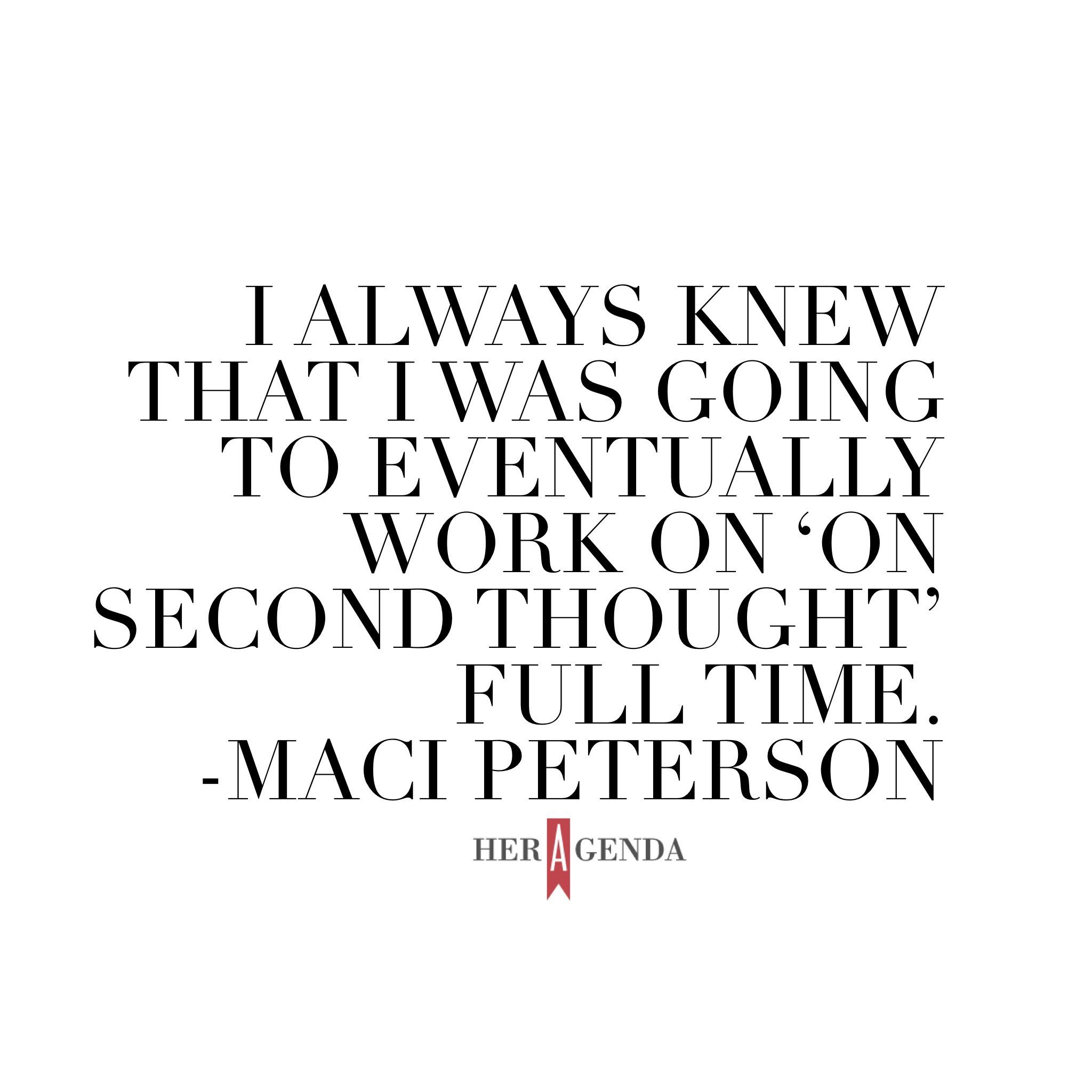 Article continues below advertisement
Her Agenda: How did you make the transition from leaving your full time corporate job to running your venture full time?
Maci Peterson: I always knew that I was going to eventually work on 'On Second Thought' full time. What finally made me make the move was [when] it [started] demanding so much of my time and [took] on a life of it's own. I was doing interviews about the app from my cubicle at work. I needed to meet with investors, developers, and other things I had to do for the app that clashed with my responsibilities at work. I couldn't manage both jobs, but the development of the app wasn't something I was willing to put on the back burner. I realized I couldn't be a great team member and give 100% to both teams – I needed to chose one. So I became transparent with management at Marriott and informed them of my plans and needs for my business. After that meeting with management, we decided to lessen my workload there so that way I was able to still contribute and help. [Since] my responsibilities [at Marriott] weren't as time consuming, I was able to give them my best, and able to really shift my focus to giving the app more of my time. When I was ready to work on the app full time, I gave Marriott six week's notice- that way we ended on good terms and I had a deadline in my mind.
Article continues below advertisement
Her Agenda: What's your advice for others wanting to take the leap- from corporate to working on their venture full time?
Maci Peterson: You have to know and believe that what you're doing is going to be a success. You shouldn't be taking such dramatic risks without planning to succeed. You need to both plan ahead and also have the utmost confidence in whatever it is you're striving [toward]. For me, I chose to continue on with my job at Marriott to help finance the project (before the investors came along). You can't do that kind of transition on a whim, especially if you have other financial responsibilities. But I planned for the transition. I saved and spent wisely, gave myself a deadline for when I was going to make the move, and in the meantime it all came together- my responsibilities at work lessened and my project was gaining traction. You have to really plan and believe in your project in order to make that move.
Article continues below advertisement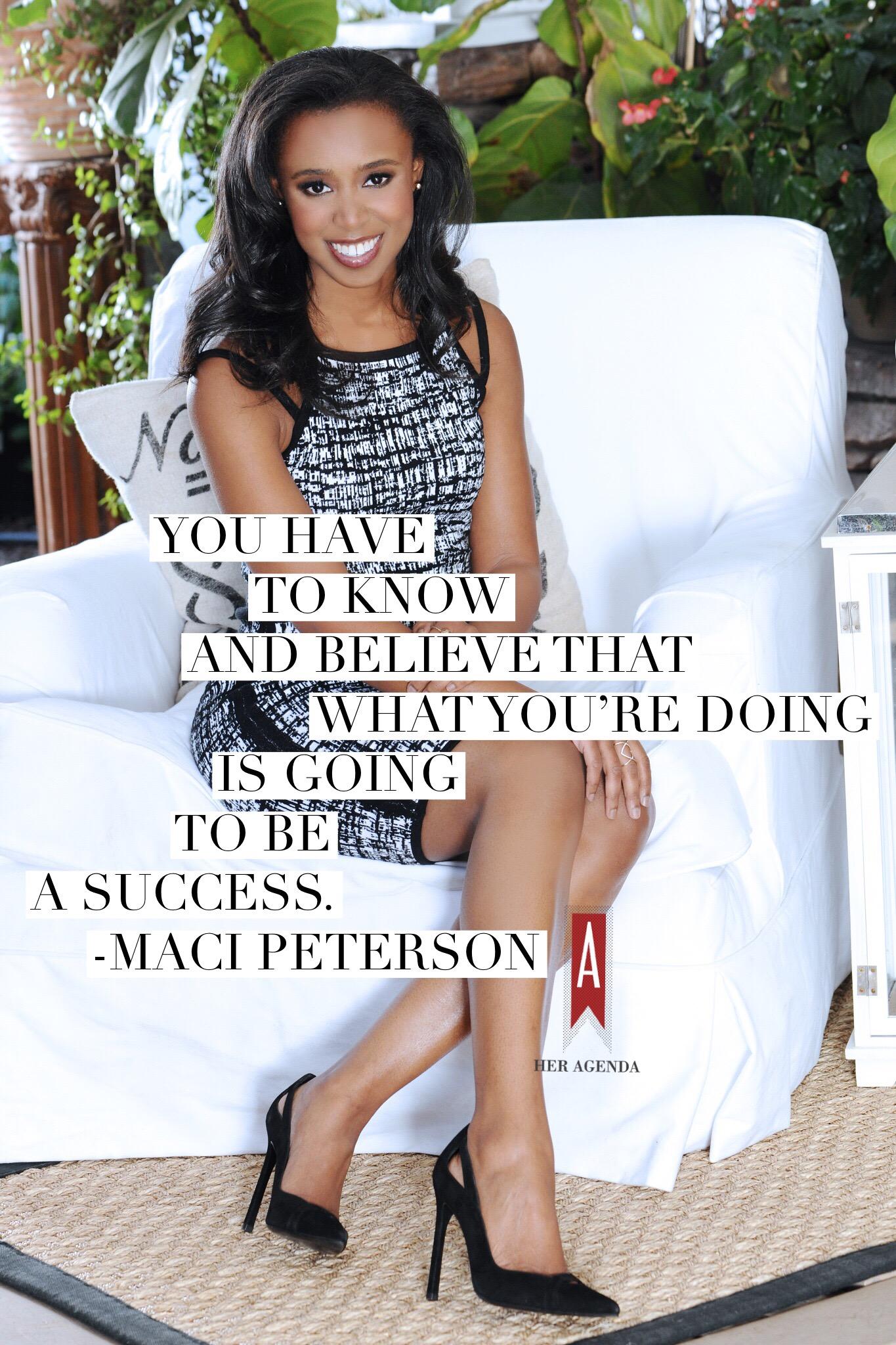 Her Agenda: What were some of the resources you sought out to finance the project?
Article continues below advertisement
Maci Peterson: We didn't get funding from SXSW, so at first I was financing the project out of my own pocket. I was doing everything I could to make sure I could pay developers (I can only code on a rudimentary level) and advisors. I bargained rent payments with my landlord, cut back a little personally…did everything I could to make sure money wasn't in the way. I also sought out family and friends for help. In the meantime, I went to every pitch competition I could find, applied for all types of grants, and constantly met with potential investors. When it comes to not having the money for a project, that's not an excuse- there are resources out there you just have to scout them out and speak up. So I just 'hustled' any way I could until we got some big investors.
Her Agenda: What is your outlook on the future of STEM companies?
Maci Peterson: I think that what we're seeing is the new wave of the industrial revolution. Technology is no longer going to be its own industry- it's going to be the foundation on which industries are built, which is why I think that essentially learning how to code is going to be something that kids need to know as early as elementary school. Simply understanding the basics of it and how it operates, even if you don't apply it, will be crucial to mastering and innovating it.
Her Agenda: How do you think we can diversify tech fields. Do you think it's a lack of interest or lack of opportunity?
Article continues below advertisement
Maci Peterson: I think it's a lack of readily available talent. For example, we're currently hiring at my company, and out of the 350 candidates I had applications for, only 12 were minorities or women. There are people who have an interest in being a part of the tech community but their skillset isn't at the point where they can be hired, or they're still going through the tech programs. The pool just doesn't exist yet, and the qualified candidates are hard to find. Part of the solution is to start fostering the tech interest in children. Also, I think people need to understand there are non-development jobs available in the tech industry.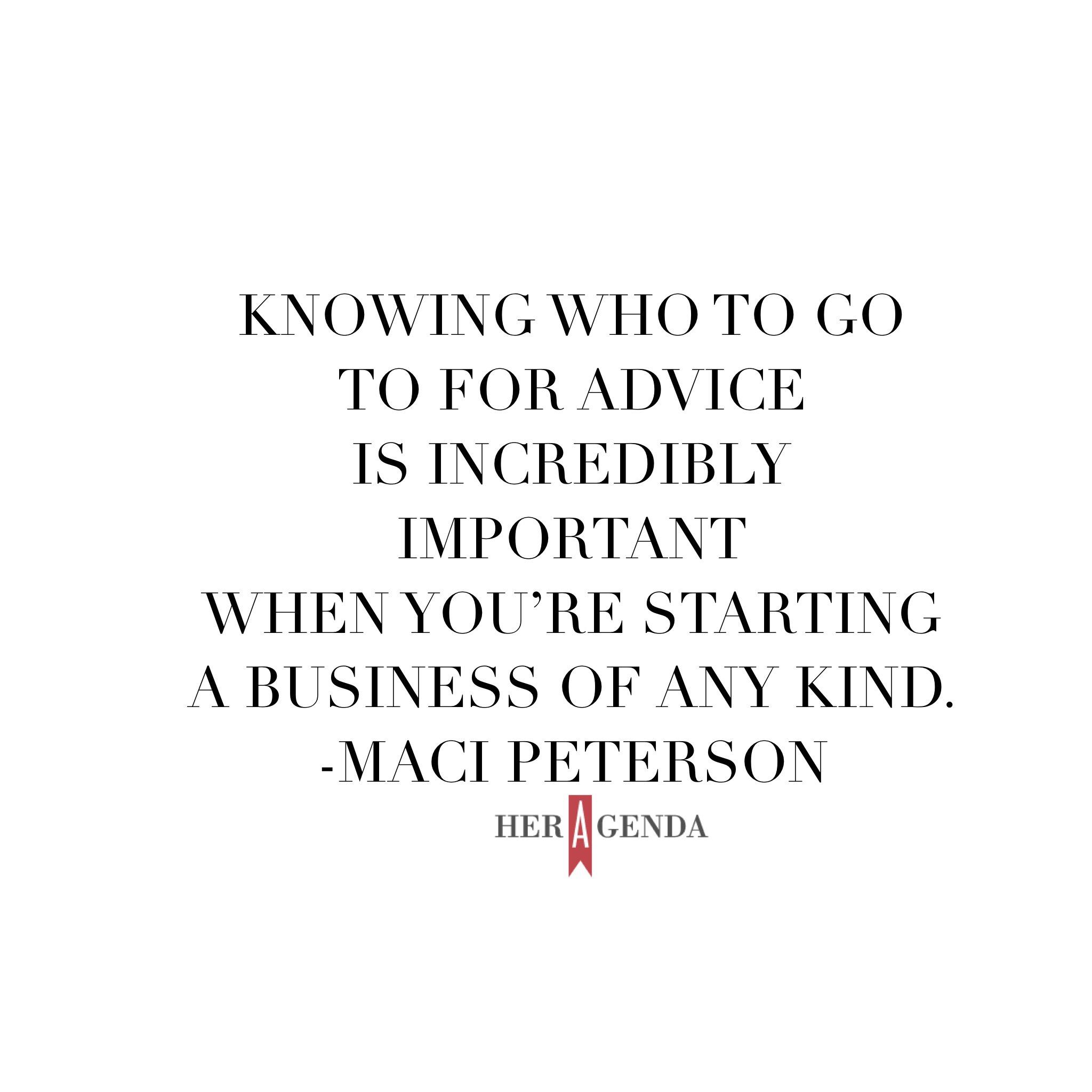 Article continues below advertisement
Her Agenda: What do you say to those who want to do more in tech but are apprehensive because of their lack of knowledge?
Maci Peterson: You don't have to have a background in tech in order to run a tech company. You just have to believe that you can do it and also find the right people to join your team and become partners. When I created the app, I knew absolutely nothing about tech or app development, but I knew the business side (marketing and branding). What I did know about tech was that I had friends and colleagues who knew the intricacies of development and coding, and that they could help me create the product. Knowing who to go to for advice is incredibly important when you're starting a business of any kind. Be aware of what you lack knowledge in so you understand who to ask for advice and help. I always encourage people to engage in STEM even if they have no background in it for that very reason.
Article continues below advertisement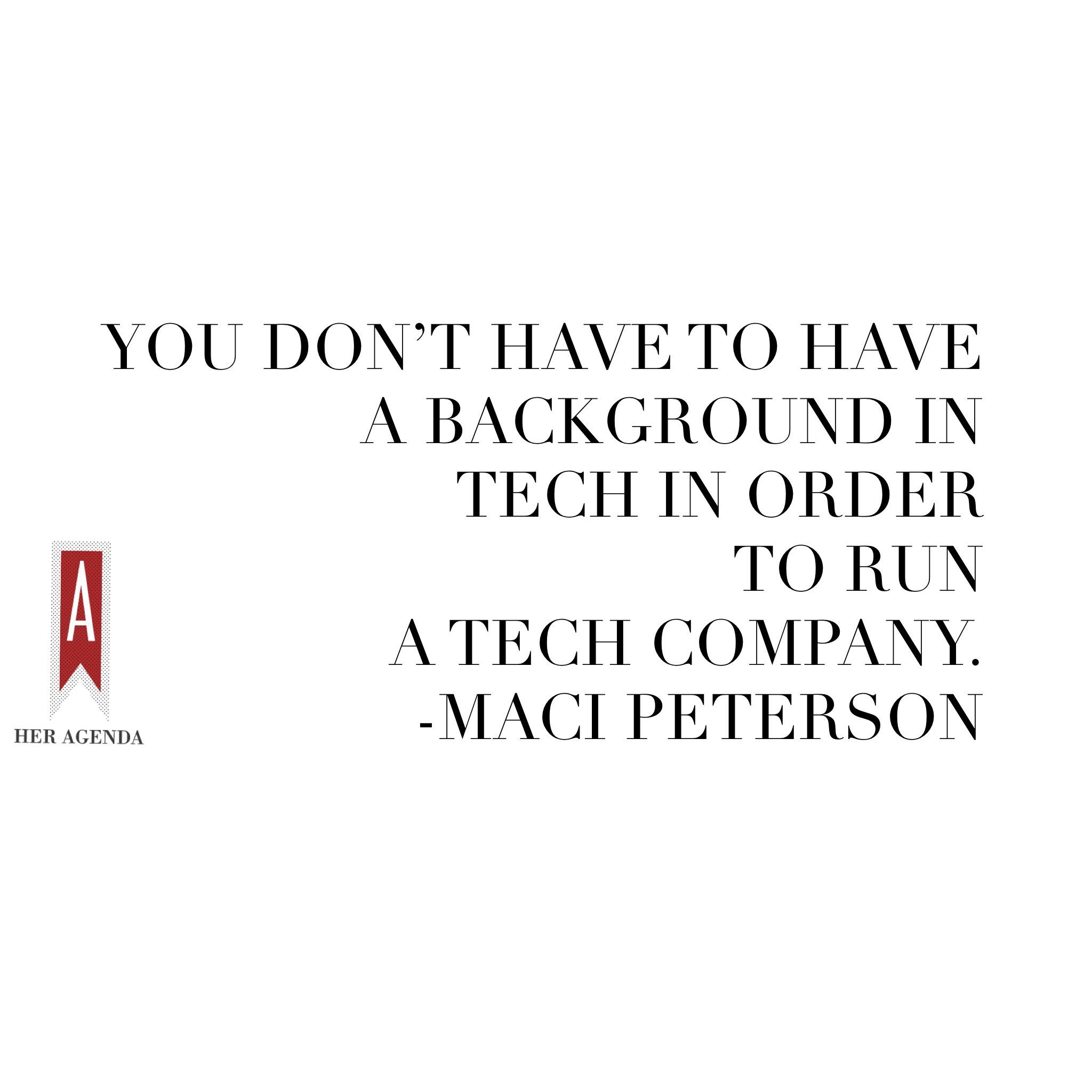 Her Agenda: Any advice for those who are still on the fence about starting their own company or taking on their passion project full time?
Maci Peterson: If you feel truly convicted to make a shift, I think you should do it and go for it! Don't ignore the voice for so long until you get to a point where now you're wondering what if? 'What if?' is a haunting and irreversible point to be at. Even if you try and fail or get rejected or it's not what you thought it would be, you'll never be wondering. You'll be able to know for sure. Like I said before, it's all about believing in yourself and your product and eventually, everyone else will have to believe in it too!