Maeva Heim always had a passion for beauty, after all, it is practically woven into her DNA. Long before her existence, Maeva's grandmother was a soap maker in an Ivory Coast village, and her mother owned the first hair braiding salon in Perth, Australia. Feeling the pressure of eurocentric beauty standards, she began relaxing her hair around the age of 7, never seeing the natural state of her hair until years later. As fate would have it, Maeva's relaxer exploded in her suitcase during a flight from New York to Chicago, thus beginning her journey of hair love.
Though Maeva had the dream of Bread Beauty Supply boiling for years, it wasn't until 2020 when she released it into the world. It all started when Maeva met one of Sephora's Vice Presidents at an event in LA, spontaneously flew to San Francisco where Sephora headquarters are located the same week, and met with one of their buyers. Initially working on Bread as a side gig, Maeva knew that she could not fail if she gave it her all. Bread, which is a nod at simplification, aims to provide "hair care basics for not so basic hair." And, after perfecting her now award-winning oil and beloved oversized scrunchies, Bread Beauty Supply is disrupting the beauty industry. Most importantly, she has created a brand that many of us wished for as children and validates the bounty of our crowns.
Dialing in from Australia, Maeva chatted with us about beauty's role in society, how she measures success, and lessons from her 20s.
Her Agenda: An interest in beauty runs deep in your lineage, as your grandmother was a soap maker in a small village in the Ivory Coast, and, in the 90s, your mother owned the first African hair braiding salon in Perth, Australia. From having innovators in your family, how did that influence your perspective on beauty's role in society?
Article continues below advertisement
Maeva Heim: I've always had this understanding that beauty is so much more than putting products on your face or hair. It's a powerful vehicle. From growing up in my mother's salon and knowing that my grandmother had a soap village, understanding that beauty was a real economic driver was really important. Also, understanding the impact of that and what it means. If beauty is so successful commercially, how much impact can beauty then have on culture, on perceptions, and on everyday life? There is sometimes an underlying belief that beauty is a little bit frivolous and if you are going to work in beauty, it's less important than becoming a lawyer or doctor. Those are important professions, but having that experience growing up taught me that beauty is important beyond what you see on the surface and there is a lot of impact to be made in the beauty industry.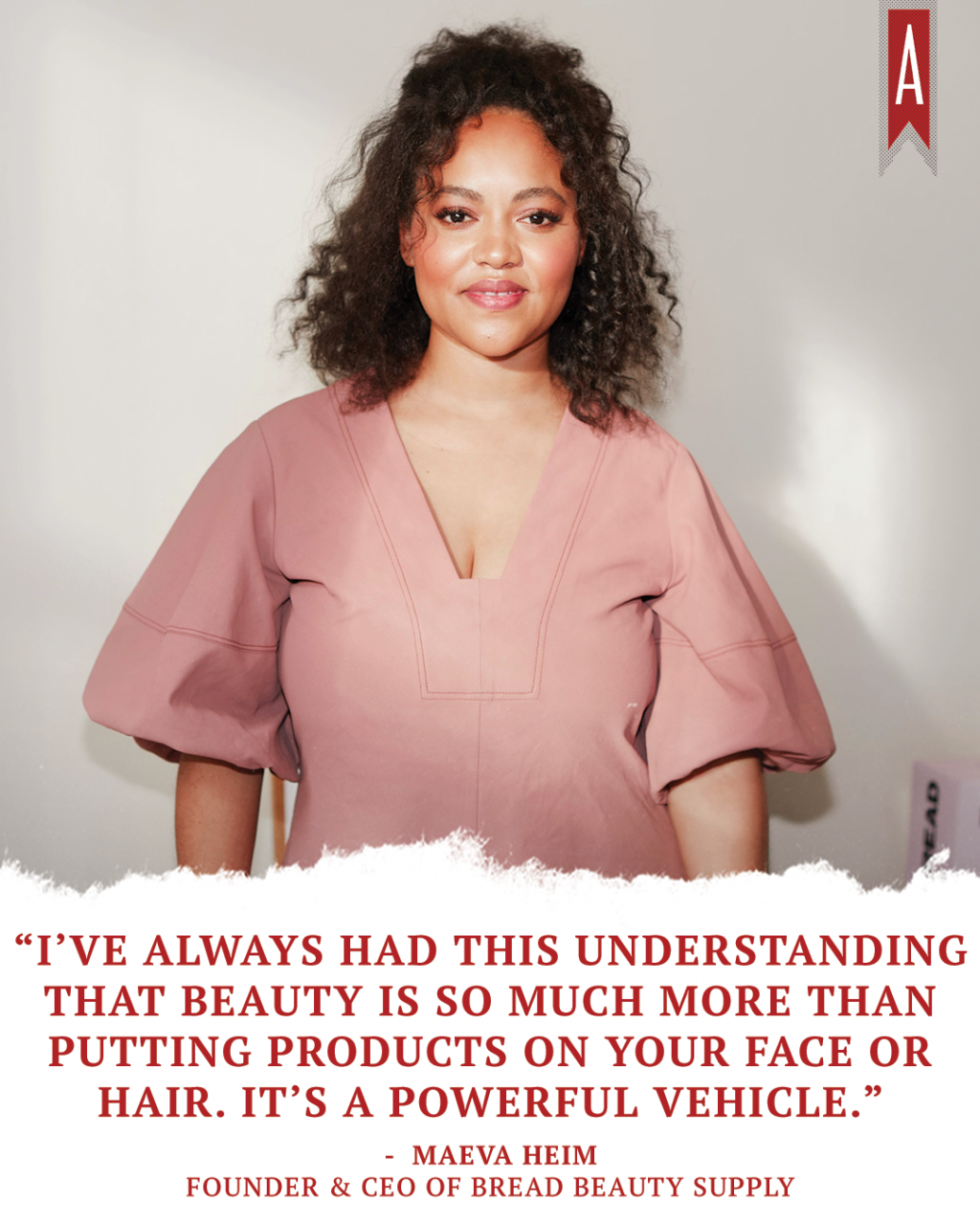 Article continues below advertisement
Her Agenda: I read that you began relaxing your hair around the age of 7. If you had Bread Beauty Supply when you were a child, how do you think your relationship with your hair would have been different?
Maeva Heim: That's such an interesting question because there are so many factors that come into it. I didn't feel like there was a brand in the beauty space when I was growing up that felt like something you wanted to be a part of and aligned with your personal identity. I do sometimes wonder if things would have been different but I think that everything happens for a reason. The industry probably wasn't ready back then for a brand like this and it all comes down to timing. I always say that Bread was the brand I wish I had when I was growing up because I would have felt so much more included in the beauty industry. And, that maybe would have impacted the decisions that I made like relaxing my hair.
Article continues below advertisement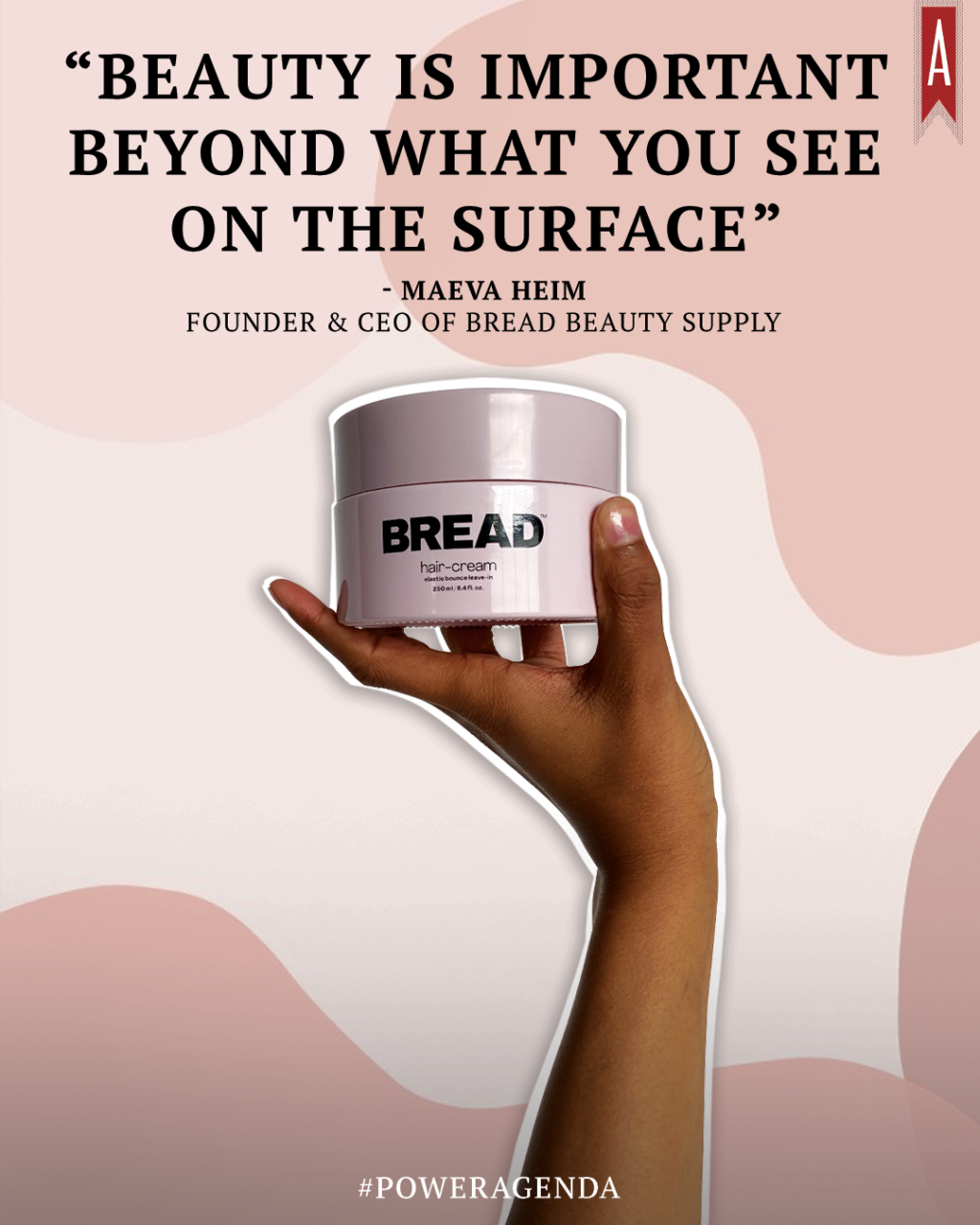 Her Agenda: Your experience in the beauty business goes way back. From having an internship with Procter & Gamble in Singapore and working in marketing at L'Oréal, what do you think the biggest flaw in the relationship between corporate and consumer is?
Article continues below advertisement
Maeva Heim: I think the biggest flaw is something that is inevitable. Once you get to that stage, and once you're that size, there is so much red tape. All of the different layers and approval processes you have to go through and all of the time it takes to get anything done means that there is a really big gap between the company, the leadership of the company, and the customer. That gap means there is a lot that is not being addressed and there are certain needs that are not being seen. Oftentimes, leadership is not reflective of the customer. That's how you end up with glaring spaces in the market that Bread and other brands are now trying to address. I could see what was missing because my peers and I were the customers, but I wasn't in a position of power. Once you get to that size, it's a lot harder to be close to the customer. The only way you can figure out what the customer wants and what they are thinking is through formal consumer research which can be beneficial but doesn't compare to being the person who wants to buy the product and knowing the people who want to buy the product.
Her Agenda: Before the brand even launched, Bread Beauty Supply received $2 million in funding and was the first Australian brand to ever be selected for Sephora's Accelerate cohort program. Did this career-defining moment change the way that you viewed your brand and its worth in the beauty industry, or did you always know it was going to be big?
Article continues below advertisement
Maeva Heim: I kind of always knew but I recognized that there had to be something to open the door and take the brand to the next level. I could see how Bread could succeed in the beauty space and always knew that we were going to get there, we just needed a foot in the door. The Sephora Accelerate Incubator Program played a big part in opening the floodgates. Once I was accepted into it, I decided to quit my full-time job and thought "This is going to take off." I remember thinking, "There is nothing to lose if you really believe that this can be big." Once you find success, there is an element of surprise that people can finally see what I'm seeing and the value in my brand. It was absolutely validating, but I always knew that once we got our foot in the door, that things would take off.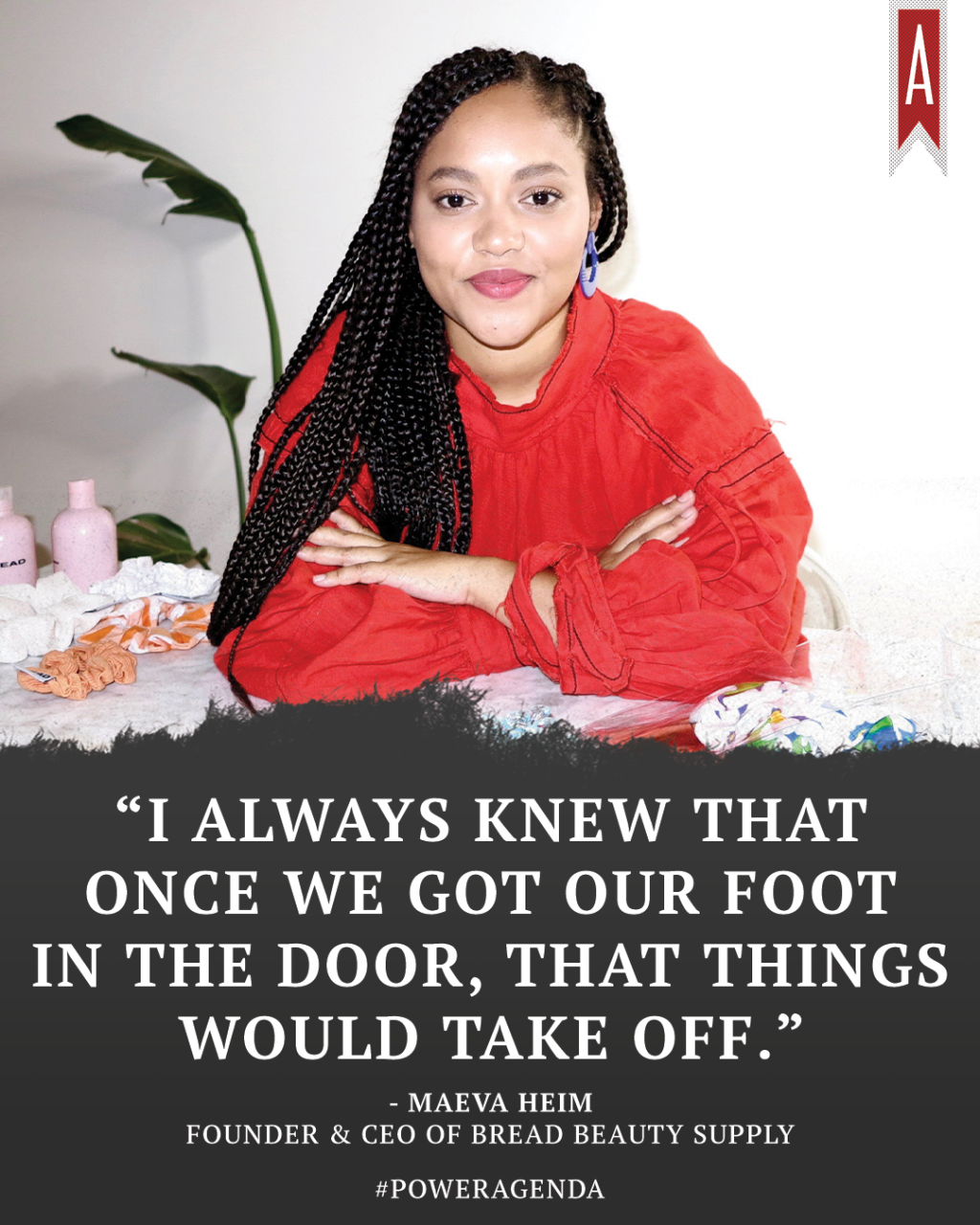 Article continues below advertisement
Her Agenda: I know that you like to look at everyday people for inspiration as opposed to celebrities, which I believe really differentiates your brand. As a business owner, how do you incorporate your consumers' feedback and interests into your products?
Maeva Heim: A lot can get misconstrued in that process, so we do a lot of social listening. We survey our consumer base, but we put more emphasis on literally listening to what people are saying. From what they comment on Instagram to what they say online in other spaces as well. We constantly scroll through Instagram, Twitter, and TikTok to see what people are saying in general about their beauty routines and hair care. We listen to what the pain points are without having to directly ask someone. Bread was born out of the idea of seeing what people were saying online and recognizing what they were missing.
Her Agenda: As a Black-owned business owner that is breaking barriers, how do you measure success?
Article continues below advertisement
Maeva Heim: There are a lot of measurements of success for us. One is obviously revenue because part of Bread's mission is to be commercially successful so that we can have a really big impact. I've always wanted a brand that had a lot of media buying power because the media is so influential to perceptions, how we feel about people, and the way they are represented. I really want Bread to impact how Black and brown women are represented in the media since we are constantly viewed as one-dimensional. As a Black-owned brand in this space, it's really important to see more Black-owned founders be successful as well. Beauty is a massive industry. Black and brown women spend so much money in this space and drive a lot of the growth. We want that economic benefit to go back to them but it doesn't since there aren't enough Black and brown female CEOs in beauty nor women who are head of the table. Part of our measure of success is also contributing to the ecosystem in a way that will allow more Black and brown female CEO's to become successful. We are working on something in the background that will help with that.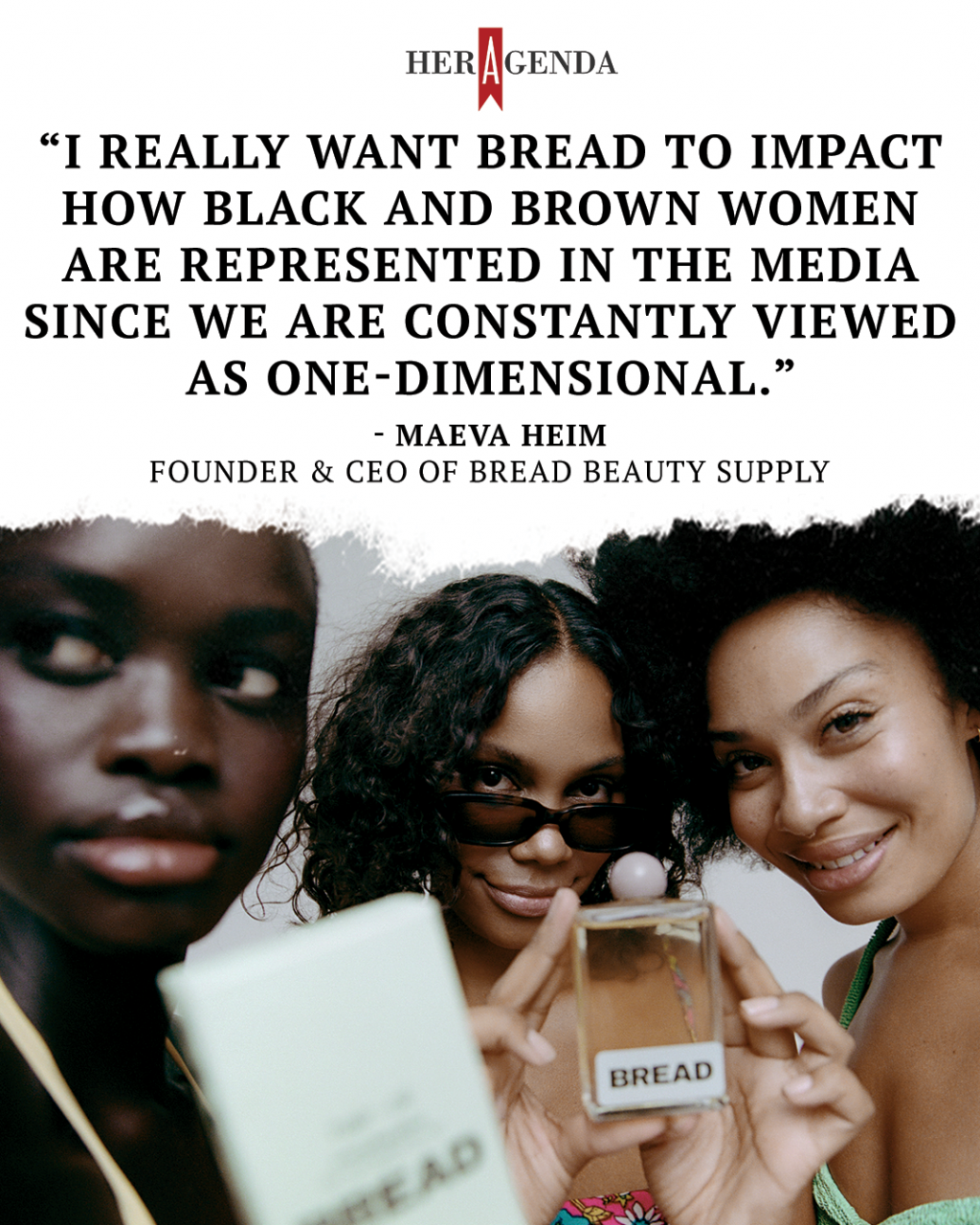 Article continues below advertisement
Her Agenda: Speaking of success, Bread Beauty Supply's Hair Oil was named one of Allure's Best Hair Products of 2020. What is your process for crafting a product?
Maeva Heim: It's pretty comprehensive and it's my favorite part of the process. We always like to start with Australian ingredients and see what is being underutilized. We consider ingredients that would be amazing for skin and hair care that no one is talking about or using in their products. Then, we ask, "What are the needs?" Bread thought about the first step of your routine which is wash day. I spent hours, months, and years figuring out what a wash day looks like with three simple products that are going to work across all textures. And, we built everything from there.
Part of our measure of success is also contributing to the ecosystem in a way that will allow more Black and brown female CEO's to become successful.
-
Article continues below advertisement
We started with knowing that co-washes are great but don't work for everybody. Shampoos can be too stripping even if they say they are moisturizing, and we wanted to create a hybrid in between those. When we created masks, we looked at what would benefit the hair over time. And, we wanted to create something that is super moisturizing and still gonna give you those benefits without a heavy butter base. We moved onto the oil and looked at Australian Kakadu Plum which was being used in skin but not hair. We infused it into a blend that would be suitable for both high and low porosity hair and can be multi-purpose. We take a magnifying glass into each step of the process and how it works in a routine. Then, we test the products out on a group of people and make sure it works for everybody, and we launch. A big part of that is watching how other brands launch products and how we make sure we are different from them. We don't want to create things that already exist because there is no point. Our ethos is about simplicity and giving a less is more routine.
Her Agenda: Just a few days ago, your brand celebrated its 1 year anniversary. Congratulations! What is a milestone that you want your brand to hit within the next year?
Maeva Heim: We have many milestones, but holistically, our ambition is to continue growing and making sure that Bread is available in spaces where you don't typically find brands like ours. Partnering with Sephora to launch was important to me because I wanted a brand like Bread to exist in mainstream beauty. I wanted women who use our products to be able to access bread where they may buy their high-end makeup and skincare. We want to make sure that we are existing in spaces where our customers are and where everyone has access to us.
Article continues below advertisement
Her Agenda: A lot of young people get blindsided by the highlight reels of others' lives on social media, and believe they need to achieve everything by 25. But, you were actually just getting started around that age and didn't deliver your brand until years later. What expectations did you have for yourself in your 20s that you realized were actually inconsequential? What are your priorities now?
Maeva Heim: I was definitely one of those people because I believed that I had to achieve this by 25 and do this before 30. I put a lot of pressure on myself to achieve milestones at a really young age. I knew that there was something that I wanted to do and it took me a while to get here. I spent a long time thinking about where I wanted to be at 60 and 70 years old. I thought of how I wanted to feel and what will make me happy to look back on towards the end of my life. A huge part of that was being able to help people and I started there. I actually studied law and planned to become a lawyer which I thought would be my life's work. But, it wasn't the path for me. I thought, "If I'm not going to become a lawyer, then I'm going to do business."
We live in a capitalistic society where money is power. Having that power to change things is important for us, as well as using that money and power for good. Bread is a vehicle of creating that and being able to look back on my life to say, "I used my skills and created something that I loved which helped me help people." You don't have to do everything now, now, now. It took a lot of years for me to be able to piece that all together. I don't put a timeline on anything and I don't have to achieve a certain thing by 25. This is the big goal that we are going towards and how ever we have to get there, it will take how long it is meant to be.
[Editor's note: This interview has been edited for length and clarity.]