Resilience is the result of never succumbing to insurmountable odds. It is the quality that allows us to bend, but never break. And for Mahisha Dellinger it is the blood source that runs through her veins and fuels her tenacious spirit.
By all accounts, Dellinger should not be a CEO, the host of tv a show, associated with THE Oprah Winfrey, a millionaire, or even a college grad. She grew up in Meadowville, California, an area that also earned the moniker Danger Island. At any point, her life could've been cut short or diverted.
But Dellinger saw more for herself–perhaps because she had the ability to literally see that more existed. Unlike most of her peers, Dellinger was occasionally exposed to a different lifestyle. Weekends with her father meant being around distinguished Black professionals and homeowners, over-hearing conversations about generational wealth and civil rights, attending a Jesse Jackson speech, or watching an Alvin Ailey performance.
This taste of another life was all she needed to know it was possible. She became the first college graduate on her mother's side of the family and embarked on a career at Intel. But suddenly her ascension up the corporate ladder was derailed.
Dellinger describes this period as the most stressful time of her entire life, but as you read her story you may come to reach the conclusion that I did. That this roadblock was actually divine intervention. It showed her who she truly was and completely changed the trajectory of her life.
This week, CEO Mahisha Dellinger spoke with Her Agenda about how she became the woman she is today and dropped some major entrepreneurial gems. From how to take your e-commerce business to retail, like she did with CURLS, to what's the most important thing you should have on your vision board, Dellinger lays out the blueprint for turning your struggles into strengths.
Article continues below advertisement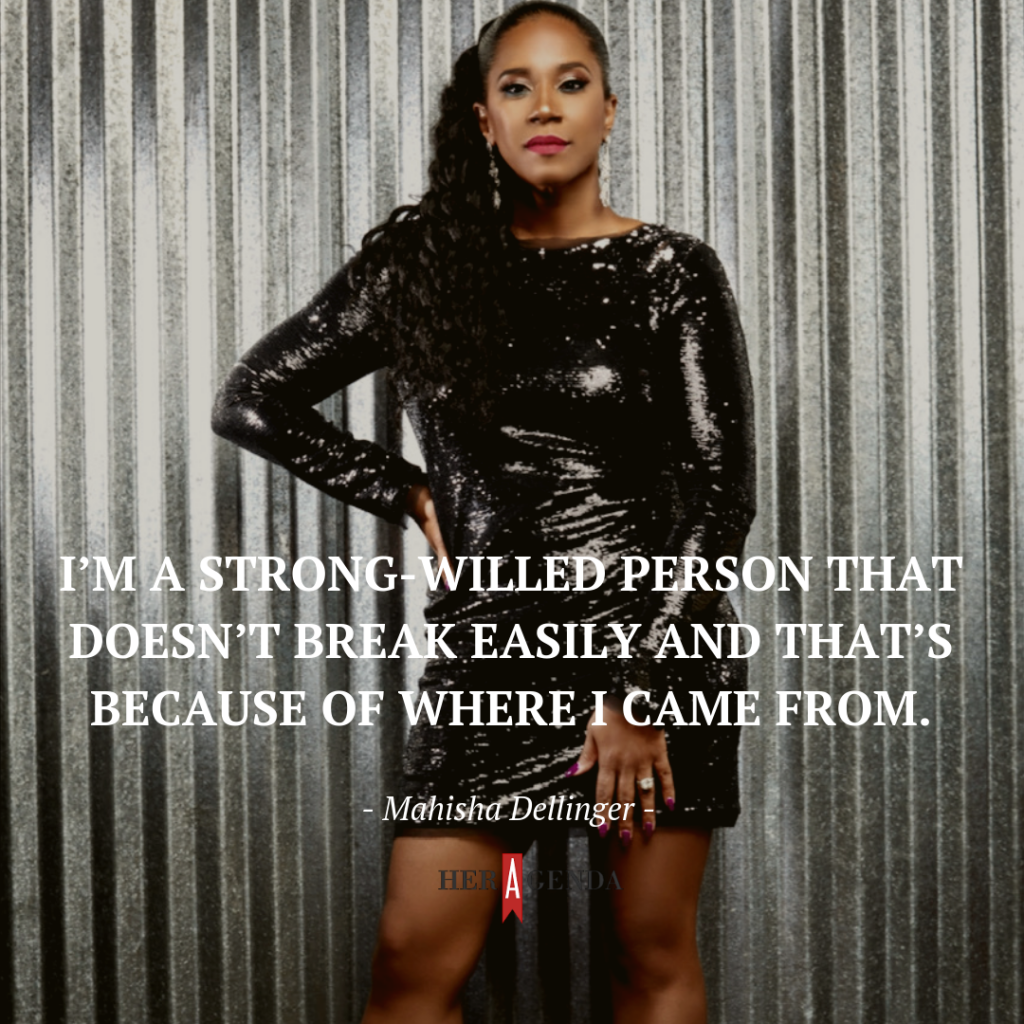 Her Agenda: Thank you for taking the time to share your story with Her Agenda. Let's start at the beginning, can you tell me how you grew up?
Mahisha Dellinger: I grew up in Northern California in an area called Meadowview, a.k.a. Danger Island. There was a lot of crime, generational poverty, gangs, drugs, home invasions. Our home was shot up. People don't dream. They live there for the rest of their life and so do their kids. My mom did the best she could and worked from sunup to sundown. On the other side, my dad was a college educated engineer. He had a direct impact on my outlook because I went to see him I saw how he lived and I saw how his family lived and the conversations were different. So I got to dip my toe in a different world and decide that I wanted to change it at an early age.
Article continues below advertisement
Her Agenda: Wow, do you think the experiences you shared with your father prepared you for your success?
Mahisha Dellinger: My environment in my mother's home actually impacted how I dealt with corporate America more than my father's environment. It made me a really tough person. I may not look it, but I'm a very tough person. I can be soft when you get to know me but I know how to get things done. I know how to push through things. I'm a strong-willed person that doesn't break easily and that's because of where I came from.
Her Agenda: In 2002, you launched Curls after experiencing racism in your corporate environment. Was this another example of you breaking out of an environment that did not serve you? Also, can you tell us the steps you took to overcome that situation?
Mahisha Dellinger: I wasn't planning to [leave.] I thought I was going to retire at the corporation. I was so pleased that I landed a coveted role. Until, a new manager hated me for no reason other than who I was as a Black woman. He put me on a plan to get rid of me in 6 months. It was stressful because I was a single mother with a daughter to raise. I'm married now, but I wasn't married then. Once I got through that, I decided I would never allow myself to be in this position ever again because for those six months he had my financial destiny in the palm of his hands.
Article continues below advertisement
Once I got through that, I decided I would never allow myself to be in this position ever again because for those six months he had my financial destiny in the palm of his hands.
-
From there I started doing my research. I didn't know what business I wanted to start. My husband, who was my fiancé back then, took me to Santa Barbara for my birthday and while we were at dinner he started writing ideas on a napkin. One of the things he brought up to me is that I'm always looking for products for my hair. 'You're mixing and matching this with all the oils at home why don't you just do something in hair care.' That was the light bulb weekend.
Article continues below advertisement
When I got back to work, on my lunch time in a conference room I would be working on this idea. I would be calling designers, web designers, and cosmetic chemists. I held my meetings there and it really started while I was still working there. I did my market research to find if there was a need for such a brand and there was. I found a cosmetic chemist and as I was sampling products I was also building the website simultaneously over 9 months. We launched in April of that following year.
I left my job and got a job in pharmaceutical sales, which allowed me the flexibility to run a business. So I would meet all my requirements, which was see eight doctors a day, by noon and then I would come home and work on Curls from 12:30-5 pm. I had two babies back to back during this time also. It was insane. So I always suggest unless you're blessed to have someone drop a nest egg into your business, I didn't and I couldn't get a loan despite having great credit, keeping some residual income coming in to finance your lifestyle, because you don't want to pull from your business you need to invest in it every penny that you make.
Article continues below advertisement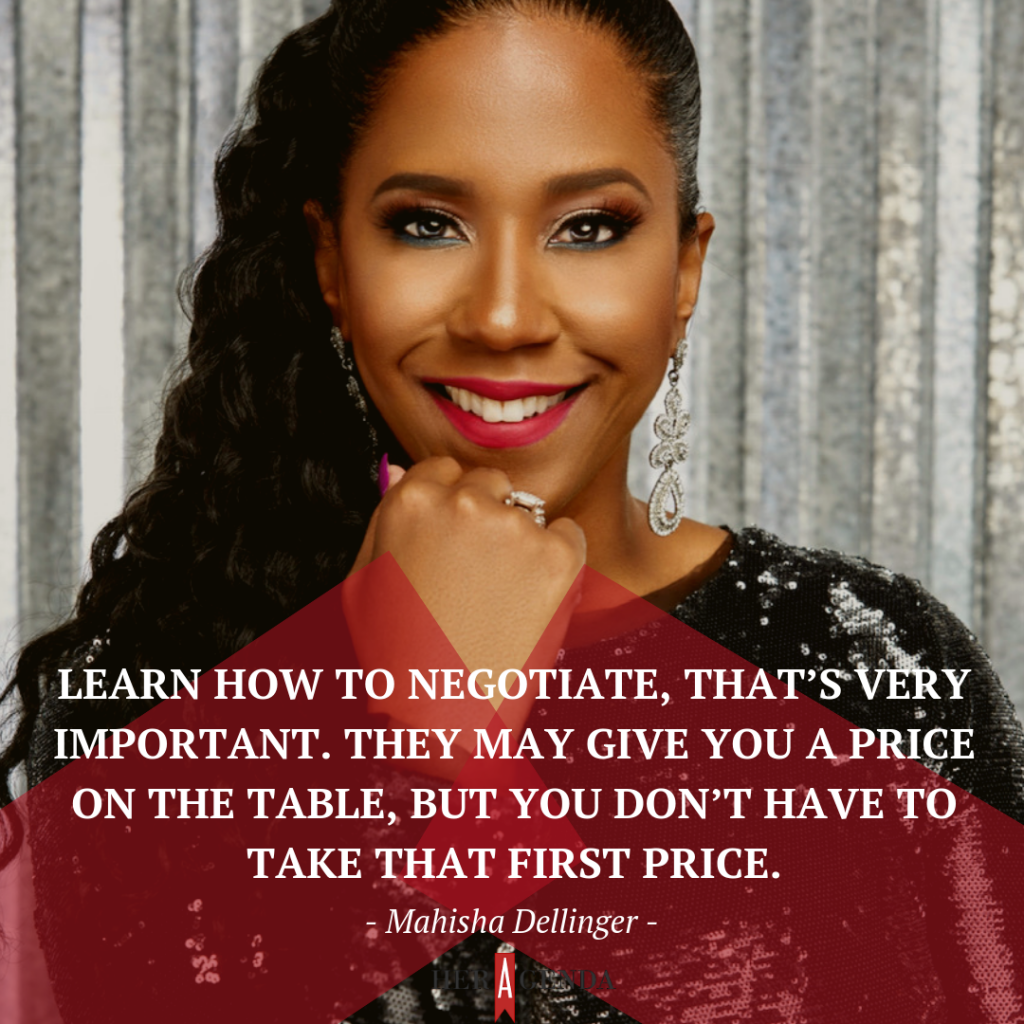 Her Agenda: According to the Small Business Administration, 20 percent of small businesses fail in their first year, but almost 50 percent of small businesses fail in their first five years. What did you learn in your first five years of business that has allowed you to be thriving 17 years later?
Mahisha Dellinger: One of the biggest things was managing my finances and starting small. Just like you should live below your means in your personal life, you should live below your means in your professional life.
Look like you're big when you're not big. I turned my garage into my warehouse for a while. We got insulated and I hired people and that's where they worked for many years.
I maintained a lower cost on everything that I bought by negotiating everything from the minimal order units, to the manufacturing, to the bottles. Learn how to negotiate, that's very important. They may give you a price on the table, but you don't have to take that first price. Negotiate and that's one thing we have to learn to do as Black women and as a Black business woman.
As women, not just Black women, we're told be nice and not too aggressive. And as Black women we don't want to portray the "angry Black woman." I feel like we have to fight that. There's a way to do everything. [We don't] have to put ourselves down and sacrifice what we want to be considered sweet.
Article continues below advertisement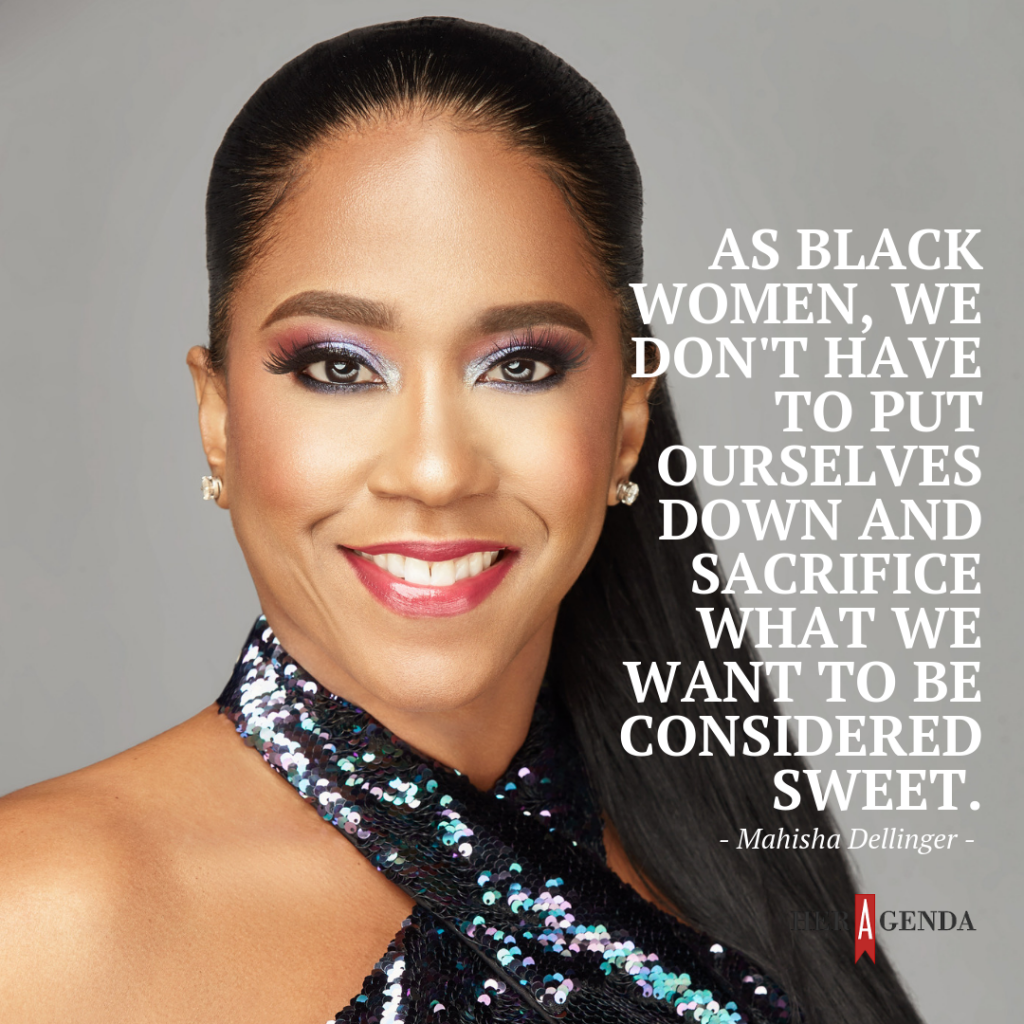 Her Agenda: Many of our readers may dream of going from an e-commerce business to retail the way you did. What advice would you offer them?
Mahisha Dellinger: I always say make sure that you have a solid, core customer base. If you cannot sustain that, then hold off until you can. Build your brand. Build your customer base. Build a demand. Make yourself noticeable to those buyers, because they all are on social media watching. Make them come to you, because Target came to us.
I've seen many companies that went to retail too early, got kicked off the shelf and got a huge bill cause they couldn't do keep up with demand or manage the sale. If you don't sell the units you were expected to sell you get a $5,000 fine straight out the gate.
If you have a manufacturing supply/chain issue, they're not going to wait for you and they won't bring you back the next time you pitch them. So you just have to be ready all around for this retail landscape, because it is extremely fast-paced, aggressive, and extremely demanding if you don't do it right.
Article continues below advertisement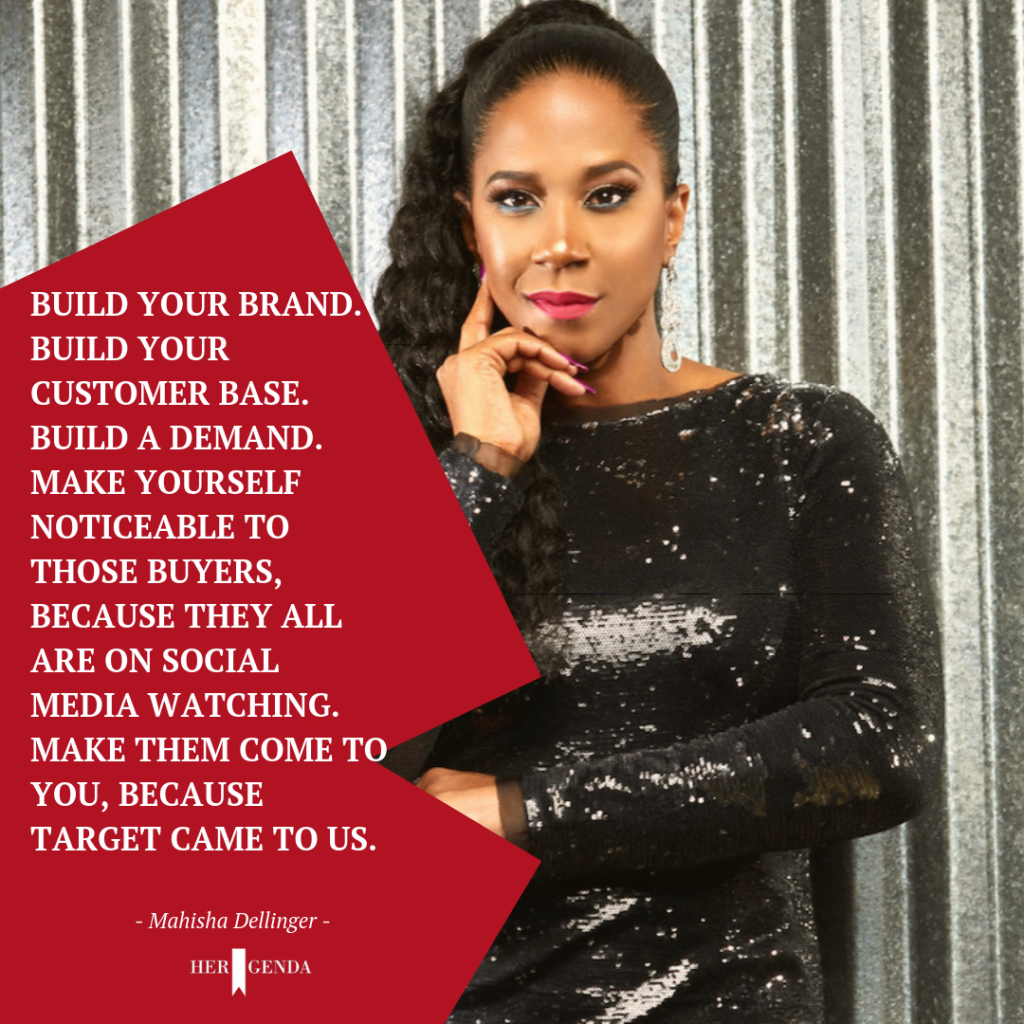 Her Agenda: You've really cultivated a relationship with the consumer, that has led to product success and new ventures! How did you build an authentic social media presence?
Mahisha Dellinger: I remind [my team] to speak like we're speaking to our girlfriend. The beauty of the brand is that it's for us, by us. It's not like other brands trying to figure us out. I'm you. I'm her. Everything I make I use. It's authentically real.
Article continues below advertisement
Her Agenda: How did you go about selecting your team?
Mahisha Dellinger: For social media specifically, she had to be a Black, natural woman.
They understand the consumer, because they are the consumer. For other roles, it's just about excellence. It's not about anything else beyond that.
Then we have our student ambassadors. We just had our lead conference where we brought in our leads that represent all major cities in the United States. They're my foot soldiers. They're so important to us because while I can't be everywhere, they are. I'm excited because in 2019, I will utilize these ladies in a way that I know other brands aren't doing. Recruitment will start soon for cities that need new ambassadors. You can check Instagram to see, which cities they're in.
The beauty of the brand is that it's for us, by us. It's not like other brands trying to figure us out. I'm you. I'm her. Everything I make I use. It's authentically real.
-
Article continues below advertisement
Her Agenda: When you thought about your trajectory in the early days, did you think about having a television show and of all places on the OWN network?
Mahisha Dellinger: I didn't. I had on my vision board that I wanted to be on the Oprah Winfrey Show when it was on TV. I never thought I would have a show on her network. I've always been a behind the scenes kind of person. I was already helping women of color with their businesses, branding, and etc. informally. So when the network wanted to do something formally I thought that was awesome.
Her Agenda: How did Black Girls Making Millions business academy come about?
Mahisha Dellinger: After we wrapped the show I was inundated with personal requests to mentor people one-on-one. But I couldn't do that. I have a business and family. So I thought why not bring the show to life and help more than eight people? We put the link up [for the academy] and in 30 minutes it was sold out. We're also going to go live stream it for those who didn't get in on opportunity early can still take advantage of it. Go to the Black Girls Making Millions Instagram to register.
Article continues below advertisement
Do the vision board but do the work after that.
-
Her Agenda: Last question, what is on your 2019 vision board and what advice do you have for anyone making their own?
Mahisha Dellinger: I have two vision boards. One for my family and one for my business. So one word that's the biggest on my entire business board is DYNASTY. I want to create a dynasty that's going to be left behind for my children.
For others, I would say do the vision board, but do the work after that. Put a strategic plan that you have to put in place, whether it's the business plan or the marketing plan, because that's your roadmap. And make sure it's a living, breathing document that you look to at least once a month.
[Photo credit: Kauwuane Burton. Image text edits: Her Agenda.]