For Mallory Blair, thinking small was never an option. The Small Girls PR CEO and co-founder was raised by a single mother who had fallen on hard times financially, and did her best to provide. After watching her mother struggle to make ends meet, Blair developed a mindset of never settling, never struggling, or relying on someone to be financially stable. The bootstrap entrepreneur started SGPR at the age of 21, with no prior experience in the world of public relations, and only $100 in hand.
Although her NYU degree had nothing to do with pitch writing or making press kits, Small Girls PR (SGPR) has managed to become the talk of the town by securing big name clients, through a personal approach to public relations. Their tagline "Small Girls, Big Business" is a true testament to the results they've able to produce for clients like Google, Tiffany & Co., Rent The Runway, Urban Decay, and many more.
Since they've opened their doors in 2010, the team at SGPR has doubled in size every year. This isn't your typical office job, Mallory has made it a place of inclusion, innovation, and creativity by encouraging employees to have a voice in the clients they choose to work with, and making the office feel like their second home.
Running a bootstrap company hasn't always been easy, and there were times that definitely looked bleak, but Mallory hasn't let the possibility of failing stop her from continuing her dream of being her own boss.
Article continues below advertisement
Her Agenda: So you graduated from NYU. Did you study communications, or if not, what did you study?
Mallory Blair: No, I actually studied a little of art history, a little of psychology, and a little of sociology. My major was an individualized concentration; I created my own major, it was called Creativity and Commerce. I studied creative endeavors like art, finance, and technology, and their rising economic impact across the world.
Her Agenda: If you'd never had any prior experience in PR, how did you find out it was your calling?
Article continues below advertisement
Mallory Blair: When we first started out, we didn't think or even know to call ourselves "PR" because we started from a very experiential and digitally focused point of view, and at the time public relations agencies were all about press releases and wires, and reaching out to magazines. What we were doing was creating online content. We were working with platforms like Tumblr and Foursquare; it was all very new stuff. While working with those different media [platforms], we knew that this was the future of PR. So I didn't know I wanted to go into PR, but I knew that PR was going to do what I was doing.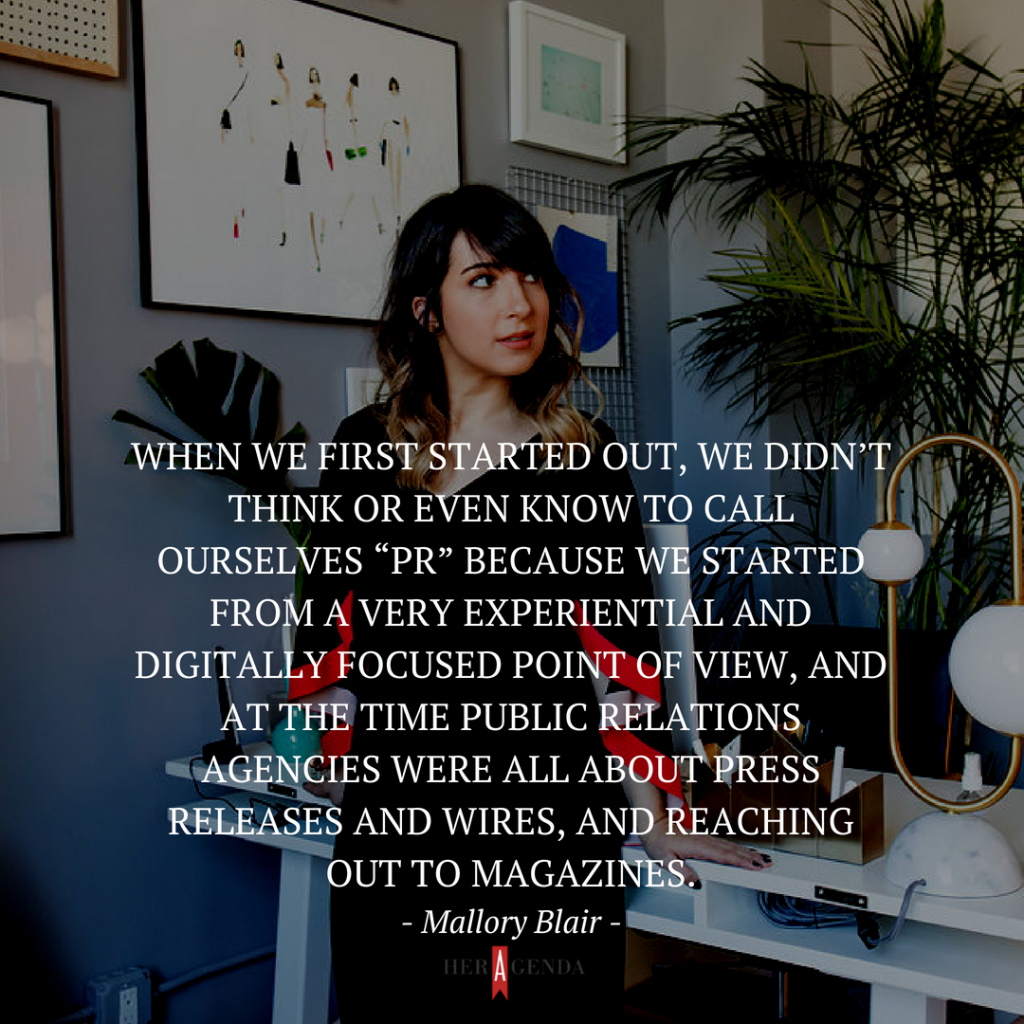 Article continues below advertisement
Her Agenda: In a previous interview, you mentioned how your business partner, Bianca helped you out of a very dark time you were in personally. Can you elaborate on that story and how you were able to overcome that moment?
Mallory Blair: It's funny, I remember the outcome, but I don't remember why I was there. It was early on in the business, it was one of our first clients who I don't remember the name of. We were producing videos for them, and creating content for their Tumblr, YouTube, Twitter, and Foursquare. We were getting them all of this media attention to the point where the Wall Street Journal reached out and said 'Hey, you're a tiny dessert bar in the East Village, why are you getting all this attention? You're all the way across town and we see you everywhere on social media. What are you guys doing?' The client responded 'We don't know, ask Small Girls PR, they do everything for us.'
Her Agenda: How have you gained the attention of brands like L'Oreal, Google, Verizon, and Tiffany & Co.?
Article continues below advertisement
Mallory Blair: Well, everything we've done has been 100% referrals. We've never gone out and pitched ourselves to brands. So companies like Verizon, GE, and Proctor and Gamble have all heard of Small Girls and asked for us to meet with them.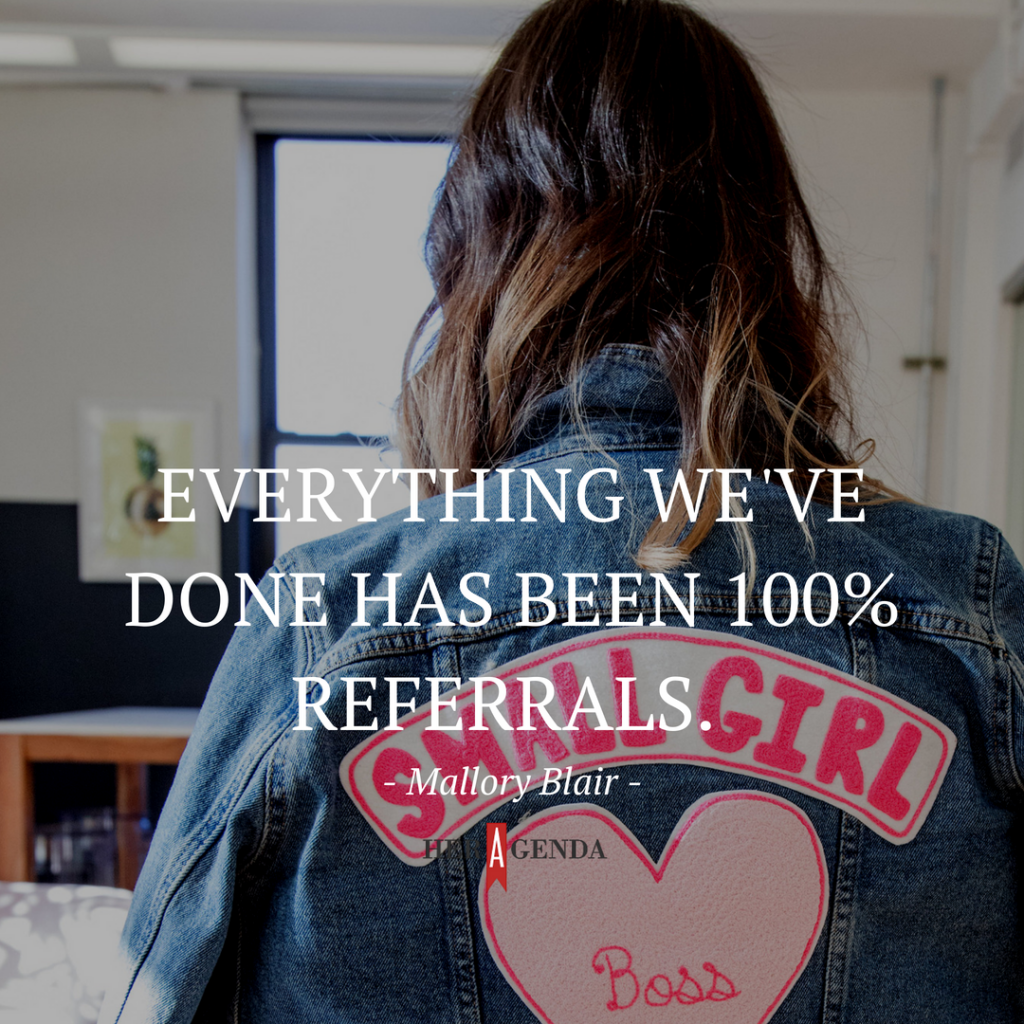 Article continues below advertisement
Her Agenda: For people who may not know what PR is, how can you explain to them what a publicist does?
Mallory Blair: Public relations is creating and maintaining a personal opinion of a brand or product and creating value for them. Something that's important to remember is that everything you do can be media. A person can be media, an outlet can be media, a brand can be media as long as the audience resonates with your product or personal brand, and they are in line with your vision or goal.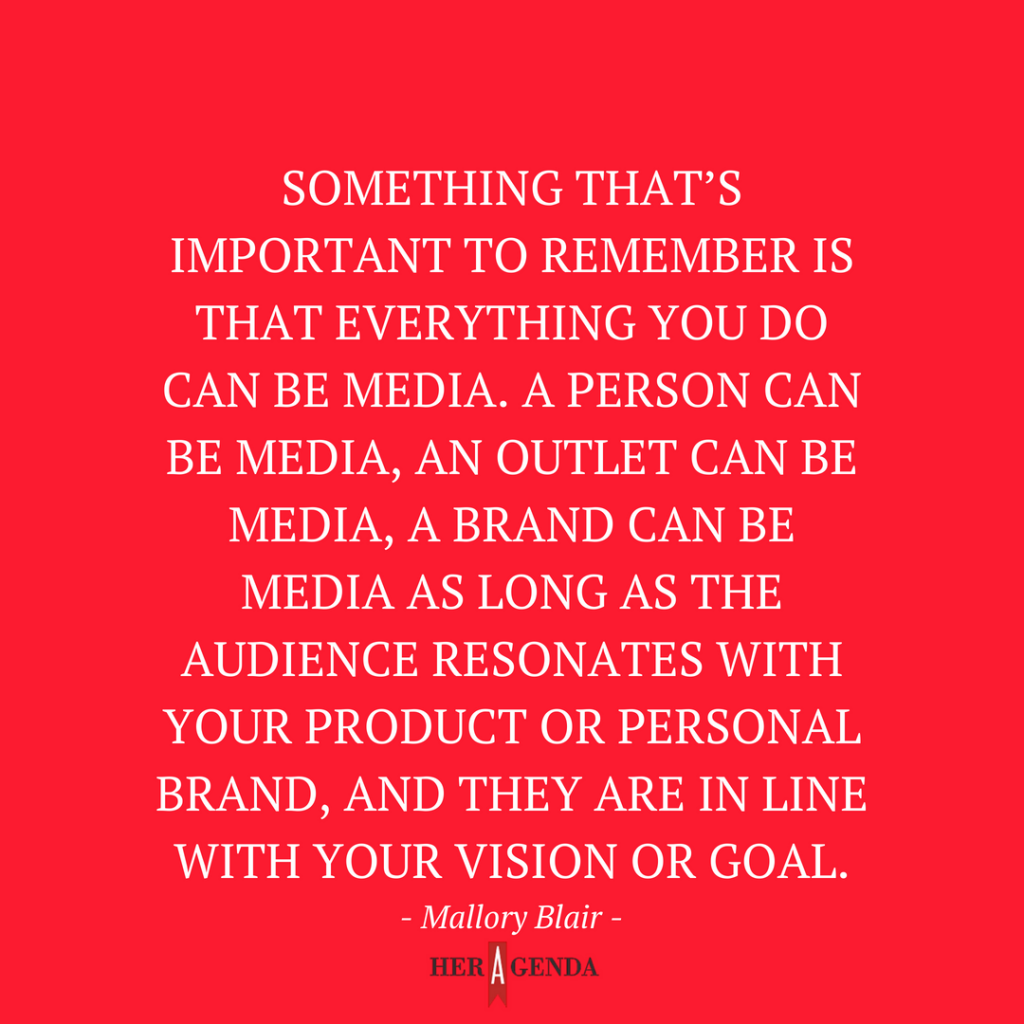 [Editor's note: Image credits: Michelle Mcswain. This interview was published on July 30th, 2018. It has been edited for length and clarity. A portion of this interview had audio that was inaudible. We made several attempts to get the responses clarified from SGPR's team but they were unable to return them before our deadline so they have been eliminated from this piece. If we receive the responses we will update this piece to reflect a more complete interview.]