As refreshing as it is to see a strong woman character as the lead on screen, it's just as pivotal to have a woman of the same caliber part of the team that created the story. Screenwriter Margaret LeFauve, also known as Meg is most certainly counted in the number of women making strides in the mastery and craft of storytelling in entertainment.
We need more women like her in the writer rooms of Hollywood. According to Women's Media Center president Julie Burton, "Women still lag behind their male counterparts in these influential behind-the-scenes roles." The number of women in key positions, including writers in Hollywood has dropped from 23 percent to a mere 21.
A proud graduate of Syracuse University, Meg is committed to telling stories that highlight the human condition and inspire us to live at our fullest potential. She practices what she preaches and through her life showcases that it's not about the size or speed of the boat you're sailing in, but it's about possessing a sense of self and your commitment to navigate the sea.
Her Agenda had the pleasure of talking to the Academy-Award nominated screenwriter and learn more about building a career as a woman in the entertainment industry. Check out what she shared in our interview below:
Her Agenda: What's your passion? Did you always know you wanted to be a screenwriter?
Margaret LeFauve: My passion is storytelling. I came to Hollywood loving storytelling and at first, I was too chicken to be a writer so then I went to producing. I was a producer with Jodie Foster's company for ten years and I learned a tremendous amount from Jodie. She's a genius so I was incredibly lucky to learn storytelling from her. I later got to spread my wings and try story telling myself.
Article continues below advertisement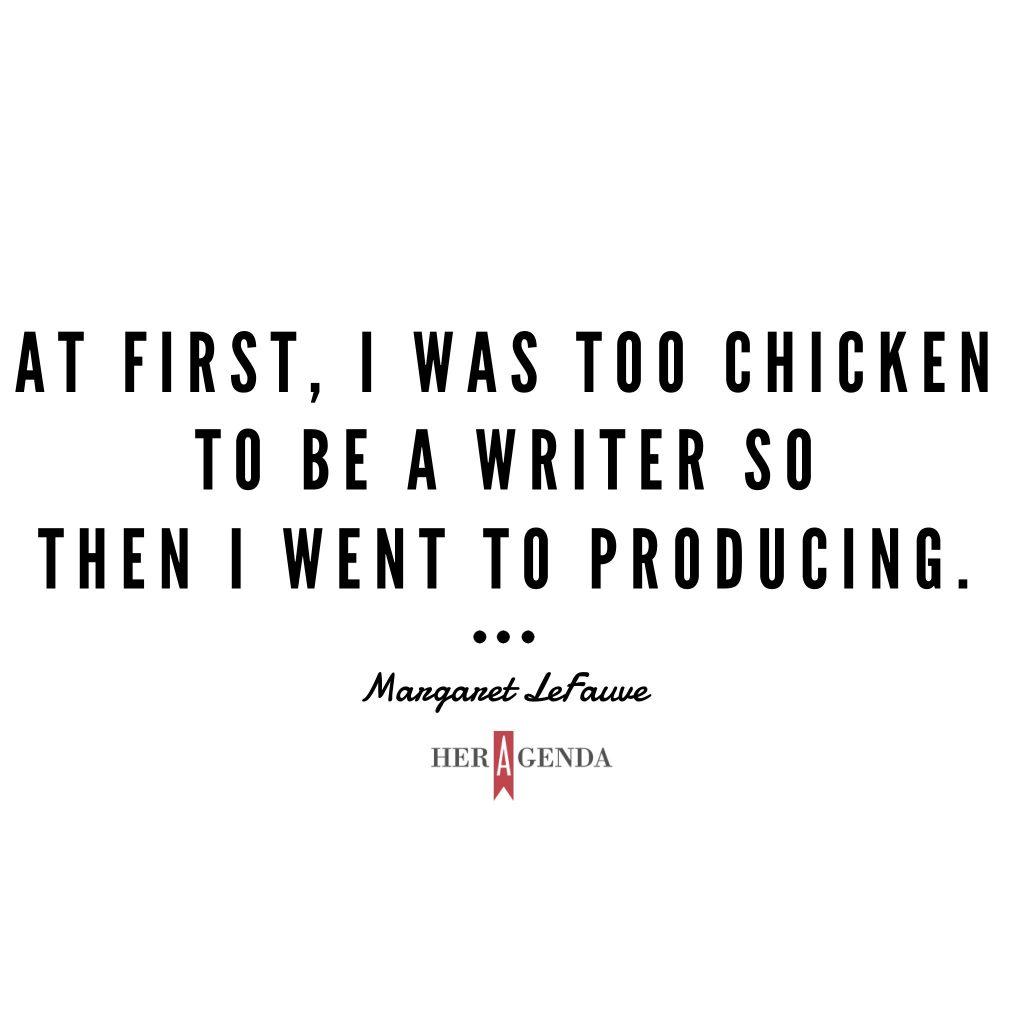 Her Agenda: How would you define storytelling as it relates to screenwriting? What does a screenwriter typically do?
Margaret LeFauve: I'm a feature film writer and I'm moving into television, I've also written animation. They're all dramatically different but also all have the basic tenets of a great story 1) theme, 2) character and an 3) interesting evolving surprising plot. While they have a lot of the same tenants they're expressed differently because each process is different.
Article continues below advertisement
Her Agenda: What's the biggest difference that you've noticed in working across features, television and animation?
Margaret LeFauve: In animation, you're working with a team of people, mainly a storyboard artist, who is very much involved in helping you create that story. The animators are the character designers, the director has a concept for the film and my job as a writer is to take all of that and create a story on the page. With television you're often in a room with lots of people breaking a story or breaking a season; and by breaking I mean working it (the story) out on a whiteboard.
My day can be different depending on what I'm working on but when I'm going to tell a visual story expressed through a motion picture I have to understand exactly how to say that so then I pretty much stare at the blank page like every other writer in the world.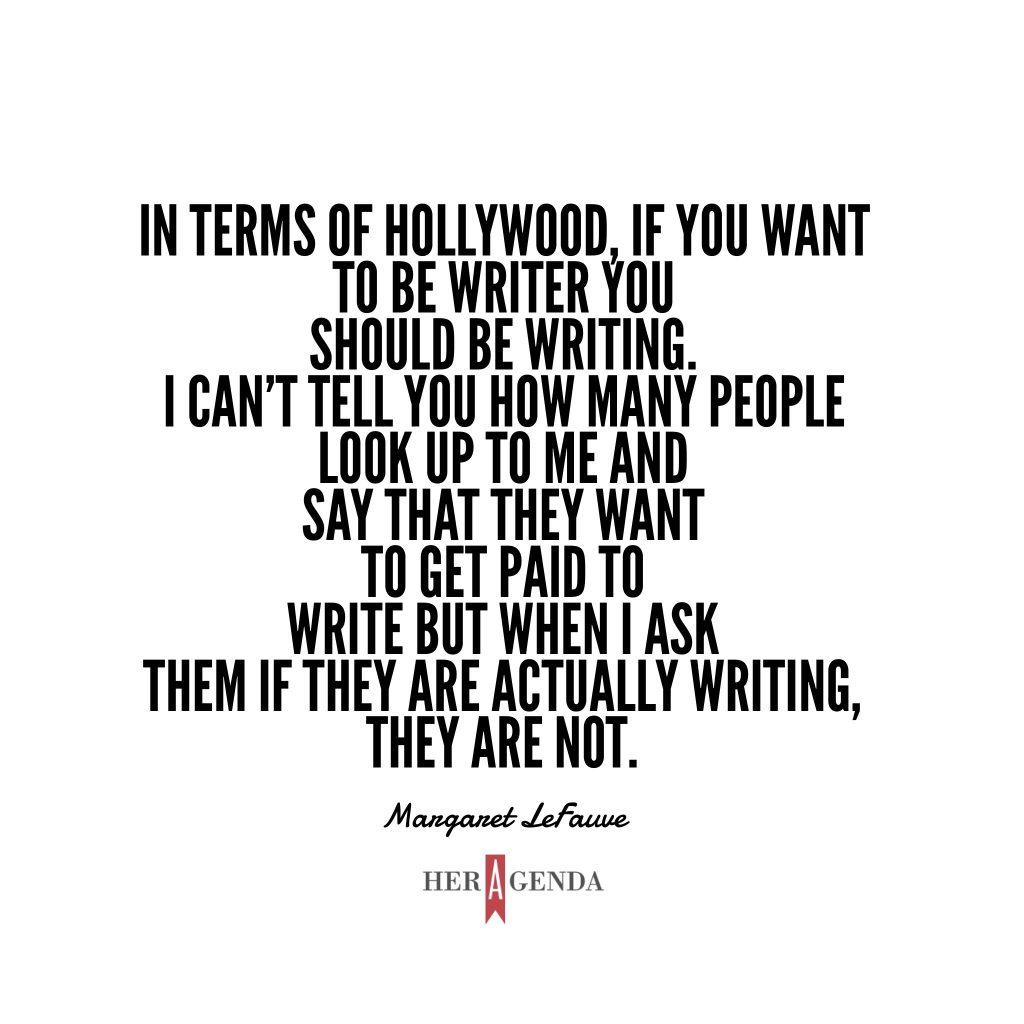 Article continues below advertisement
Her Agenda: As most filmmakers learn, the crux of filmmaking is storytelling. What was the a moment where you understood the simplicity of storytelling and it made you look at a film/film plots differently?
Margaret LeFauve: There's different times. I remember wanting to reach people through motion picture after watching Sophie's Choice; understanding that everyone came together to tell that story is so profound. I remember feeling like I wanted to be a part of something like that. I also remember watching Dumbo as a kid and really liking the idea that films can be aspirational, fun and entertaining but can also dig into the human condition. I'm drawn to storytelling and ultimately inspired by the craft of storytelling, it's something you continue to learn every day.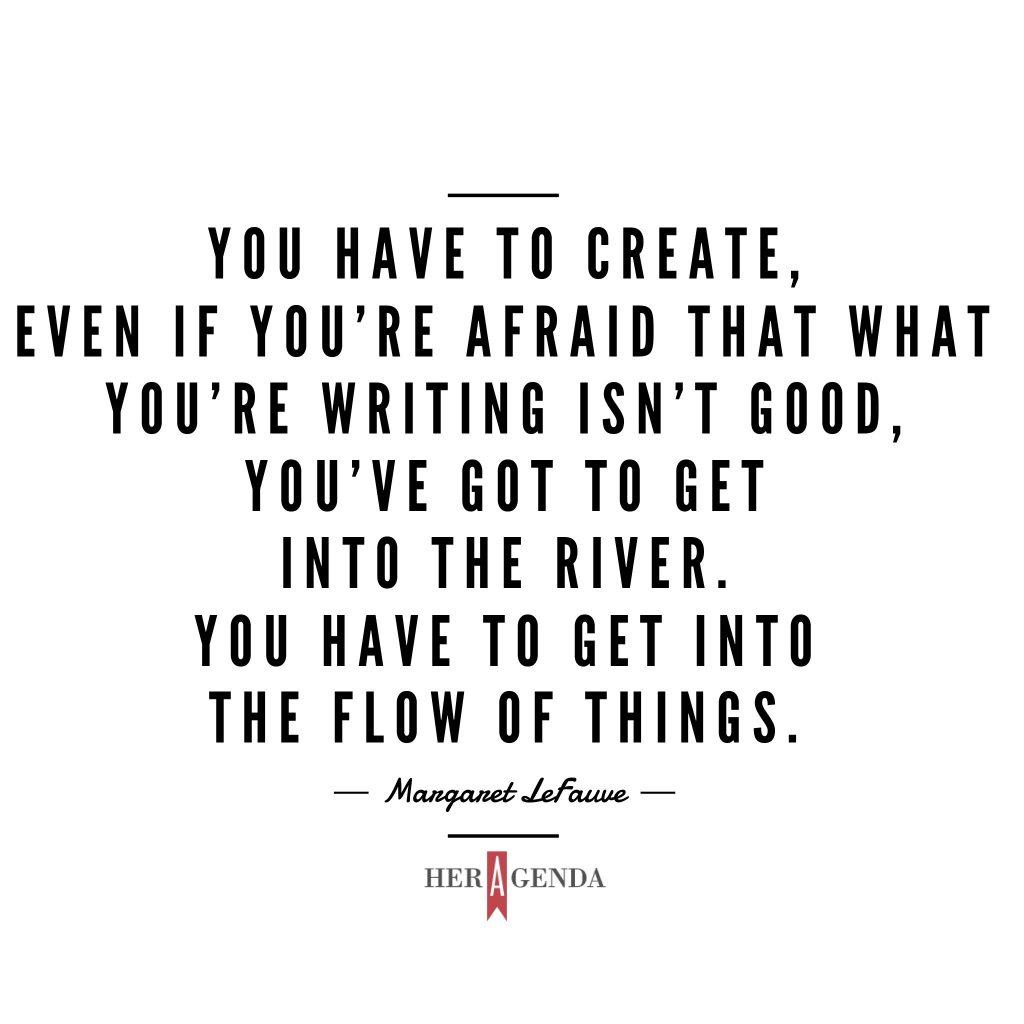 Article continues below advertisement
Her Agenda: Is there anyone in particular that you learned the craft of storytelling from?
Margaret LeFauve: I learned so much from Jodie Foster and certainly at Pixar. At Pixar it's a dream come true to sit in a Braintrust with geniuses like Pete Docter, Andrew Stanton and rest of the incredible story tellers and watch them pick apart stories and put them back together again. I learn from everybody that I'm working with. I can learn from a storyboard artist in animation or from a friend working on their script. Every time you talk about storytelling you're learning new things about how to approach a story and how each one will be unique and told in it's own way.
Her Agenda: You mentioned the importance of highlighting the "human condition" when developing a solid story. "Inside Out" is a film that truly allows the audience to explore all aspects of the human condition, what was it like working on a project of that emotional magnitude?
Margaret LeFauve: Inside Out is Pete Docter's baby, it was very personal to him. The film is based on his daughter, and a question he had when she turned 11 and went from a happy girl to someone who was very quiet. As a dad he wondered, "where did her joy go" and that was a great jumping off point the the film. When I came on board he was realizing that maybe he wanted to pair joy with sadness. I remember thinking that was an incredibly profound idea and that human connection and intimacy can often be connected through our sadness and our shared experiences of things that make us vulnerable. I was so excited to help him find a storyline to articulate that to the audience.
While breaking the storyline we realized, if you're going to say a movie is about accepting sadness then we're going to have to let the audience do that while watching the film. That means there's going to be a sad part but that's what I love about Pixar, for them it's all about what's best for the story. They had no hesitation making that the idea of the film and allowing audiences to go there. Pete often shares that there was a concern about kids understanding the movie and you know kids, get it better than adults. It's been very rewarding.
Article continues below advertisement
Her Agenda: Three years later and the film certainly still resonates with me. Do you often run into people that share their deep connection to the themes of the film today?
Margaret LeFauve: Literally today at lunch, someone at Pixar told me she took her son to a therapist and when they took out a chart about emotions the Inside Out characters were there! My son has special needs and I've had a lot of people in the community talk to me about how the film has helped them in communicating with their children. Non verbal children can pick up the stuffed animal of the emotion to express themselves. Being apart of Pete Doctors vision has been so rewarding. Even now, the film is still impacting people and helping people communicate those vulnerable interior emotions that they have.
Her Agenda: Of all the projects you've worked on thus far, do you have a favorite?
Margaret LeFauve: That's kind of like asking someone to choose their favorite kid! In order to produce a story you have to put a little bit of your heart into it so even stories I've produced that haven't gone forward I still love desperately. I have favorite moments on different projects because with each project you meet people who are incredible and those relationships are such a privilege to have in your life, but a favorite project? No I can't pick one.
Article continues below advertisement
Her Agenda: In journalism, it's fairly easy to write a story and have it published not long after submitting it, but for film things are a little different. You can write a film today and not produce for another 5-10 years. What has working in film taught you about patience?
Margaret LeFauve: It's a creative churn and commitment to the story. You have to let the story find itself so you develop incredible patience. Have patience with yourself when you're figuring it out and you don't know how to fix it. Have patience and trust that the answer will come. Have patience to sell it because at that point you have to find the right buyer and the right people who want that particular kind of story. Have patience to let it find its way and explore how it wants to go out into the world— that's what I do. I try to remind myself when I get impatient or frustrated or scared that if I don't commit to this and give it my patience then these characters will never been known in the world.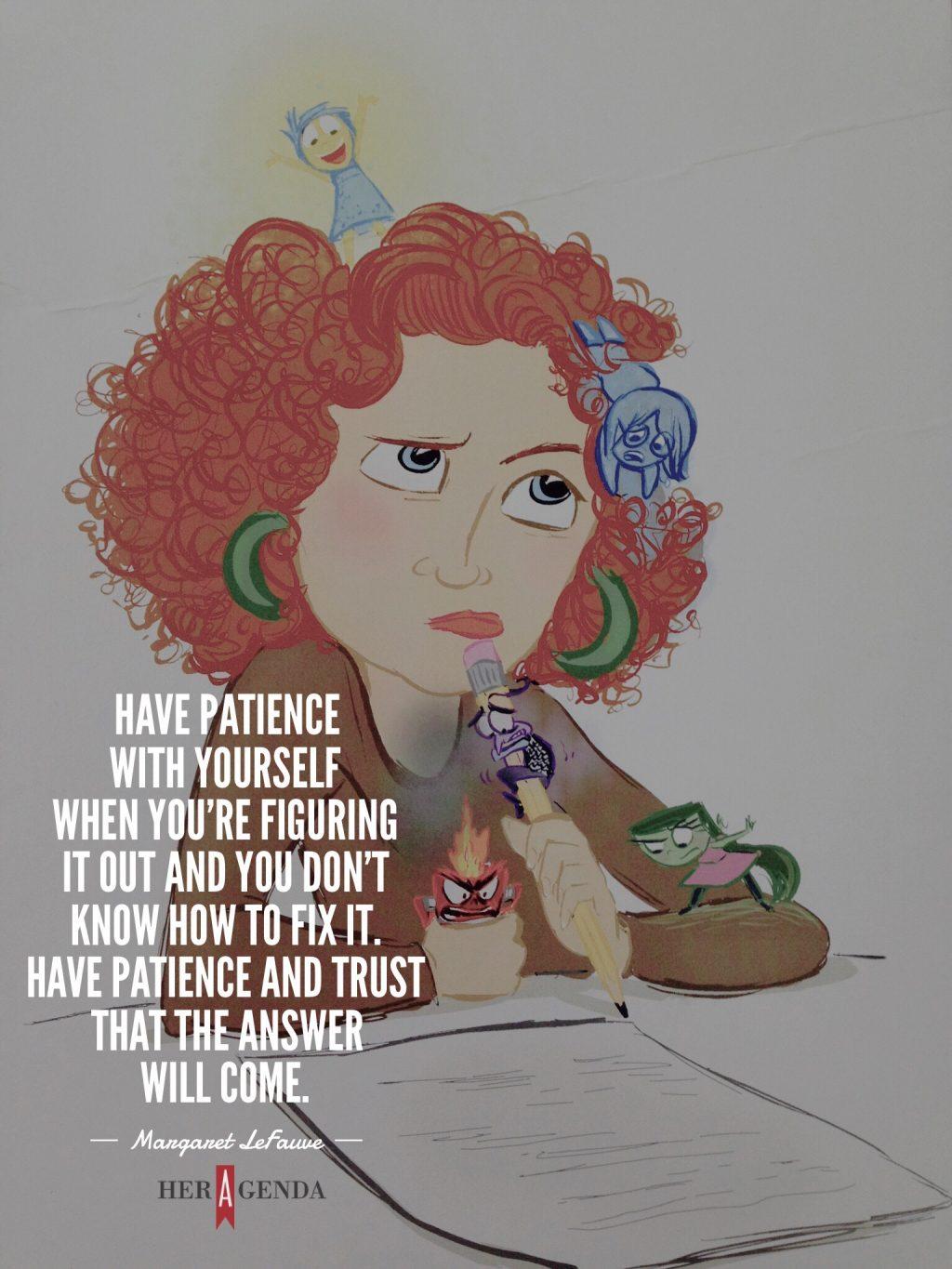 Article continues below advertisement
Her Agenda: What about the commitment to projects that you've patiently been holding onto but aren't ready to share as yet. How do you know when you're ready or you've reached the level of perfection you were hoping for?
Margaret LeFauve: Be brave enough to get feedback and understand how to take the feedback. Some things aren't going to be right and some things are going to be wrong but you've got to be able to evolve it and continue to keep the churn going. Writers don't write one story, you have to have many things churning, it's a long term commitment. Develop multiple stories, multiple kinds of stories and formats because how else do you know what kind of writer you are? There are movies that I love to go watch but I can't write and I know that because I've tried. It's a profession that you have to gain mastery in and mastery takes practice and time.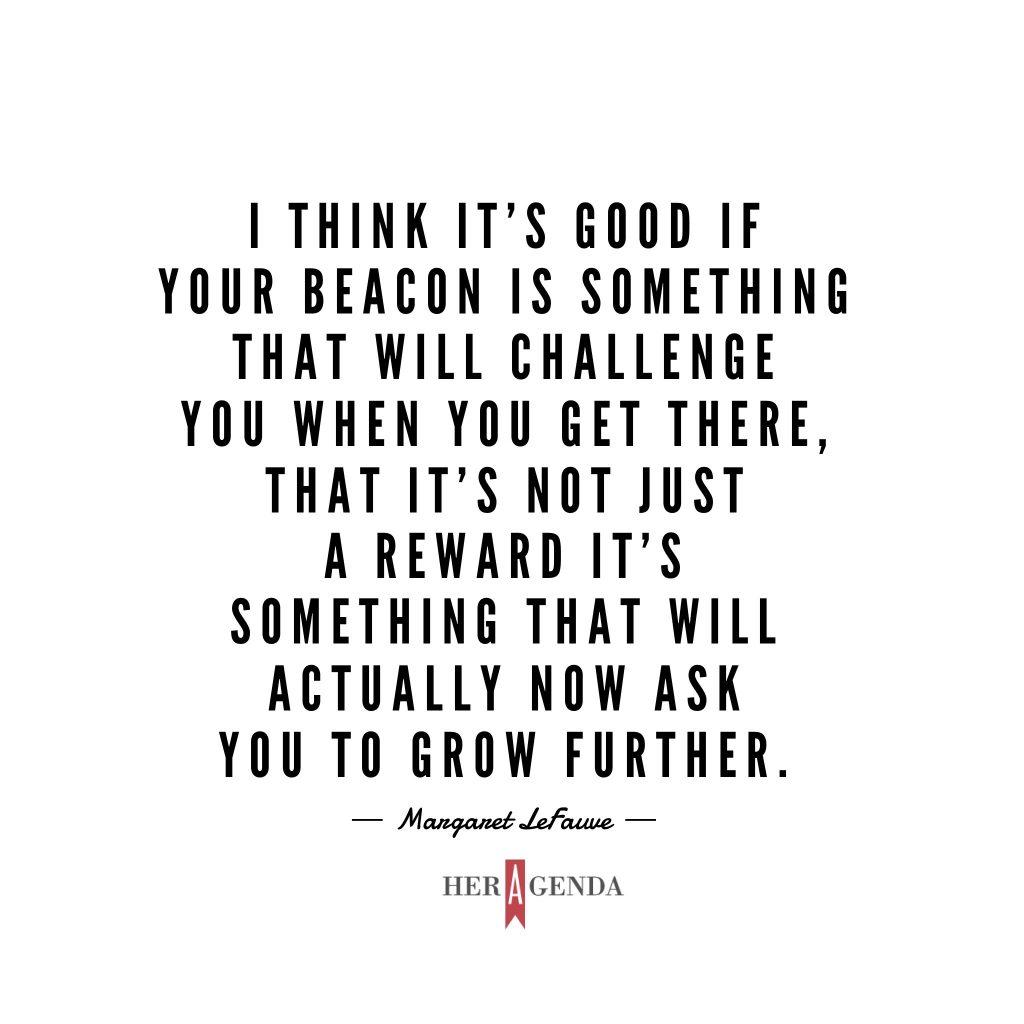 Article continues below advertisement
Her Agenda: Do you have a motto or mantra that keeps you going?
Margaret LeFauve: I don't have a mantra, but in my life I've set beacons. A beacon, a light far out on the horizon line and I move toward that. The most specific beacon I've set was writing at Pixar because I though they were doing some of the best story telling in the business. When I heard about the Braintrust room, and that you as a writer could get notes from the likes of Andrew Stanton and Pete Docter I just thought, 'that is the scariest most exciting thing that I can imagine for myself.' I think it's good if your beacon is something that will challenge you when you get there, that it's not just a reward it's something that will actually now ask you to grow further.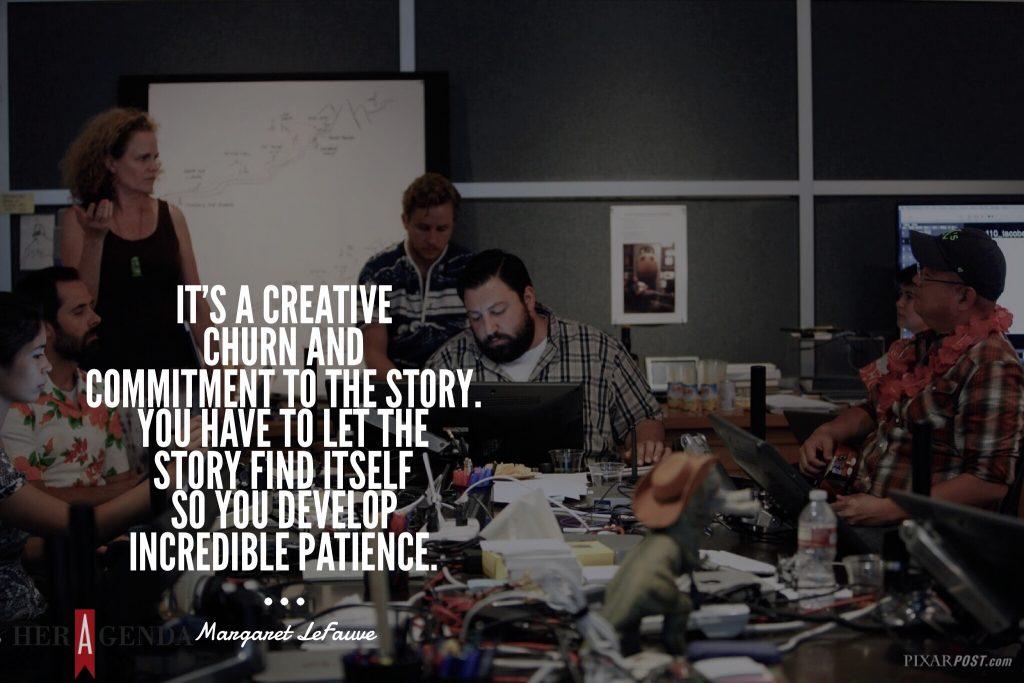 Article continues below advertisement
Her Agenda: What advice would you give to a young woman figuring out her career path?
Margaret LeFauve: I find a lot of women have a hard time articulating what they want. They've been enculturated to help and support other people but they're not so clear on articulating their own wants. I think that's the first step to choose their wants and to articulate that to yourself. It's okay to want it for yourself and to want to have an experience.
In terms of Hollywood, if you want to be writer you should be writing. I can't tell you how many people look up to me and say that they want to get paid to write but when I ask them if they are actually writing, they are not. That doesn't work, you have to create, even if you're afraid that what you're writing isn't good, you've got to get into the river. You have to get into the flow of things. When I decided I wanted to be a writer and quit my job I had a group of women around me, a group of soul sisters who encouraged me and said "do it" and were there every bad script of the way. On the morning of the Academy Awards when I was nominated for Inside Out they all came over and toasted me. It was a long way to get there but they were there every step of the way supporting me and that is incredibly important that you build that for yourself.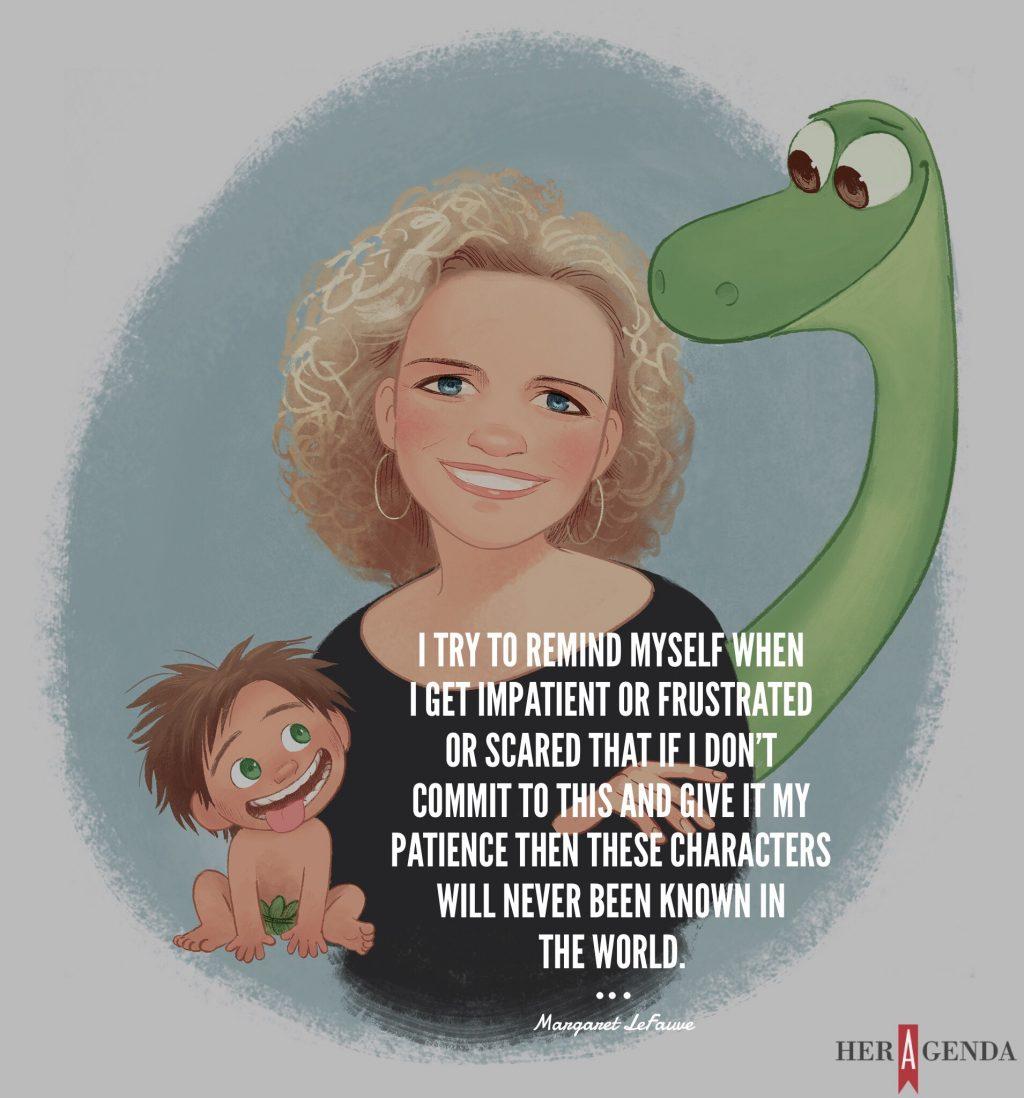 Article continues below advertisement
Her Agenda: Wow! That's amazing; would you say that your friends are you inspiration? Who are some women that inspire you to continue doing your work?
Margaret LeFauve: All of my friends inspire me with the incredible work they're doing. I look at the women making movies and television shows and feel inspired by them, just that they're out there doing great work– there are so many I just love all the women who are out there creating.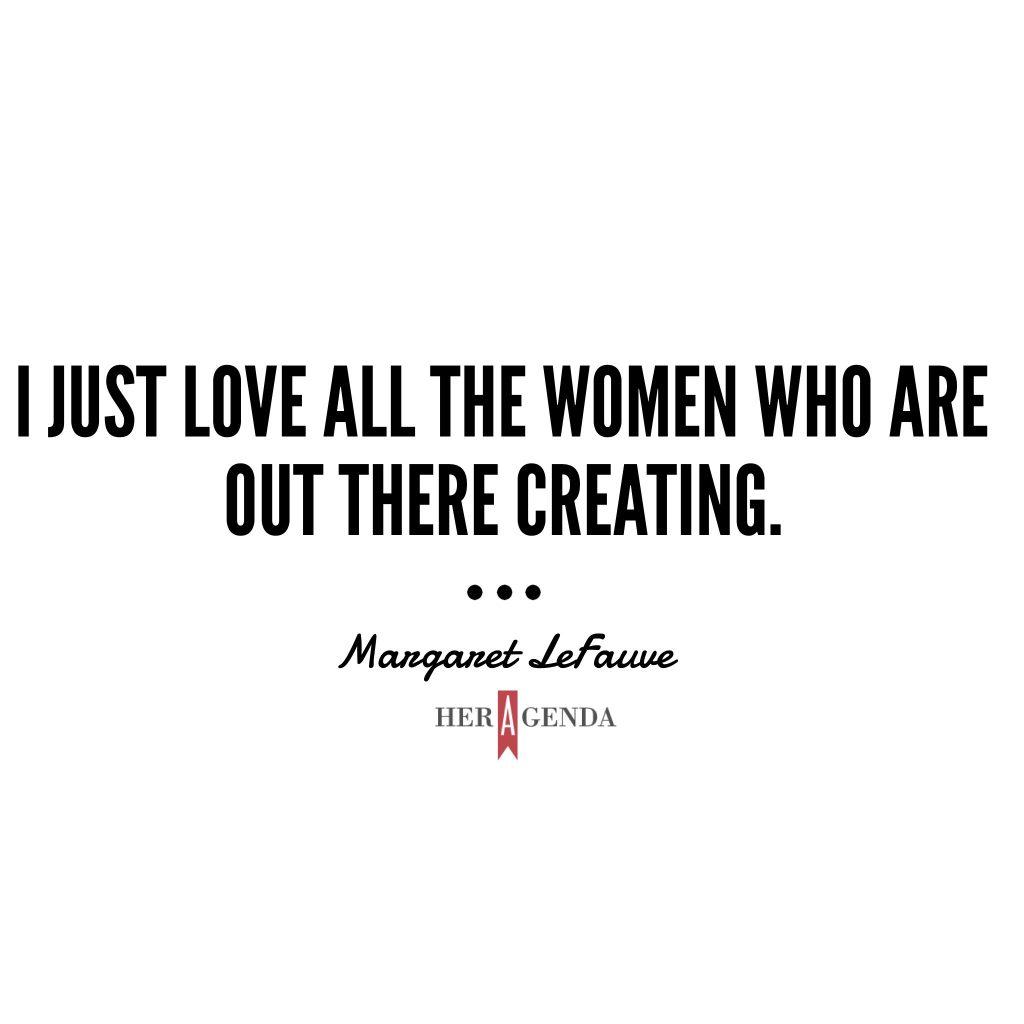 [Editor's note: This interview was published on May 21st, 2018. It's been edited for length and clarity.]