Marisa King-Redwood is a marketing maven. She's a "Jill Of All Trades" when it comes to branding in the age of digital media.
Her path consists of a colorful background in numerous industries such as music, entertainment law, and marketing. Marisa's work ethic is admirable: as a young entrepreneur, she got her first taste of business ownership at 16. She relied on her inner compass to take her on a journey which led her through the doors of an entertainment law firm, Duck Down Records, Interscope Records, and MTV (to name a few).
As CEO of Buzz Brand Marketing, she utilizes her leadership skills, the talented team of creatives at Buzz and knowledge she's gained from experience in different industries to meet the needs of countless clients.
Read on to learn about Marisa's journey as she shares with Her Agenda what steps were essential for her success, why we need more women entrepreneurs and the importance of building organic mentorship relationships.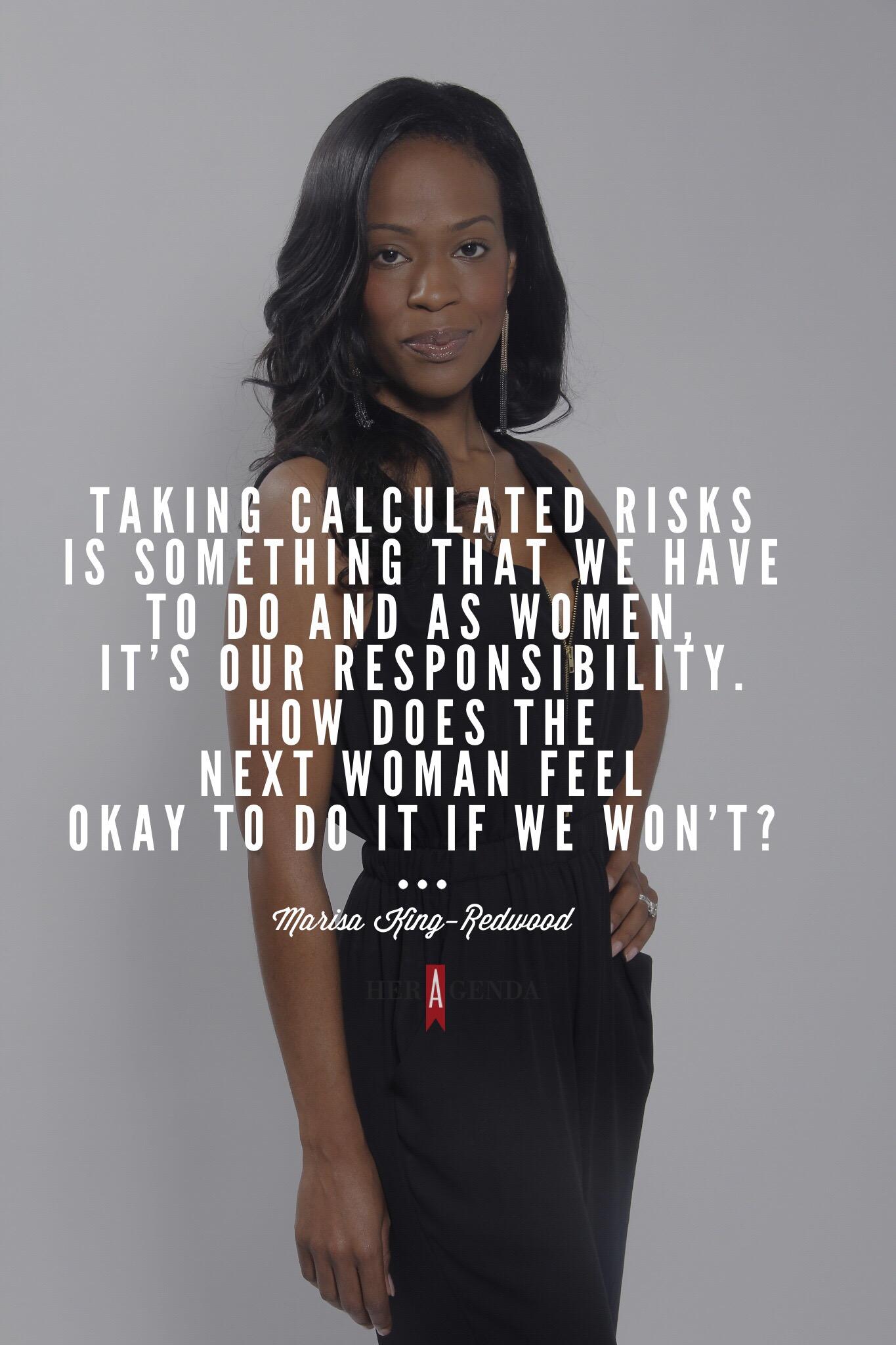 Article continues below advertisement
Her Agenda: What strategic steps did your path to success consist of?
Marisa King-Redwood: It started when I got my first internship. I was maybe 16 and I decided that I'd fallen in love with music at that time. There was just something about music and entertainment that spoke to me, so I got an internship. That internship was my foot in the door. I was at Duck Down Records which is an independent record label, it was owned by Priority Records, and so, it was a great way for me to meet people. In turn, it took me into another internship at Interscope Records, which then landed me a job.
During the same time period, I started my first business. I was like 16 and kind of crazy. I incorporated my first business, it was Baby Girl Entertainment and it was a bunch of my friends and [I]. I was like 'we're [going to] start a business, we're not just [going to] throw parties, we're going to actually make a business.' So I incorporated this business and we threw celebrity birthday parties, and all kinds of events and we managed DJ's. So then when Interscope turned into a job I was still doing this on the side and from there I went to an entertainment law firm.
Her Agenda: Were there any other essential steps you believe were notable? Why?
Article continues below advertisement
Marisa King-Redwood: I [worked at] the entertainment law firm for a while. And I don't know if you're familiar with Allen Grubman but he's really big in entertainment, and his daughter, Lizzie Grubman owns a PR firm as well. They represented [artists like] Alicia Keys, Jay Z. So again, going there, in my mind, was very strategic. 'Grown up relationships' was what I called them. I was like 'okay it's time to meet some power players.'
Puff's attorney worked there at the time and he represented Mary J. [Blige] as well and so it was continuing this music transition but going in this realm where I was going to get more business contacts and learn another side of the business.
After that I went to MTV and at MTV I floated around in different departments including marketing, human resources, music and talent. I really figured out that all the things I wanted to do [were] a combination of all of these jobs. I could do [them] on my own. It was at that point, I started my new company which is what Buzz is. While I [don't] know that I had all the answers as I was doing it, when I look back, it was [all] very intentional. It was about building relationships.
Her Agenda: Who were the biggest influences for your business-savvy mindset?
Article continues below advertisement
Marisa King-Redwood: My father was instrumental in my mindset of success. He was a doctor. He wasn't an entrepreneur but he came up in [the] 1920's and so as a person of color he was told, 'you can't go to medical school…you can't drink from this water fountain.' He gave me the mindset that said 'you can actually do anything because I've done all the things that I've set out to do. So you have no excuse.' That is what I think always made me feel as though, anything I wanted I could attain. It was just going to take a lot of work.
From the business side, I'd say I look up to my brothers very much. They're 30 years older than me, they were adults when I was growing up. My brother is a Vice President of a Fortune 500 company and my other brother is an attorney. So watching them, I always wanted to be like them. I never took into consideration, until my sister-in-law pointed it out that I was the woman, so at some point I was going to be a mom and I was going to have this crazy schedule and be a mother and be a wife. You know for men it's so different, they [don't] have [to think about] that. My brothers were always traveling, very successful, always speaking and getting quoted. I really watched them in admiration, like: 'oh wow, this is great.' We all have the same degree which is funny too, we all have a business administration degree.
Article continues below advertisement
As an adult, I have one mentor who I highly regard and that's Marilyn Johnson. She used to be the Vice President of IBM's [marketing and development]. She later became a client when she retired. Now she's the CEO of the International Women's Forum and she's someone who has always given me pointers as a business woman, as a mother, as a wife, she's done it all. I met her later in life and she's been amazing in just keeping me on track and exposing me to things and making sure I attend conferences with her.
Her Agenda: How important is actual diversity within the marketing and branding industries?
Marisa King-Redwood: It's of the utmost importance. Unfortunately, we don't have as much as we need, but it's key because if you're speaking to demographics then you need to really understand them. The way you get in front of people is by having actual knowledge of their needs and their desires. The more people you put in place from different backgrounds, whether its color, gender, religion or sexual preference, any of that, is really helpful for getting the right messages out to people. We don't all think the same. It's key to have diversity in all mediums.
Article continues below advertisement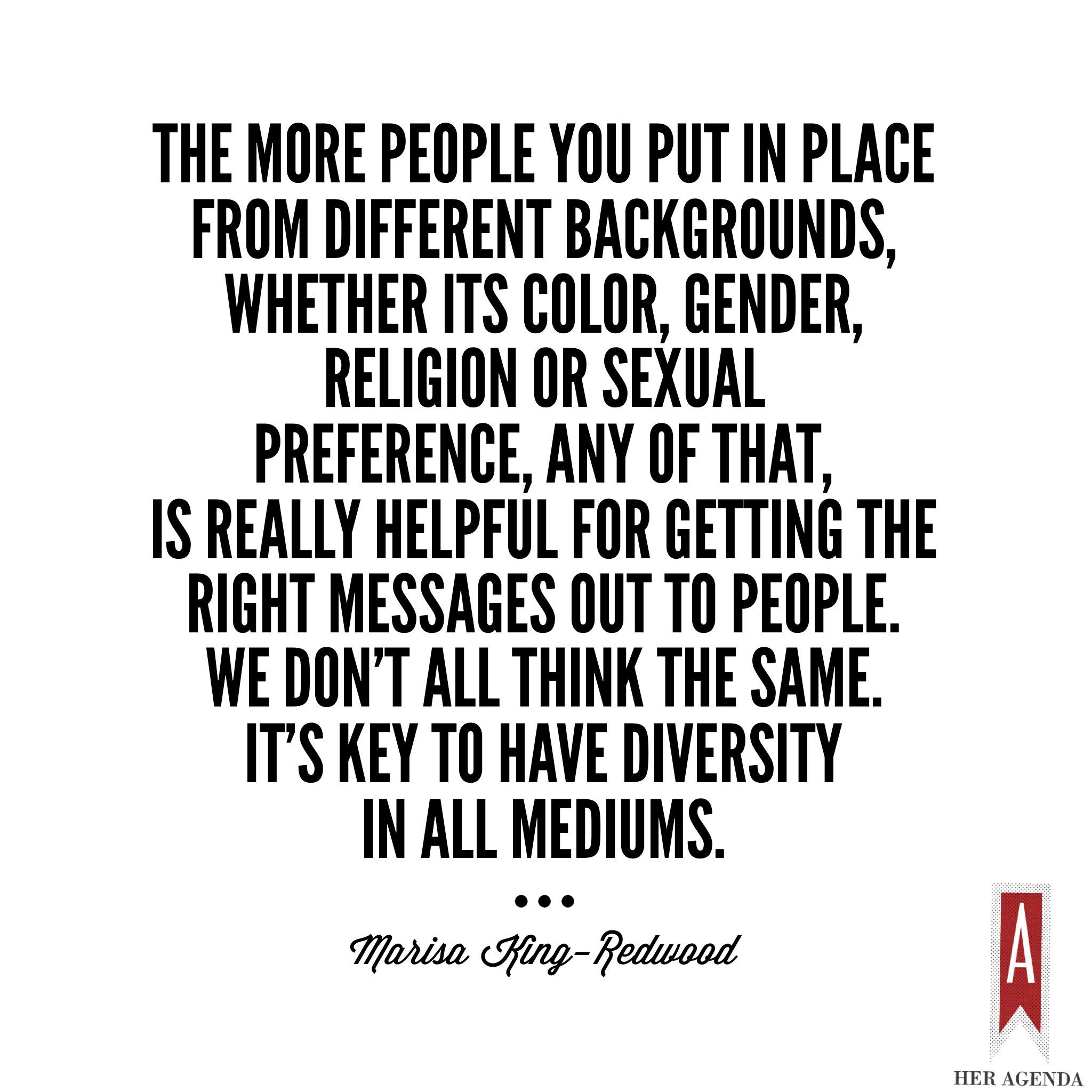 Her Agenda: What are the most important skills you've learned about yourself since creating Buzz Brand Marketing?
Marisa King-Redwood: I've learned that I am not a quitter and that I am a risk taker in ways that I didn't know that I was. I've also learned that I often care more about [other] people than myself. But in business, it's always about the bigger picture. I do the job that I do and it's not really about me, it's about helping other people get done what they need to get done and making sure that their dreams become a reality.With my team, it's about not just making sure that we make money, but making sure that they're constantly growing and that we're evolving as people.
Her Agenda: What do you think is the most challenging part of branding and marketing?
Article continues below advertisement
Marisa King-Redwood: The most challenging part might be making sure you stay ahead of the curve. It's important that you're constantly educating yourself about what's on trend, what people are looking for and things of that nature. To some people that may be second nature, but it's not always. It's really important that you know what people are looking for, and that you know about messaging. One wrong word in your message can totally change it.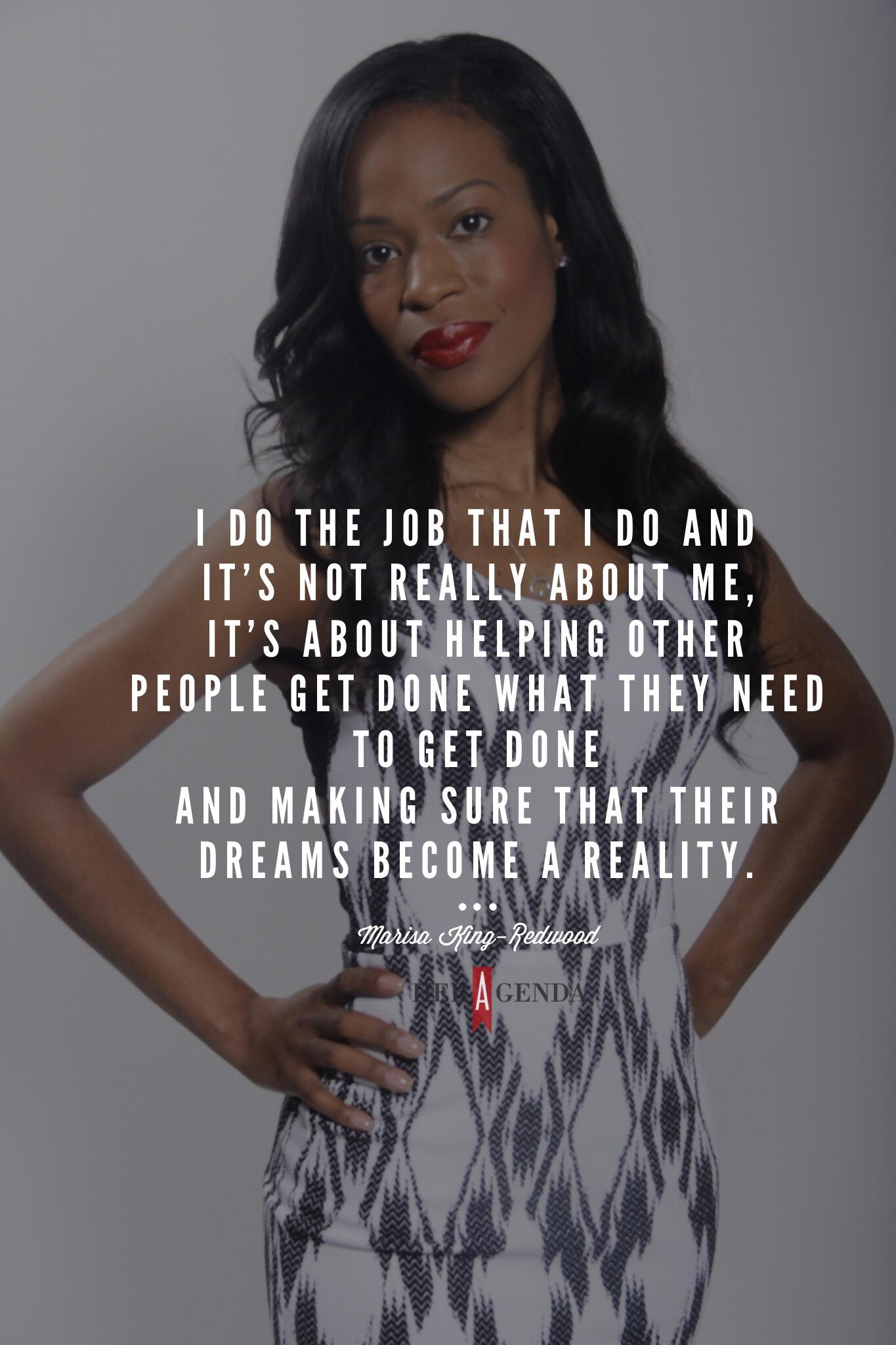 Article continues below advertisement
Her Agenda: What words of advice and tips can you give in relation to mentorship relationships in the branding, marketing, and other creative industries?
Marisa King-Redwood: The first thing about mentorship relationships is that they're a two-way street, and I learned that from my mentor. It wasn't like I knew that off the bat. I thought 'you get a mentor and then they help you right?' But they're looking for something as well. They want it to be gratifying. You need to find someone who you really click with, who understands you [and] has the same vibe. Sometimes it doesn't even matter the field. Just finding that right person who's going to take you under their wing and you can share experiences with them. You're going to have to talk to them regularly, it's how you build any relationship. You've got to call them and check on their kids or a husband if they have any. It's a give and take, so find someone that you really admire, that you want to have a relationship with and build on that. Build it as a relationship, it then becomes a mentorship. It winds up being a give and take where you two can share and you'll be able to help them too. There [are] so many things that I learn from the girls I mentor. It's amazing. It's really about finding people you can genuinely have a connection with.
Article continues below advertisement
Her Agenda: What would you say was your most career-defining moment?
Marisa King-Redwood: As of today, I think it was starting Buzz because it has allowed me to learn so much about myself, about people and about what I want and what I have the ability to do. If you don't try, you don't know. I've been able to meet such amazing people. I built my marketing, my public relations, my brand development skills and the relationships that I have through it.
Article continues below advertisement
Her Agenda: Do you think that we need more women entrepreneurs, if so why? Also what do you think about the coverage of women of color as business founders and entrepreneurs?
Marisa King-Redwood: I'm probably always going to say that we need more women entrepreneurs because I think women…we're just amazing. If that's what women want to do, that's a beautiful thing. But we need more women CEOs. We need more women in the board room, we need more women in positions of leadership in general.
You made a good point when you said there are women entrepreneurs, there are so many, we're the highest growing group as far as entrepreneurship. The problem is no one talks about us. You know people have events and they highlight let's say five women and that's once a year. There's things that happen but it's not a constant stream of information that is being disseminated about us. Off the top I can name 25 women entrepreneurs that I am remotely close to and half of them have never been featured in anything. Some make upwards of a million dollars with their businesses. People just don't know.
Article continues below advertisement
Sometimes we're treated as second-class citizens. We need to do better at highlighting people in general who do good work. There are these unsung heroes people who have nonprofits and are doing amazing work: that's their form of entrepreneurship and no one knows about them. There are lots of people out here doing amazing things that we don't talk about. That's a problem. Women should continue to create businesses and continue to make noise about their businesses. We need to create our own platforms and that's why Her Agenda is so cool.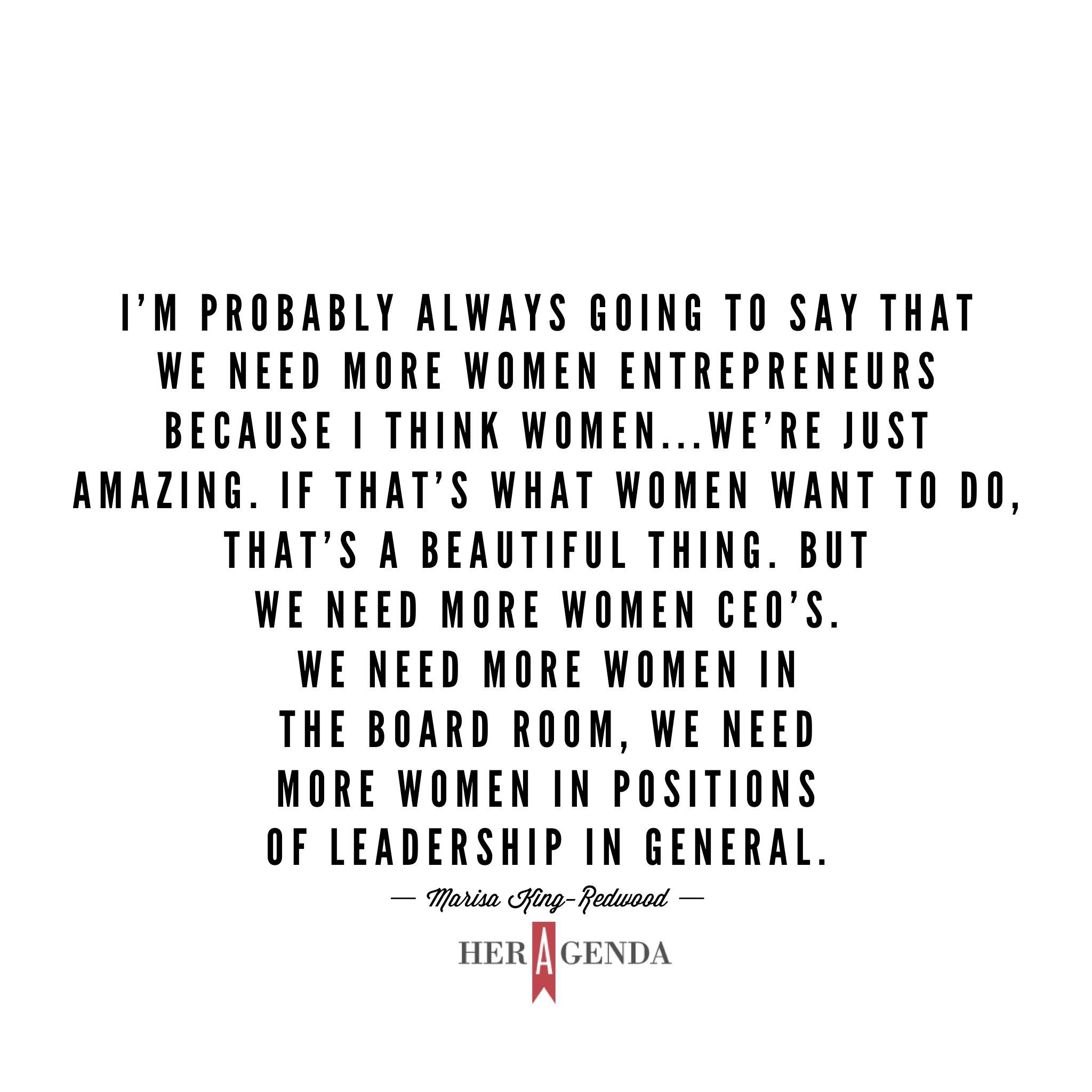 Article continues below advertisement
Her Agenda: What are you most passionate about?
Marisa King-Redwood: I'm most passionate about making a difference, [it's] making a difference in the lives of my children. With them, it's making sure that they're decent human beings and that they're productive members of society and that they're happy, which is most important to me. With work, it's really about growing my team and making sure they are getting all that they need out of their experience at Buzz. In general, it is about knowing that the world is bigger than me and my children and this company and seeing how I can make a difference in the larger scheme of things. So, it's doing charity work, it's finding ways to give back effectively. I feel like my calling is to make a difference.
Her Agenda: What words of advice would you have for women and young millennials interested in entrepreneurship and personal branding?
Marisa King-Redwood: Be authentic, your brand has to be genuine to who you are. Don't allow people to put you in a box. Build your brand the way that you want to be known, the way that you want to be represented that speaks to the audience that you're looking to attract.
Her Agenda: Do you believe that women in business should be fans of taking calculated risks?
Article continues below advertisement
Marisa King-Redwood: Yes. No risk, no reward. It's scary but you can't allow fear to keep you back. Fear is just not an option. Risk taking is scary but if they're calculated, then you've thought about them. I know people who have so much within them, myself included, but something is in their way and it's like 'why not? Just go for it'. How do you know what the outcome's going to be? The worst thing that you get from something is a learning experience. You get experience — you're able to tell a story and help someone else if something doesn't work. You fail yourself if you never try. Taking calculated risks is something that we have to do and as women, it's our responsibility. How does the next woman feel okay to do it if we won't?
[Editor's note: This feature was published September 5th, 2016. It has been edited for length and clarity.]