In the professional dance world a success story like Misty Copeland's is almost unheard of. While most ballerinas develop their skills at age 7 or younger, Misty began her career at 13 at the local San Pedro Boys and Girls club. Her determination, passion and immense skill lead her to become the second African-American female soloist for the American Ballet Theater.
Today, Misty has performed for an array of audiences, sending powerful messages through dance and her presence as a passionate African-American ballerina. We recently had the pleasure of interviewing Misty about her agenda. Read below to learn about what she had to share about her journey and for a chance to win a copy of her just released memoir.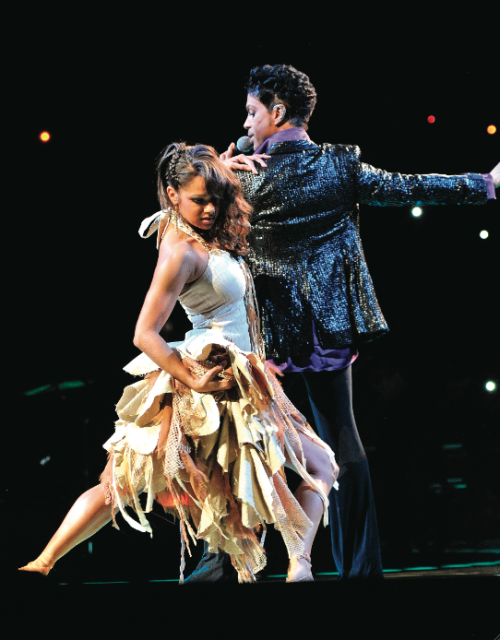 Her Agenda: As a ballerina you're probably very familiar with the term adagio. An adagio is an exercise series of slow graceful movements often performed to help develop a sustained power and poise in a dancer. Would it be fair to compare the beginning of your ballet career to an adagio? I'm sure to some it may look beautiful, graceful and even easy but what was the process really like as you started your career at 13?
Misty Copeland: The process in the studio was really incredible actually! Everyday I was learning so much. I was in heaven in that setting. Far from my outside life. I was taking three classes a day, so eager to attempt perfection with every step.
Article continues below advertisement
Her Agenda:You've mentioned in several interviews that you took your first ballet class at your local Boys and Girls club. This was truly the stepping stone of your career, how important is it for opportunities to study dance and the arts to be available for young children in different neighborhoods?
Misty Copeland: My experience of having art in my life really is what developed me as a person. My limited access to any singular nurturing in my life left me completely underdeveloped. Ballet taught me to think and use parts of myself that I could not connect with simply by attending a public school with basic academics. My verbal skills were enriched, my understanding of my body through music and movement gave me confidence and articulation. I don't think I could have become the woman I am today without it. It's vital.
Article continues below advertisement
Her Agenda: In your speech at the 2013 Black Girls Rock awards you mentioned that you found your voice through dance. However through your story we know that there are so many layers to your experience especially as an African-American curvy dancer. What are some of the messages that you use your voice to share?
Misty Copeland: I'm using my voice to open a dialogue in the ballet world about diversity. Through my own experiences, I have learned so much. I want to share the ups and downs and how to make changes in this world for those who will come after me.
Article continues below advertisement
Her Agenda: Even though your fellow dancers may not look like you, as you began to understand yourself and your position as an African-American woman in the workplace how important was it for you to maintain a level of respect and even admiration for some of your competitors?
Misty Copeland: I want to always stand proud and own the fact that I'm a black woman. It's what gives my experience as a ballerina so many dimensions. With that said, I want respect from my competitors and peers that I'm a gifted ballerina, not just a black ballerina, unique simply for standing alone. But beyond color, I simply respect this art form and the dancers who are on a level of artistic freedom and abandonment that I admire! Even my competitors. It's very important to me.
Article continues below advertisement
Her Agenda: Do you have a personal mantra (or motto), if so what is it?
Misty Copeland: Be vulnerable…just enough to accept and be able to weed out qualities and words from others that you want to adapt for yourself.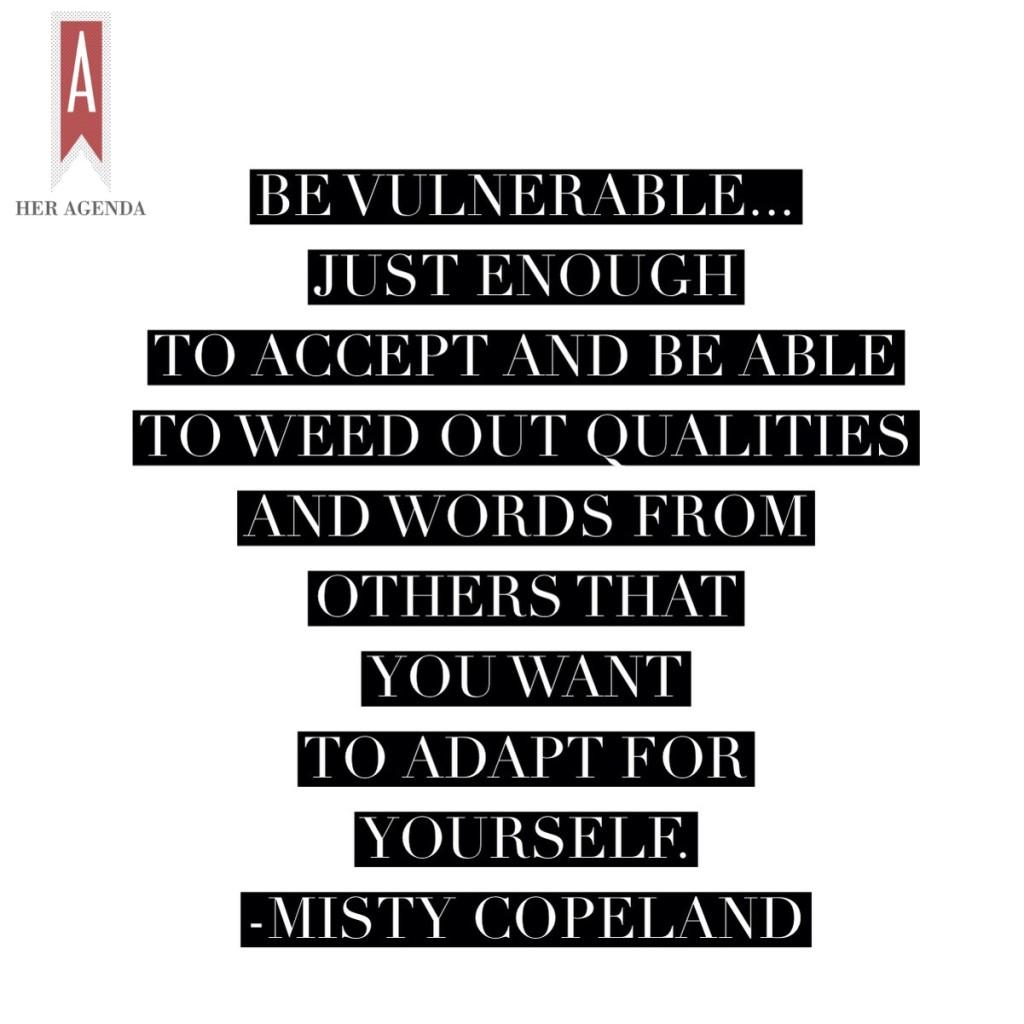 Article continues below advertisement
Her Agenda: In your career you have not only had the opportunity to perform to the musical sound of some phenomenal orchestras and composers but also alongside some incredible music artist like Prince and Patti Labelle, what is that experience like?
Misty Copeland: Those experiences are incredibly fun!! It allows me to grow as an artist by exploring ways of pushing my imagination and range. I am given a platform to reach so many beyond the ballet world, but at the same time staying true to my technique and not getting caught up in the excitement of these powerful performers.
Her Agenda: When talking about some of your inspirations you always mention that you found a lot of them while doing research. Some of the ones you found include Nora Kimball and Anne Benna Sims who were actually two of the first African-American female soloist for ABT. In this case you are actually the 3rd African-American female soloist for the company but the 1st to be highlighted in mainstream media. How important is it to do your research to further understand the importance of your role in your field?
Article continues below advertisement
Misty Copeland: There have been a lot of discrepancies with the facts when it comes to African American women in ballet. The records for some reason are not really available. Nora Kimball was the first AA soloist with ABT. Anne Benna Sims was in the corps de ballet. Courtney Lavine is currently in the corps de ballet. This makes me the second ever African American soloist with ABT. Raven Wilkinson and Janet Collins should be household names! Research is very important to me. We deserve to have our history in the ballet tradition shared and recorded!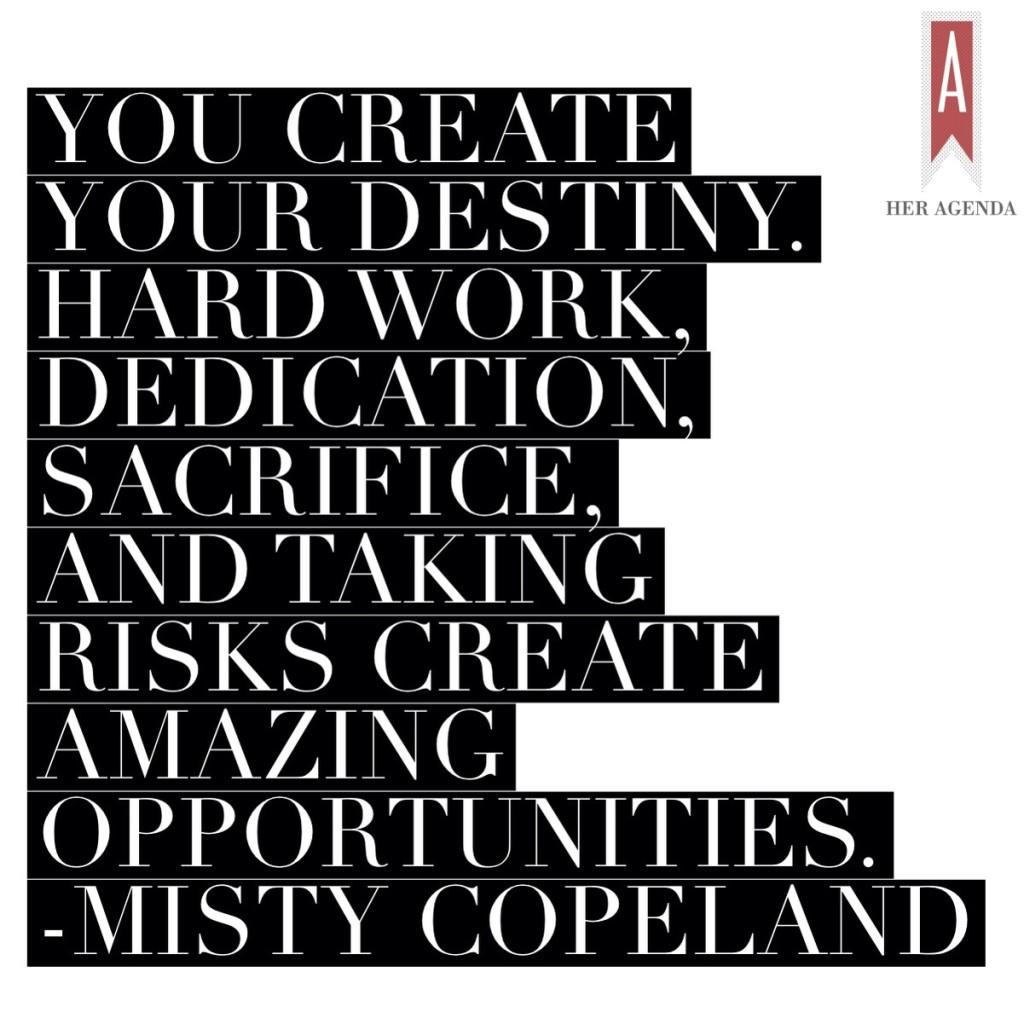 Article continues below advertisement
Her Agenda: Lastly, your new book is entitled,"Life in Motion" where you speak very candidly about your dance career and your aim of daring to dream of a different life. As career driven millennials what advice would you give us to find the confidence to dare to dream a different life?
Misty Copeland: I think as a child most don't realize that they can become an individual separate from what their environment or family may have created for them. It's never too late to make changes and become the person you want to be. You create your destiny. Hard work, dedication, sacrifice, and taking risks create amazing opportunities.
Win a copy of Misty Copeland's memoir: "Life in Motion: An Unlikely Ballerina."
Share a moment you had to overcome adversity to achieve an important goal. Leave your story in our comments section, or share on social media with the #MistyHerAgenda tag.
UPDATE: The contest is now closed. Thank you to everyone who submitted! Congratulations to our winner Ingrid Silva!
[Editor's note: this post was published on May 17th, 2014.]