Inspired by mavericks, renegades, rogues, and dreamers, Molly Hayward likes to take the road less traveled. With the goal of creating better lifestyle experiences for women, she uses her entrepreneurial skills to make womanhood an enjoyable experience.
Since periods are a natural part of womanhood, Molly believes the experience of menstruation should not be a source of shame or a barrier to educational opportunities. But after traveling to 13 countries across 5 continents, she witnessed the negative effects of menstruation on women and girls who cannot afford proper menstrual products. Heartbreaking scenarios like using old rags, newspaper and animal dung are just a few examples of what she saw on her travels. These methods lead to infection, reproductive health problems and the least of their problems but still significant…embarrassing leaks. Molly later learned over 100 million girls lack access to quality menstrual products and it sometimes causes them to miss school.
She also discovered that women in developing countries were not the only ones at risk.
"I learned that many feminine products sold in the U.S. contain substances that are potentially harmful to our health, like synthetics and pesticides linked to endocrine disruption, cancer, and other devastating illnesses, I became afraid for my own health and the well-being of my sisters, friends and the women I love."
She knew she had to take action. Today, Molly is the founder of women's health and lifestyle brand, Cora, which provides organic menstrual products to women through a subscription in a new, philanthropic and chic way.
Also, for every month's supply of Cora her company provides a month's supply of sustainable pads to a girl in a developing country.
Article continues below advertisement
Molly has always been a self-proclaimed "start-up junkie," since graduating college. In 2015, she was named Female Entrepreneur of the Year Under 40 by the National Association of Women Business Owners. As an entrepreneur, Molly started as the co-founder of an ethical fashion label, Rebecca Street, in the UK. Rebecca Street started as a collaboration with a designer after learning how devastating the clothing industry can be to the environment and people in the labor force.
Read more about the beginnings of Cora and how Molly became an innovator in women's health:
Her Agenda: How did you come up with the idea for Cora?
Molly Hayward: It was really in Kenya; I was traveling there with a nonprofit organization, just volunteering. I met girls that [told me] they would stay home from school when they were on their periods because they couldn't afford sanitary pads, or they didn't have access to them.
Article continues below advertisement
I started researching and I began to learn about what conventional, non-organic tampons are made of; the tampons that I had been using most of my life. I was horrified to find out they were made with synthetics and very little testing of long term effects. I knew that I wanted to offer the products through a subscription model, so I started testing that. For me, it was about creating better accessibility to those products. We created a holistic approach to all of the pain points that we found women talking about when they talked about their periods: a concern for healthier products, a better way to manage their periods, and convenient delivery.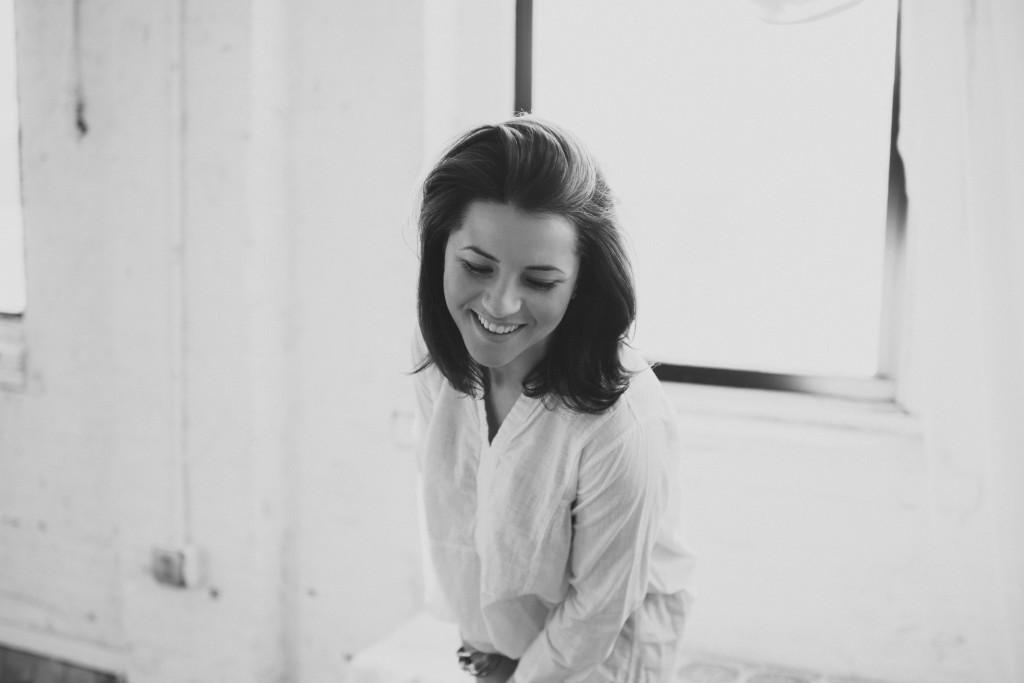 Article continues below advertisement
Her Agenda: Where did the name Cora come from?
Molly Hayward: I wanted to create a name for the brand that was feminine and unique. I wanted a female name that wasn't common, that women would hopefully remember. I started exploring names and I came up with Cora. I looked it up and it's the Roman name for the goddess, Stephanie, who is the goddess of seasons and feminine wisdom. It really fit and it just stuck.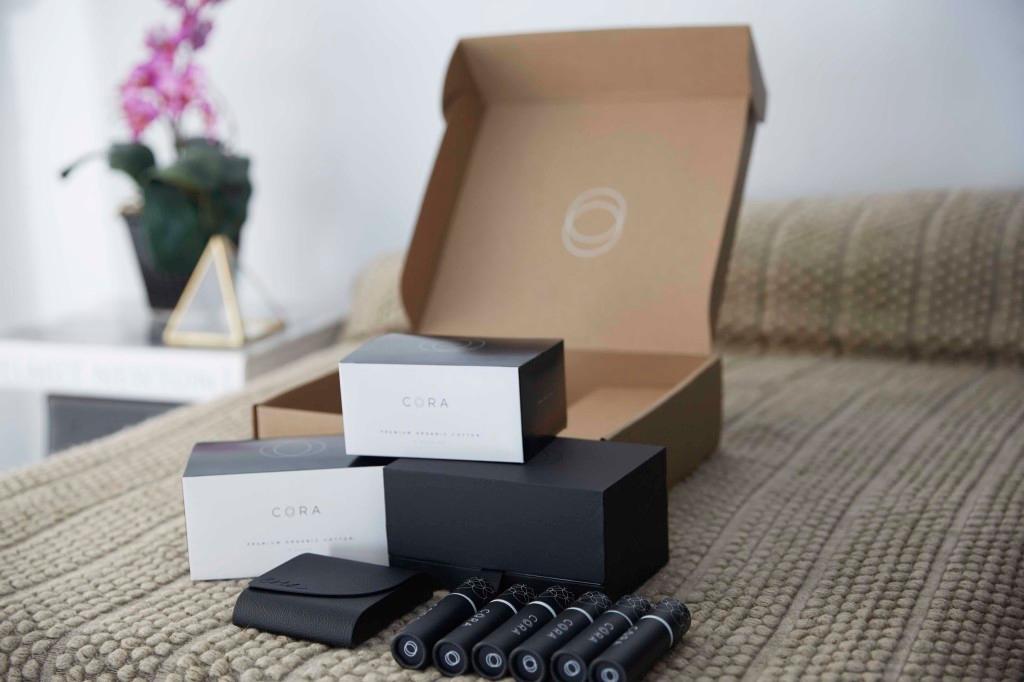 Article continues below advertisement
Her Agenda: Were you always passionate about women's health?
Molly Hayward: Yes, I have always had a passion for that. In college, I studied economic development and clinical science, and I've always been super focused on women in the context of those things. That was what really took me to the places that I've been in different capacities. Now with Cora, I started out wanting to help girls in need, but now I have a much stronger passion for it [after] realizing how integral menstrual health is to women's overall health and wealth.
Her Agenda: What makes Cora so different from other tampon and women's health brands?
Molly Hayward: What makes Cora so different is that it really takes a holistic approach to a woman's period. We're not just looking at your comfort. We're not just looking at your health. We're not just looking at delivering products to you. We have taken every single element and given women the absolute best: 100 percent organic cotton in a BPA-free plastic applicator. It's comfortable and it's not cardboard. It's a beautiful experience that you can look forward to. It can be a part of your daily life that you can experience with pride, with ease, and in style.
Article continues below advertisement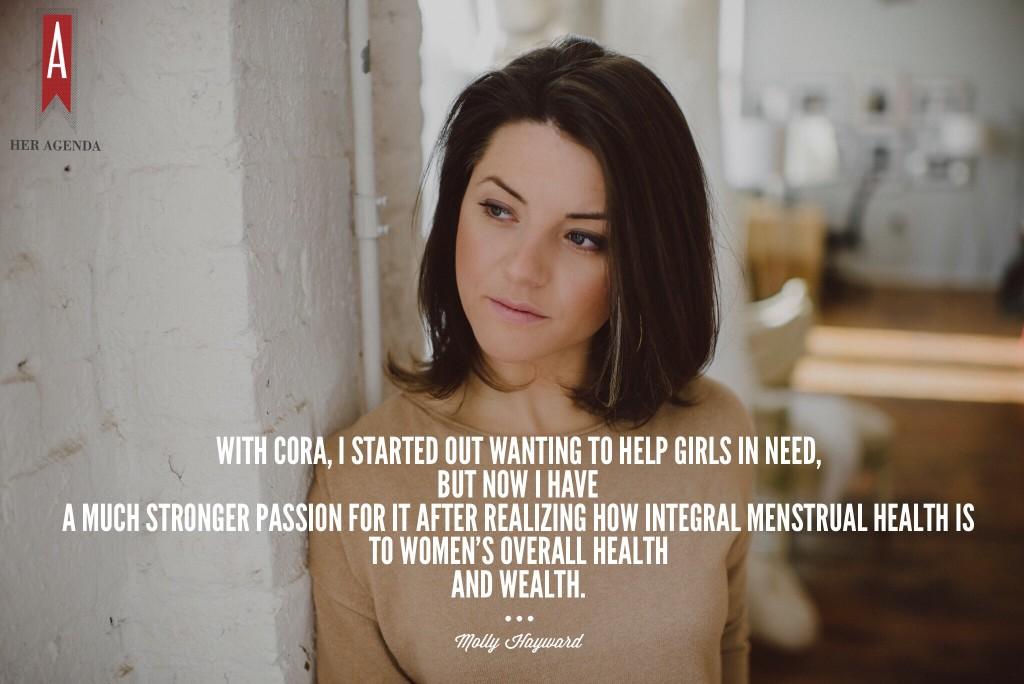 Her Agenda: How did your amazing packaging come to be?
Molly Hayward: The package design came about from exploring the way we wanted women to feel when they experienced it. When our customer opens the box, we want her to feel sophisticated, and indulgent, cared for and grown up. It's clean and pure. We have our double ring icon, which has an interesting meaning. It's derived from a symbol in sacred geometry called, the vesica piscis. One of the meanings is that it symbolizes the vagina of the female goddess. It also represents unity, and wholeness and the source of all things.
Her Agenda: What's next for Cora?
Article continues below advertisement
Molly Hayward: We're really excited. We've had a great launch, and I think we're just looking forward to raising awareness about what we're doing. Hopefully, creating a brand and a household name that really stands for the care of women and really being the best for women when it comes to their bodies, lifestyle, and values.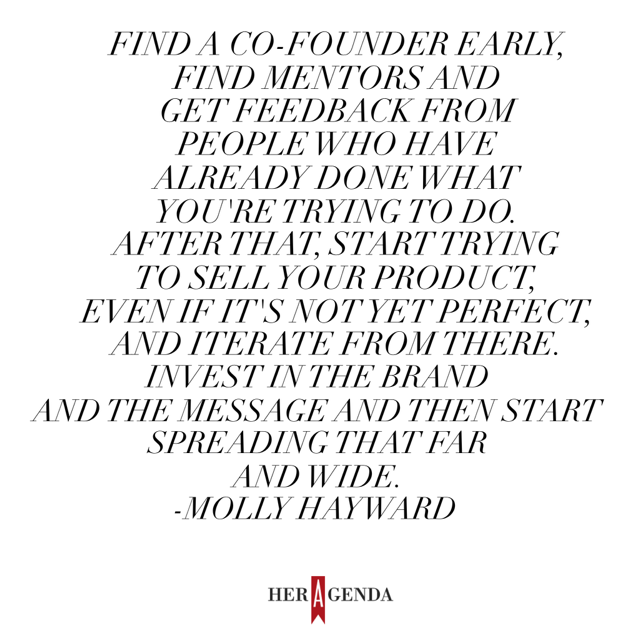 Her Agenda: What advice would you give to young entrepreneurs?
Molly Hayward: My advice to young entrepreneurs is to find a co-founder early, find mentors and get feedback from people who have already done what you're trying to do. After that, start trying to sell your product, even if it's not yet perfect, and iterate from there. Invest in the brand and the message and then start spreading that far and wide.