Monika Pierce believes that diversity and inclusion are not only necessary for a company to thrive, but for humanity to function at its full potential. And, as a woman in the workplace, Monika recognizes that knowing her worth is required to succeed, not only for herself but for those she paves the way for.
As the Head of Inclusion and Diversity at WW (formerly Weight Watchers), Monika pushes the company to "Do Better and Be Better." Since June of 2020, WW has made several changes in making the company more inclusive, showing up for their members, and staying true to the roots of their organization – a community – for everyone. From welcoming Ciara as their newest WW Celebrity Ambassador to launching a minority-owned assortment of brands and products on WW Shop, WW is taking strides to highlight diversity internally and externally.
Her Agenda had the chance to speak with Monika about the importance of diversity and inclusion in the workplace, character traits necessary for elevation, and mental health under the pandemic.
Her Agenda: While living under the pandemic, do you incorporate self-care or mental health practices into your daily routine? And if so, what are they?
Monika Pierce: It is so interesting that you have asked this question because there have been many downsides with everything happening in the past eight months. I am grateful that this time has given me a forced pause to slow down and think about how I incorporate self-care into my daily practices. The first thing that I do when I wake up in the morning is have a quiet moment of reflection and gratitude. I feel like it puts you in the right frame of mind to conquer the rest of the day and appreciate what is to come. Whether it be a tough conversation or a busy schedule, if you start with everything that you are grateful for, it shifts your perspective. Another thing that I try to incorporate in a more consistent fashion is activity. Before the pandemic, I was touring with Oprah and the schedule was hectic. Now, I have been afforded the time to work out and practice self-care consistently.
Article continues below advertisement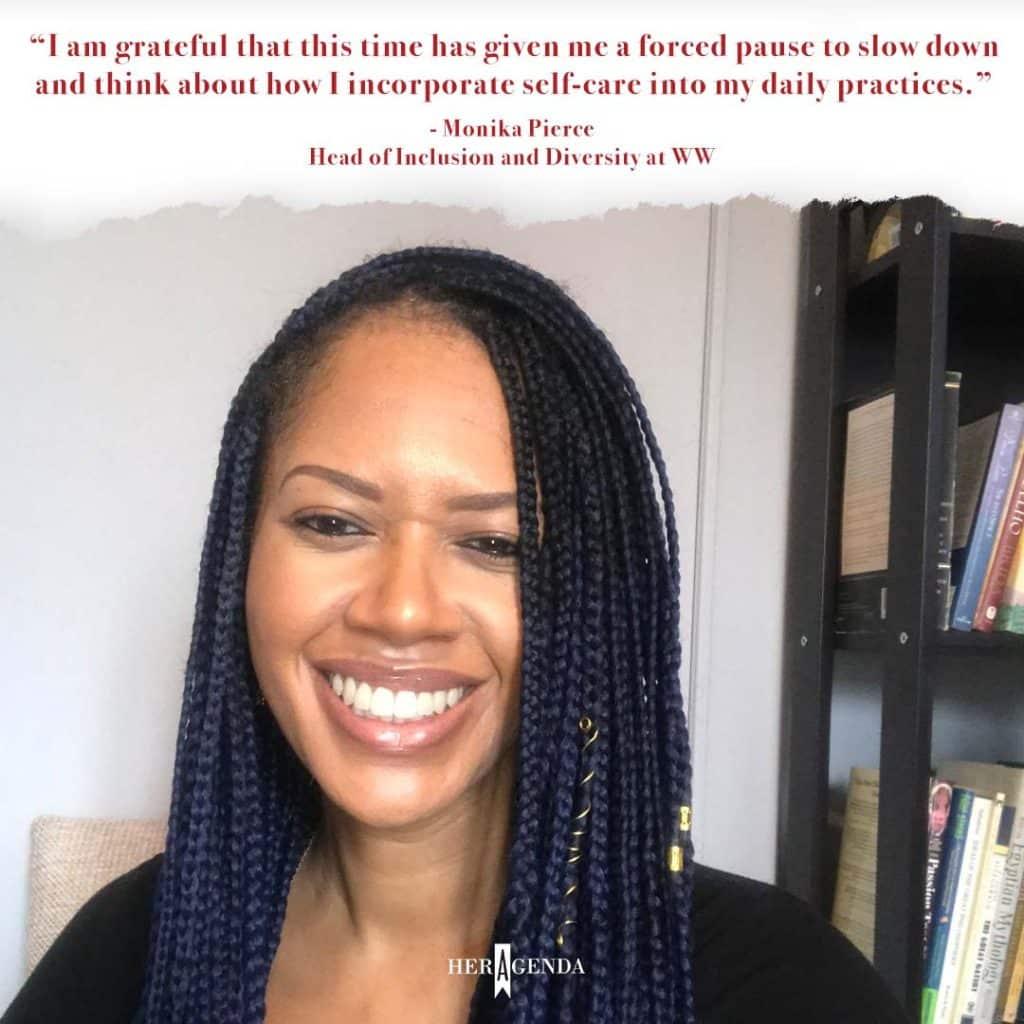 Her Agenda: People are beginning to evaluate their work environments based on culture and diversity initiatives. As someone who is Head of Inclusion and Diversity, how do you influence how the company responds to such initiatives?
Monika Pierce: It is so meaningful and powerful to have this role. By being the Head of Inclusion and Diversity, I am deeply involved in how the company responds to initiatives, the strategy around it, and how we show up in certain spaces. Current events happening in the world and plaguing issues are now coming to light in a different way. So, I take this role very seriously. The way that I navigate it is by having open and honest conversations with the organization. My perspective on this is to not only do something that is impactful for the moment, but impactful for the long term. I frequently ask, 'What are we doing,' and 'What kind of initiatives can we put in place or be a part of that will grant long-standing outcomes.'
Though the majority of people understand it, I believe there can be a rush to react and show up on the right side. This can cause some actions to be a flash in the pan. At the heart of WW, there has always been a community for all and inclusive and safe space. We have always had a sensitivity to belonging, which is why the organization was founded. WW is truly stepping into the role of thinking about what we can do better and how we can evolve
Article continues below advertisement
Her Agenda: Many people question the importance of having a diversity and inclusion team in the workplace. How do you think having such a team affects how a company operates in all aspects and how can having one differentiate companies from their competitors?
Monika Pierce: Those who question having a diversity and inclusion team in the workplace may be looking at it from their personal perspective of not having experienced certain things. And, that is fair as we do not always know what other people have experienced. This is why my department is so critical because we know that there is always more than one experience. At WW, we do not look at the diversity and inclusion team as being completely responsible for overall diversity and inclusion, but rather the strategy. We want to inform and educate those who may not understand our mission. It is the responsibility of everyone in the organization to truly believe that diversity and inclusion are not only beneficial to the company but humanity and our core being. Being able to hold a light to opportunities can make an organization and us as individuals better.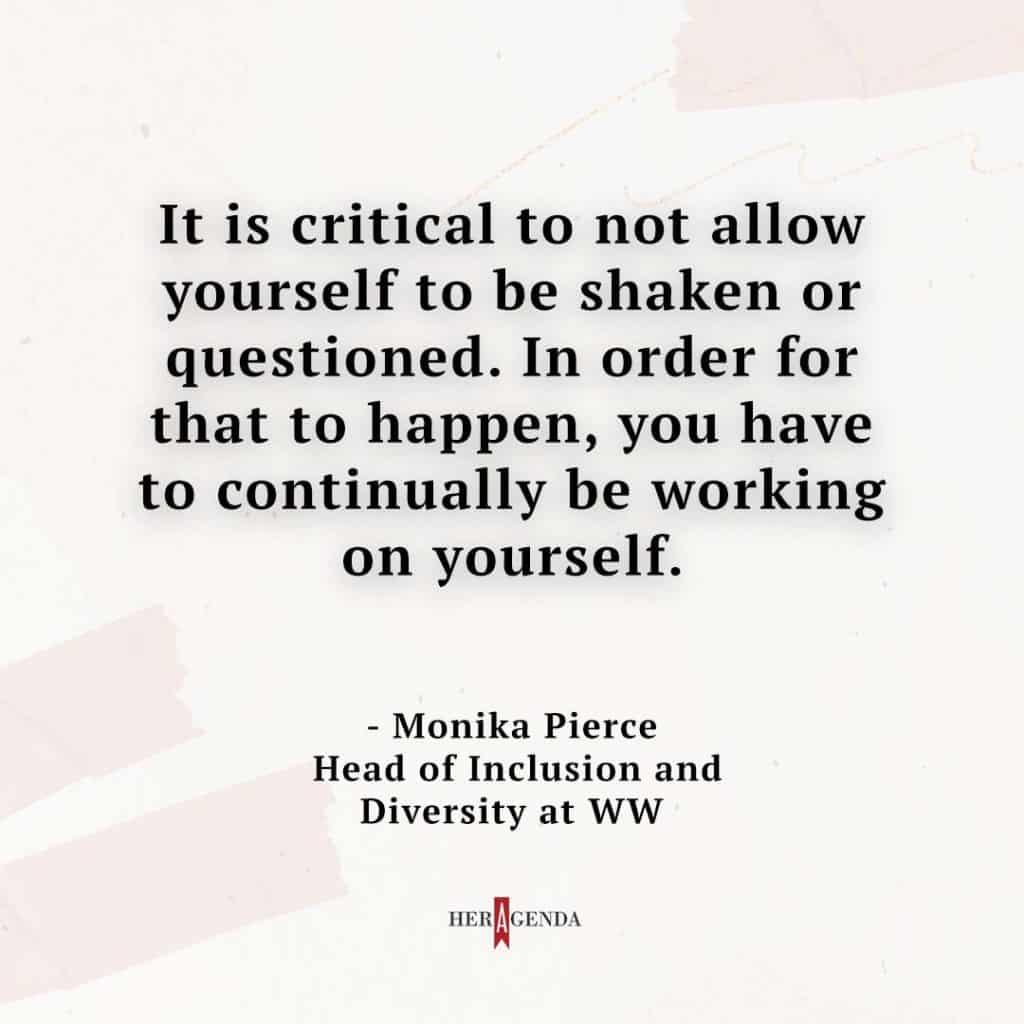 Article continues below advertisement
Her Agenda: In your opinion, what are three characteristics that have helped you elevate in leadership?
Monika Pierce: I really love when I am asked these questions and can put myself in a reflective state. One of the beautiful elements of being a part of WW has taught me to continuously reflect on the successes, hiccups, and chances to move forward.
The three characteristics that have helped me elevate in leadership would be:
Be an avid listener. It is not just about hearing what is being said or hearing in order to respond but hearing to understand. That is something often missed in conversations as we are all trying to get to the next stage. We do not always hear what is at the core whether it is what someone is saying, or reading in-between the lines. Over the years, I have cultivated the skill of being curious and digging deeper to understand where the person is coming from. This has made me a more effective problem solver.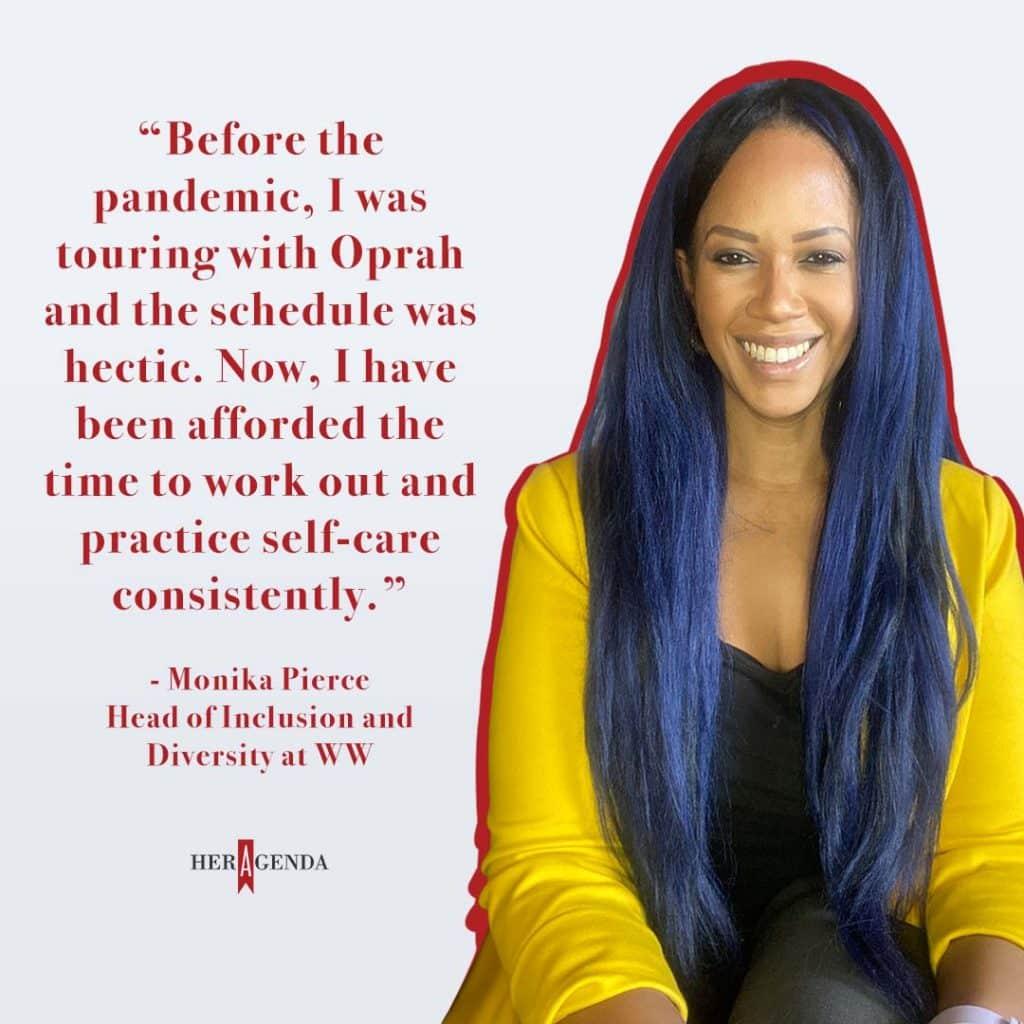 Article continues below advertisement
My second characteristic is building trust and relationships. Whether I am sitting at work, on the train, or at the park, I often have people converse with me and share deep stories. Since I was a child, I have always wondered why this happens to me but I think that I cultivate a feeling of trust in which people feel vulnerable to share their truth.
My last characteristic is firmly believing in winning together. At WW, that is one of the core tenants of the work environment. When you are a leader, which is someone who is helping to pave the way officially or unofficially, you cannot have an ego, you need to want success for everyone, the business, and members. It is not about showing up the best but ensuring that the end-product does. When you think and work that way, it will automatically translate into success and opportunities for you as an individual. It is about what is good holistically.
Article continues below advertisement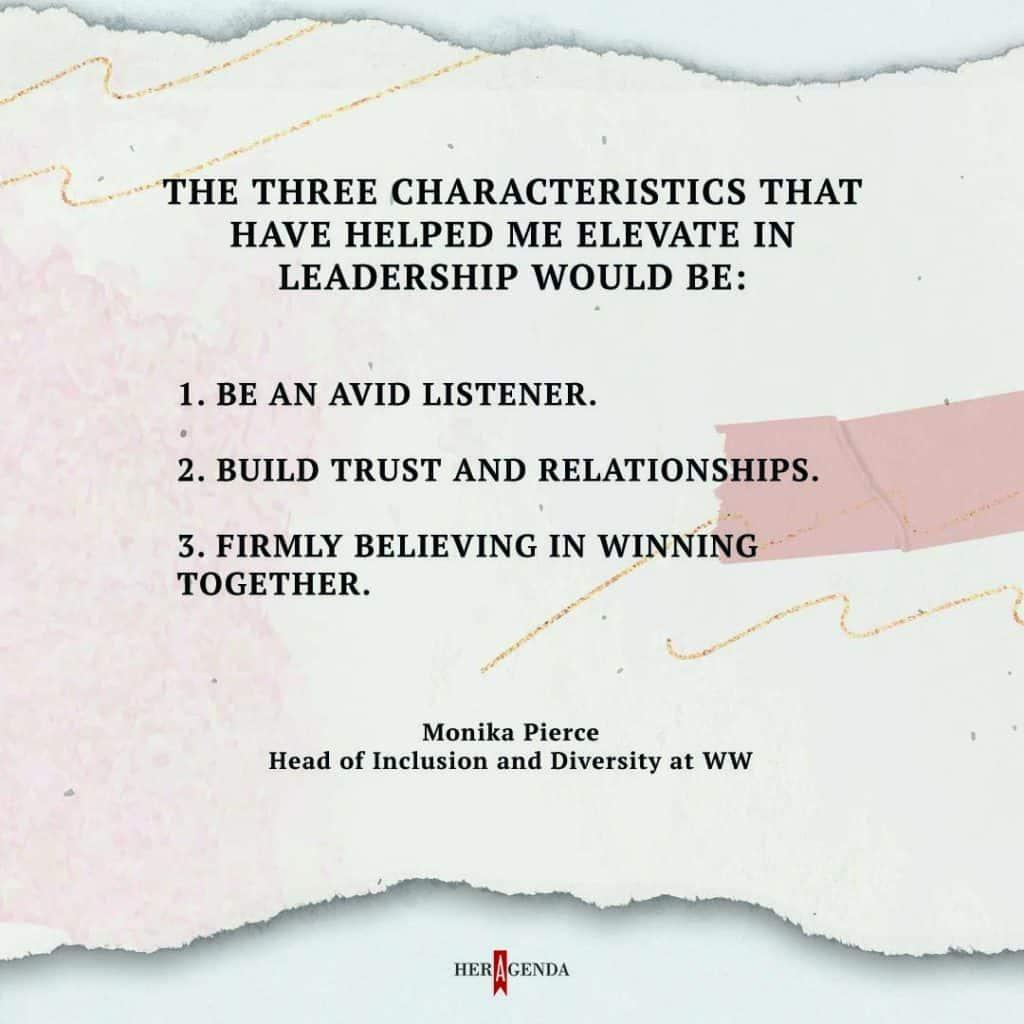 Her Agenda: Throughout your career journey, what have you learned about being a woman in the business environment that you think other women should be aware of?
Monika Pierce: I think that women need to be aware of owning their voice. It is recognizing that you have the experience, knowledge, confidence, and right to sit at the table you are at. If you are not at the table that you want to be at, you have a right to change courses and navigate getting there. As women, we sometimes become a wallflower as we are unsure if we should voice our opinions or ask for better. Women should find their voice and use it confidently because we have a lot to say and there is a lot to be said.
Article continues below advertisement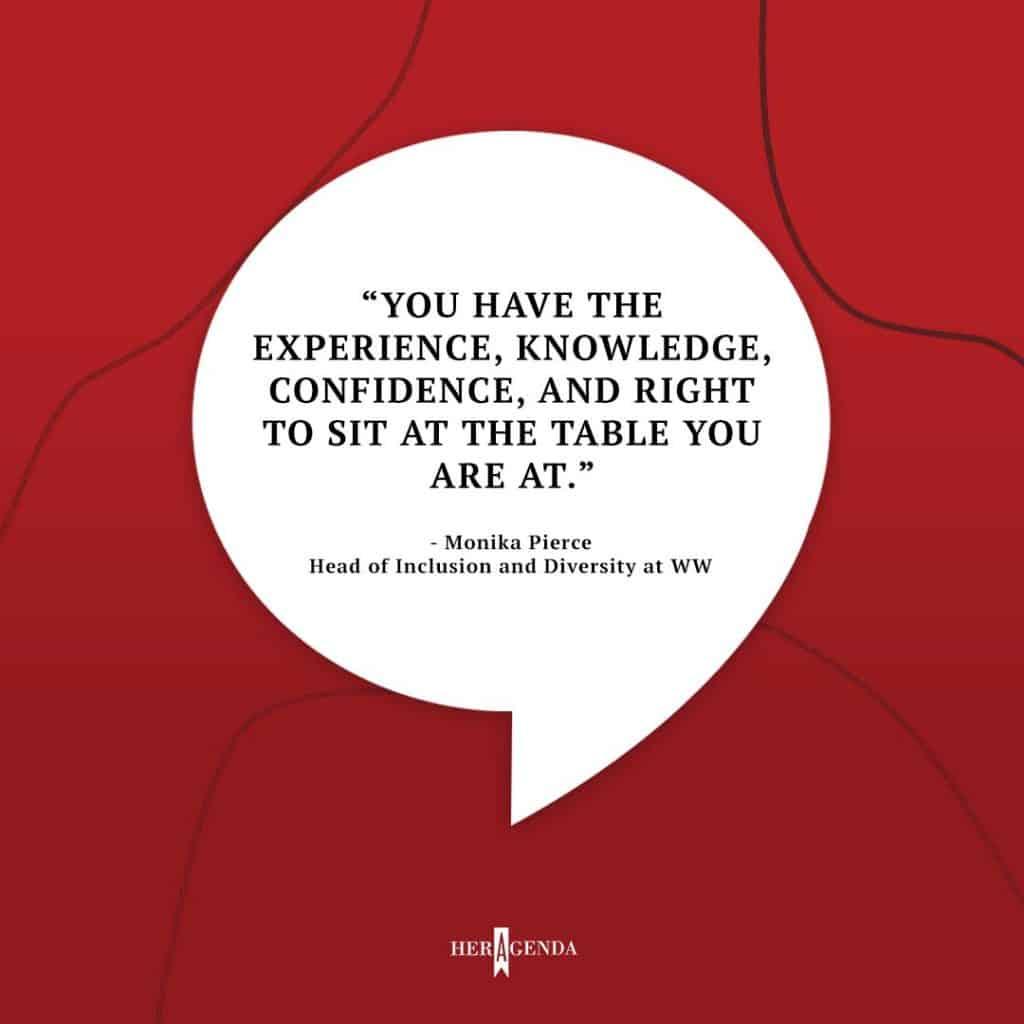 Her Agenda: How has knowing your worth affected the trajectory of your life both personally and professionally?
Monika Pierce: I am very fortunate to come from a very supportive, loving, and strong family. Both of my parents firmly believed in all of their children knowing their value and worth. I grew up feeling confident and unafraid in most situations. However, I do think that there is a time in one's life, whether it is going through teenage years or charting new territory, where your self-worth can waver. It is critical to not allow yourself to be shaken or questioned. In order for that to happen, you have to continually be working on yourself. There should be a relationship between knowing that you are valuable and knowing that you are valuable enough to continue working on yourself. The more that you get to know the world around you and experience different things, the more that your confidence grows. When you are secure in that, you know what you stand for and what you will allow to enter your life.
[Editor's note: This interview has been edited for length and clarity.]