Your destiny is not something that you can wait for, you must step into it. As the contributing social editor of New York magazine's The Cut and the CEO and founder of EveryStylishGirl, Nana Agyemang knows this and demonstrates her purpose daily.
Though you may see her verified check on Instagram, Nana is a powerhouse that refuses to settle and continues to remain humble. Just a few years ago, no one responded to her emails or supported her entrepreneurship endeavors. Now, she is the one answering DMs to provide inspiration for upcoming talent while disrupting the media industry's ideologies. Nana has even added EveryStylishGirl Biz to her legacy, which assists women who aim to reshape the world of business. Full-circle moments are a part of life, as I was once Nana's intern and am now interviewing her.
Her Agenda: From host to journalist to social media editor, you are a jack of all trades within media. How have you managed to stay up to date within all areas of an ever-changing industry?
Nana Agyemang: I read the news. Every morning I get The New York Times daily email which gives me the latest on global affairs and everything going on in the world. TheNew York Times also has a section that reports on the Black community, so that is an interesting newsletter to be subscribed to. Overall, my newsletter subscriptions, podcasts, and Twitter, which is the news hub for all journalists. Twitter is where we get news and unfiltered thoughts quickly. Being a news junkie from the start and continuing with that same interest is crucial.
Article continues below advertisement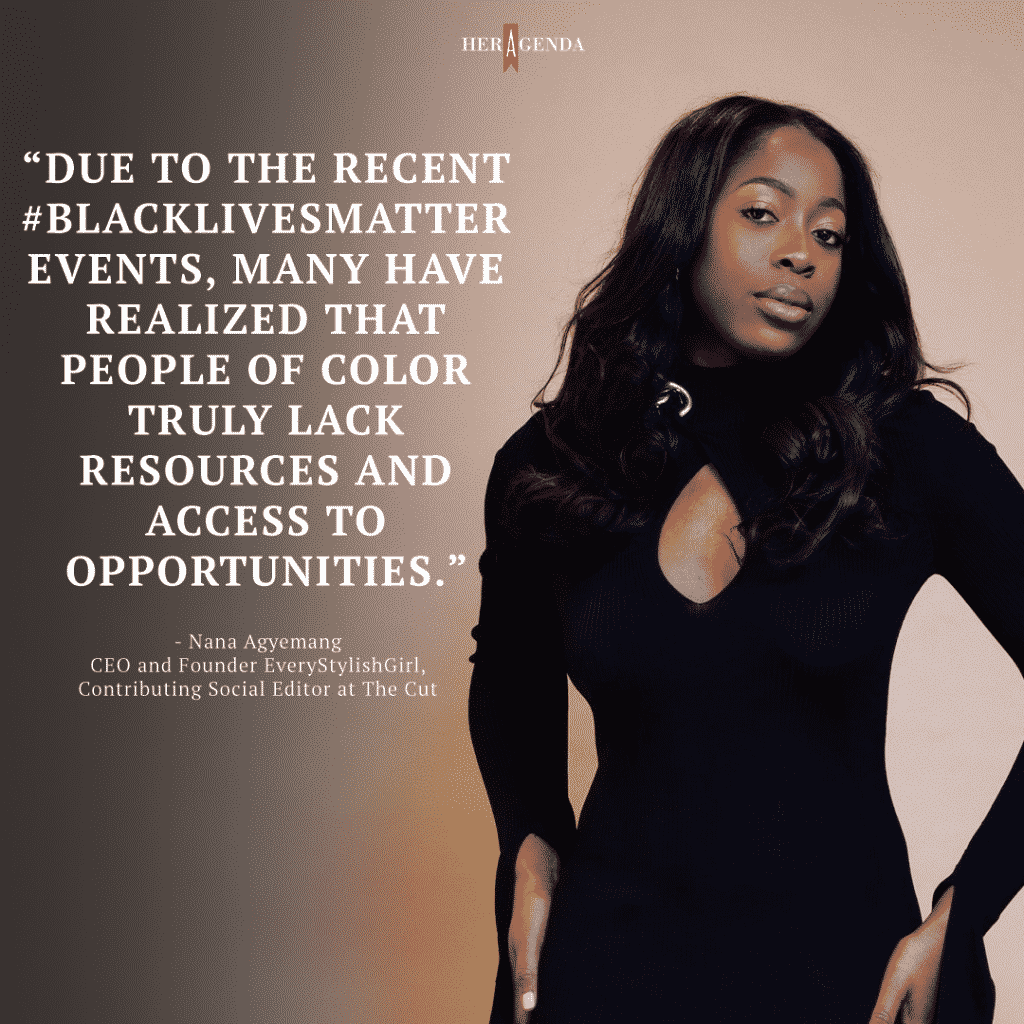 Her Agenda: I often hear you mention the importance of putting yourself out there to gain success. Have you always possessed unshakable confidence or did you have to build it?
Article continues below advertisement
Nana Agyemang: I always think, 'What is the worst that can happen?' You can either be frustrated at yourself for never taking that opportunity or you can just reach out and get a 'No.' Either way, you will feel better knowing that you did it. Due to the recent #BlackLivesMatter events, many companies have realized that people of color truly lack resources and access to opportunities. There is so much inequality within the fields of media and fashion. You are doing others a disservice by being an editor at a top publication and not providing access to those coming up. Especially those who are minorities and do not have the privileges nor opportunities similar to you. It is unfortunate that it took these incidents for people to feel like they can connect with others, so you are not doing anything wrong by reaching out. Knowing the inequalities in the system, I have always gone hard for myself. If I don't go hard for myself who will? I don't have nepotism to get me through, I really have to get it myself. In this industry, you have to be competitive, self-motivated, and you have to be ready to bounce back.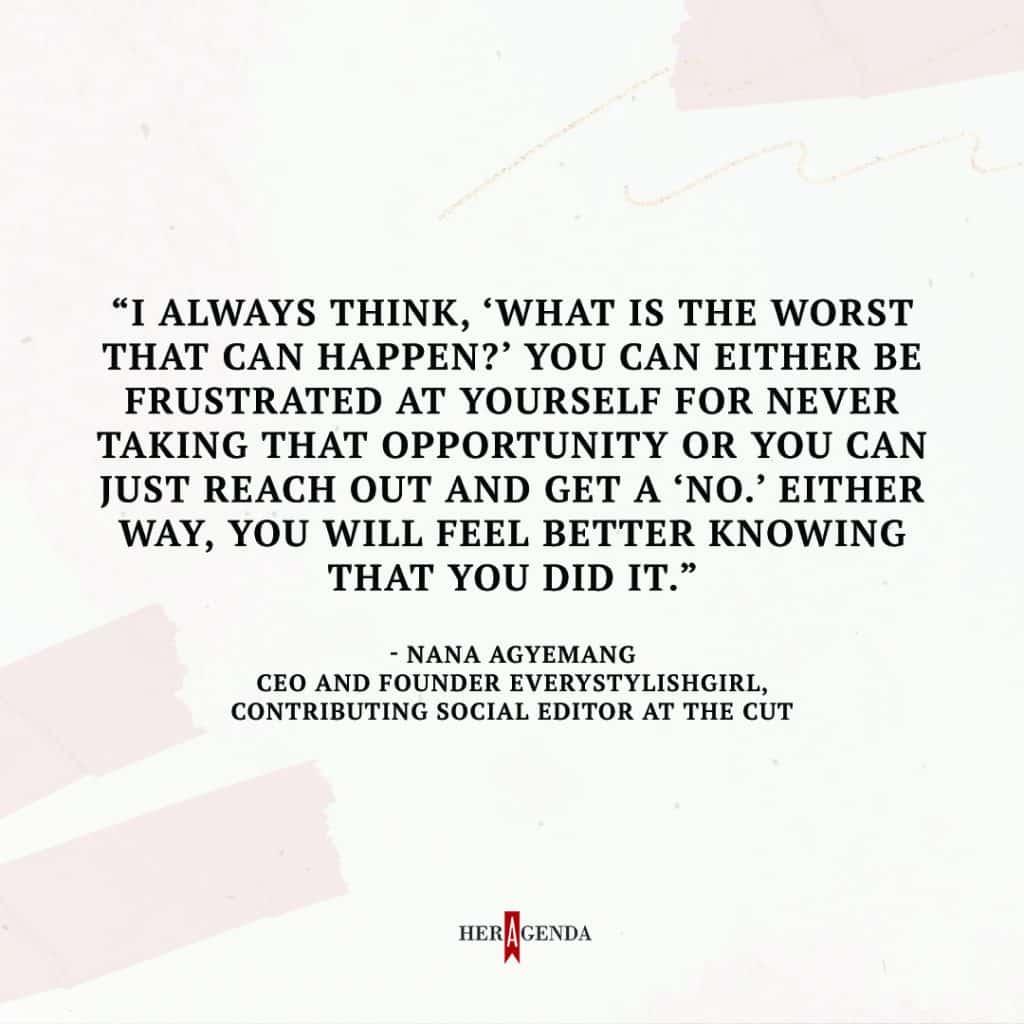 Article continues below advertisement
Her Agenda: Constantly scrolling through social media can be very taxing on our mental health. From being involved in social media professionally, what steps do you take to differentiate your screen from reality?
Nana Agyemang: When I was working full-time at The Cut, I was not on EveryStylishGirl's nor my personal social media often because I was focused on work. You start the day as a social editor at 8 in the morning and you do not get off until 6 or 7 at night depending on the workload that day. I had to put my social media presence to the side because I had a goal to double their social media followers to 1 million in a year.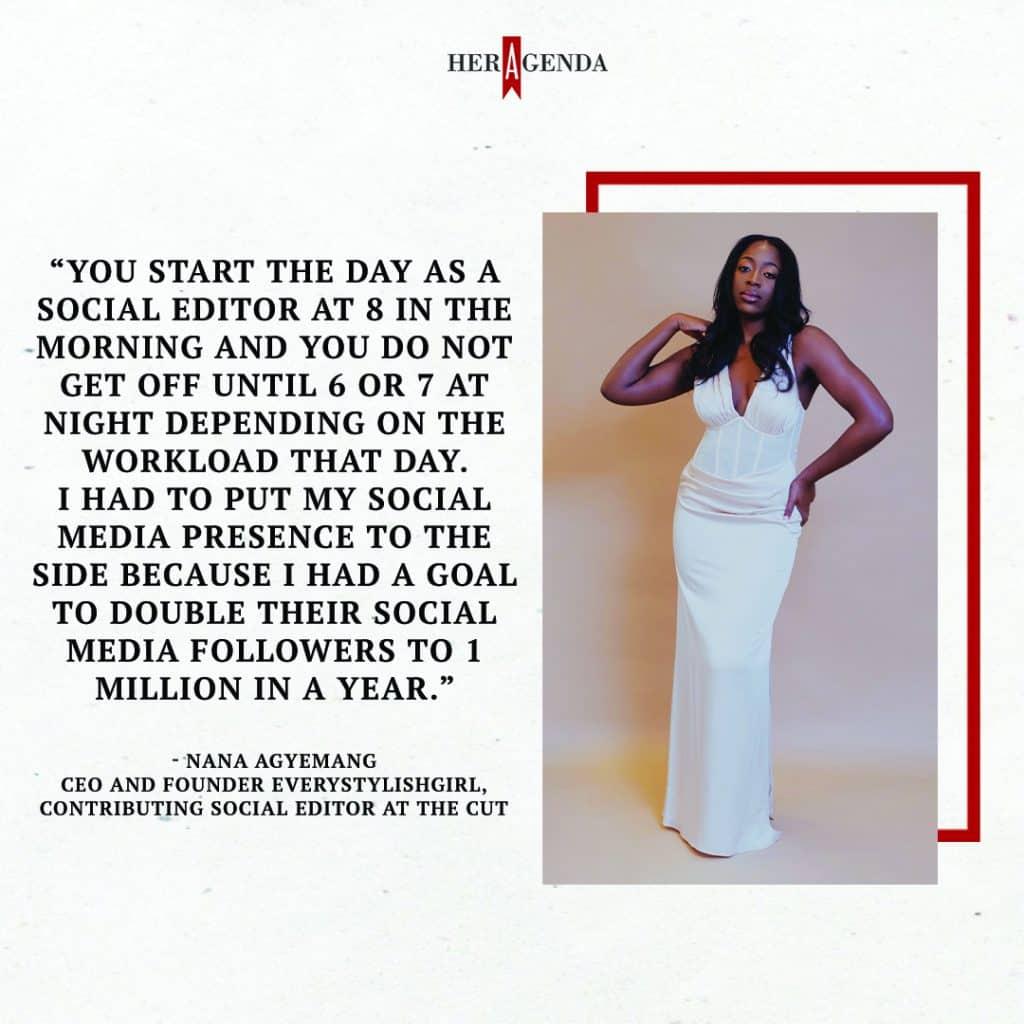 Article continues below advertisement
Overall, it can be exhausting. There was recently a published article on the mental health and traumas that social editors deal with daily. You grapple with burnout constantly, especially being a Black social media editor and having to see the protests while the news desensitizes you. It is frustrating to be on the frontlines for that continuously. For anyone going into social media, know that it is a lot and you should be prepared to prioritize your mental health. We live in a world that is constantly on but you need set boundaries.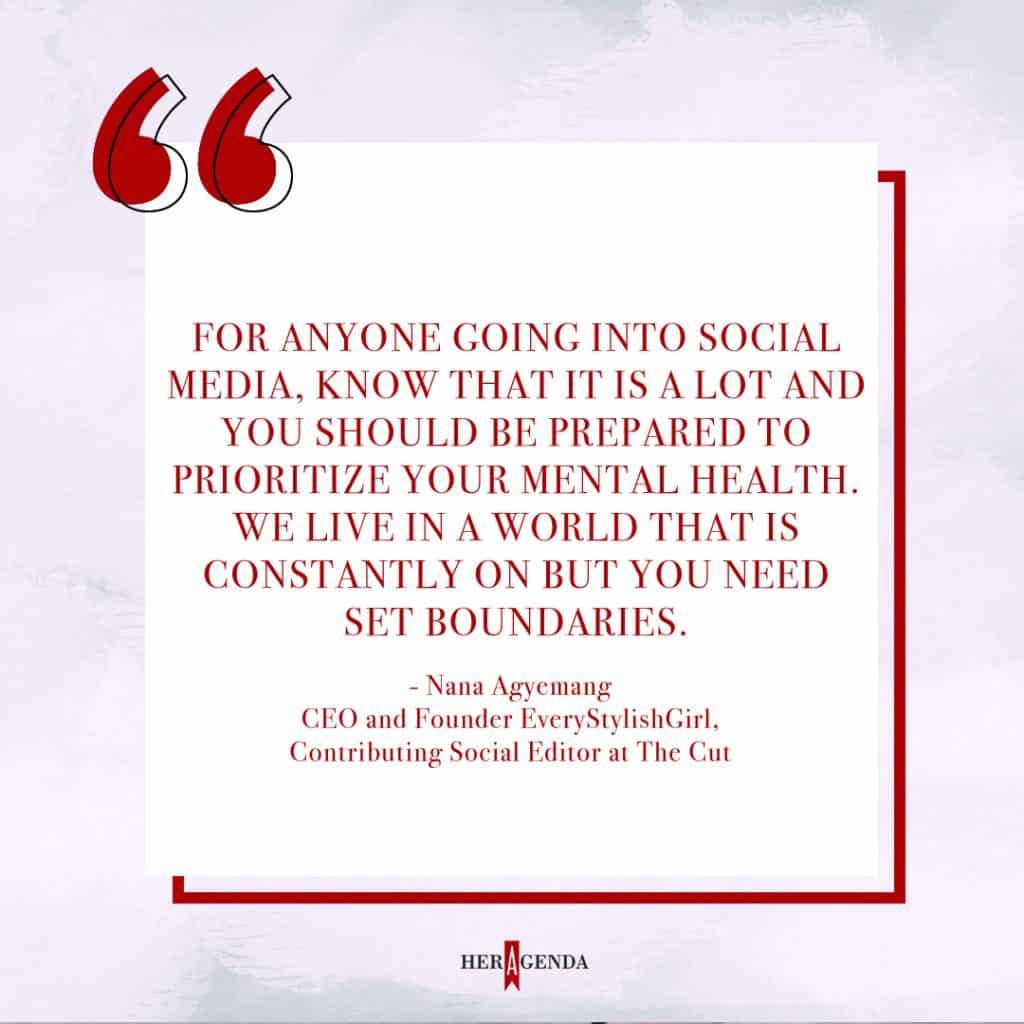 Article continues below advertisement
Her Agenda: EveryStylishGirl is a platform for women of color to see themselves reflected. But, representation in media is still fairly new. Did you ever encounter a time when others doubted your idea or rejected the mission of propelling Black women forward?
Nana Agyemang: I used to pitch to 100 companies in a month to nail partnerships for their support of our networking conferences. I tried so hard to make sure that we had the support to throw networking events for women, provide resources, and have experts speak. For years companies were not listening, no one responded to my emails, nor wanted to be financial support to this mission. We really saw a turning point in 2020 because companies felt forced to give back and help. For so long, it felt like people did not care, support, or understand it. Unfortunately, it took this situation for people to feel like they can give back to the Black community and support Black businesses.
Article continues below advertisement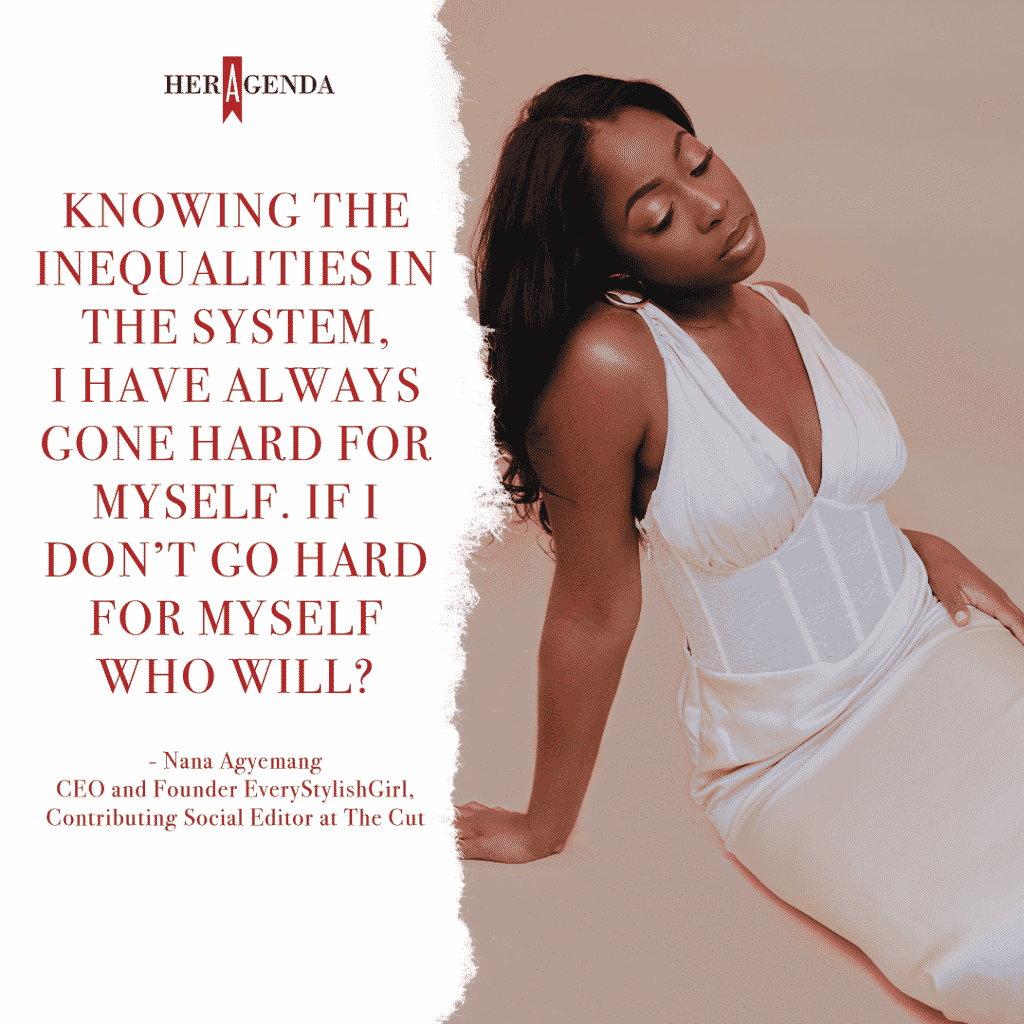 Her Agenda: EveryStylishGirl isn't a typical media platform as it intersects beauty, fashion, social justice, and opportunities. In a world where women are rated on a scale, what inspired you to create a platform where women could see their true selves reflected?
Nana Agyemang: All of the women who follow EveryStylishGirl are career-driven, boss women who want to reshape the world. It was important for us to know our audience and their end goals. We had to cater to our following and speak to them about goals, leverage, negotiation, and how to stand out as a business. We want them to grow and be a boss regardless of their designated industry. Through all of the content that we create, we want people to feel empowered.
Article continues below advertisement
Her Agenda: The anticipated EveryStylishGirl event, Sip N Slay, is approaching. Have you noticed anything pertaining to women in business that you didn't notice before?
Nana Agyemang: Through Sip N' Slay we started a networking group chat and saw that our women are powerful! From women who work at Google, Spotify, and big publications, women were dropping opportunities and insights. It is so important for us to be connected because we are hurting ourselves by not sharing nor providing access. It is important to have events like Sip N' Slay to bring successful women together, network, and build one another. It feels good to know that we inspire women to be entrepreneurs and chase their dreams.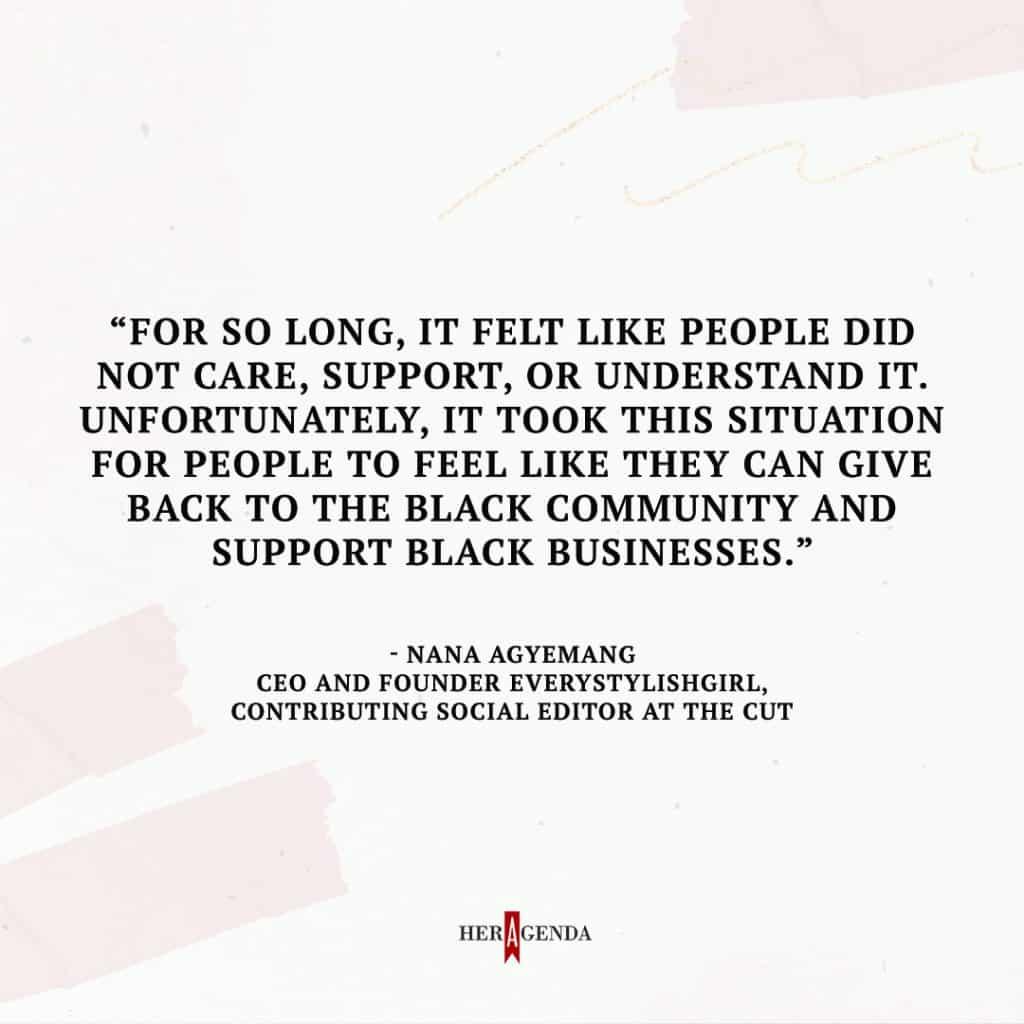 Article continues below advertisement
Her Agenda: What are the less glamorous aspects of being an entrepreneur that nobody talks about?
Nana Agyemang: First and foremost, what I want people to know about entrepreneurship is that you can't give up in the first three years. You may not see a return of success on your business until five years into entrepreneurship. We think of ideas as our babies, put our all into it and give it 24/7 dedication. However, if it does not succeed in the first few months many people quit. You can not think that way. You are starting something from the ground up which did not exist before. Your idea is something that no one knew about and you have to convince others to support it, which will take time. No company was made overnight, so you can not assume that your success will come overnight. You have to give your company a minimum of three years of non-stop grind and growth. EveryStylishGirl now has sixty thousand followers but started at zero. It takes a lot of time.
Article continues below advertisement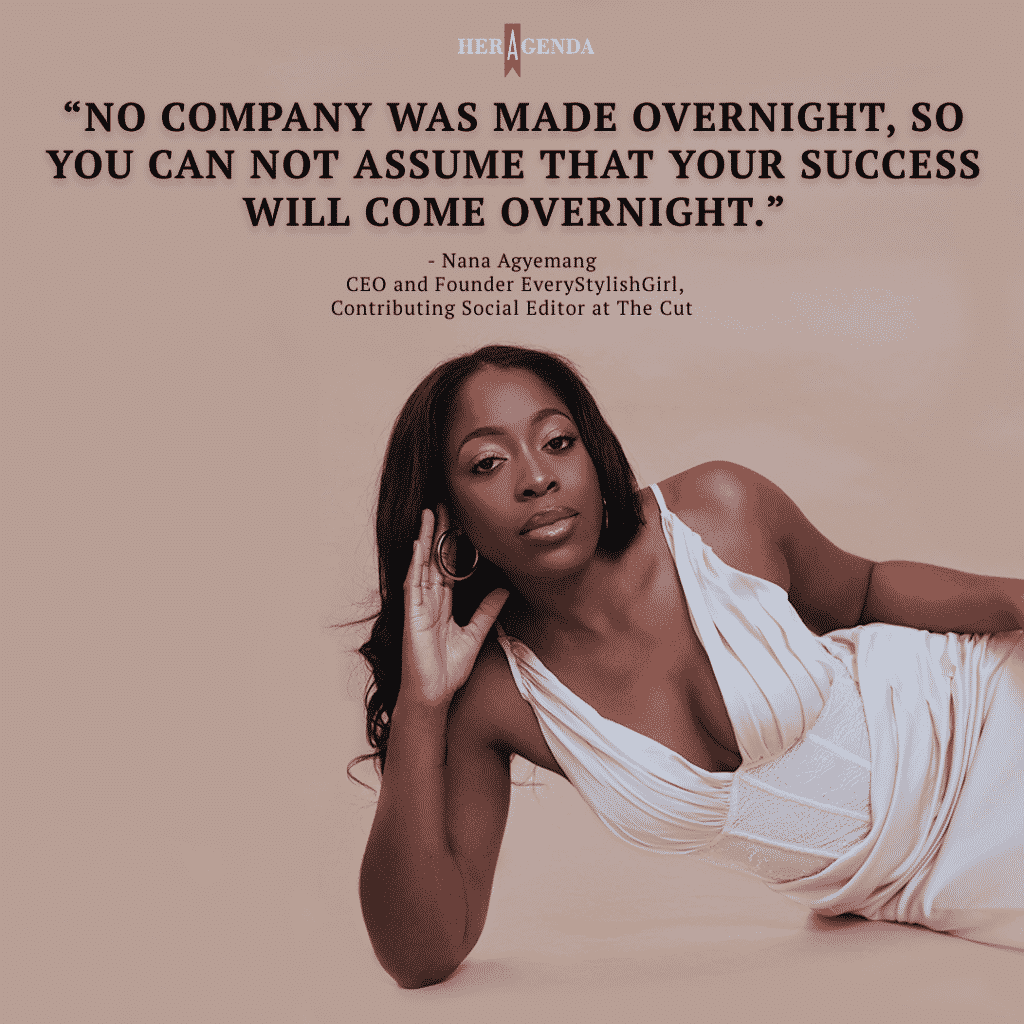 Her Agenda: You are a verified queen on social media, but you are also humble and adamant about being accessible. How do you maintain your down to earth persona, when you see yourself going viral?
Nana Agyemang: I assume that most people in my position with a certain status or accolades will give back information. If someone did not mentor me or give me guidance, I would not be where I am today. The least that I can do is respond to a DM or take a zoom meeting because it takes five minutes. Since I have made it my life's mission to give back, I am going to do that any way that I can. I know the struggle of not having anyone to speak to, so I want to be of support when I can.
Article continues below advertisement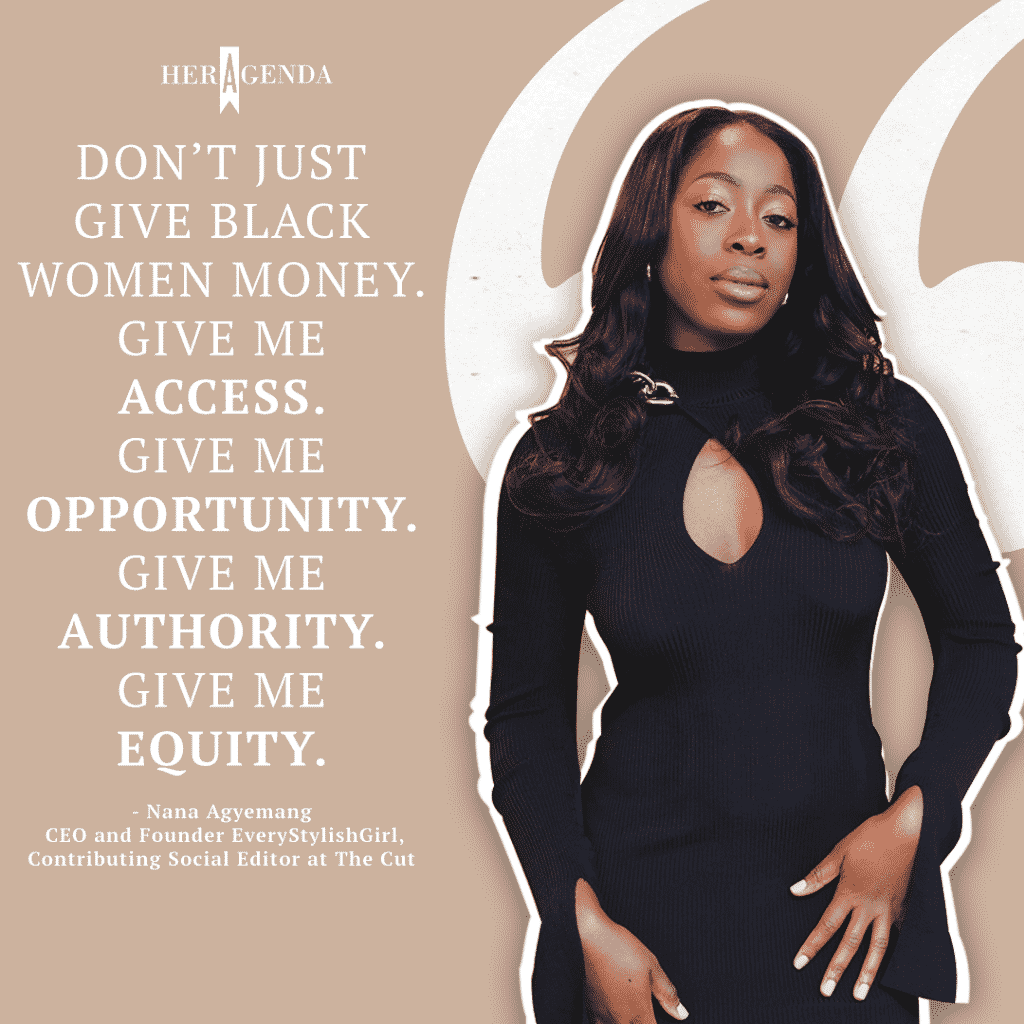 Her Agenda: As a woman who is paving the way for others, was there ever a moment when you realized that you are changing lives?
Nana Agyemang: Yes, when EveryStylishGirl started our intern program. We give women who have no previous experience in media, the mentorship, tools, and resources to grow within the industry. When our alumni started getting hired at BuzzFeed, Harper's Bazaar, and Refinery29, I knew that my plan was working. At EveryStylishGirl, they received the training to grow within their careers that they didn't have before. One of my goals has been to diversify the industry, so I am happy to see it happen before my eyes.
[Editor's note: This interview has been edited for length and clarity.]