It's no secret that the world needs some seriously deep healing. In just a short amount of time, life as we've known it has changed due to capitalism, gentrification, global warming and so many other issues we would be here all day listing. One of the biggest things we should focus on is how quickly technology is developing and the dangerous effects it has on humans.
Back in the day, things happened slower so people had more time to assess the impacts and adjust themselves accordingly. Thanks to technology advancing at the speed of light nowadays, it has shifted how humans interact with one another, how we live our day to day lives, how we view the world and most importantly, how we view ourselves.
The power behind a like has changed literally everything. On one hand, social media has given creatives and entrepreneurs access and opportunities they may have never received due to lack of visibility, and gatekeepers among other things. Unfortunately, it has also caused an increase of mental health issues such as anxiety and depression, it has people constantly comparing themselves to one another, it has people committing crimes to 'keep up with the Joneses' and it has people basically selling their soul for any chance of being viral.
I'm worried for the future. Hell, I'm worried for the world right now. Is it too late for change? Are we able to move forward and live life the way it's intended?
Television producer, journalist, and stylist Natalie Manuel Lee believes we can.
Her Agenda sat down with Natalie and discussed her efforts to help the masses reclaim their true purpose through her digital series, "Now with Natalie," her career transition after facing depression, and how you can always find your way back to the light with the right amount of faith.
Her Agenda: Tell us about your life and what led you to initially become a stylist?
Article continues below advertisement
Natalie Manuel Lee: Growing up, I was fortunate to travel a lot due to my dad's baseball career. He was a professional baseball player turned professional coach so we moved around a lot. I was born in Sacramento, California, then we moved to Florida, then Chicago, then back to Sacramento. I ended up studying Communications/Broadcast Journalism at Sacramento State University. Then I moved to New York City where I was an intern at CBS Sports. The benefit of growing up under my father was that I was basically in the entertainment industry all my life. I saw the good and bad, ins and outs, ups and downs and understood what it took to sustain a life in that limelight but more so the trials and tribulations of it.
Thankfully, due to the world I grew up in, I had a passion for worldly culture and fashion and creativity. I expressed myself through styling and clothing. So, once I was done with NYC, I came to Los Angeles for a styling job with my brother [Jerry Lorenzo] before he started his clothing line, Fear of God. We've done videos together such as Keri Hilson's 'Knock You Down' and we've done stuff for Kanye West. With that, I realized I had a gift for putting things together and styling. I also loved what came with it; the people. I have a thing for people. Creatively, it was an outlet and my provision at the time.
Article continues below advertisement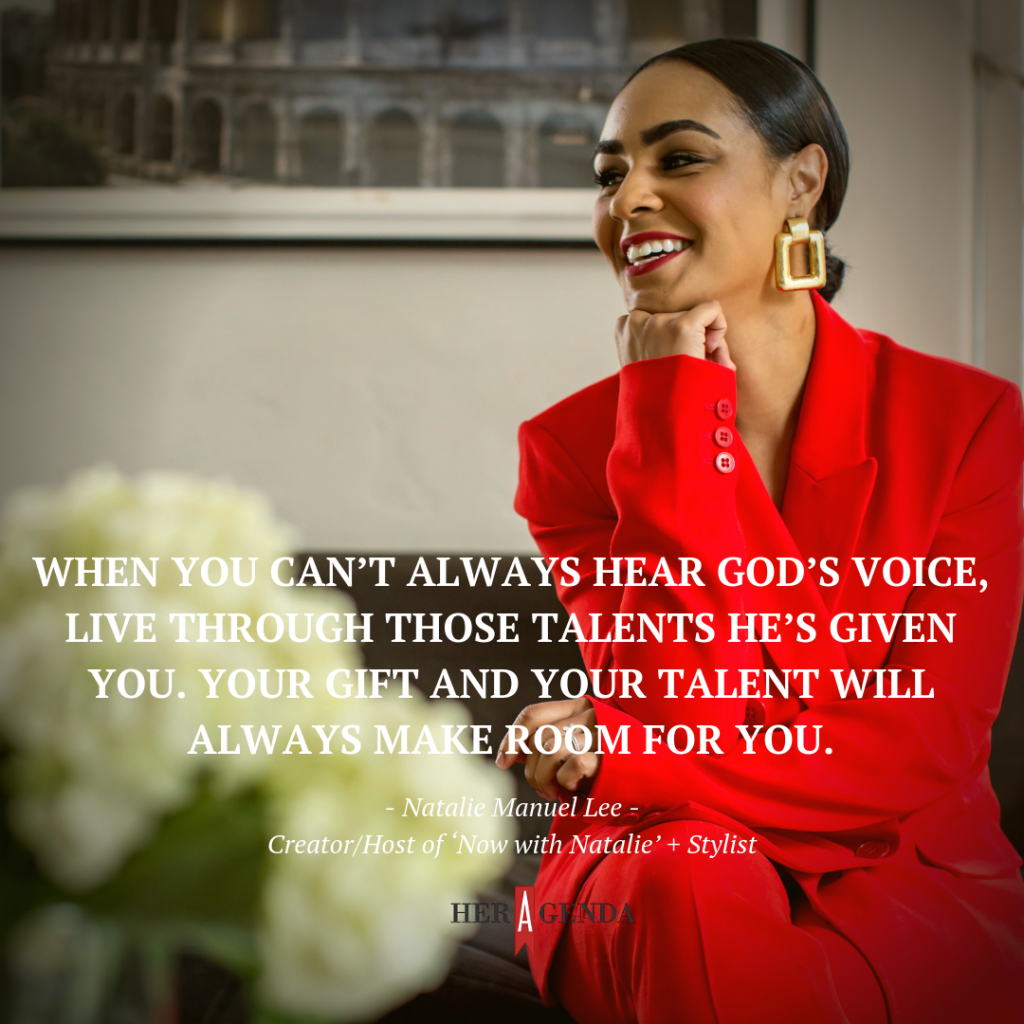 Her Agenda: Then you became the brand manager for your brother's American luxury brand, Fear of God.
Natalie Manuel Lee: Honestly, I just followed my instincts. I followed my gut. When he asked, it was a very hard decision. I had to talk to God like, "alright…if this is what you're calling me to do, I need a sign." I knew it would take a lot of service, a lot of humility and really just submitting to the cause and the assignment. It would also require me submitting to the title of helping my brother. And I really heard so clearly from God this was apart of my assignment.
Article continues below advertisement
So from a spiritual standpoint, that's what happened and I made the decision to move forward. From a flesh standpoint and as his sister, I didn't want my brother and mine's relationship to be ruined because we're so close. Working together can get really tricky. However, I found the balance of knowing he's my boss at the end of the day plus we had mutual respect for each other at work. And overall, it's something creatively I like to do. I believe it was definitely God saying, "this is the call I have for you in this season of life" and I knew I had a gift and talent when it came to fashion, when it came to styling, when it came to creativity but there was another layer of what led me into that door. I had to shift my perspective and know that God was calling me to do something that I was not fully comfortable with or knew it could be a bit more challenging. But it all worked out. That's the key I want people to understand. When you can't always hear God's voice, live through those talents he's given you. Your gift and your talent will always make room for you.
Working with and for Fear of God was such a great journey and I do miss it at times. I still style with my brother at least once a month for a campaign or shoot. We're a great team.
Her Agenda: Let's discuss "Now with Natalie." Tell us the inspiration behind your career shift and what made you decide now is the time for this conversation?
Article continues below advertisement
Natalie Manuel Lee: The shift started when I transitioned out of Fear of God and the Lord said it was time to do something else. In that period, I had no idea what I was going to do and hit a deep depression. Yet, I was trying to figure out the catalyst for this depression spell because life was good, everything was fine, why am I feeling like this? And I heard this inner voice saying the reason why you're so depressed is because you're putting your value and worth in a job title as opposed to being able to just be with me. I would say that inner voice was God. When I had that aha moment, it was such a big truth that had me ready to have a transparent conversation about this moment of clarity with my family, my friends, and my community. And obviously, my community of friends are people in the spotlight so I wanted them to talk about how they're able to navigate not feeling like their value and worth is tied to all these other things but the one that created them. For me, I found this huge truth and I've been a believer all my life but when you have an awakening, you can't go back to sleep. I had that awakening and said that the culture, the world needs to understand this truth and here's how we can do it.
So the purpose of this show is to nullify the way we've been living our lives and pull back the counterfeit that is being sold of identity and purpose. A lot of people ask what are those counterfeits; It's simply that you're defined by your accolades, you're defined by your job title, what you do, all these other things but the one thing you should be defined by and your purpose should be in. With that came the birth of Now with Natalie.
Article continues below advertisement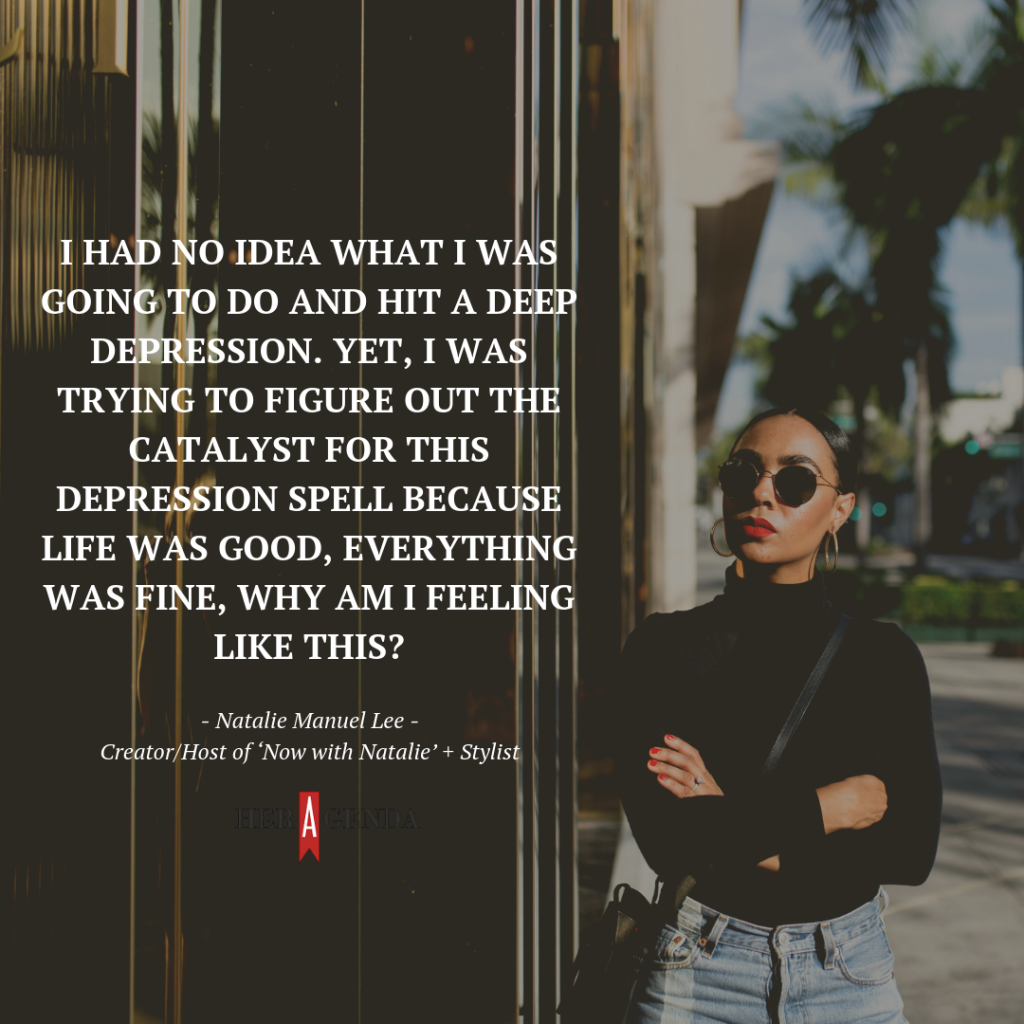 Her Agenda: Losing faith during hardship is such a common thing, even for believers. Can you share a time when you experienced this feeling and how you overcame it.
Article continues below advertisement
Natalie Manuel Lee: Good question! Gratefully, I come from a family where financial stability is not an issue especially with my father being who he is. When I moved to LA, I literally had nothing–no job, no place to live, nothing. I stayed with one of my close friends Katrina on her couch in her studio apartment and found a small gig that was barely getting me by. When I say barely getting me by, I would stretch a cup of soup or wait and hopefully eat the next day. The reason I bring up my dad is because God literally told me not to lean on my earthly father. He said I needed to learn how to lean on my heavenly father. So that was very difficult for me especially when I need to eat and be able to survive. But I kept hearing him say, "I will provide all of your needs!" So in that transition, I owed Katrina money for rent but I was $79 short. I didn't feel like I should reach out to my parents because of the instructions from God but within those two weeks, I started losing faith. Kid you not, the morning of the day that the rent was due, a check came in the mail for exactly $79.
That moment right there, I was like I can't trip…that's God! He cannot fulfill his promises if we don't truly believe in him. For me, it was a tough time. A time that I stressed, a time that I struggled over the course of 10 years. But within that stress and struggle, it is indicative to where I am today. That's what my faith is so strong. I know He'll show up. You might not have what you want but you'll have what you need. There's a difference.
Article continues below advertisement
You might not have what you want but you'll have what you need. There's a difference.
-
Her Agenda: You said that our generation is in a serious identity crisis. How can we take the proper steps to fix this issue?
Article continues below advertisement
Natalie Manuel Lee: You have to know where you're from and who you are to understand why you're here. Where you're from is the heavenly father. Why you're here will surface but it will take some work and discipline to get to know the one that created you. We have to realize, culture didn't birth you, the world didn't birth you, God did. He's the only one that has the say of putting labels on us. We have to get to know the one that created us. It's just like when you have a relationship, you have to get to know the person. If we're cultivating and building a relationship, I'm going to start learning your mannerisms and signals. It's the same thing with a relationship with God.
The first step is really to spend time and understand who he is. The scripture says, my sheep know my voice. You also have to know and believe what he says about you in scripture is who you are. You have to know you are accepted, you are redeemed, you are complete in Christ, you are more than a conqueror, you are more than enough–all those things.
Article continues below advertisement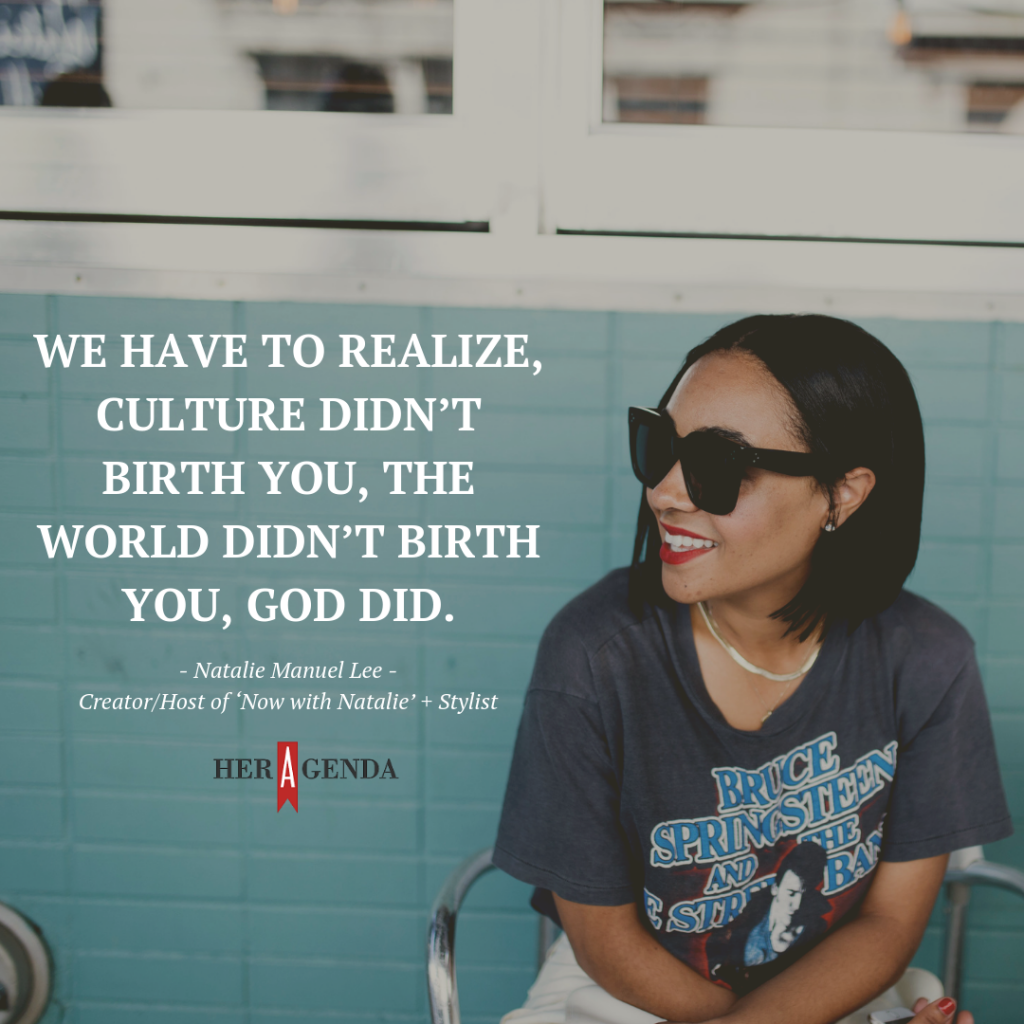 Once you realize and know those affirmations and what it says about being a child of the King, that's how you can then begin to understand your purpose. You can't go gullibly into the call of your life if you don't know who you are. You can go into the call of your life but it may not necessarily be God's call for you, it'll be your call for yourself. And there's a difference. That's why it's so dangerous because we're in such an identity crisis, we're thinking that we're able to give ourselves purpose. No, we didn't create ourselves. God created us. We can't give ourselves purpose.
Article continues below advertisement
It sounds so easy but it's hard because it requires a lot of discipline. It's a perspective shift. The world and the culture have been telling us for so long that our value and our worth are in all these other things so it makes us want to attain these things and its unrealistic. We don't have to earn identity, we get to just experience it. So we don't have to do these certain things in order to feel like we're full. We're already full. That's the biggest perspective shift. You don't have to accomplish whatever to feel worthy. You already are worthy because God made you as you are.
We don't have to earn identity, we get to just experience it.
Her Agenda: You speak so confidently in your faith, who taught you about God and spirituality?
Natalie Manuel Lee: Growing up, I didn't know anything else that we were doing on Sundays besides being in the house of God. Every morning, my mom and dad would do devotionals with all of us as a family. I don't know any other way. My parents just instilled it in us. These are the Christ-like principles you guys need to live out, or try to, every single day. We definitely didn't get it right all the time obviously, but we always had faith and something to fall back on.
Article continues below advertisement
And for those that didn't grow up in the church or their parents didn't introduce them to it, that's okay. You still have time and the ability to create that space with your friends and within your community. People have to understand fellowship is really important. If you're not being able to feed off each other, you're doing yourself a disservice. We need community, we need to be connected to other people. We're not designed to be alone in this isolation, period.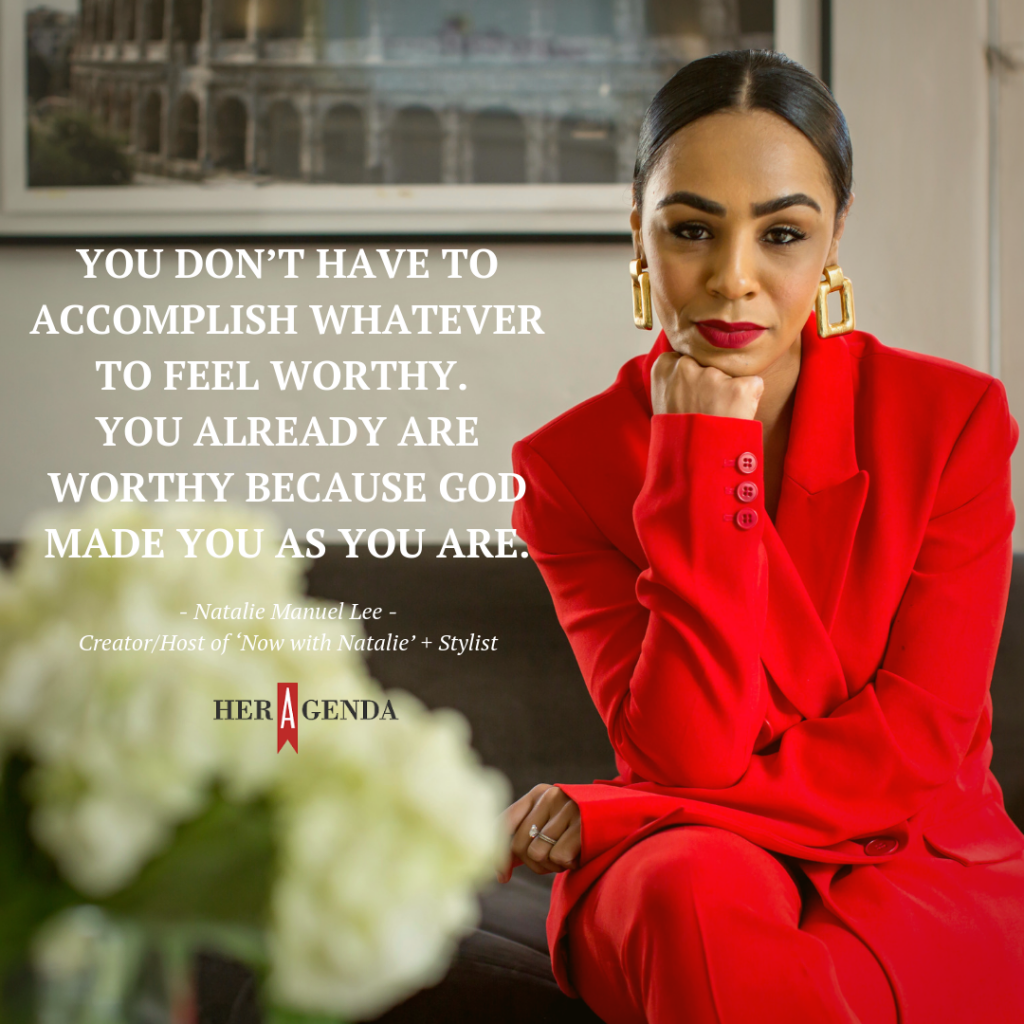 Article continues below advertisement
Her Agenda: 'Now With Natalie' includes celebrities from Kelly Rowland to Elaine Welteroth and even your brother Jerry Lorenzo. What made you call on these guests for your first season and what did you learn from them?
Natalie Manuel Lee: The universal message of this series is that no matter the industry you work in, no matter the platform you have, no matter your walk of life, it is powerful to tell your story. Listening to everyone was just a humbling experience because they were also very honest and real. For me, it was an indication of the greatest way to serve and set people free is to tell their story. Free from bondage, free from shame, free from all those other distractions and just to simply tell your story. We're in such a world right now where we only want to be painted good and we only want to be perceived with a filter, that's also the whole point of the show. To pull back the veil and expose the truth. The biggest takeaway I received from these guests is the encouragement to keep sharing my story and my journey. It was confirmation to keep going.
Article continues below advertisement
The universal message of this series is that no matter the industry you work in, no matter the platform you have, no matter your walk of life, it is powerful to tell your story.
-
Her Agenda: What's the main thing you want the people to take from Now with Natalie?
Natalie Manuel Lee: Awakening of your true identity and your true purpose. Without identity, you can't fully live the call on your life which is your purpose which we're all either searching for or wanting to do daily. For me, the biggest take away is understanding where to put your identity, understanding who you really are and understanding how to use the tools to really find your purpose and what that looks like.
Her Agenda: What's your life mantra and favorite scripture?
Article continues below advertisement
Natalie Manuel Lee: In these last couple of years especially while creating this series, my mantra has been you cannot abort the process. TD Jakes spoke about it and it's stuck with me. You have to understand that even if it's not the thing leading to the main thing, nothing is ever wasted. Do not abort the process because if you abort it, you're just prolonging your journey. Understand the tools you need in that process to sustain you from what's to come.
My favorite scripture right now is Mark 9:24 which says ask the father to help with any unbelief that will help you to believe. If we believe it but question it, it will never come to pass. We have to understand that we always have to believe in order for those things to come to fruition.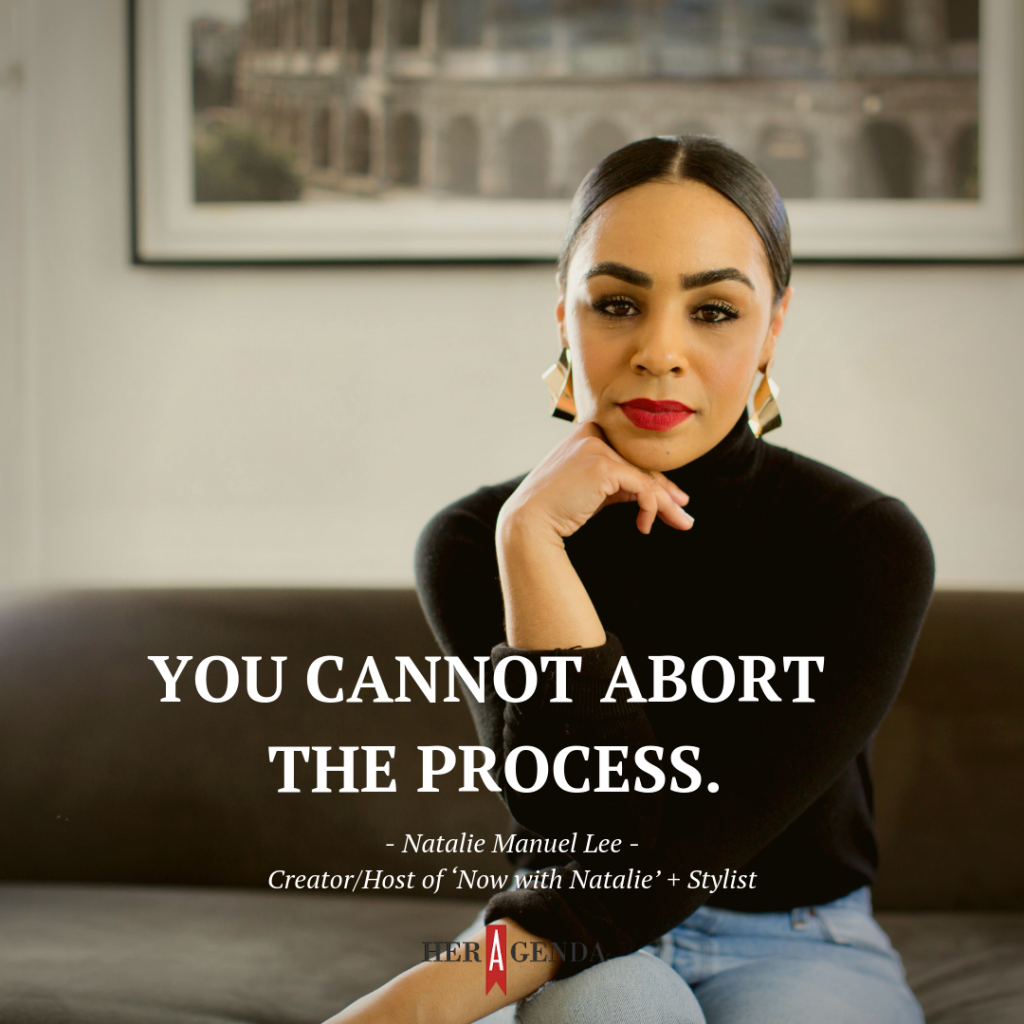 Her Agenda: What should we expect from you in the near future?
Natalie Manuel Lee: Preparing for season two! I'm currently casting and seeing what that looks like so be prepared!
[Editor's note: This interview has been edited for length and clarity.]