After beginning their careers in the retail and entertainment industry, these intelligent women were sick of their day jobs. So they capitalized on their five plus years of knowledge about the wine industry and followed their passion, which was wine.
Nicole and Nichelle share their resilient journey in creating a "flirty but edgy" Rosé that can be enjoyed all year round. They are carving the way for others with their newly launched brand, The Guilty Grape.
Her Agenda: How did the two of you enter the spirits and entertainment industry before starting The Guilty Grape?
Nicole Nichols: We both worked in retail management, we both have similar career paths. We eventually reached a point where every entrepreneur gets the itch, to follow our dreams and passion.
Nichelle Nicholas: It's a very non-traditional path, and like Nicole said, in the retail industry and lifestyle/entertainment we just saw a lack of representation within the industry. We enjoy wine so much, it is a passion for us. When we thought about it, and took a step back, we just didn't love our jobs anymore.
Her Agenda: What was the turning point for branching out on your own, and starting The Guilty Grape? Describe your "leap of faith."
Nichelle Nicholas: I think it's a combination of a few things, Nicole and I love working with customers but we became irritated and frustrated within our industry and working for someone else's dream. Every day we came home and we weren't fulfilled anymore. We really wanted to build our own legacy and we wanted to do something that we woke up every day being passionate about. That was wine for us.
Every day we came home and we weren't fulfilled anymore. We really wanted to build our own legacy and we wanted to do something that we woke up every day being passionate about. That was wine for us.
Article continues below advertisement
Nicole Nichols: Wine for us is a lifestyle. We wanted people to become more educated about it and like Nichelle said we were frustrated. We were frustrated that we didn't see ourselves represented in what we enjoyed the most. So, we decided to solve the problem and create a brand that really represented our culture.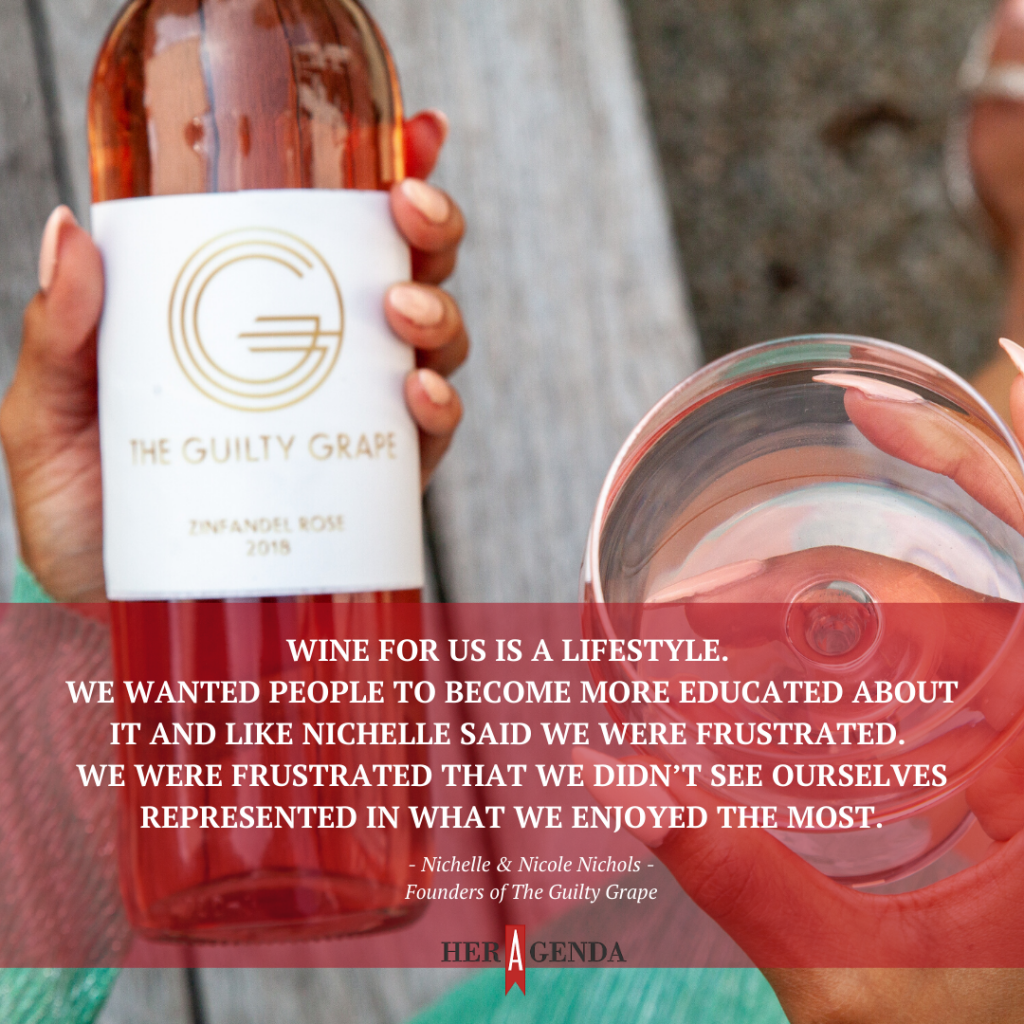 Article continues below advertisement
Her Agenda: What is your partnership like? What about it works? Furthermore, what is advice you would give to entrepreneurs or people working with family?
Nicole Nichols: Nichelle and I are a complimenting duo. We try to bring our best every day but sometimes you know you need that extra push in your twin, your identical twin, what better person to do that than someone with almost the same DNA as you? We can finish each other's sentences! Therefore, knowing each other's strengths and weaknesses, we are able to flourish. If she doesn't get something, I do or vice versa. Or if we are both stuck on the same situation, we really dig deep to solve the problem. We really do work in tandem and in sync.
Nichelle Nicholas: We are not saying there are never debates! We just remember why we are creating, why we are in this, and what we are building for ourselves and those who are walking in our paths as well. We are always trying to focus on the big picture, and how we are going to become successful within this industry and make our mark as well.
Her Agenda: What does The Guilty Grape plan to do to support other Black wine owners or Black food brands? What is your "dream" way of making an impact on the industry?
Article continues below advertisement
Nichelle Nicholas: Supporting minority-owned businesses is very important for The Guilty Grape and to us. Right now, whenever possible when it comes to working on our side of the business we try to work with minority-based businesses or African American businesses. That could either be from our branding team, our marketing team, our photographers, and even our PR team are majority-minority and African American.
Furthermore, in the future, we plan to work with more Black-owned wineries and retailers and that is something we are really looking into and passionate about doing. It is going to take all of us to break the cultural norm in the wine industry and to break those barriers. We know there are challenges out there, and we have to create our own space in the industry and we are willing to do that.
Article continues below advertisement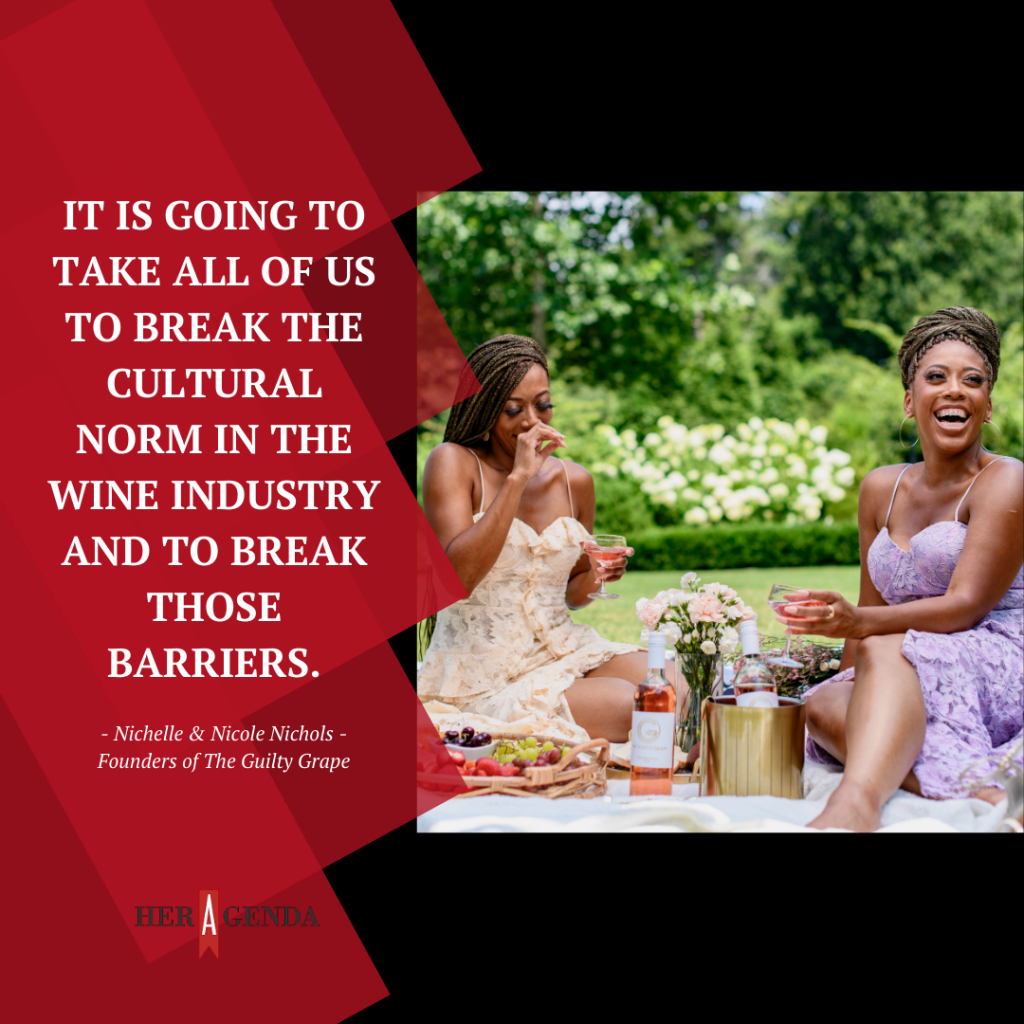 Her Agenda: What do you think are some of the solutions in carving pathways for minorities and specifically, Black women with representation in the wine and spirits industry?
Nicole Nichols: African Americans make up 1% of the wine industry. From an industry standpoint, there needs to be more educational programs and resources for our communities focused on wine, and the pathways to enter the industry. Hiring Black talent within their company so they do understand our culture like our marketing, our flavor profile. Also, investing in our company. Capital is a major barrier and hinders minority businesses to enter this field. We really just want to teach other fine winemakers that there are opportunities in this industry. We need to support each other.
Article continues below advertisement
Nichelle Nicholas: Especially Black women. We change cultures, and we can definitely change the wine industry. And, we are here to do that.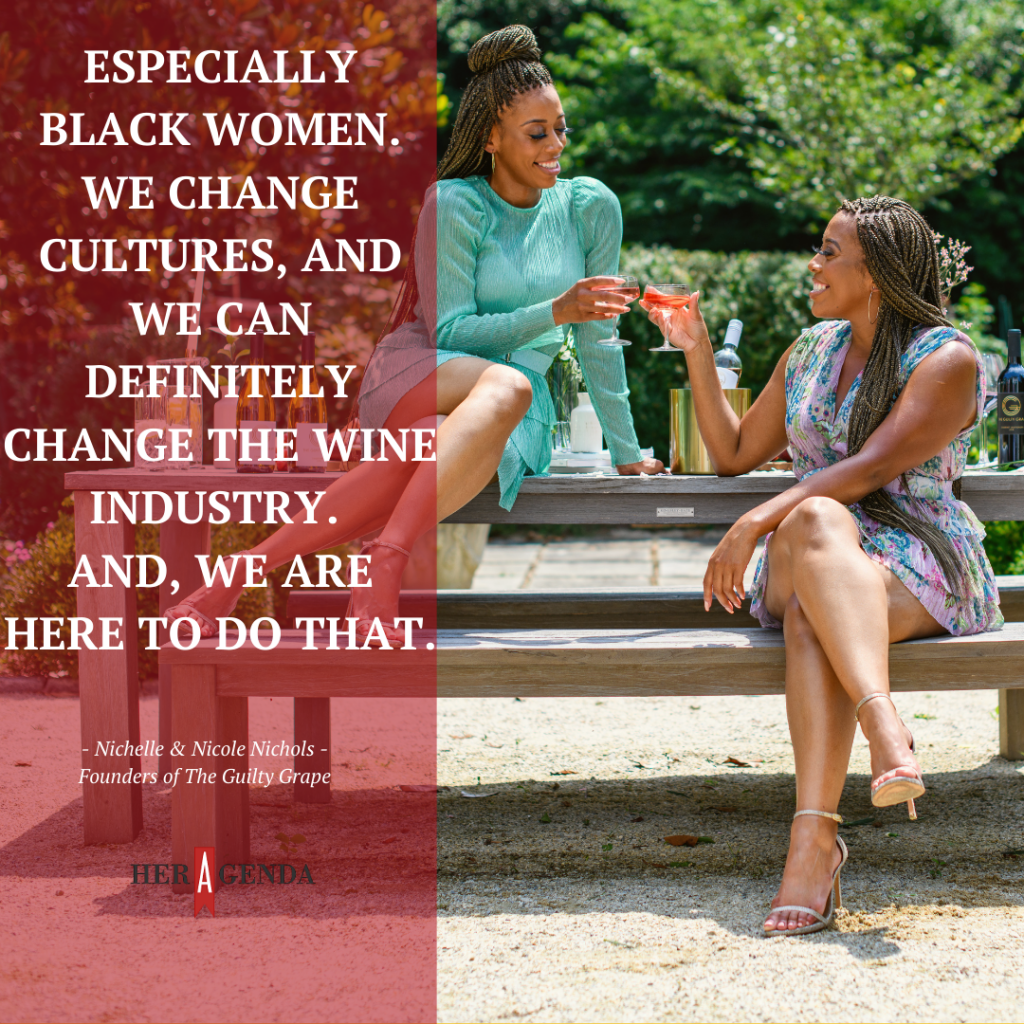 Article continues below advertisement
Her Agenda: Can you elaborate more on the "art" of wine? How did you learn about this process? From your learnings, how did you determine a Rosé that fit your brand and messaging?
Nichelle Nicholas: [Rosé] can be made from any red grape. But how it relates to our Rosé, we focused on the Zinfandel grape, which is primarily grown in California. So once the grape is picked from the vineyard, our grape is crushed then the outer layer of the grape (skin), it's left to "flirt" and sit with the juice for 36 hours. Then we tweaked our blend for the optimal color and taste which is a semi-sweet Rosé, and you know when you take your first sip, it dances across the palate.
Nichelle Nichols: We knew what we wanted from our winemakers going into it. We wanted something that was semi-sweet and fresh with a balanced taste to it. We wanted you to be able to enjoy it with a charcuterie, special chicken dinner, or pasta so many pallets could enjoy it.
Nicole Nichols: We wanted it to be paired with different foods. A lot of overly sweet wines are classified as dessert wines, and we didn't want that. We wanted something that you could honestly drink at any time of the day, if you wanted to wake up with a Rosé in the morning, we wouldn't shame you for that. We want you to pair with brunch, we love a good brunch. Or in the summer, a dinner, or on a date, with your girlfriends our Rosé is versatile and attractive.
Article continues below advertisement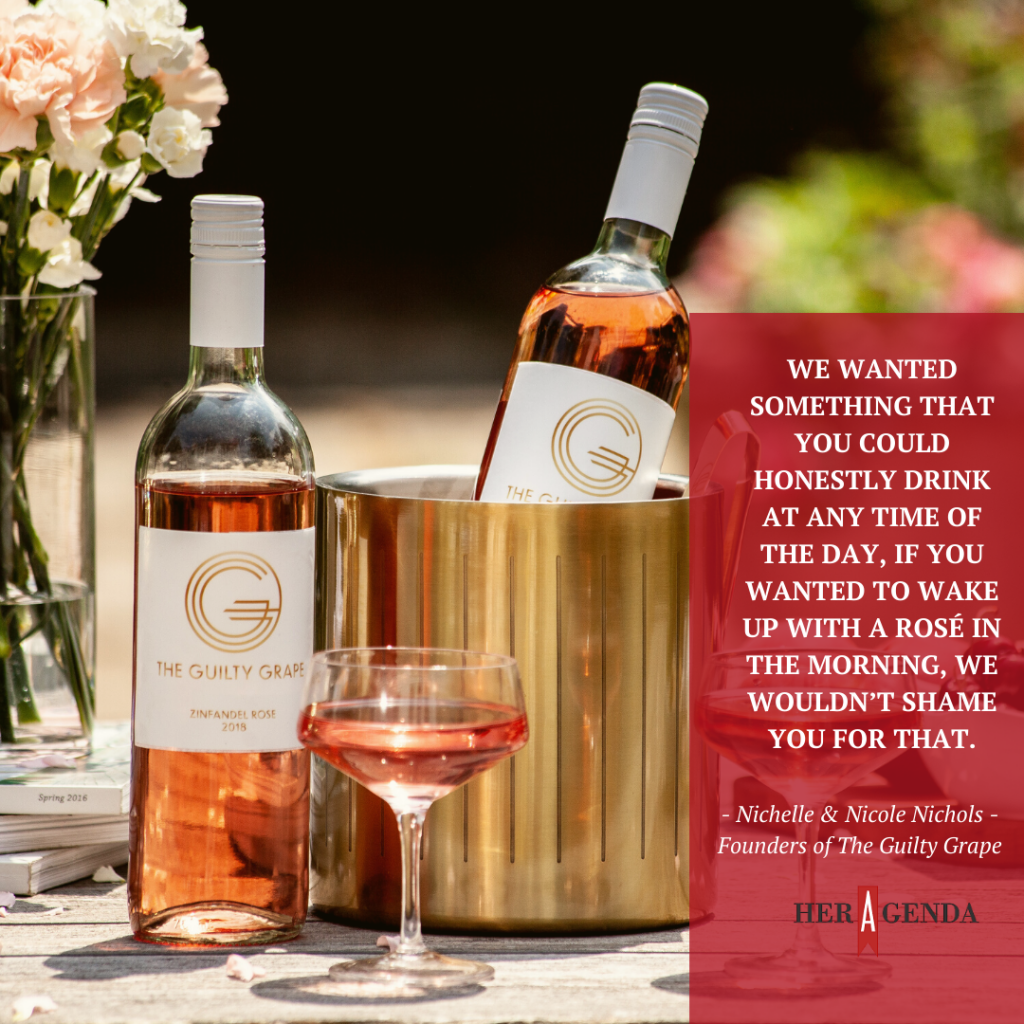 Nichelle Nichols: Also to be able to transition from the summer to the wintertime as well. Rosé is not just for the summer, it is for the winter as well. Sometimes when you have an ultra-sweet wine, people consider it to be a summer wine. The Guilty Grape is a perfect balance.
Her Agenda: Most people assume "pink" wine is Rosé. Can you define what determines a Rosé wine versus others that are also a pink color?
Nichelle Nichols: It depends on the grape variety and the technique used from the winemaker. Simply put, the longer the juice touches the grape skin, the darker it becomes.
Article continues below advertisement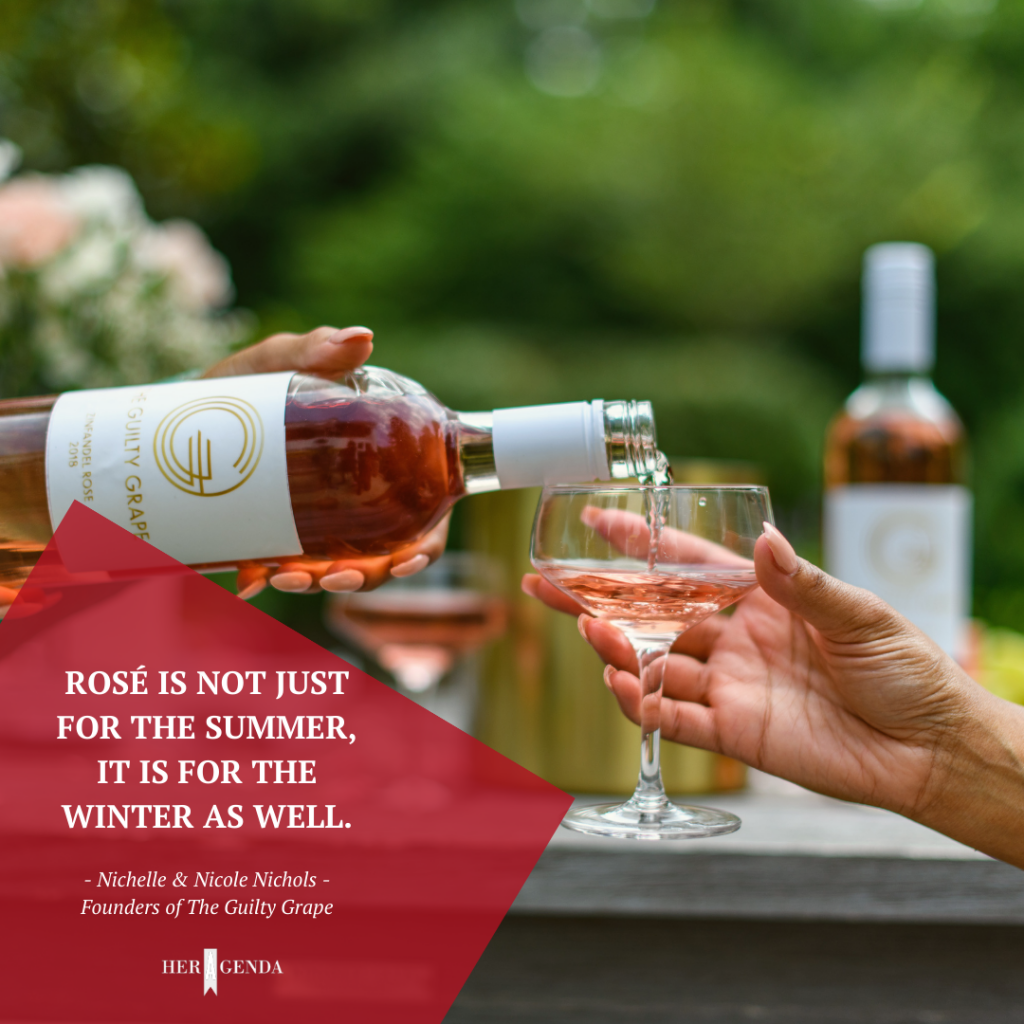 Her Agenda: Can you explain what drew you to micro-vineyards versus larger vineyards? Was it the quality? The manufacturing minimums? Price point?
Nicole Nichols: We chose the winery because they really understood our vision and allowed us to have a very hands-on approach to the process. We really wanted to delve in and not just standoff, and pay someone to do something for us, and smack on a label. We really care about the process and what the flavor profile is. We partnered with a great winery that had access to the best vineyards and premium growers in the region. That has helped us ensure and create a unique blend as Nichelle said, it is balanced, it is textured, there's a structure there and offers a great flavor that we felt our customers desired and wanted.
Article continues below advertisement
Her Agenda: What advice would you give an entrepreneur looking to get into the wine industry?
Nicole Nichols: Getting into the wine industry is no easy feat. It really boils down to knowledge. Knowledge is power in this industry in whatever sector you are trying to enter in whether that's retail, working with a vineyard, distribution, or ourselves, and starting your own wine label. It really just starts with knowledge and understanding the industry. I would tell that individual to just start. Put one foot in front of the other and decide which path and avenue you want to go down, and do the research, and reach out to other people in the industry, and ask questions.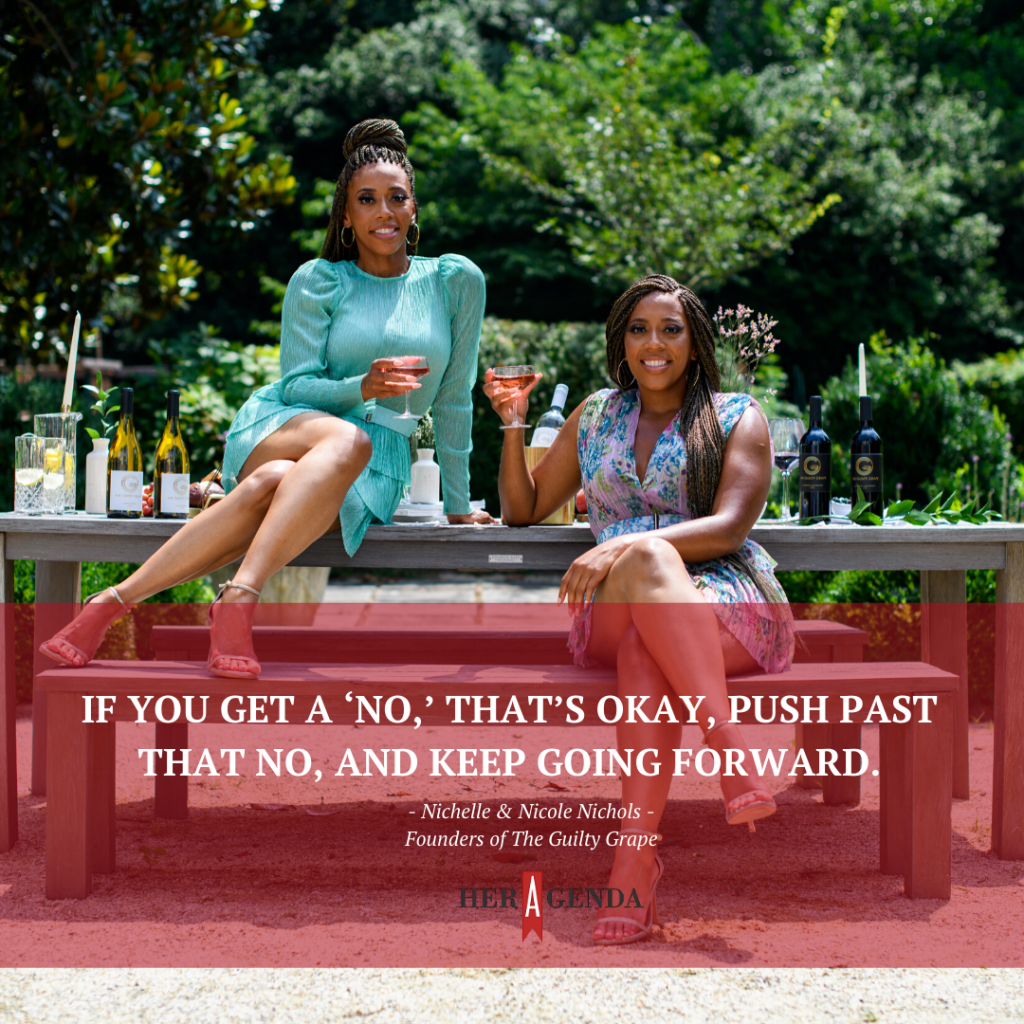 If you get a 'no,' that's okay, push past that no, and keep going forward. It is harder for African Americans in this industry, so you are going to get a lot of 'no's,' but some 'yes's,' and you are going to have to make your own experience. It is not going to be the same as our counterparts, so just keep pushing past the barrier, and keep moving forward.
[Editor's note: This interview has been edited for length and clarity.]