Pamela Alexander knew she wanted to change the world and through her role she is doing just that. As the Director of Community Development for Ford Motor Company Fund, she is responsible for leading Ford Fund's community engagement, outreach strategies, and initiatives with key nonprofit organizations.
Growing up in Michigan, Pamela was convinced that she had a responsibility to make the world a better place. All her life she saw Black women lead their communities regardless of the sacrifice and knew her purpose lay embedded in their actions. Since their founding in 1949, Ford Fund has invested $2 billion in programming. Under Pamela's leadership, Ford Fund has continued to empower people, increase social mobility, and build communities.
We recently spoke with Pamela and got her perspective on the power of education, representation in the workforce, and continuing a meaningful legacy.
Her Agenda: While you're working remotely, what is the average day like for you?
Pamela Alexander: The interesting thing is that there is no average day in the position that I have. On any given day things change, you always have your priorities and the programs that you're focusing on, but something always comes towards you. I will say right now working remotely, I have been extremely busy because I'm Director of Community Development for the Ford Motor Company Fund, which is the philanthropic arm of the Ford Motor Company. We have been extremely busy making sure that we are responding to community needs as it relates to COVID.
So I start very, very early and go very, very late. There have been more than a couple days where I'm sending notes at 1:30 A.M due to situations brought about by COVID. People need food, people need access to programs and we have been extremely busy just making sure that we are responding to not only now but the near and far. What do people need now, what is coming on the horizon? What are people going to need 6 months from now and how can we make sure Ford is there, supporting communities as we need to?
Article continues below advertisement
Then with social justice, the great thing about Ford is that it is not a space that is new to us in terms of equity and racial equality. We have been supporting national organizations for over 6 decades and we have our own programs. For example, we have Ford Men of Courage that we started five years ago with the intent of changing the narrative around African-American men, specifically. I've been spending a lot of time on expanding Men of Courage and expanding our programming so we have an even greater reach. A lot of Zoom, a lot of Webex, but we have been very busy responding to the community's needs.
We cannot get anywhere if the opinions, power, knowledge, and experiences of women are not included in the process.
Her Agenda: I believe in the phrase, you cannot be what you cannot see. Was there a specific person or thing that inspired you to exceed society's expectations and stereotype of a Black woman?
Pamela Alexander: I'm so glad to hear you say that because I am always talking about that with my team. If you cannot picture yourself in that space, then how do you plan to get there? I was very fortunate as a woman to have very strong female role models and mentors for most of my life. Starting in college, my advisor Dr. Gwen Michael, who was an anthropologist, was such an amazing role model for me and opened my horizons to all that was possible as a Black woman. She really encouraged me to open my eyes and look at the widest range of possibilities. From a corporate perspective, I had a director that I reported to there who was a very strong female role model and helped me develop my skills as they related to being female in corporate America.
Article continues below advertisement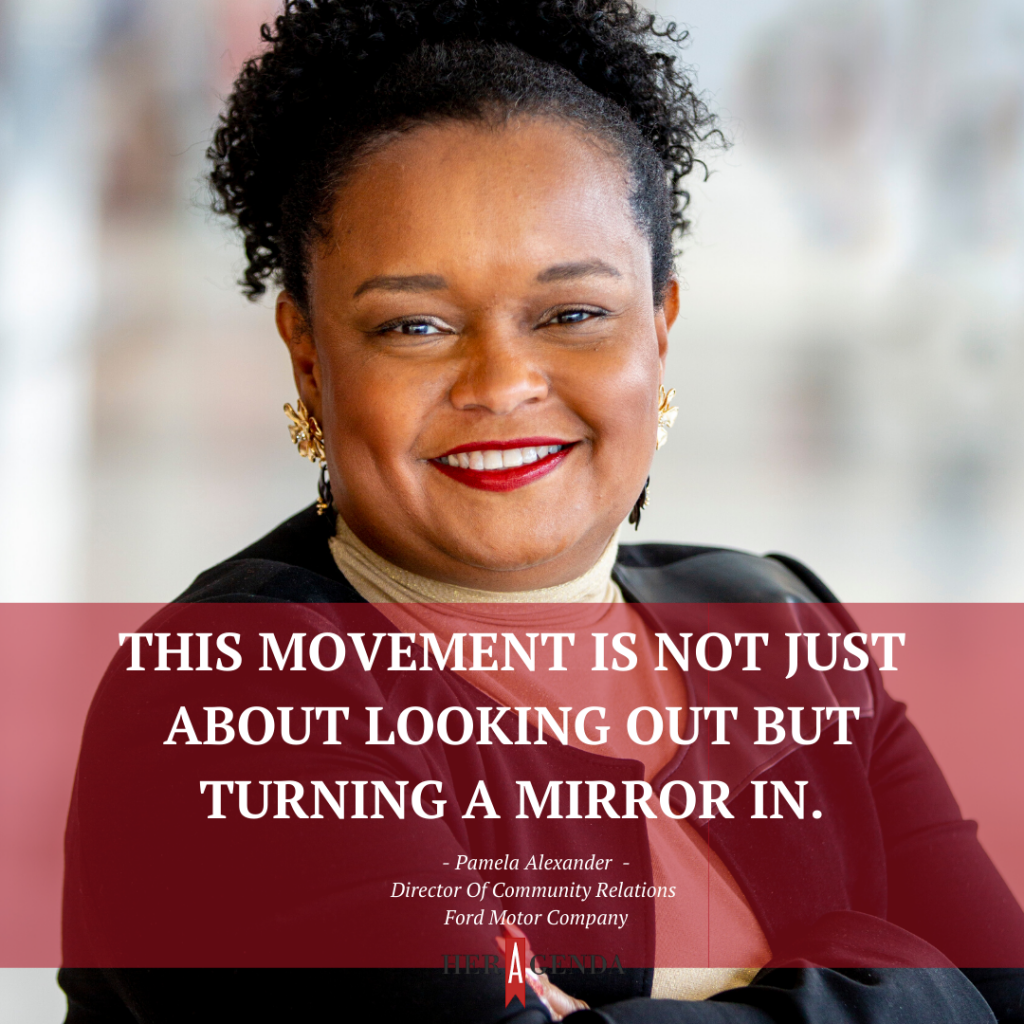 Her Agenda: Knowing that you obtained degrees from Georgetown and Columbia Universities, how much different do you think the world would be if more women obtained a college education?
Pamela Alexander: Education, especially a college diploma, is very important in terms of opening doors. When you go, especially to grad school, it is about knowledge but it is also about connections that you make. The college degree is important because you do not want to have a situation where you want to apply for a position but if the position requires a college diploma, you are out of the equation. I am not saying everyone has to have a college diploma, but I think everyone needs to think about what they want to do in life. If what they want to do demands a college diploma then it is critical, otherwise you are taking yourself off the field.
Dr. Dorothy Height, who was one of the "Big Six" and the only women at the table with Dr. Martin Luther King Jr., was one of my most important mentors in life. She used to tell a story about how she was with Dr. King and the "Big Six" and when she stood on the end of the line for a picture, the person who printed it would crop her out. She told me that what she learned to do is wait until they were about to take the picture and jump in the middle because then they couldn't crop her out. She used to always say, never let yourself be cropped out of the picture, literally and figuratively. Always put yourself in a place of achievement and power where people cannot crop you out of the picture. In regards to a college diploma, that is important because it is another thing that keeps you from being cropped out of the picture. You cannot be taken out of the equation or out of consideration because you do not have a degree if the job requires one.
Article continues below advertisement
Her Agenda: Within the news, several corporate leaders have been stepping down making room for POC in the executive space. How do you think diversity within the workplace will change the corporate environment? Do you think such representation would have altered your career trajectory if you were just beginning your career?
Pamela Alexander: A lot of companies are taking a hard look at diversity because this movement is not just about looking out but turning a mirror in. And, a lot of companies are doing that. I think if I were starting my career during this time, I would be looking at companies' representation, and what they are doing in this space. In terms of women and women of color, I would think about what it would be like to work there.
Her Agenda: How have you been practicing self-care during such unprecedented times?
Pamela Alexander: I do not think anyone could have seen the impact of this virus on the world. For personal care, I have been very busy but you do have to take the time to reground yourself because we are not used to dealing with a global pandemic. I've been spending a lot of time with family and since everyone is home, I have been taking time to rebuild my village, especially with how it relates to African-American women. I am grateful that this time has enabled me to reconnect with family and cherish my moments.
Article continues below advertisement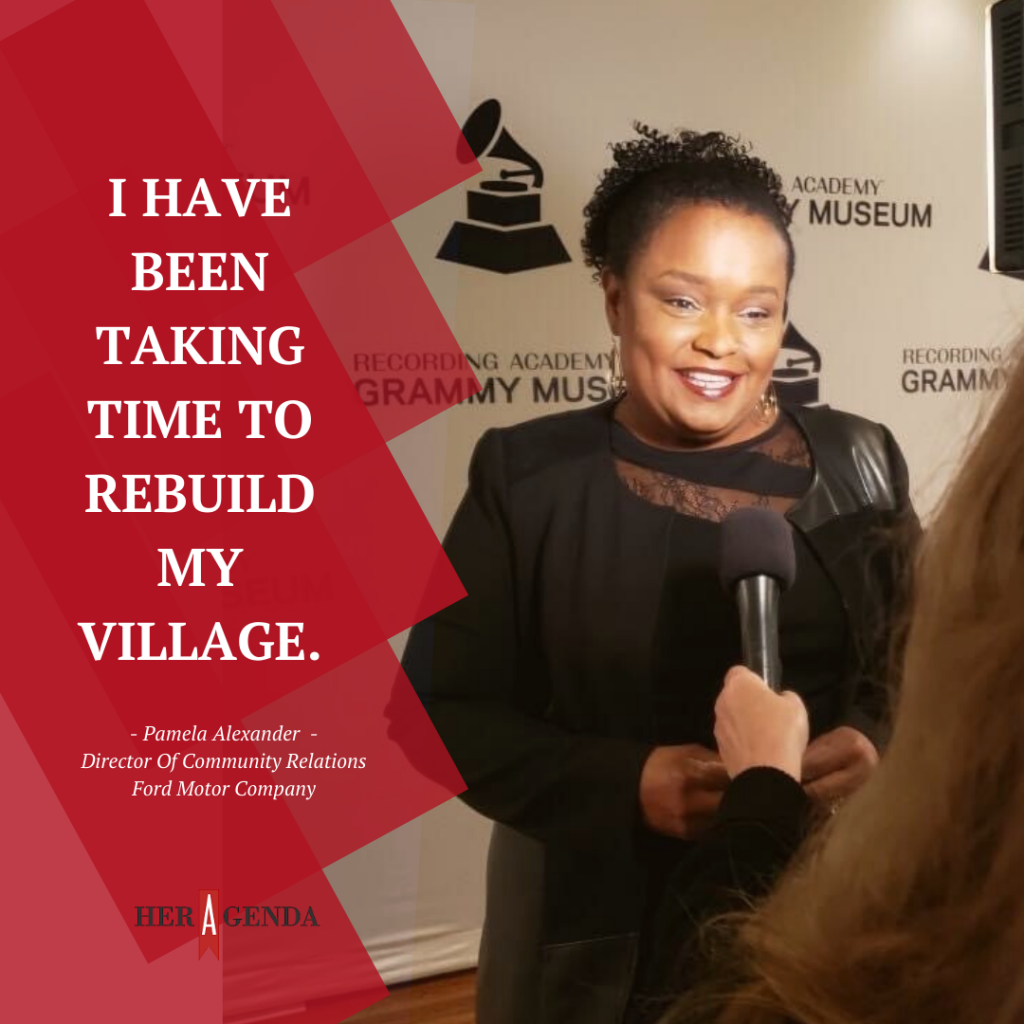 Her Agenda: In a previous interview with Crain's Detroit, you mentioned, 'I knew I wanted to do something to help people, to give back, and to change the world because that was ingrained in me.' Personally and professionally, what would you like your legacy to be?
Pamela Alexander: A lot of what we do at Ford is based on social mobility. For example, when you are born in the bottom 20 percent economically in this country, you have a four percent chance of making it to the top 20 percent. That is 4 out of 100 people, which is unacceptable to me. A lot of what we do at Ford is thinking about what we can insert via programming that can change that number. A child is a child and what you are born into, in terms of your economic status, should not determine your future potential.
Article continues below advertisement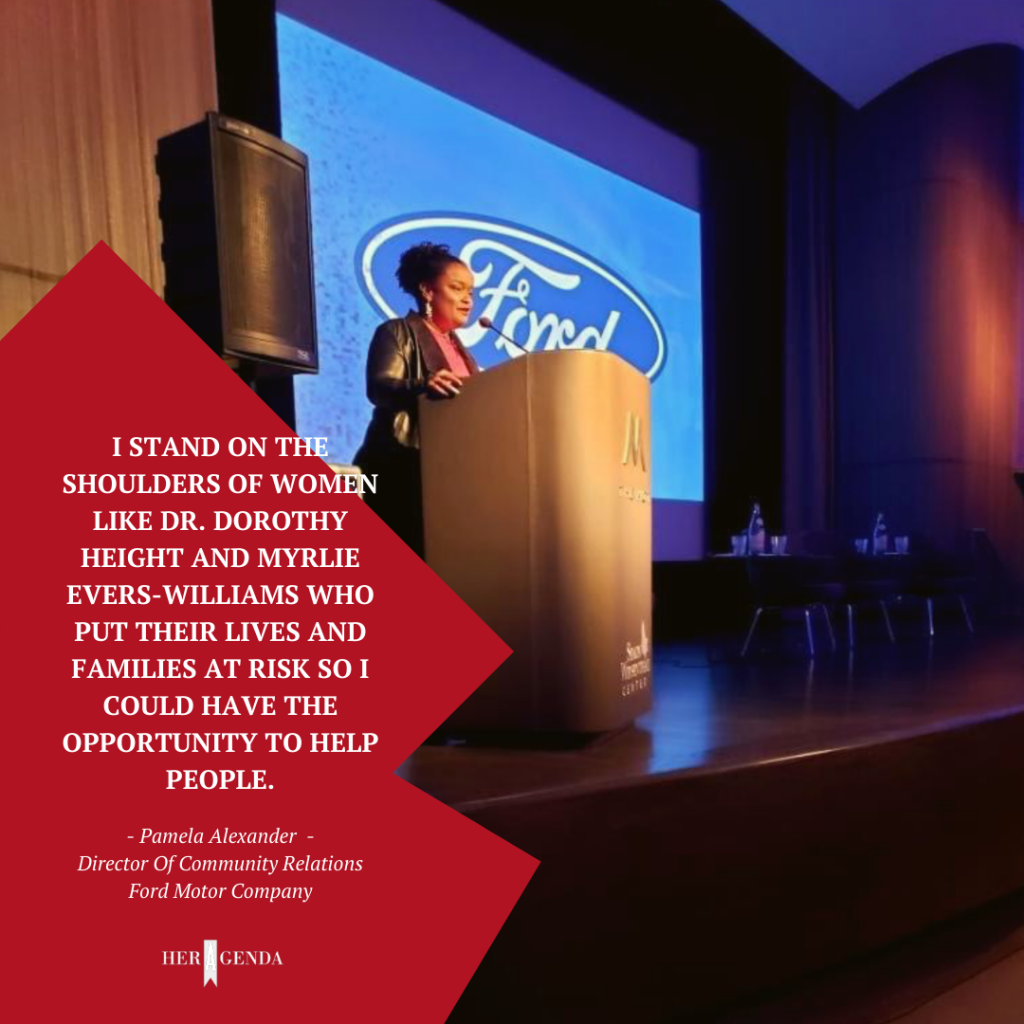 If I had a legacy, I would want a few things. One, I stand on the shoulders of women like Dr. Dorothy Height and Myrlie Evers-Williams who put their lives and families at risk so I could have the opportunity to help people. For me not to make sure that what I am doing makes a difference would be an insult to their legacy. For me it is about respecting and celebrating the shoulders of which I know I stand on and carrying it forward or else it dishonors them. Also, it is important to me that I help individuals who did not think they could do it. If I could open eyes, grant opportunities, and provide a way to help individuals get somewhere they did not think was possible, that would be amazing.
[Editor's note: This interview has been edited for length and clarity.]