Data is now being called the new oil, so you can say Vivian Zhang is a young Rockefeller of our time. Zhang took an interest in technology when she just a teenager, and has always dreamed of making an impact in data science. Zhang is the founder of NYC Data Science bootcamp, where she and her team are grooming data science professionals to enter the job market and secure jobs at companies like Google, Facebook, Capital One and more.
But Zhang isn't just teaching people coding and math skills in the academy, she's also teaching at Stony Brook University as an adjunct professor, running her business SupStat, and hosting data science meetups for the NYC community, where companies are paying her to train their employees.
She's worked in data analysis and data management as a Senior Analyst and Biostatistician at Memorial Sloan-Kettering Cancer Center and Scientific Programmer at Brown University. Zhang earned her M.S. in Computer Science and Statistics and B.S. in Computer Science.
Vivian isn't just a programmer but an all-around dataholic, and was named one of the women leading the pack in data analytics by Forbes.
Her Agenda was able to chat with Zhang on growing up around technology, and how she balances it all.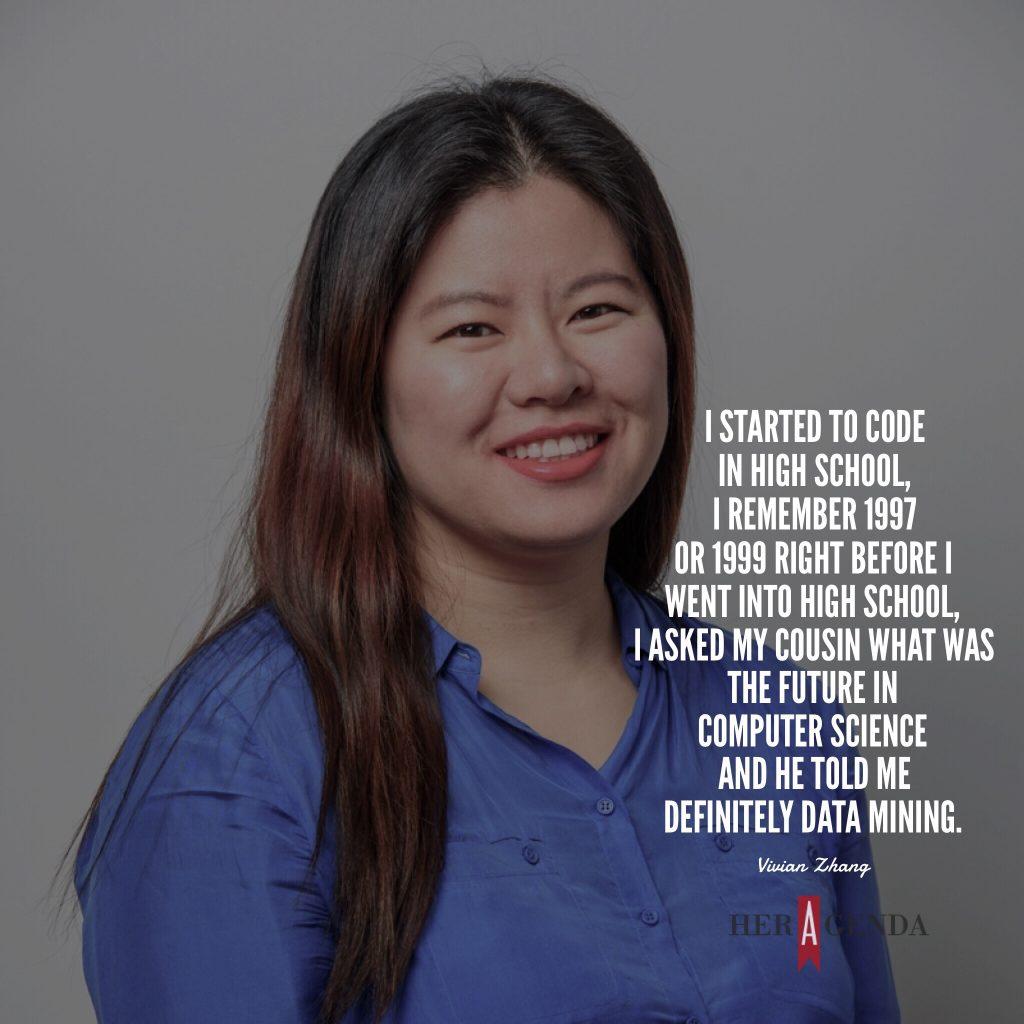 Article continues below advertisement
Her Agenda: What initially interested you in a career in technology?
Vivian Zhang: Most of my family is very mathematical and geeky. That's why I developed an interest really early on. It was my family and siblings' impact on me. I started to code in high school, I remember 1997 or 1999 right before I went into high school, I asked my cousin what was the future in computer science and he told me definitely data mining. At that time not many people had laptops and he told me eventually everyone will have their own laptop and be able to do data mining so that was really fascinating [to me] and that's how I really got into the field.
Her Agenda: How do you feel about the lack of women or lack of recognition women receive in the data science field?
Vivian Zhang: Generally women lack encouragement to get into math and computer science. The computer science field is only 10% women, and the same of statistics and math, so when you cross both domains it's even less. Data science requires both coding and math skills so I don't think it's discrimination, it's more how we grow up and what major women tend to choose. But I think the situation is changing day by day, right now we know there are more female graduate students than male graduate students. The technology is attracting more and more people, we're just a little bit behind the trend.
Article continues below advertisement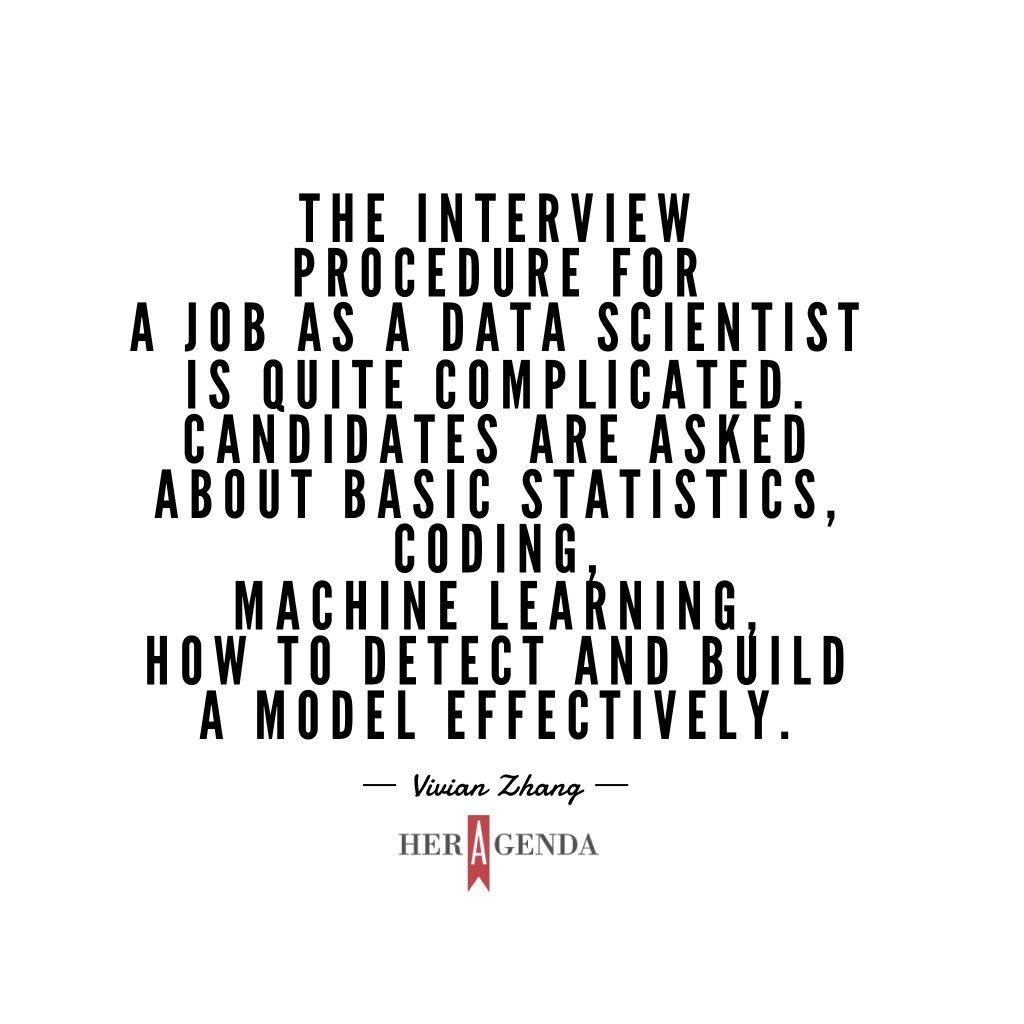 Her Agenda: Being a professor at Stony Brook, do you feel there are any improvements to be made to the way students are prepared for the real world?
Vivian Zhang: I don't think that colleges prepare students well for the job market, because the curriculum is designed a year ahead of time to really teach it, so it's hard to keep close with the industry trends. Most schools have a long life cycle to launch a course and teach it repeatedly. A few schools like Stanford, they teach new technology with very short turnaround time. They'll have a student write a book on C++, and then come in and teach that course the next semester. I think that's something graduate schools should work towards and put resources towards too.
Article continues below advertisement
Her Agenda: What prompted you to start the NYC Data Science bootcamp? What did you hope to accomplish?
Vivian Zhang: It's something I never planned, I don't have any teacher or instructor in my family. Initially, I was teaching data science in meetups and my meetups got really popular. So I got 45 companies to sponsor my meetups including big names like Microsoft and McKinsey. So I asked them why they do that, and they said they wanted their employees to take the workshop and get trained. And that's how I started my business, I have corporate training and help individuals right away. I think data science is one of the most exciting fields to get into at this period of time. It's really exciting for me because you can predict things, it's like gambling but you're gambling with concrete proof. You help businesses grow, you help decision makers make better decisions, and better allocate resources – I just find it fascinating.
Article continues below advertisement
Her Agenda: Now I know the bootcamp prefers students to have a Master's or PhD in STEM, but how can someone with a bachelors in a non-STEM field build a more competitive application?
Vivian Zhang: We don't look at how much technical skills someone has before the bootcamp, because we do a good job at making sure people have the technical skills after the bootcamp. We're looking at a person to [determine] whether they can think well and come to solutions to solve problems. Having a STEM degree can help, but it doesn't really make a huge differentiator in the end of the program. We have trained people who don't have technical background really well. Sometimes you will see an economics major do better than someone who has a PhD in physics, it doesn't happen often, but we have seen this happen before. It's about the devotion and effort you put into the bootcamp that will determine outcomes. Of course those with less technical background they have [to take] more time to prepare before they come here or else they would be so stressed out. Around 10-15% of our students have only a bachelor's degree.
Article continues below advertisement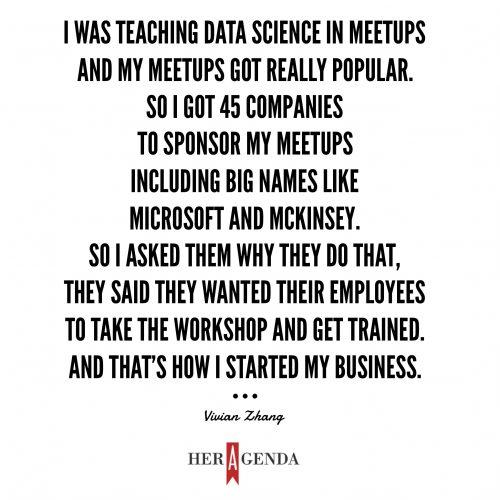 Her Agenda: How do you balance being a professor, co-founder of SupStat, the meetup and duties for the bootcamp?
Vivian Zhang: My top priority is my students, so I make sure I'm bringing all the new technology into the bootcamp, and we update the curriculum at least 10% every quarter so we stay ahead of the trend. My second priority is operating the business to lead us to more scalable ways to grow organically. My team is really helpful, so I'm less worried about the meetup and other things now.
Her Agenda: What are some challenges you faced as a helped build SupStat?
Article continues below advertisement
Vivian Zhang: I think we got lucky, most of the time we're dealing with inbound leads so people really know what they want and they need less education on how data science can help them. I think most of the companies have a really long sell cycle, and we're on the side where we know what you need and lets try to develop it.
Her Agenda: What does it take to land a job as a data scientist? What can candidates expect when interviewing for roles?
Vivian Zhang: The interview procedure [for a job as a data scientist] is quite complicated. [Candidates are asked] about basic statistics, coding, machine learning, how to detect and build a model effectively. It's not really easy to go through the process. It takes a few hundred hours of effort to [prepare] and stand out of the crowd. Typically it takes 3 months for 70% of students find job placement, and 90% after six months. So I would say the turnaround is pretty good. We also do big hiring partner events, we have about 80 hiring managers come with their current openings and meet our students. That way we place about 1/3 students after the event. We have a very good industry reputation and our students also work really hard.
Article continues below advertisement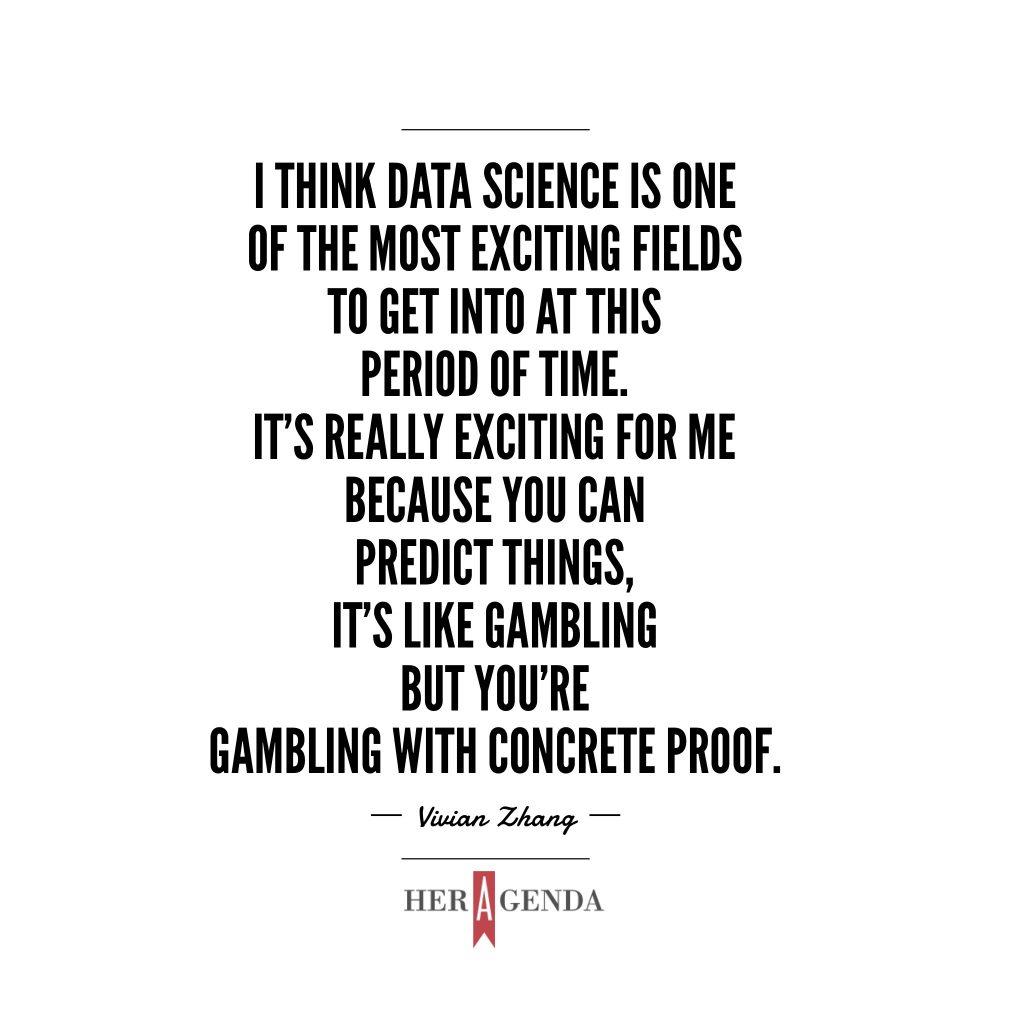 Her Agenda: What is a phrase or motto that you live by?
Vivian Zhang: Do your best every day.
[Editor's note: This interview was published on April 23rd, 2018. It's been edited for length and clarity.]