DJ Quiana Parks is a woman of many talents. But prior to this creative life of hers, believe it or not, Parks used to live in fear.
She was a 19-year-old college student when she received the news that she was diagnosed with Lymphoma Cancer. After being diagnosed, Parks started to live in her own little bubble. She didn't see life worth exploring because she knew that tomorrow was not promised, especially for her at the time.
"I was in a state of fear for a long time after I went into remission. I was thinking that the cancer was going to come back. So, there's no point in really pushing towards anything or having a passion for anything," the multi-hyphenate creative shared. "Then I realized one day 'you're actually doing the opposite because if tomorrow does come and they tell you the cancer is back, what have you left? What have you done?' Then I started deejaying and putting my art out there more."
And every day since then, she's been pushing herself literally and figuratively. From launching her organization DJ For A Cure, where Parks is educating millennials on blood cancer, and the small number of African Americans who donate bone marrow to her forthcoming art collection she'll be debuting in February of 2019.
In her words, she's "in a new beginning right now" with her career and she doesn't plan on holding back anymore.
Article continues below advertisement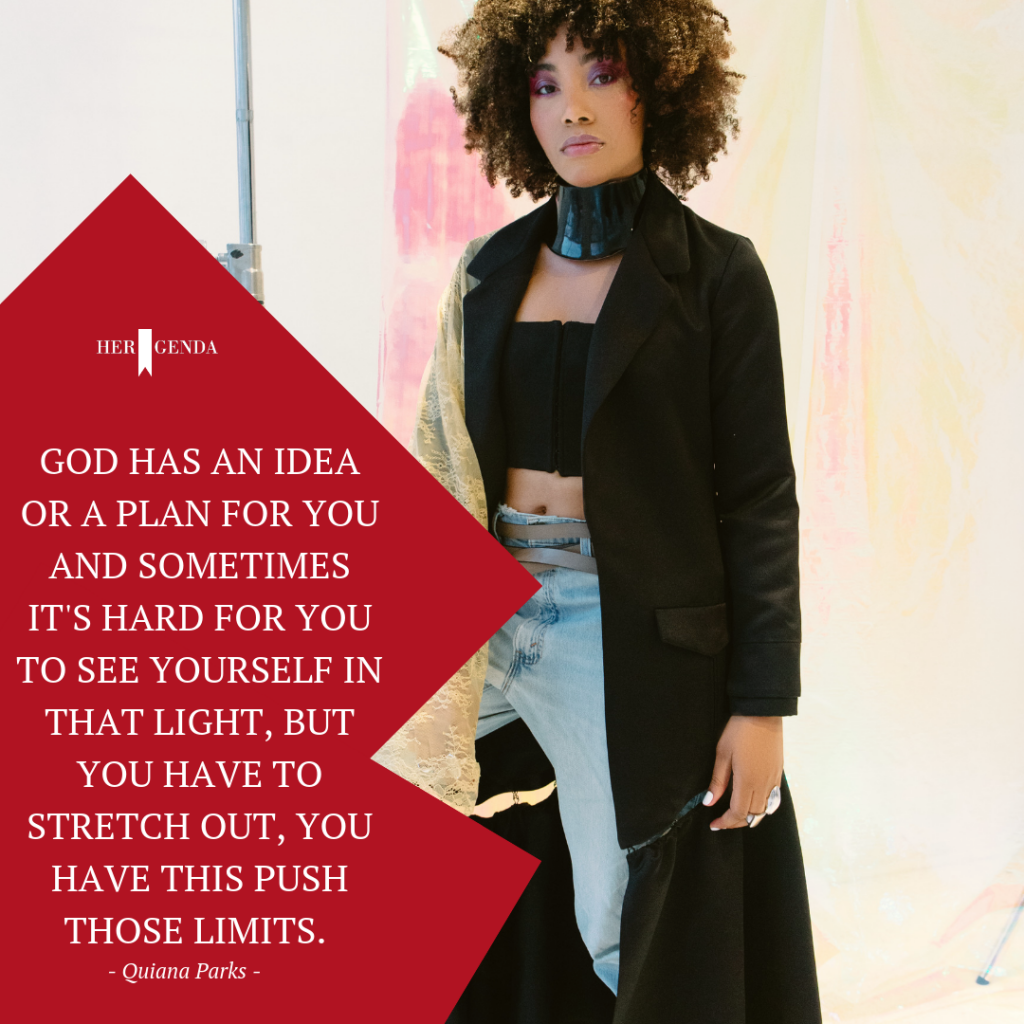 Her Agenda: Going into your sixth year as a DJ, what do you say is the biggest lesson you've learned that has cultivated your experiences?
Quiana Parks: One of the biggest lessons that I've learned is how to be patient, whether it's with my music or with my paintings. My craft is very important to me and a lot of times I would put pressure on myself rushing. Now, I realize that it's all about patience. Another thing is to humble myself. Sometimes the decisions are harder than others and especially as an entrepreneur, and you have to make decisions.
Her Agenda: How would you describe your DJ style?
Article continues below advertisement
Quiana Parks: I don't know. I'm kind of all over the place just like my personality. I'm obsessed with the craft itself. The art of deejaying, the art of mixing and scratching is a huge passion of mine. I love to play around with different sounds, bringing it into the new school. Whether it's me playing hip-hop or rock or house or even using sound bites of Maya Angelou quoting something. I really love to throw things into the air and for the audience to kind of be thrown and realize that they're not just [singing] a regular radio set. I'm not just going to give them what they want, I want to teach them and I want to show them something different and give them a different experience.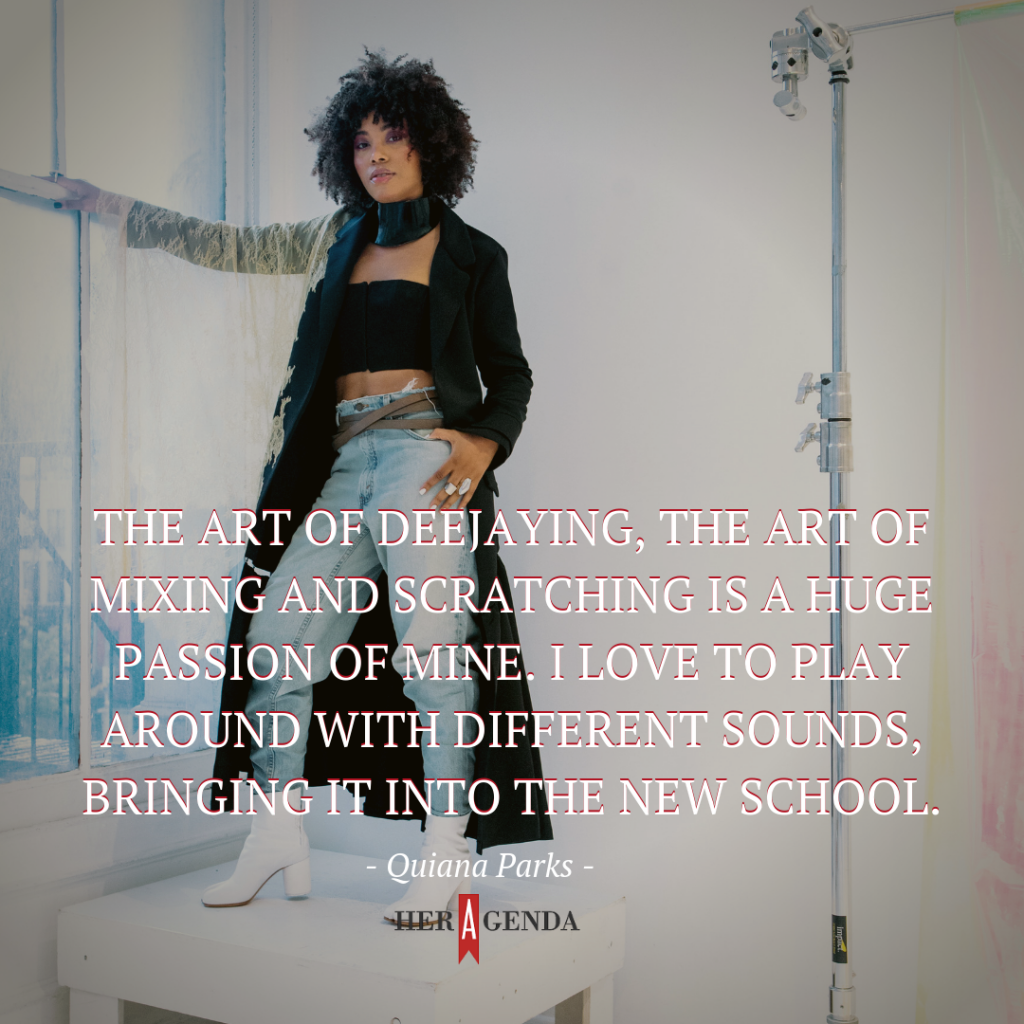 Article continues below advertisement
Her Agenda: That's how I view deejaying: giving people a history lesson. If you could describe your 2018 with a song or even an album, what would that be?
Quiana Parks: That's a tricky one. An album I would say is Amel Larrieux'sBravebird. I feel like I'm in a new beginning right now with my career, with my new art collection that I've been working on. It's definitely a matter of me putting myself out there more and really putting myself into my art, expressing myself and try to not hold back. Not for anyone else, but for myself. This year has definitely been [a lot] of letting go of things from my past and the album has a lot to do with that.
The album talks a lot about being brave, being a woman, knowing the magic that's inside of you and sometimes being a little different, going against the grain, being a little lost and then finding yourself. The album is incredible. Amel Larrieux is a fantastic person and artist. I really respect and love her.
Article continues below advertisement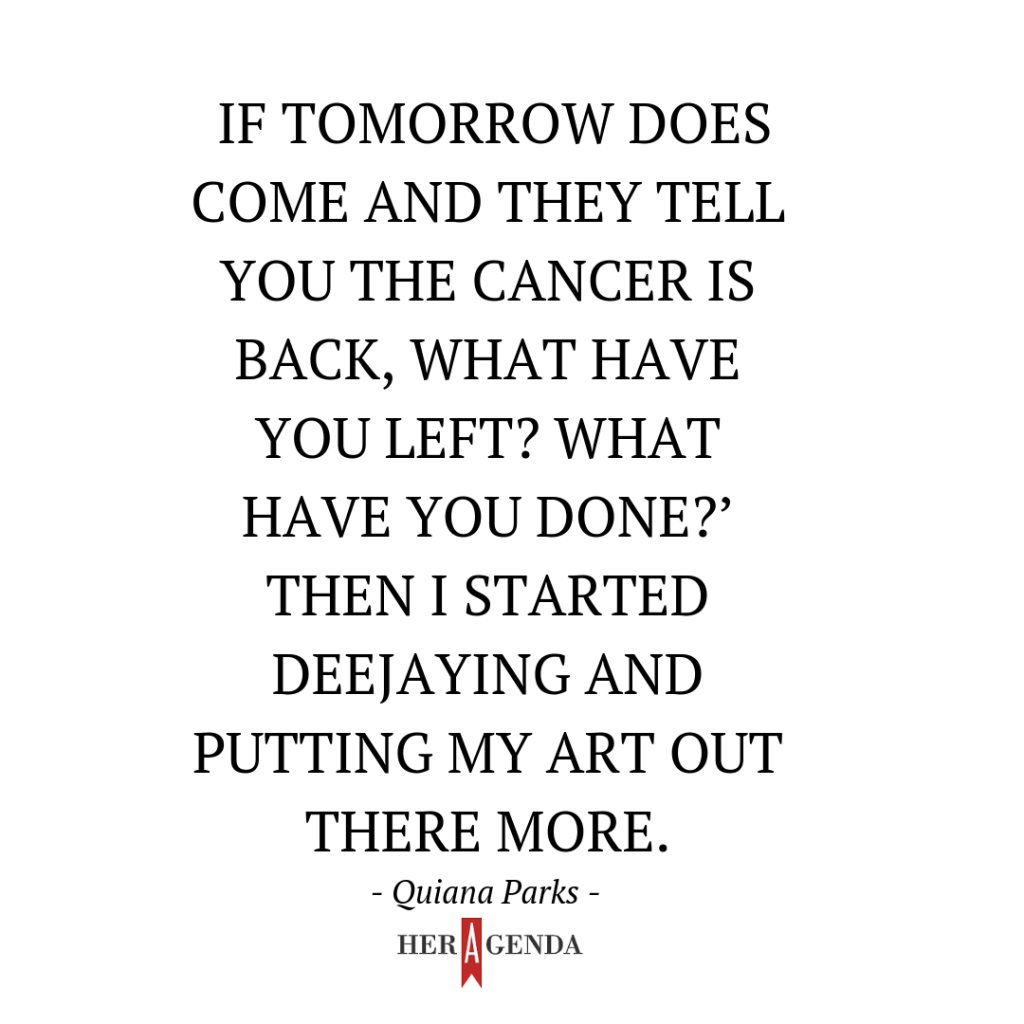 Her Agenda: You mentioned your art collection. Tell me a little bit about the process of getting into it and creating the artwork?
Quiana Parks: I've been painting for about a year, so my next collection for my next show has to do with the relationships that I've had in my past, whether it's my mom, my dad, and my family..and then also relationships with my friends and also their relationships. I love love and being able to paint about it has been very therapeutic for me. So, that's what I've been doing all year and I just poured out all of my heart. This next show which should be ready for February 2019.
Article continues below advertisement
Her Agenda: You've got to stretch, and it's uncomfortable too. That's one thing I'm just dealing with. What are the challenges you deal with when it comes to stretching and pushing yourself?
Quiana Parks: Well, I mean being uncomfortable is not a bad thing. I think one time this guy told me, when you go to the gym and you work out, you're building muscle and you're getting stronger. It's uncomfortable. It hurts, but the results will pay off. I apply that to a lot of things with myself, like things I may not want to do or places that may not see myself — I get uncomfortable.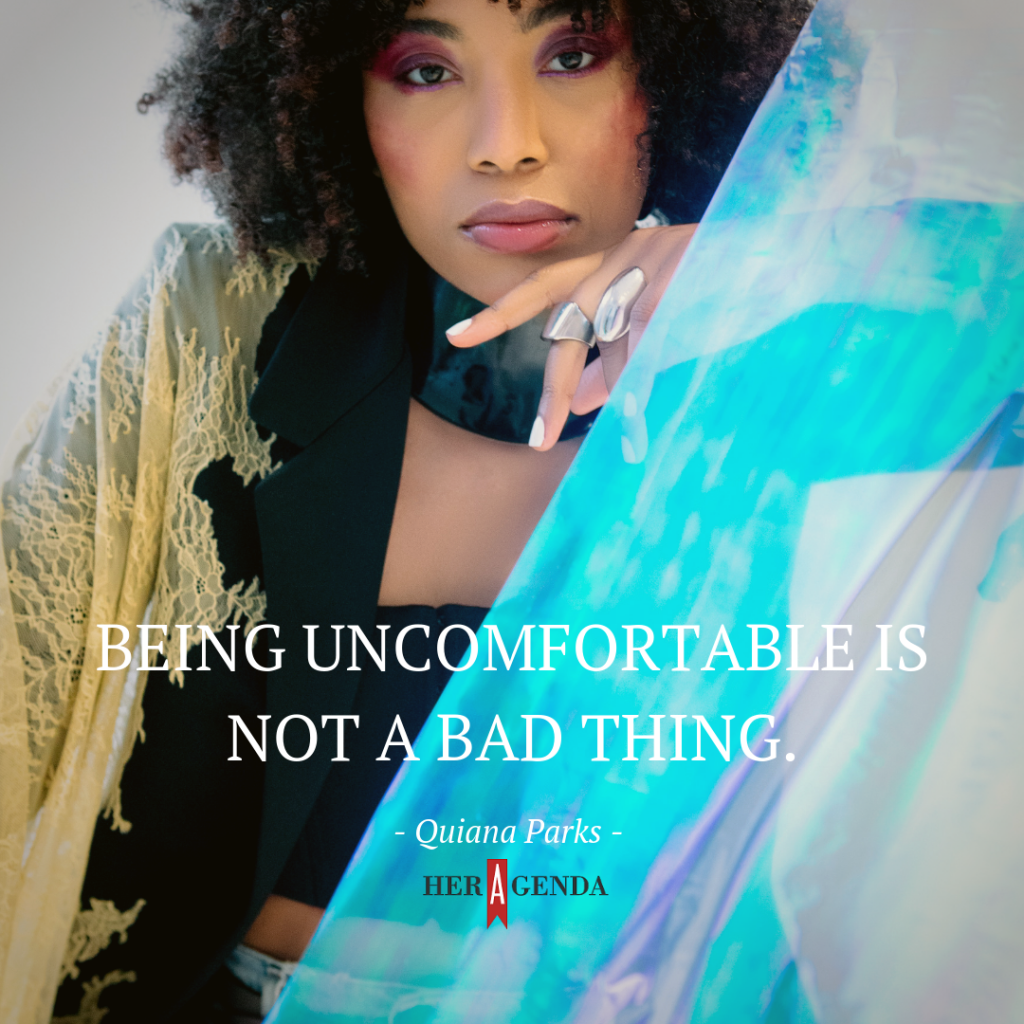 Article continues below advertisement
Her Agenda: Let's talk about your foundation, DJ For A Cure. What's the feedback been like? You're a woman who has been through it, you've experienced it, and you're a survivor now.
Quiana Parks: The feedback has been wonderful. The people who have been reaching out, whether they are people who are going through cancer right now who are battling it out or survivors and caretakers. It's been really good feedback from all the people that, that have been around especially a lot of younger people who weren't aware of blood cancer. It's interesting to see all the different people that it has helped.
Her Agenda: And what do you think is a misconception with a blood cancer, as you said people are still learning about it?
Quiana Parks: Well, for example, when I was diagnosed with blood cancer, a lot of people gave me pink things they weren't aware of it. And a lot of people, especially people of color, were not aware of all the effects it has on our community. A lot of patients who have blood cancer, they need bone marrow donations or transplants, and in the African American community, only six percent of the donor pool are African American.
It used to be seven percent and it actually went down. We need African American donors for the transplants, and the fact that there's only six percent is pretty awful. Not only do people with blood cancer often need bone marrow donors, but Sickle Cell Anemia and Myeloma.
Article continues below advertisement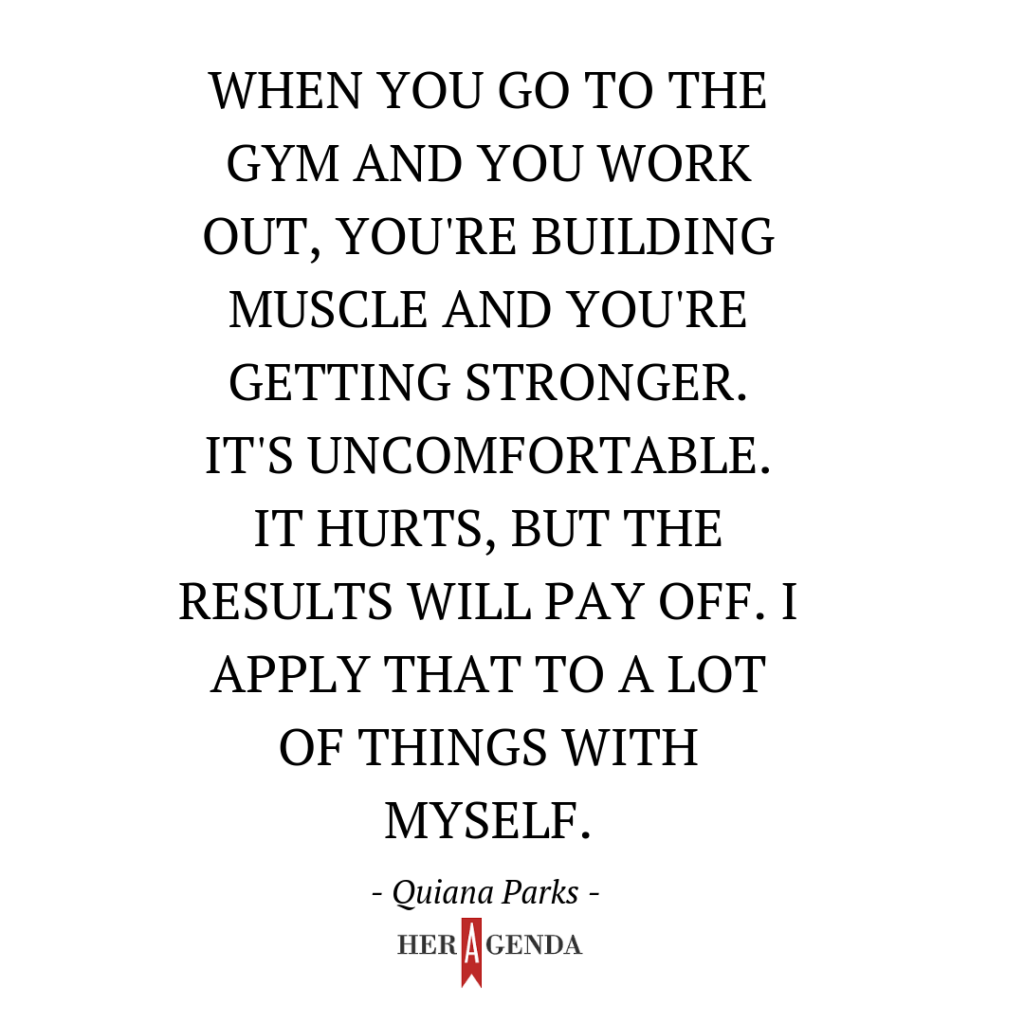 Her Agenda: I didn't know it was such a small percentage. Why do you think Black people are not donating as much as they could be?
Quiana Parks: They're scared. A lot of times its fear. Fear that the surgery is hard. It's not that intense. And you're saving someone's life. You might be uncomfortable and be in a little bit of pain for about maybe two to three weeks but that's it. But to me, that's nothing when you see when the seven-year-old, who loves to play baseball, just made honor roll and all of a sudden he has cancer now. But a lot of people are afraid.
Article continues below advertisement
I mean it's uncomfortable. But also there are two different ways of doing it. Another way is you sit in a bed for about six hours and they put one needle in one arm and a machine. The needle will connect to like a machine, then the machine cleans your blood and it takes out the bone marrow and then it puts it right back into the other arm. You sit there for about six hours while your blood just kind of goes through that machine. And then you're out. So, there are different ways to do it, but a lot of people are afraid, so they will cancel last minute on surgeries.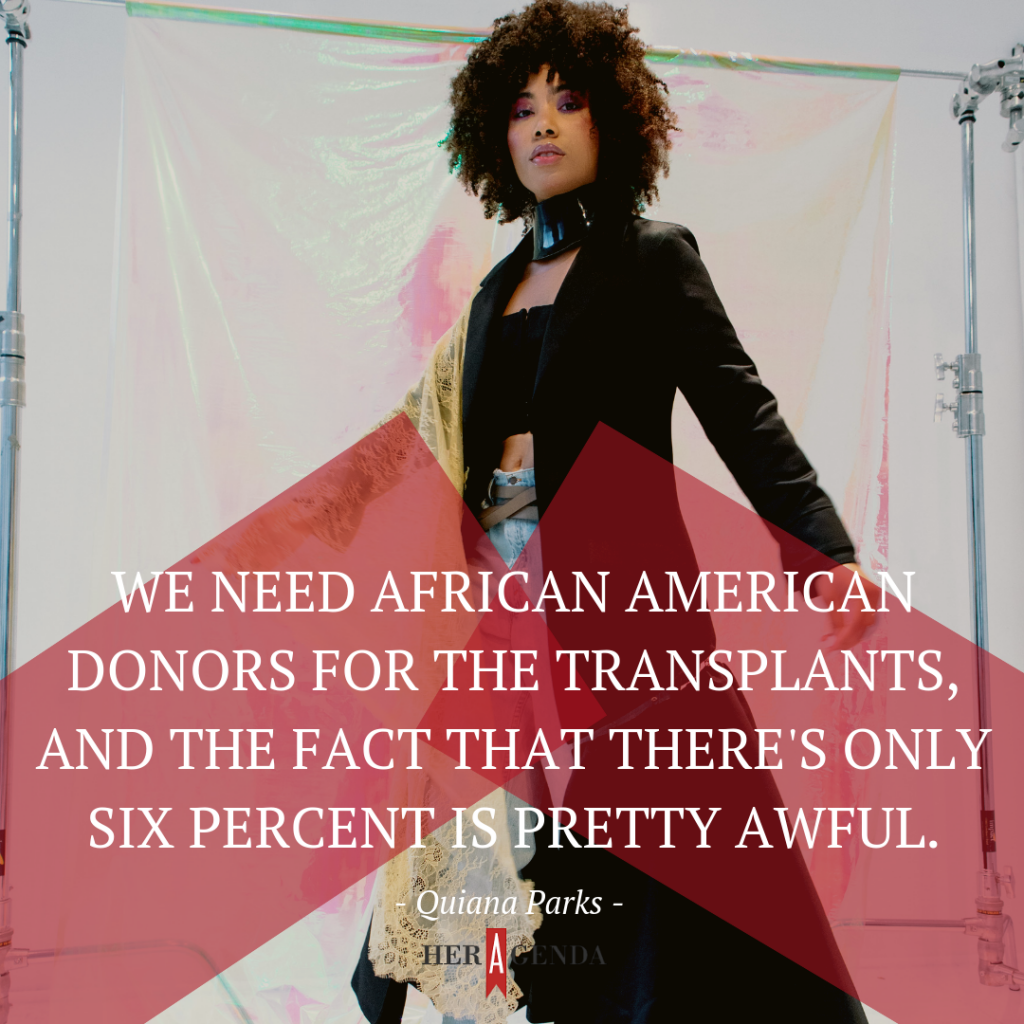 Her Agenda: Here at Her Agenda we have a motto, 'no one slows her agenda.' What is your motto?
Quiana Parks: "Stretching out from where I am to where he wants me to be" it's actually a Travis Greene song. Basically saying how God has an idea or a plan for you and sometimes it's hard for you to see yourself in that light, but you have to stretch out, you have this push those limits that seem unknown or little more freedom, but pushing.
[Editor's note: This interview has been edited for length and clarity.]