For most 13-year-olds, a typical day consists of going to school, texting their friends endlessly and scrolling through social media. But for 13-year-old Rachel Wims, music and global philanthropy was a regular part of her teenage life.
Her initial encounter with global philanthropy was in Kogelo, Kenya at the Senator Barack Obama Secondary School in 2008, where she learned that many girls who've hit puberty were forced to drop out of school due to the lack of the feminine sanitary products. She worked tirelessly to raise enough money to gift the girls a year's supply of sanitary items and raised over $10,000 that contributed to the completion of Rachel A. Wims Math and Science Building which was named in her honor.
She has since traveled to other countries like Ecuador, aiding injured public servants who've been hurt in the line of duty and oversaw projects in Indonesia that battled the issue of young girls who have fallen victim to human trafficking.
While in the 8th grade, Rachel started a blanket drive in the Washington Metropolitan Area, through the Victims' Rights Foundation Youth Ambassadorship program— and it has gained recognition as one of the most successful initiatives in that area for the past four years.
Wims, now 23, wears many hats, one of them being an Executive Director under Bilal "Bizzy" Joseph, who works with a host of artists, like Travis Scott and Dougie F. The other role she occupies is as the President and CEO of her family's nonprofit organization the Victims' Rights Foundation. Her father, Gregory Wims used his political background and compassion to help the voiceless to start the foundation 22 years ago in Montgomery County, Maryland, and has since raised over one million dollars for victims of violent crimes and their loved ones.
Article continues below advertisement
On top of it all, Wims has also started her own company, Molly Tan, which focuses on public relations and artist development where she has an impressive roster of clients including music artist Jay Hype, celebrity chef Samantha Davis, and two government contractors who would like to remain anonymous.
A graduate of the University of Maryland, with a degree in Communications and American Studies, Rachel has come up with creative ways to combine her two worlds harmoniously and has gotten her celebrity clients into giving back.
Read on to find out how Rachel has found balance in two very different worlds and plans to use the rest of 2018 to advocate for change no matter the cause.
Her Agenda: You are a woman who wears many hats, but in the music industry, what is your official title?
Rachel Wims: My official title is Executive Director. I do many things from arranging tours and performances, to developing marketing plans and branding initiatives.
Her Agenda: You've traveled the world to give back to those who don't have much—some of those people are young girls in Kenya who didn't have access to sanitary items and were forced to drop out of school. How did this particular experience make you view your life differently coming from the U.S?
Article continues below advertisement
Rachel Wims: I was 13 when I first visited Africa and found out about some of the disparities in Kenya. At the time, it was extremely hard for me to process what I encountered, but I knew I wanted to help. It was really shocking for me because I couldn't imagine a life as a woman not being able to afford certain sanitary items in order to stay in school.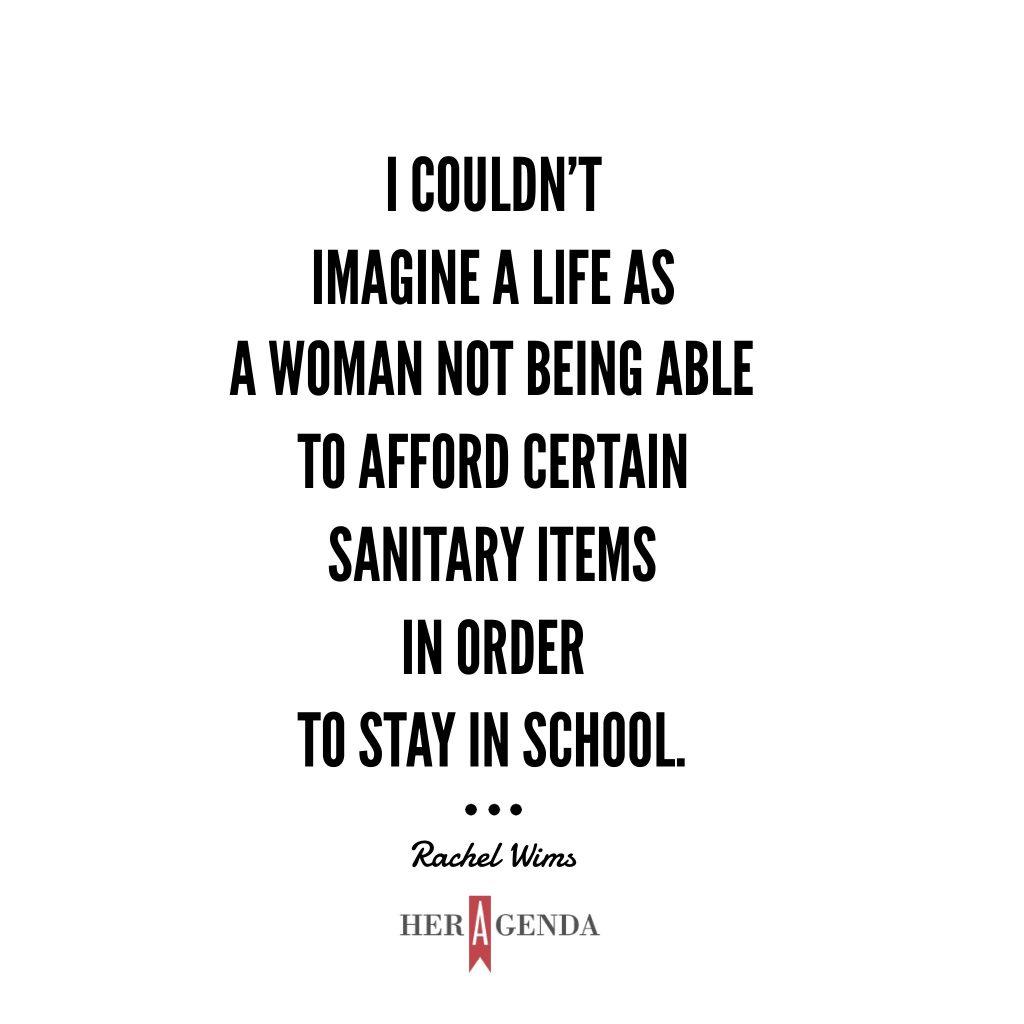 Article continues below advertisement
When I came back to the U.S. I was still shocked, but I desperately wanted to help these girls. I brainstormed with my mother and father, and raised enough money to get them a year's supply of sanitary items for the remaining and upcoming year. When I look back on it today, I have a stronger urge to help as many girls in Kenya as I can. Being able to have the luxury and the blessing to [graduate from] college, especially an amazing school such as the University of Maryland, really has motivated me to try harder to provide these same experiences for every girl, whether they live in the U.S. or abroad.
I have tried my best to keep in contact with the school; I send messages frequently, and my father has been able to oversee our projects physically while I was in school. As the 10-year anniversary of Rachel A. Wims Math and Science Building approaches, I am working with my team to come up with new initiatives that will make education in Kenya more easily accessible for both girls and boys.
Article continues below advertisement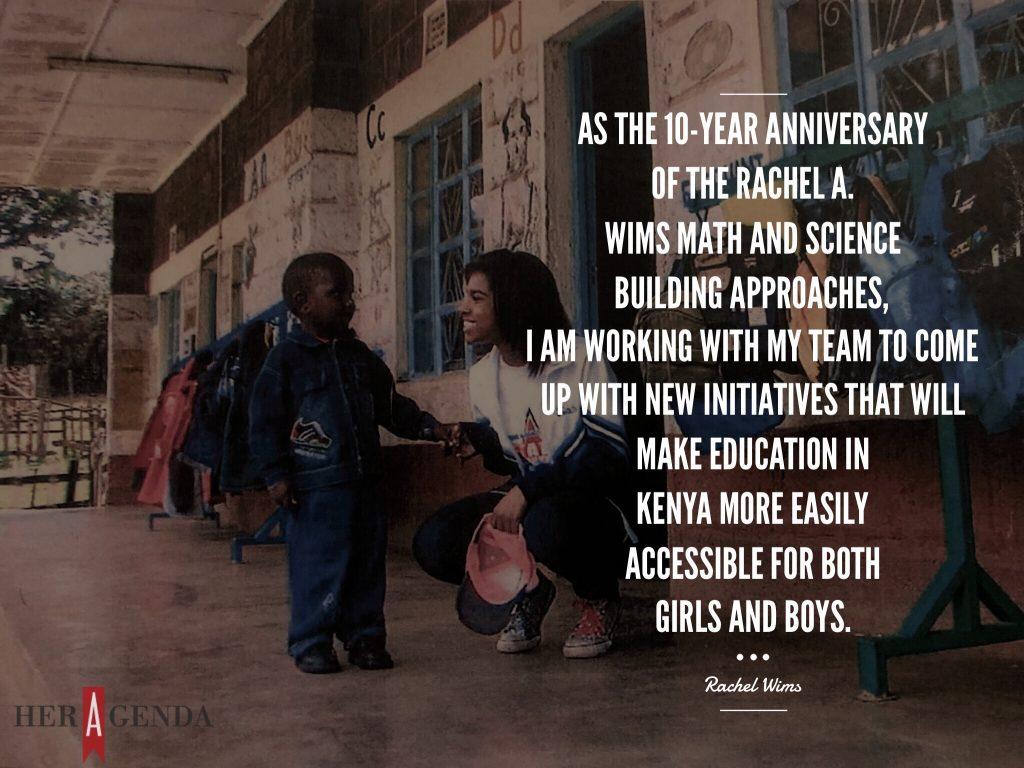 Her Agenda: As the president of the Victims' Rights Foundation (VRF) and your role in the industry, how do you balance the two?
Rachel Wims: Well, I just became president recently, so it's a work in progress, but it's also second nature to me because I've been doing this since I was 13. I grew up watching my father work in the government.
Because of my marketing and music side, I am able to compose various creative marketing initiatives for the nonprofit. Sometimes I try to combine my music with nonprofit; for example, every year the Victims' Rights Foundation hosts a gala where I try to involve local artists or musicians to perform and entertain the crowd.
Article continues below advertisement
My biggest and most recent collaboration would be the partnership I forged with the Boys and Girls Club and my artist Dougie F. Over the summer we traveled to multiple clubs within the New Jersey/New York region, spreading our mission of positivity and hope that was associated with Dougie's EP entitled, "Yellow Durag." For Dougie, the color yellow represents optimism, something he avidly wanted to share with the community. Our staple event was the "Yellow Durag Basketball Tournament" where we would play a series of games with the kids. We also mentored the youth, and are continuing this relationship in this present day.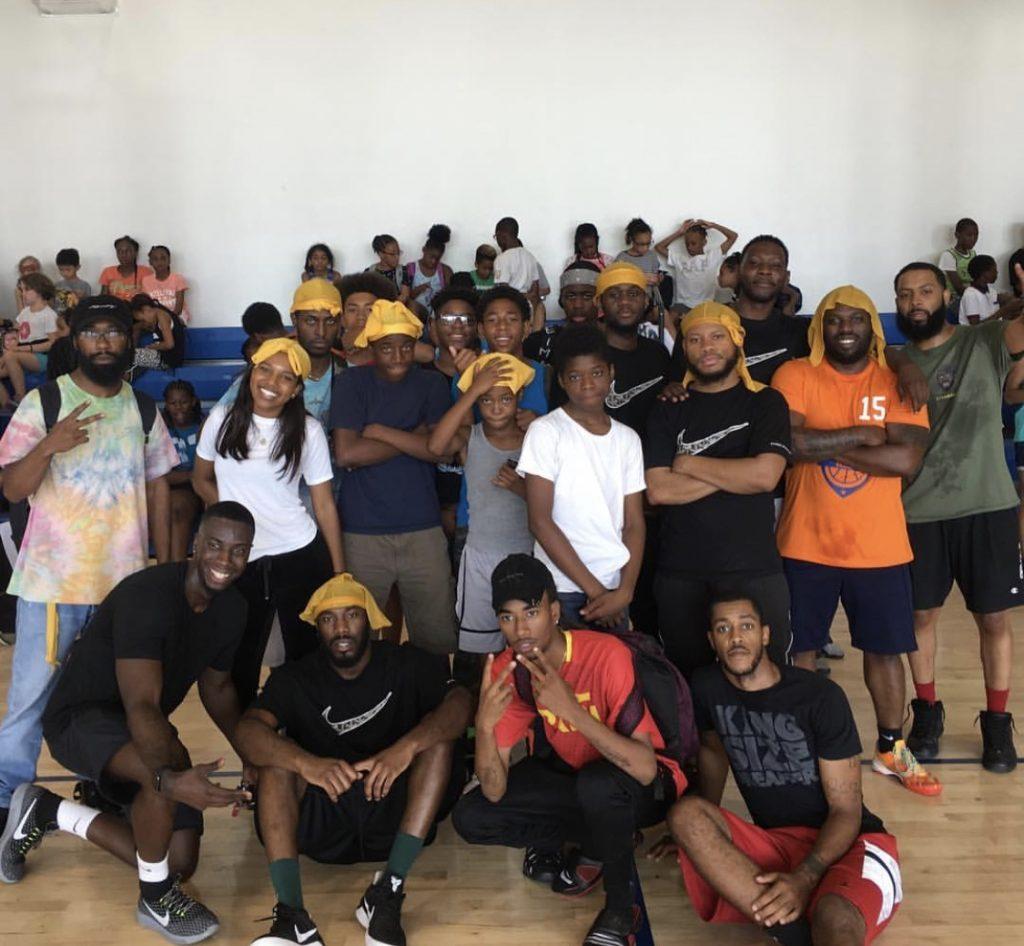 Article continues below advertisement
Her Agenda: Can you tell us what inspired your father to start the Victims' Rights Foundation (VRF) and its purpose?
Rachel Wims: Our biggest purpose has always been to lend a helping hand, and advocate for those who can't advocate for themselves. My father, Gregory Wims, first started the nonprofit when I was about two years old. At that time, there was a senseless killing of three African American women, with a low priority to find the culprit. My father was moved to help as he worked closely with law enforcement to find the culprit(s). Due to his extensive community and public service, my father created the Victims' Rights Foundation. Since then, he's been going across the globe with me by his side advocating for justice.
Our biggest case so far would have to be the East Coast Sniper Shootings of 2002, which mainly took place within the D.C., Maryland, and Virginia area. My father decided to take a stand after his friend Sonny Buchanan was shot and killed in these tragic shootings. Our nonprofit worked side-by-side with law enforcement to catch the perpetrators (John Allen Muhammad and Lee Boyd Malvo) and was also blessed to raise $500,000 to aid the victims and their families.
Her Agenda: What are some of the services the VRF provides?
Article continues below advertisement
Rachel Wims: Mainly we aid victims of crime, so that's tailored to provide anything they need. Most times, we help raise money for funerals, and we often get involved in domestic violence cases, providing support and helping to raise money for lawyers. We partner with different organizations like the Family Justice Center in Montgomery County whose mission is to provide and serve in cases such as adoptions, child abuse, child neglect, and domestic violence. Lastly, we hold candle light vigils to provide emotional support for the victims and their families.
A lot of our overseas missions have to do with clean water. We put research together to provide clean water wells for families in Africa, while also aiding the mission to provide medical assistance/advancements to those in Ecuador.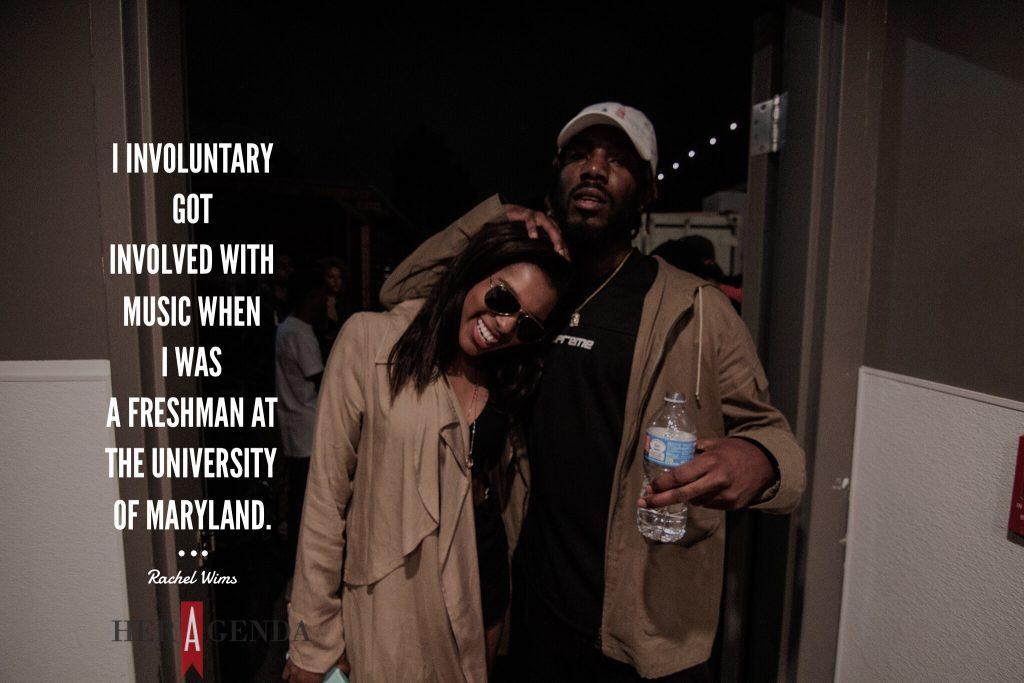 Article continues below advertisement
Her Agenda: I want to focus more on your career in the music industry. You're so young, and have already accomplished so much! Can you tell us how you went from global philanthropy to managing some of the biggest names in music?
Rachel Wims: Actually, it's a funny story because I involuntary got involved with music when I was a freshman at the University of Maryland. My friend was the President of the Black Student Union Association. That year it was his duty to oversee the Hip-Hop Conference at the school, but due to an assortment of time altering engagements, he asked me to help him out. At first, I had no idea what I was doing, but as I got into it, I actually ended up taking it over. Everything came so natural to me as I organized the panels, the concert, and other events with my team. It was something I really enjoyed.
Article continues below advertisement
After the conference was over, I was picked up by DC to BC to help with the Trillectro Festival, which took place every summer in DC. From there, I was referred to BET, and worked the BET Awards as a talent escort for about two years. The second year, I met my current boss, Bilal 'Bizzy' Joseph who manages a host of artists, most [notably] Travis Scott and Dougie F. He liked my hustle, and before I knew it, I was on tour with Travis and Dougie F. I was about 19 at the time, and I neglected to tell my boss that I was still in school.
I would fly in and out from school to make tour stops with hopes of not being caught! There was a specific time when I flew to Cleveland, back to UMD to take my midterm exam, then rushed out of my exam to drive to Philadelphia that same day in order to make it to one of Travis Scott's shows. This went on for about six months before I eventually got caught. However, it was my last month or so of undergrad so they let me slide! I've been with the team ever since.
Article continues below advertisement
Her Agenda: What sparked your courage to take initiative and ask forgiveness instead of permission?
Rachel Wims: It was that inner strength! I used to be very timid, but once I had faith in myself it was hard for anyone to tell me no. I started bulldozing doors and barriers down! There was a moment when I was reading the Bible and a sudden peace came over me. I was no longer afraid to break rules, or fail. I knew I had God watching me, and I knew that I had a gift. I took that confidence, ran with it, and still until this day never looked back.
Article continues below advertisement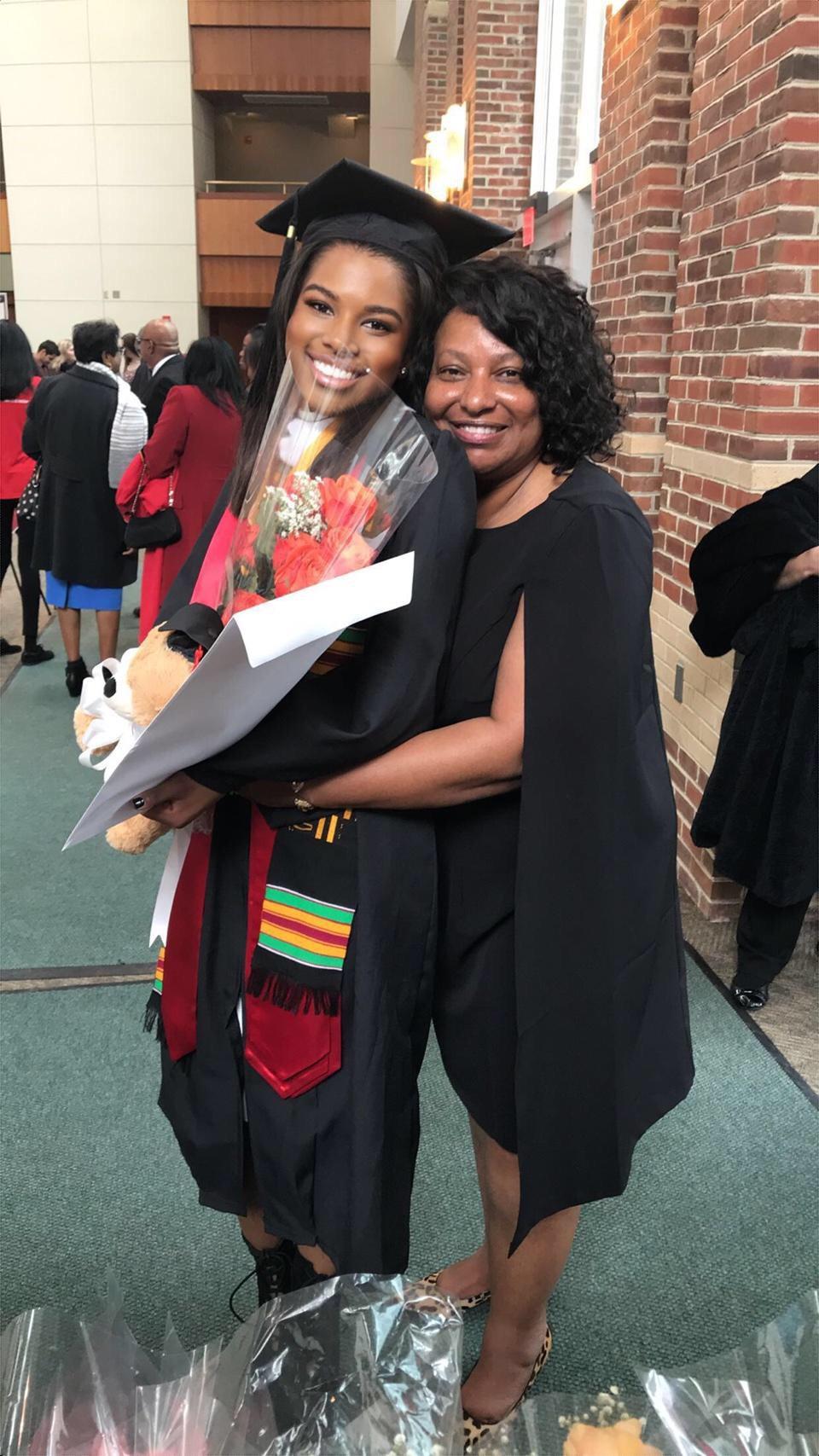 Her Agenda: What is a "typical" day in the office for you?
Rachel Wims: Well, I wouldn't ever call my day "typical" because every day I wake up there's a different task for me to complete. I say that Gmail is my boyfriend– we have a very strong, faithful relationship with each other! All jokes aside, I guess a typical day for me would be planning and execution. If we're on tour, I would be assisting with day of responsibilities such as sound check, ticketing, merchandise, you name it, up until the time of the show.
Article continues below advertisement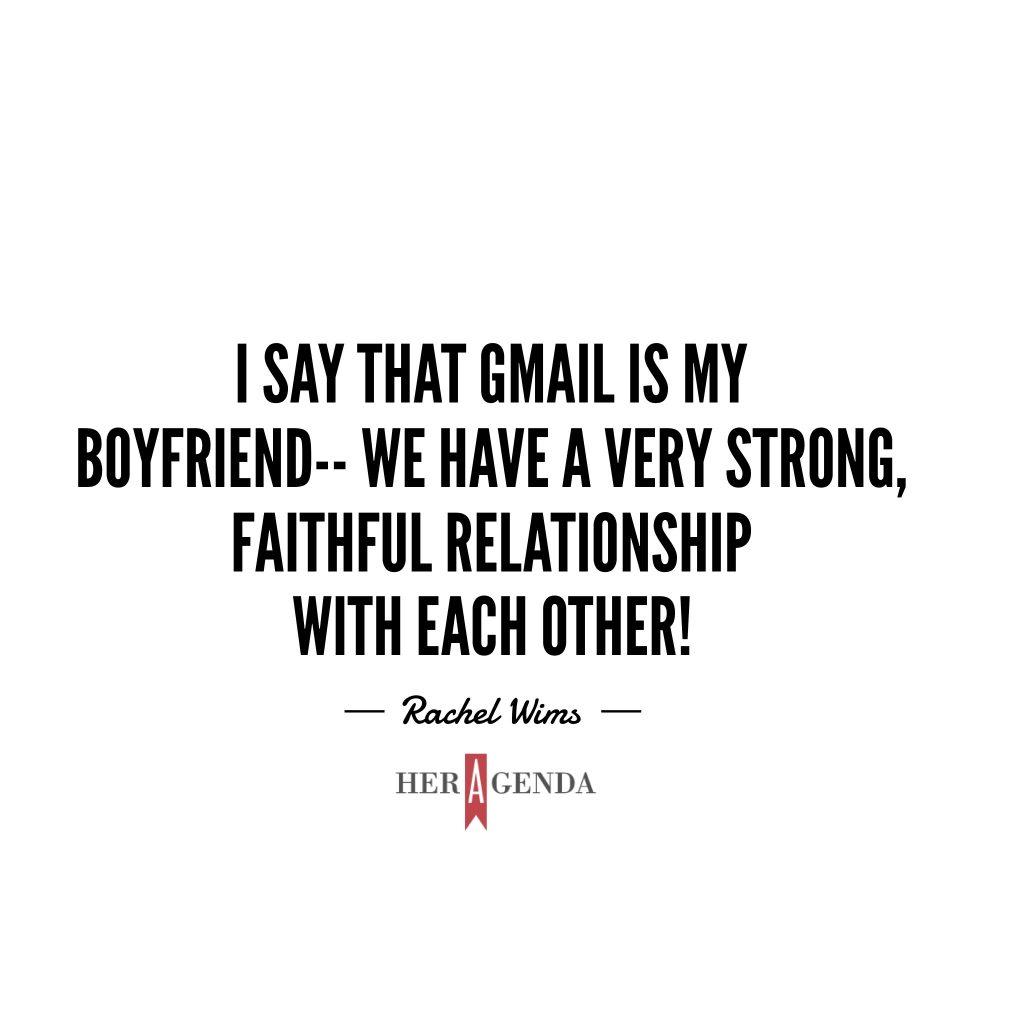 Her Agenda: What advice do you have for young women who want to be able to make a living from their passion?
Rachel Wims: My advice would be to stay focused, work hard, trust your abilities, and pray! When you are passionate about the things you love, God has a way of making everything flow naturally. There are times you will get discouraged, everyone has their breaking points, but if you can find your inner strength no one can stop you.
Article continues below advertisement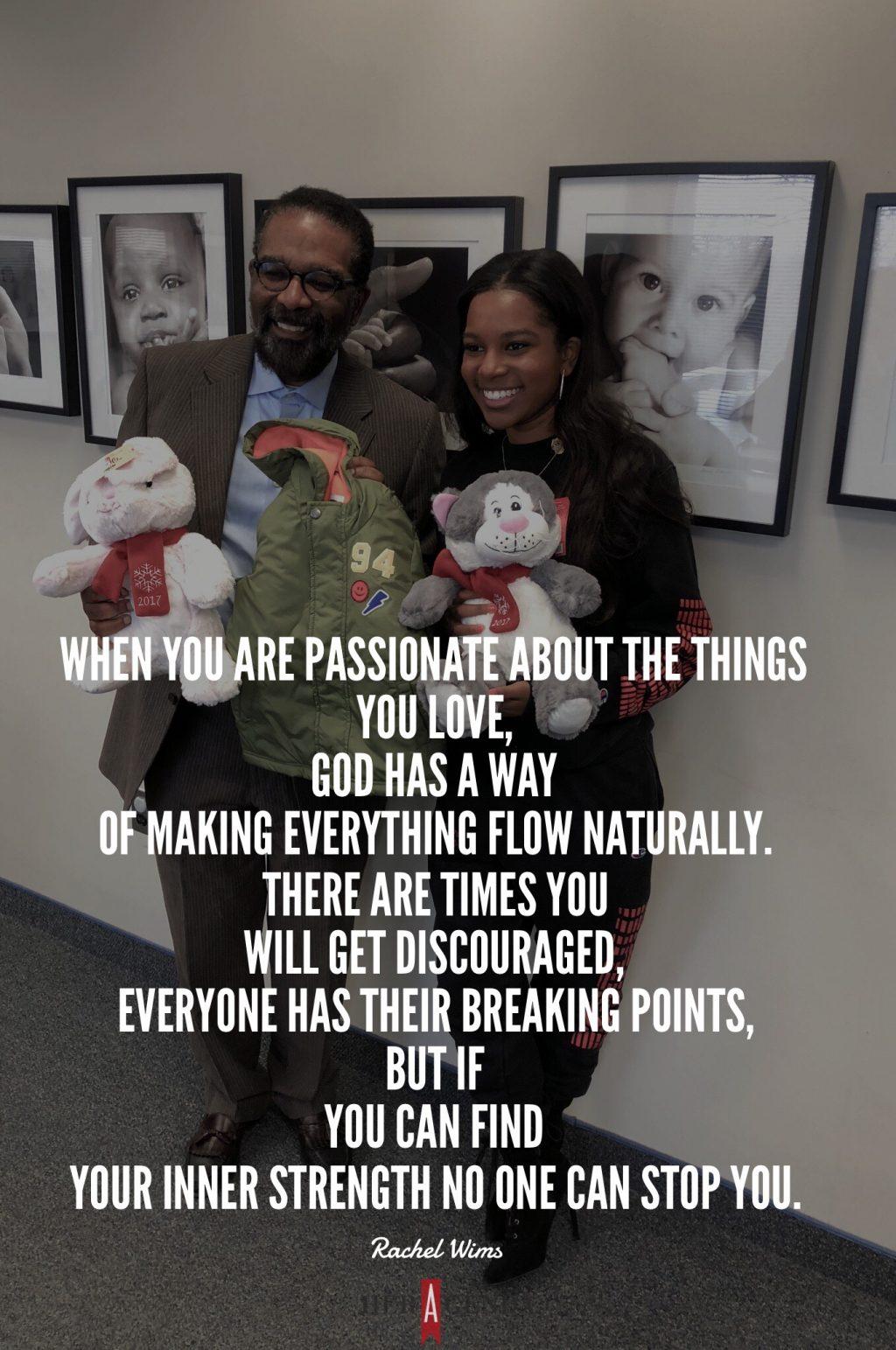 Her Agenda: When it comes to your non-profit career, what are some other social issues you are looking to solve?
Article continues below advertisement
Rachel Wims: Aside from my work abroad in Kenya and Ecuador, I want to come back to the US and start programs within various universities and colleges advocating, educating, and supporting those victims of sexual assault. I also would like to get involved with other initiatives such as Times Up. I have always been passionate about these issues, especially in today's society where there are so many women who have found the courage to step forward. It really is a beautiful thing watching us women come together with hopes of making a brighter future for the new generation. I want to create safe spaces where all victims, families, and friends feel comfortable enough to share their stories and support one another.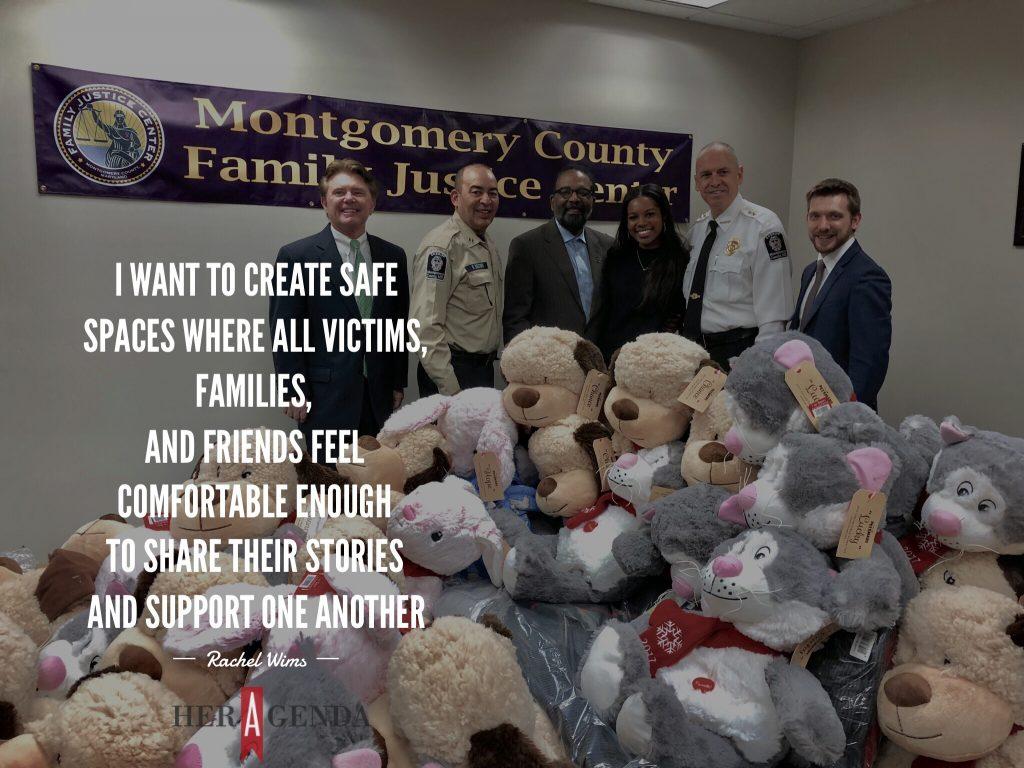 Her Agenda: How can people become involved with the Victims' Rights Foundation?
Rachel Wims: We love new volunteers, ideas, and cases! Please visit our website: www.victimsrightsfoundation.org or message me on social media: @rachelwims on Instagram to send us messages about donations, assistance, or needs. We want to hear from you no matter where you are!
[Editor's note: This interview published on February 26, 2018. It has been edited for length and clarity.]