Everyday society works to fit us in a box – one type of category, role, race, or expertise. Raquel Cepeda, however, is not willing to choose and refuses to fit in
Raquel is an award-winning author, podcaster, and documentary filmmaker. She's in the middle of writing her latest book, East of Broadway (2017), and finishing her documentary, Some Girls. She also hosts the podcast Our National Conversation About Conversations About Race (as the co-creator), and fights both as a cultural activist and a competitive boxer.
From finding peace in her own truths, to what drives her to rise to challenges, Raquel drops crown jewels for Her Agenda. Read on for a peek inside her agenda.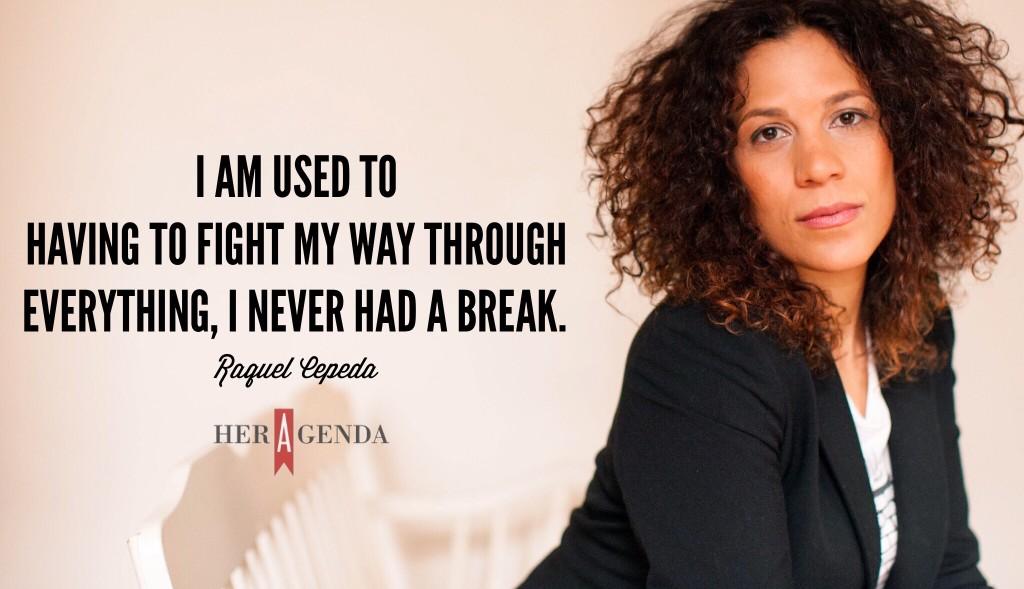 Article continues below advertisement
Her Agenda: Do you believe a justice focused, truth driven personality is crucial in journalism?
Raquel Cepeda: For me, a social justice driven personality worked. I remember discovering The Village Voice, and reading how people were deconstructing hip-hop, music, and culture, and that helped raise me. Writers were deconstructing feminism and all kinds of issues in hip-hop and I found that to be extremely exciting. I said, "Wow," I can look at the things around me and use hip-hop as a prism.
Her Agenda: You are a jack of all trades when it comes to journalism. The field has changed vastly, even within the past 5 years. Compared to when you first started writing versus now, do you believe it is more important to have life experience or be in the classroom?
Raquel Cepeda: I grew up in the culture in a very particular era. It's always a benefit but back in the day it was a niche to write about hip-hop culture, [versus] today – you're irrelevant if you don't write about it. The people today writing about it, in many instances, are not steeped in the culture. Journalism has been gentrified in the same way everything else has been gentrified.
Article continues below advertisement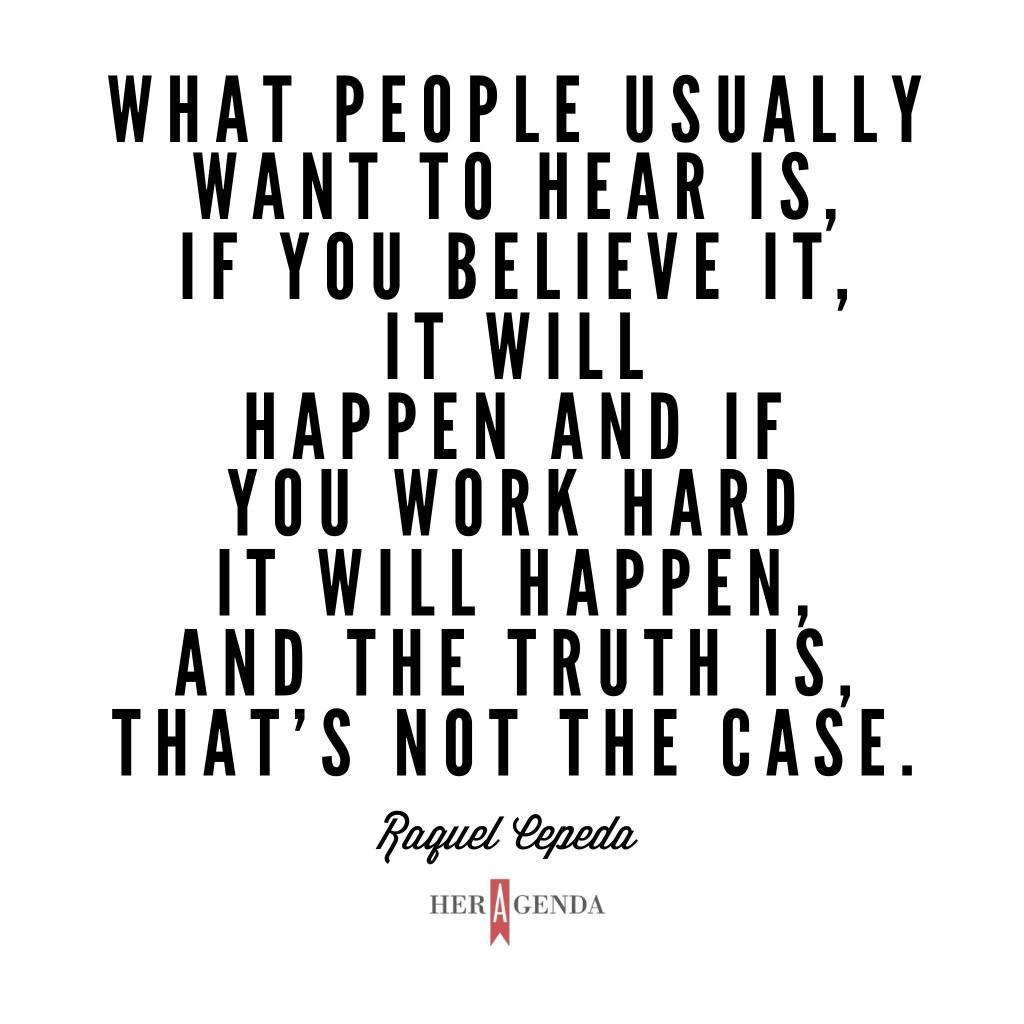 Her Agenda: What advice do you have for when people doubt there will be an audience for your work, whether it is needed, or do not want to invest in it?
Raquel Cepeda: What people usually want to hear is, 'If you believe it, it will happen and you work hard it will happen,' and the truth is, that's not the case. I still get doubted everyday, every time I start something, because I have a triple whammy – I'm a woman, a woman of color, and then I'm Latina. Sometimes I feel like I've done so much work, but it's never good enough. You always have to prove yourself because it's not really about where I stand, [but] it's about where the people that I'm pitching or looking to raise money from – where do they stand?
Article continues below advertisement
I find myself having to present myself, sometimes as non-threatening and accessible, so that people can understand where I'm coming from. To me it's very frustrating. I'm always being questioned and challenged but I ride with the challenge. I think if you develop a thick skin and you decide you're going to rise to the challenge and you are going to stand for something, that's the best you can do. My other advice would be to embrace your failures. All those things have helped me thicken my skin.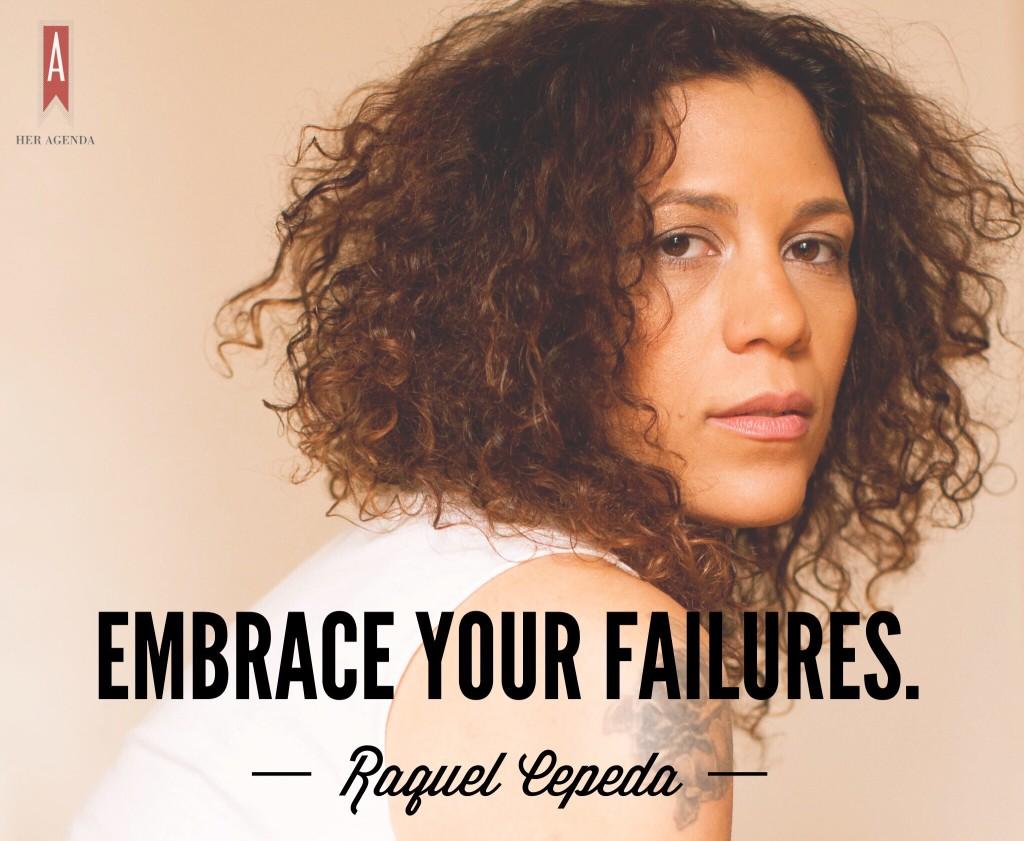 Article continues below advertisement
Her Agenda: Forwomen that work in male dominated spaces like hip-hop, how do you cement yourself in the space among men or situations where you've had to affirm yourself?
Raquel Cepeda: Where I'm from informs everything I do. I grew up in the early '80s in New York City, by way of the Dominican Republic. I live in two very patriarchal societies in the Dominican Republic and New York City. I was an athlete and a tom boy growing up so I've always been able to assert myself, and feel more comfortable actually in spaces where I've found myself having to fight my way in.
My maternal grandmother had a huge influence on me because she was a stable figure in my life and was an activist. She broke the mold. She left an imprint on me. When I was out there in the street, I was blessed to have been reared by my community and strong women in my community. Those women, the lessons they imparted on me, and their personalities have stayed with me. I am used to having to fight my way through everything, I never had a break. [In my activism] everything I do is motivated by love, even when I'm angry at my community or my country or whoever, I'm still motivated by my love for these spaces.
Her Agenda: You do so much, just within the world of journalism and activism, but also as a mother and a wife, and competitive boxer. How do you carve out time for yourself?
Article continues below advertisement
Raquel Cepeda: Boxing is life, to me boxing is church. I always wanted to box because I grew up fighting a lot. Growing up, my father wouldn't let me box, so when I became an adult, I thought I really needed some me time. There is nothing, except having my children, that fills my spirit more. I suffer from writer's block sometimes because I have so much in my mind– that [feeling] like how do I get it out on the page? I'll go to the gym, hit the bag, and the answers come to me.
Her Agenda: You've been able to take so much of your work, and continue transforming it into powerful, impactful projects like with your documentary, Some Girls where you help Latina teens discover their roots through their ancestral DNA, in the same way you explored yourself in Bird of Paradise: How I Became Latina. Where do you get these ideas? How do you know which of these ideas are worth investing in?
Article continues below advertisement
Raquel Cepeda: I would say 99.9 percent of the time, it's organic. A lot of times it's about, what are the trends? For example, with Some Girls, I went to speak to a group of young women at a suicide prevention group in the Bronx. As I told them what I was doing, I asked them what they thought for feedback. They expressed trying to fit into this black and white, binary world, and not being able to fit in neatly anywhere. I told them about finding my DNA ancestry and the girls expressed wanting to know where they were from too. On my cab ride home, the entire film just flashed through my brain. It took four years of filming and now I'm editing, but sometimes the potential they have unfolds in a flash.
Her Agenda: Were there people you have been able to lean on and ask for support?
Raquel Cepeda: My husband is such a renaissance man, I always think, if he can do it, I can do it too, so it works for us. The thing that I think is really important about relationships, is that you have to respect each other. There is so much hate in the world and so many problems in the world, but sometimes we don't take the time to say things are good and I respect this person and I honor this person's presence in my life. It's important for us to do that.
Article continues below advertisement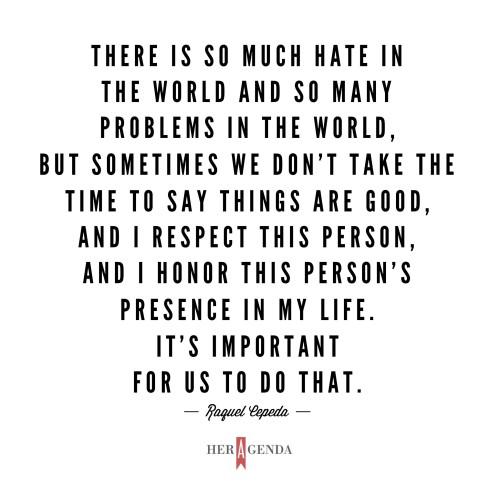 Her Agenda: Both you and your husband, Sacha Jenkins, are such a power couple. Would you say having a partner who is doing similar work has made a strong impact on you?
Raquel Cepeda: Definitely, from the moment we started dating we knew we would be perfect for each other. Our backgrounds are similar because he's Caribbean American and he understands the uphill battle of being a woman and artist, and he's always, always respected that. He's there to lick the wounds and see me fail. We try to be there for each other and sometimes it's that simple. If he didn't support me, I don't know that I'd be able to do what I'm doing. I also got lucky because I married my best friend.
Article continues below advertisement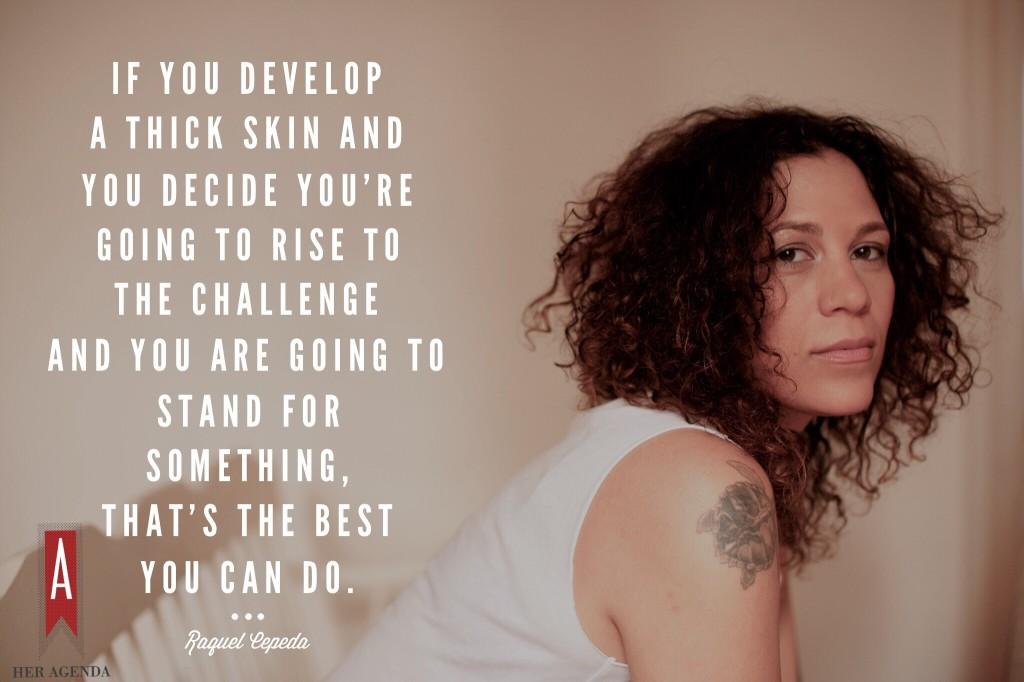 Her Agenda: You play different roles as a filmmaker and journalist writing about various intersections of race, gender, and culture. How did you form your unique brand of who you are and when did it develop into your career?
Article continues below advertisement
Raquel Cepeda: Even before journalism, because our identities are always challenged, you start forming your identity at a really young age. I grew up in a tumultuous household, surrounded by violence and a lot of other things, and had to develop myself and stay woke from a very young age. I was sensitive to everything around me – to my environment, to myself, to my identity, so that was the only thing I had. Growing up I didn't have money, so what do you have what do you own? You own your worth, you own yourself, you own your identity. So that becomes something you become very guarded about.
Once you take the pressure off of yourself of maintaining one fixed way of seeing the world and you start to understand that identity is fluid, it's like water. Once you let go of the pressure of being one thing and fitting into boxes, you'll find yourself and identify yourself. The answers to everything exist in the gray space. They exist in between the boxes. You'll find yourself truly form an identity that is insatiable to you and that as some point will become accessible to others.
Article continues below advertisement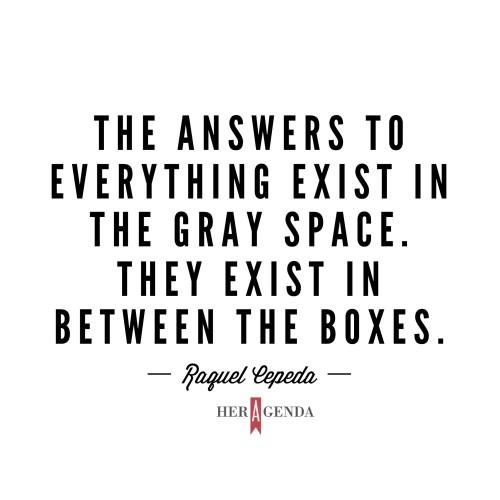 One of our challenges now is to not live for the 'gram, but to live for yourself, and live for your community. To deal with your own self and healing, and to truly develop your own spirit and self so that you can be a real help and a really consistent person to your community.
[Editor's note: This post was published November 21st and has been edited for length and clarity. Photo Credit: Heather Weston | Text Edit: Her Agenda. Headshot: Rob Northway]