I stumbled upon Bluitt's website In Her Shoes, where she was not only an entrepreneur (as a publicist who owned a boutique public relations agency called Crush Media), but was also celebrating Black women who were entrepreneurs. With her site, she was amplifying the uniqueness, struggles, and journeys of Black women entrepreneurs like Lisa Price of Carol's Daughter, Denequa Williams of Lit Brooklyn, Myleik Teele of Curlbox and countless others. In love with the content she was producing, after our chat for Black Enterprise, I soon became a contributor and wrote a four-part series about four fly Black women entrepreneurs in the finance game.
Bluitt went on to producing panel discussions where attendees would have honest and thought-provoking discussions about being an entrepreneur and created a marketplace where entrepreneurs can sell their products called "The Beauties & Brains Behind the Brands." In all Bluitt has done for Black women, she also made sure no man was left behind either. She created hashtags like #BlackManBrillance and #InHisShoes to talk about the everyday struggles Black businessmen go through.
Going into her 10th year in blogging in January, Bluitt's passion for entrepreneurship has reached a stratosphere of its own. She's created and executive produced a documentary 'She Did That' exploring the highs and lows of Black women and their entrepreneurial endeavors.
Article continues below advertisement
Here, Bluitt catches us up on life after debuting this groundbreaking documentary, her own personal struggles as an entrepreneur and what's next.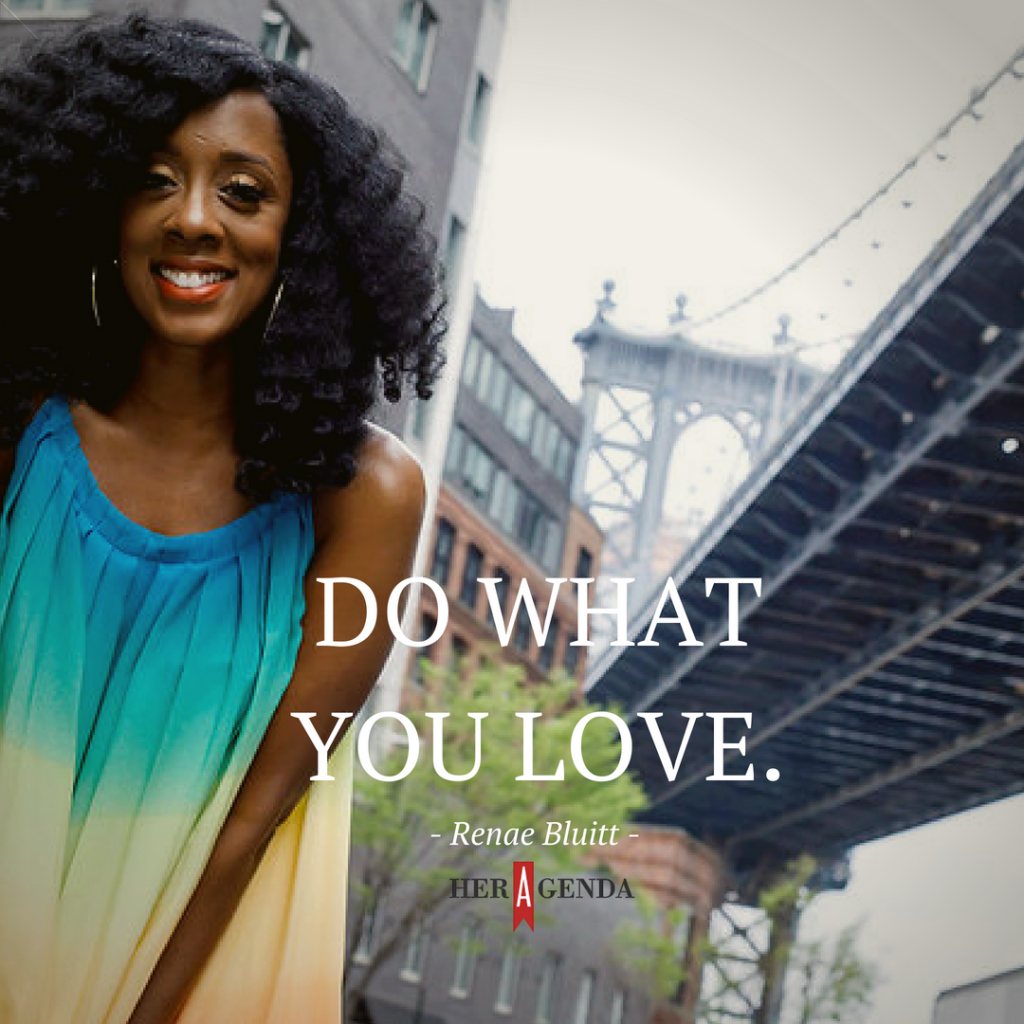 Article continues below advertisement
Her Agenda: Tell me a little bit about the inception of this idea. Where did the idea come from?
Renae Bluitt: Well, as you know, I've been blogging about Black women entrepreneurs for nine years with In Her Shoes where I meet and talk to dynamic women. After doing a photography exhibition, in 2015, I really left that event asking myself: what's next? It took some time, but with some prayer and asking God for guidance, He literally planted the seed of taking those stories, going deeper and elevating the conversation through film. Late 2015 is when I conceptualized it and then we started filming in 2016.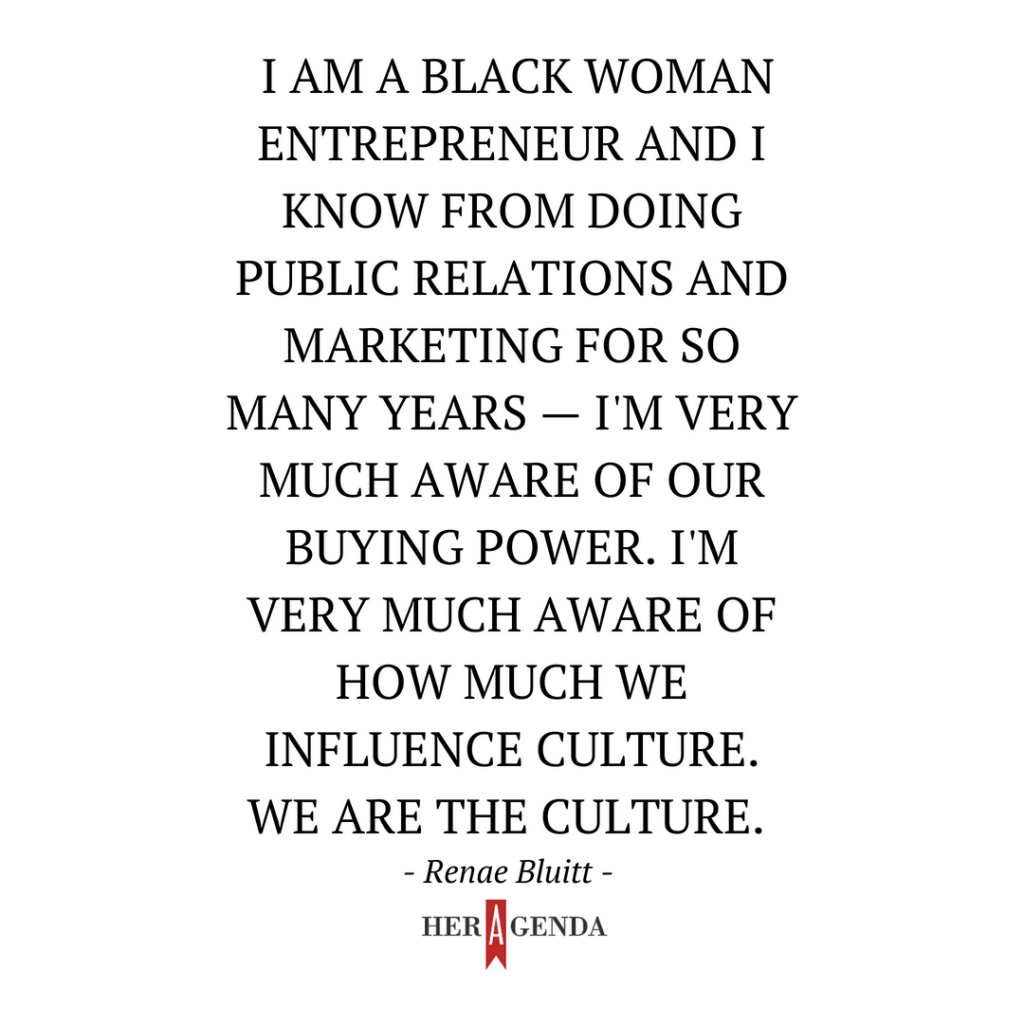 Article continues below advertisement
Her Agenda: What were some of the hardships you experienced trying to put this film together? I know producing a documentary, there are so many moving pieces. What was the biggest learning curve for you?
Renae Bluitt: I would definitely say that patience is not my virtue, but this film really forced me to be patient. There was a period of time, for about three or four months where we had to stop filming because we had to go back to the drawing board to look for additional funding. I had invested in the film personally, pouring my own money into the project, but at that point, we hit a wall and had to stop for a bit and go back in, look for new brand partnerships.
It was humbling in a lot of ways. Pitching this project to different brands, everyone seemed interested, but only a couple people actually showed some action and money behind their words. The few brands we pitched and said yes were the perfect fit. We have a fashion brand partnership with Rafaella and that partnership has really been godsend in many ways. The synergy has been great. ESSENCE has always been a strong supporter. And General Motors, as part of their partnership, they provided transportation when we were filming in places like Chicago, Detroit, Indianapolis. The partners who did sign on were the right people and the right pieces to the puzzle.
Article continues below advertisement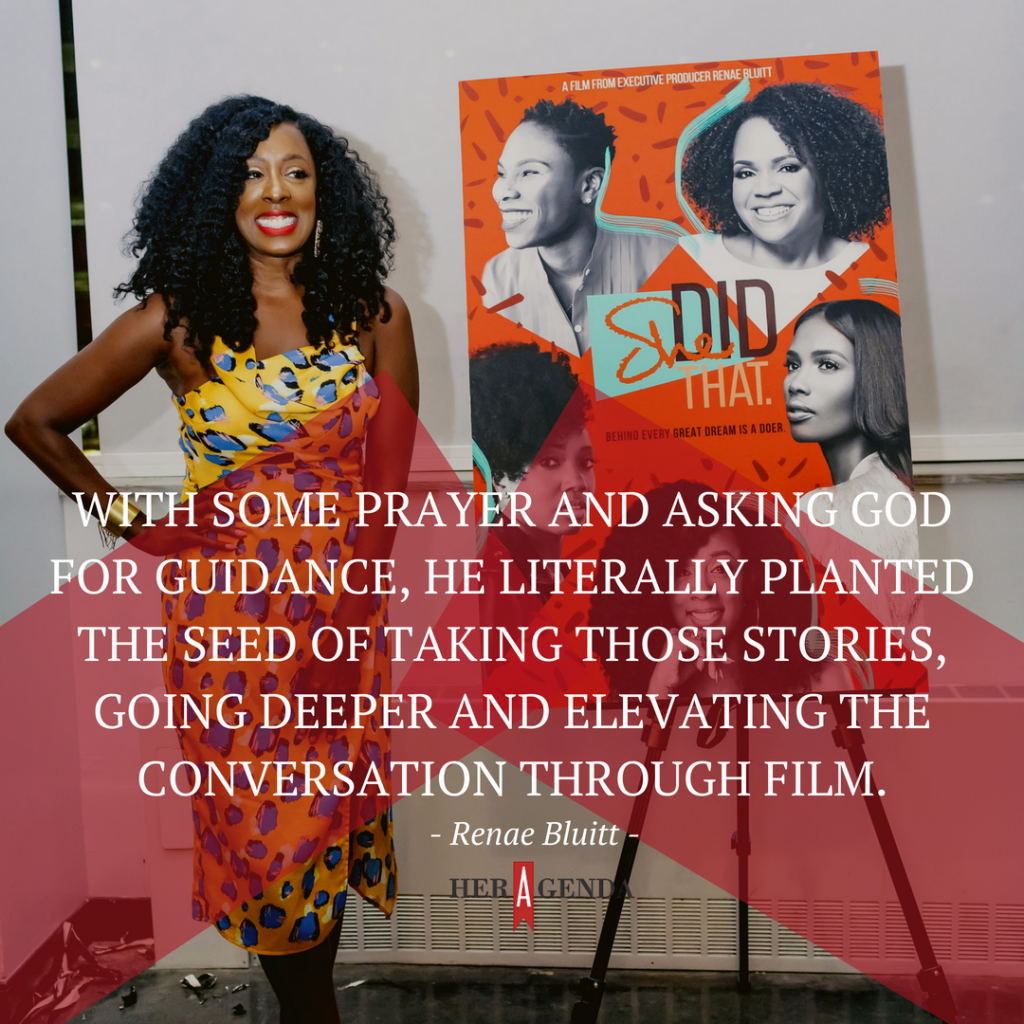 Her Agenda: You did say that patience wasn't your strong suit. What were some of the things that you did to help build your patience?
Renae Bluitt: Well, there came a point where I had to surrender to the process and realize that as much as I want to be frustrated or complain about things, there's a point where you realize there's really nothing you can do but be still. There are points where I had to be still. There was a long period of time during the filming process where I was still doing public relations. I would just take that energy and focus it on the blog or focus it on my public relations clients, which kept me busy.
Article continues below advertisement
There were moments where I asked will we be able to finish this film? The quality of what we were filming and the type of cameras we were using were costly. So the question became what if you don't get additional funding? What if this is it? What do you do? You know, you've already gotten brands involved, you've already announced this project. So there was a little self-doubt in there, but there are always situations that kept hope alive, so to speak. And then early 2018, the wheels started moving again and the pieces started falling into place. Every time that I thought things were falling apart, they were really coming together.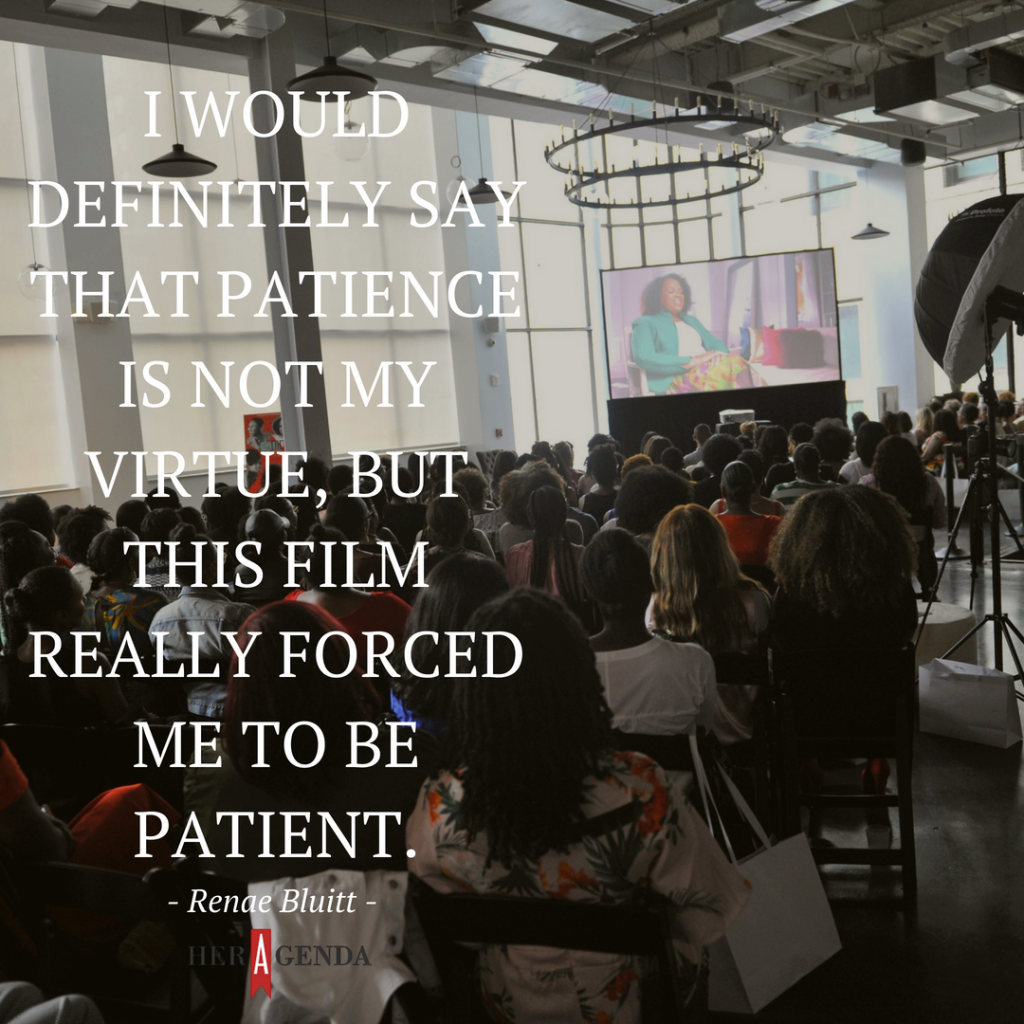 Article continues below advertisement
Her Agenda: What were the little moments of hope that kept you going?
Renae Bluitt: I've had the support of different people. I remember having tea at a local cafe in Brooklyn, New York with Michaela Angela Davis and just talking to her, she poured into me, the project and gave me some advice.
A mentor of mine who works at Walmart reached out to me towards the end of last year asking me would the film be finished and ready to be screened at ESSENCE Festival. We weren't near finished at the end of last year, but that gave us fuel. And to know that a brand like Walmart was ready to introduce this film to the world at ESSENCE Festival, which is the largest festival in the world for Black women, it's those types of things that kept me going. Once we had that deadline of ESSENCE Festival 2018, it was like by any means necessary at that point. It just seems like things really fell into place for us to be able to meet that deadline.
Article continues below advertisement
When you look at social media, it seems easy. It looks like things are happening quickly for people. But what we don't see is what's really happening behind the scenes. The times of doubt, fear, failure or things not moving. So I had to remind myself that good things take time.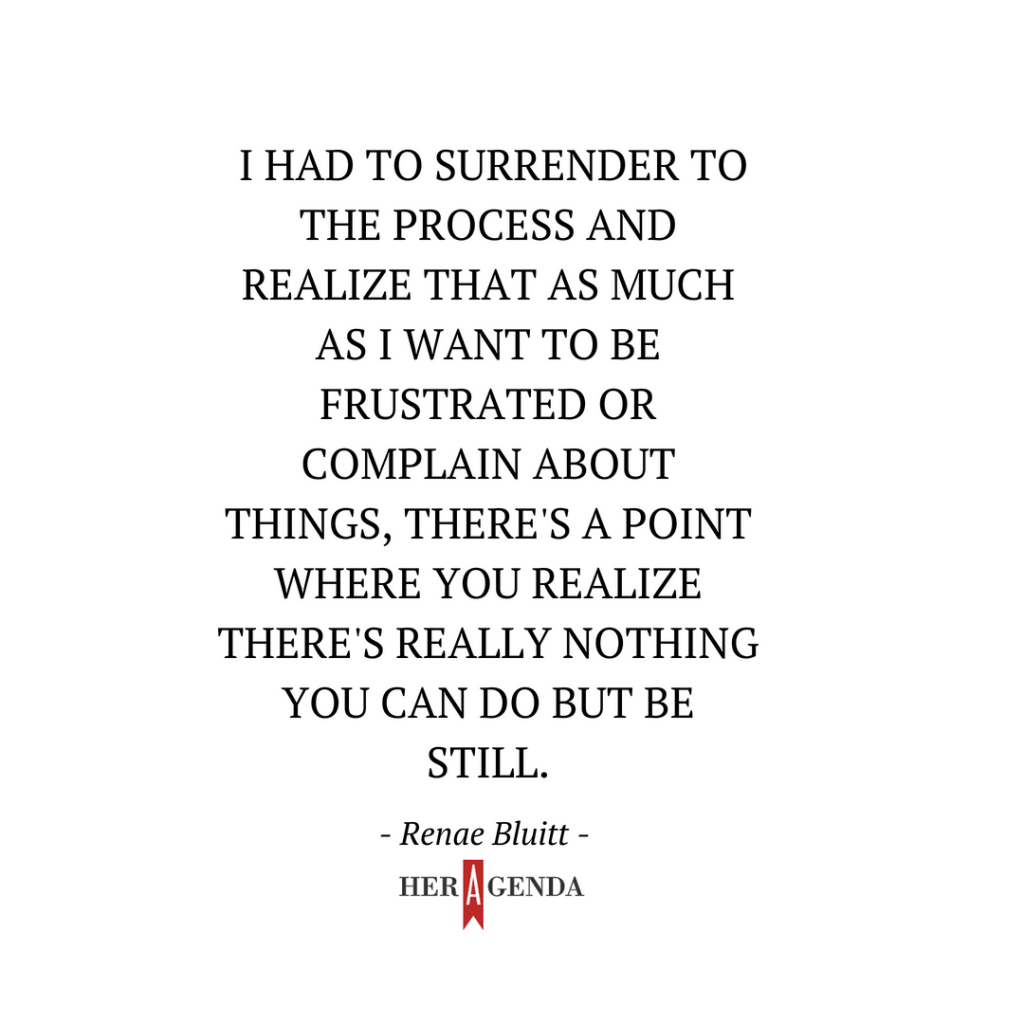 Article continues below advertisement
Her Agenda: There have been so many documentaries about so many other things, I'm amazed that this hasn't been done before.
Renae Bluitt: It's crazy. There are documentaries about women entrepreneurs, but this is the first documentary that is specifically dedicated to Black women because the way that we do things and the way we navigate in the world is different. A lot of the things that we face as Black women entrepreneurs are universal. Some of the struggles we have with entrepreneurship are not unique to us as Black women. And I think that us talking about our unique journeys in the film is what really makes this documentary special because yes, there are a couple other documentaries about entrepreneurship, but this is literally the only one specifically about Black women.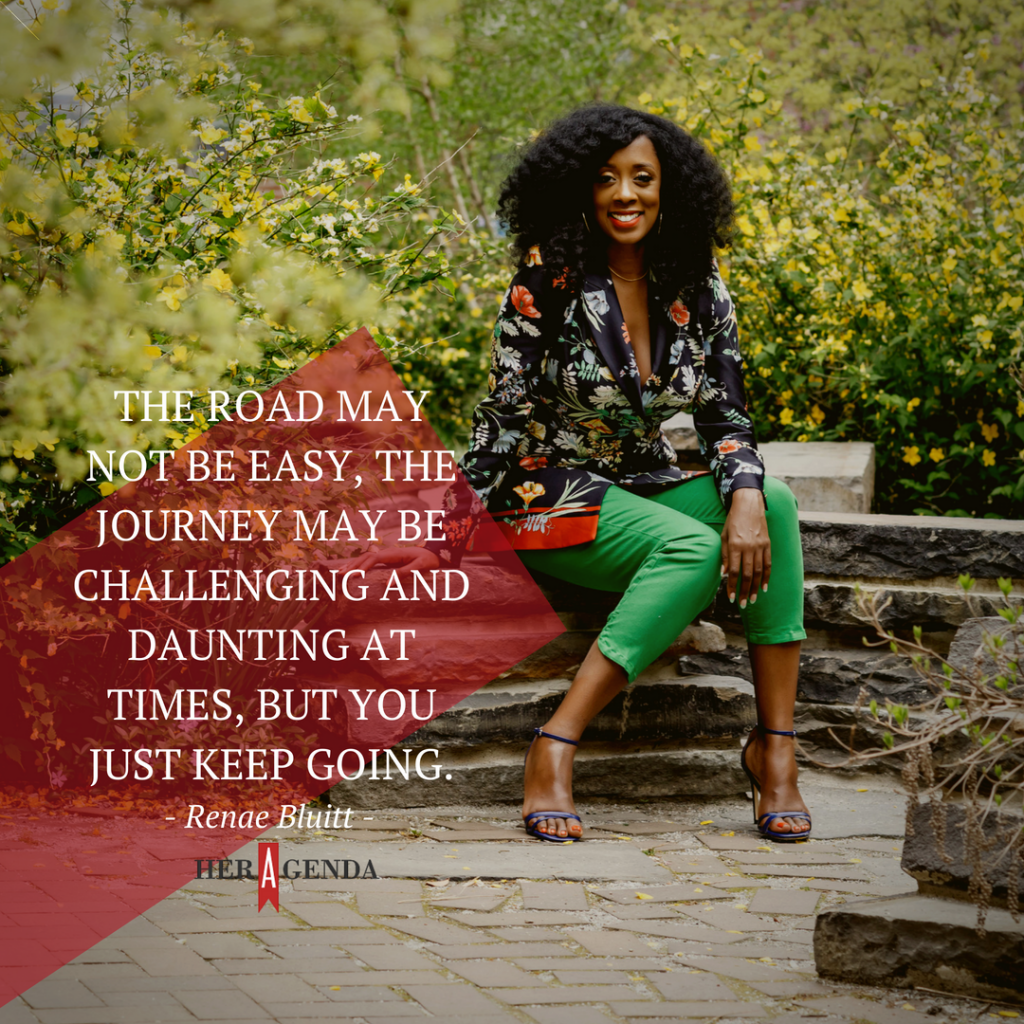 Article continues below advertisement
Her Agenda: You mentioned the rejection you faced reaching out to a few brands when they didn't get it back to you, and the right ones who got back to you. Let's talk about rejection. How do you cope?
Renae Bluitt: That's a good question. Sometimes it felt personal because I am a Black woman entrepreneur and I know that from doing public relations and marketing for so many years — I'm very much aware of our buying power. I'm very much aware of how much we influence culture. We are the culture. And so for these brands, they may have done a little bit here and there in terms of supporting things in our community, but for them to not take or move forward with the opportunity to support the project, it did feel personal sometimes because this is my baby.
The difference between me pitching this film and pitching something for a client was that [my client's project] wasn't something that I gave birth to or I was in labor with. So it feels personal and I got in my feelings quite a few times. But then I stopped and had to remind myself that the people who need to be aligned with this project will be. I had to trust that God is putting the right people in place. And that is exactly what He did. I believe the word no really means not right now. Like this just may not be it. There may be a better opportunity waiting for you. And if we try too hard to force things, that's when we face the most challenges.
Article continues below advertisement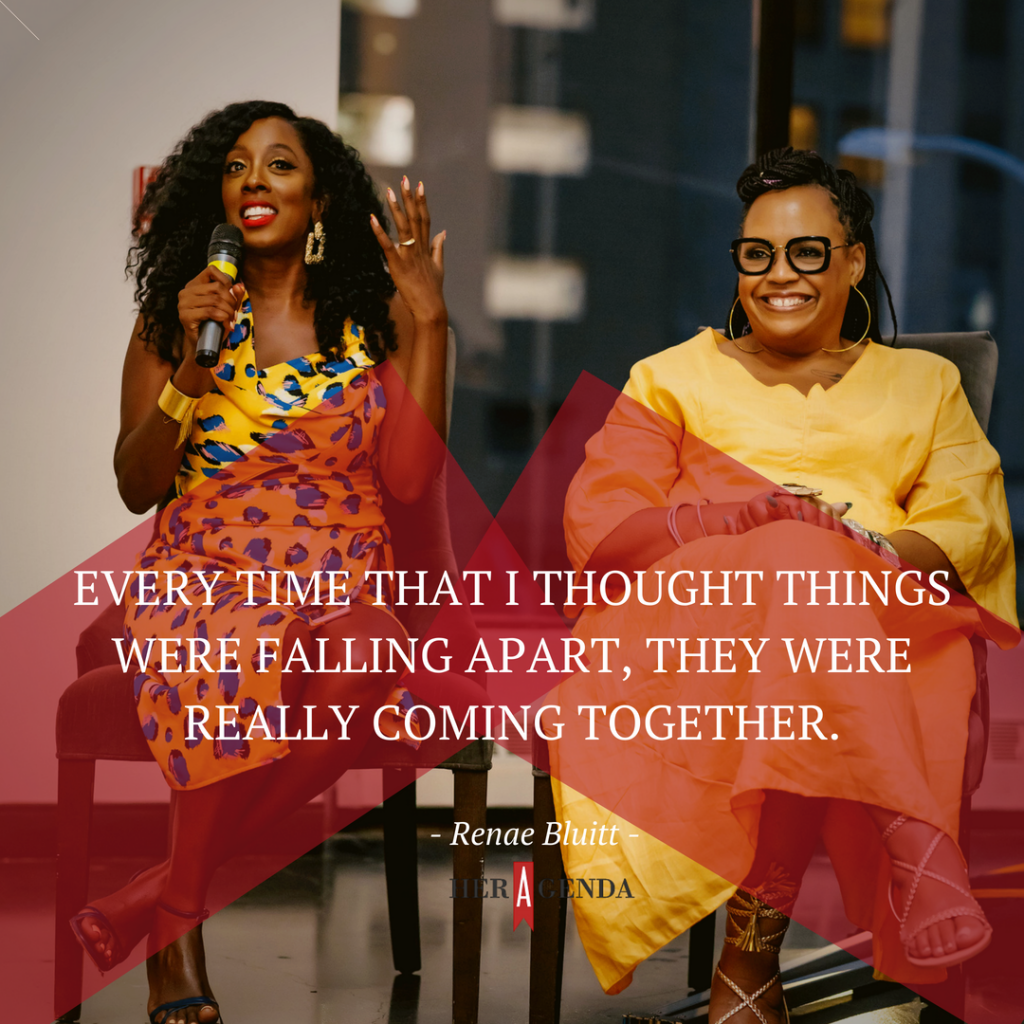 Her Agenda: Now that the film is out, you've been promoting it and having screenings in New York, and ESSENCE Festival, what's next for you?
Article continues below advertisement
Renae Bluitt: My goal is to get as many eyes as possible on this film. The stories are timeless. We just did a screening in Charlotte and I just landed in Columbia, South Carolina today for a screening and what I'm enjoying most right now is the dialogue and honest conversations that women are having after watching the film. After seeing beauty mogul Lisa Price [share] her challenges and obstacles, the message is that if these women can do it, so can you, too. The road may not be easy, the journey may be challenging and daunting at times, but you just keep going, especially because this is your field, this is your product, your service, this is your brand and you believe in it. So the conversations that we're having following each screening literally give me life every time. It just reminds me of how important this project is and why I even embarked upon it to begin with.
Obviously, we're really interested in getting television distribution or digital, like Netflix, I would love for this to be on OWN because I can totally see Auntie Oprah falling in love with this project and I just continue to speak those things into existence. We're submitting to some film festivals. We do have a big film festival premiere coming up, [at Urban World Film Festival.] We're excited to share. That film festival will get us in front of different network executives who will see the value in this project.
Article continues below advertisement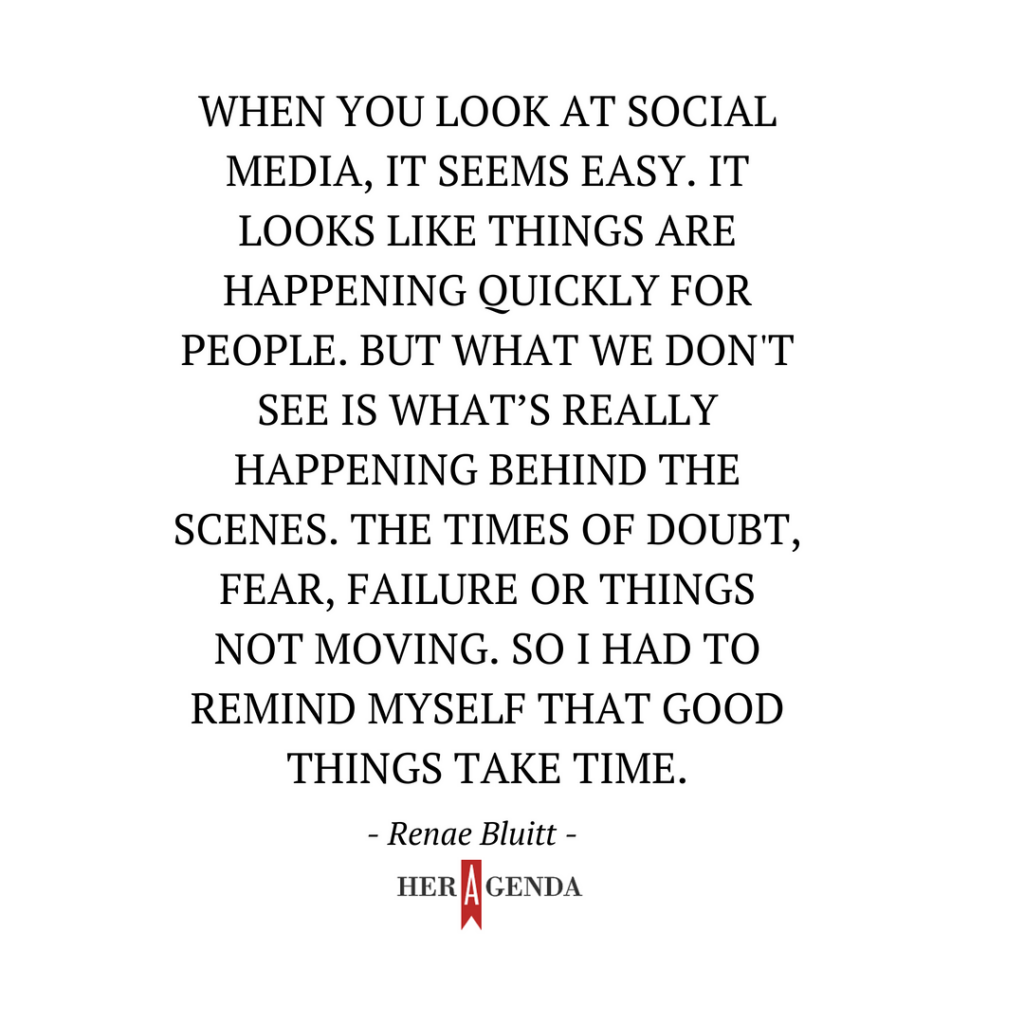 Her Agenda: You told me that you're not necessarily doing PR anymore. What are you doing now?
Renae Bluitt: This film is my life right now. There's so much work and I'm wearing a lot of different hats. Right now, we're doing this screening. I can't reveal who we're talking to, but there are conversations with different organizations about licensing the film. There is a global opportunity to screen the film that we're discussing for 2019. This is a full-time job.
Article continues below advertisement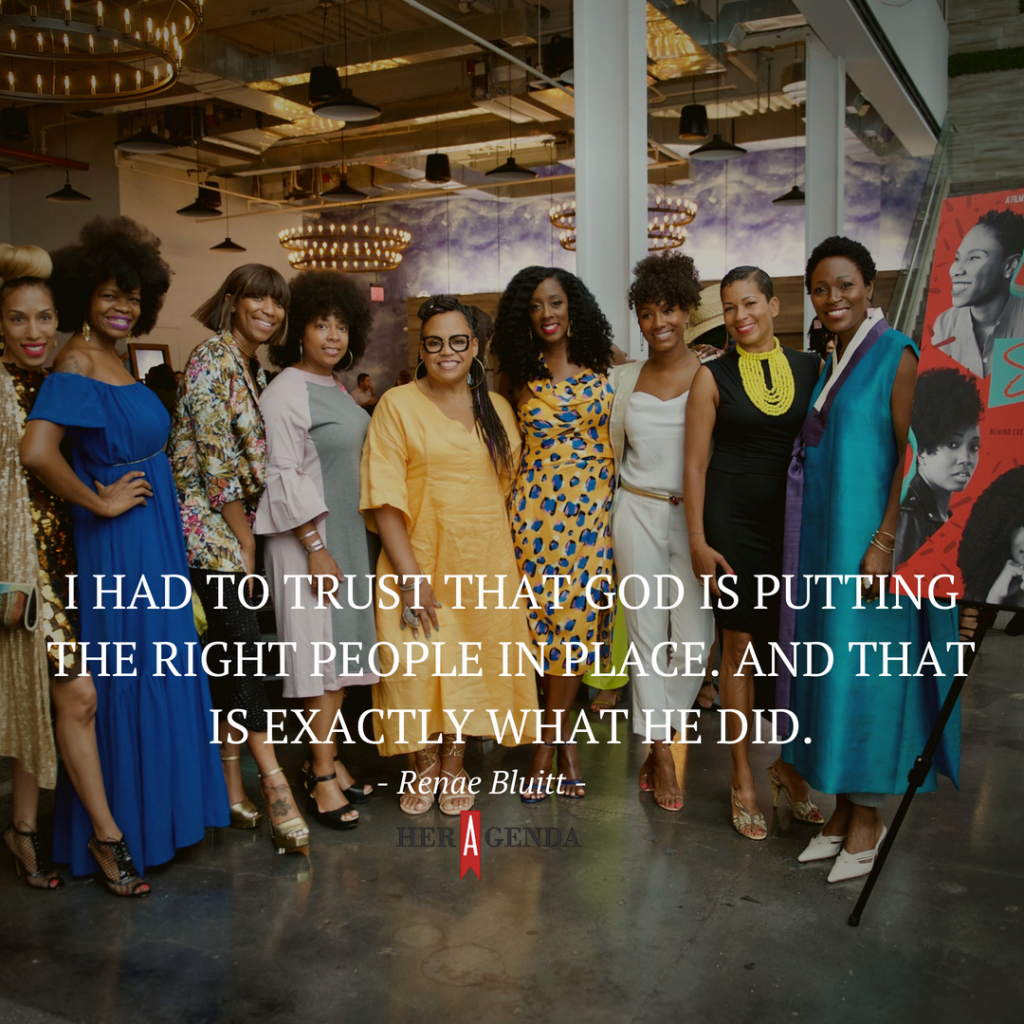 Her Agenda: What is the one motto that keeps you going every day?
Renae Bluitt: 'Do what you love' and that happens to be my very first tattoo. I say 'Do what you love' for quite a few reasons, even with this film. For example, if I was not in love with this project, in love with these stories, and in love with the work that comes with it, I would have given up a long time ago. As cliche as it may sound, doing something that you love to do as a career is the difference between doing something with mediocrity and doing something with excellence.
Article continues below advertisement
I've been telling Black women's stories for almost 10 years, but to do it in this medium, put me in a space where I'm no longer the expert. Yes, I know how to tell a story. But there are so many technical aspects of filmmaking that I was not aware of, so there were a lot of challenging times. There were lessons learned, there [were] times where I had to be vulnerable and really lean on my team for their expertise in filmmaking and if I didn't love what I was doing I would have given up after the first few months because it wasn't easy.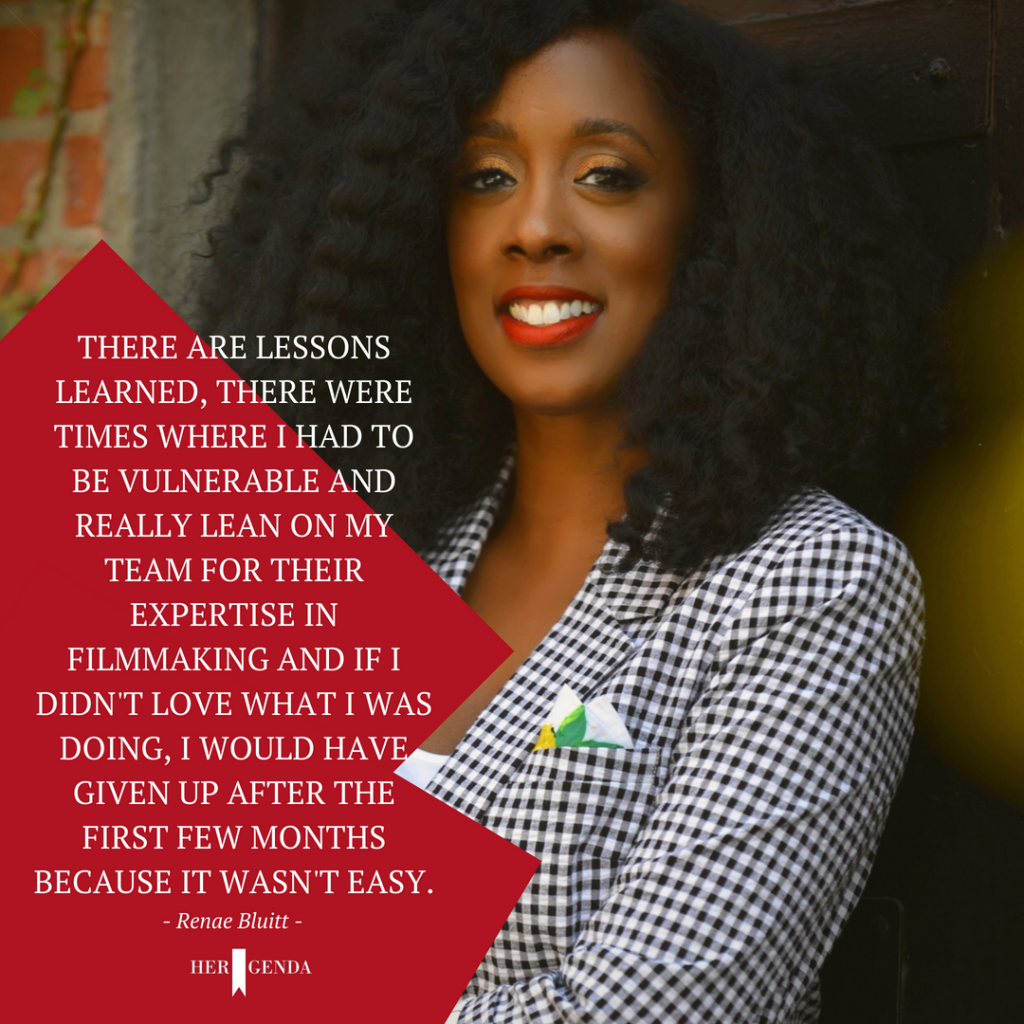 [Editor's note: This interview published on September 17th, 2018. It has been edited for length and clarity.]