Investor. Philanthropist. Author. Founder. Ruth Ann Harnisch is a woman with a clear agenda.
She has been named by Inside Philanthropy as one of the 50 most powerful women in U.S philanthropy. A founding funder of the Ted Fellows Program, Center for Sustainable Journalism (Kennesaw State University) and the Institute of Coaching (Harvard Medical School's McLean Hospital), Ruth Ann literally puts her money where her mouth is.
Led by her motto "The final frontier of feminism is finance," Harnisch is inspiring a new generation of women to pursue financial education and confidently negotiate to get the things that they want in life.
Her Agenda: The mission of the Harnisch Foundation is to create a fair, equitable and inclusive world. Can you tell us about the work that you do to support this mission?
Ruth Ann Harnisch: I consider it my life's purpose to do whatever I can to create that fair, equitable and inclusive world in every aspect of my life. Because the Harnisch Foundation is an actual workplace, that's what most people think of as my work. In truth, my life is my work. I invest both philanthropically and for profit. I'm a shareholder, a volunteer, a political activist. My resources are intentionally invested in people and organizations working to break barriers that keep people from living with equality, freedom, dignity, and opportunity.
As for the Harnisch Foundation, we're so proud of our leadership training program for girls in grades 3-8. FunnyGirls™ gives girls a fun way to discover and develop their leadership through improv games and playful exercises. We also created the Awesome Without Borders chapter of the Awesome Foundation, giving $1000 no-strings-attached cash grants to people who are up to something awesome (and usually progressive) with over $370,000 awarded.
Article continues below advertisement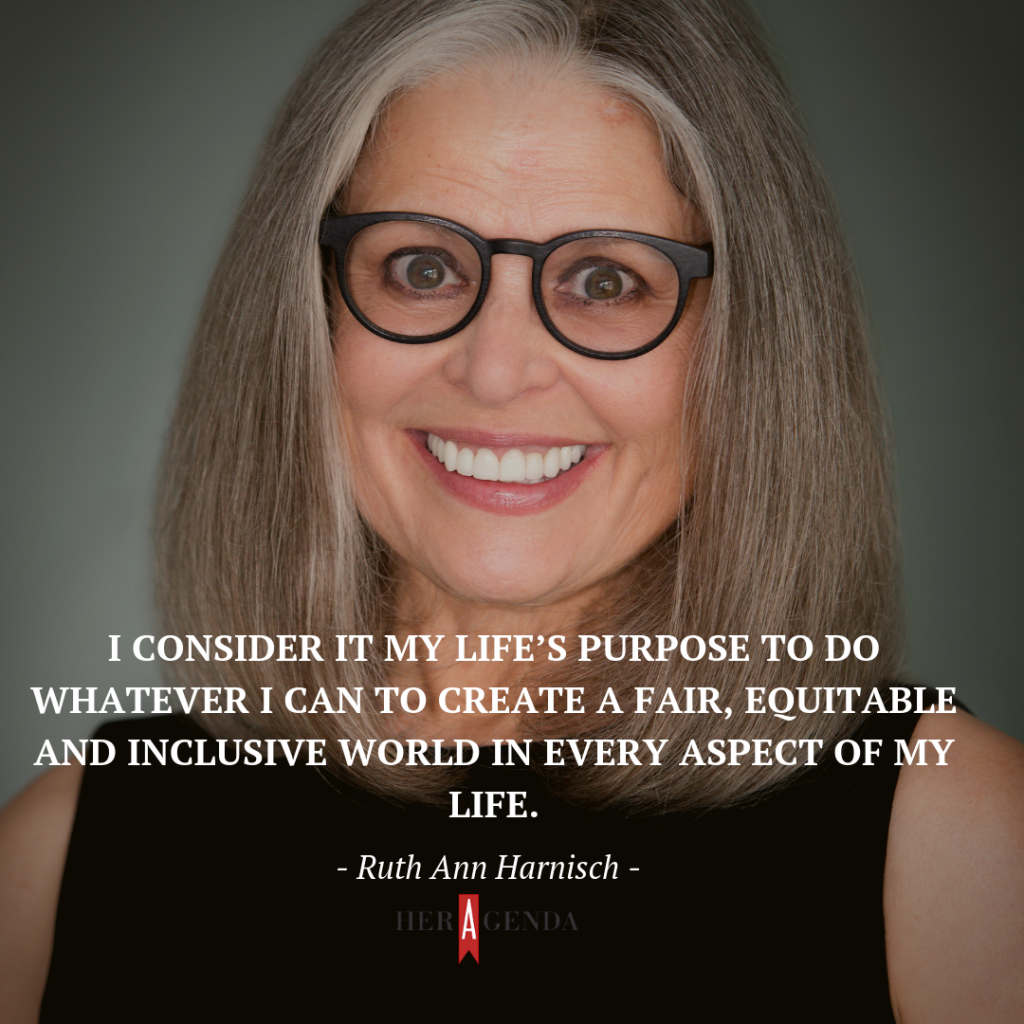 We support major inclusion initiatives at Sundance Institute. Storytellers shape our culture, so it's important that more voices have a chance to be heard. We're among the founding funders of the TEDFellows program, created to bring a more diverse group of attendees and presenters to the famously exclusive community.
Article continues below advertisement
I also invest in women-led and women-founded companies, and I seek out inclusive businesses when I am spending money. I invest in the political system by contributing personally to candidates, giving to get-out-the-vote efforts, and supporting organizations that recruit, train, and support female and minority candidates. I could go on – the Foundation's in its 20th year! You can check out our website to see what we've accomplished and what we're aiming for. This is not "work" that can be left at the office, it's full time and full on.
Her Agenda: Can you share your career journey and what inspired you to start the foundation?
Ruth Ann Harnisch: My career journey has been a long one, as I think I got my first actual paycheck in 1966. If you saw "Mad Men," that's my early workplace experience. Women weren't allowed to do most interesting, lucrative jobs. Entire fields were completely closed to women. I wanted to be a broadcaster, and through a Teen DJ opportunity at a local radio station, I got my start. Thanks to the United States government's Affirmative Action policies, I was a token hire at a Nashville television station in 1973, unwelcome and harassed.
Article continues below advertisement
Fast-forward through promotions and additional opportunities, when I retired from my communications career in 1998, I had been a television news anchor, radio talk show host, newspaper columnist, adjunct professor at a graduate school of business, and some odd jobs that included lion handler, movie extra, calligrapher, and telemarketer. I was inspired to start the foundation when the newspaper where I'd been writing was sold and closed. I did what so many other women of wealth do: started a private foundation to be an effective steward of the financial resources with which I'd been blessed. This was in 1998, when "He earns it, she gives it away" was a formula for couples like my husband and me. Now, we are much more in partnership in the whole of our financial lives, including our philanthropy.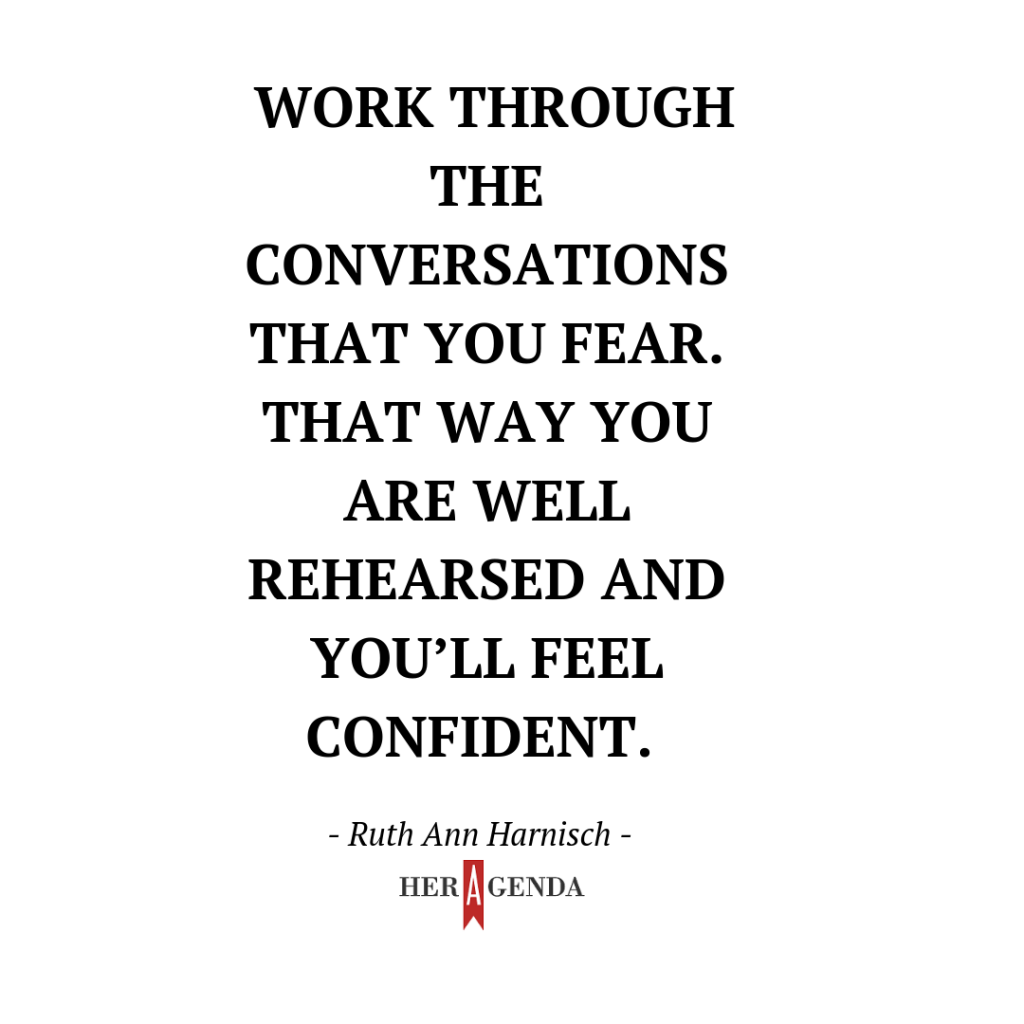 Article continues below advertisement
Her Agenda: What one life experience has most impacted your career?
Ruth Ann Harnisch: There's no doubt that I owe the entirety of my broadcast career to Dorothy Wolf, Assistant Principal of Public School 72 in Buffalo, New York. For reasons that she took to her grave, when I was in 3rd grade, Mrs. Wolf chose me to join a small group of specially selected students from our culturally deprived working class neighborhood. She gave us what I now know to be "enrichment" courses. Before and after school, we learned French, memorized and discussed the meaning of poems, performed in recitations and musicals (in French as well as English) to teach us stage poise.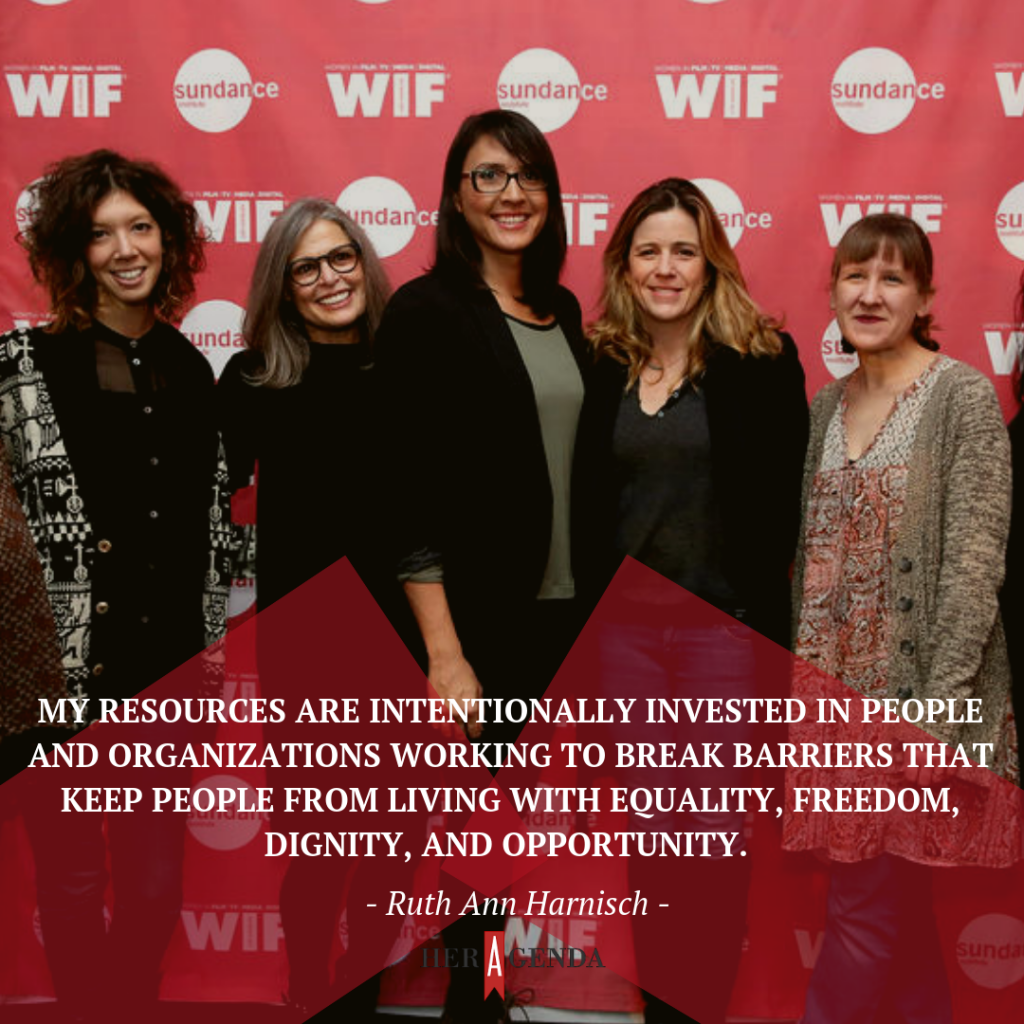 Article continues below advertisement
But most importantly, she gave us elocution lessons. Have you ever heard a Buffalo accent? I wish the reader could just press play on me reading that sentence with my old Buffalo accent. Mrs. Wolf knew that if we spoke beautifully with no trace of that accent (the word "that" is pronounced "theeeyat") we stood a much better chance of success outside of our little corner of the civilized world.
Every bit of success I have ever had can be traced to my ability to use my voice as an instrument, capable of almost any accent including none, to speak loudly enough to be heard without a microphone in rooms where no microphone is available, to speak in front of other people in small and large settings without as much fear as most people have.
Her Agenda: At Her Agenda, we always like to start by asking, "What is your motto?"
Ruth Ann Harnisch: I have many mottos, but the one I want everyone to remember is "The final frontier of feminism is finance."
Her Agenda: What about those words resonate with you?
Article continues below advertisement
Ruth Ann Harnisch: I have had the privilege, and I say privilege knowingly, of many advantages in life. As a young, white woman, I was considered physically attractive. There's a certain kind of power in that. Then, as a middle-aged media personality, there was a certain type of power that came with being a public figure. I had the power to give people the opportunity to present their stories in radio, television and newspaper format. But, I tell you there is no power [that I have experienced] like the power of having enough money to make choices based on what I wanted to do and not what I needed to have money to do. When I was in place where I needed to survive, I couldn't make my own agenda. What I wanted had to be on the agenda of the person who was paying me.
Financial freedom is the most important superpower. Until [women] have enough money of their own to be able to guide their destinies without compromise or fear, then true equality will not happen.
Her Agenda: This generation of women have collectively taken a huge step in guiding their own destinies, at least in education space. Today, women are more educated than men yet continue to make less money than their male counterparts. How does that statistic play into the discussion of empowering women to begin to talk about money to close the gender gap?
Article continues below advertisement
Ruth Ann Harnisch: [Financial education] is an education that we are not getting. Research shows that families talk to their sons about finance and money much more and in greater detail than they talk to their daughters about money. It's very important when you're talking about education making a difference, to start the conversation with girls very early. The conversation should include helping them become familiar with what money is, how we get it, how we save it, how we invest it, how we leverage it and how we collectively use it with others to accomplish things.
I'm noticing that a lot of young women are educating themselves. They are starting businesses, are willing to be financial risk takers and entrepreneurs in a way that women in previous generations never had the opportunity to do.
How do you negotiate to get the things that you want? Women are generally raised to be agreeable and to 'go along to get along.' Even heads of major companies have told women that they will get what they deserve if they are patient. Well, we've had a few millennia to be patient and wait. Now, we need to know how to write a contract, how to make a deal and how to look at a term sheet. Those things will help secure our financial future.
Article continues below advertisement
Her Agenda: You spoke about women needing to learn how to negotiate to get the things that they want. What do you think is the biggest myth that women believe about negotiation?
Ruth Ann Harnisch: I don't know that is a myth, it's probably been proven true that women who assert themselves and ask for more are generally not as well liked. Nonetheless, there's never been a better time to negotiate for yourself because the labor market is extremely tight. Right now, it's an employee's market. The idea of sticking around and waiting for someone to recognize your work is not something that sits well with millennials. My generation, the baby boomers, were raised to be patient but our grandchildren are not nearly as patient [and] that's wonderful.
If you want to learn how to negotiate, there are many ways to do so. Just perform a google search and you'll find books and classes. There's even a bot! Cindy Gallop, developed the Cindy Gallop chatbot to teach you how to negotiate. You can role play with the bot and it will teach you how to counter argue about getting the salary you deserve. Cindy is one of my negotiating heroes. She says that you should ask for the biggest number you can ask for with a straight face. It's hard for a lot of women to take that advice. I say ask people you trust what your worth in the marketplace is.
Article continues below advertisement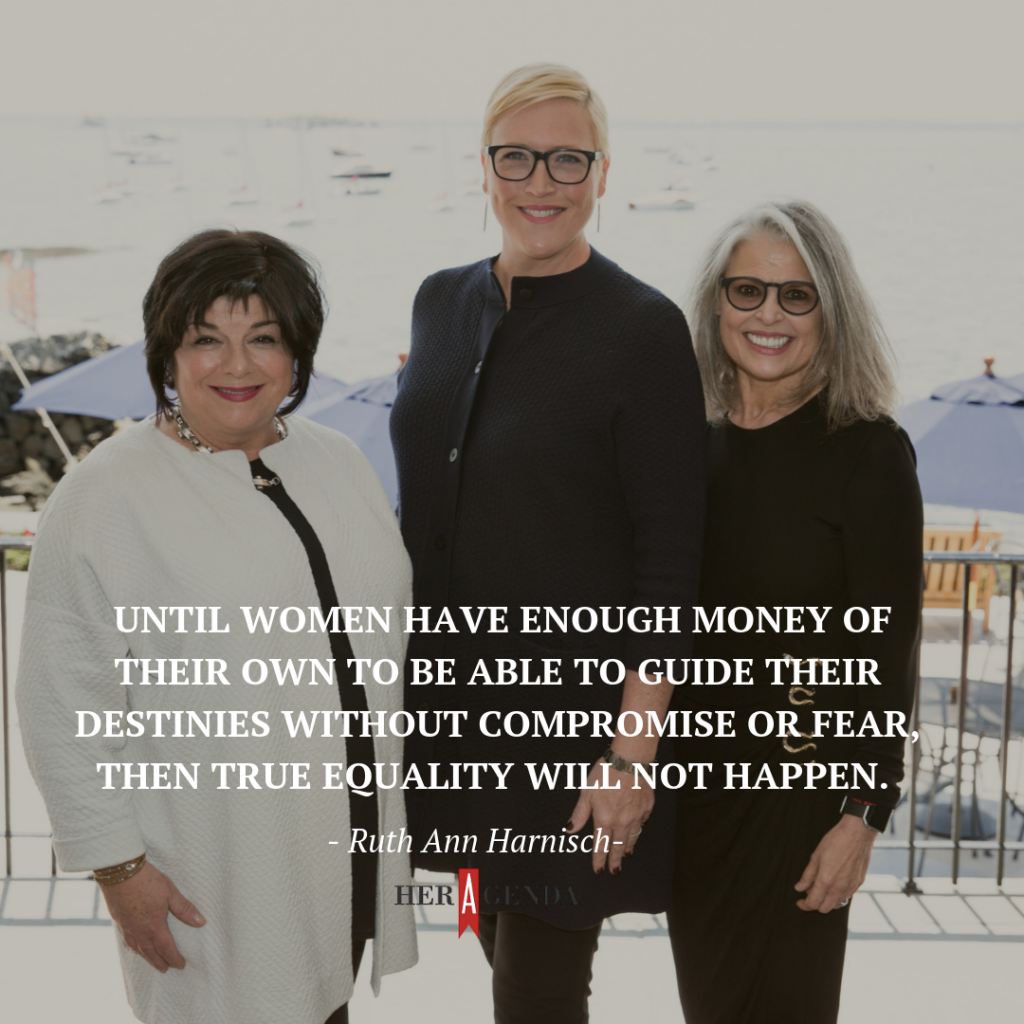 There are so many opportunities to educate yourself, through a book, a class or practicing with someone. The best thing is rehearsing. You asked about the myth… put those myths out there with your negotiating practice partner. Work through the conversations that you fear. That way you are well rehearsed and you'll feel confident.
Look at sites like Glassdoor.com and find out what other people in the marketplace are being paid for the work that you are doing. Find out all that you can so that you can make a case that you are confident in. The idea is to bring your full self to that negotiation table confident in your value and asking for what you're worth.
Article continues below advertisement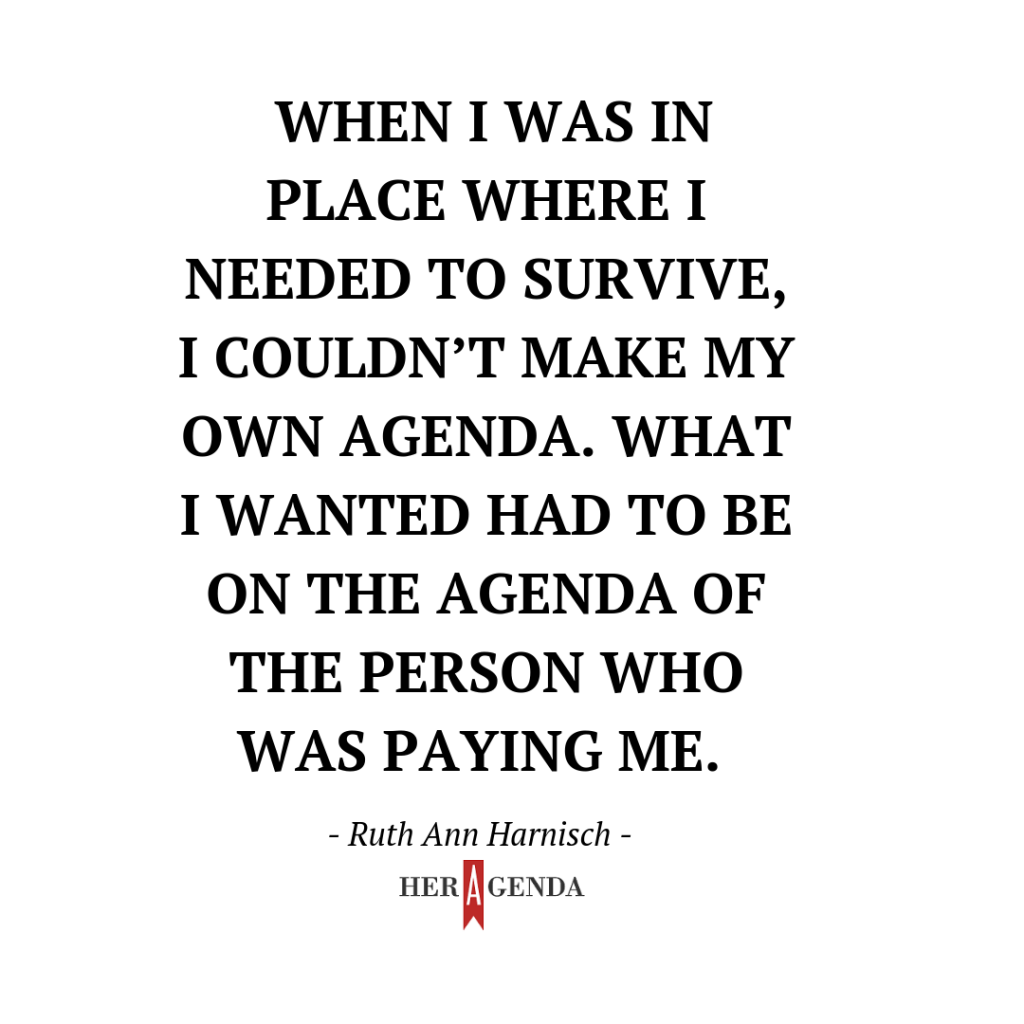 Her Agenda: What encouragement or thoughts will you share with readers who have been unsuccessful with negotiating?
Ruth Ann Harnisch: Life is filled with disappointments. Learning to realistically put your disappointments in a larger context is an important resilience skill. If you can ask what went wrong, that's an excellent opportunity to learn. Sometimes a person will be willing to provide feedback like "You did not provide me enough evidence of how you added to the bottom line." Specific feedback will give you a way to improve in the future. Receiving feedback helps put your disappointments in context. It helps you grow and figure out your next steps.
Sometimes you are in a place where you will never be recognized. You will never be valued. You will never be appreciated or paid what you are worth. If you recognize that's the case, make your exit. If you see a future path, find more allies and prepare better for the next negotiation. I say again, practice all you can, negotiate all the time. Teach your children how to negotiate. Make it a skill that you use every day and you will have far fewer disappointments.
[This interview has been edited for length and clarity.]