In a nutshell, Sade Ayodele empowers women to better communicate their value. As one of few Black female sports public relations directors, Ayodele uses her background in marketing and communications to help engage with her (Fortune 500) clients customers and increase revenue.
Sade is the founder of, #TheBisForBoss, a firm that helps women professionally market themselves and attract better opportunities.
Her Agenda spoke with Sade Ayodele to find out the inspiration behind her business and why it in now necessary to "redefine the B word."
Her Agenda: Congrats on your success as one of the only Black female sports PR directors. Being the 'only' in any field brings visibility but also great responsibility. What do you hold yourself accountable to as you manage your career and the responsibility of being a role model to other Black girls and women?
Sade Ayodele: It was unchartered territory. I continue to face challenges and achieve new accomplishments in this industry and understand that it will never be easy. I hold myself accountable by putting my best foot forward, admitting when I've made mistakes and making sure I reach back and help those behind me. That's one of the main reasons I started The"B" is for Boss. I want to help women navigate their careers more successfully– whether it's in sports, public relations or another industry. There are certain skills needed to succeed in our careers that we aren't taught in school — how to negotiate pay, how to network, how to interview, how to ask for a raise, etc. I want to fill that education gap and truly help women succeed in their careers.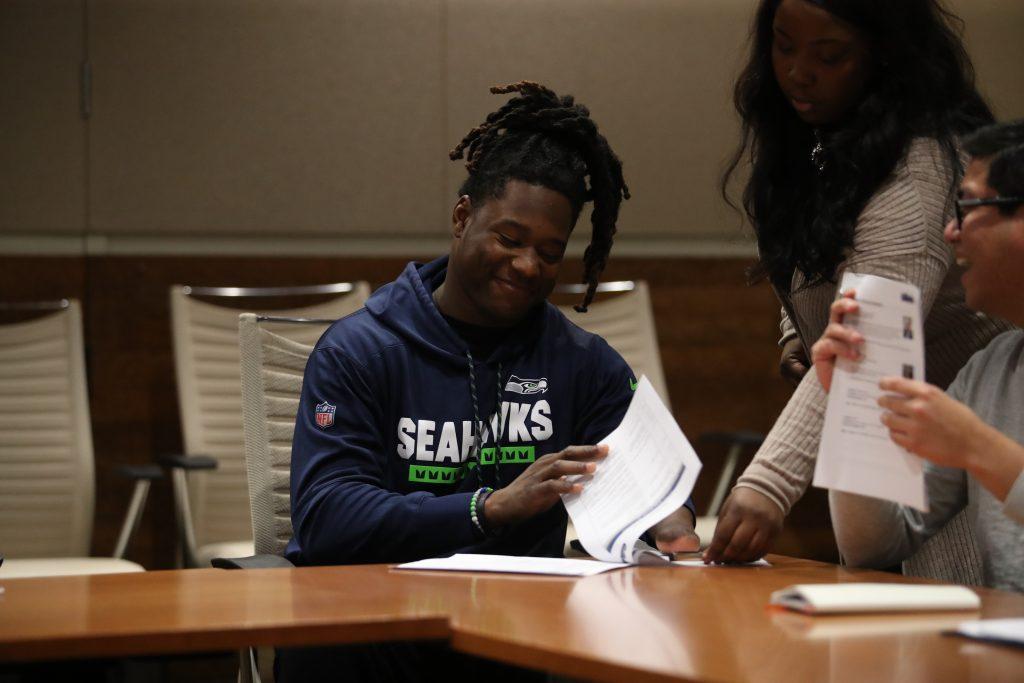 Article continues below advertisement
Her Agenda: Share a career mistake that you've made and how you were able to recover.
Sade Ayodele: A career mistake that I made was underestimating the value of having a manager that supports your career growth. I had a job I was really happy at, with a manager that invested in my career. In addition to providing tangible feedback and ways to improve in my role, I was recommended outside courses and coaches to improve my presentation and writing skills. He was also supportive of my endeavors outside of work like the non profit I serve on a board for and The"B" is for Boss. However, after a couple years at that firm, I was presented with another job opportunity that I perceived to be better for my career. However, I didn't take the time to ensure my values were aligned with the new team I would be joining. I soon realized that I didn't connect with my manager or my team and they didn't care enough about my career growth in a way that suited my needs. Fortunately, I was able to recover by switching to a new team.
My advice for anyone who is in a job where their manager doesn't care about your growth or success – find a way to get on a team that works better for you – or get out! Not having a supportive team, manager, or environment where you can thrive is one of the quickest ways to kill your career.
Article continues below advertisement
Her Agenda:.Your tagline for B is for Boss is "redefining the B word." How are you redefining the B word?
Sade Ayodele: I'm redefining the "B" word by not only asking for a seat at the table, but making sure my voice is heard once I'm there. I'm also redefining what it means to be a Black woman at work, by showcasing not only a Black woman in leadership — but in sports (an industry typically dominated by white men). Women are changing the game in so many ways, but it's not enough to just have one woman's voice. We need to encourage more seats at the table and more courageous voices as well. I love the tagline "redefining the B word" because it can mean so many things for so many different women. However, at its core — I just want to encourage women to redefine what it means to be a boss– on their own terms.
Her Agenda: Why do you think 'boss' has a negative connotation as it relates to women?
Sade Ayodele: Women are often thought of as being too emotional to be leaders. Whenever you are a woman and you are assertive, you are often considered a bitch. Both of those assumptions are simply untrue stereotypes that not only stifle the progress of women in the workplace, but can also hurt a company's bottom line. When you look at the research, there's substantial evidence that gender diversity at the management level enhances a company's performance. The Peterson Institute for International Economics completed a survey of 21,980 firms from 91 countries and found that having women at the C-Suite level significantly increases net margins. One day once equity in leadership becomes a thing of the past – so too will go the negative connotations as it relates to women and the word "boss."
Article continues below advertisement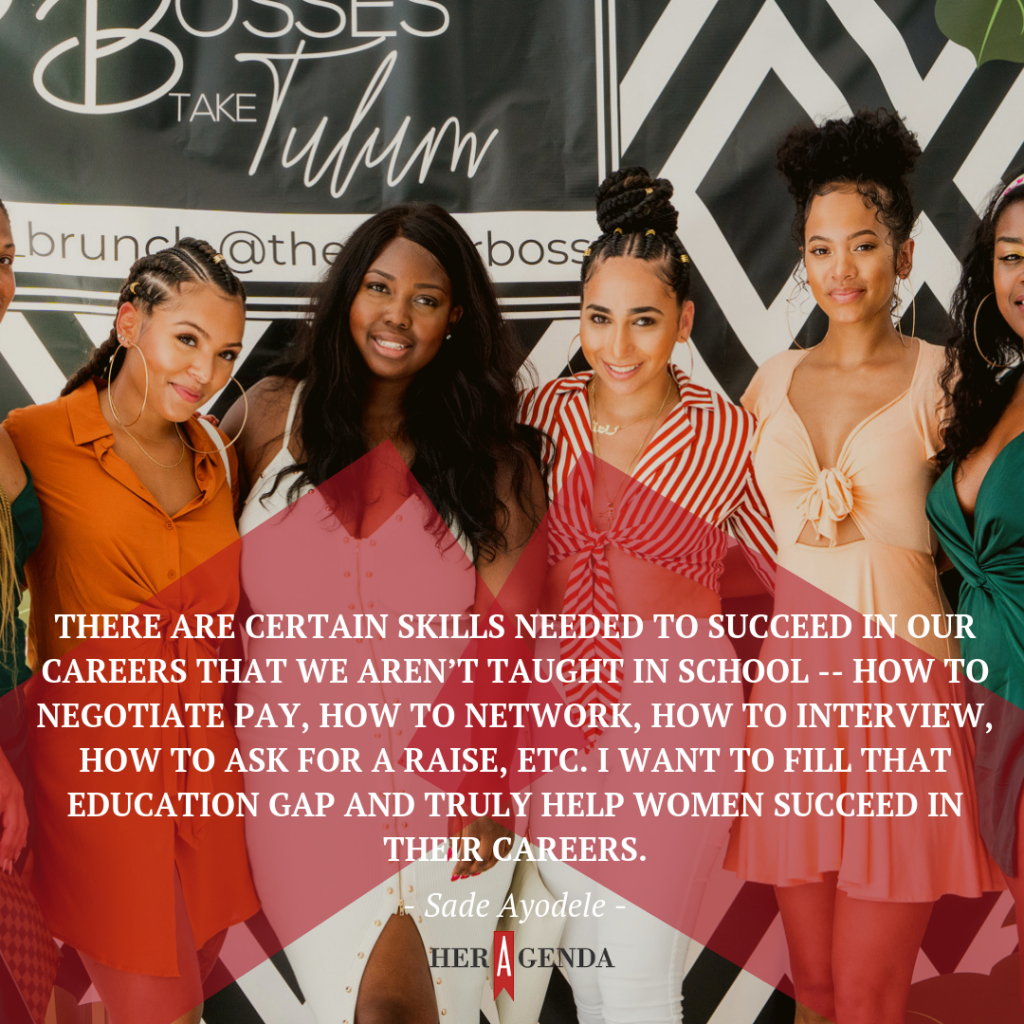 Her Agenda: How do you use your platforms to promote inclusiveness in the PR industry?
Sade Ayodele: PR doesn't have a women problem, they have an inclusivity problem. PR firms rarely represent the consumer demographic they are trying to reach through their campaigns and it's a huge issue. It's not a problem that can be solved overnight, but I do my part by letting my employer know at the on-set that diversity and inclusiveness is a personal passion of mine that I am eager to promote in the workplace. I work with HR and serve on Diversity & Inclusion committees at work to bring internal activities that promote awareness around issues that my coworkers may not encounter in their personal lives. When there are job openings, if I have friends that I know can do the role, I will refer them. If I don't know anyone, I will post it on social media. I've had friends who I knew were qualified but their resume needed some work, and I'd help them elevate it. Often, candidates have the skills to do the job well, they just need the support, access, and opportunity.
Article continues below advertisement
Her Agenda: What advice can you provide on avoiding burnout while chasing and realizing your dreams?
Sade Ayodele: My advice to avoiding burnout — is to take breaks often. I know that social media promotes "Team #NoSleep" and "the Grind Doesn't stop" and I get the mentality behind it. However, while I agree you must hustle to make your dreams come true, you also must take care of yourself – and taking a mental break is a great way to do that. What that looks like for me is having one day a week (usually a Saturday or Sunday) where I turn my phone on airplane mode for 6-8 hours while I'm awake. That allows me to completely shut off — go to the gym, watch college football, get a massage, go grocery shopping, etc. This way I can get things done or I can simply relax, without outside influence. Finally, because I live in New York and don't have any immediate or extended family here — I make sure that I get home at least once a quarter. That helps to ground me and remind me of my "why."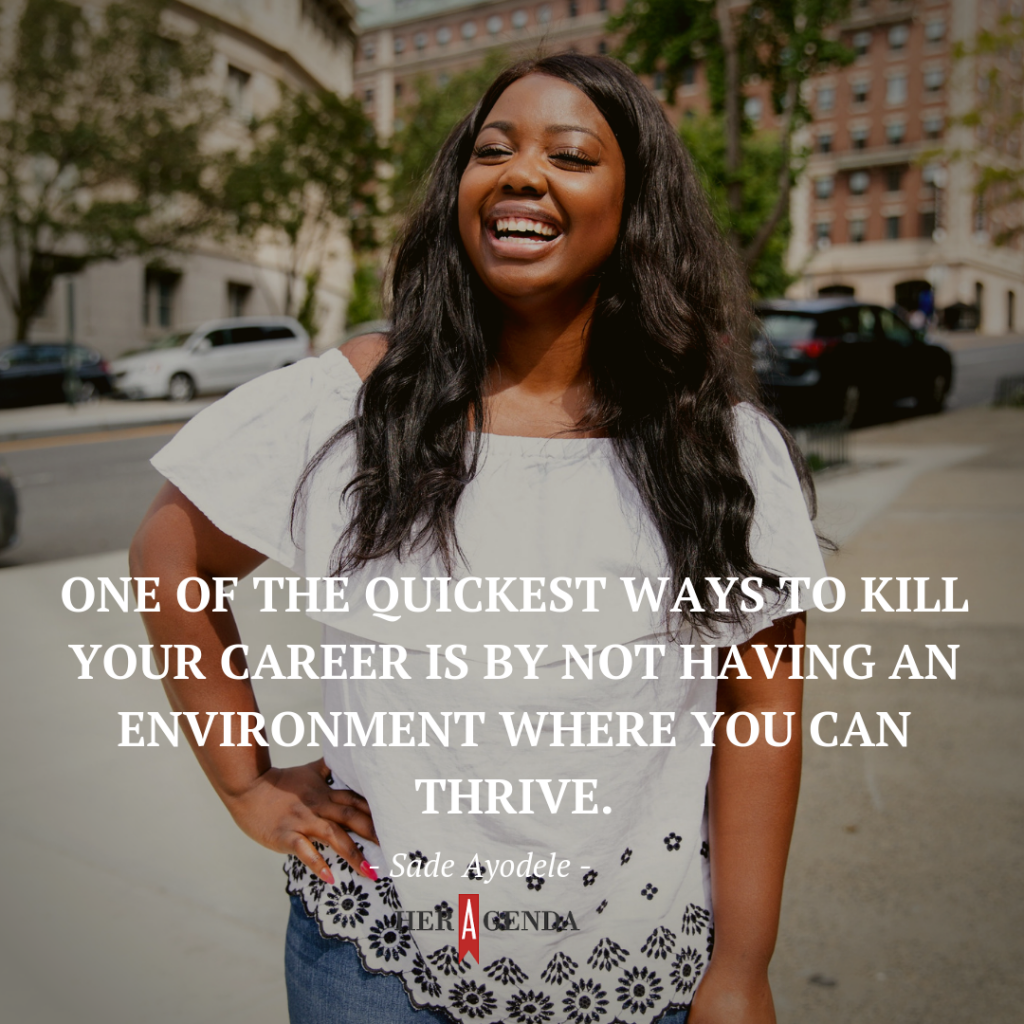 Article continues below advertisement
Her Agenda:What is your Why?
Sade Ayodele: I have two: my family and the women I have the opportunity to connect with on an everyday basis. I want to make my family proud and one day retire my parents to thank them for all of the sacrifices they made to get me where I am today. For my niece, I want her to know that she can do any and everything that her mind can conceive. Hopefully by the time she is a career woman, she won't have to worry about equity, stereotypes, and glass ceilings.
For the women I get to connect with and the ones I haven't met yet — they are huge part of my why! I want to help them achieve success in their careers and to continue to excel and find their voices, so they too can redefine the "B" Word.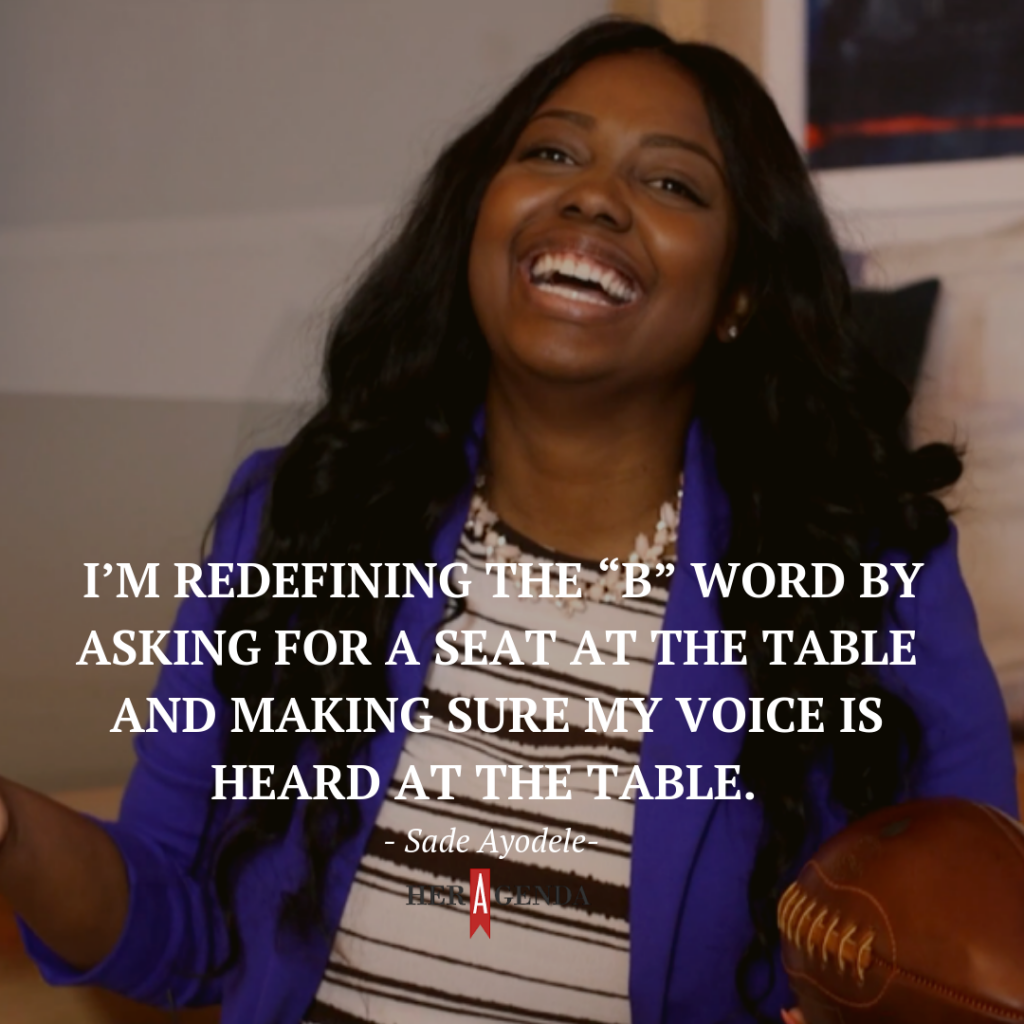 [Editor's note: This interview has been edited for length and clarity.]