Sara Golan built a business in real estate on the foundation of fostering relationships of empathy and trust. Her wealth of knowledge empowers a diverse set of clients ranging from a first-time homebuyer to a multi-million dollar developer. Her piqued interest in real estate arose twenty years ago and since then Golan has gone from being an assistant to a real estate developer and investor.
Some of Golan's clients include familiar names like the co-host of The Breakfast Club and entrepreneur Angela Yee. A recent deal she closed with Yee made headlines as the client closed on her third real estate purchase at $2.8 million, calling it a "pandemic buy" in an effort to put down solid roots on a place she can truly call home. Golan and her team's values are consistent in every deal: they put the needs of the client first. Whether it's your first time buying or you have multiple deals under your belt, Golan treats every client as if they are partners in the deal so they have a home that feels like their home. An immigrant from Guyana, she grew up in Bushwick, Brooklyn, and brings her genuine authenticity to each aspect of her work.
She currently co-manages Ryan Serhant's Bedford-Stuyvesant office with her husband, Joshua, and together they work with local developers to customize, market and sell newly renovated properties specifically in neighborhoods such as Bed-Stuy/ Bushwick, Williamsburg/Greenpoint, Prospect-Lefferts Gardens, and Crown Heights.
In our interview, Golan shares her pivot strategies in a global pandemic, her new investment interests, and how she gives back to the Brooklyn community.
Article continues below advertisement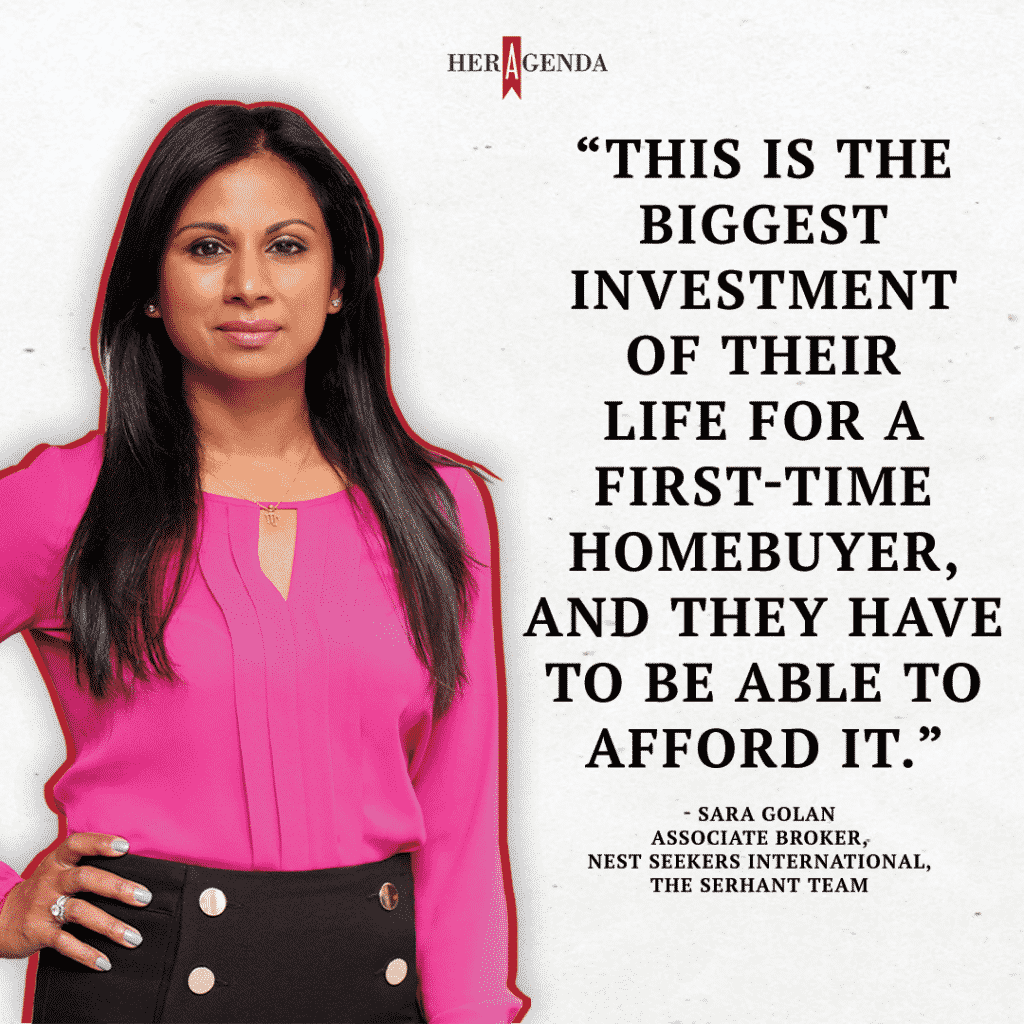 Her Agenda: How did your passion for real estate begin? Why did you pivot from education (Queen's College)?
Sara Golan: So my very first, I would say, office job, was at a real estate developer's office in Queens. And it was a real estate development office where they renovated homes and kind of control their own inventory. So they had a development team and they had a sales team. And I was an assistant for that office, and that's where it all started. That was back in 1998, I was just 19 years old. I always worked all through college, I worked a nine to five. And it was real estate that then transitioned on to the mortgage business.
Article continues below advertisement
Her Agenda: What were the benefits of mortgage lending for your clients, and how does that experience help your current business?
Sara Golan: It helps me a lot because when you're dealing with a buyer who doesn't understand the process, you're able to walk them through the first step of getting prequalified for a mortgage, understanding what a good faith estimate is. Also understanding the numbers, because, again, this is the biggest investment of their life for a first-time homebuyer, and they have to be able to afford it. They have to know what their payments are. They have to know what the process is from the time of making an offer, how to be prepared to make that offer. You have to run their financials and make sure they're all qualified before presenting that offer. Or even before shopping for a home, everyone should be aware of what their finances are.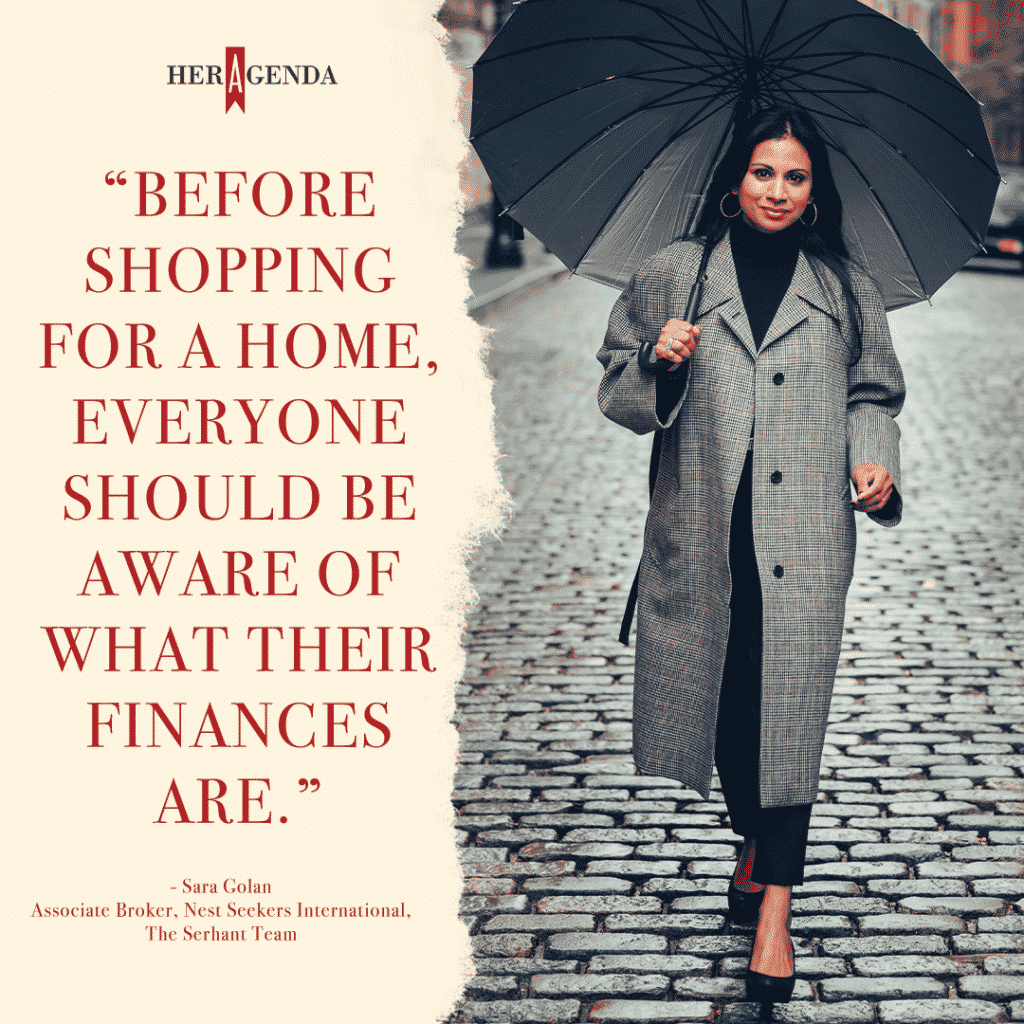 Article continues below advertisement
Her Agenda: How many real estate agents do you have under The Golan Team? What is your approach to training them?
Sara Golan: The value and the culture of the team have remained the same. Everyone works for the client and for the deal and to make sure all parties are happy. We've done homes where we're able to locate a property for a customer and custom build it to their needs. And I think it works really well. We're always putting the needs of our customers first and we can handhold them throughout the process. There's always someone that they can reach. Their questions are always answered and they are getting great advice from not just a realtor but someone who's been through the process of building a home and selling a home.
So I think for us as brokers, they get that value and the experience working with our team. We have a solid team of ten agents and we trained them to have the same mindset that when you're dealing with a client, you have to first listen to what their needs are before you can even go out and search a home for them, like really dial in and listen to them, where they want to live, what their lifestyle is, where they work, do they need to live next to transportation? All of this you have to take into consideration.
Her Agenda: How do you determine the price point for the ever-changing market in Brooklyn? What trends have you seen over the years?
Sara Golan: It's neighborhood by neighborhood for Brooklyn. So if you want to be in a more residential [home], you're not going to be living in a condo neighborhood such as Williamsburg. The price per square foot for a townhome versus what you get for a condo, it's a lot less. You're getting a four-story or a three-story renovated townhome in Brooklyn in the market that I work in, which is, Bedstuy and Bushwick, roughly, from $1.5 to $2.75 or even $3 million in this size. The values vary across the board in terms of what the neighborhood has to offer and the type of housing it offers.
In Williamsburg, it's more condo ownership or rental neighborhood. Whereas Brooklyn Heights or Park Slope, are all brownstone townhomes. That's what we call the inventory in those neighborhoods. So if you're looking for a townhome, it's mostly families, professionals that are looking for more space, especially in COVID times where everyone is working from home or their kids are being homeschooled. They want to have a rooftop or a backyard, more outdoorsy. And then there's room for, let's say, a home office or a finished basement where their kids can play. It's all about creating that home that works for business as well as living.
Article continues below advertisement
Her Agenda: What are some of your pivot strategies since the COVID-19 pandemic for the Brooklyn real estate market?
Sara Golan: I think everybody including realtors have had to pivot into the digital market. During quarantine, we weren't even able to show homes. So we had to go to a property, do FaceTime videos, and we had to film a lot. We've had to do all our deal files digitally. There were no more closings where you would go and sit for three hours or two hours at an attorney's office for a closing. Everything was done remotely.
So a lot of realtors have had to adapt to working that way where you can do a closing remotely, you can show a house and sell a house "unseen." I've actually seen quite a few deals that way where clients, they only walk the space when they are ready to close. The whole process was done over emails, FaceTime, Zoom. That's pretty much how we've been working in the last nine months.
Her Agenda: What piqued your interest the most about adding Olmsted, a Michelin-rated restaurant, to your portfolio?
Sara Golan: There was a previous restaurant that I invested in that was basically a failing restaurant after a year of being in business. I was trying to figure out a way to help that team. And I was able to be connected to the current chef. And when he came in, I introduced him to the team, the owners, and the investors, and we were able to broker that deal. I had to invest more and we formed a new restaurant, which is now Olmsted and it's been doing great.
It survived COVID and we continue to do numbers as we were pre-pandemic basically, It's so good for the neighborhood, it's more than just a neighborhood restaurant, it's a destination restaurant. During COVID, when everyone was shut down for business, it pivoted to becoming a food bank for the neighborhood and operating as a trading post. Now we're doing outdoor dining since New York City dining has been shut down. So Olmsted has done really well and I'm very proud to be part of that team.
Article continues below advertisement
Her Agenda: How do you and GiveBack Homes aim to keep neighborhoods affordable for those who have been living in the NYC area for many decades?
Sara Golan: Giveback Homes is an organization where if there are homeowners that need to do certain renovations and they can't afford it, we would raise funds for that homeowner and we would go and help them with the renovations. It has been on pause because of COVID, but it's something that I want to get involved with again once we're back to, I guess, to semi-normal circumstances. But it's a wonderful foundation and they do great things in the US, and also in Third World countries. They help build homes for the less fortunate.
Her Agenda: You are a serial entrepreneur, what were some of your setbacks or failures in your career that helped you advance to your current success? Any failed investments that you wish you had done differently?
Sara Golan: I think in terms of restaurants, we've had a family restaurant that failed. And again, before Olmsted, I also invested in something that failed. So I don't think of it as failures. I think of it as just learning more about the business and being able to pivot and continue. So I feel with every failure, there's been a success, and I don't truly look at it as a failure.
Article continues below advertisement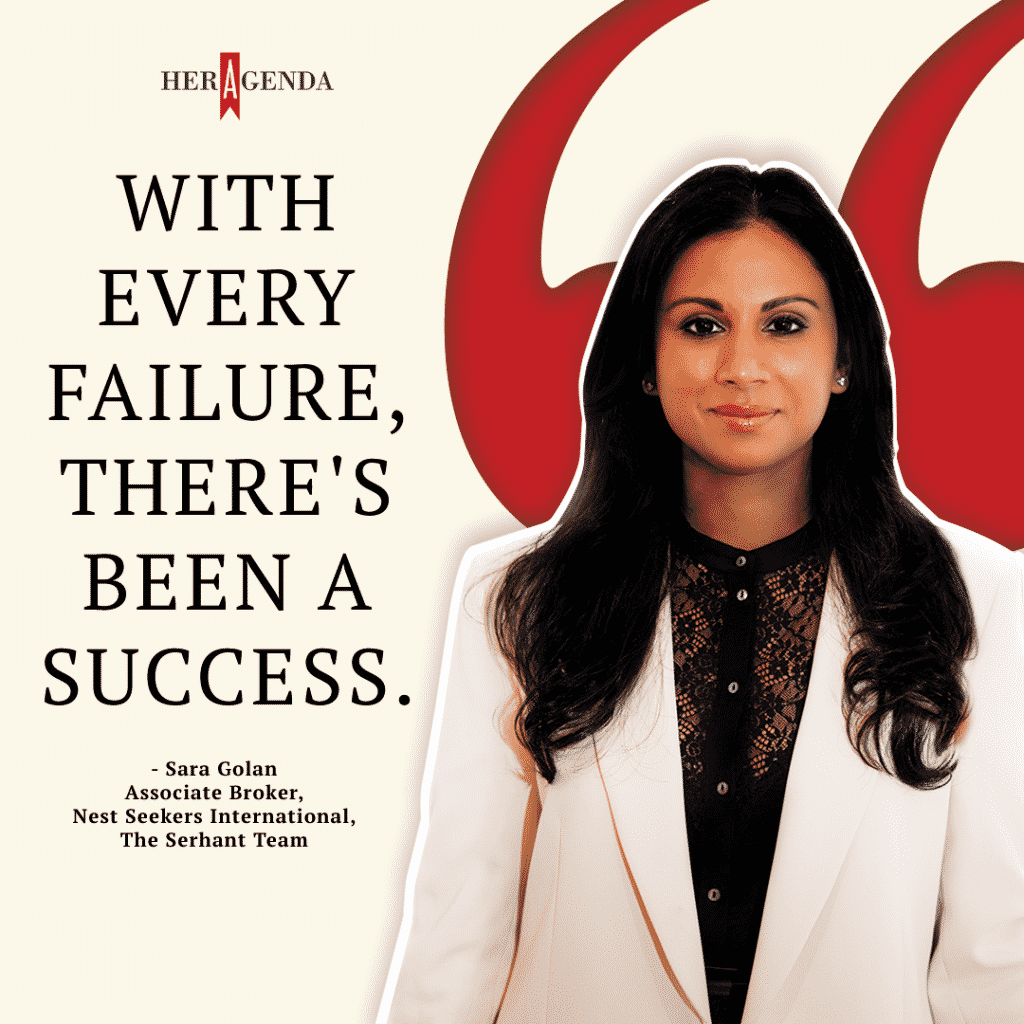 Her Agenda: What's next? What kind of properties and investments do you hope to add to your portfolio moving forward?
Sara Golan: I've invested in a timeshare startup called KOALA, which basically helps owners who are stuck with timeshares to be able to rent it out to everyday travelers who can benefit from staying at a resort property.
[Editor's note: This interview has been edited for length and clarity.]