Over the past 11 years, 135th Street Agency grew a portfolio of clients that includes brands like Walt Disney Studios, Oprah Winfrey Network, Paramount Pictures, Warner Brothers, Sony, and much more.
It's easy to tell from their body of work that this agency is influential when it comes to delivering on major communication campaigns, and working with powerhouse brands. The woman behind the brand is Shante Bacon who grew her PR Firm with her business partner Saptosa Foster, into a highly respected firm in the industry.
With more PR agencies appearing day by day, the female owned powerhouse firm has set itself apart from the competition and continued to raise the bar. We got a chance to speak with Shante about how her firm sets itself apart from the competition, and continues to grow as a brand.
Shante also shares her experience transitioning into entrepreneurship during a time where entrepreneurship wasn't a "hot thing to do."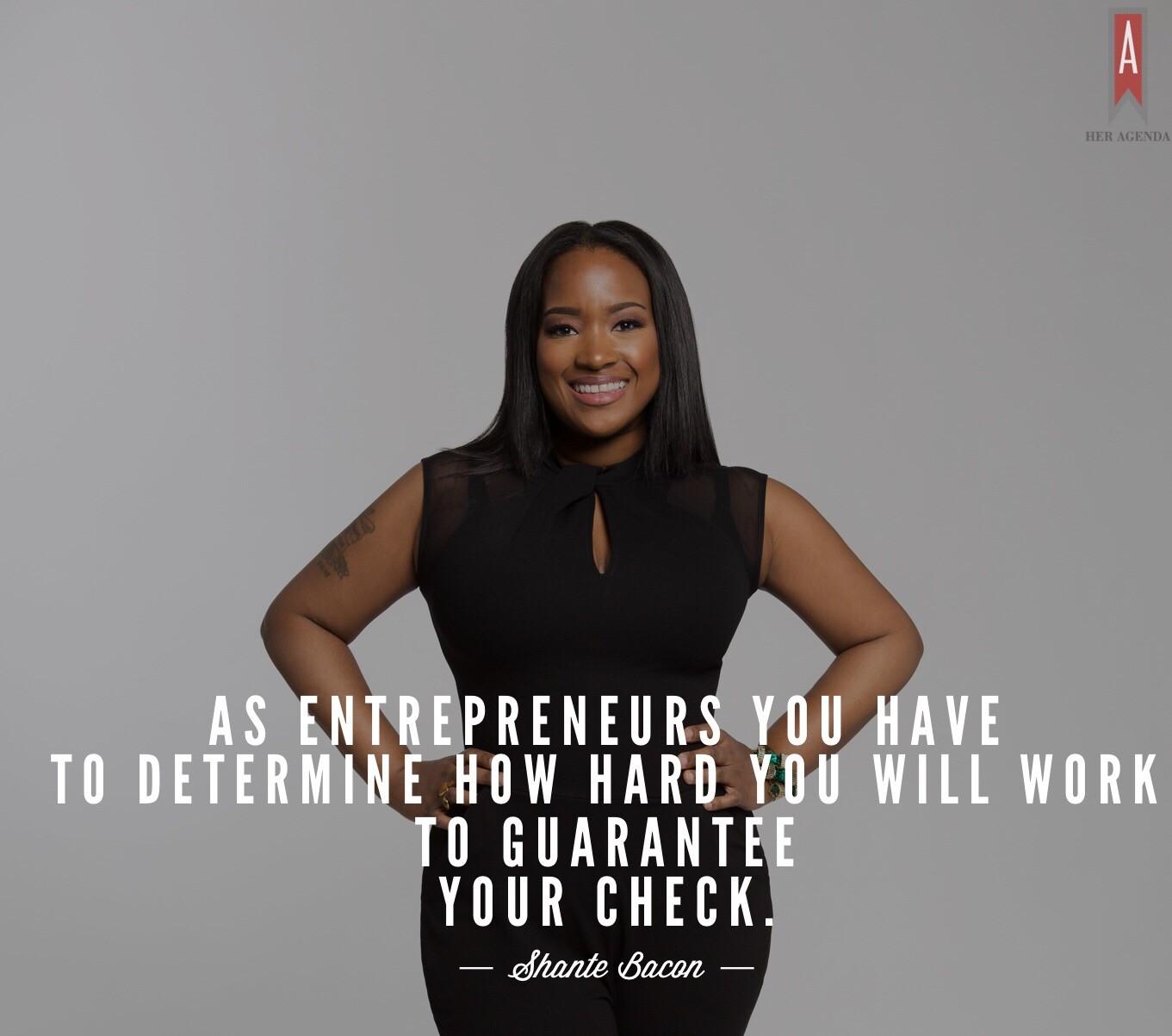 Article continues below advertisement
Her Agenda: What is one piece of advice that you could give to new entrepreneurs?
Shante Bacon: The biggest advice that I could give to someone beginning as an entrepreneur is to have the ability to snap back, be resilient, and don't be discouraged by a 'no'. The more passionate you are about your brand and your business the more heartbroken you will be. There are many times where you will put your all into something, your last cent, give the best presentation you have, and find out that someone who came in with a half-done presentation got the client because they were better connected.
Her Agenda: How was your transition from your career at Def Jam into a full time entrepreneur?
Shante Bacon: At the time entrepreneurship wasn't a "hot" thing. A lot of people were trying to get into the music business and I was trying to get out to do my own thing. In the beginning, a lot of people thought I was crazy, especially family members. They were like 'Oh you have a job, you're going to leave a dream job!?' but sometimes a great dream turns into a beautiful nightmare, real quick. I was so young when I dove in and I didn't know what I was getting myself into.
Article continues below advertisement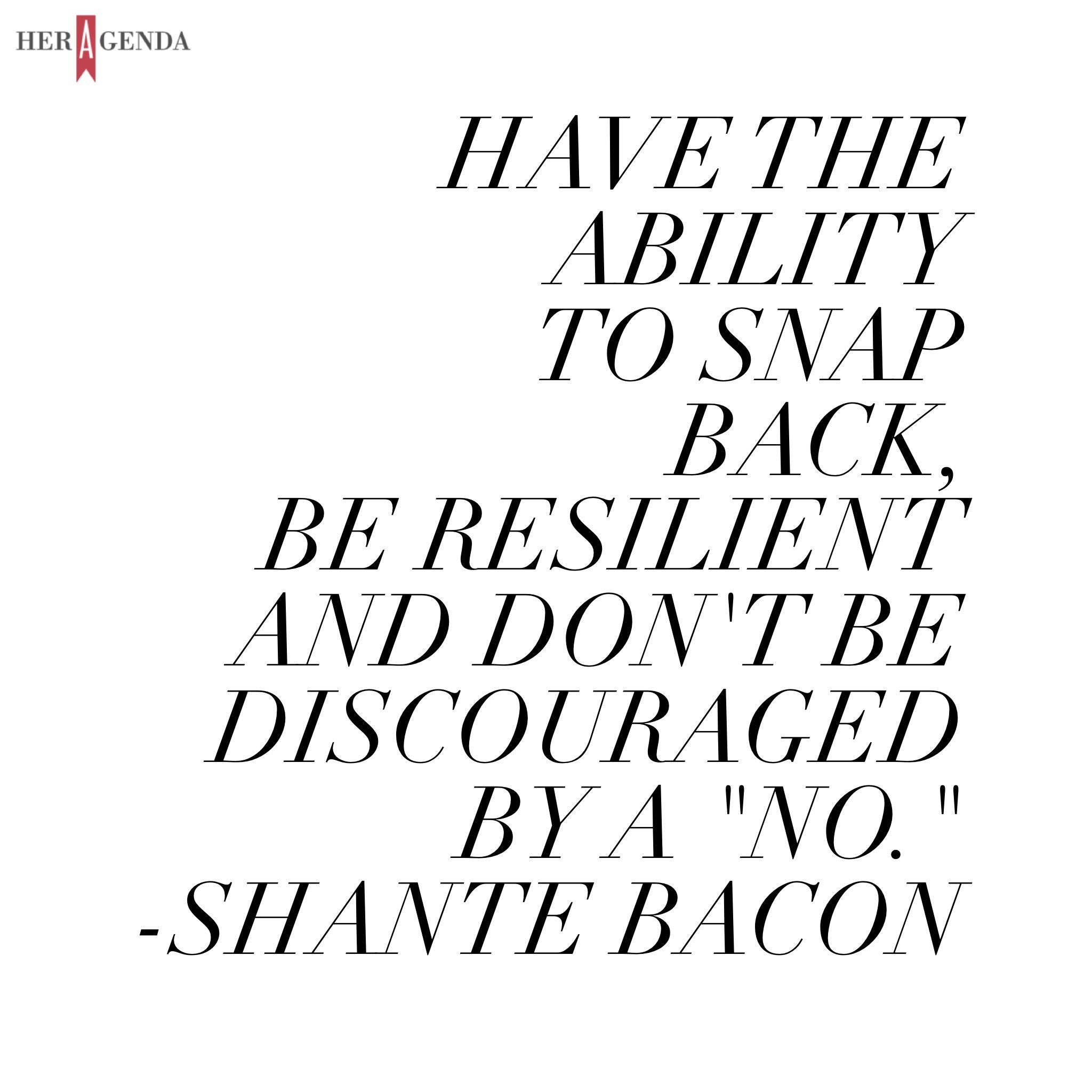 Sometimes you close your eyes and you jump, and on the way, you just figure it out. You want to survive? You're going to figure it out. Had we known all the pitfalls, stress, sleepless nights, and the pain that comes with entrepreneurship we would have planned it a little better. It's the rockiest roller coaster of your life but it has the highest rewards. You have your high and low moments as with everything else. Right now, I'm in the best place I could be in life because experience has taught me, and I am wiser than I've ever been in life. It's heartwarming to look back and say 'wow, we have longevity and staying power– nothing could beat us.'
Article continues below advertisement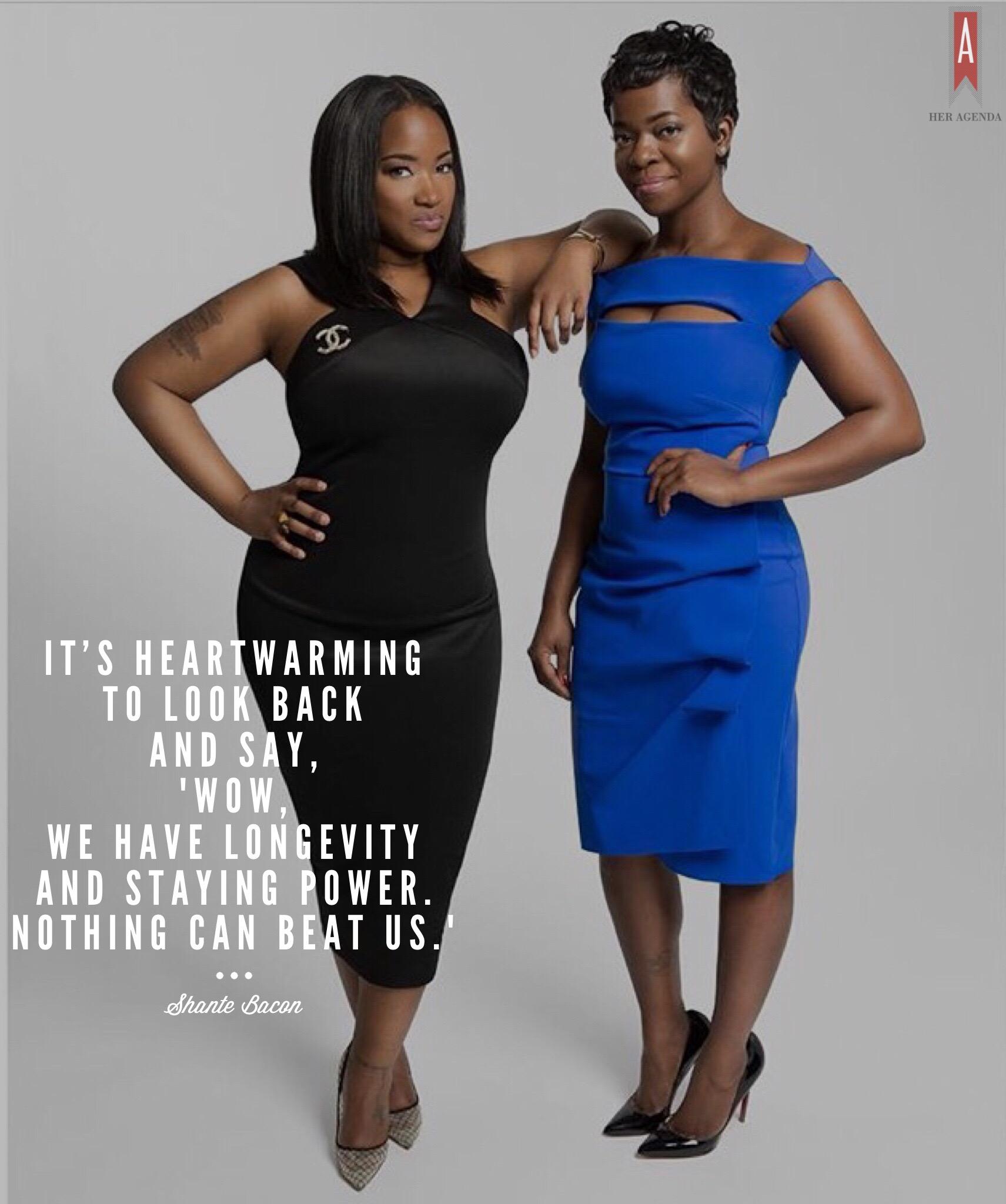 Her Agenda: In a time where public relations is seemingly saturated, how has your firm set itself apart from the competitors?
Shante Bacon: Our entire approach to entrepreneurship is what made us different. A lot of people in public relations don't think the way we do. A lot of people don't think they can go and do what they do, for a major brand or corporation and not just be a celebrity based business. That's the main thing that sets us apart from our competition. Most people in PR think they have to have a lot of celebrity clients and hang out with celebrities — and that's just one small approach to the world of PR and media engagement.
Brands, nonprofits, and government entities need PR and communication campaigns, corporations; plenty of outlets. It's a $13 Billion dollar industry and there are plenty of dollars out there to be spent and truth be told, the celebrity aspect of PR is the lowest budget segment in communications. I think that's what makes us different. We were the only female-owned agency out there targeting brands, networks and studios while everyone else was chasing celebrities.
Article continues below advertisement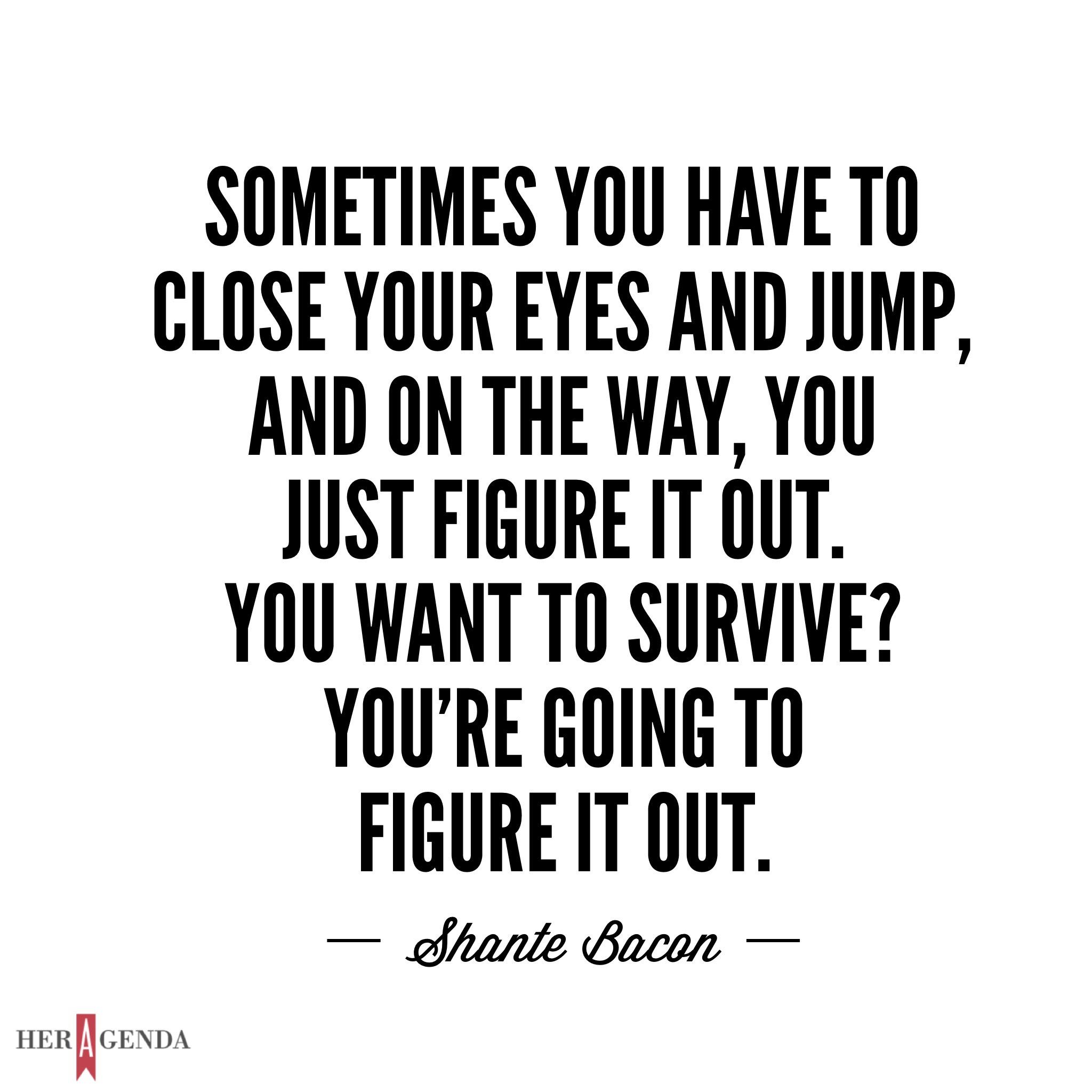 Her Agenda: What benefits of entrepreneurship do you see over a traditional 9-5 job or corporate America career?
Shante Bacon: Entrepreneurship is definitely not for everyone. The clear benefit of working a 9-5 is that you are not in control of your own check, it sounds like it's not a good thing– but as entrepreneurs you have to determine how hard you will work to guarantee your check. It means there may be a month where several clients are paying late and there is no check, and you can't freak out, you can't melt down, you have to get into double shooting mode and figure out what you're going to do.
Article continues below advertisement
Her Agenda: As a female entrepreneur, what has been one of your more trivial moments in building your agency?
Shante Bacon: A big thing that occurs that I wish people coming behind me didn't have to experience is racism. [Racism] is slightly prevalent in the public relations industry. I'm sure a lot of times people think because you are a person of color, that your communications campaign cannot or will not have any standard of excellence that can compete with major PR companies; or that they may not measure up resulting in expectations of a lower fee in order to secure the client. There is nothing like that. It is a fact of life- you have to operate and be the best that you can be because your mistakes will be magnified while others' mistakes will be forgiven. Absorb the reality and move forward in your greatness.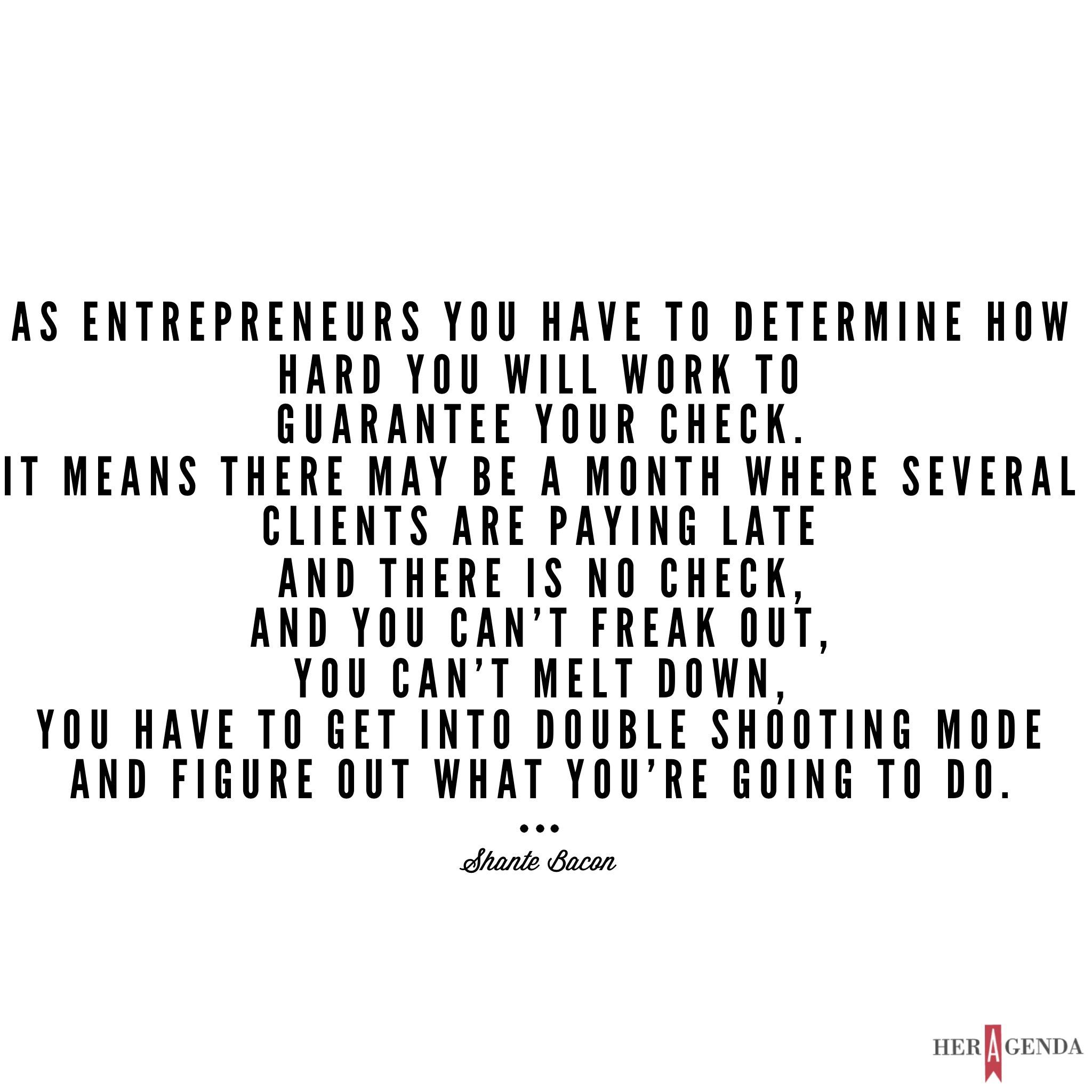 Article continues below advertisement
Her Agenda: How difficult has it been to foster and grow relationships and collaborations in such a fast paced industry?
Shante Bacon: These days it's not half the battle that it used to be. We were under the impression that our experience in our professional careers, being me at Def Jam and Saptosa at Vibe, would translate into something to sell to people as to why they should trust us and it almost never did. We really had to work hard. Until you have a strong portfolio of clients, your experience and your value is going to constantly be put in question. Now that we have had brands like Disney Studios, Oprah Winfrey Network, Paramount, Warner Brothers, Sony, WETv, and many other networks under our belt, the sell around what we can do is not as high and we have the flexibility that I would have never had before. I've built and earned the right to approve or deny proposal processes that before I couldn't have done, but it's about doing what makes sense and not wasting time, energy and resources.