If you look around at the women's or girl's empowerment circuit, there's always a conference, summit, festival, or even a Q&A chat, teaching women how to live our best lives, create the life we want to live, lean in and so on. But it is very few of them that gives hands-on guidance that will leave an impression on the leaders of today or even tomorrow.
ENVSN Festival is changing that.
The festival was jam packed with heavy hitters in the beauty, media, blogging and finance game like makeup YouTuber Jackie Aina, money guru Tiffany 'The Budgetnista' Aliche, radio personalities, Honey German from Power 105, Karlie Hustle, Chasity Garner of Garner Style and a question and answer segment with Lauren Simmons, the only Black female trader on the New York Stock Exchange. After the panels and workshops, the music and fun began with artists like Tinashe, DaniLeigh, rapper Saweetie and more graced the stage with their hit songs, hosted by entertainment journalist Gia Peppers.
After attending ENVSN Fest, it was only right to speak with the mastermind behind it, event production expert, fashion industry vet, and mentor, Sharifa Murdock.
Ask Murdock what's her rule of thumb, she'll tell you three words: set your tone.
"No one else is going to give you anything," the Brooklyn, New York native said. "You need to set your tone and need to understand what you're going for. Once you understand that you can set goals."
Those are the same words that has helped her create relationships, partnerships with notable fashion brands, people and create her own platforms like The Brooklyn Intern, trade show Liberty Fairs and the inaugural ENVSN Fest.
In our conversation, we talk about how she takes care of herself with a hectic schedule, her leadership style, and how growing up Trinidadian-American shapes her outlook on life.
Article continues below advertisement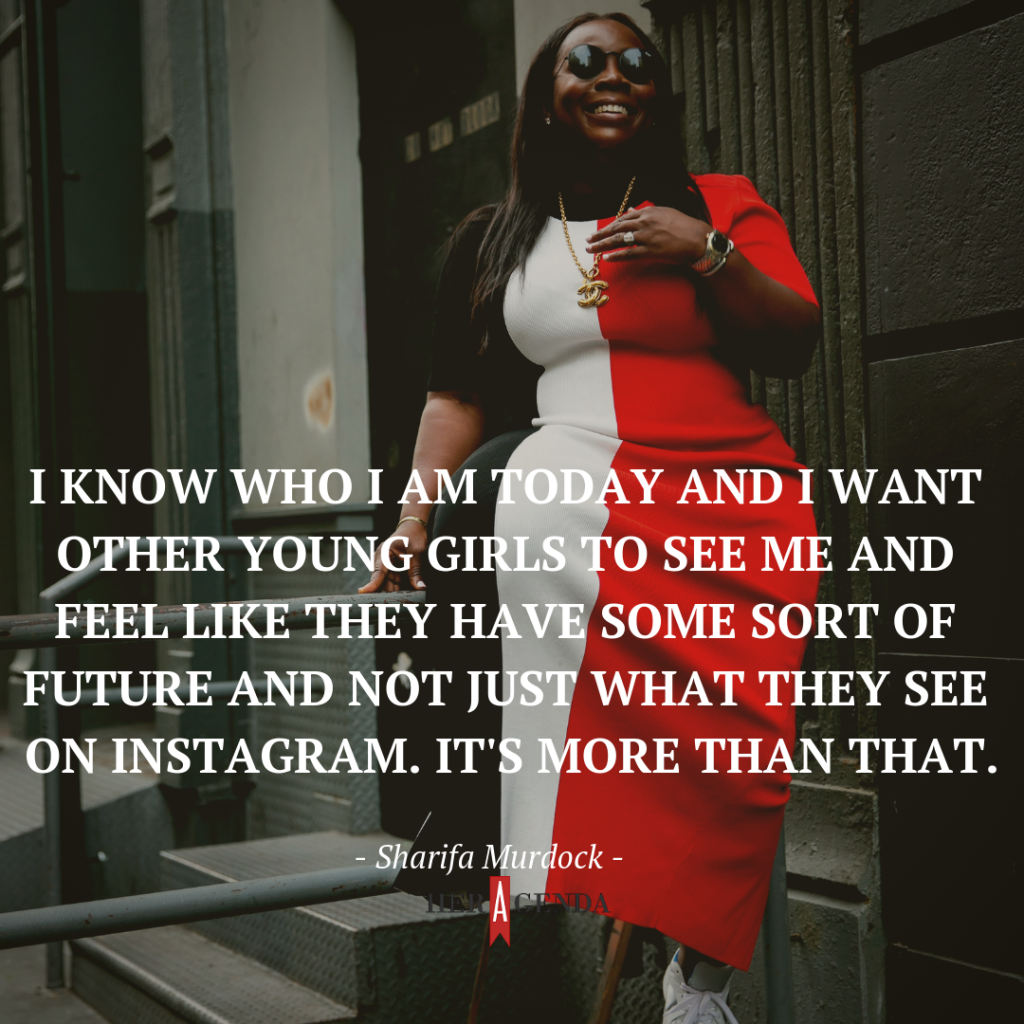 Her Agenda: Let's talk about ENVSN Fest. What inspired it?
Article continues below advertisement
Sharifa Murdock: Theoretically, I wanted to do ENVSN Fest years ago, but it just wasn't the right time and it was always something that I wanted to give back to my younger self. Growing up, I had a male mentor. How amazing would it have been if my mentor was a female, you know? Someone who can understand the things that I go through. My mentor was amazing, but it isn't the same as having a female mentorship. So I wanted to do something that I can also just be a part of and be able to give back to my town where I came from. I'm born and raised in Brooklyn. I want to be able to give to those kids. I went to school in Brooklyn. I know what I could have become. I know who I am today and I want other young girls to see me and feel like they have some sort of future and not just what they see on Instagram. It's more than that. You can see and hear from a lot of women who are doing major things that can change lives. That's what made me create ENVSN.
Her Agenda: Looking back on ENVSN Fest, what is it that you would improve?
Sharifa Murdock: Try to make it better. It was so impactful that I just want to make it more special for the kids. The feeling I got was the kids were so excited to be there and to be part of something, so I want to make it even better the next season.
I plan events for a living. I plan trade events, so just understanding the matrix of who's coming, who's not coming, just being scared of failure. I think that that was probably my hardest problem. I had so much support with my team and everything else, but it was just about, 'am I really gonna fail?' It's a scary feeling.
Article continues below advertisement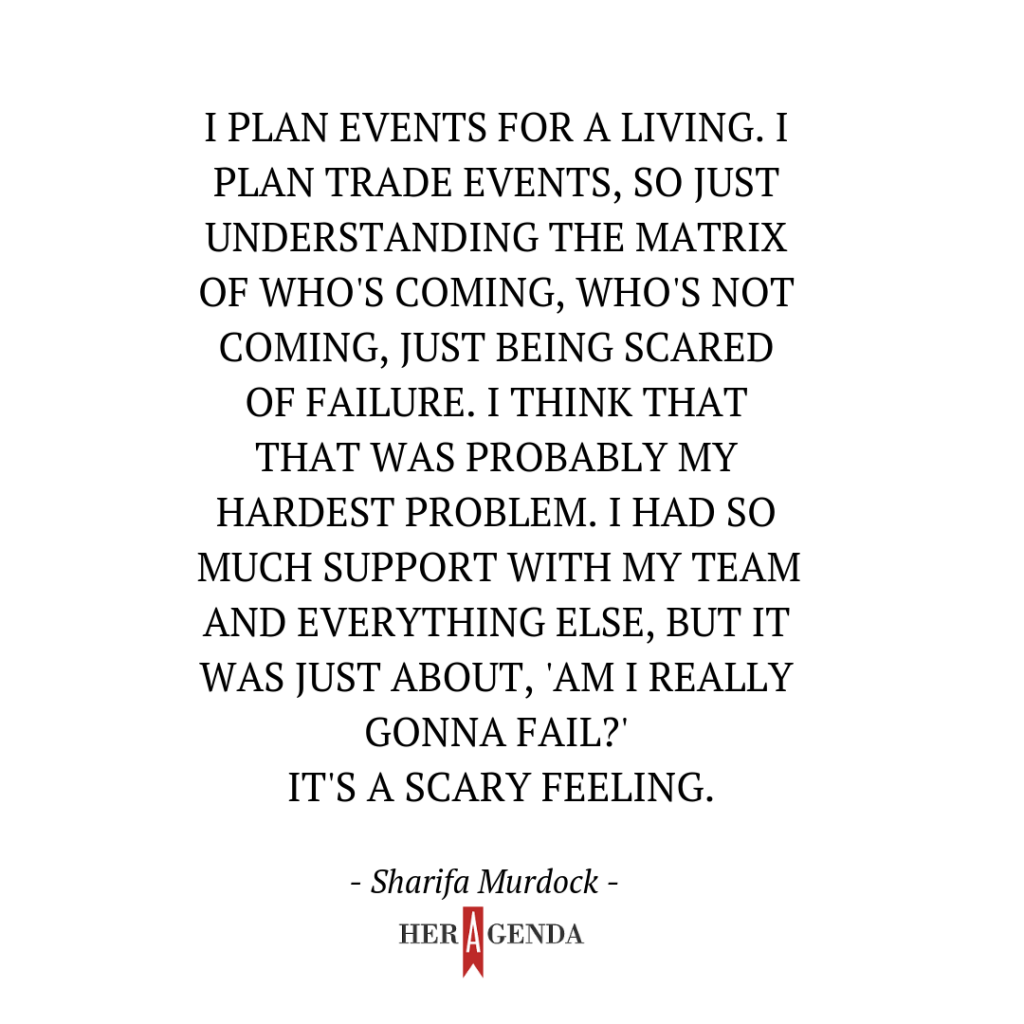 Her Agenda: How'd you do push through that?
Sharifa Murdock: I was positive and I prayed on it. Prayed on it and tried to remain positive at all times.
Her Agenda: Talking about prayer how important is your prayer life?
Sharifa Murdock: For me, it's very important. Like, I grew up within a church. With my schedule now, it's really difficult for me to get to church, but whenever I'm in New York, I try to go to church on Sundays. It's very important to me. It is the number one priority to be honest.
Article continues below advertisement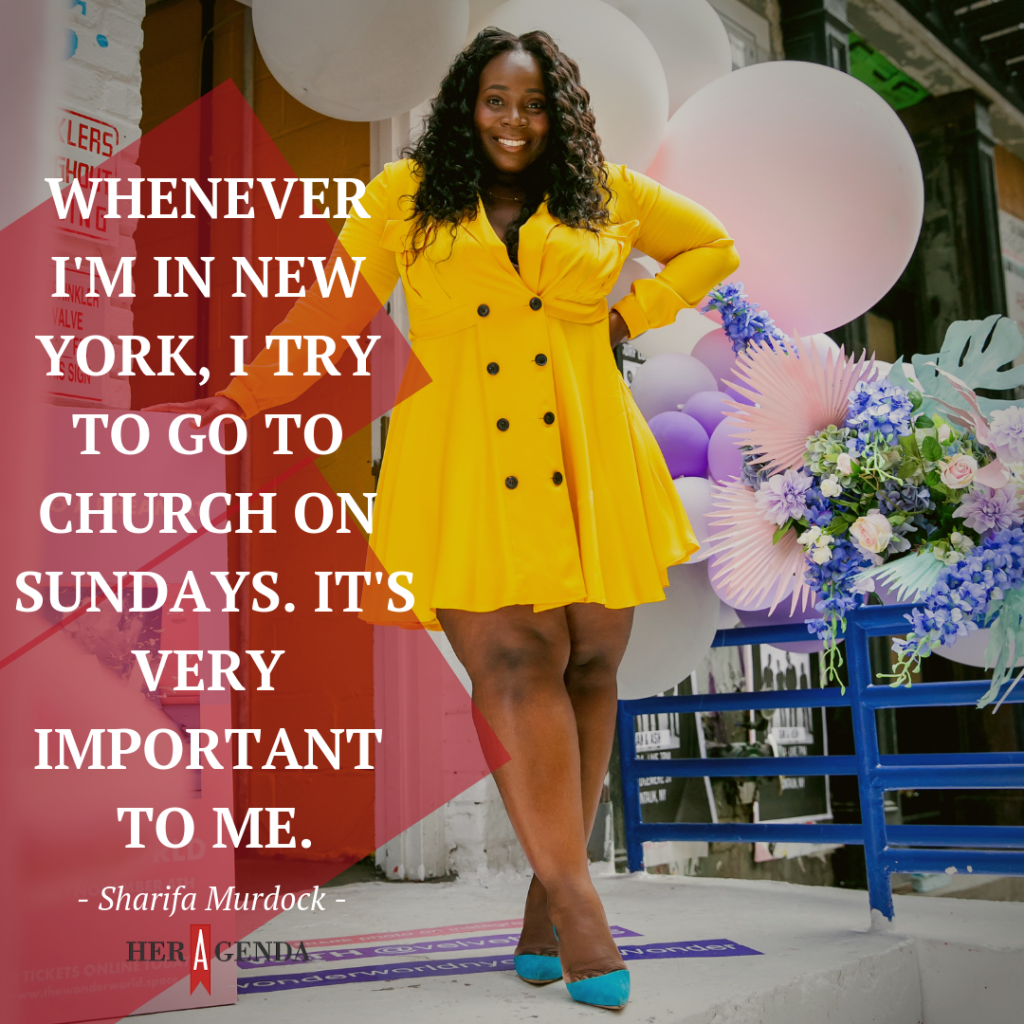 Her Agenda:What was the difference between working at Project and creating Liberty Fairs?
Sharifa Murdock: It was about the brands that were coming out and being launched. We started Liberty Fairs in a different time where people were really scared about buying new brands. So what would happen is we would always showcase in the other shows the same brands over and over again. We wanted to bring freshness and newness, but still have the heritage brands back everything up. So that was the whole desire around starting Liberty Fairs.
Her Agenda: I see you're really into fitness. How did this journey start?
Article continues below advertisement
Sharifa Murdock: You gain weight and don't feel good about yourself. And with travel, it's not even about me trying to lose weight at this point. I think it's about me just being healthy for myself. I want to show that you are beautiful in any size that you are, as old as you feel, and me being on planes and eating out all the time, it takes a toll on your body. In order for me to keep myself and my sanity right that's my go to. I work out in the morning, it starts my day off with a refreshing feeling. It's not about the physical, it's more about the mental.
Her Agenda: As a mentor, what's one thing you really emphasize to your mentees?
Sharifa Murdock: I tell them to set their tone. No one else is going to give you anything. You need to set your tone and need to understand what you're going for. Once you understand that you can set goals. But you need to set what you're going to accept and what you're not.
Her Agenda: Your family is from Trinidad, how has that played a role in your career?
Sharifa Murdock: It has set me up with a lot of morals. West Indian parents are not normal parents. They'll tell you the truth and they don't hide or sugar coat things. They made me strong.
Her Agenda: What about fashion now? I love your style. Who are your fashion inspirations because you have a very unique style. Very sophisticated, playful and very colorful. How would you describe your style?
Article continues below advertisement
Sharifa Murdock: Unique, fashion-forward and trendy. My style is very unique to me. I don't follow anyone. My best friend's style is very chic, where I'm more trendy and more trend driven because I'm in fashion. I'm always changing my look. I go with whatever fits me, and my body the way it needs to be. I'm a girly girl, so I love dresses. I love to feel pretty. So I get dressed up everyday. My office is very relaxed and I just love getting dressed.
Her Agenda: What is your motto? That one quote that helps you day to day?
Sharifa Murdock: Set your tone. I set my own tone to everything I want to do in life.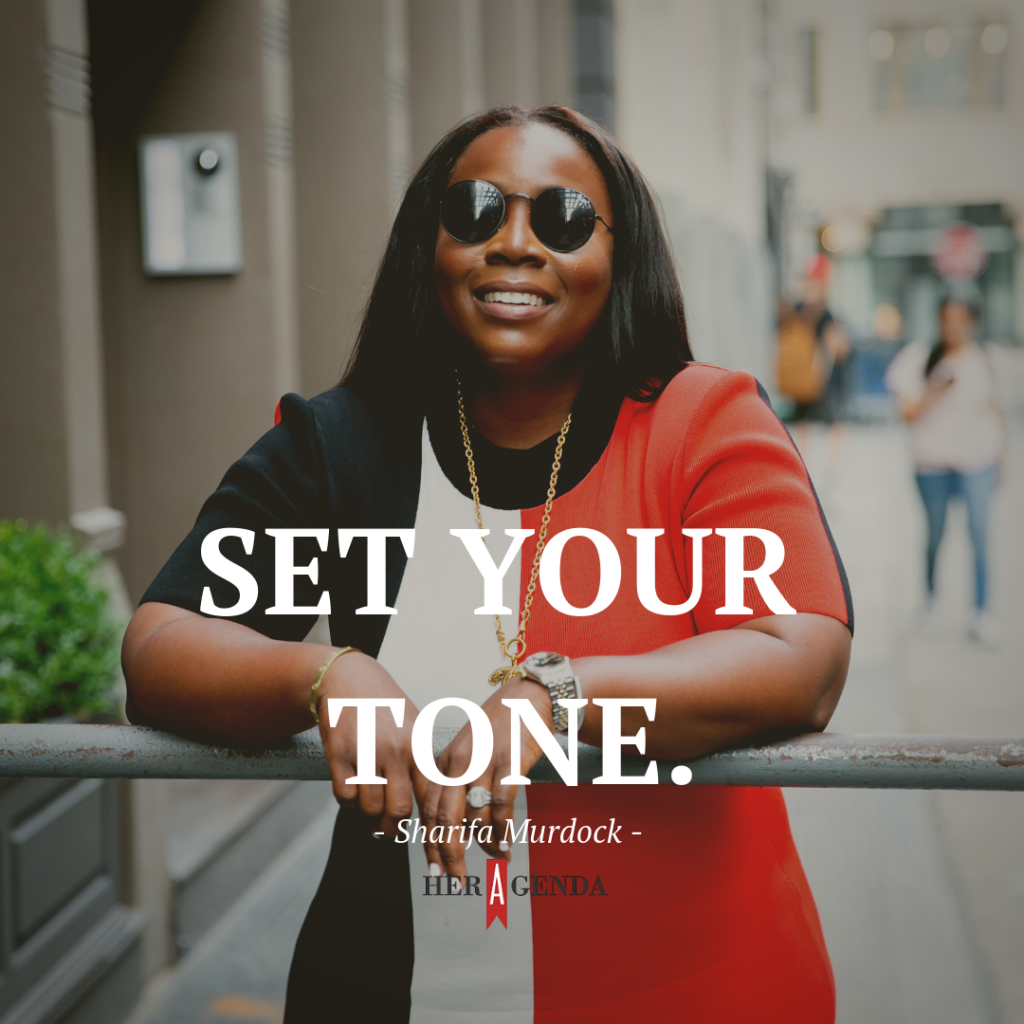 Article continues below advertisement
Her Agenda: You're going on six years. What's it been like so far?
Sharifa Murdock: The landscape has been changing a lot just because the way the industry has been moving a lot of brands. We have two different kinds of brands: we have contemporary brands that will still use a trade show for business-to-business, but a lot of people are definitely moving into direct to consumer business. So, we are all transitioning into something else as well as staying true to what we are.
Her Agenda: For those who want to go into event planning, trade shows and start their own, what are the first few steps you and your partner did to start Liberty Fairs?
Sharifa Murdock: You [need to] have the right team. I think it's important to build the team that you feel are going to uplift you and have certain positions that you know you're not able to do. The people who make the core team and the business successful. I think that would be the first thing I would ever tell someone to do.
Her Agenda: Let's talk about the hardest parts because you know, with social in general, we tend to publicize our wins, what we're working on…etc. What are the hardest parts about event planning, and being a business owner?
Article continues below advertisement
Sharifa Murdock: There's always a bunch of hard things to be honest with you. The first thing is keeping your team happy, keeping them relevant, keeping them motivated to continue on even when things aren't going in the direction that you want. That's one thing. You also need to motivate. You have to make work fun in some way or another. Doing activities with your team. You spend the majority of time at work with your team, which is like more than you probably spend with your family. So it's about really making them as your family and becoming one. Sometimes you argue with your sister, sometimes argue with your teammates, but you know, whatever you guys do is in the best interest for your company at the end of the day.
Her Agenda: In regards to your leadership style, you lead a lot of women. You're a mentor. Tell me about your leadership style. If you could describe it for me, what would that be?
Sharifa Murdock: I honestly put myself in their position. I never asked one person on my team to do something that I would never do. I am a hands-on leader, so I always show by example. I lead by example. I'm going outside to get coffee, I'll ask everyone, do you want coffee? If we're doing goody bag, I'm sitting there and doing goody bags. With a team, you are never better than. That's the one thing people need to understand. Just because you're the boss doesn't mean you're better than. And a boss for me leads by example.
Article continues below advertisement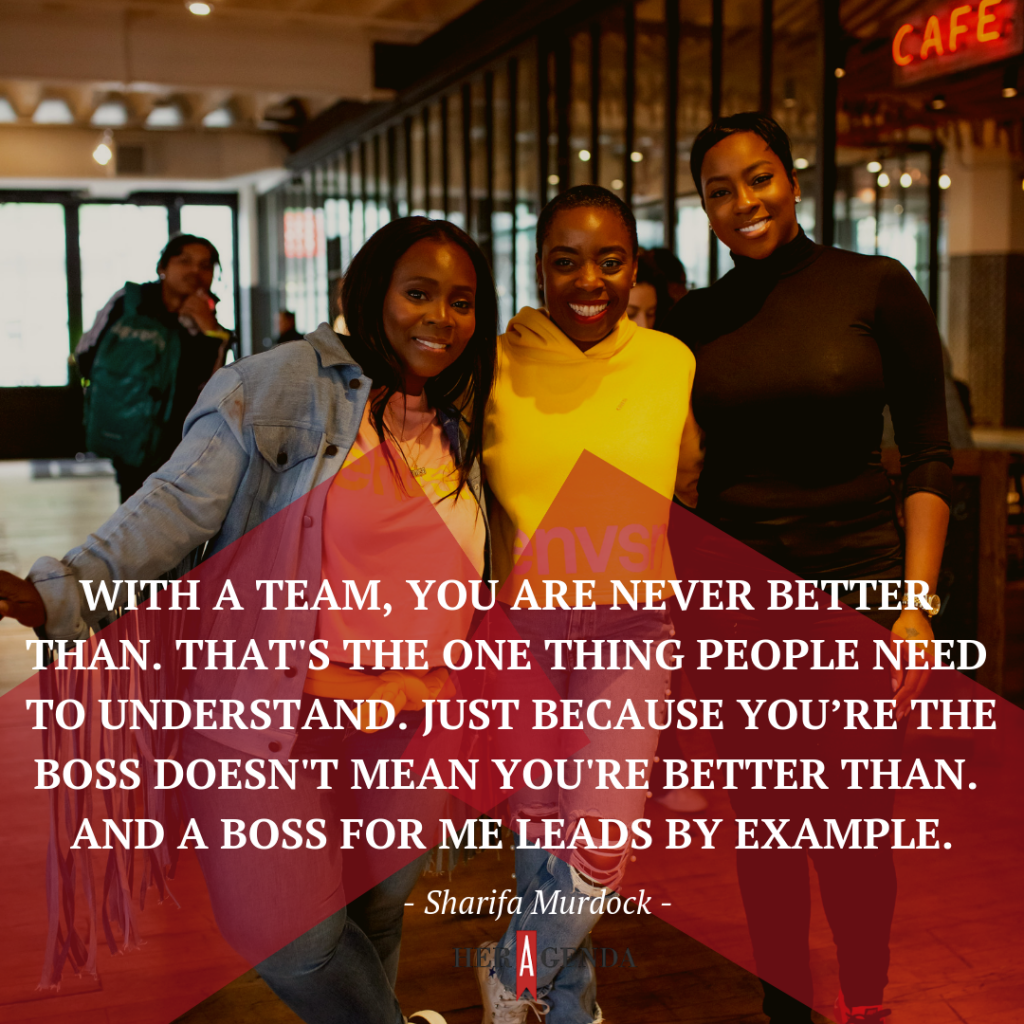 Her Agenda: How did you go from mentee to business partner with Sam Ben-Abraham?
Sharifa Murdock: I think it's the person, the individual who mentors you. Ben, he believed in me. He saw and knew something that I didn't see in myself years ago and then I proved myself and I showed him what I can do and he decided to make me a business partner. It's all about the person and who you're dealing with. I've worked for many people. He is one of them that I will always love and be indebted to because he has shown me how to become a great businesswoman. So I would say you have to have a mentor. You cannot think you possibly know it all.
Article continues below advertisement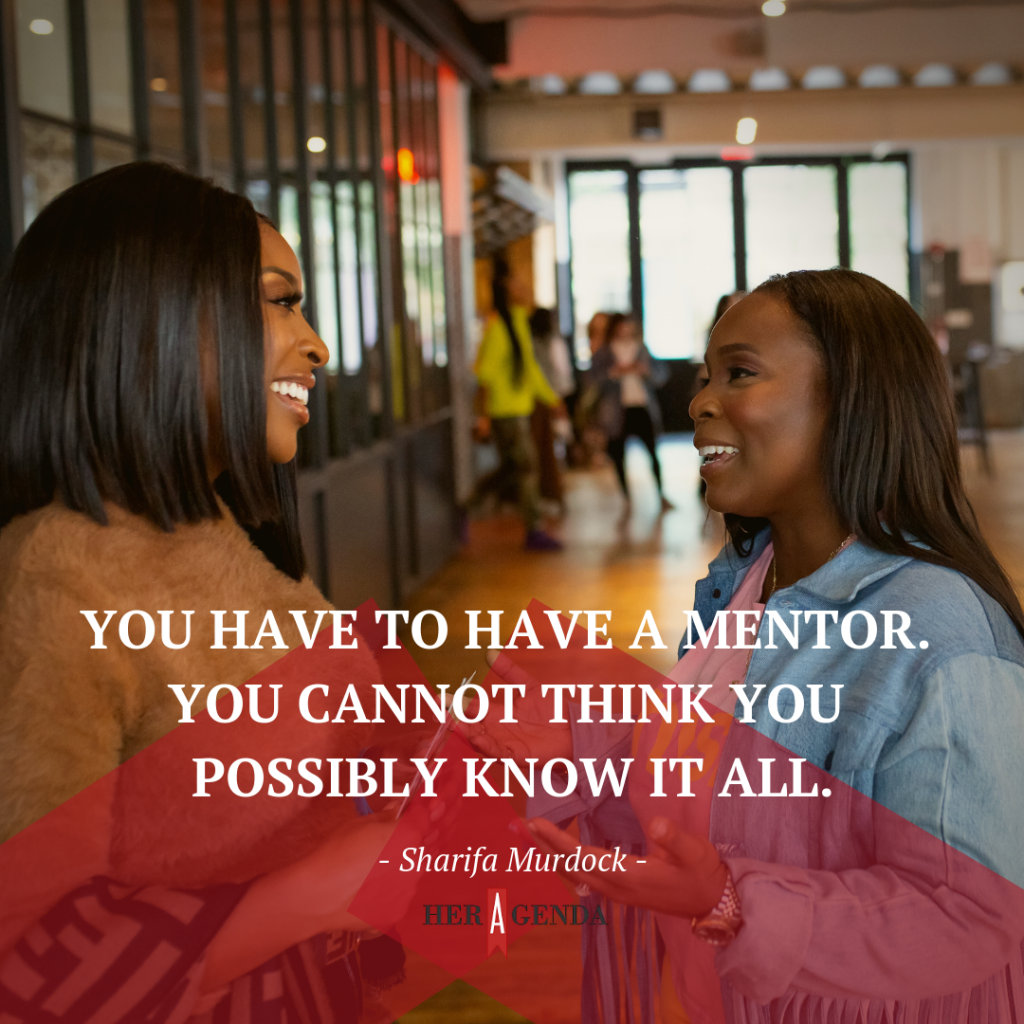 [Editor's note: This interview has been edited for length and clarity.]