As the calls for justice and social change continue to make headlines, much of society has become acutely aware of the role that we all play in creating a socially responsible world. With that in mind, it's becoming more important and necessary for companies and brands to alter their business strategy to reflect these values.
For this reason companies like Tiffany & Co. Foundation, JCPenney, The Brooklyn Charter Lab School and Intel turn to McPherson Strategies led by serial connector, cause marketer, angel investor, and corporate responsibility expert Susan McPherson. Susan built her life and career around the belief that business can be a force for good and built her consultancy around helping brands to amplify their social impact.
A true social media maven, Susan utilizes Twitter to highlight and connect changemakers around relevant topics in CR (Corporate Responsibility) through her bi-monthly #CSRchat, garnering anywhere from two to five million impressions per chat.
Her Agenda caught up with Susan to discuss her insight, community engagement online, what brands must do to be successful in business moving forward, and some advice on how women can re-imagine the notion of 'having it all.'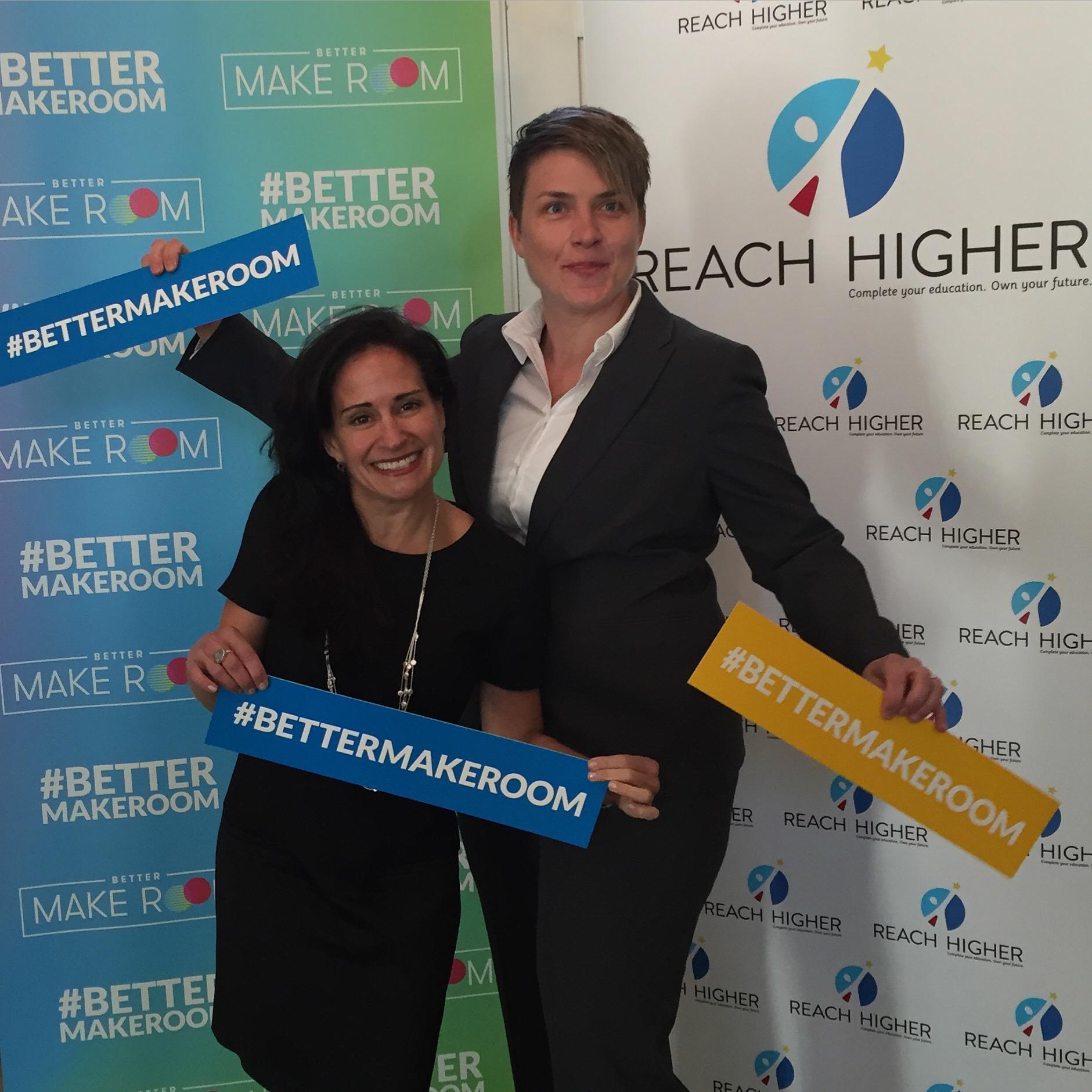 Article continues below advertisement
Her Agenda: You meet someone new and they ask the infamous "what do you do?" What do you tell them?
Susan McPherson: I tell them that I run a consultancy that focuses on the intersection of brands and social good.
It leads people to ask for more information. When someone asks me (what I do) first, I almost always turn it around to find out what they do. I find that if your description is a response to the world they live in, people understand it better.
Her Agenda: You are an authority in corporate responsibility. How did you get there? And how did you build your knowledge base and your brand?
Susan McPherson: I like to say that I've had 9 lives at this point. But the one trajectory that I've had throughout my career, even since I was a teenager, was that I've always had the propensity to do volunteer work– getting involved in fundraising and social causes. As my career progressed, I actually found that serving on nonprofit boards was a great way to hone certain skills you might not be getting.
Article continues below advertisement
It really happened in the early 2000's when I got very involved with a nonprofit called BPeace it was all about galvanizing business professionals to share their skills with women entrepreneurs in regions of post-conflict. So we were training and mentoring women entrepreneurs in Afghanistan and Rwanda with the goal of helping them to get jobs. That was my first really eye-opening account on how business can be a force for good in the world. So I started studying and learning what was happening in the industry. I was at PR Newswire for many years, wearing a different hat probably every other year. I was very much of an intrapreneur; I got to run many special projects because they knew that I would get them done.
The last role that I had there was to help the company figure out what they could be offering to CR executives as services. That was kind of a free way to find out who the players are, what are the trade associations, what are the publications that follow the industry, who are the companies that are really doing the right thing etc. That opportunity really afforded me the opportunity to self-learn.
Article continues below advertisement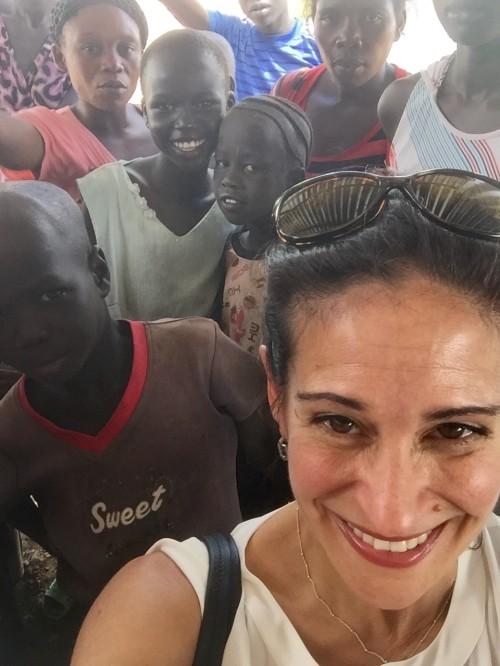 Her Agenda: What inspired you to pursue social good work?
Susan McPherson: It was a combination of that last project at PR Newswire, my nonprofit involvement, and moving on from PR Newswire to work with a consultancy, Fenton.
Once we got into the 2000's, with the advent of social media, transparency became almost de rigueur. A consumer can go directly to a company; that didn't exist before. In the past, the only way a company could talk to its consumers was either at the storefront level or if it was picked up by the press. Well now, you had this 2-way dialogue and it began to get really interesting. Companies could no longer hold the kimono closed and you had consumers who were demanding that it be open. I was fascinated by it.
Article continues below advertisement
From a philanthropic standpoint, I realized that companies have an incredible power to shine light and [bring] visibility [to] causes that need it. And lastly, climate change…it finally became something that was regularly talked about. Business realized it needed to start thinking about ways to develop solutions. With all of that happening together I decided this is where I belong.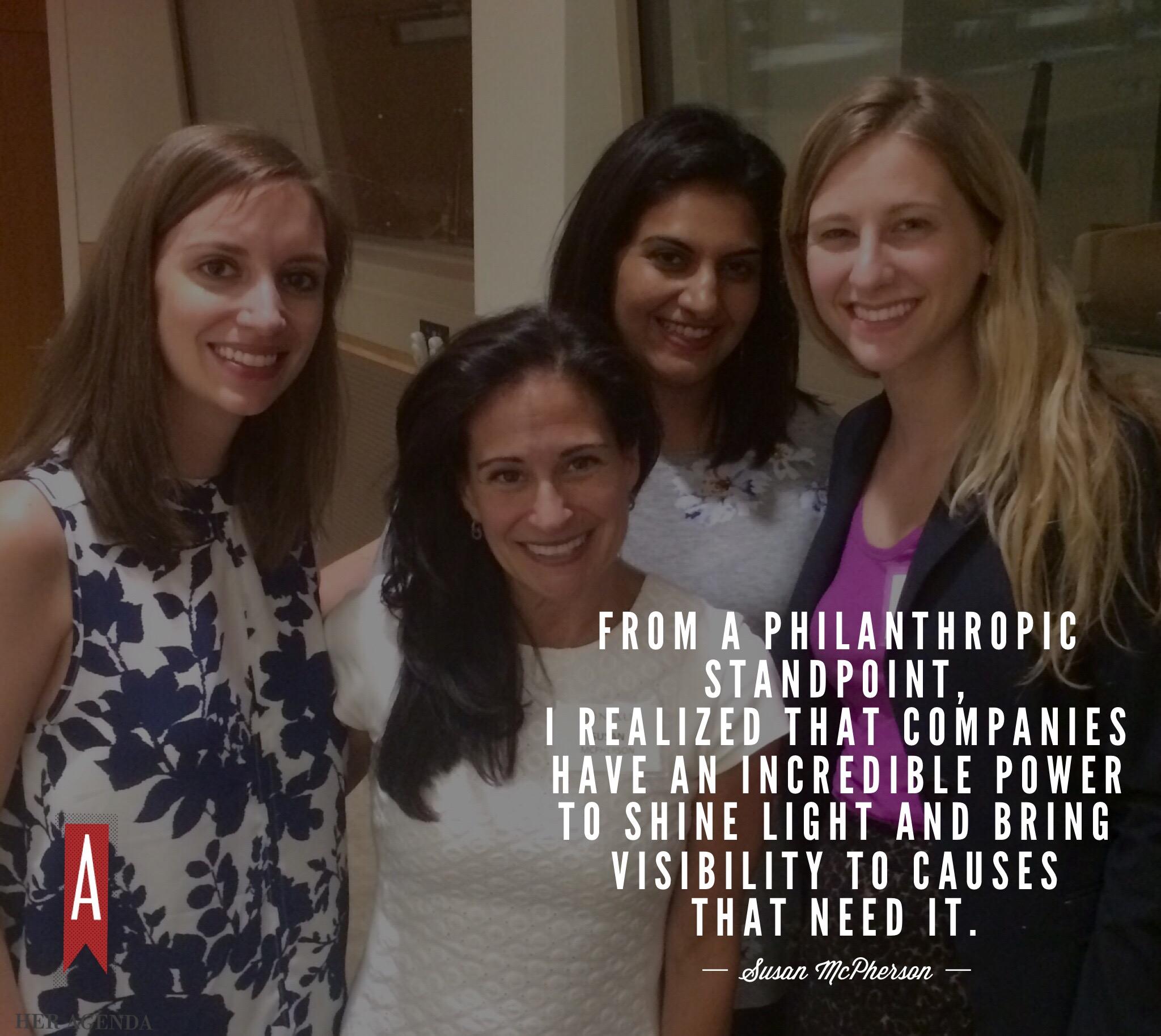 Article continues below advertisement
Her Agenda: How is corporate responsibility an effective business strategy?
Susan McPherson: It's important for companies if they want to be around in 20 years. One, there is only so much stuff on this planet that we can use to build, and share, and sell, and manufacture; there are finite resources on this planet. Two, if they want to attract the best employees they need to show that they care; certainly the millennial population is very attuned to companies giving back and having pro-sustainability policies as well as are inclusive, and intentional in building an inclusive workforce made up of every size, color, and shade; because that's who they are selling to. What we are seeing now is that those who are doing the right thing are reaping the benefits, Unilever is a great example.
Her Agenda: How does corporate responsibility play a role in the startup community?
Susan McPherson: Companies have to set really audacious goals and do what [they] can to meet those goals. But also, [they need to] be very transparent when they [are] not meeting those goals, and pivot to be able to find a way to get there. The public is much more attuned to what you're doing if you're honest. Many startups think they have to get to profitability first. I'm of the school of thought that you will get to profitability faster if you start doing the right thing.
Article continues below advertisement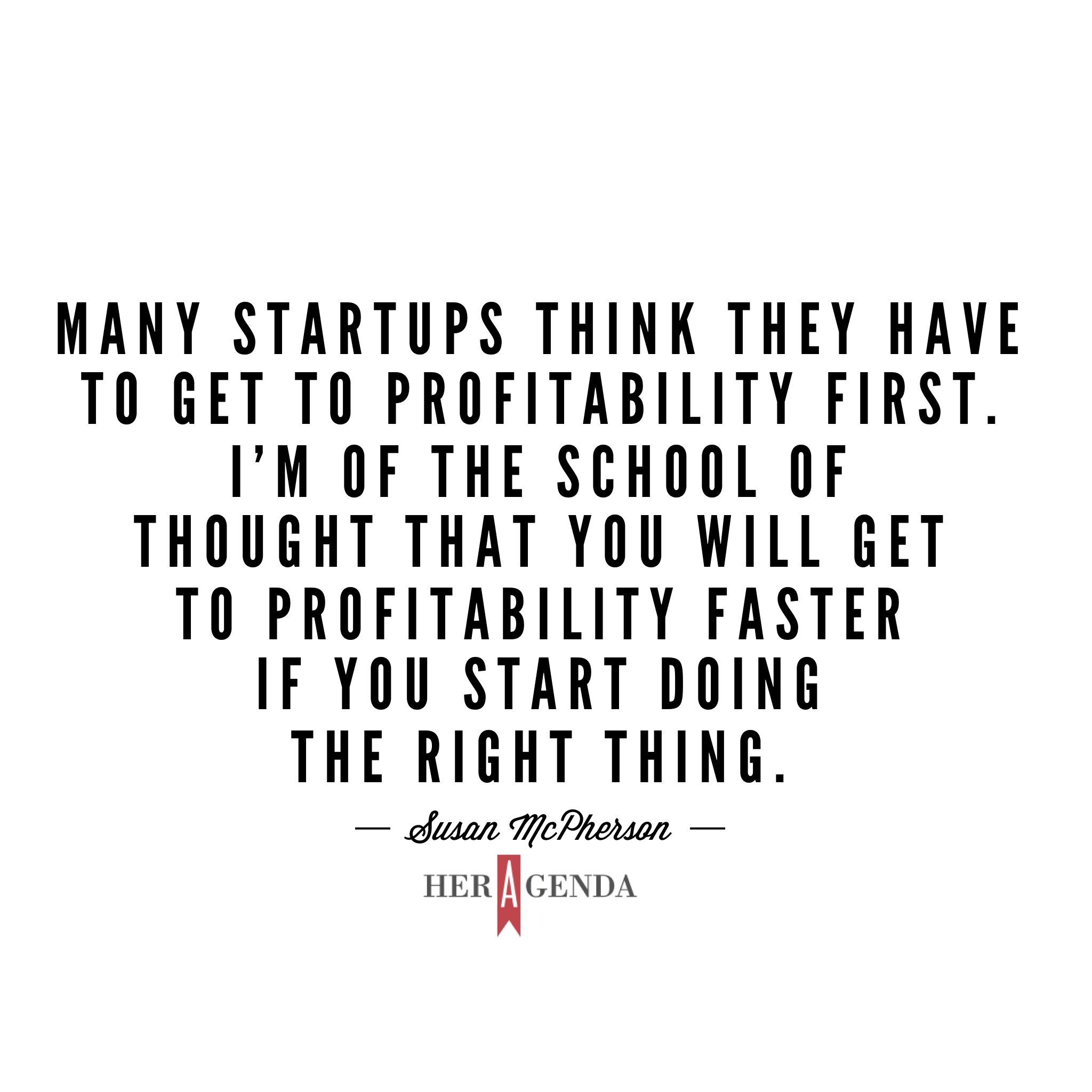 Her Agenda: Social entrepreneurship is gaining popularity, as are companies with "give back" initiatives. How important is cross-sector partnership which makes these types of business models possible?
Susan McPherson: Eight or nine years ago when we started hearing about social enterprises, it wasn't yet a part of the public's lexicon. Now it's very common. We are seeing many partnerships between for-profits and nonprofits. Nonprofits or NGO bring a certain level of skill or expertise that a particular company would never have (and vice versa). You're seeing brand partnerships that are coming together to effect change.
Article continues below advertisement
It used to be very traditional where a nonprofit would go to a corporation or foundation and say, "please fund me," and it might be the checkbook prowess of the CEO of that company –who at that point in time was almost always a white male — who would write a check and the nonprofit would run off on its merry way. Well, those days are over. It is very much now about a partnership where the for-profit is benefiting as much as the nonprofit. We are seeing blends of all kinds. Anything of traditional sorts is being mashed up.
Her Agenda: You have a strong presence on Twitter with over 30,000 followers. How have you used the platform to build your brand?
Susan McPherson: Actually, I use the platform to showcase other people! On all of these platforms, we can often feel that we are not doing enough. When I speak on social media skills I tell people to pick one or two that you want to thrive on, also, find out where your customers or donors are and be there.
Article continues below advertisement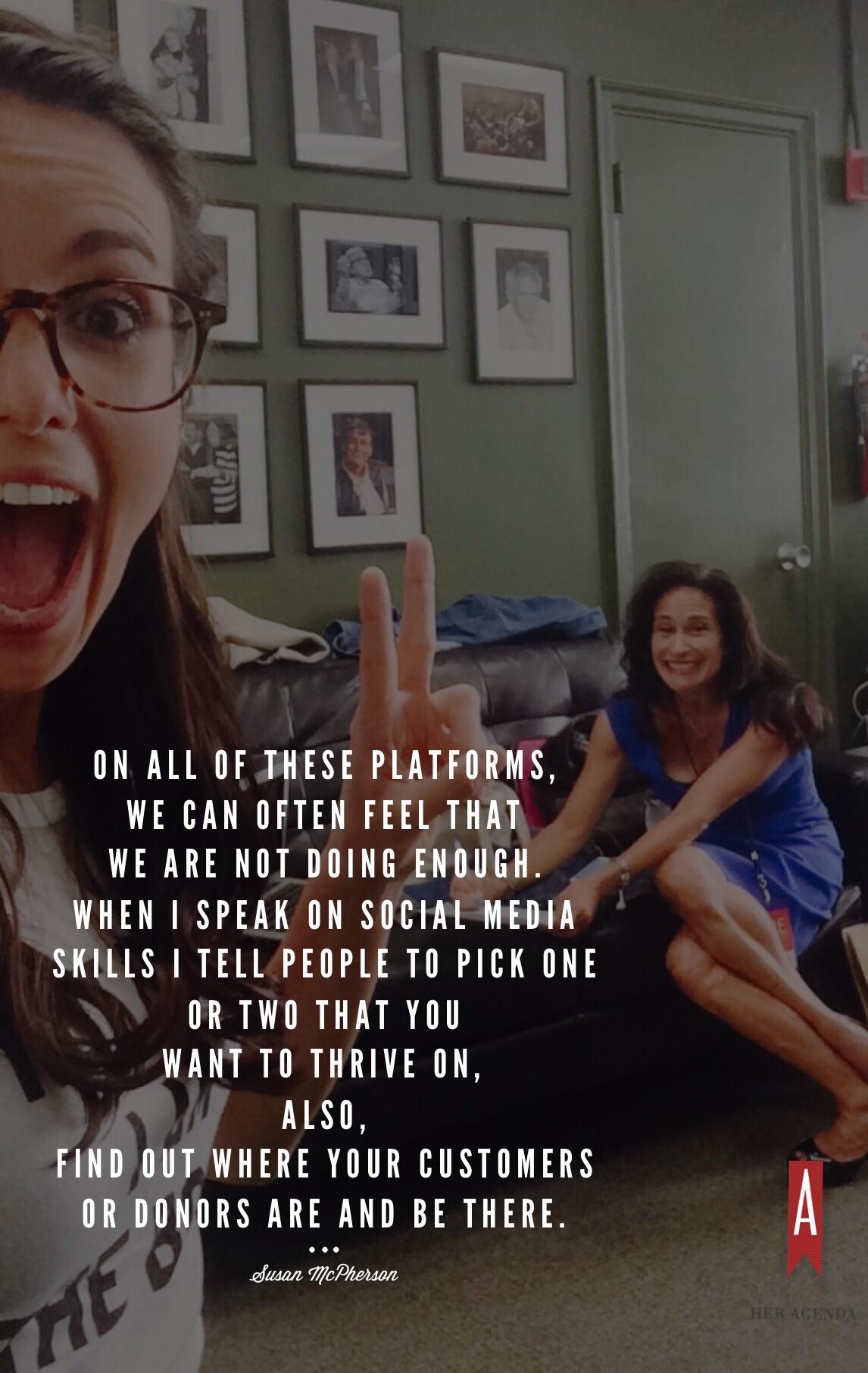 Her Agenda: What has been challenging for you?
Susan McPherson: One thing is that I'm a very small person. I've had people say to me, "You seem so much bigger on Twitter and LinkedIn" which makes me laugh. It's been proven that tall men make more money than short men, and I wonder if it's similar potentially with women. We inevitably make less money than men, and women of color make even less money, so it's all skewed. But I have to say not being taken seriously for a long time. Now that I feel that I have such a command over the work that I do, in terms of keeping up with it, maybe that's helped to get me over those fears. Shame on me for feeling that way, but I'm human.
Her Agenda: How do structure your 24 hours each day and use them effectively? How do you practice self-care?
Article continues below advertisement
Susan McPherson: I have an amazing assistant! I'm also religious about Sunday's, really looking ahead at my week and planning out. I don't have any children and currently don't have a partner, so my work is my fun. And I don't say that regretfully, I love what I do. So a lot of weekends are spent getting things done so that I have some flexibility during the week. I never really stop working, but I don't really liken what I do to work.
I am religious about eating vegetables, and I always make time to go to the gym!
Her Agenda: What advice do you have for someone who wants to pursue a career in corporate responsibility?
Susan McPherson: I would want to find out where on the spectrum they are. Are you a communicator? Are you coming in on the philanthropic side? The environmental sustainability side? On the risk assessment side? Because all of these are going to have a different doorway into a company. First, identify what you want, then read up, understand, and find out who the leaders are in the space so that you can get a sense of how they got to where they are. And if it's possible, I would get on social media to see who are the rockstars and who is sharing information. I would go to sites like Business for Social Responsibility and The Center for Corporate Citizenship at Boston College, and start writing your own opinions on things. These days if you're applying for jobs, a company will google you. If there is nothing there but your LinkedIn page, you don't stand out. It's good to have a voice.
Article continues below advertisement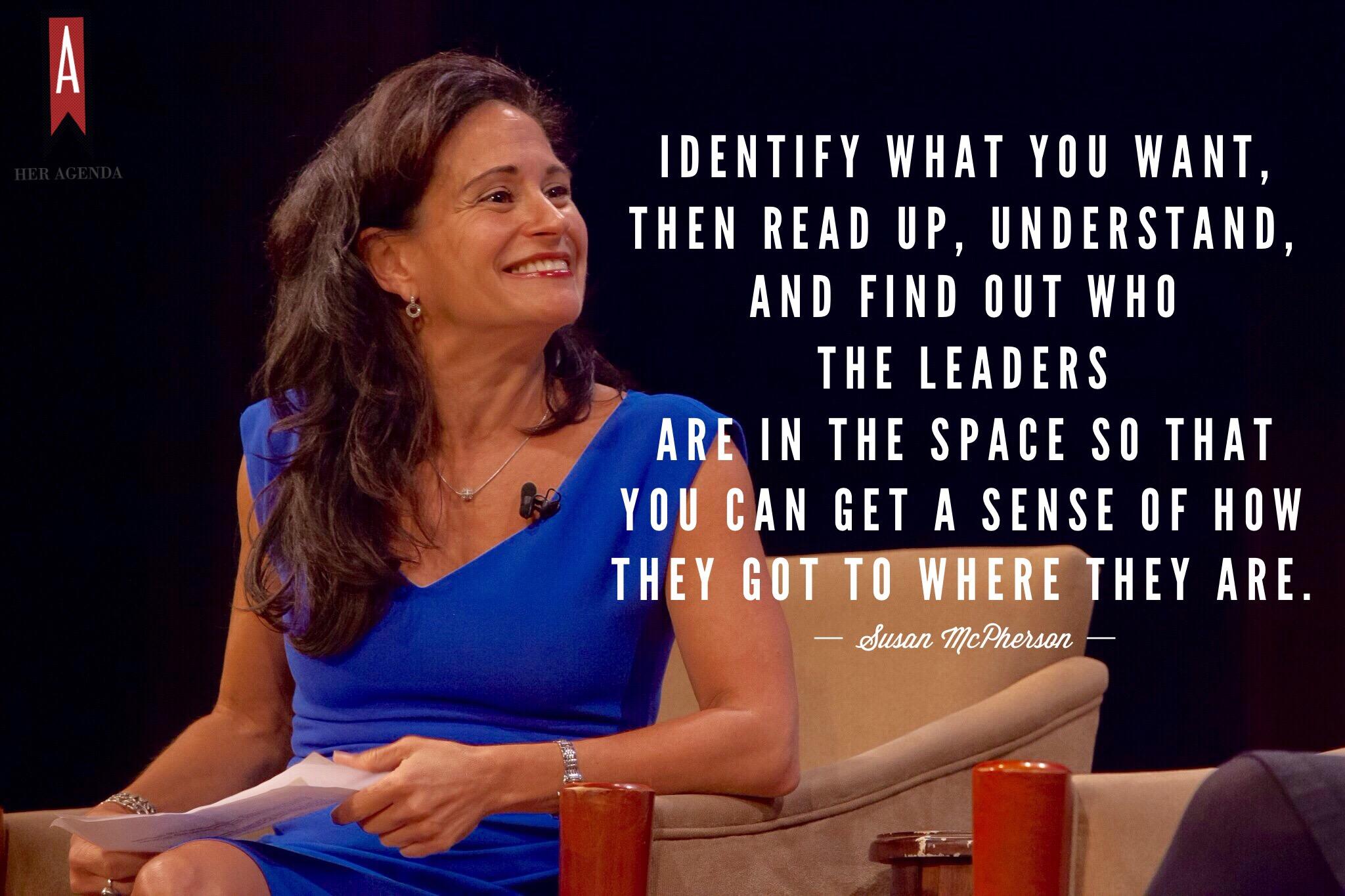 Her Agenda: What advice do you have for young women that want to "have it all"?
Susan McPherson: Just be happy. I don't know what "have it all" means. Even if you have it all you don't think you have it all. Someone once said to me, when you wake up in the morning — that nanosecond when you're in between asleep and awake — if at that moment you feel a sense of happiness and calm; you have it all. If you don't, then what's going to get you there?
Find what you really love and surround yourself with the people that make you smile. Instead of thinking about how do I have it all, think about how do I have what is going to truly make me happy in the shoes that I'm in, and make the best out of that.
[Editor's note: This interview was published on September 12th, 2016 and it has been edited for length and clarity.]