GirlTrek is a global movement for Black women to engage their bodies, spirits, community, and agency, through the centuries-old act of walking. While T. Morgan Dixon's journey to create GirlTrek with friend and co-founder, Vanessa Garrison, is one to admire, I could not overlook Morgan's transcendent vision that envelopes GirlTrek's ten-years of growth reaching almost 800,000 women (and growing). For Morgan, walking is the first step to urge Black women to prioritize their lives. Throughout her work, she calls upon the bare-breasted ethics of Sojourner Truth and invites you to eat from the fruits left by Harriet Tubman.
As Morgan interviewed from her apartment in Ghana – where her sixth great grandmother originated from – I received her words of anointing. Even more, I received GirlTrek's call for Black women to move towards one another, especially in the moments of outrage that we are witnessing today. As Morgan so rightly reminds us, "this has been 400 years in the making. Sojourner Truth [said] in 1858 'we will not let you win. We will secure our rights.' Don't think the bubbling up of outrage is fatigue from coronavirus. We've been this enraged for 400 years. What needs to happen is a system change. Will we succeed at that, is the question? This bubbling up isn't new. This bubbling up happened when Ida B. Wells was trying to stop people from getting lynched. Right now we have to be committed, wholly committed, to stand on the frontlines so that we can dismantle the system that we've been trying to dismantle for hundreds of years."
So where do you start? At which point can we give ourselves the permission to return to our bodies, return to our breath, return to our living? For Morgan and the leaders of GirlTrek, that starts with one simple action – walking.
Let's walk together as we journey through a life-changing conversation with Morgan exploring the origins of GirlTrek, some of the realities that steer the lives of Black women, and some of her own learnings towards uplifting God, love, and humanity into every part of her life.
Article continues below advertisement
Her Agenda: Can you share more about the building of GirlTrek? What were the steps you and Vanessa had to take as entrepreneurs to start building this? T. Morgan Dixon: The greatest privilege that people have is the privilege to be a risk-taker. Because when people are struggling just to have their basic needs met, your ability to risk everything to follow your dreams is not realistic. Risk-taking is such a privilege that I don't take for granted.
The greatest privilege that people have is the privilege to be a risk-taker.
My family didn't have very much growing up. After I went to college and got a good job, I married a guy who also had a good job, and it was only in that context that I could start to dream about things and feel that I could divert some of my capacity, which was usually tapped, to innovation and imagination.
That's important to name because I don't actually believe in telling people everybody can do it. Because people are innovating to make a way out of no way everyday. Those with a safety net of money, and from two family households, are at a unique advantage to innovate. So Vanessa and I were unique, in that, we both came from very humble – in many ways very troubled – backgrounds. In midlife, we experienced some capacity to be able to go back and help our people.
Article continues below advertisement
It's also important to know that we were older than all of the other social innovators that we won prizes next to. We aged out of half the prizes! We were 35 when everybody else was 25.
Her Agenda: What did it take to get it from idea to creation? What went into developing it – successes, challenges?
T. Morgan Dixon: First we started rapid iteration of our pilot and figured out what worked for us. We needed to save our own lives. The projection of what it looks like to be Black and alive in America is dismal. So, Vanessa and I went to the CDC website and looked up how to live. It said to exercise 30 minutes, moderate pace, five days a week. So we started walking individually. This was happening when I was a school teacher, taking girls hiking (this influenced the name GirlTrek) and we thought "this isn't going to move the dial, but what if we get a million of their mamas to start walking?! Everything's going to change!" So, we walked and it led to beautiful things in both of our lives.
Article continues below advertisement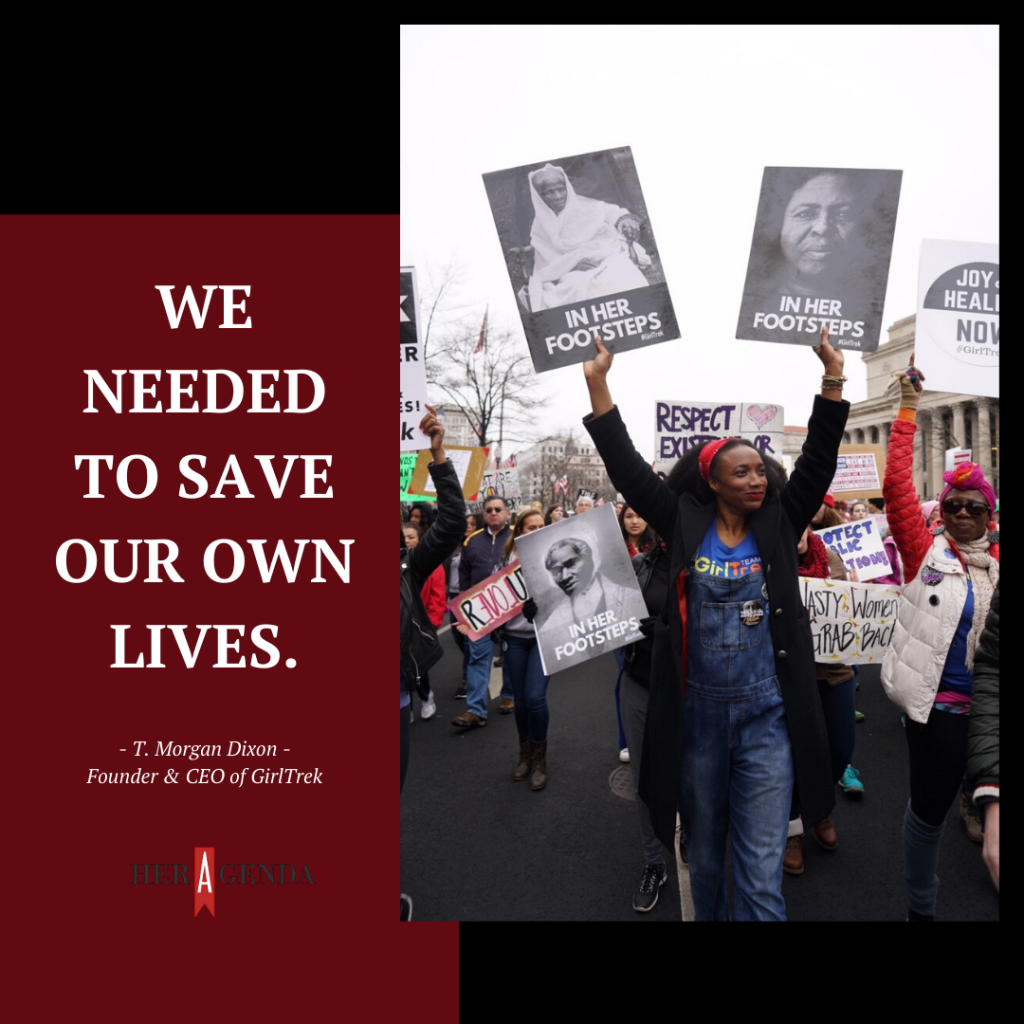 I started backpacking and Vanessa started running in marathons. We started living our life and posting pictures on social media; and there was an uptick. There was something about seeing a Black woman prioritizing herself and being unashamed about living free and basking in her own light that she generated for herself – there was something about that that was unique 10 years ago. And people started saying 'I want to be down!,' so we got all of our friends to do a 10-week walking challenge. The testimonies that we got for ten weeks of walking were life-changing. Those sorts of transformation stories let us know we were on to something.
Article continues below advertisement
So we started while working at full-time jobs. We started applying to social innovation grants – like Echoing Green, New Profit, Ashoka, Teach for America Innovation award – and we got them. After the first one, we won we quit our jobs!
T. Morgan Dixon: When I was at Howard I studied Public History. No one knew what it was, including me. After that, I became a park ranger at the King Center. Then I became a teacher for Teach for America. But, fast forward, and I realized this is what this bootcamp is: this is an act in public history of reclaiming our stories. Of acknowledging that we walk in the footsteps. That walking is our legacy, first of all, and that we walk in the footsteps of way-makers. Of women who made a way out of no way. Of women who have solved this before, who have been here before, and have overcome.
We walk in the footsteps of way-makers. Of women who made a way out of no way. Of women who have solved this before, who have been here before, and have overcome.
Article continues below advertisement
If we forget that we actually have the capacity and the resistance to move forward in times of such struggle, then we can get overwhelmed by it. Sojourner already gave you the words to speak, so we don't have to come from a position of deficit. We actually are spiritual warriors because we come from a lineage of warriors.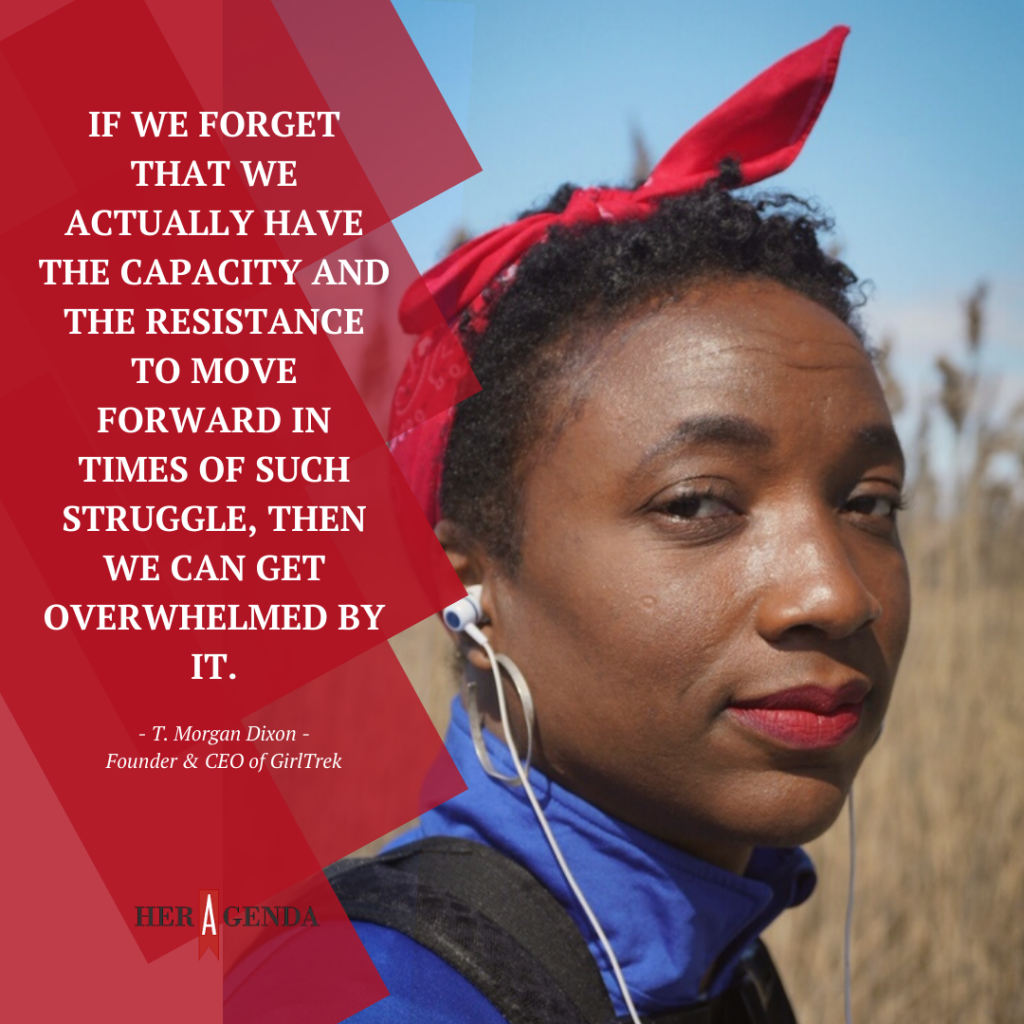 Article continues below advertisement
Her Agenda: Can you speak to the place, presence, and importance of faith and spirituality right now in these global movements for racial justice?
T. Morgan Dixon: I think it's appropriate to be deeply suspicious of religion, but God is the underpinning of Black women's strength. We know that. I really believe that Black women are divorced from our bodies. Even in our sense of pleasure, we're divorced because we've gone through collective trauma. Population-level trauma. Black women across the diaspora are divorced from their bodies.
The solution for right now is to put money behind Black women because we are spiritual warriors, and this is a spiritual fight. And we better come to grips with that.
We have to be able to own our intellectual property and our spiritual property (our spiritual inheritance). Our strength and spiritual wheelhouse. We have to be able to step into it, because it's a calling. What we are doing now, women have called forth before for us to stand on the frontlines now.
Her Agenda: This program is a movement for wellness, but it also feels like an urging for Black women to know that it is both ok to be in their body, love their body, and fight for their bodies. Can you speak more to the body as a vessel for spiritual, physical, and social transformation?
T. Morgan Dixon: The moment our bodies were used as chattel – the moment we stopped owning our bodies – everything from pleasure, to ease, to flexibility, to strength – they felt foreign, or unattractive and prohibited. In ways that are so toxic to this life. There is a point where Sojourner Truth is giving a speech and people in the audience are hissing at her and denying that she was a woman. And she opened up her shirt and showed her breast to the audience as a free woman! Part of the problem is even our physical bodies are valued in comparison to white silhouettes. Our strength, strong shoulders, and strong bone structure are not valued. Our round bodies and postures, all of these things are not celebrated for what they are, which is beauty, because they were celebrated for labor.
Article continues below advertisement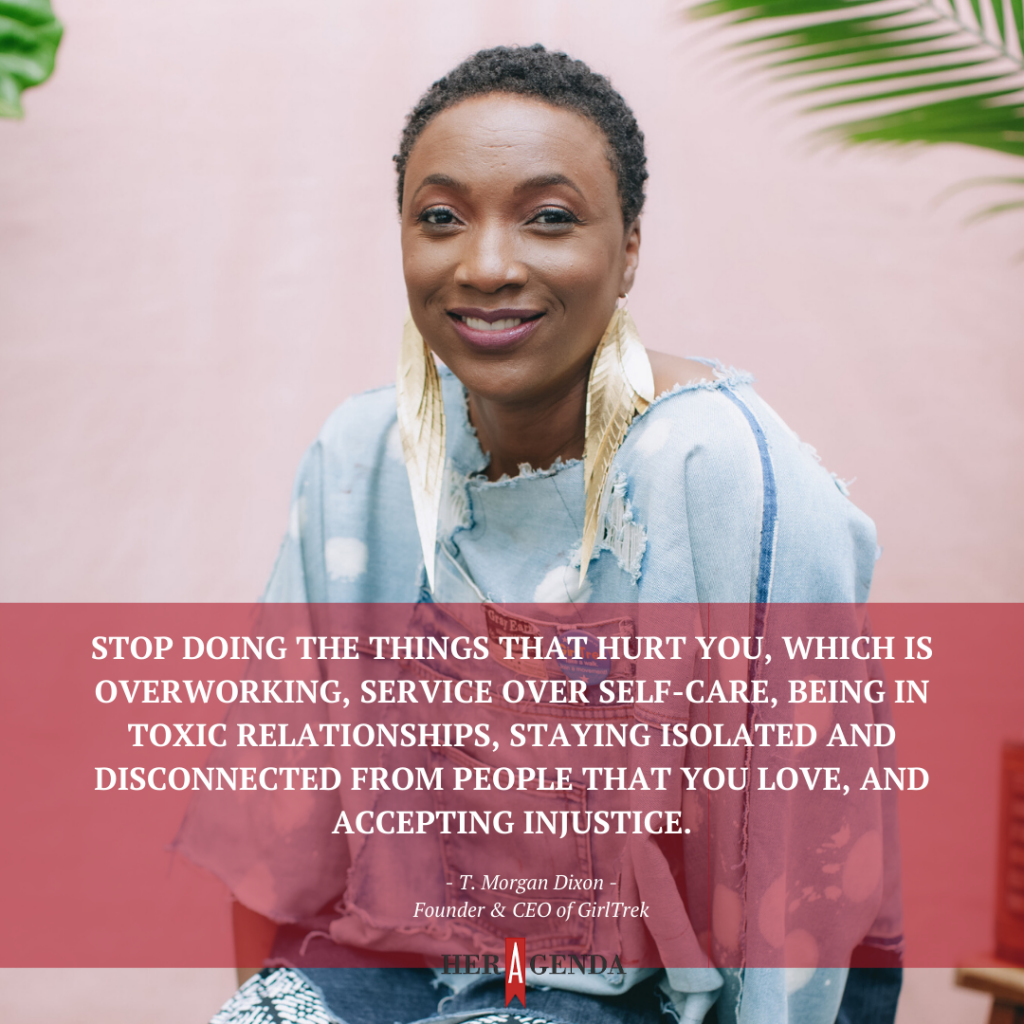 Her Agenda: What would it look like, feel like, sound like, for Black women to be healed? To arrive at the fullness of their healing.
T. Morgan Dixon: We are healers. We know touch therapy. We know how to anoint with blessed oil. We know how to part and rub scalps. We know how to make a big ol' comfort stew that heals you from the inside out. We know aromatherapy. We invented Black healing. We know healing, we're nurturers.
It's a matter of stopping the hurt. Stop doing the things that hurt you, which is overworking, service over self-care, being in toxic relationships, staying isolated and disconnected from people that you love, and accepting injustice. Walking is a healing tradition, it is a legacy that we do.
Article continues below advertisement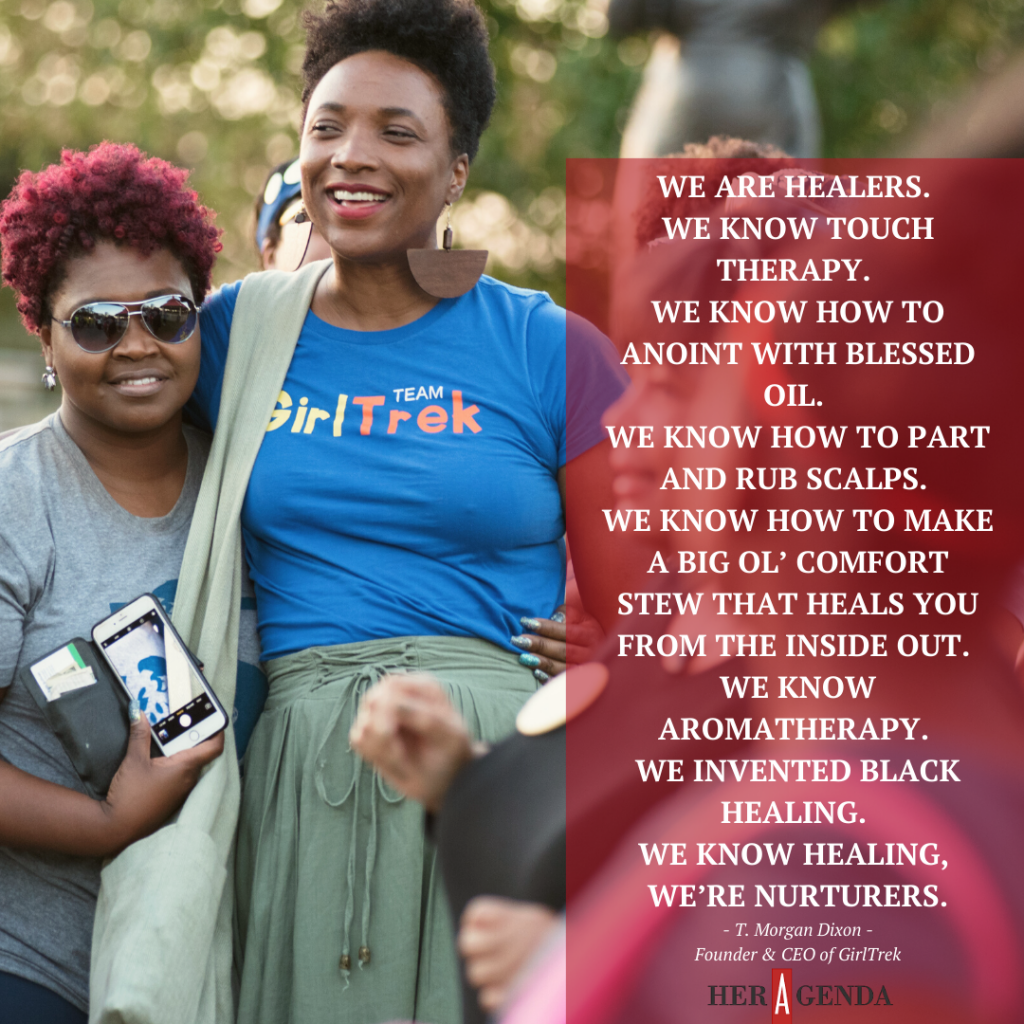 Her Agenda: How are you currently taking care of yourself? What are you being called to spend time with, move towards, and revolutionize for your own life? How have you connected to your own breath and living during recent events?
T. Morgan Dixon: I am risk-taking. I have been looking at property to buy [in Ghana]. I've been figuring out how to let go of things that don't really matter. Control is toxic, and the perception of trying to control things is popular among Black women.
I've just been trying to live. I've been trying to make more time for art, so I've learned how to paint recently. I would like to get back into photography and filmmaking which I think is my true calling – being masterful around storytelling and a skill around that.
Article continues below advertisement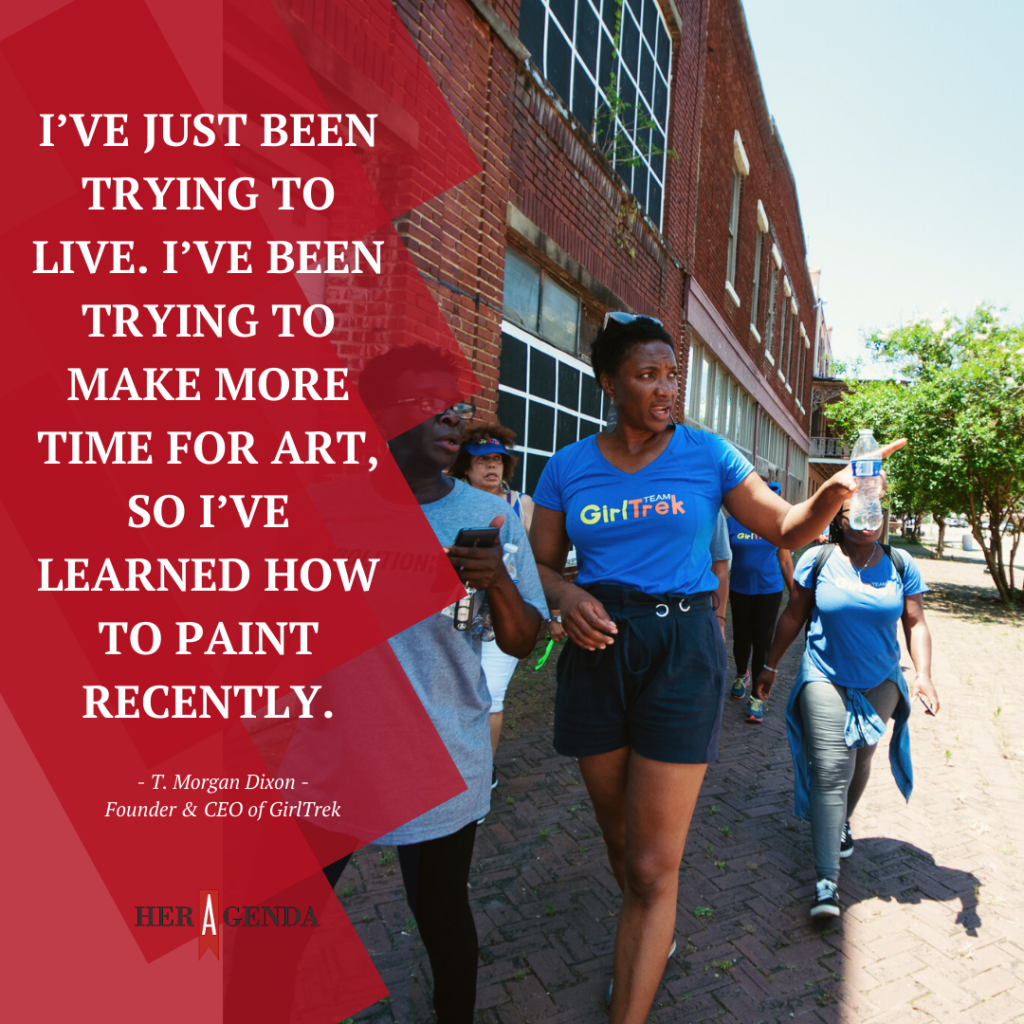 Her Agenda: When listening to your 2017 Ted Talk, you shared a compelling story around the apples at Harriet Tubman's freedom house, as though they were left as an offering. What fruit do you want to leave for Black women right now? What fruit would you like to offer them, or for them to offer to the world?
T. Morgan Dixon: When I walked down that driveway [of Harriet Tubman's house] it was spirit and sunshine. It was natural woman-ness. It was the fact that it was the long-game that [Harriet] was playing. That she was planting orchids. And that she was still in service.
I would like to leave to the next generation a sense of radical connection to the planet and to the earth. Because I believe that Black people are going to be disproportionately impacted by climate change. And Black people are uniquely positioned to teach the world how to live in harmony with the earth and the planet. So, with GirlTrek, we never tell Black women to just walk on a treadmill. We tell them to walk outside. Because we know God is outside. There is a connection between the plants. There is a symbiotic inhale and exhale with the earth that I want us to reconnect with. So I would love for the future generations to be like 'oh no, we go outside. Oh no, we love trees. We know how to plant, we know how to grow, we know how to flourish.' That kind of sentiment is what I'd love to leave behind.