From watching history to making history, that's the story of Tamron Hall who grew up watching Iola Johnson who was the first woman and first Black news anchor in Dallas, Texas. Fast forward, and we see Hall make her own big mark as the first Black woman to host NBC's Weekday Today. And Hall's talk show, The Tamron Hall show which premiered in 2019 is an already two-time NAACP Image Award-nominated series.
In a conversation with Her Agenda, Hall dropped gems on just about everything including what she believes is the secret to a long and fulfilling career, her advice for women navigating the corporate world, and what she uses to push through tough times.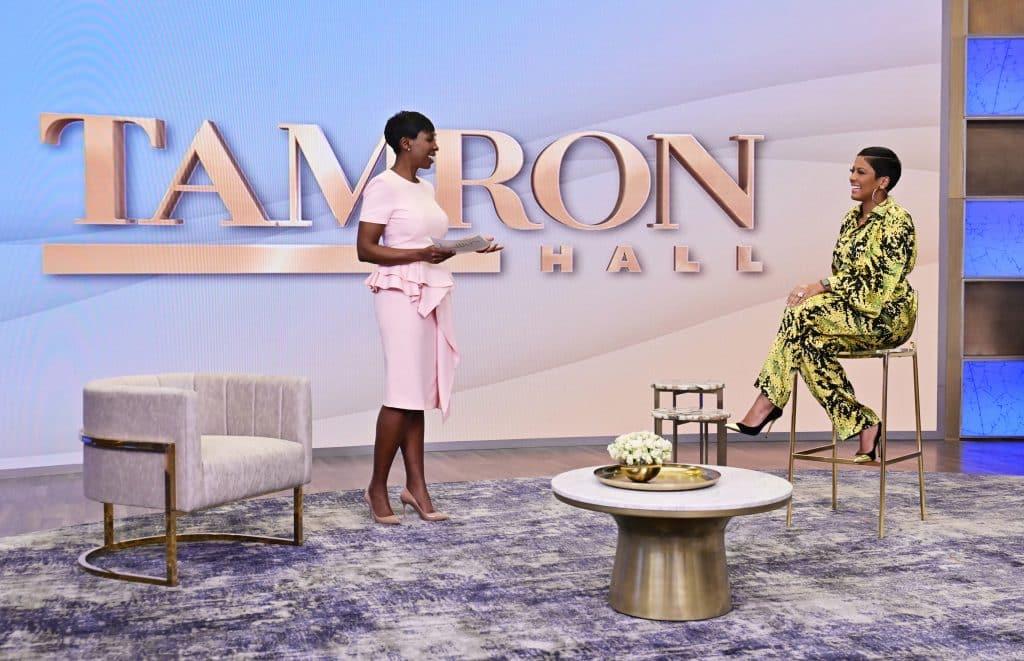 Her Agenda: You've been in the television industry since you were 18. What has helped you maintain such longevity in your career?
Article continues below advertisement
Tamron Hall: I've been able to learn from some of the amazing women that I've worked with or that I've encountered over the years of doing this. One that immediately comes to mind includes Susan Taylor, the iconic editor of Essence Magazine. Growing up, when I was looking at this as a possible profession, she was someone who I always admired from afar. Fast forward 30 years later, I'm able to call her a friend and an advisor. And then there is Joy-Ann Reid. To be able to have a great friend like that in the business and have an ongoing text thread with her every single night, that is part of the secret sauce. That relationship-building behind the scenes that you can lean on when things are great and when they're not so great [is essential].
Her Agenda: You've been racking up on accolades lately. You won an Emmy for Outstanding Talk Show Host for your first season last year and you are a two-time NAACP Image Award nominee for Outstanding Talk Show Series. What do you want the impact of your show to be?
Article continues below advertisement
Tamron Hall: The same impact in many ways that I hope my reporting over 30 years has had and will have. For me, it's not a flat answer. I wouldn't be doing this had I not seen Iola Johnson, the first Black woman who anchored the local news in Dallas-Fort Worth, Texas. I hope my presence inspires the young women and men who watch. I hope that's the impact that I have personally. The show – I hope has the impact of conversation. There are many topics that we are able to take on every day that people are not. What immediately comes to mind, we had a show dedicated to the real conversations that women of color have behind the scenes as it relates to how we are treated in the workplace by our White female friends. That was a tough show because we have a very diverse staff of women from all walks of life and all backgrounds. And it hit home. We want the show to hit home.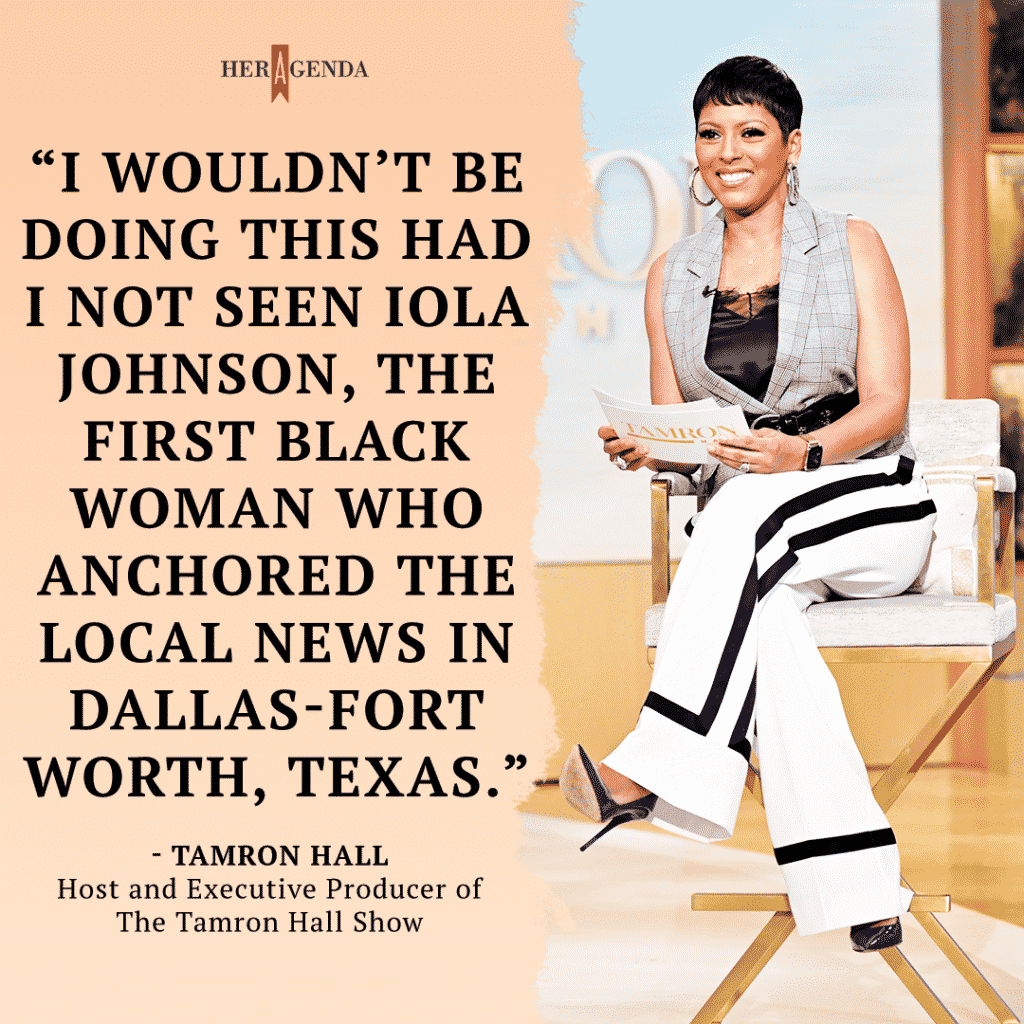 Article continues below advertisement
Her Agenda: People have endured a lot of hardship lately – the pandemic, civil unrest, election season. How do you feel about the journalism coverage that you've seen as all of these things unfolded? What would you like to see more of in terms of how stories around important events are told?
Tamron Hall: Listen, there is much need and room for improvement. I know you just named recent things that happened. But remember, I was cutting teeth in this business when Rodney King happened. And I remember vividly being in the newsroom with White colleagues who echoed the same kinds of things that are said now…'What did he do before? What really happened? Was he on drugs?' These are things that were coming from colleagues in the newsroom. And that was in 1991. To continue 25 years later and there is Trayvon Martin and then George Floyd, and then Meghan Markle. With a young woman saying that she got to the point while pregnant that she wanted to take her life…and people questioned whether she was lying or not. Media figures questioned whether she was lying or not about being suicidal. How are we supposed to move forward when even on the basic level of journalism, we can't humanize a Black woman who says 'I'm in pain?' At the end of the day, I watched a lack of compassion and empathy that's stunning; not from the general public, but from the media. And we have to ask, why?
Article continues below advertisement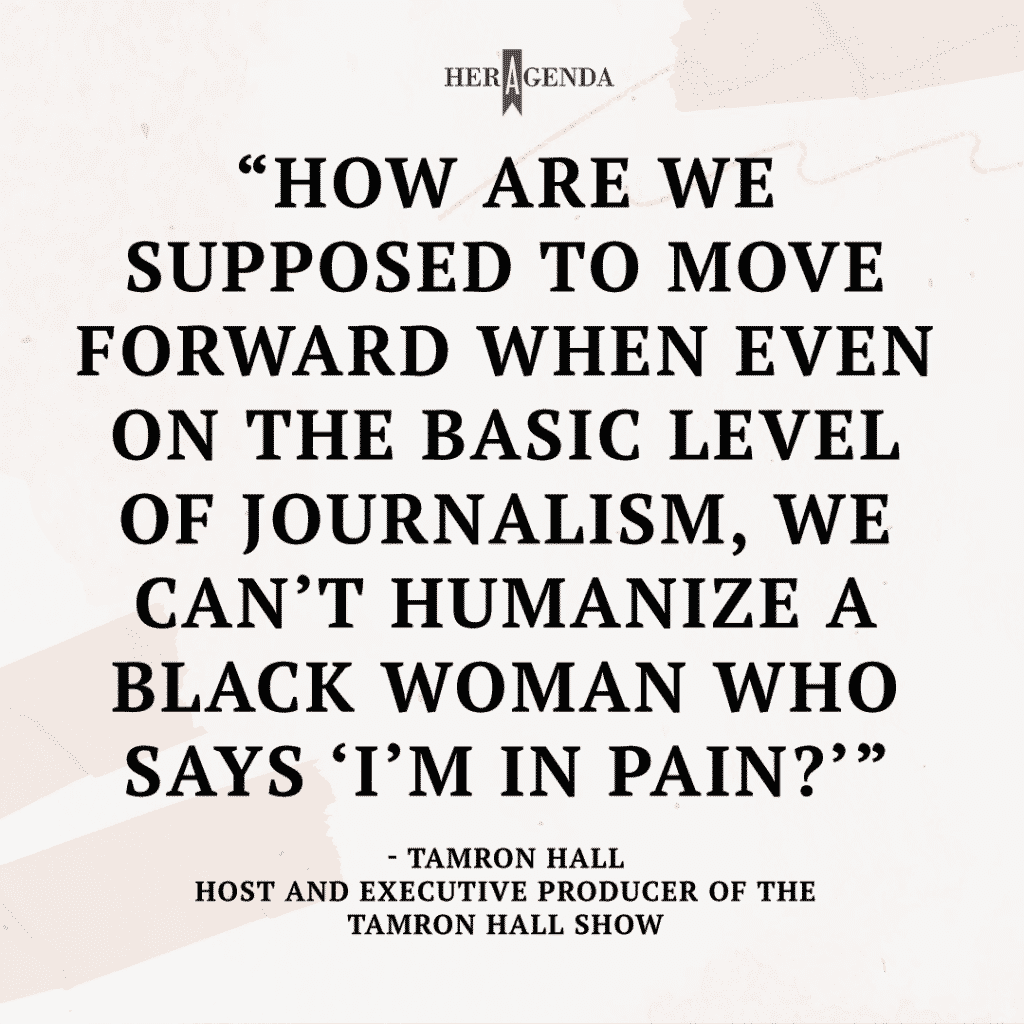 Her Agenda: Broadcast can be hard for young women of color to break into. Given all of your experiences, what advice do you have for young women of color who are trying to find their path in the same industry and make their mark in broadcast?
Article continues below advertisement
Tamron Hall: I wish there was a concise perfect answer. That's not the case. And it's not just in journalism, it's across the board. We interviewed a man who was a farmer at the beginning of the pandemic. He was so heartbroken that Black farmers had been forgotten in the conversation about needing aid and help. And we were the original farmers of the country. So it's across the board. But I'm so inspired by Black and Brown women who are fearless in a way that I was not in my early 20's — speaking up and taking on the establishment, whether through social media or through blogs. They're finding a way to not fall in line. As confident as I may appear now, there were times in my career where I fell in line. There were times I didn't speak up and I took it. And I accepted the label of "angry Black woman." My response to it was to shrink down and make myself invisible. And I love watching the 20 and 30-year-old's who do not do that. It gives me goosebumps. They are just not taking it. And as they say, I am here for it.
Her Agenda: What about advice for women who are struggling to navigate the corporate space?
Article continues below advertisement
Tamron Hall: My advice is that you are more powerful now than ever. And that's the thing that is so remarkable. You can build your own digital brand and your own voice. When I lost my prior job, if it were not for social media, I would have been an 'Oh remember her?' But because of social media, I was able to keep people up to date on what I was doing. And for those two years, I was building a talk show. I was carrying a baby. I was speaking and sharing my story. [Social media is] a power tool to define yourself. And other people can't take that from you. You have weapons to even the playing field. Now, we don't all get a chance to be on Oprah to tell our side of the story. But you have other ways to tell your side of the story and note your value. You now have the ability to create your own content. You don't have to depend on the establishment to provide your meal.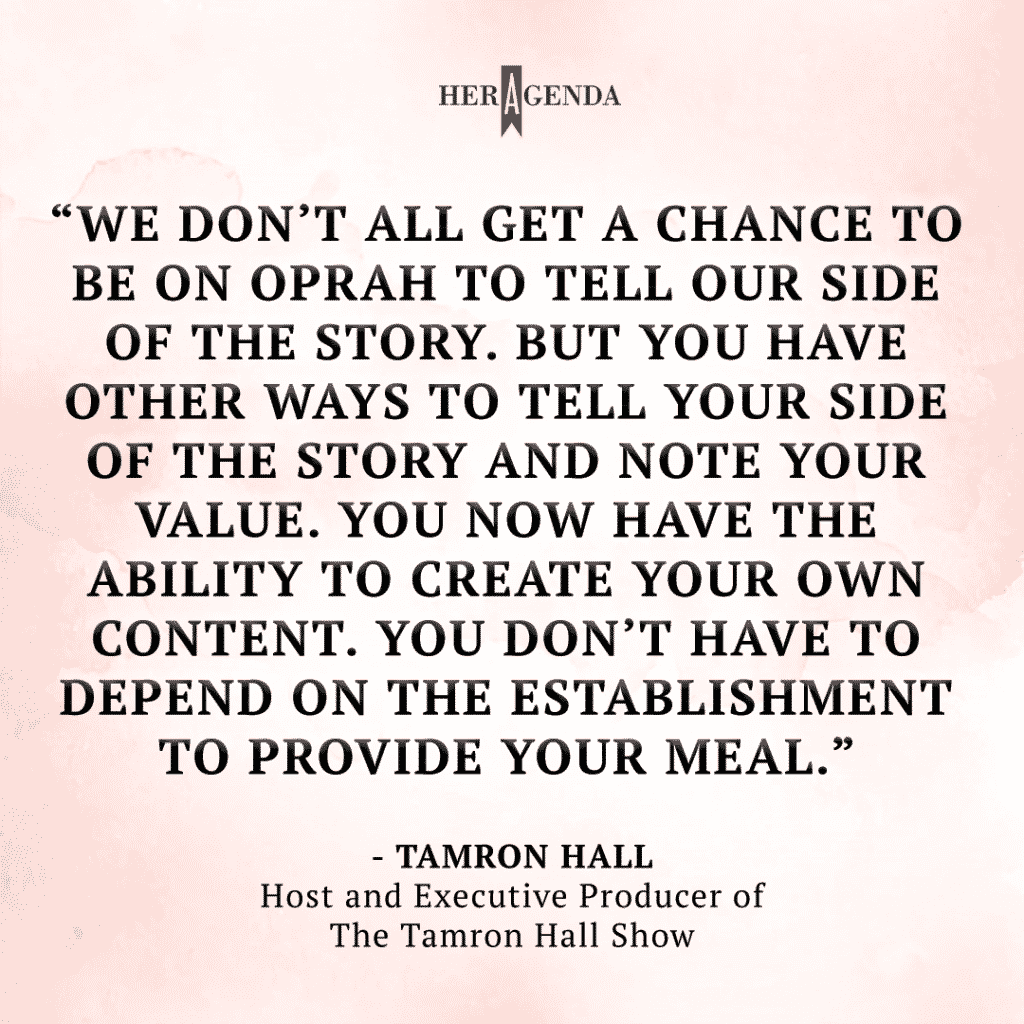 Article continues below advertisement
Her Agenda: I want to transition a little bit. You're a mother now. Tell us more about your journey into motherhood. What do you hope other women can learn from your experience?
Tamron Hall: After 25 years of doing television, this is the hardest on-the-job training. Even speaking with you right now, I rushed in from the studio, ran in, and barely kissed my son. Then, I got on the line with you. While I'm thrilled to be speaking with you, there is this guilt. There's a lot of guilt that goes along with it. What I've learned is that the guilt occupies as much space in your head as you allow it to. This is a joyful journey and I hope that my son sees his mom working hard. I saw my mother work two jobs at a bakery overnight as a single mom. I saw her get up late at night to go to work. I witnessed all of that. There are days that I'm in a ball crying and there are days like 'I did that.' I just feel like a champion. So, I embrace the joys and difficult days of motherhood because I know that not far from me are people who wonder if they can even feed their child. That's how I think about life and motherhood. I see the brightness of the day. But I also see the coldness that the night can bring.
Article continues below advertisement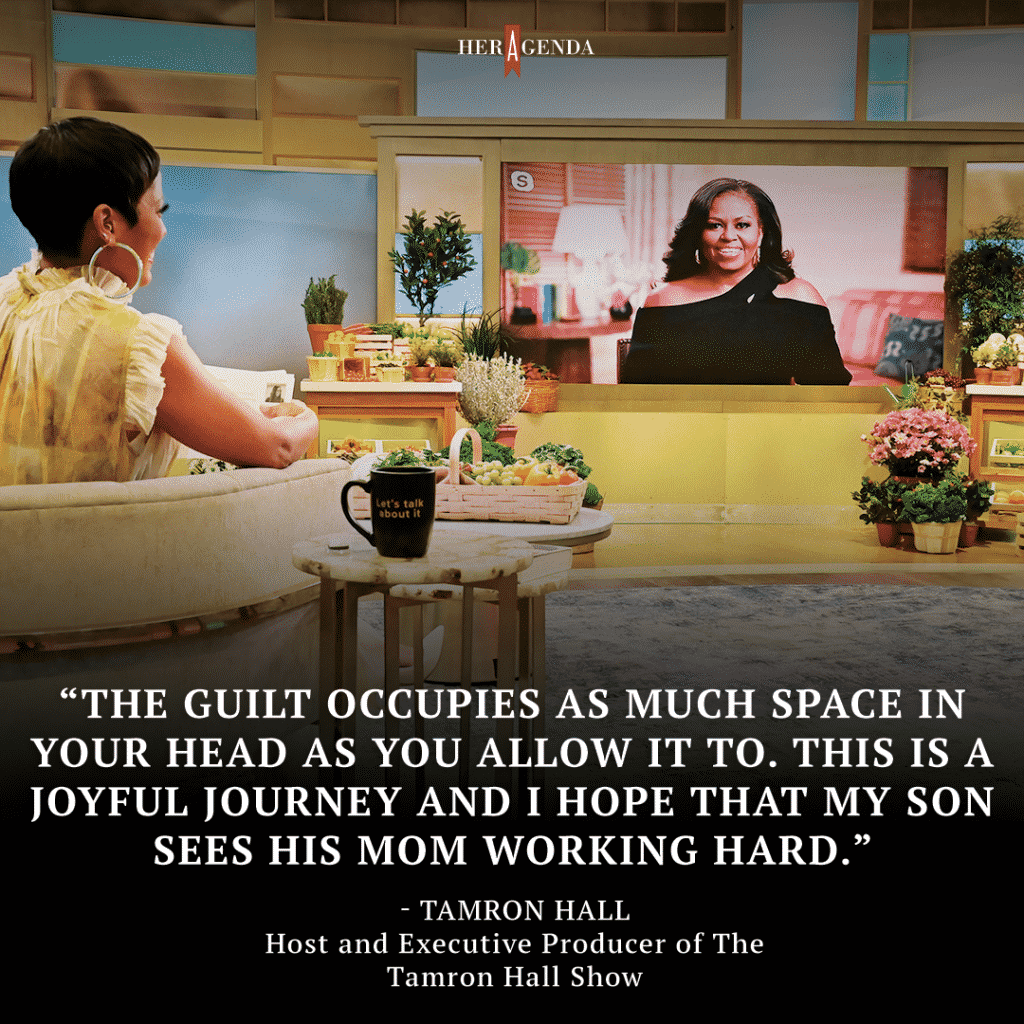 Her Agenda: What is your strategy or ritual to push through fear and get things done?
Tamron Hall: Music. I have music in my head all the time. I'm a real inspiration-based person with music. It can be anything from gospel to hip-hop to rock. That's my push forward. I just zone out. When I really need a kick in the tail, I think of the fact that my grandfather was a sharecropper born in 1901. No life I lived could be as hard as the life that he lived.
Article continues below advertisement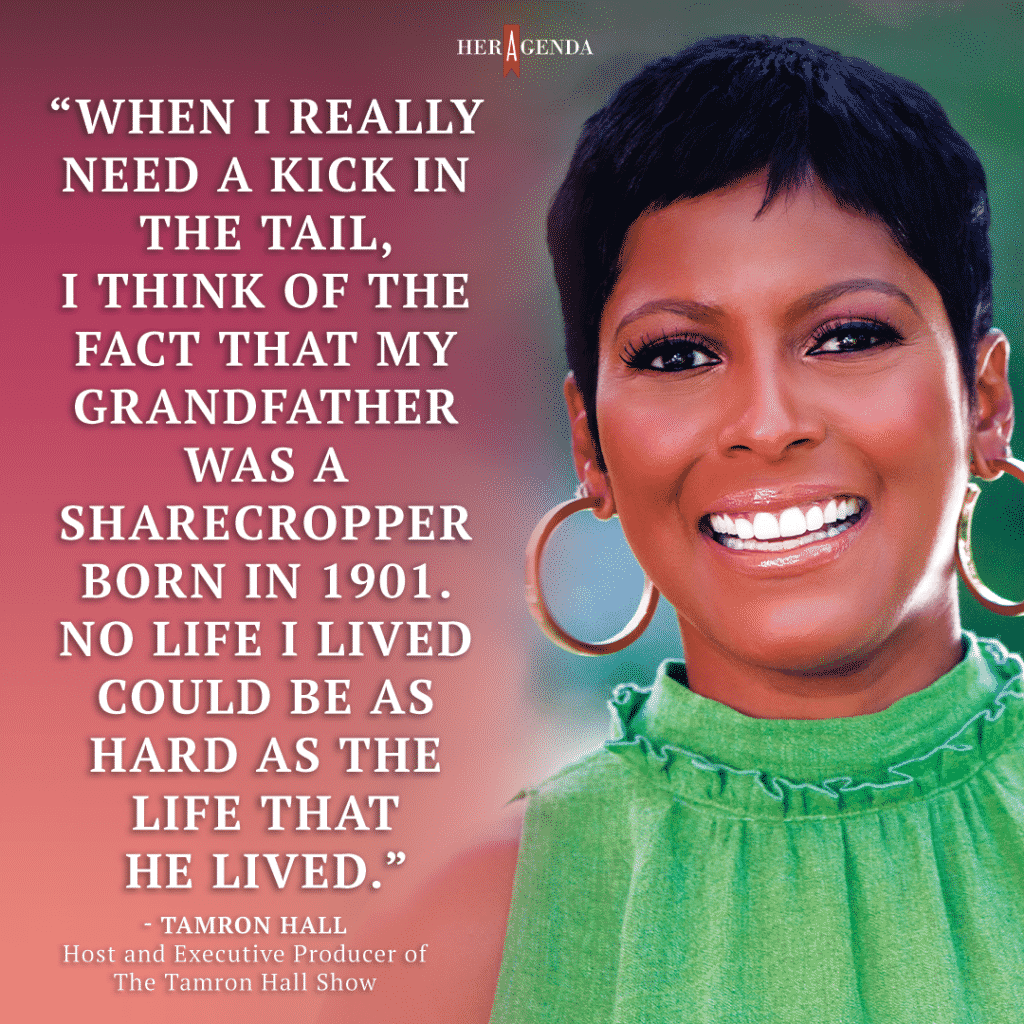 Her Agenda: So speaking of music, who are you bumping? Who are your favorite people to listen to?
Tamron Hall: So Anderson Paak and Bruno Mars have me feeling so good. I love them together. I've been obsessing over Cardi B's 'Up.' And Jazmine Sullivan, I absolutely love; and H.E.R. But it changes every day for me.
Article continues below advertisement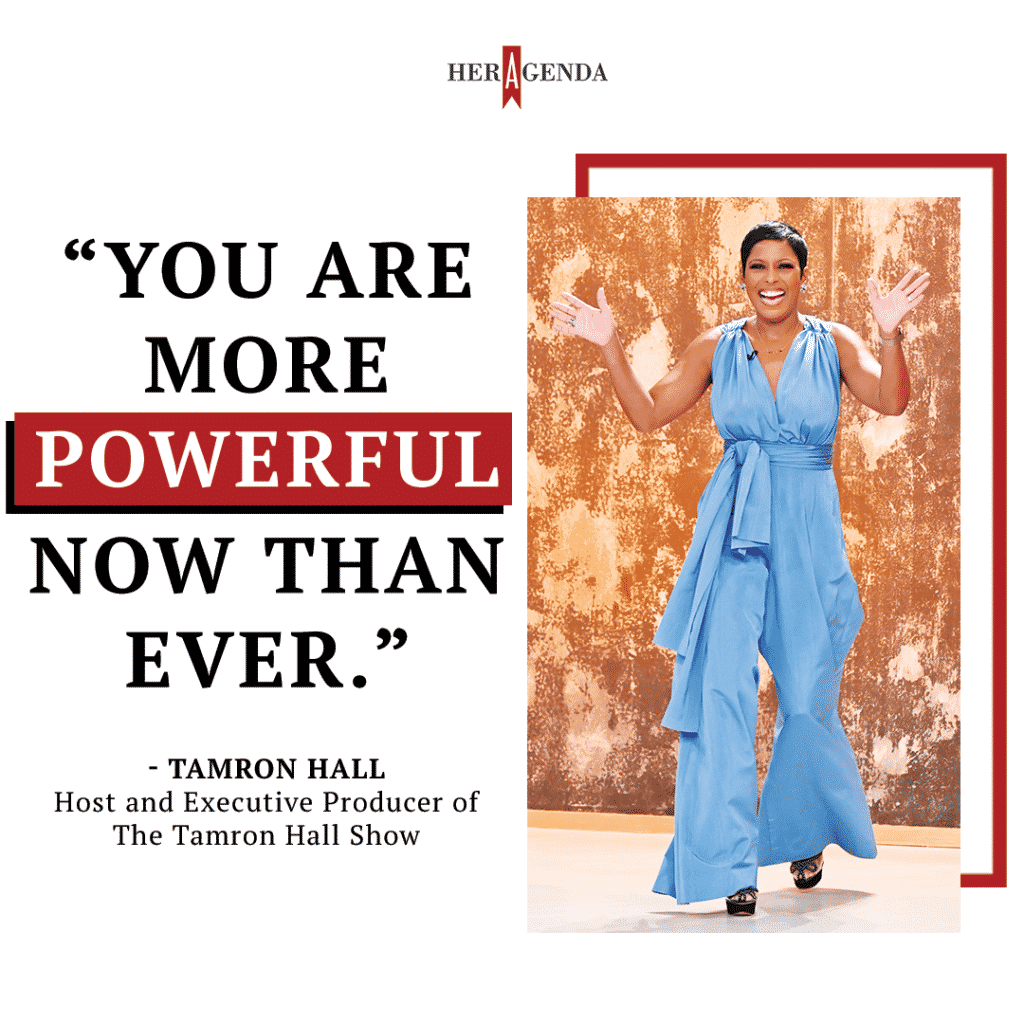 Her Agenda: Last but not least, what's your everyday motto?
Tamron Hall: The song diamonds are forever, Jay Z and Kanye. These lines – "I had to get off the boat so I could walk on water/ This ain't no tall order, this is nothin' to me / Difficult takes a day, impossible takes a week/ I do this in my sleep."
[Editor's note: This interview has been edited for length and clarity.]