It's safe to say that Tara Abrahams has dedicated her life to helping advance the lives of girls around the world. First as the Director of Girl Rising, a global campaign for girls education and empowerment, then heading the Girl Project at Glamour. Now, she holds a position as a strategy consultant for Girls Who Code, a non-profit organization that aims to support and increase the number of women in computer science.
Tara is a passionate advocate for girls education, who graduated with honors from Harvard College and completed her MBA at the Harvard Business School, where she received the Horace W. Goldsmith Fellowship for outstanding contributions to the nonprofit sector. She also conducted earned income consulting for "Mothers 2 Mothers 2 Be" an organization that supports the health and development of HIV-infected women and children in South Africa.
In our interview Tara discusses the importance of women sharing their stories, and gives us guidance into the world of non-profit, and women's empowerment. There is no waiting in life, and through this motto, Tara shows us how listening to our intuition and trusting ourselves enables us to make career choices that we can be proud of.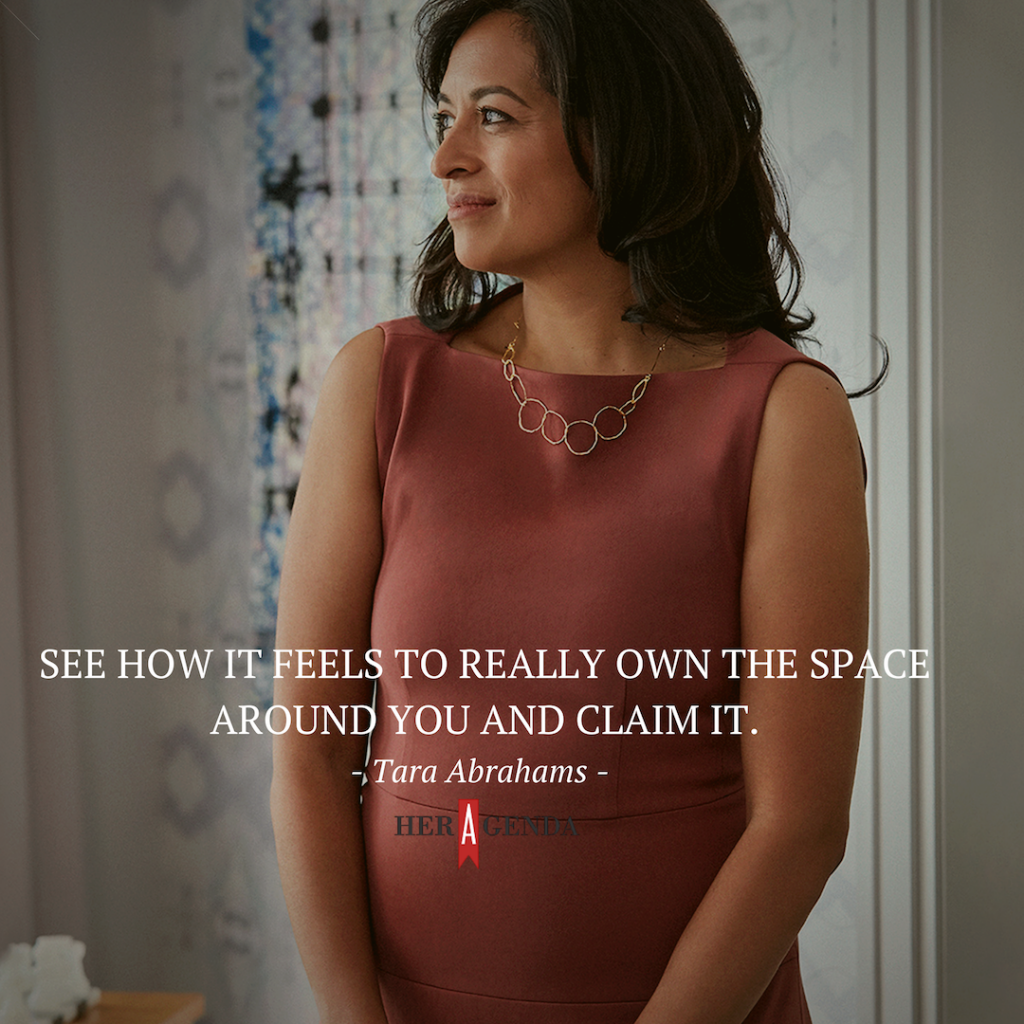 Article continues below advertisement
Her Agenda: What does an average work day look like for you?
Tara Abrahams: That one is really tough because nothing is average. I would say I think part of the challenge of the way that I've structured my work life is that every day can be very different. So part of what I need to tackle is the relative lack of consistency. Every single morning I could be going to a different place first thing and first thing might mean something very different. It could mean hopping on the train to go down to D.C. to meet with partners for the girls' education work that I'm doing. It could be having a breakfast with a former colleague or friend who is working in CSR, who wants to collaborate on a particular initiative focused on girls education. It could be walking over to an office building near my apartment to attend my first board meeting for She's The First, which is a girls' education initiative, that I've followed for a long time. But I just recently joined the board and will be their incoming board chair in 2019. So that's both a gift and a blessing.
Article continues below advertisement
I need to manage every single day and then when you throw on top of that three children who have all sorts of crazy things going on in their lives as well that I like to be a part of every single day can look different. What I will say that I always look for opportunities to make sure that each part of myself is addressed, represented, stimulated in some way.
Her Agenda: As a woman who has worked for some pretty impressive organizations that center around women's empowerment. What advice do you have for other women who have a passion for advocacy and want to break into the nonprofit sector?
Tara Abrahams: There is no waiting in life. Jump in with something that seems meaningful, tangible, but also manageable. It doesn't have to be the ultimate board position or executive level role at your ideal organization. I think part of what tends to happen to me sometimes I get so paralyzed by my vision for the ultimate goal that I want to achieve, that I sort of miss the opportunities to learn along the way.
Article continues below advertisement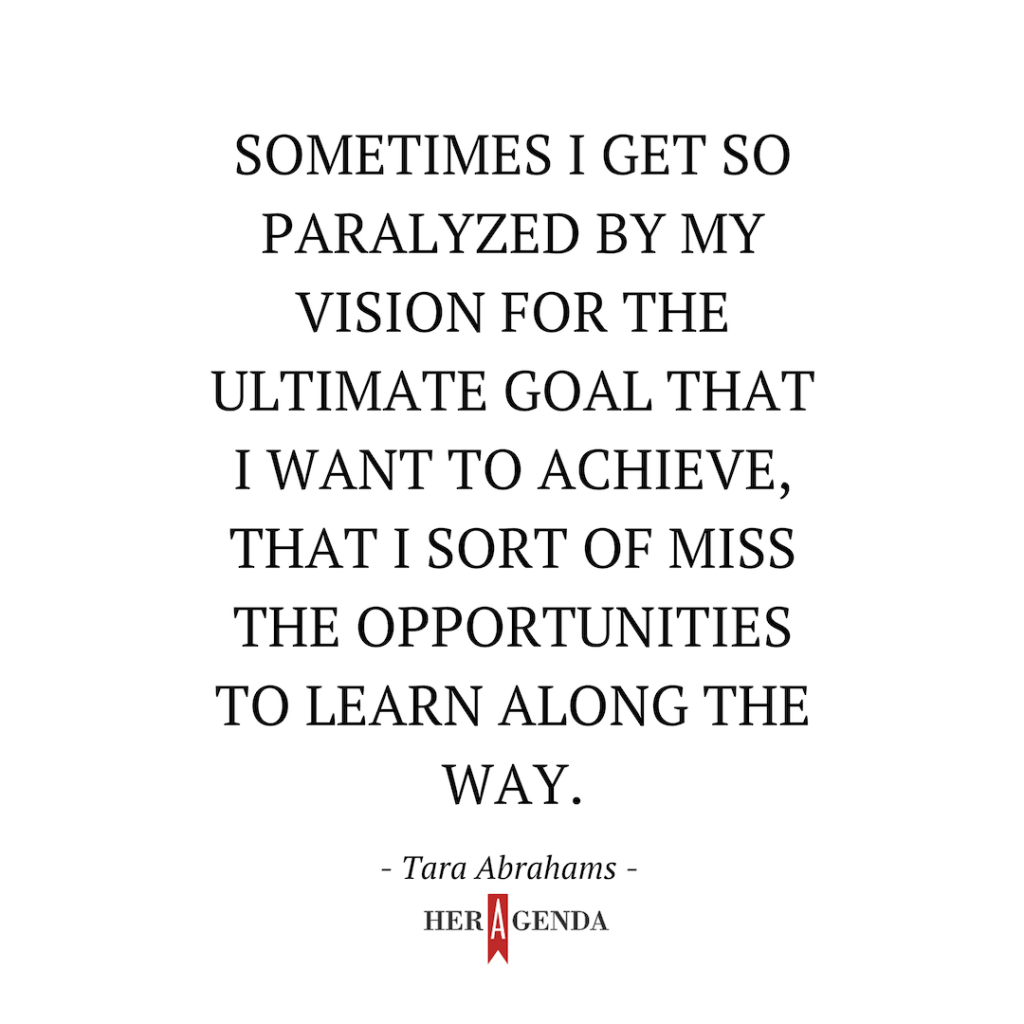 They may not be the permanent positions or the long-term volunteer roles, but they do offer, a tremendous amount of learning, the opportunity to build a network which I think is so important to be doing this work. My advice would be to scan the field and think about what various ways you could get involved in an organization that addresses an issue that you care about.
Her Agenda: How important is it for women and girls to share their stories?
Article continues below advertisement
Tara Abrahams: That's all that's important to me right now. In some ways, I get a little sensitive because I come from a career that's almost entirely in the nonprofit space. There has been a lot of talk that there are too many individual initiatives trying to do somewhat similar things, and that there should be more consolidation of organizations. [The thought is] people shouldn't be starting nonprofits. [But] when I think about this idea that more women and girls are sharing their stories, I think that there can't be too much of it.
I don't actually care right now in this particular moment around duplication of effort. If someone wanted to go out and start the next Girl Rising in almost the same vein, I would say go for it because there has been such an underrepresentation of women in a way in sharing their story.
Her Agenda: What advice do you have for young girls and women for that matter who have been taught to essentially shrink themselves so that we don't take up space.
Tara Abrahams: What I would say is that you don't have to apologize. Mistakes are a part of learning. Failure is a necessary step towards achievement and the only person that you are accountable to at the end of the day is yourself. You have to be proud, and you have to be able to own your decisions and your choices.
Article continues below advertisement
It starts with owning the physical space that you are taking up. We are taught to take up less space. We are taught to be more ladylike. For example, we are taught to crunch ourselves, cross our legs and be less out there physically. So it starts with the with the physical space that you allow yourself to take up. See how it feels to really own the space around you and claim it.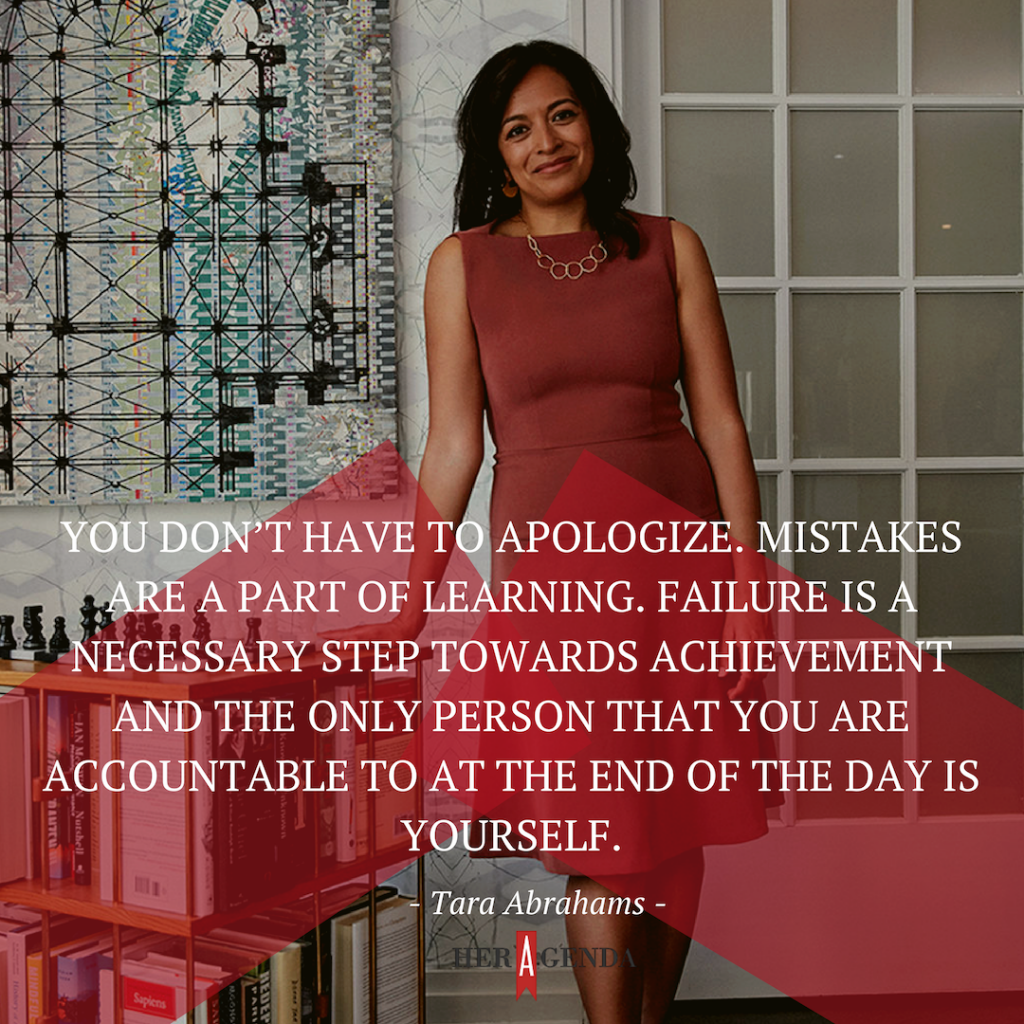 Article continues below advertisement
Her Agenda: In a previous interview you mentioned that it doesn't make sense to pivot who you are for a bullet on a resume. Can you elaborate that?
Tara Abrahams: I believe that my career was a series of unexpected twists and turns. In our culture, the importance of valuing girls and investing in women's empowerment and success is way, way bigger than me, way bigger than Girl Rising…way bigger than all of these individual initiatives and efforts that I have been so fortunate to be involved in.
The times when I have been most fulfilled by my career have been the times when I followed my gut and recognized that there was something in this opportunity that spoke to a part of who I am. I think a lot of what we were taught in the beginning when I was growing up, was around the importance of the resume, of the brand name, of frankly getting into Harvard. [But] there is no waiting in life. There's only one shot. I would challenge people to be smart about their career. There are all sorts of strategies that I would offer within that framework around how you can be both true to yourself, but also smart about the choices that you make in terms of career paths and your ability to be flexible across industries. You have to be true to who you are and own that, and not be apologetic for it and not be seduced by someone else's definition of success.
Article continues below advertisement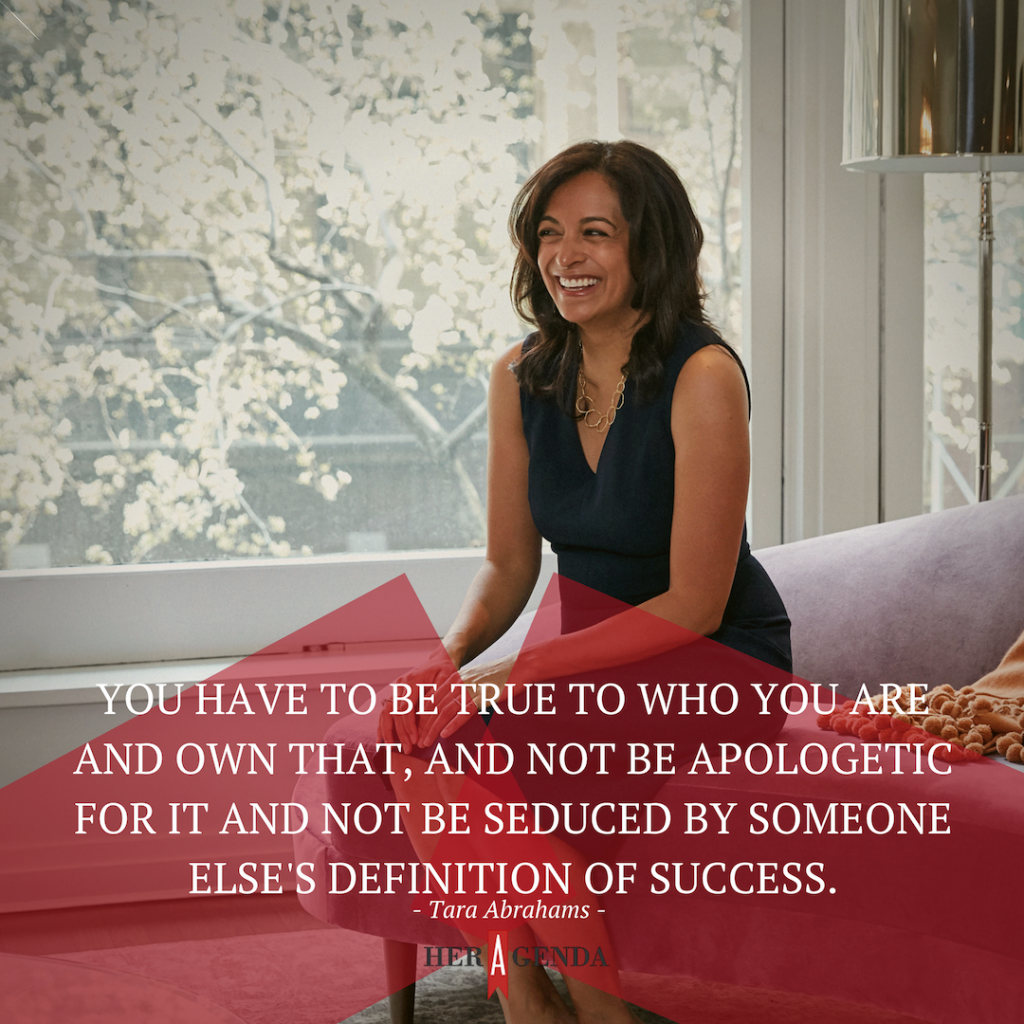 Her Agenda: So what can you tell those who fear taking other opportunities, those who might be too scared to leave that private sector job or the nonprofit job. In addition, have you ever experienced fear that stopped you from taking an opportunity?
Article continues below advertisement
Tara Abrahams: I've experienced fear that has almost prevented me from taking an opportunity. I was pursuing some consulting opportunities when I was pregnant with my third baby. I didn't really know what it was going to be like to have three kids and try to work full time. So I decided that I would try some independent consulting just to see how that felt. [Then] I got this incredible opportunity to lead something called The Girl Project at Glamour, which is the brand's philanthropic initiative to support girls' secondary education around the world. I was offered the job, and it was all of a sudden "oh my gosh," can I actually do this? I'm scared!Can I actually go back to work full time at a big corporation with three kids at home?
I remember I came home and talked to my husband about it, and truly it was him who said, "no, hold on, you are doing this, this is perfect for you. What's the worst that happens if you don't like it? And if it doesn't work then you decide that you're going to do something else."
Article continues below advertisement
I think sometimes we let the fear creep in. It's not going to be perfect, but again, I think that's partly what I was trying to fight against. This idea that if I took this job that it might mean that the kid's stuff, whatever they're doing wouldn't be perfect. And sure there were things that I couldn't always show up for, but on balance I was doing work that I was really passionate about and that was really powerful for them to see. What they were getting was a mom who came home energized by what she had been doing all day and had stuff to tell them about what she was doing all day.
Now I'm doing my own projects and that's really interesting I think for them to see. But that was also scary as well. For me to strike out on my own and do a little bit more independent work and try to juggle all these different things and clients and projects, that was a little bit scary to me.
But I think I've found my niche and it's really exciting when you do that. There is a little bit more uncertainty versus when you're in a full-time role and you have someone else who's paying your salary. Now I pay myself basically. I own my time and I own the overall picture of my life. I can decide what's in focus on any one day versus what has to be a little bit more in the background or a little bit fuzzy.
Article continues below advertisement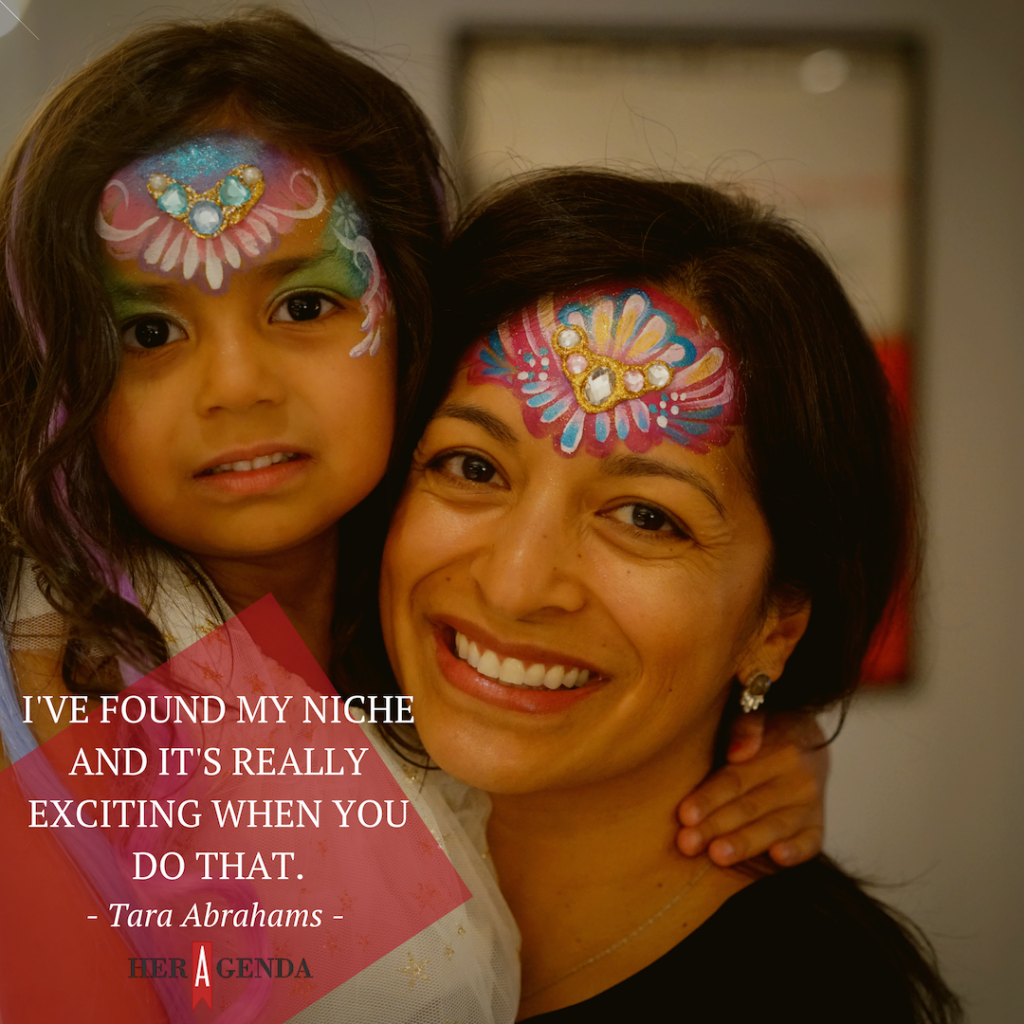 Her Agenda: What would you say your overall motto is in life?
Article continues below advertisement
Tara Abrahams: I would say the idea of there is no waiting in life. That has really stuck with me and resonated with me for a long time. I've recently realized that if there is something that I'm interested in at all in pursuing that there is no waiting. The moment is now, and I feel that way, especially with respect to a lot of the work that I do in support in girls' education. It's incredibly difficult work, especially when you are talking about a lot of the practitioners on the ground who are really working with girls every single day to provide them what they need to be successful. We know that the problem is not going to be solved overnight. It's a long-term investment. So the idea of no waiting is that much more apt, because there really is no time to lose. Every day that we wait is another day that we do not tackle this problem [of girls education] which needs hundreds and thousands of days to be solved.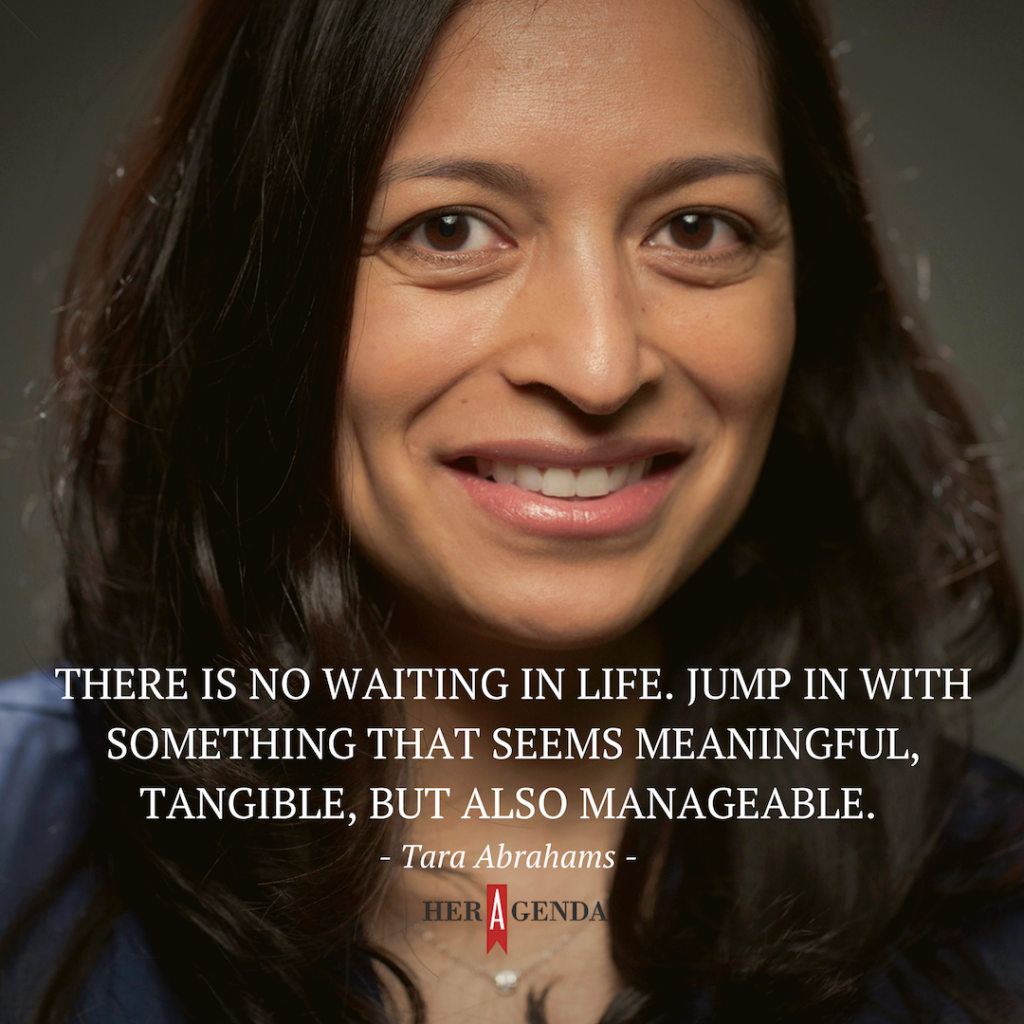 [Editor's note: IMAGE CREDITS Takahiro Ogawa. This interview published on November 5th, 2018. It has been edited for length and clarity.]