If you took a look into Taylor Lorenz' DMs, you might find a good mix of crazy internet trends, pitches from PR folks, and the occasional wacko. For Lorenz, the internet is her playground. No matter what she is writing or researching, everything is shaped by internet culture, a topic she covers for The New York Times. Before her role as a Times reporter, Lorenz was (and is) known for being an online creator and avid social media user in addition to reporting roles at The Atlantic and The Daily Beast.
The self-described workaholic is more comfortable online than off, both personally and professionally. Lorenz spoke with Her Agenda via phone and offered advice for up-and-coming journalists, shared her hobbies, and the story behind her personal motto.
Her Agenda: From your point of view, how would you define internet culture?
Taylor Lorenz: It's one of those things that different writers would describe differently. The way I describe [internet culture] is how technology is impacting our lives. It's how our social life and culture are shaped by technology or tech platforms. That's how I think of it broadly.
Her Agenda: Is social media synonymous with internet culture? Are the terms interchangeable?
Taylor Lorenz: Yes. I'm really obsessed with all forms of communication and technology. I don't cover specific companies. I cover the way the internet and different platforms affect the way we communicate and connect. For instance, I normally don't cover Zoom but I started covering it more last year. I'm platform agnostic in my reporting. It's really about finding the ways technology is facilitating communication at scale and how that affects our lives. Because most communication technologies are social media, I write a lot about social media.
Article continues below advertisement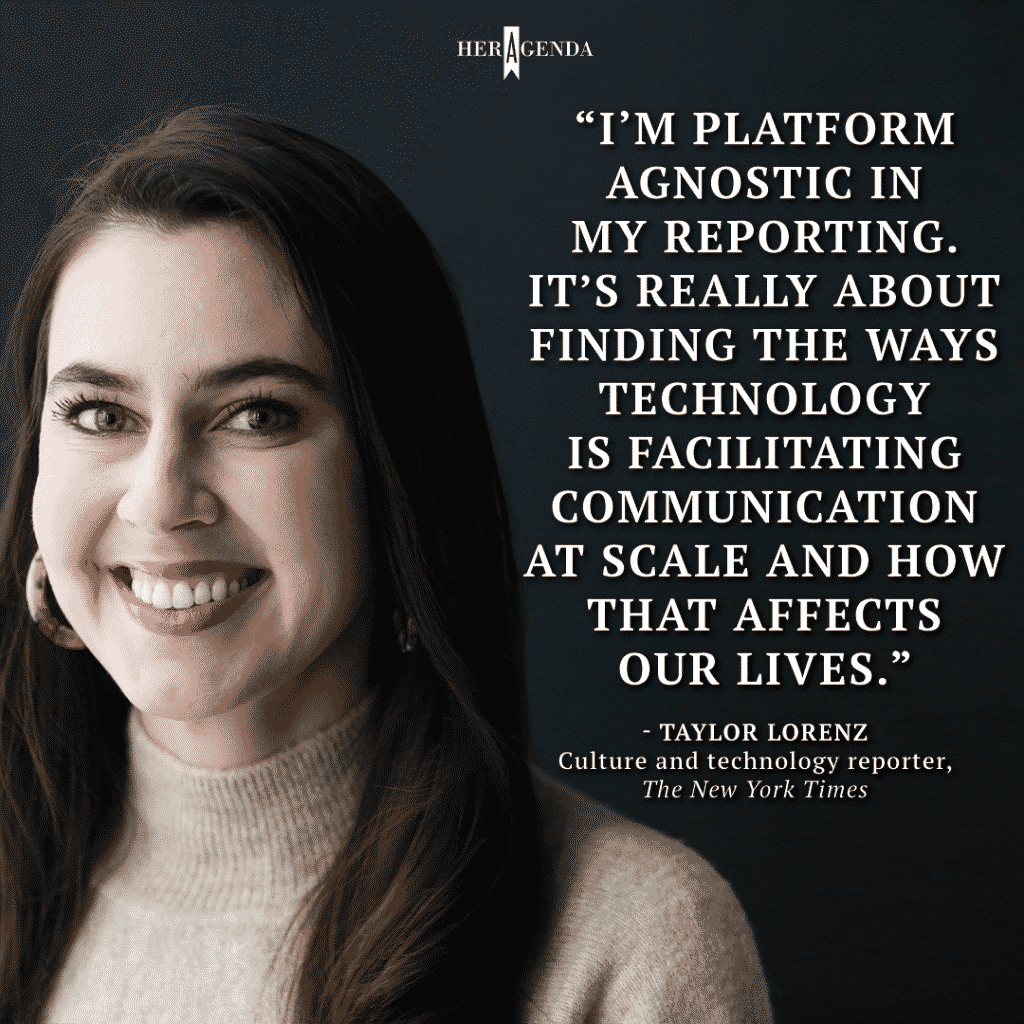 Her Agenda: What advice do you have for those interested in journalism in this age (versus pre-Internet)?
Article continues below advertisement
Taylor Lorenz: I came of age in the late 2000s, so we had the internet but everything was so much smaller. Now, everything is saturated. Now, it's hard to break into the industry. Start writing as much as you can or produce a podcast. The barrier for creating content is very low, which is really good. I had Tumblr because no one would accept my pitches. Now, I would say young journalists can start a newsletter, podcast, streaming; that will help you develop sources in a specific subject area. It will help you get on the radar of editors so that they know you for specific leads. The other thing is don't be afraid to take a job in marketing or in a newsroom that's not a writing job. I was a temp for most of my years after college, working retail, administrative, receptionist, [those jobs] that didn't set me back. There's a lot of people like that [in the industry]. I feel like a lot of young people feel pressure. I know it's a competitive market but you don't have to get into journalism right away. You can take your time and build up your clips and do other jobs.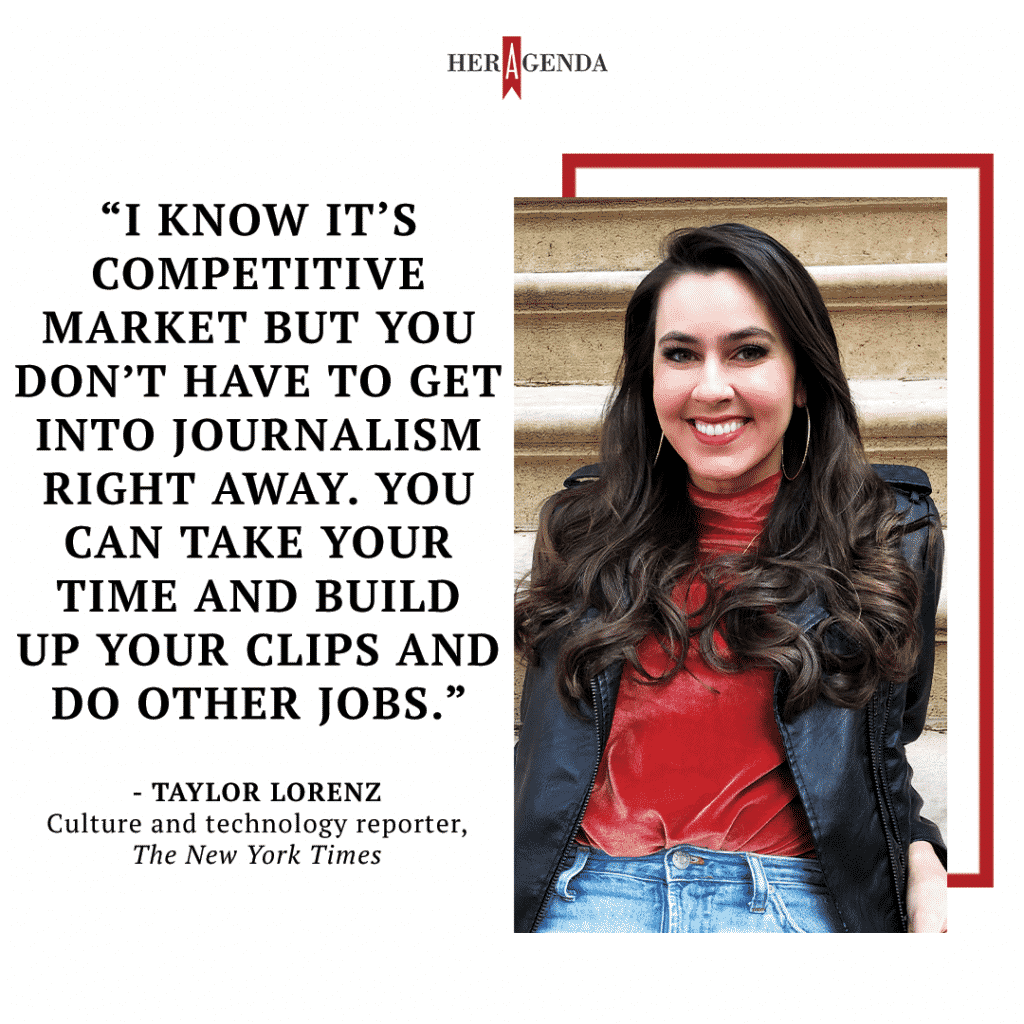 Article continues below advertisement
Her Agenda: Since you have a large following, what's it like to have a large internet following? How do you keep yourself safe?
Taylor Lorenz: I've always had an internet following. The reason I got into journalism was from my following I developed on Tumblr. I was on Instagram early, developing a following there. I've always been on platforms putting content out and experimenting. I've always had a following [prior to working at the Times] but there's so much animosity toward the media, it's been hard to deal with. The past year and a half has been insane. It's a little bit weird because I've had notoriety online with my Snapchat show, etc. I've been writing about this scene and working in this area for over 10 years. For the majority of my career, I wasn't working for a brand name outlet. Because I wasn't working for a brand name outlet, people didn't care. Now that I work for a brand-name outlet, people can be so cruel. That's been the most challenging.
Article continues below advertisement
It's not my followers, they are great. I love people that follow me. I follow them back on so many platforms because I really like meeting people and connecting with people. I like to feel as if I have a community online that cares about the stuff I care about. The attention that comes with a brand-name publication is what's bad. I've worked for pretty random places or done my own creative internet projects. Since I work for a brand name publication that gets taken away from me a little bit but I'm so grateful. I never had the goal to work at the Times [but] I'm really honored and I love working at the Times.
Her Agenda: If you had 24 hours that did not have anything to do with the internet, what would you do?
Taylor Lorenz : My main hobby, per se, is that I love watching horror movies. I definitely watch three to four horror movies a week. I've seen every American horror movie ever made. It's always a challenge for friends and family to find a new movie. I love horror; If I didn't work in media, I would want to work in the horror movie genre. That's my main hobby and birdwatching.
Article continues below advertisement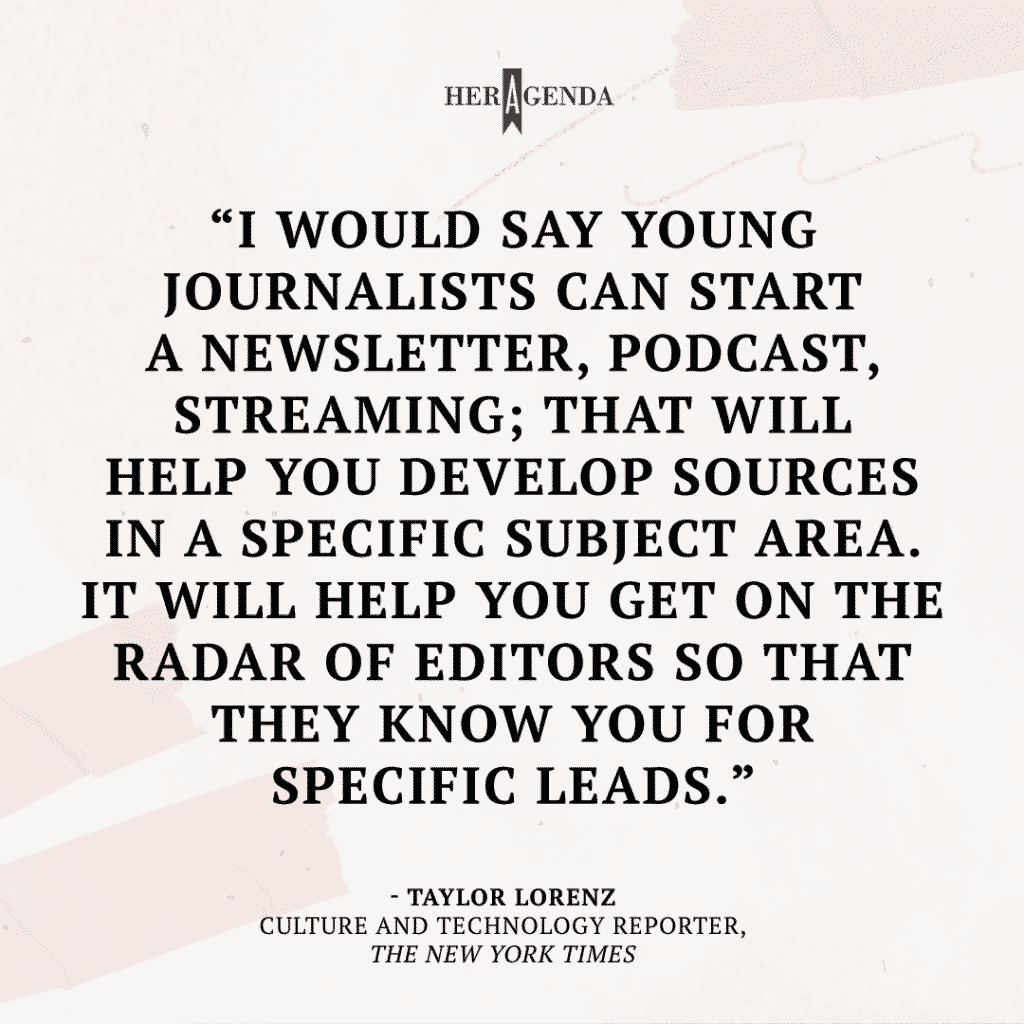 Her Agenda: Are there any books or other material that you like to enjoy?
Taylor Lorenz: I listen to a lot of podcasts. I like finding random podcasts. Obviously, I listen to The New York Times, The Daily, every morning. Whatever comes up on my recommended list, especially the pop culture ones.
What's the story behind your personal motto?
Taylor Lorenz: My grade school teacher had a poster in her classroom that read, 'If you can believe it, you can achieve it.' It's the corniest thing ever but I internalized that so much when I was younger. I was very artistic and did a lot of music. I always thought I was going to be an artist or interior designer growing up. I really liked that motto because every time I feel like I can't do something I think about it. I always found it aspirational. I think about that poster a lot. I struggled in school a lot. I have learning disabilities. Being in that class, I felt very empowered.
[Editor's note: This interview has been edited for length and clarity.]