It's always sunny in Philadelphia if you have disposition like that of Tracey Santilli, a 20-year agency veteran who leads all things growth–business, operations, and staff–at Tierney. Santilli truly believes in integrated approaches and teams to solve a client's problem. She's a communication executive who embraces diversity of thought, the digital age, and developing talent, particularly through Tierney's internship program. When she's not strategizing, she's connecting with her all-women book club and donating her time and expertise to charitable organizations in her community.
Her Agenda spoke with Santilli about what it's really like to work at a fast-moving agency (hint: it's not like Mad Men) and how her involvement in a public awareness campaign led to federal healthcare legislation.
Her Agenda: Can you explain what agency life looks like from your perspective?
Tracey Santilli: I wish it was simple as how they portray us on television. I'm a little bit of an anomaly. I've always spent my career in an agency environment. The reason for that is diversity. Every day is different. Every day you're working on a different client problem, client brand and helping to ideate solutions to help grow that brand. Whether that's from an earned perspective like public relations or whether that's on the paid side with advertisements. The positives with that are that you really get to immerse yourself with lots of different categories and lots of different industries. You get to work with a school of people with diversity of thought. Creating that collaborative environment with a client's problem at the center of the table. What's the best way to solve this? At the highest level, that's what agency life is all about.
Article continues below advertisement
Her Agenda: In this day and age, what does public relations mean, especially as it relates to crisis management? How do you navigate public relations within this digital age?
Article continues below advertisement
Tracey Santilli: In terms of the digital world we live in, it's an ethos. It's everything, everywhere. It surrounds us. It's a part of our daily lives. People are spending three or four hours a day on social media to get their news, share a recommendation, to chat and connect with friends. [There's] no more differentiation between the earned, paid, owned [media]. Years ago, it was very different, it was very siloed. Because it's blurred everything culminates into one customer journey. It's all about experiences. While everything is 24/7, there is an underbidding factor that trust is waning. Reputation management is more important than ever, which makes storytelling more important than ever. We have to be cognizant of what we put out there.
Everything you say has an effect, the world of crisis is not going away, sadly. Consumers have shortened attention spans and there's this need for immediate gratification. There's even more of an urgency of being careful of what we are saying and also being authentic in order for consumers to believe and to have that credibility. Everything communicates.
Her Agenda: Do you work with interns? What advice do you have for those who want to get into your field and/or want to better their internship experience?
Article continues below advertisement
Tracey Santilli: We have a really robust internship program. It's one of the things I'm most proud of. Throughout the year there is a revolving door of interns we are tapping on a regular basis. Our summer program is the most formal. We actually go out and ask a current or non-client to come to the table with a challenge they are facing and an assignment. We divide up the interns and over the course of six to eight weeks, they are almost able to operate as a mini agency. They have mentors to guide them but the onus is on them. We've had lots of different experiences. This past summer, we worked with insomnia cookies. Before that Philadelphia 76ers, Alex's Lemonade, Auntie Anne's and a lot of different brands. It's a really cool experience for those interns to see what it's like to tackle that client's problem.
In terms of advice, you have to find out what your passion is and you have to really decide what really motivates you, whether that's going into the job market, volunteering for an organization, or even board positions. Sometimes that takes a little trial and error. If you can really hone in on that and then go at it with 110 percent, that's critical. Part of that process and helping you get there is making sure you find your tribe and love them hard. The only way we're all going to advance is if we have a really strong network of people to support us.
Article continues below advertisement
Find your tribe and love them hard.
-
Her Agenda: Do you have a favorite product launch line or public awareness campaign that resonated with you?
Article continues below advertisement
Tracey Santilli: One of the women in my club was a former colleague at Tierney. She was leaving right when I was starting. Fast forward to 2012, her daughter is Sarah Murnaghan. She was born with cystic fibrosis. And she was awaiting a lung transplant [and] because of federal policy because she was not over the age of 12, they were sent to the back of the line. Long story short, her mother Janet` reached out to the book club to generate awareness to overturn this policy. We [tried] to work to overturn this policy. The effort was co-led by two Tierney alumni, Tracy Simon and Maureen Garrity, of which the book club surrounded and supported. [We] reached out to contacts in the media, organizations like Change.org to create a petition, [sent messages] out on our own social channels, any possible way to drive awareness. Sarah did get her transplant. She is a thriving teenager today. As a result of the efforts of the team, we were able to change federal policy for children moving forward. It was a grassroots effort and got a ton of attention domestically and abroad. Doing that as a fellow mother and friend, was probably one of the most rewarding points of my career.
Her Agenda: Have you ever found that your personal values conflicted with your client goals?
Tracey Santilli: I've been really fortunate over the course of my career that the client relationships that we have are real partnerships. Thankfully, there's never been a situation where they've been in conflict with one another. We've been really lucky as an agency. I look back at the brands we've worked with..we've always had a great partnership where we're working towards the same end goal.
Article continues below advertisement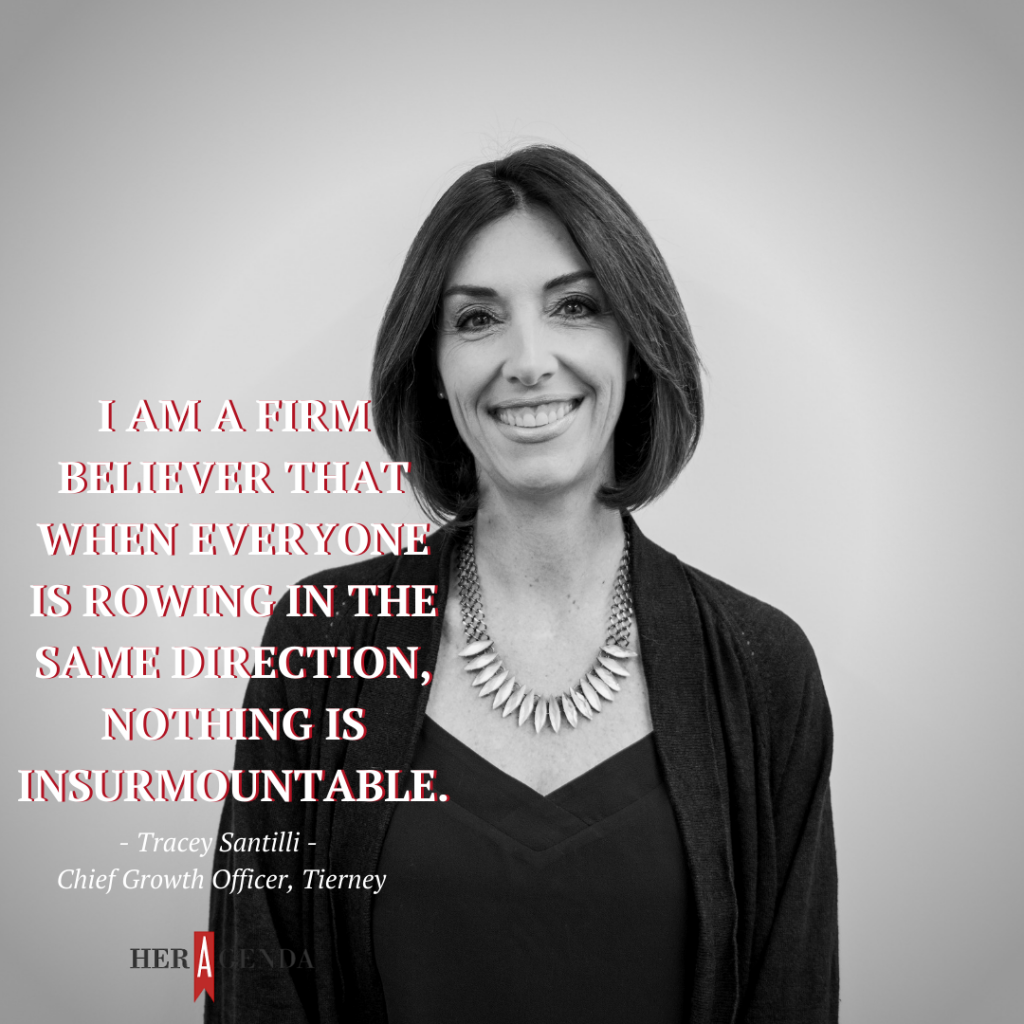 Her Agenda: How do you find time and why do you invest in your philanthropic activities?
Tracey Santilli: Find your passion and what's important to you. Women and children are really important to me probably in part because I've been fortunate to have really strong women in my life and have been part of a strong knit family; not everyone has that. I am currently a board member of Musicopia and Dancing Classrooms in Philadelphia. In our school systems today, we don't necessarily have the resources for music and dance. That's really sad, because it's a whole other perspective and thought process that is not available to kids today. This organization helps provide those resources to schools throughout the Philadelphia area.
Article continues below advertisement
Find your passion and what's important to you.
-
Also, the American Heart Association in Philadelphia I'm an executive leadership team member for their GO! Red for Women campaign. It goes back to helping women, make sure they are being cognizant of heart health and that they are taking care of themselves. And again, when you look specifically in the Philadelphia community it's mind blowing [to learn] your life expectancy [can] be different based on where you live and what zip code you are in. We really try to help provide access to information and tools to promote health. That's something that's important to me, not just because of the community but because their are heart health issues in my family.
Last but not least, I am on a committee this year for the Please Touch Museum, a children's museum. Again, trying to provide access to giving kids the opportunity for play–unstructured and structured play– for children to thrive and making sure we have those resources is critical.
[Editor's note: This interview has been edited for length and clarity.]