Nothing can stop the show of a woman who has passion. For Vanessa Simmons, this rings especially true. As the daughter of a hip-hop icon and from a family filled with moguls, Simmons believes in chasing her dreams wholeheartedly while inspiring other women along the way. She's already a mother, actress, and entrepreneur. But her passion has led her to snag one more title — talk show host.
And although wearing so many hats can be a challenge, Simmons is confident that she can do it all. In a chat with Her Agenda, Vanessa shared more on the brand new talk show she has on Facebook, how she intends to use her platform, the role celebrities play in our society, and more.
Vanessa Simmons: What will make 'Asking For A Friend' different is that these are real questions that I'm getting from people. I feel like there are always those questions that we may never say out loud or never get answered because we're too afraid to ask them or don't know who to ask. I basically serve as a conduit for the information in the show. I am getting my answers from my 'friends,' which are you guys. Any questions you have, you can send them my way. I'm still currently taking questions. We hit on a variety of different topics. I'm really excited and proud to present 'Asking For A Friend.'
Her Agenda: What's something you're most looking forward to in this new endeavor?
Vanessa Simmons: It's definitely a new journey for me but something I've always wanted to do. I'm most excited about the content that I'll be giving people. I get so excited every week when I upload the episodes because I feel like I'm offering opportunities to touch on real subjects but do it in a more casual way.
Her Agenda: You're an actress, entrepreneur, mom, and now talk show host. What's your advice for women who want to try out different roles and career paths?
Article continues below advertisement
Vanessa Simmons: I would say that it's all about balance. Don't take on more than you can handle. Sky's the limit and as women, we can achieve anything. If we can have babies and take care of our homes, the sky's the limit when it comes to our professions. I just want women to know that you are able to be a mother and be an entrepreneur. You are able to be a mother and an actress. You are able to be a mother and reach your goals. I always say that becoming a mom isn't a deadline for your goals and a lot of women feel that way when they get pregnant. They feel that they have to shift things. Becoming a mother can inspire you in so many different ways. It inspired me to start this talk show and take on the entrepreneurial endeavors that I'm currently doing.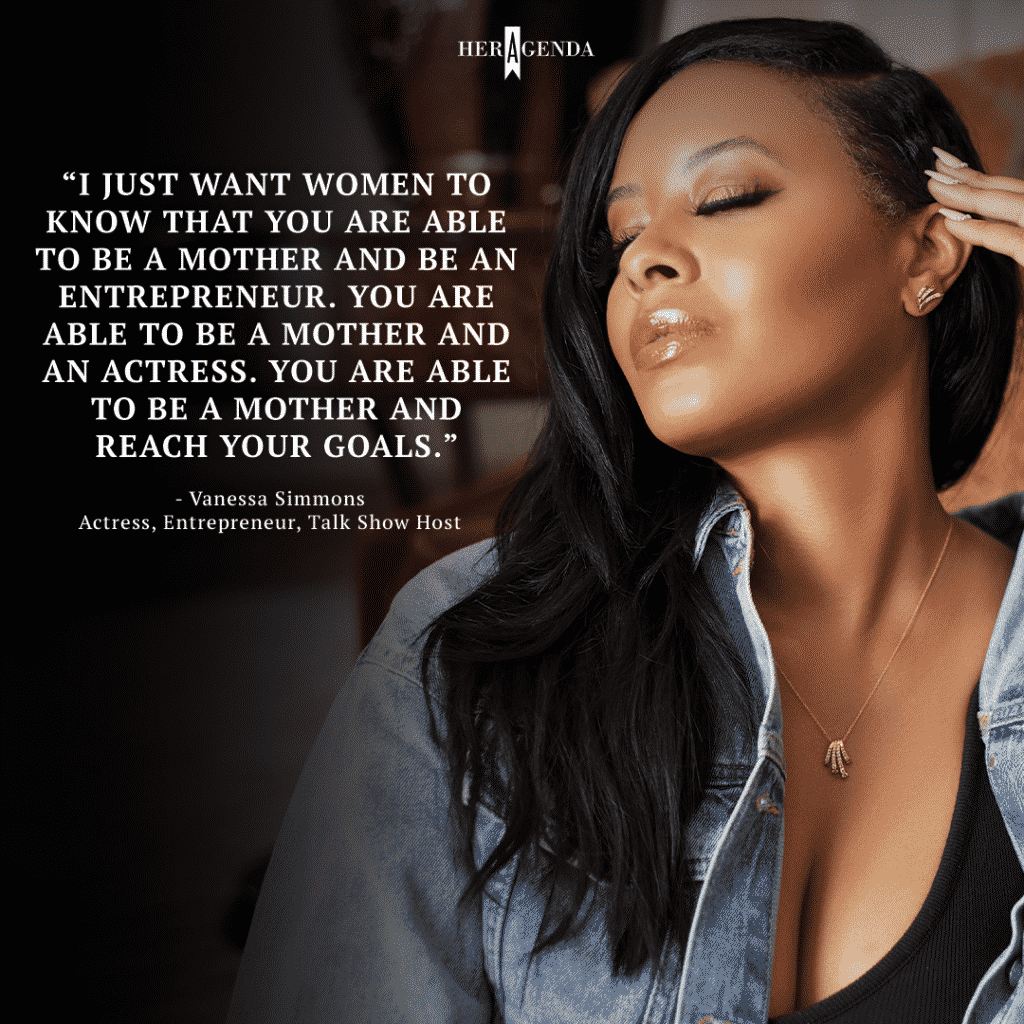 Article continues below advertisement
Her Agenda: A lot has happened in the past year— the pandemic, social justice issues. And there's always a lot of debate on the role of celebrities in the midst of social unrest. What kind of role do you think celebrities should play in our society? How do you plan to exercise your platform?
Vanessa Simmons: I do feel like celebrities should use their platforms for good in the way that they see fit. The way that I'm building and engaging in this conversation is with 'Asking For A Friend.' We talk about politics. We talk about allyship. We touch upon different topics that are left untouched because they're a little bit uncomfortable. But we dive into these questions. We're getting the information out and opening up a dialogue to continue to educate others. So, that's the way that I can add to what's going and help make some changes in the world. Every single person will have a different approach and a different way. But this is definitely something that does need to be talked about.
Article continues below advertisement
Her Agenda: You also have a brand centered around the empowerment of mothers, Glitter and Lace. Why do you think it's so important for society to empower mothers, particularly over the course of the pandemic?
Vanessa Simmons: We are our family's backbones. As women, we are so powerful. In general, women are superhuman. We are super beings. And we bring life into this world. It's important that we are nurtured and we are empowered. My clothing line with my daughter, Glitter and Lace is about empowering my daughter because she's creative and she's into fashion. I want her to know that when she grows up, she can empower others.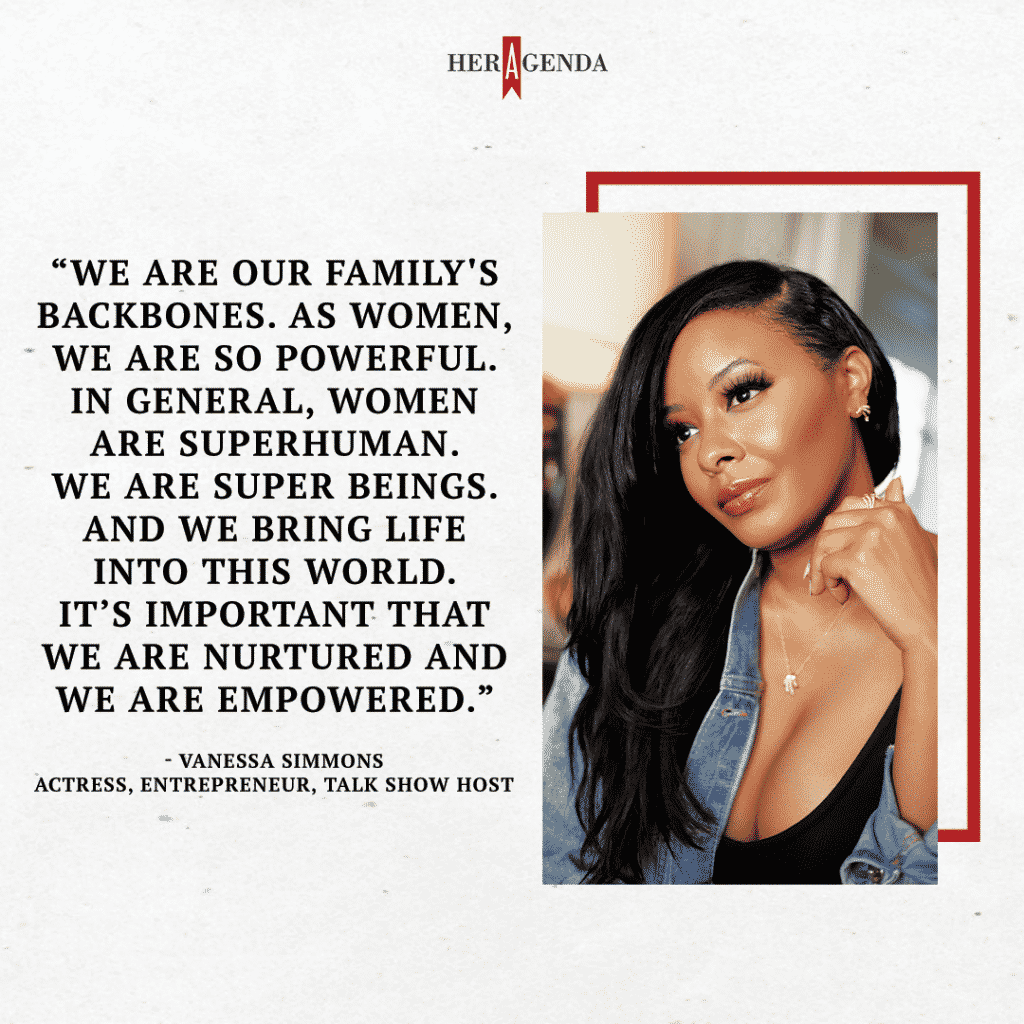 Article continues below advertisement
Her Agenda: What has balance looked like for you in the past year? Do you have advice for women like yourself who wear so many hats?
Vanessa Simmons: The first thing I will say is organization. You have to be organized. You have to set up lists for yourself to keep yourself on track and accomplish the things that you want to accomplish. Balance is going to look different at different times. I think that at the top of the totem pole for me is being a mother. And then everything else falls into place after that. Balance will look different for every single person. But you also have to have passion. Passion is the thing that will fuel it all.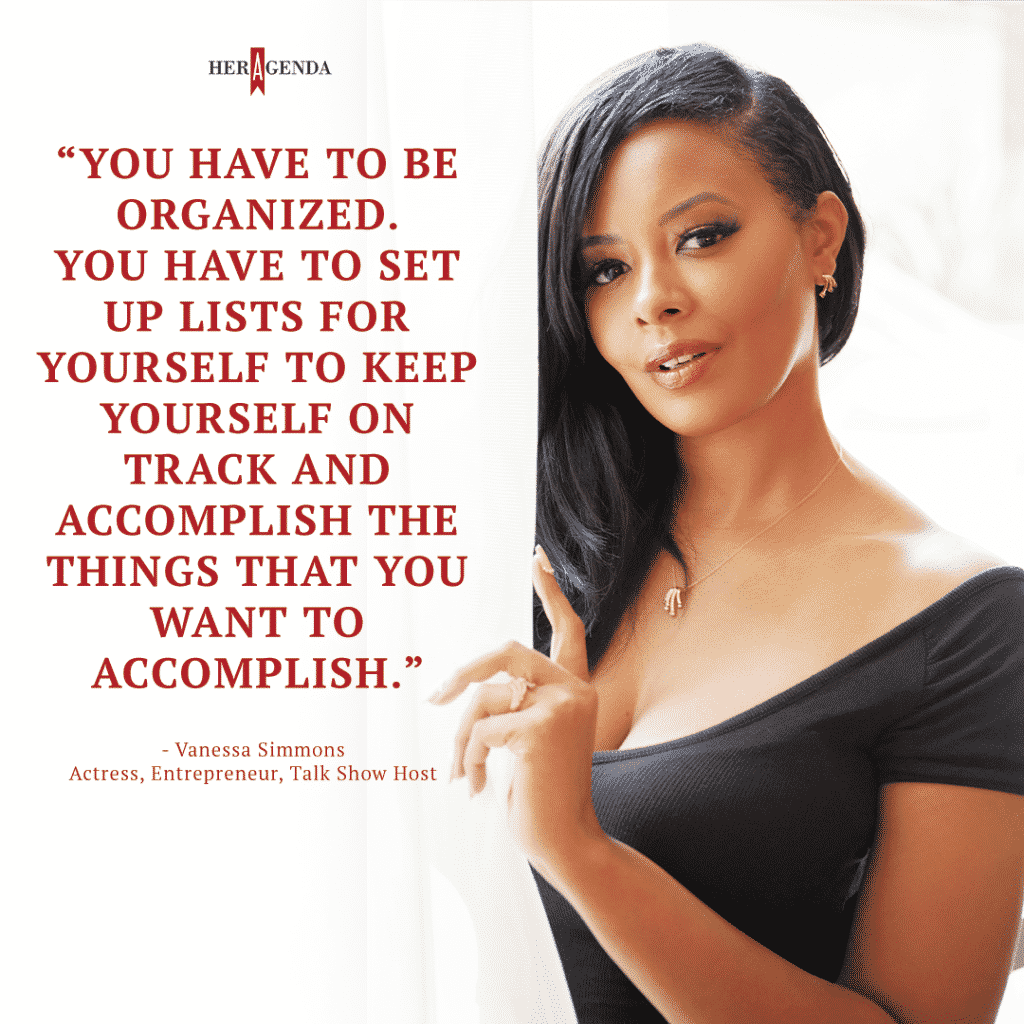 Article continues below advertisement
Her Agenda: We're currently celebrating Black History Month. Can you name a few Black women that have impacted your journey and why?
Vanessa Simmons: First and foremost, I'm going to have to give that to my mother. My mom raised me. She taught me to be a strong fearless woman and to always go after the things I want in life wholeheartedly. She's big on education. So even the talk show that I have right now, I owe a lot of that to my mom. She was so adamant about me continuing school after high school, going to college, picking the right major. My mom is just a huge inspiration in my life and one of my top motivators. Also, I come from a beautiful blended family, I have two moms. So, I'm very blessed with them. These are two women that have stood by my side, supported me, and inspired me like no other.
Her Agenda: In all of the things that you do, what kind of mark do you hope to leave?
Article continues below advertisement
Vanessa Simmons: I just want to empower and inspire women to live their best lives possible and to let them know that anything is possible. That's what I feel like I'm here to do and that's what I intend to do.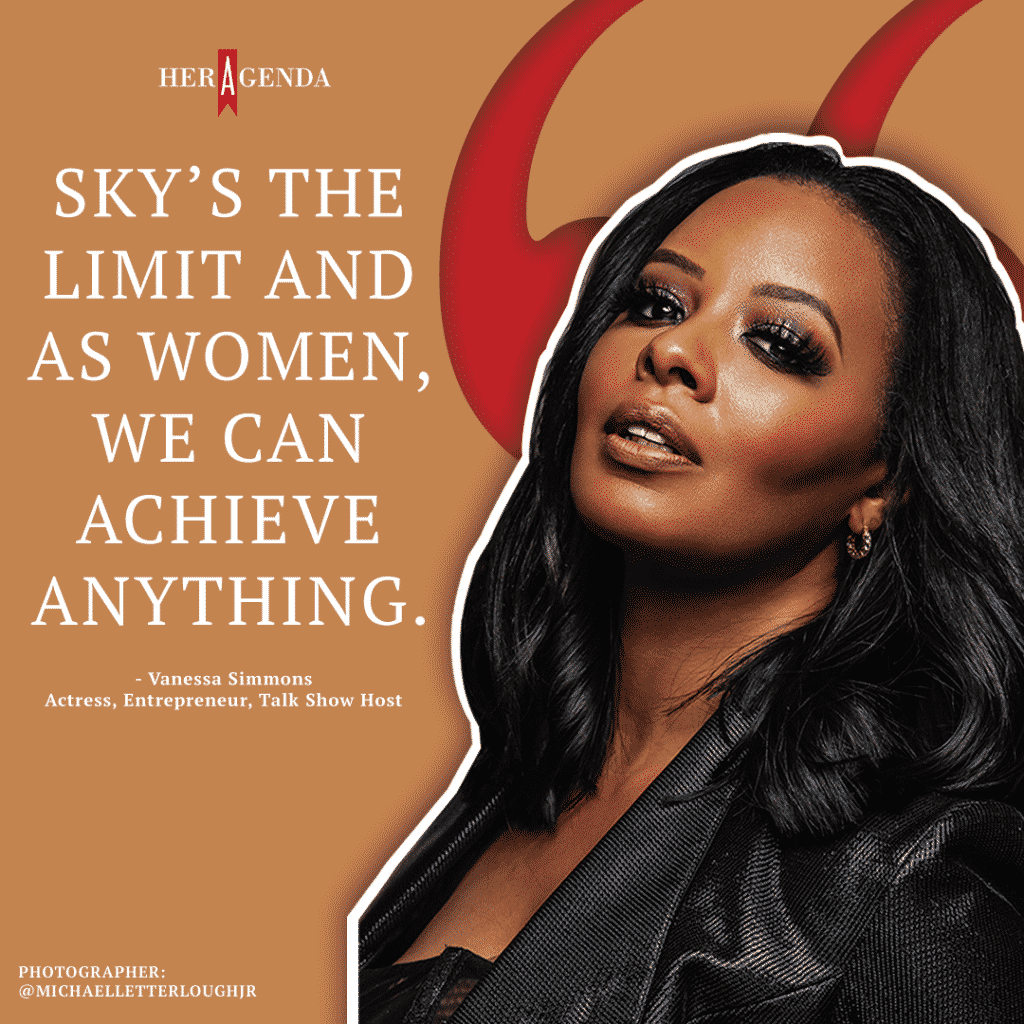 Her Agenda: What is your day-to-day motto that keeps your going?
Vanessa Simmons: It's one that my dad gave me. It's really simple. Do your best and forget the rest. Simple, but really impactful if you think about those words.
[Editor's note: This interview has been edited for length and clarity.]