No doubt about it, the thought of ice and snow brings chilling memories and horrible flashbacks of what was possibly the worst winter ever. Yet, in the midst of the back to back freezing temps and ice filled sidewalks we discovered something, or rather someone, doing something really cool. Meet Veronica Barrow, architect, and creator of Mynxx: winter ice grips made especially for women.
So how did an architect end up making a shoe accessory? Well, that story is detailed in our Q&A with her below. We love the cross over because it showcases what we often say here at Her Agenda, no one ever slows your agenda. She had an idea and made it happen. She used what she had and transferred her skills to a new arena. She made it work.
Barrow was inspired after one December a couple of years ago when she and two of her close girl friends were dressed to the nines – dress shoes on, clutches in hand – on their way to a New Year's Eve party. One inevitable slip by one ultimately brought all three girls flat on their butts on the snowy sidewalk. Using this light bulb moment, Veronica – a graduate from The Cooper Union – married her acute attention to structure and detail with her eye for fashion, and immediately set out to solve this common winter wardrobe dilemma for city-chic women alike. Furthering her passion for this is the simple fact that she was tired of making wardrobe compromises because of the weather! Multiple bags, changing shoes, all of that was a pain in her world.
Read more about Barrow and her agenda for Mynxx in our interview with her below:
Her Agenda: Why did you feel women needed specialized ice grips? And what motivated you specifically to create them?
Article continues below advertisement
Veronica Barrow: I would say simply owning a pair of regular ice grips myself, and wearing them one day out in NYC, and just feeling absolutely awkward and very unfashionable in these extremely totalitarian hiker construction [ice grips]. That was probably the point that got the thought process rolling and it wasn't until some years after falling and then realizing this is kind of ridiculous. How do women exist in the city every winter, with [certain types of] shoes on? There has to be some other alternative, outside of perpetually wearing snow boots, that are still geared towards a city-dwelling urban woman and not a rural man. These were always conversations going on in my head. As an architect, as a designer, I really think of things from an inquisitive level. Just always asking why? Or why not? About anything. Ice grips just happened to be one of those things that I got fixated on.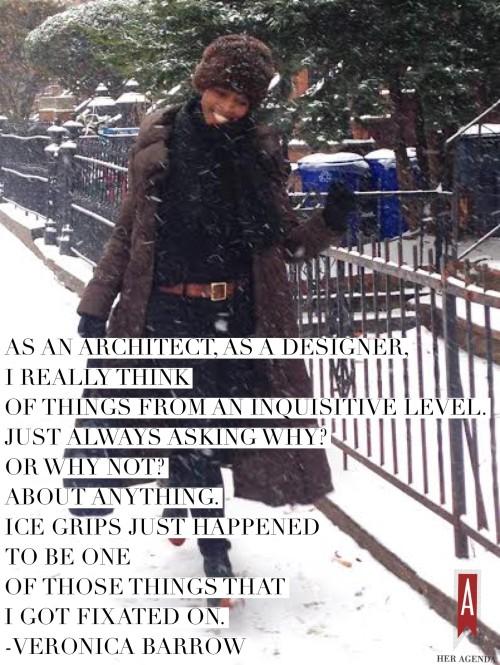 Article continues below advertisement
The thought didn't disappear over the years. At some point, within my architectural professional career, I found myself not working. It was in 2010 and the architecture firm that I worked for collapsed during the recession, as a lot of consulting and building industry professions did. So I had this period of time, where I had the freedom to be in a creative streak outside of work. [But regarding Mynxx] it was a very serious question I had to ask myself, it was a big endeavor. You know do I want to develop a product? I had no idea how to develop a product. And so I kept biting off of small pieces that were tangible for me. I took the development and design stage in phases and worked on small manageable pieces at a time.
Her Agenda: That is incredibly insightful. I feel like when people have a big goal they focus on all of steps at once, and then feel overwhelmed. So, how did you discover that concept to isolate what you were doing into small steps, and how did you pick which first chunk to tackle?
Article continues below advertisement
Veronica Barrow: If I allowed myself to look at the whole process it became scary. Its definitely overwhelming, but there are phases. The sketch phase, the design phase, coming up with [concepts] you think are viable, and applying prototype, models, and testing them out. I was making samples out of rubber bands in my apartment on my desk. They looked completely homemade, but those were the tiny steps that I could make as as individual. For a corporation to take those steps, they can be in larger, but I was completely fine.
I was just addressing the problem, in the only way I knew how as an individual and so it was just about making it through one phase, before I allowed myself to see what came next.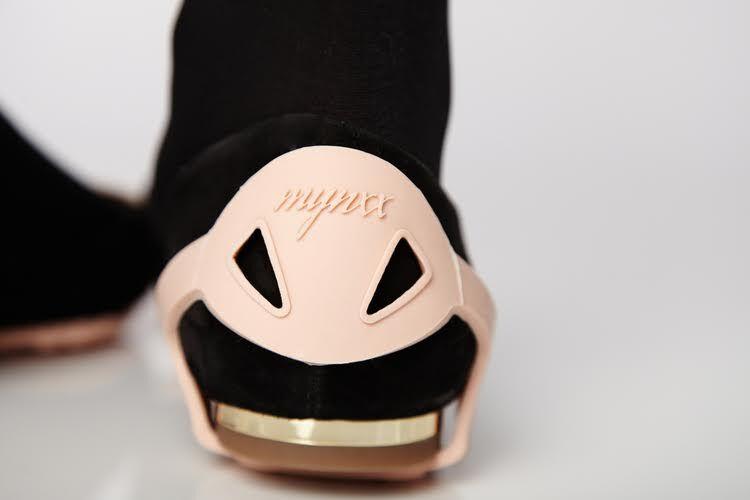 Article continues below advertisement
Her Agenda: What was it like as you were moving through the process from idea to sketchbook to prototype to ultimately a manufactured product?
Veronica Barrow: It was always incremental. Once I got over one thing, the question that always came up was now that this is done, I'm just curious to see how much it would take to get the next step done? Never really thinking of it [in terms of] this is going be launched and perfect and on store shelves…just not allowing myself to think that far ahead, or be that optimistic. [Instead, it was] just sort of going through my own product exploration as just something that I was curious about creatively and designing and solving the problem in my way.
In finding manufacturers, that came after the prototype. It became the next big question, like this is it, am I really going to find a manufacturer? Am I really going to try and fabricate this? What does that mean? And am I ready to take a step to bring this market? The only reason why my answers to those questions were no, would simply be out of fear. Why can't I, personally Veronica Barrow, do this? Why can't a person sitting in her room, do what a company can do? There's nothing that says only companies are able to produce things in mass-market. I always kept fighting the urge to say no, and figuring out how to do it on my own.
Article continues below advertisement
Her Agenda: How do you envision women wearing the shoe? I had some trouble finding a shoe that the grips were able to hold well, that could also keep me warm in the winter. But I did check out the site and saw people wear boots with the grips, which is cool. I just don't have appropriate boots, but how do you envision women wearing them?
Veronica Barrow: With the current state of Mynxx, it is a pilot product. This was the first iteration that I thought would be more geared towards a riding boot or a ballet flat and not a robust winter boot. It's you're riding boots that you want to wear with your dress that has a smooth bottom, or very minimal rubber tread on it. Those are the shoes, that I was originally targeting, but as I see Mynxx out and about with people trying them on and giving me feedback, that is all extremely helpful. And also hearing women say "would it be able to fit my sneaker? Or my ugg boot?" things like that, have certainly helped me think of ways to improve Mynxx. Ultimately I would like for it to be more universal and not just geared towards slender shoes, because you want to be warm, but you also want to be safe. And so women also want to add that third element of being stylish.
Article continues below advertisement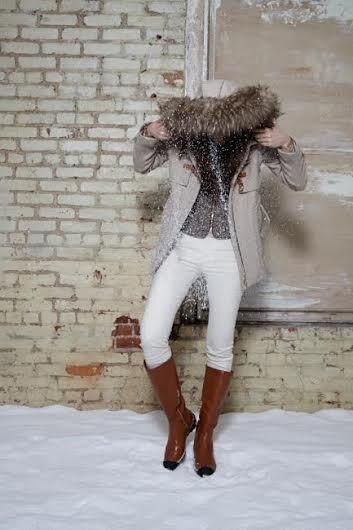 Her Agenda: Well you have been thinking about all this stuff, but now that we are going into summer, what could we possibly expect from you for next winter?
Veronica Barrow: I am hoping to adjust [things] with the manufacturer and make some slight adjustments to it, especially the toe box, the part that fits over your toe. That is really the problematic part because it is formed to fit something slender, so the next step is to make it something with a little bit more flexibility in it and more give, and not be confined to a pointy type shoe, so that it could fit over a more rounded, bulkier boot. Once I start adjusting it so that is suitable for more than a dress shoe, a lot more women will find it that much more useful.
Article continues below advertisement
So its really just working between now, and next winter and probably the winter after that too, to get that cleaned up. The only limitation is, in terms of getting it into retail stores for next winter, retailers are currently purchasing winter products, so the timeframe is slightly off. The question is, do I want to get things in the current state for next winter, and then work simultaneously on enhancing it for winter 2017? Or do I focus on enhancing it now, which means I wont be able to have the enhanced version in this year. Because that how drawing and prototyping process can easily take from three to five months, back and forth with designing and refining.
Her Agenda: As you talk about the process, and everything that happens and all the little parts you have to worry about you seem to have moved through each step with ease. You said going from idea to sketchbook to product was pretty seamless. But what major obstacle did you encounter while taking this product to market and how did you overcome that obstacle?
Article continues below advertisement
Veronica Barrow: One of the more noticeable obstacle with launching it simply was outreach. It is essentially a one woman show. There are budgetary limitations and it just became difficult to create a large enough voice all within the course of two – three month winter to get a lot of attention for the product. I think that the Today Show airing, was a big help to reach that much more of a larger audience. So moving forward, outreach is really important, through marketing and PR.
Prior to launching, an obstacle was somewhere along the same lines, simply trying to do this as one person without a business partner. And just trying to overcome all of these larger and serious hurdles such as financing, traveling to China and looking for manufactures. All of these things, that when you really start putting it into actions, you realize just how important it is to keep yourself focused and not entirely giving in to the 'no's'. With every five no's you get one yes essentially.
Article continues below advertisement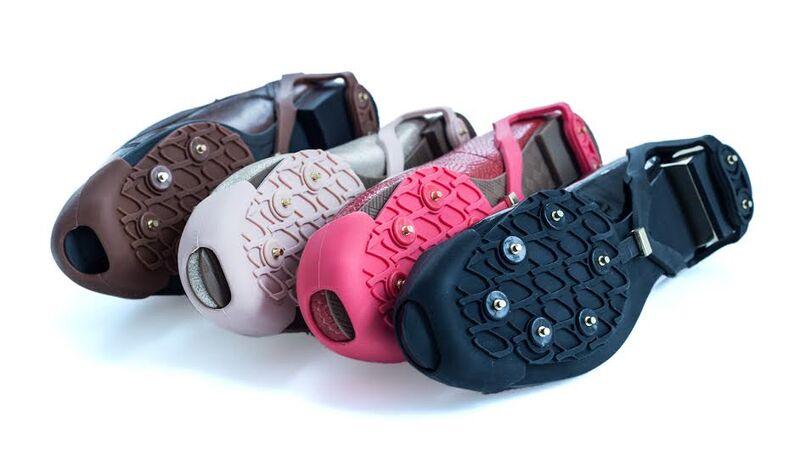 Her Agenda: A lot of new entrepreneurs have great ideas, but what kind of keeps them back is the financing and the funding part. And you briefly mentioned that, but were you self-funded? Or were you able to find investors out there for funding?
Veronica Barrow: I was [self-funded] for a large portion of the development. [I was] utilizing my resources [from my career in achitecture] and funding these small steps one at a time. Like now I need to get a design pattern, but this pattern costs $3000 and I don't have that right now, so I will do this in three weeks.
Article continues below advertisement
So it was very much strategic planning, and not feeling like I needed to bite off every huge piece all at once, and just pacing myself and understanding what I could do at any given moment and what I couldn't do. [The key was] planning and scheduling it, so that I would be able to do it at a later time and not getting discouraged because instead of producing and launching something in six months, it took me two years.
A second portion of funding came through Accion and they've been really helpful. It was a small sprout loan but I think just the exposure from that organization and also the guidance and business counseling was something that was really helpful as well.
Her Agenda: I'm also curious how your background as an architect plays into your design process. You have never designed footwear or shoe accessories before, so how has your background played a role in designing this?
Article continues below advertisement
Veronica Barrow: I have always been interested in drawing, designing and creating, ever since I was a kid, so simply majoring in architecture and putting that as a primary element for my career, doesn't limit me to being creative just in architecture. I have always thought of space, whether it's the space of a building or small, or tiny, intimate space of a product that you hold in your hand as equal in terms of questions of function and use. So I certainly think that starting off with a broader design background, such as architecture makes it easier for me to think on smaller scales on things outside of architecture. It would be harder to go the other way around, like becoming a shoe designer and then choosing to build a building.
I think also my training at the Cooper Union, was something that was extremely eye opening because it really forced you to not think of architecture solely as buildings. We started out every year with a studio project focusing on something that was the furthest thing away from a building as possible and then at the end of every semester we turned that analysis into something that could be inhabited. So certain things like that in my background, all help each other.
Her Agenda: I'm also curious as to how you got into the field of architecture in the first place. Its not really common place where you see women going into the field architecture, of course I would love to see women go into architecture, but how did you get into it?
Article continues below advertisement
Veronica Barrow: For as long as I could remember myself, so like since I was 8, I was always drawing buildings and houses. I have two older sisters and a younger brother, so when I was 8 and my brother was a baby, my parents would always save his economy sized pamper boxes and anything they came across like that, they would put aside for me, because they knew I would find a way to utilize it. When my brother was old enough to play with me, we would have these fantasy play worlds that I would create out of cardboard boxes.
So somewhere between moving from middle school to high school one of my art teachers pulled me aside and I think she tuned into the fact that every art project I handed in had some sort of building element embedded in it and she guided me to this architure high school, in Miami called Dash, and she strongly suggested that I look into it. I was hesitant to be so specific about what I wanted to do at that age, but it seemed interesting enough and I tried it out and I really loved the fact that I went to an art/ architecture based school. We were taking college credit architecture classes there and from there, that most definitely led me to Cooper Union. Because Cooper sends recruiters to Miami Dash every year to recruit architecture students, so had I not been in that high school I would have not even heard of Cooper Union. So I am glad that happened, because once accepted to Cooper Union, you have a full 5-year scholarship.
Article continues below advertisement
Her Agenda: Can you share what kind of projects you work on as an architect?
Veronica Barrow: I am currently working as a project architect with an interior design firm, in Manhattan. I am working on the Dream hotel. So I'm getting a little bit into hospitality, doing interior design for nightlife venues. They are creating a bar lounge space, rebranding and redecorating the upper penthouse and rooftop levels. That has been interesting. I have worked on a Chelsea hotel in the same capacity, doing the interior design, which is currently taking place. They are doing a huge renovation and rebranding. So a lot of hospitality and residential projects over the years.
[I'm] always working in the capacity of a project manager or project architect, so I'm doing design and I manage the process and the flow of the project, everything from construction to furnishing and client movement. I have been lucky enough to work at small enough firms, where you have to wear that many hats. You're not compartmentalized into doing just one thing, so I definitely have a broad scope of architectural experience, working on pretty big notable institutions or hotels.
Her Agenda: How do you manage the two roles? You work with Mynxx and you are running that but you are also still dabbling in architecture and interior design. How do you do that?
Article continues below advertisement
Veronica Barrow: Unfortunately it comes down to very little sleep, but at the same time the winter is over and Mynxx is wrapping up, so I'm getting back into architecture for the next few months while I figure out the next steps for Mynxx for the upcoming winters. No matter what I do, whether I am doing Mynxx currently, or decide to do something else, I feel that I will always have my interest to create architectural spaces. That is certainly not anything that I have abandoned moving further with Mynxx or something that I will abandon in the future.
Its easy to do, like what I have done in the past year was do both simultaneously to help self fund Mynxx while working as an architect. I was doing more contract work, not necessarily working full time, so I could work for a month with one firm, getting toward the project and then taking two months off, then work with someone else. [Contract work] gives me the flexibility to work on both. One is more for a practical reason, and the other is for creative exploration which is Mynxx.
Her Agenda: We don't see many women that work in the industry of architecture or design, has that impacted your experience at all? It's very male dominated, so how do you deal with that?
Article continues below advertisement
Veronica Barrow: Absolutely, that is something that I certainly am up against everyday. At this point I have simply learned to embrace it and relish in the fact that I shock people when they realize that I do have the level of technical abilities that for whatever their own reasons are, they assume I shouldn't have.
It's an unfortunate, but almost typical nature of the profession. Building and construction is a male dominated field. [But] I don't let other people's perceptions dictate what I can do, or who I am. It certainly has helped make me stronger and forward in how I approach my work, because you are always sort of up against having to explain without actually physically or verbally explaining what you know.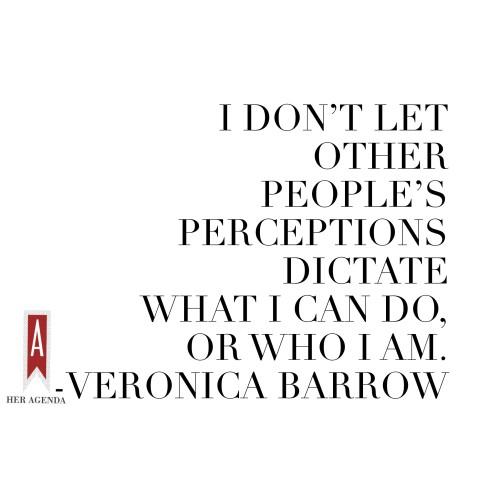 Article continues below advertisement
I certainly think there are a lot of women getting into the profession. I have worked at firms with a lot of women and like two men, but at the same time I think women grasp more towards the decorative interior end of designing. I'm not sure what the ratio is, in my visual thinking of it, I would say 60-40 or 70-30 type of thing. I feel like every firm that I've worked in, I've been the only ethnic woman.
Her Agenda: Your experience as a black woman, is probably extremely unique.
Veronica Barrow: Sure, and I think a lot of that makes you a little bit stronger. I disprove people's misperceptions and not by making an effort to disprove it, but simply by doing what I know how to do and enjoying it.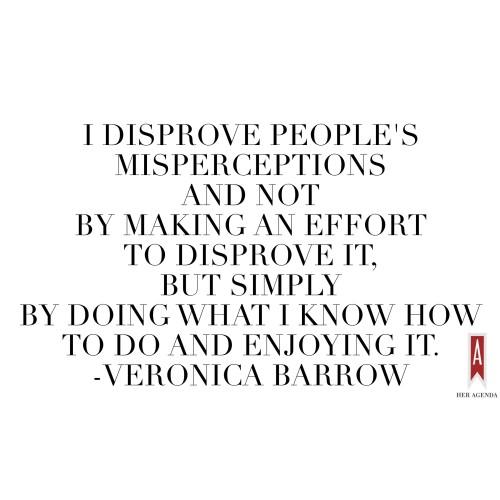 Her Agenda: What is your personal motto?
Veronica Barrow: I would say, without sounding too sappy or spiritual, you are the only person who has the ability to dictate your past and your strengths and your weaknesses and your profession or just your inquisitive desires. There are a lot of things around us, and in society that tell us what we should probably stick to or what we shouldn't try out or this is too much for you to do. Just really being tuned into yourself, mentally, emotionally and spiritually and never letting exterior factors deter you from exploring anything on any level.