While many people reminisce on missed opportunities from their childhood, Yelitsa Jean-Charles is creating them for the next generation. From illustrating her ideal version of Rapunzel with brown skin and kinky hair to curating sold-out brown dolls with natural hair, Yelitsa is on the verge of shaping the future.
Growing up as a Haitian-American in predominantly white environments, Yelitsa often dimmed her light to make others comfortable. Now, as a young woman who is disrupting the toy industry, she aims to ensure that every child radiates pride. By creating Healthy Roots Dolls, Yelitsa aims to celebrate the beauty of diversity one doll at a time.
Her Agenda recently had the opportunity to speak with Yelitsa about blessings in disguise, natural hair love, and the impact that toys have on children.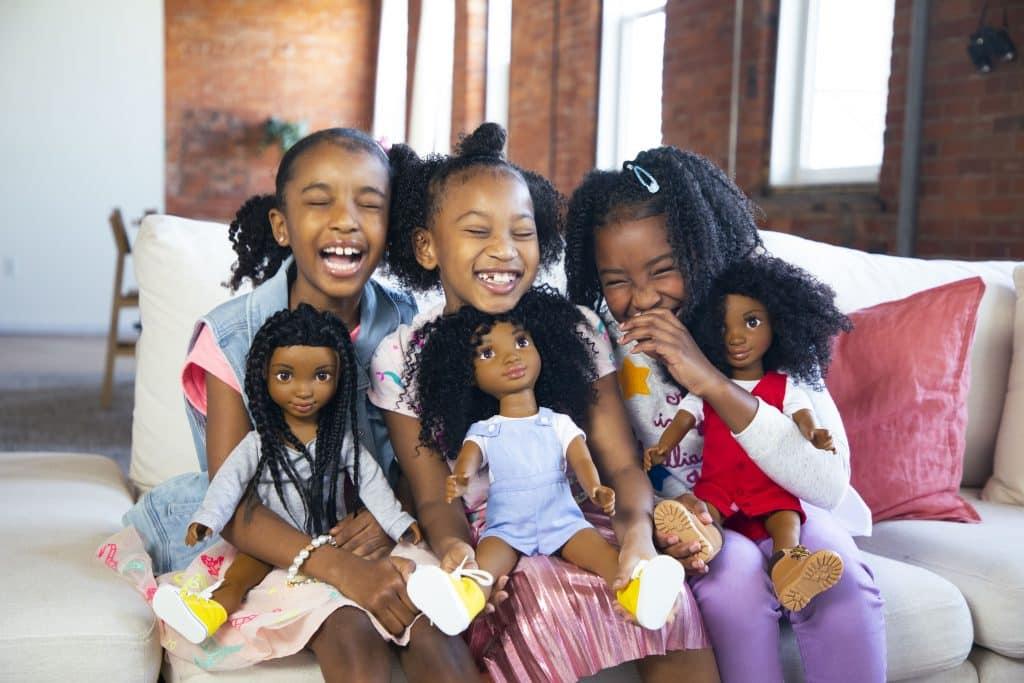 Article continues below advertisement
Her Agenda: I noticed that your Instagram handle is @Blackgirlvstheworld, which a lot of Black girls and women can definitely relate to. Where do you find the inspiration to live in your truth despite the numerous boxes that the world attempts to put you in?
Yelitsa Jean-Charles: I took some time to identify myself in college. That period was the first time that I learned how to put my experiences as a Black woman and Haitian-American growing up in America into words. I went to predominantly white schools where I was one of few kids of color that were Black and Haitian. And, it was in college that I learned how to talk about my experiences and stepped into owning my Blackness and identity as a sense of pride. I began to recognize all of the incredible things about my culture that are beautiful despite being taught these elements were less than. From wearing my natural hair and identifying with all aspects of my culture, I found comfortability with being who I am despite the thoughts of others. At the end of the day, the only opinion that mattered to me was my own. Learning how to understand issues and where they stemmed from, taught me that allowing the opinions of others to dictate me, was not the life that I wanted to live.
Article continues below advertisement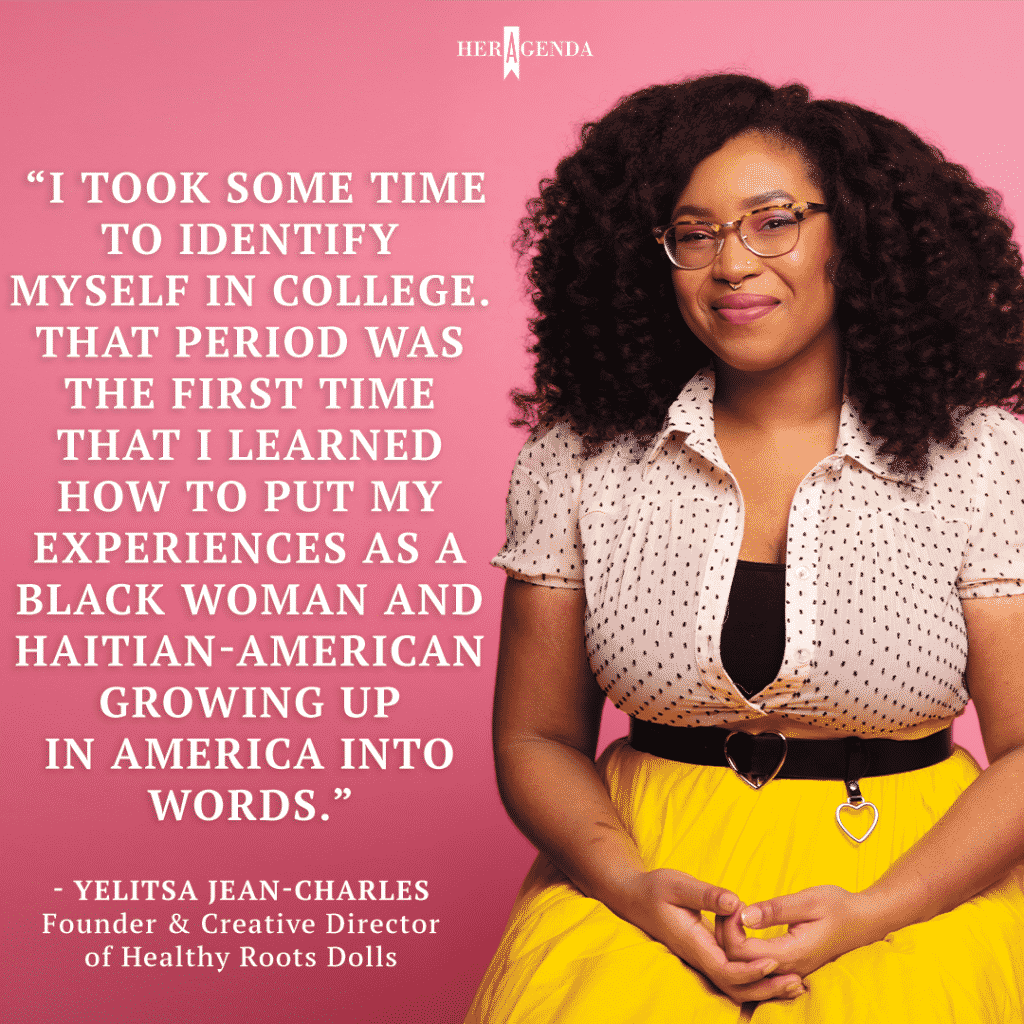 Her Agenda: On social media, you recently posted that your father taught you how to see love even when it is not said. How do you think women and young girls can love themselves despite misrepresentation in media, toys, and cultural beliefs?
Article continues below advertisement
Yelitsa Jean-Charles: I reflect on so many moments from my upbringing and how my parents showed me love. Not only would they tell me they loved me but they would do things. And, that should be the same formula for how we treat ourselves. I always do things to make me feel special. One of the first things that I can do for myself is recognizing when I do and do not want to do something. If something does not interest me, spark joy, or make me feel good, I have a conversation with myself and ask, 'Do I want to do this?' If the answer is 'No' then I am not doing it. And, that is that. I think a lot of women should recognize what they want and always go with that choice first.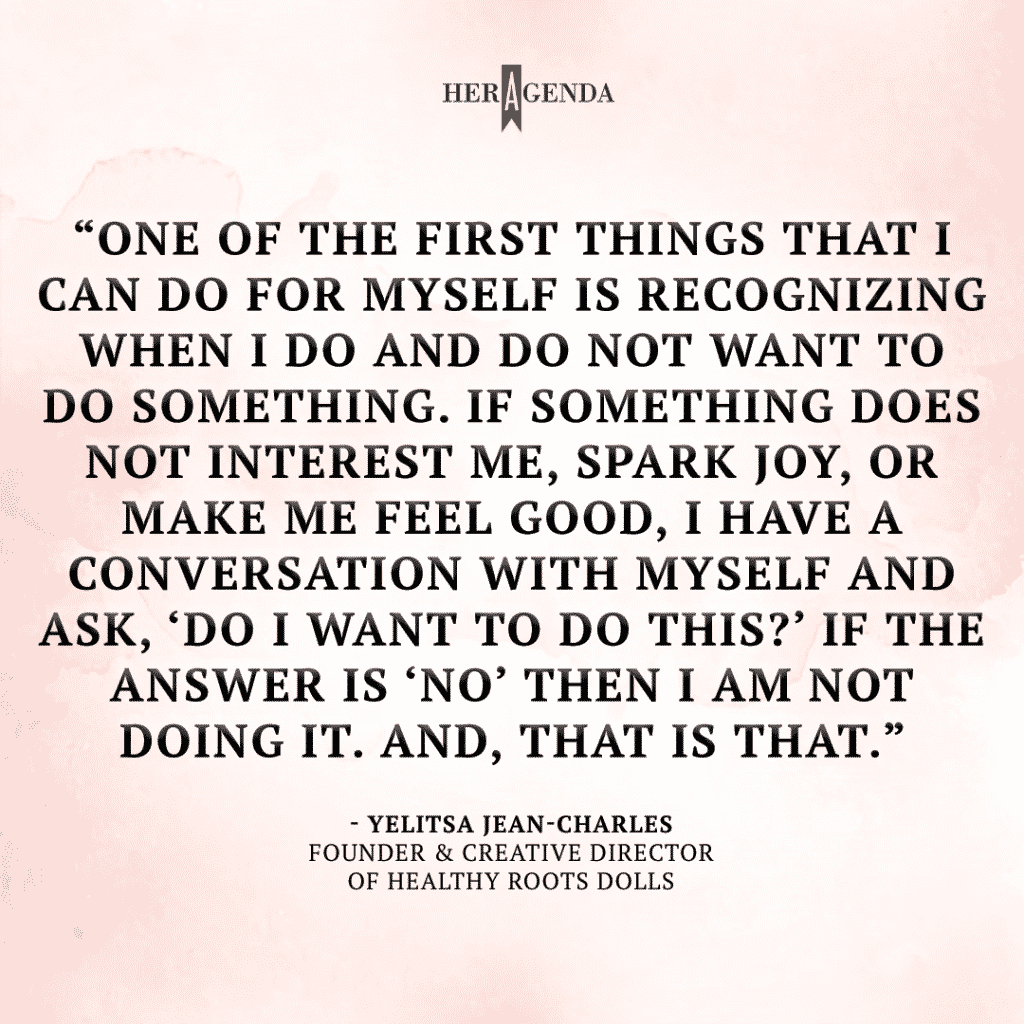 Article continues below advertisement
Her Agenda: Hair is a very important aspect and form of art in the Black community. Though Healthy Roots teaches young girls how to care for natural hair, do you have any advice for women who never learned how to properly care for nor fall in love with their natural hair?
Yelitsa Jean-Charles: Every day is an opportunity to do something. You can change the way you look or how you feel about yourself. Every day that you wake up and look in the mirror, you can do something small. Changes include the color of your lipstick, the way you do your eyebrows, or the way that you part your hair. You do not have to look at everyone who is going natural or cutting off their hair and think you have to follow. Instead, get some hair accessories or get a head wrap. Start with what feels comfortable, allows you to explore, and find what makes you feel beautiful. It is not easy to go from 0 to 100 but it is easy to start small. Consider wearing cute clips, cutting your hair a little bit shorter, or possibly coloring your hair in a few months. That way, you are experimenting and having fun while figuring out what you love about your hair and how you want to depict it.
Article continues below advertisement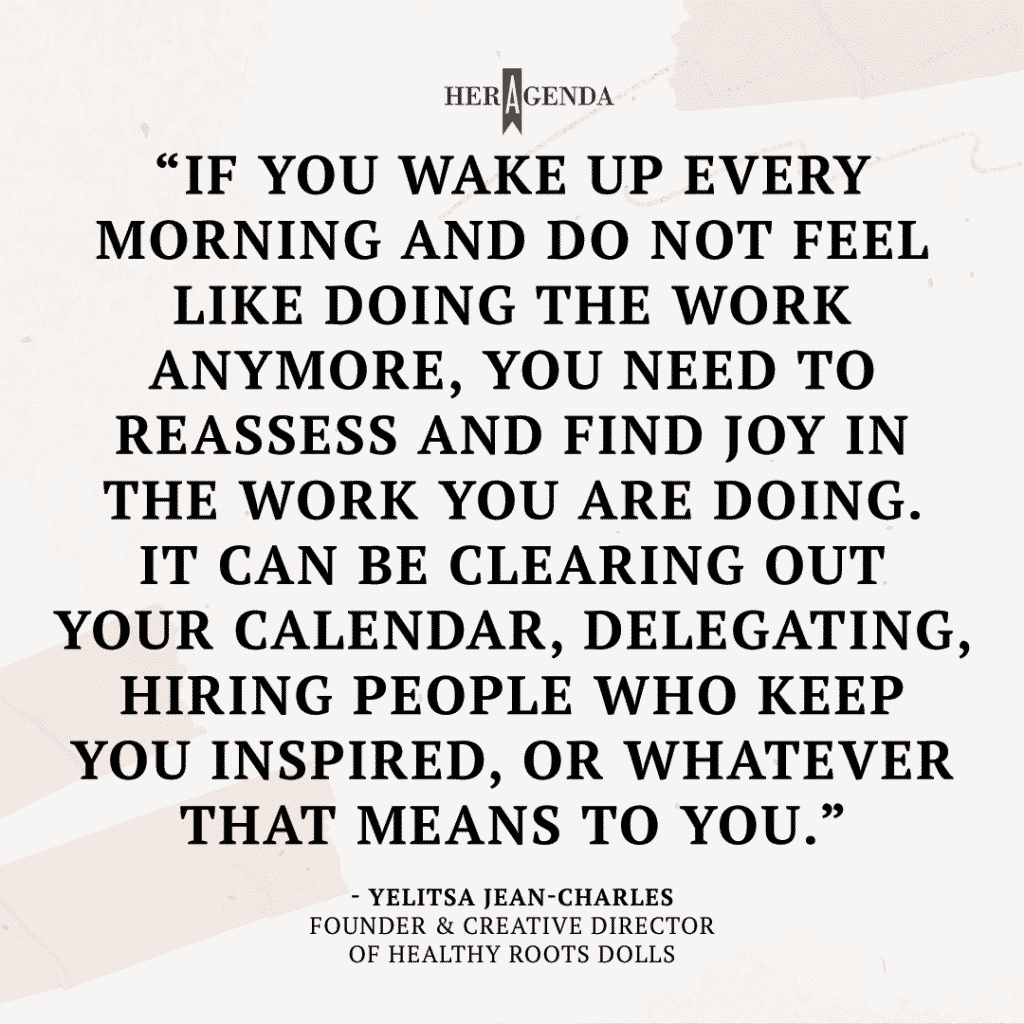 Her Agenda: When I watched your TEDx Talk, I heard you say, "When you are ignored by the mainstream media, you have to become a problem solver, you have to become an innovator, and you have to be smart about it." Can you please give a time when rejection actually worked in your favor?
Article continues below advertisement
Yelitsa Jean-Charles: There have been some accelerator programs that I really wanted to be in or thought were the perfect opportunity. Now in hindsight, the culture and community of those programs might not have been the best fit for my company, the capital at the time would not have gotten us as far as it could have, and the people directing those programs might not have been the people with the right background or experience to help us get further. Not getting accepted into every single program that I applied to is fine because I owned the process of building my company and have stronger relationships with people that I had to build with long term which now benefit the company.
Her Agenda: I read that Healthy Roots Dolls once weren't accepted as finalists in the Target Accelerator Program but are now sold on Target.com! Congratulations! Despite constant no's how do you use criticism to lead to an even bigger win?
Yelitsa Jean-Charles: From an early age, I accepted that if the answer was 'No,' it likely was not the right fit for me nor the right opportunity at the time. That does not mean there is a lack of opportunities or something else that I cannot be doing. Rather than saying 'That was my only opportunity, I will never get this chance again,' I just look for something else. Opportunities do not dictate whether or not I make something happen, because only I can determine that.
Article continues below advertisement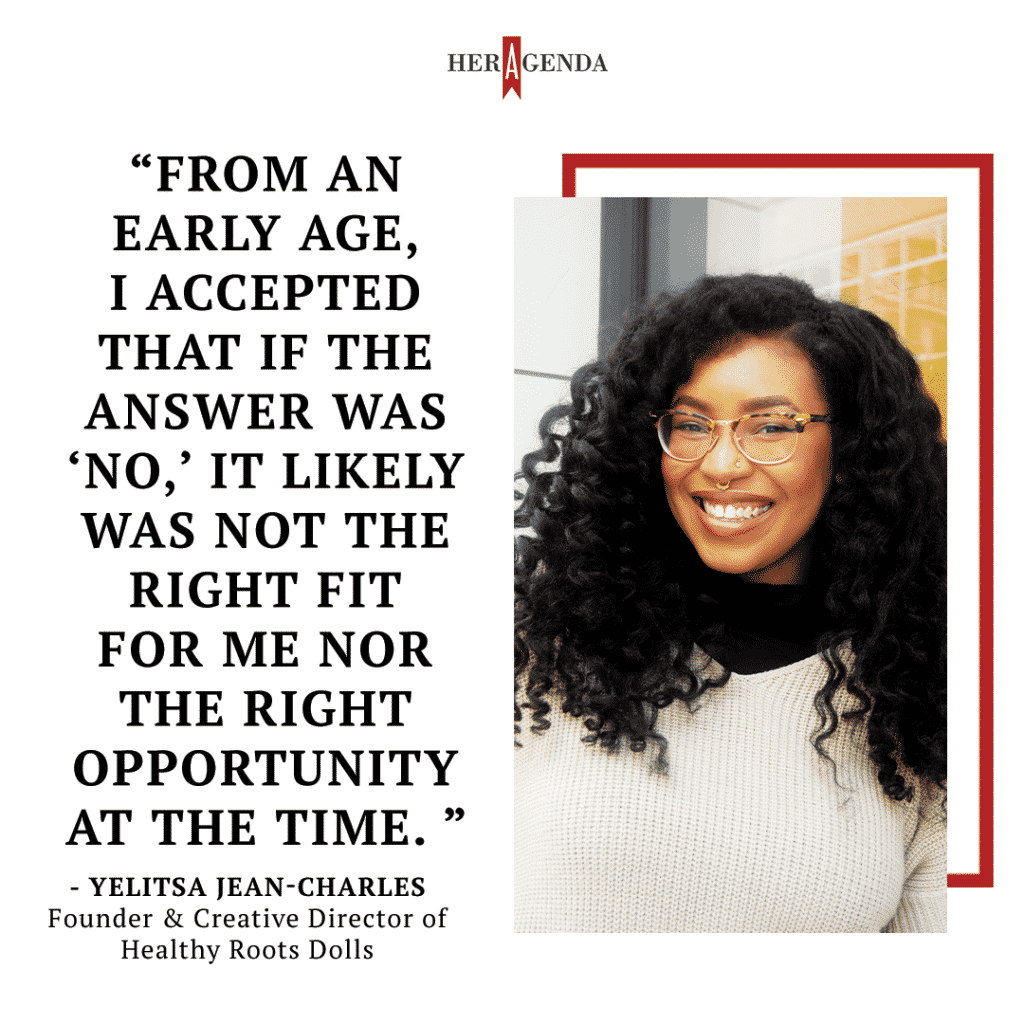 Her Agenda: What is something that you believe an entrepreneur should never compromise?
Yelitsa Jean-Charles: I do not think an entrepreneur should compromise anything. But, if I had to choose one, it would be your joy. Never sacrifice your joy or allow work to steal your joy. It is very easy to get wrapped up in the grind, but if you wake up every morning and do not feel like doing the work anymore, you need to reassess and find joy in the work you are doing. It can be clearing out your calendar, delegating, hiring people who keep you inspired, or whatever that means to you.
Article continues below advertisement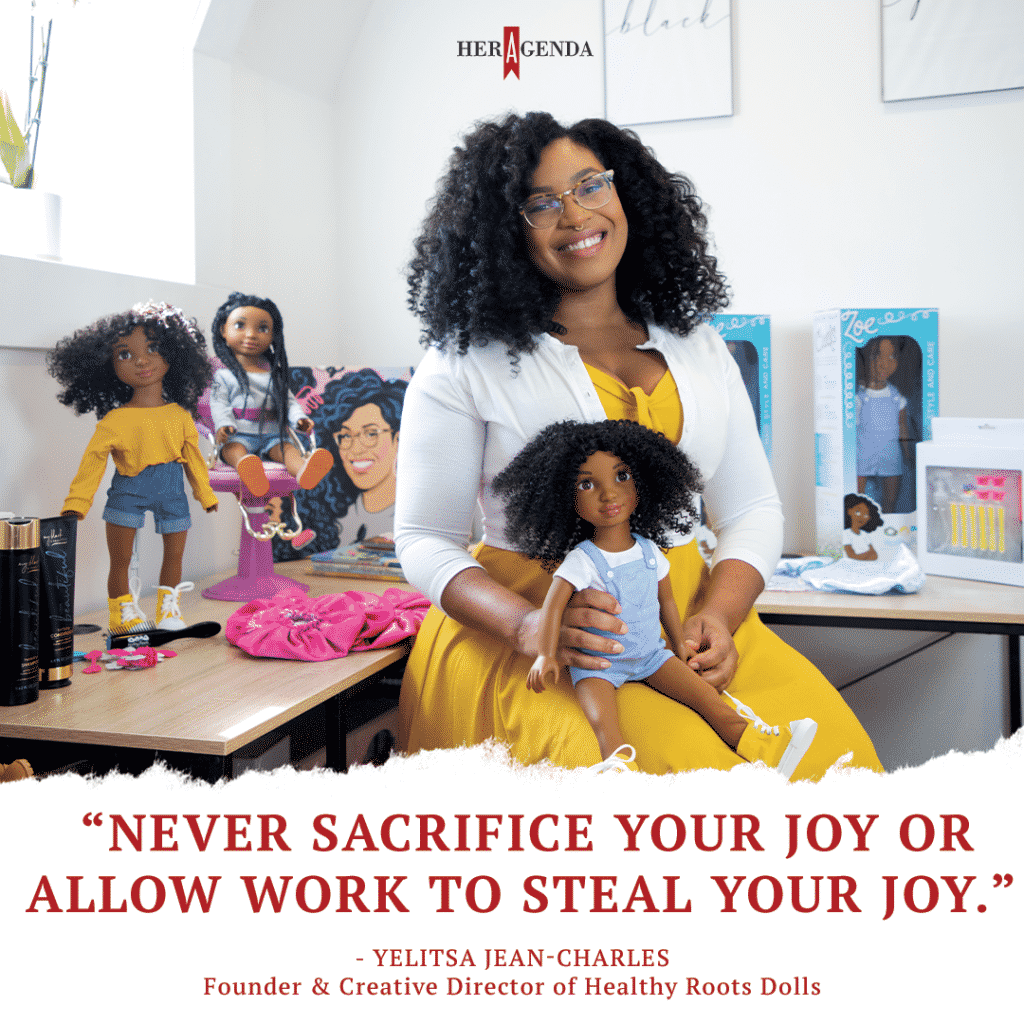 Her Agenda: How do you think current events and society contribute to the toy industry?
Article continues below advertisement
Yelitsa Jean-Charles: Toys are social learning tools for children. At an early stage in development, it can help inspire kids or put them in boxes. Now, we are seeing more parents recognize the importance of healthy play patterns while allowing exploration and creativity. And ultimately, allowing children to define themselves as they choose to, not how we think they should be. The cultural moment that we are living in is prompting conversations around representation for different ethnic groups, genders, and identities. Moving forward, we are going to see opportunities with more innovation. Hopefully, people will get more comfortable seeing children playing with toys and recognize that toys have no gender or identity; they are just awesome.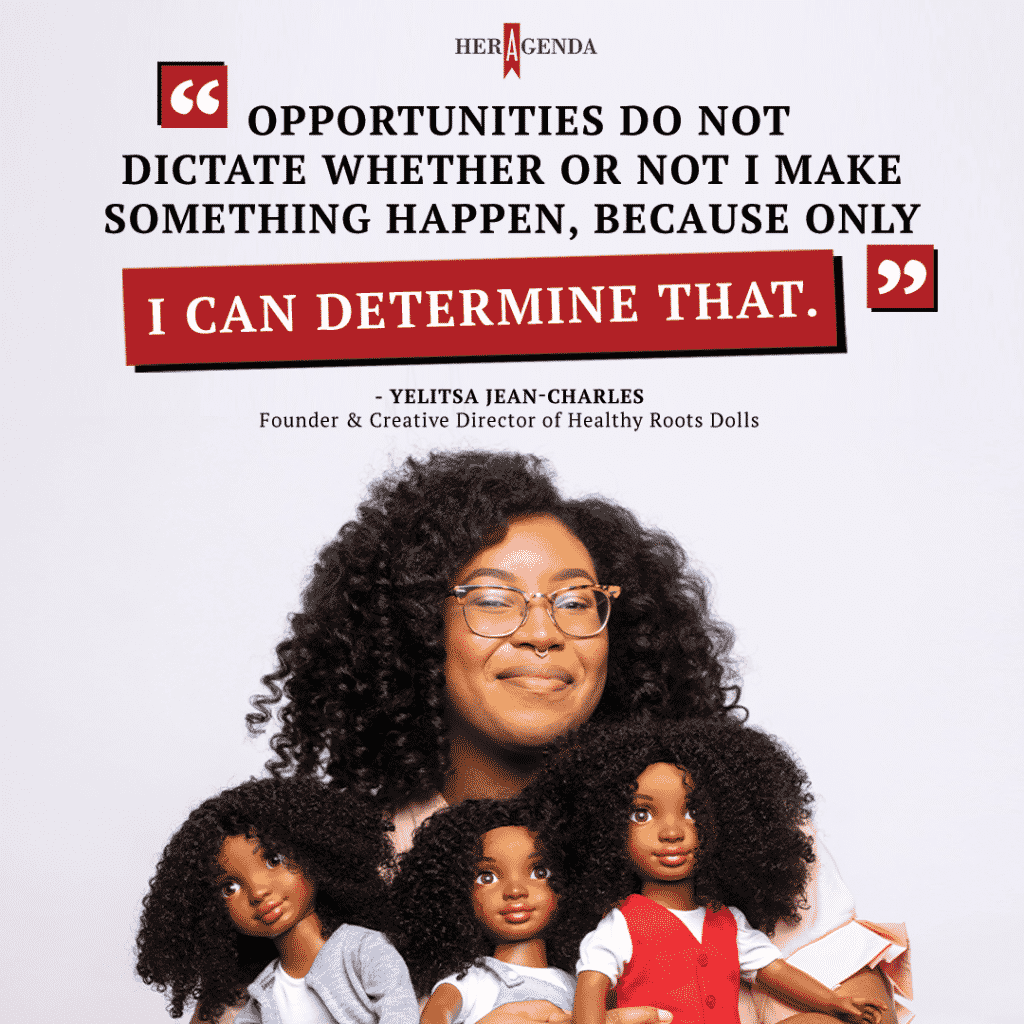 Article continues below advertisement
Her Agenda: One of my favorite quotes is, "Be the person you needed when you were younger." And you are a perfect example of that, not only with your grace but the product that you created. How do you hope that Healthy Roots Dolls will influence future generations?
Yelitsa Jean-Charles: I see it now when someone sends a really cute photo, video, or talks about how they would have loved one as a kid. Specifically, I am seeing the influence we have with our first product, Zoe. My ultimate goal is to make sure that all children have the opportunity that I did not have when I was growing up. With whatever product that we are producing, we are thinking about the audience and the end impact. It does not feel like hard work because we are so easily inspired by what we see. It is fun to have the opportunity to create meaningful products that come so naturally because you see it around you, in kids' faces, and in the opportunities to tell such stories.