In her own words, Zim Ugochukwu is a lover of God, lover of people, the founder of Travel Noire, and host of the Bloom podcast. An idea born while living in and traveling throughout India, Ugochukwu created Travel Noire as a community for people of color who love to travel. Growing that platform into the Travel Noire that we know and love today, Ugochukwu served as CEO until the 2017 sale of the company to Blavity Inc. where it now continues to grow in the company's portfolio of media brands targeted at Black millennials.
Ugochukwu is a dreamer at heart, a creative who is curious by nature; she believes that curiosity unlocks originality and that questions lead to a deeper richness in life. Ugochukwu is also a person of faith who isn't afraid to listen for direction in every area of her life. In this interview, Ugochukwu shares why she sold her company, what she's doing now, and what she learned along the way.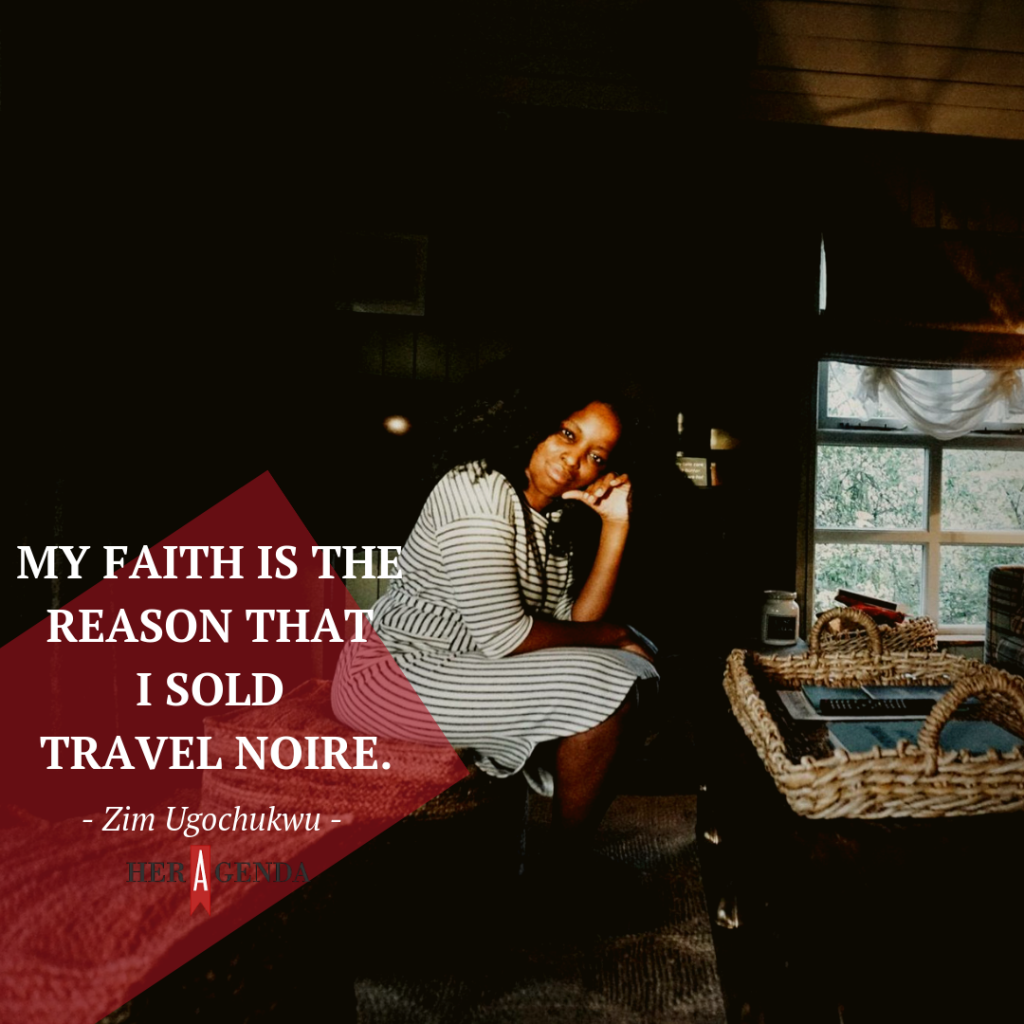 Article continues below advertisement
Her Agenda: What was the inspiration for you to start Travel Noire?
Zim Ugochukwu: I was living in India at the time, and it was only my second-time traveling abroad. The first time I traveled to Nigeria with my mom and my brother and the second time I moved to India, so it was quite a leap. The first night that I was there, there was a commercial on television; it was about this dark skinned Indian woman who felt really bad for herself because she couldn't get a date with this guy. Then she tried skin lightening cream. There was a time lapse where she got lighter and lighter and happier and happier and finally got the date with the guy. I was sitting on my bed and I'm like, are you serious? This is what I have to look forward to for the rest of the year? I started seeing classified ads for eligible bachelors in the newspaper saying what they're looking for, and every single time, I would see the word fair — they wanted someone with fair skin.
Article continues below advertisement
India [is] my favorite country by far, I loved my time there but I just I didn't see any travelers who looked like me. I saw African immigrants here and there. I didn't see them as often, but they were there. Of all of the ex-pats and other people that were traveling in India, I don't think I met another Black person until I was on the train.
I was traveling to other countries for as little as eight dollars by plane. [I started Travel Noire because] I wanted people to have the experience of traveling the world and not feeling like they were scared to do so. I had the idea but I didn't do anything about it until two years later. I thought it would be interesting to create a community of people who talk about travel and that's how it all started.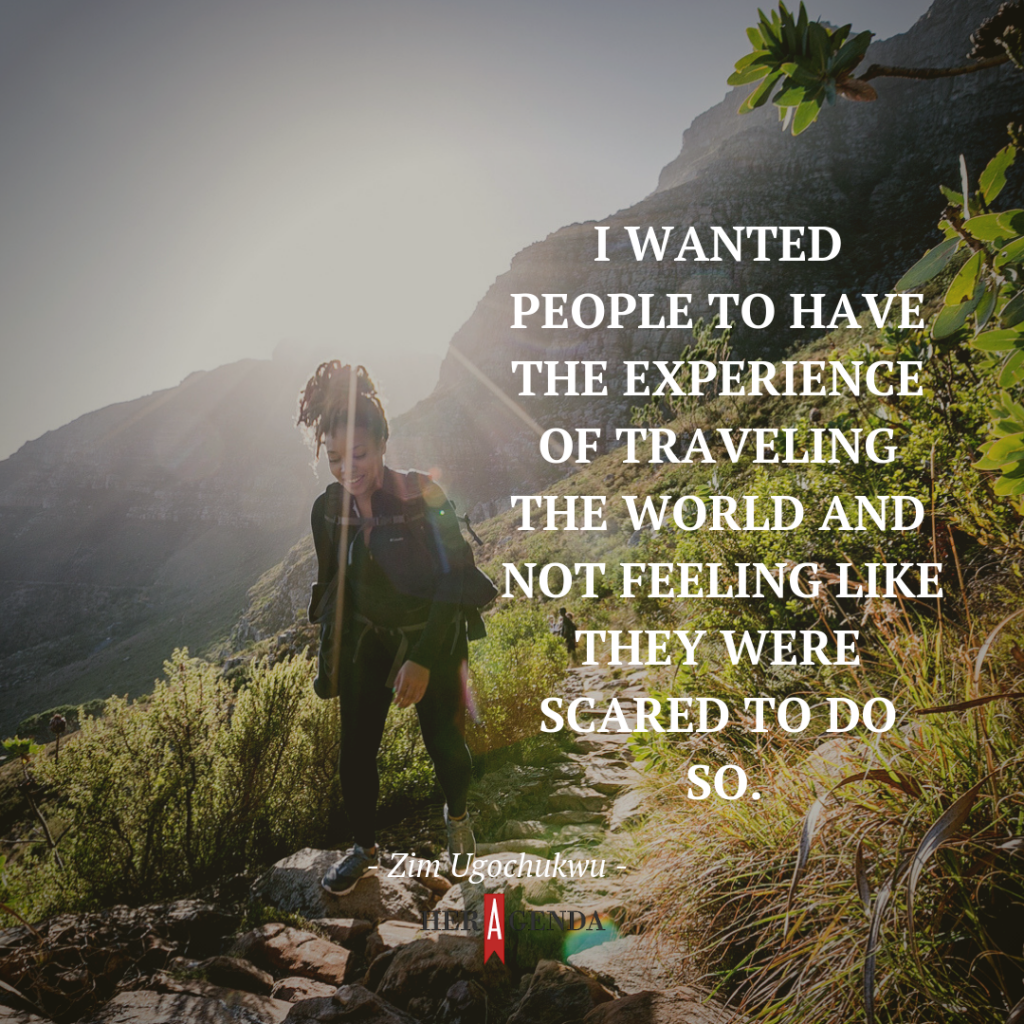 Article continues below advertisement
Her Agenda: You've now sold Travel Noire to Blavity Inc. and are currently the Chief Brand Officer. What are you focused on now?
Zim Ugochukwu: I'm responsible for making sure that both brands merge successfully. So that means monitoring process and voice, monitoring brand assets. What does the Travel Noire audience like, what do they not like – all of that all of the intricacies that go into making sure that an acquisition is as seamless as possible. That's been the bulk of my work. It's less about focusing on the things that I did focus on. When you're a CEO you have to focus on everything, it's just a different ballgame.
Her Agenda: I'm sure you still have a vision for where you would like the brand to grow. Can you share anything about that and where you'd like to see it go from here?
Zim Ugochukwu: At the end of the day, I just want Travel Noire to continue to deliver value to people. If Travel Noire is delivering value first before even asking for dollars that's most important.
Her Agenda: A lot of women want to do more traveling, but it can also scary because people have full-time jobs or may not enough money to do so. Where do you find the courage to continue to roam, to put yourself out there and explore?
Article continues below advertisement
Zim Ugochukwu: I'm a different kind of traveler. People ask me, "Zim, do you look up how Black people are treated in other countries before you go?" The answer is no, I never do that. I will go anywhere that's not war-torn for the most part. I think that it had to be that way for Travel Noire to be as big as it was. If I had only traveled to places that I was really comfortable with, the vision of Travel Noire would not have been as grand as it is. It's not that I find the courage, I just am. It's a part of who I am.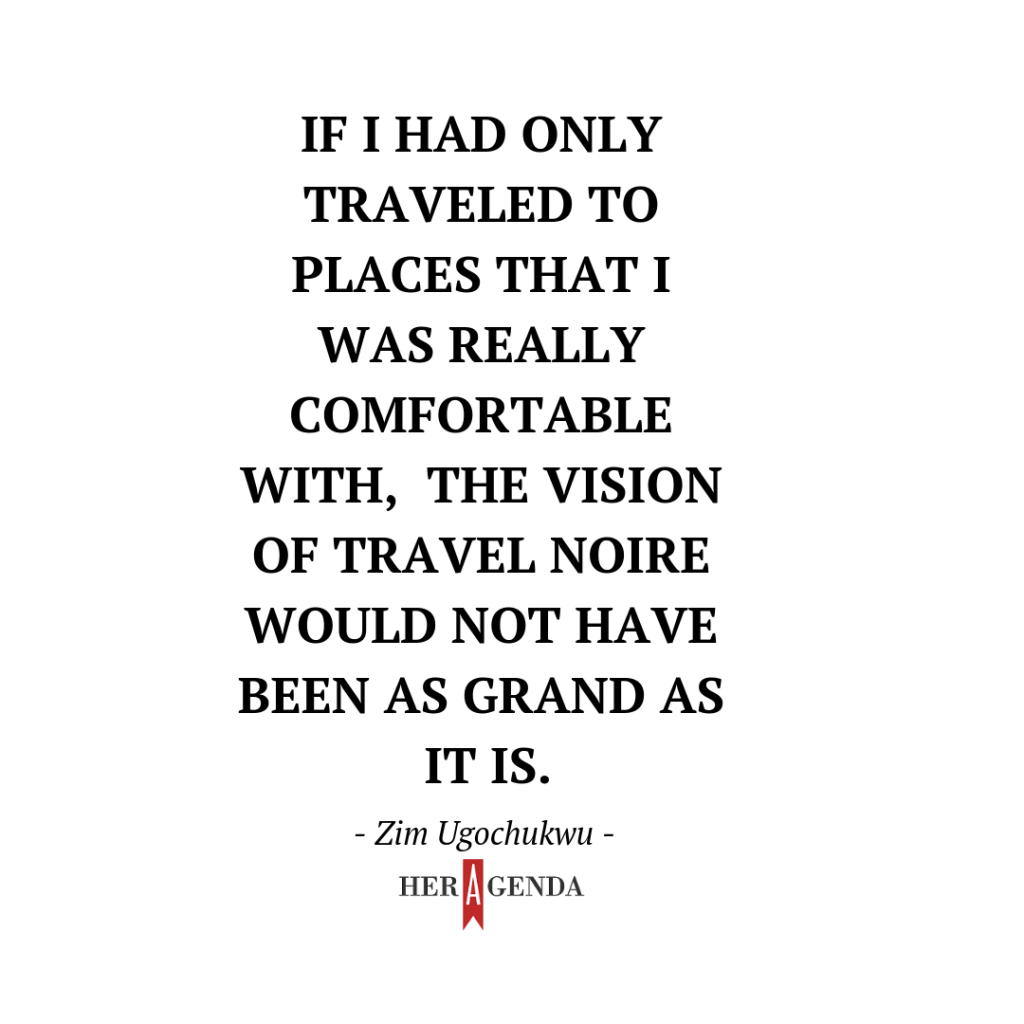 Article continues below advertisement
I grew up wandering. I didn't grow up traveling internationally as much but I had a curiosity about me when I was growing up and that's what drove me to want to do things. I cloned a gene when I was 19 and I helped start and run an anti-tobacco organization; I was traveling around the country talking to young people about tobacco at a young age, so my life has always been very unconventional. Travel is something that I do without much thought. I'm just kind of like, 'oh this is a cool place to go, let's go.' or, 'oh this is a cool hotel; I have no idea where it is but I want to stay there, I'm going to go.' It's less about courage and more about curiosity.
Her Agenda: You recently launched a faith-based podcast, Bloom. How do you feel that your faith has played a part in your journey and in your travels?
Article continues below advertisement
Zim Ugochukwu: Huge. My faith is the reason that I sold Travel Noire. I would not have sold it at the time that I did. I would have held onto it for longer or grown it more — I would have done all these different things. But when God tells you to do something … I knew what I had to do. Not only did my faith play a big part in my selling, but it's also played a big part in how I thought about running Travel Noire. It came across in the types of photos that we selected and the type of copy and clubs that we build. I think that it has played such a huge part of the brand, the voice, the tone, and the way that we approached travel. My faith had its imprint.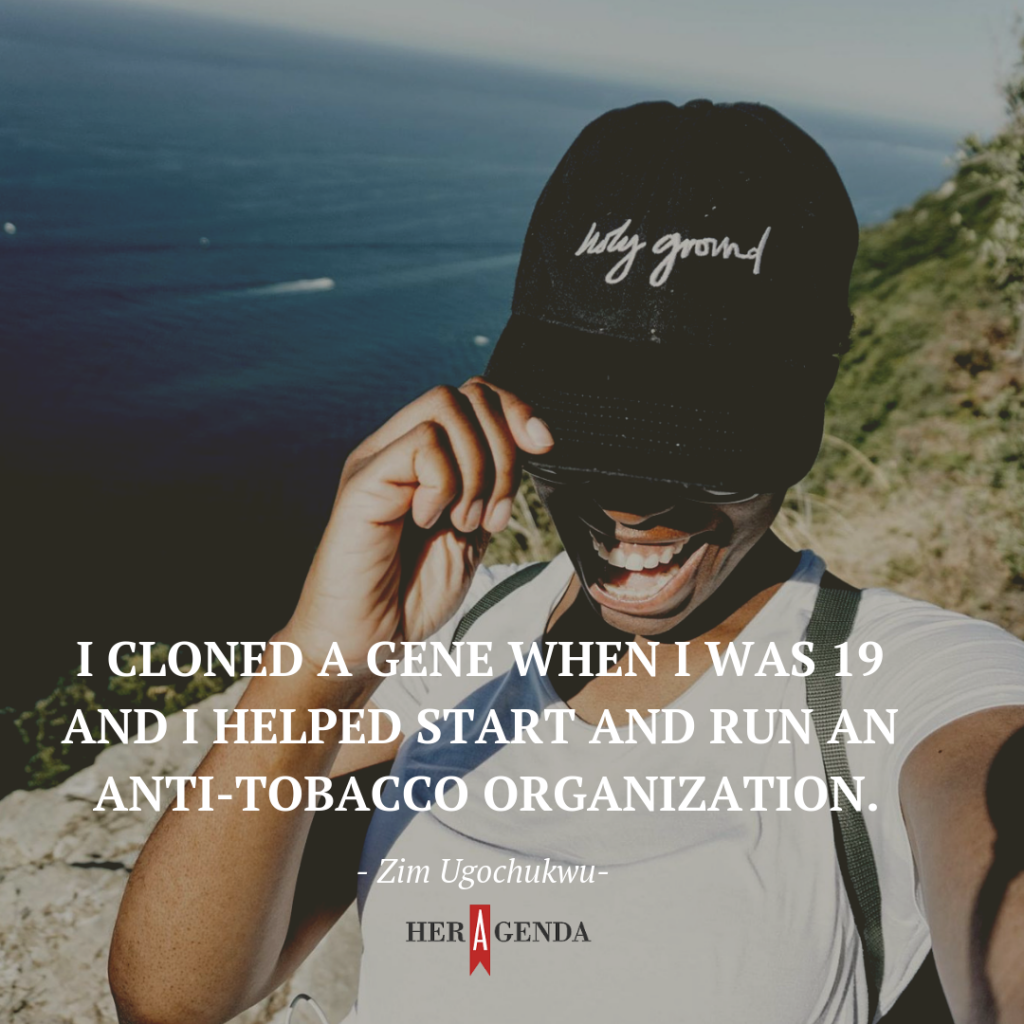 Article continues below advertisement
Her Agenda: For women that want to want to travel, want to work remotely, or start their own business that allows flexibility to travel; how did you get there, and do you have any words of wisdom?
Zim Ugochukwu: I'm a dreamer at heart, I'm creative, I have visions. When I first thought about this lifestyle of not being chained to a desk when I was living in India, I read The Four Hour Workweek and I was fascinated by this kind of approach to digital nomadism. I would say for folks that are really interested in making this leap into entrepreneurship or figuring out a way to pay for their travel come to The Rich Life Summit.
I'm a forever learner. Don't be afraid to invest in really good courses or programs that will teach you whatever it is that you want to learn. There is so much value in this. There's so much value in taking steps or taking a trail that's already been blazed for you. You want to be wise with your time, because our time is finite and we don't get it back. So if you have this dream to live this life and you're not taking steps to learn about how to get yourself in position, then time is just passing you by.
Article continues below advertisement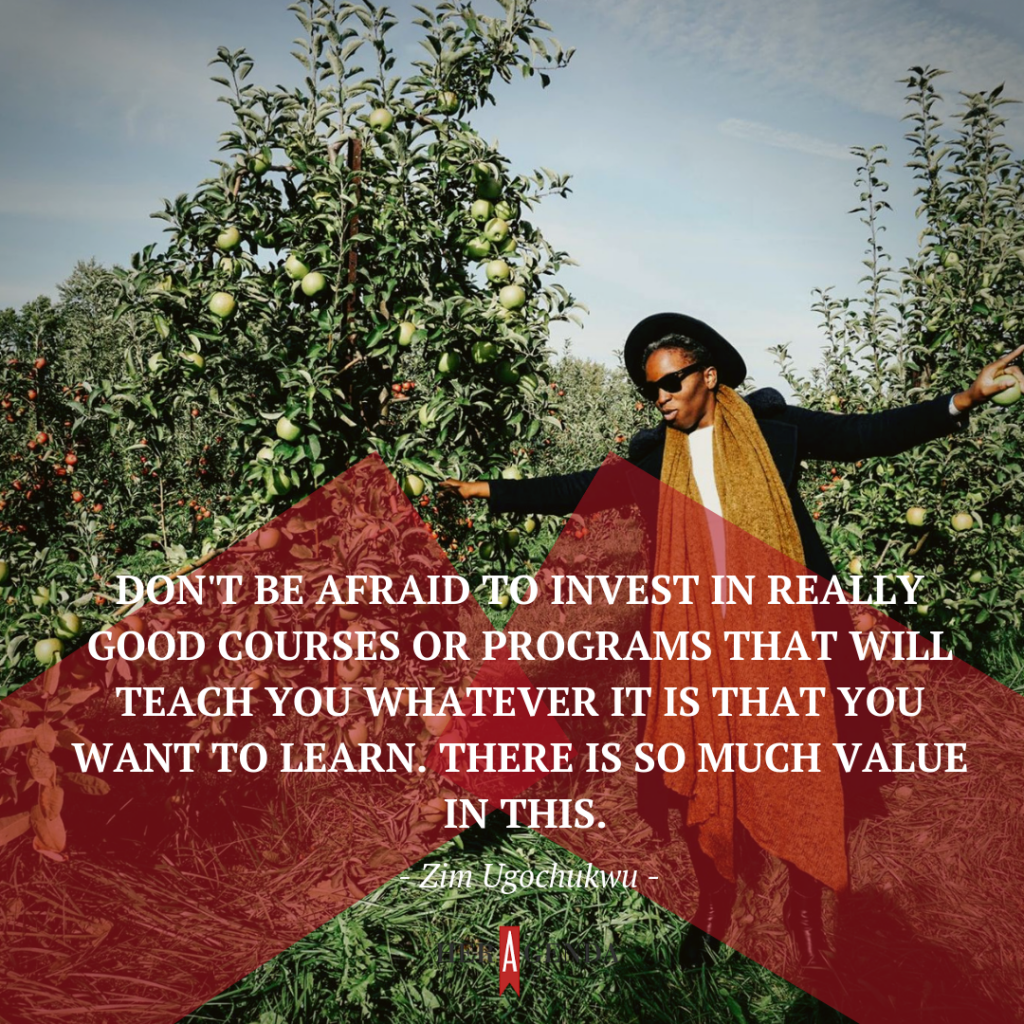 Lastly, goals.I just bought this planner this week called the full focus planner by Michael Hyatt. I'm a huge fan, he does a lot with productivity, he's a believer, and he's a good friend of my friend and I've just been blown away at the systems that he has in place for achieving the goals that you want to achieve. A part of [achieving] that big dream is to focus on one action.